We may earn money or products from the companies mentioned in this post. Please click my disclosure policy to learn more.
The primary goal of this 1 day Magic Kingdom itinerary is to help you maximize your day. To me, that means getting on all the rides you want with the least amount of time on line as possible.
However, it also means being able to enjoy some of the nuances and atmosphere of Magic Kingdom. The park itself is so beautiful and full of details, it would be a shame to miss out.
Also, it's important to note that this the best Magic Kingdom touring plan I could come up with WITHOUT buying Disney Genie+. So this is the option for people who don't want to pay extra in order to use Disney's line cutting service.
Now that we've gotten that out of the way, let's put together the best Magic Kingdom plan we could come up with!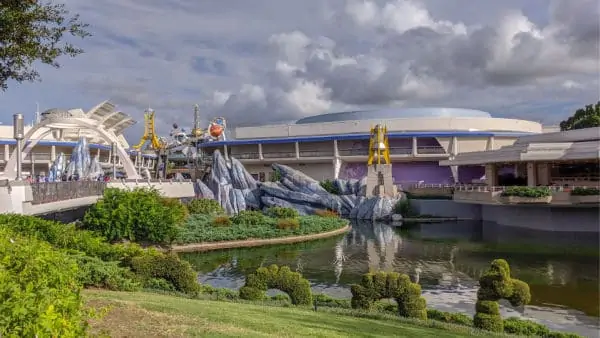 Can I Fit Everything Into a 1-Day Magic Kingdom Itinerary?
The reality is that no, you can't do everything at Magic Kingdom in only one day. Magic Kingdom has always been at least a 1.5 day park, preferably 2.
Magic Kingdom has the most attractions of any park at Disney World. This is why it's impossible to do everything in one day. It also spans a decent amount of territory, so plan on doing a lot of walking.
Pro Planning Tip: Before you go to Magic Kingdom have everyone make a list of their top 5 priority attractions. Use this as your starting point when deciding which rides you prioritize in your Magic Kingdom touring plan.
Magic Kingdom Map and Layout
As you can see, Magic Kingdom takes up a fair amount of real estate. The entrance is designed in such a way that you don't get the full effect of the castle until you make the turn onto Main Street. It's a stroke of brilliance, really.
The Castle and the circle area in front of it are considered The Hub. That is the central point for all the other lands to branch off from.
Magic Kingdom contains 6 different "lands", each with it's own theme and excitement.
Main Street USA
Tomorrowland
Fantasyland
Liberty Square
Frontierland
Adventureland
You can find rides, attractions, and food in each and every land. You'll never be without something to do at Magic Kingdom.
Magic Kingdom Hours
Luckily for all of us, the park hours at Magic Kingdom have returned to normal after the reopening. The park hours vary from season to season depending on crowds expected and special events.
At this time the standard Magic Kingdom hours are 9a-10p. Park hopping is available at Magic Kingdom from 2p until park closing.
However, this doesn't mean those are the hours that will exist for you trip. For example, during the spring break time frame, the Magic Kingdom hours could be extended to 8a-10/11p.
As the dates of your trip near, it's important to check the updated hours. Disney World can, and will, adjust the hours as necessary to deal with crowds. The busier the time of year is, the longer Magic Kingdom will be open.
What time should I arrive at Magic Kingdom?
With only one day to play with, you really want to get to Magic Kingdom first thing in the morning. There is just so much to do!
That being said, the time of arrival depends on whether you qualify for Early Theme Park Entry or not. The short version is that Disney resort guests, as well as guests from select other resorts, are allowed to enter Magic Kingdom (and the other parks) 30 minutes before official park opening.
For example, if the official park opening time is 9:00a, then guests with early entry can begin to get on rides at 8:30a.
This means that only guests who can access early park entry can fully take advantage of "rope drop". Make sure you read all about Early Theme Park Entry to learn about the ins and outs to know how it effects your trip.
So, the answer to the question of what time to arrive at Magic Kingdom depends on whether you can use early entry or not.
Another factor to consider, guests are allowed into Magic Kingdom much earlier than the park officially opens. This allows you access to Main Street, shops, Starbucks, and the castle.
This is a good opportunity for some pictures that might be too difficult to get later in the day.
Also, I want everyone to pay close attention to how your transportation options will impact your arrival. Guests arriving via car have extra steps they need to go through before they even get to Magic Kingdom, and you need to factor that into your arrival time.
You'll find more on that below.
Early Entry Magic Kingdom Arrival Time
If you can take advantage of early entry plan on arriving at Magic Kingdom approximately 1 hour prior to early entry access if you plan on riding Seven Dwarfs Mine Train first.
So if early entry starts at 8:30a, plan on arriving to Magic Kingdom around 7:30a. This allows you time to get through security and tapstiles and get place in the line that forms for that ride.
If you plan to go on pretty much any other ride first, you don't have to be quite so diligent about getting there super early. I would still make sure you get there between 30 to 45 minutes prior to the early entry start time, though.
Again, this allows time to get through everything and enjoy Main Street before you get into position for rope drop.
An important note, early entry guests at Magic Kingdom can only get on rides in Fantasyland and Tomorrowland. There is no access to the the other side of the park.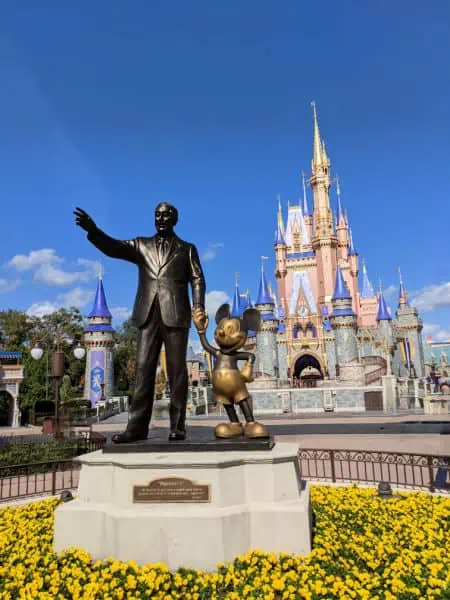 Regular Park Entry Arrival Time
Clearly, things look a little different for guests who cannot get on rides until park opening time. You can still get onto Main Street along with all of the early entry guests, but you can't get on any rides. Essentially, you are held on Main Street until the park officially opens.
If you want to have time to get some Starbucks, poke around the stores, and get some castle pictures, by all means, arrive 45 minutes to an hour before the official park opening time.
However, if you want the luxury of a less hectic morning getting out of the hotel room, you can safely arrive closer to 30 minutes beforehand.
Whatever you do, DO NOT plan on arriving at Magic Kingdom right at the official park opening time.
If you walk through the gates right at park opening, you're actually already too late for the hottest rides. And while you'll still be able to get on some rides pretty quickly, you miss a real sweet spot.
Arrival Time For Guests Who Want a More Relaxed Day
The exception to this rule of getting to the park super early is if rides are not a priority for you. If your main goal is to enjoy the atmosphere at Magic Kingdom, go on whatever rides are opportunistic, and eat some good food, then you get to sleep in!
If you fall into this category, I actually recommend that you avoid "rope drop" altogether. Plan to show up a little after park opening to avoid that initial rush of people instead.
Transportation to Magic Kingdom
Magic Kingdom has a plethora of transportation options all converging on it at once. Your primary transportation options are determined by your hotel. However, each type of transportation has its own little tips to know about in planning your Magic Kingdom itinerary.
All of the timing recommendations I give in this section are only if you plan to take advantage of the Magic Kingdom rope drop window. If you plan to get there later, you can ignore that part.
Buses
The Disney buses are actually one of the modes of transportation that bring you right up to the gates of Magic Kingdom in one fell swoop.
Bus transportation is offered to guests staying at Disney resorts.
That being said, the buses are not all sunshine and roses. There are plenty of pitfalls.
Buses are considered the most inconsistent and least desirable transportation option at Disney World. That being said, they aren't that awful. But they can be crowded and standing room only during busy times.
If you plan to arrive at Magic Kingdom an hour before park opening, plan on getting to the bus stop at your resort 90 minutes before park opening. You want to be as close to the front of that line as possible.
Boats
Boat arrival is limited to some of the resorts in the Magic Kingdom area. Wilderness Lodge, Polynesian Resort, Grand Floridian, Contemporary Resort, and Fort Wilderness all offer boat transportation to Magic Kingdom.
Honestly, aside from walking, taking a boat to get to Magic Kingdom is my favorite transportation option.
The lines are usually shorter for the boats than they are for buses, and even potentially the monorail. The boat ride itself is fairly short, but is also truly pleasant.
Who wouldn't prefer a scenic boat ride to being crammed onto a bus?
But the main benefit is that the boats drop guests off directly at Magic Kingdom without needing to use a second form of transportation.
Walking
Let's be real, if you have the option to walk to Magic Kingdom, it's the best one for you to use. This allows you to take complete control of your arrival time. No pandering to the whims of the transportation Gods for you!
Contemporary Resort and Bay Lake Tower offer the most convenient walking path to Magic Kingdom. It's short, sweet, and to the point.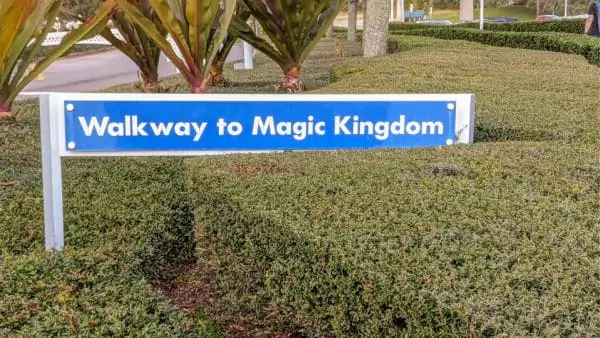 However, a relatively new walking path connecting Grand Floridian Resort to Magic Kingdom opened up in 2020. Finally! Perhaps that's the only good thing to come out of 2020…
While the walking path from Contemporary is shorter, the Grand Floridian walking path is way more scenic. There are plenty of pretty views to be had.
The Grand Floridian walkway is probably double the length of the Contemporary walkway.
Depending on how far you want to walk, this does open up the possibility of also walking from the Ticket and Transportation Center and the Polynesian Resort as well.
If you are walking to Magic Kingdom, aim to get to the security check point about 1 hour prior to park opening (meaning leave your resort with enough time to allow for the walk).
Monorail
This is definitely the most famous of the Disney World transportation options. Many people want to ride it just to say that they did.
Unpopular opinion alert: I hate the monorail and avoid it whenever possible. There. I said it.
My daughter and her friend recently insisted that we ride the monorail on our way to Magic Kingdom. I warned them that it smells. They didn't believe me until we were on it. They rather accurately identified that it smelled similar to a zoo.
If you've never been to Disney before, absolutely take a ride on it just to have that experience. After that, meh.
Guests staying at Polynesian Resort, Grand Floridian Resort, Contemporary/Bay Lake Towers all have access to the monorail. These resorts are on their own separate line that takes them directly to Magic Kingdom, so no need to transfer.
If taking the resort monorail, get to the station an hour before park opening.
Later in the day the monorail also connects Magic Kingdom/Ticket and Transportation Center to Epcot.
Cars/Ticket and Transportation Center
I put these in the same category because if you take a car to Magic Kingdom, you're actually taking a car to the Ticket and Transportation Center (TTC).
The TTC is the transportation hub of Disney World. Here you'll find guest services, a ferry boat, and monorails to both Magic Kingdom and Epcot.
Whether you drive to Magic Kingdom yourself, or take an Uber/Lyft, this is where you wind up. That means you need to budget for extra time in your travel to Magic Kingdom.
You not only need to get through the parking lot toll gates, you need to park, walk to TTC, choose your transportation, wait in line, and ride the transportation before you wind up in Magic Kingdom.
To get to Magic Kingdom you can choose either the monorail or the ferry boat. I think you can guess that I would recommend the ferry boat over the monorail…
If you plan on rope drop, make sure you are at the parking gates about 1 hour prior to park opening.
Magic Kingdom Rides
Before we start getting specific about our Magic Kingdom touring plan, let's take a look at the plentiful rides and attractions there are at Magic Kingdom.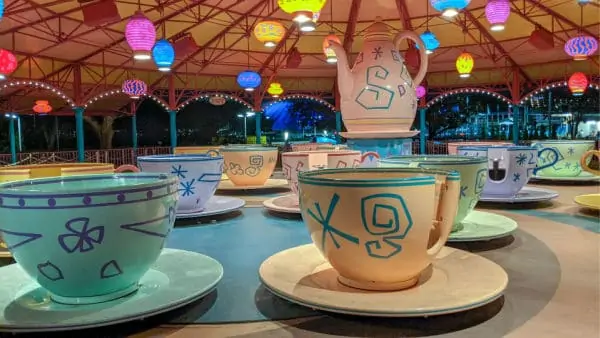 Adventureland
Swiss Family Treehouse
The Magic Carpets of Aladdin
Jungle Cruise
Walt Disney's Enchanted Tiki Room
Pirates of the Caribbean
Frontierland
Splash Mountain (40″ or taller) – permanently closed pending being repurposed into the new Tiana ride
Big Thunder Mountain Railroad (40″ or taller)
Tom Sawyer Island
Country Bear Jamboree
Walt Disney World Railroad
Tomorrowland
Tomorrowland Speedway (32″ or taller, 54″ to ride alone)
Space Mountain (44″ or taller)
Tron Lightcycle (48″ or taller) – opening on April 4, 2023
Astro Orbiter
Tomorrowland Transit Authority PeopleMover
Walt Disney's Carousel of Progress
Buzz Lightyear's Space Ranger Spin
Liberty Square
The Hall of Presidents
Liberty Square Riverboat
Haunted Mansion
Fantasyland
Prince Charming Regal Carrousel
Mickey's PhilharMagic
Peter Pan's Flight
"it's a small world"
Under the Sea-Journey of the Little Mermaid
The Barnstormer (35″ or taller)
Dumbo the Flying Elephant
Mad Tea Party
The Many Adventures of Winnie the Pooh
Seven Dwarfs Mine Train (38″ or taller)
Walt Disney World Railroad
Main Street
Walt Disney World Railroad
Magic Kingdom Rides with Highest Demand
Clearly, not all rides are created equal. Some of these rides should be either a walk on or a minimal wait at various points throughout the day.
Consequently, those are not the rides to prioritize first thing in the morning when there are lower crowds.
The absolute, number one ride to prioritize is Seven Dwarfs Mine Train, and soon Tron. If you want to ride it, rope drop is the time to do it.
For example, this morning as I write this, the posted wait time 20 minutes before park opening was 30 minutes. By 3 minutes after park opening the wait time is 65 minutes. It goes up that fast.
Other rides that experience long waits during the day:
Space Mountain
Big Thunder Mountain Railroad
Jungle Cruise
Peter Pan's Flight
Pirates of the Caribbean
Haunted Mansion
All of these rides might have pockets of lower wait times throughout the day, but they are often some of the longest waits in the park.
A Note About Tron…
Tron Lightcycle Run opens on April 4, 2022, after a lot of delays. It's long awaited. Add to that the fact that it's a roller coaster with a bit of a higher thrill level. Tron will be a HIGHLY sought after ride.
When Tron initially opens, there will be no standby line option. That means that you can't just show up to the ride entrance and get in line. The only way to ride Tron Lightcyle Run is to get a boarding group via the virtual queue.
Read all about how to use and maximize the virtual queue system before your trip. It can mean the different between riding Tron or not.
No one knows how long the virtual queue will stay in place, but for now, it'll be here to stay. Eventually it will convert to a standby ride option, but until then, understand the virtual queue!
1-Day Magic Kingdom Itinerary
The main priority for this 1 day Magic Kingdom plan is to get you on as many rides as possible. That being said, I also want you to be able to take some time to simply walk around and soak in the atmosphere.
My family is full of fast walkers and highly motivated riders. As such, we think nothing of criss-crossing the park multiple times a day. This is perhaps not the most efficient approach in the world, but it certainly gets the job done!
This touring plan will try to focus on keeping you from being too inefficient. Though it might be inefficient at times.
If you are game, pull out your My Disney Experience app and be entirely opportunistic once you see what rides have the shortest lines. You'll log a lot of miles, but you'll get on a lot of rides.
But, for a more moderated plan, I present to you my 1 day Magic Kingdom itinerary. I'm going to put a different section for early entry guests and regular park opening time guests. Because yes, the strategy is different.
Morning Magic Kingdom Touring Plan
This plan will look slightly different based on whether you have access to early theme park entry or not. If you can get in for early entry, you will start at Step 1.
If you are a guest who can't start until the official park opening time, start at Step 2. My recommendation is the same for both groups from Step 2 on.
As I mentioned before, you want to arrive early for either category.
Early Entry Guests – As you go down Main Street and near The Hub, you'll see Cast Members holding signs directly the early entry guests over to the right. Here you'll find a line of Cast Members to scan MagicBands/Magic Mobile Passes to verify that you are a resort guest.
Beyond here, you'll be held on the bridges that lead over to Tomorrowland and Fantasyland until the early entry start time. Remember, early entry guests only have access to Tomorrowland and Fantasyland!
Regular Entry Guests – You're going to take some extra time to explore Main Street and The Hub. You can get some great pictures during this time. The sunlight is flattering at this time of day and there are a lot less people around the castle.
Take your time first, this really is a bit of a golden opportunity. Once you are ready, start to make your way to the left of the castle towards Liberty Square. Cast Members will hold you in position on the bridge into Liberty Square.
Personally, I'd plan to be here about 10 minutes before park opening. However, if you want to watch the opening stage show (it's cute and short) just position yourself towards the left of the stage area, close to the Liberty Square entrance.
This allows you to see the show but not be too far away from where you want to be.
Step 1: Go Play with some Dwarfs – Only for Early Entry Guests
The very first ride you'll head for is Seven Dwarfs Mine Train. This plan only works if you got there early and are positioned towards the front to middle of the pack. The further you are to the front, the more you'll be able to get done in the 30 minutes before the park opens.
But if getting on Seven Dwarfs Mine Train is a must for your family, this is one of the shortest wait times of the day. However, if you get there late, abandon ship. The wait time for this ride swells tremendously fast because everyone and their mother is heading towards it.
As soon as you get off Seven Dwarfs Mine Train, head to Peter Pan's Flight. Peter Pan's Flight has notoriously long lines later in the day so now is a good time to get on it.
If you were in the lead pack of people getting on Mine Train, you should be off of Peter Pan before the park officially opens. At this point you can either hoof it over to Tomorrowland to get in line for Space Mountain or you can position yourself to get into Frontierland.
As for what I recommend: it's time to head to the Wild West.
Step 2: Blaze a Trail to the Wilderness – Step 1 for Regular Entry Guests
Finishing off at Peter Pan's Flight already puts you on the path to Frontierland. It often takes longer for the crowds to penetrate into Frontierland, so it's a great place to go next.
If the park hasn't officially opened yet, you'll see a line of Cast Members with a rope blocking off the entrance into Liberty Square. Just set yourself up here, you'll be in a prime position once the park opens. Truly, the park should be opening very soon after you get there.
Once the rope drops for park opening, you're going to hoof it all the way over to the far reaches of Frontierland.
Pro Planning Tip: Instead of staying on the paved path, veer to the right onto the boardwalk after the Liberty Square Riverboat. This takes you along the water and is rather picturesque. A great way to enter the land efficiently and snag some ambiance.
The next ride on your list is Big Thunder Mountain Railroad. Getting there at this point should make Thunder Mountain a walk-on. This is one of the rides that tends to have longer lines during the day, so it's a coup.
After you get off Thunder Mountain it's time to call an audible. Pull out My Disney Experience and look at wait times for all the rides in Frontierland, Adventureland, and Liberty Square. Your mission now is to get on as many of those rides as possible before the lines catch up with you.
Now you see why I recommended going to Frontierland first. There are a number of popular rides located close together so you can bang them out. In addition, the vast majority of people head to Fantasyland first. You're going to bob while they weave.
Step 3: Argh Matey, It's Time for an Adventure!
Since you're right next door to Adventureland, it's an easy pop on over to Pirates of the Caribbean and Jungle Cruise. Prioritize which ride you want more, just in case the crowds start catching up with you.
If you get off of one of them and the line is still low for the other, hop on board. If not abandon ship for something more opportunistic.
Personally, I always head towards Pirates of the Caribbean next as that is a major family favorite for us. However, if you are there during Christmas, Jungle Cruise is extremely popular and will get massive lines later in the day. This is because there's a special Christmas overlay, turning it into Jingle Cruise.
It might be a good idea to do that one first then double back for Pirates.
Your general rule of thumb at this stage is you hope to get on a ride when the posted wait time is 20 minutes or less. Preferably less.
Whatever you do, please don't get on Aladdin's Carpet ride at this point. If you absolutely want to ride that one, come back later. It's a waste of time to do it now.
Step 4: Pick Up Some Hitchhiking Ghosts
Things will start getting tight right around now. Guests are getting off of Mine Train and fanning out. However, this still seems to be a good time to try for Haunted Mansion. You're right there, after all.
Haunted Mansion lines typically seem to stay low for a little while in the morning. I think this is partly due to the fact that it's a continuously loading ride. It simply keeps moving, allowing fast turnover.
If the posted wait time is 20 minutes or less, you'll get on with very little wait. You might even walk on. But honestly, I'd still consider getting in line for this now if the posted wait time is in the 30-35 minute range.
Everything is going to start getting longer lines right around this time, so don't plan on walking onto the big rides at this point.
Haunted Mansion is one of the most popular rides, so the line isn't going to go down anytime soon. Might as well take advantage now!
Step 5: Be Opportunistic and Slow Down
The first part of this Magic Kingdom itinerary is admittedly a full on rush. You want to get as much done as you can before the lines get long.
That means no stopping to smell the roses until the wait times start to swell. Check your My Disney Experience app and see where things are at.
If the lines for rides are still manageable, think 30-40 minute posted wait times, at this point just be opportunistic. However, if the lines are getting too long, it's time to slow down.
This is a good time to perhaps grab a morning snack while you check out the app for the wait time situation. You're at Magic Kingdom, so I see no problems with having a Dole Whip for a morning snack!
Plan to head back towards Fantasyland at this point and focus on going on any rides that have a short-ish line. "it's a small world" is the first ride you'll come across as you head back so it makes sense to try to get on that now.
At this point you've been on a fair number of rides. Keep in mind, on a day that's just more crowded, you won't quite get as much done.
Afternoon Magic Kingdom Itinerary
Now that you've had a successful morning it's time to transition into the afternoon. Your level of productivity will slow down a bit in the afternoon, but that's not a bad thing.
As you move into the peak of the afternoon, your general rule of thumb for wait times should be 30 to 40 minutes. Anything above that and you want to wait until a little later in the day.
Keep an eye on the Tomorrowland lines. Oddly, the attractions there (Space Mountain, Buzz Lightyear, and Tomorrowland Speedway) can tend to post reasonable wait times in the afternoon.
Step 6: Time for a Relaxing Lunch
Even with a morning snack, you should be getting fairly hungry. It sure is a good thing that lunch time is coming up!
If you want to eat at one of Magic Kingdom's table service restaurants, I highly recommend you make a reservation at lunch time instead of dinner.
The reason for that is simple: early to mid-afternoon is the busiest time of the day in terms of ride lines. Conversely, around dinner time is when wait times start to go down again.
By strategically scheduling your lunch to be slightly later, you can successfully occupy yourself while the crowds start to surge.
On average, a table service meal takes about an hour to an hour and a half. This allows you to have a great meal, sit in some air conditioning, and take a break after that fast paced morning.
This won't allow you to miss all of the crowds, but it sure will help.
If you know that your family won't be able to stay late into the evening, this tip becomes especially important. You do not want to waste time at the end of the day eating at a restaurant.
Pro Planning Tip: An alternate idea is to schedule your dining reservation for right at park closing. If the park isn't closing at 11p, that is! This allows you to still enjoy the whole park day, but have the bonus experience of letting the park empty out while you eat. As you walk back through the park it should be mostly empty!
Step 7: Take Stock and Head to the Classics
By now, the crowds have definitely descended upon Magic Kingdom and lines for just about everything will be loooong. Before you leave the table after lunch, it's time to pull out My Disney Experience again.
Take a look at the wait times of the rides you still want to get on. For the afternoon, you'll be mostly opportunistic, taking advantage of whatever attractions happen to have lower wait times.
This is a great time to contemplate doing some of the less popular, but quintessential, Magic Kingdom experiences.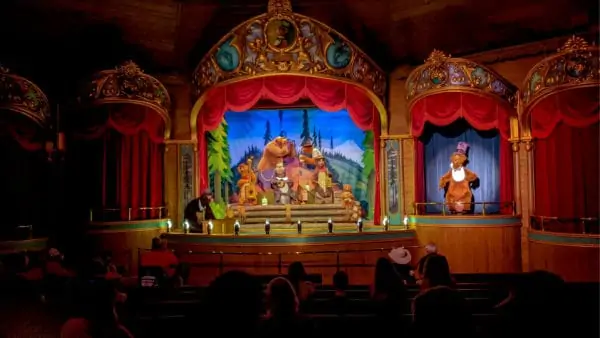 There are a host of classic Disney attractions to choose from at Magic Kingdom. Because they aren't flashy with tons of bells and whistles, they are often overlooked.
This makes them perfect options for a crowded afternoon. Consider the following attractions:
Country Bear Jamboree
PeopleMover
Walt Disney's Carousel of Progress
Hall of Presidents
Mickey's PhilharMagic
Enchanted Tiki Room
Liberty Square Riverboat
Tom Sawyer Island
Swiss Family Tree House
As you can tell by this list, there are quite a few options to choose from. On the busiest days of the year these attractions will also have a long line, but for the most part, you shouldn't have a long wait compared to everything else.
The PeopleMover is seriously one of my favorite rides at Magic Kingdom. What's not to love about a ride that's usually a walk-on, allows you to sit and rest, and takes you on a zippy jaunt around Tomorrowland?
Most of these attractions are also Walt Disney originals and encompass a lot of his vision of what he wanted his parks to be. Yes, they tend to be cheesy and a bit dated, but that doesn't diminish their charm.
During this time frame you are also keeping an eye on rides like Under the Sea, Dumbo, Winnie the Pooh, the Carrousel, and so on. But seriously, don't get in these lines if they are long. Under the Sea should never be done with a long wait.
Step 8: Enjoy the Ambiance
This part of the afternoon is an ideal time to take a minute to smell the roses. Yes, you'll need to smell the roses while also managing thousands of other people, but it's doable.
Perhaps pop into some stores you have your eye on. Or explore the nooks and crannies of the park. There are details everywhere.
You could also make a game of trying to find as many hidden Mickeys as possible.
Magic Kingdom Touring Plan for the Evening
As the afternoon turns to evening, it's time to switch it into high gear again.
Step 9: Monitor Wait Times for Must Do Rides
By this point you probably have a sizeable list of rides you still want to get on. As the day inches closer to closing, the more people start to leave.
It's important to prioritize which rides are essential the happiness of your crew. Focus on those, even if the line is a wee bit longer than you'd like.
Anything extra after that is simply a bonus.
The later the park is open, the better the lines get closer to closing. Recently, Magic Kingdom has been open until 10p or 11p. There aren't a lot families that will make it from 8a to 11p. This means they start to leave after the fireworks.
If your family can hang until closing, this is a golden opportunity to get on the best rides with some of the shortest waits of the day.
Alternately, if you are staying at a Disney resort, you might want to consider hitting rope drop in the morning, leaving to go back to your resort for an afternoon swim and rest, before returning to the park around 5p.
This allows you to take advantage of the best parts of the day. This is only an easy thing for Disney resort guests. If you had to drive, this prospect is much more challenging due to the parking then monorail/ferry situation mentioned above.
Step 10: Have an Early Dinner
As far as I'm concerned, you don't want to have dinner too late at Magic Kingdom. You'll miss out on some of the ride lines getting shorter. I'd probably eat at 6p by the latest if you are eating at a quick service restaurant.
If you want a table service meal, I'd probably book it around 5:30p.
With this strategy you can get your meal and fuel up for the evening ahead of you. Don't worry, there will be time for snacks later!
Step 11: Take a Trip to the (Retro) Future
If you haven't gotten on any of the main attractions in Tomorrowland, this is your first priority. Space Mountain is obviously the big draw here, but Buzz Lightyear Space Ranger Spin is also a fun ride.
The line for Astro-Orbiter can be surprisingly long. This is largely because of the need to take elevators up and down from the roof. It really slows up the works. That being said, it's a surprisingly zippy ride with amazing views of Magic Kingdom at night.
Step 12: Anything Left on Your List
This is your last chance to get on priority rides, or to simply re-ride favorites from earlier in the day.
There are some rides which are even more fun after the sun sets. The darkness either provides great views or a different riding experience. Our family favorite is Big Thunder Mountain at night.
The dark makes the ride feel faster, the views of a lit up Magic Kingdom are great, and you can usually walk on. What's not to love?
The later the park is open, the better this window of opportunity is. You truly can expect to get on a fair number of rides during this time frame. So make sure you get on everyone's must-dos while you have the chance.
Step 13: Hop in a Line Right Before Closing
The very last thing you'll do for the day is get in line for a ride a few minutes before closing time. Once you are in line, they run the ride until the queue is empty.
This is another great way to get on Seven Dwarfs Mine Train with minimal wait. If you weren't able to ride it earlier in the day, this is the obvious choice now.
Alternately, Seven Dwarfs Mine Train is another ride that's fun to compare a day time and a nighttime ride.
But really, this is your opportunity to get on any ride you couldn't get on earlier in the day due to long lines.
The extra bonus: once you get off the ride the park has less people in it, giving you a neat opportunity to slowly walk through the park soaking up the ambiance.
Atmosphere and Other Things to Catch
Aside from attractions, there are other things to enjoy at Magic Kingdom. For a while after reopening, most of these "extras" were closed, but now they are back!
Fireworks and Parades
The fireworks show and the parade are probably the biggest must-dos in terms of the extra fun things. The parade runs twice a day, so pick whichever one you want and grab a piece of curb.
Our personal family strategy is to watch the parade from Frontierland. This is where the parade starts and the crowds build up slower. Just last month we rolled up to the parade 10 minutes before it started and grabbed a front row seat. On an extremely crowded day.
If you want the ultimate ambiance, aim for watching the parade on Main Street, but you'll need to get there a lot earlier to get a good seat.
Character Cavalcades are perhaps my favorite thing to come out of the reopening changes. Think of these as mini-parades that happen throughout the day.
No need to stake out a parade spot hours in advance, effectively wasting part of your day. If you're along the parade route and start hearing music, find a spot and enjoy.
As of April 2023, the fireworks show is switching back to the beloved "Happily Ever After" show. This is awesome because it's so much better than Enchantment which debuted for the 50th Anniversary in October 2021.
Happily Ever After is an amazing fireworks show using projections and fireworks. In order to have the best experience, you need to be on Main Street. That means massive crowds for the best viewing spots.
We are allergic to getting a spot early and wasting precious ride time, so we tend to roll up close to the start time (maybe 15-20 minutes before) and make do with whatever is left.
But either way, this show gives me chills every time, so it's a must do.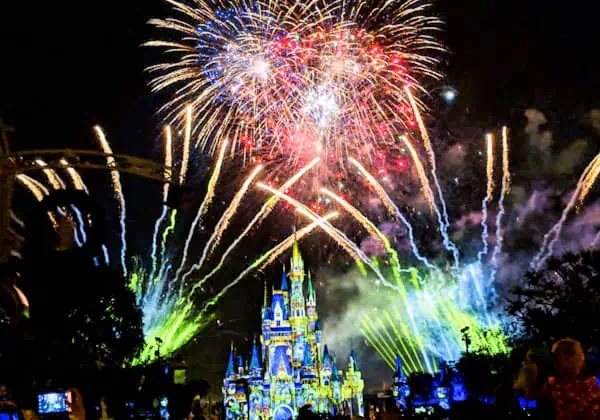 Character Experiences
Character meet and greets are back, baby! One of the most popular things to do at Disney World is meeting characters. I actually really liked the distanced character experiences from after the reopening. They were preferable to me as they didn't involve waiting in long lines.
But I know I'm in the minority with this one!
Some characters do continue to make appearances in random places at a distance. But there are others you can meet in person, hug, and get autographs from.
Either way, Magic Kingdom is now full of meet and greet opportunities once again. If you want to do any of these, treat these the same as you would the attractions above. There are lines with posted wait times, and they can be long.
So don't just show up and think you can meet with characters easily, because that won't happen. The first time we ever went to Magic Kingdom we spend all day waiting in lines to see princesses. All. Day. Long.
There are some character dining options as well. These restaurants allow you to have a more leisurely character experience without waiting in lines. These are very popular and book up ahead of time, so make sure you book your Disney dining reservation if you want to go to these.
As a side note, if you have the opportunity to see Cinderella's stepsisters, Drizella and Anastasia, they are the two most entertaining characters you'll ever see. Truly hysterical.
Shops and Details
Magic Kingdom is also full of interesting shops which are fun to explore. Of course, this form of entertaining could lead to you spending a lot more money, but it's worth the risk!
Wandering the shops can be a good time killer if the rides and attractions are all packed to the gills. It's not necessarily something I'd want to do for hours, but it keeps me entertained for a bit anyway.
But the true magic and joy of the Magic Kingdom can be found in the details. You really should designate part of your day to simply exploring Magic Kingdom fully and soaking up all the details.
Each of the lands are fully themed and completely different. There truly is so much to see in each of them.
I wonder how many people miss the beauty of the Tangled area because they just aren't paying attention? Don't be one of those people!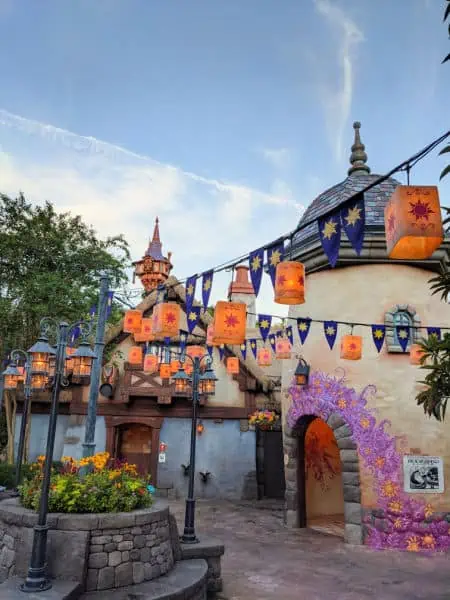 More Tips for Creating Your Magic Kingdom Touring Plan
Disney often inflates the posted wait times on the app and directly on the ride signs. They do this to try to control traffic. While not always the case, you can typically assume the wait is less than what's posted
A 5-10 minute posted wait time means walk on
The later the park is open, the lower the crowds will be at the end of the day
Character meet and greets can become a HUGE time suck, so prioritize which characters are the most important to you
There are a ton of restaurants at Magic Kingdom, both table service and quick service. Take a look at menus beforehand so you have a rough idea of where you want to eat
Use mobile order at all of the quick service restaurants. You can order your food ahead of time and cut down on your wait

Place your order in the morning while you're waiting in line. This allows you to book your food for the exact times you want and is a great way to multi-task
You can pay for your order with discounted Disney gift cards directly in the My Disney Experience app. Always use discounted Disney gift cards when you can!
Final Thoughts
It is 100% possible use this Magic Kingdom itinerary to have a full (and fulfilling) day. But as I'm sure you can see from the rather long list of attractions, it's likely not possible to tick all the boxes.
That's why I recommend coming up with a priority list before you even arrive at the park. Once you make it all the way through that list, then you can set your sights on having bonus experiences.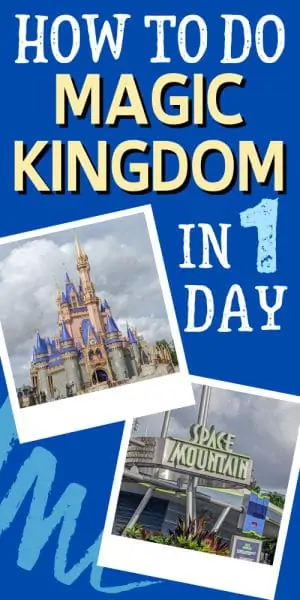 Your Thoughts
Do you have an alternate Magic Kingdom itinerary that works well? Or perhaps you have some tips I haven't included here. Let me know in the comments below.
Don't forget to follow The Disney Journey on Pinterest and Facebook to stay up to date with all the latest news and updates.