We may earn money or products from the companies mentioned in this post. Please click my disclosure policy to learn more.
Families planning a Disney vacation are known for planning down to the smallest detail well in advance. That even includes trying to decide on the best bag for Disney.
Yes, you heard that right, there is such a thing. Not all bags are created equal when it comes to a full day at the Disney parks.
So what exactly goes into choosing the best Disney park bag? What are some factors to consider? What are Disney's rules for carrying bags into the park?
This post will take a shot at answering all of these questions, as well as, take a look at some specific examples (Updated June 1, 2023).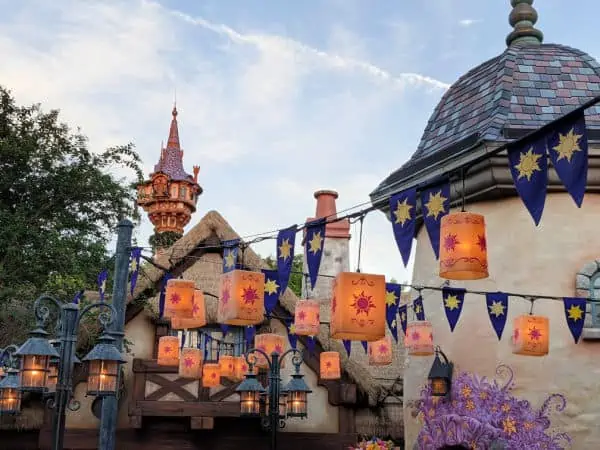 Overall Best Bag for Disney – My Top Pick
Let's just get this out of the way and talk about my favorite overall bag for Disney. Yes, it's a no name bag you've never heard of. But trust me, it's awesome.
I have personally used this bag over and over again at Disney, causing me to double down on why the SEEU Ultralight Sling Bag is my overall top pick for the best bag for Disney.
Here's a brief summary of why this bag is so great for Disney. Then we'll talk about why some of these features are so important.
Further on in the post we'll explore all manner of other great options for your Disney trip.
We'll take a look at some more details about why this bag is one of my favorites below.
What kind of bag should I bring to Disney?
Let's start off with perhaps the most relevant question: What kind of bag should I bring to Disney? The answer to this question is going to vary depending on each family's needs.
There are so many different types of bags to choose from. Throughout this article we'll take a look at a variety of different options and look at pros and cons of each.
In general, here are some important features to look for when choosing the best bag for Disney.
Comfort
Size to meet your needs
Pockets
Water resistance
Let's take a look at this in more detail. Because if you're reading this, you're clearly already curious about this!
Comfort
Frankly, this is probably the number 1 consideration when choosing the type of bag to use at Disney. Think about it, you're going to wear this bag for hours and hours a day, multiple days in a row.
While you of course need to take other factors into consideration, please make sure you choose a bag for Disney that's comfortable.
So what goes into making a bag comfortable?
Comfortable Straps
If at all possible, padded straps are going to make your experience a whole lot better. The wider they are, they more the weight and pressure is going to be distributed.
In the end, this makes the bag more comfortable for all day use.
Breathability
Picture wearing a backpack for 10+ hours, with the material pressing against your back. Now picture doing that while in 90+ degree weather with high humidity.
There's the high potential here for your back to be absolutely soaked very early on in the day.
This makes breathability a key factor in terms of comfort. Many bags come with mesh backs and channels to allow some air flow. Your back will still sweat, but at least not as bad as it could.
Extra Support Straps
This one isn't necessary for everyone, but something to consider regardless. Having extra support straps can help distribute the weight of your bag better.
What do I mean by extra support straps? Have you ever seen those backpacks that have straps and buckles that connect across your chest? That's what I mean.
By using those straps, it helps use more of your body to carry the weight, not just your shoulders. This helps relieve the pressure on your shoulders.
Also, bags that have straps that hook around your waist are a major plus. The same principle is at work here.
By doing this, much of the weight of the bag is now supported by your hips. This drastically helps reduce fatigue on your back and shoulders.
Size to Meet Your Needs
We're looking for the butter zone in terms of weight and size. Many people default to choosing the largest bag they can handle so they know they have enough room.
The problem with this? If you have the space, you WILL fill it. And the more you fill it, the heavier the bag becomes.
Again, picture carrying that weight around for 10+ hours a day in 90 degrees.
Start out looking for a bag that's as lightweight as possible to begin with. No thick and clunky materials to add weight.
From there, figure out the size of bag required to carry just what you NEED to bring, and not a bit more.
Easy Access Pockets
You might be scratching your head over this one. Why on earth are pockets so gosh darn important?
It's all about easy access and organization, my friend.
Clearly, your bag will need a main pocket, but do you also want water bottle pockets? How about smaller pockets for easily accessible items? Do you want a tablet pocket?
I think you see where I'm going with this. Think about how you generally need to use the bag and let that guide your decisions.
Water Resistance
Water resistance is perhaps not an absolute need for your Disney park bag, but it certainly comes in handy.
As I'm sure you've heard, Florida is called the Sunshine State. But don't be fooled, when it rains, it pours.
And in the wet season, this usually happens for 20 minutes or so, every single afternoon. Sheets and sheets of rain.
I'm sure you see where this is going.
Having a bag with at least some water resistance could come in handy if/when it rains. Do you know how much heavier a water logged backpack will get?
Aside from weight, of course you don't want all your carefully packed items to end up soaked. That entirely defeats the purpose of having them in the first place.
What is Disney's Bag Policy?
While Disney is pretty darn flexible with their bag policy, they do have some basic rules to understand when choosing your Disney park bag.
The first thing to understand is that all bags are subject to screening/security checks. This is a lot easier now than it used to be. Now, you mainly just walk through a screening device and go on your way.
However, you should still be prepared for the possibility of having your bag checked as they do pull people aside for this.
In terms of size, bags must be smaller than 24″ long x 15″ wide x 18″ high. These dimensions also include suitcases and coolers, with or without wheels.
Note, that size is only for bags to bring into the parks. This doesn't include the luggage you take to the resorts.
Keep in mind, Disney does have a list of prohibited items for the parks. Make sure you read through Disney's official prohibited items list so you don't bring any of them on accident.
Can you bring a bag on Disney rides?
Since we all agree that most families need to carry a bag, this becomes a highly relevant question. Because if you can't bring it on the rides, what exactly would you do with it?
The good news: Yes! You can bring a bag on most Disney rides.
In fact, I highly recommend that you do so. Please don't leave your bag sitting in a parked stroller while you ride.
Keep all of your valuables and ID in the Disney park bag that will go on the rides with you. Simply place the bag on the floor of the ride vehicle and you're good to go.
On the roller coasters (especially Rock 'n' Roller Coaster because it goes upside down), I loop the strap around my leg so I know it's secure.
Or, go for the hands free approach and wear a fanny pack. You won't even need to take it off to ride.
The only ride that does not allow ANY bags at all is the new Tron Lightcycle Run rollercoaster in Magic Kingdom. For that ride all bags must be stored in lockers.
The Best Bags for Disney
Now that you have a better idea of what to look for, let's get down to the business of choosing the best bag for Disney.
I'm going to take a look at various different categories of bags as different people have different preferences.
So, from backpacks to sling bags to fanny packs, let's dive in.
Best Backpack for Disney
Let's face it, a backpack is definitely the preferred type of bag for most people going on any sort of trip. But trust me, any old backpack won't work. You need the best lightweight backpack for Disney.
When looking for a backpack for Disney, please make sure you think through the size and functionality. You really don't want to lug around the equivalent of a small suitcase on your back.
When searching, use keywords like "small hiking backpack". This will give you bags that often have chest straps, multiple pockets, are water resistant, and lightweight.
Let's highlight a couple of specific examples of the best backpack for Disney.
Sunhiker Backpack
The Sunhiker Backpack does a darn near perfect job of meeting all the requirements for a day at Disney.
This bag doesn't just have a chest strap, it has one that adjusts up and down the shoulder straps. This makes it customizable for your ultimate comfort.
It also has a waist strap for added support, again to help minimize shoulder and back fatigue. However, some reviewers to comment that the waist strap is likely not large enough to fit a variety of body types.
There are not one, but two mesh water bottle pockets, in addition to 3 other pockets to allow ultimate organization of your stuff.
The backpack is made of water resistant, lightweight nylon. There are also padded and breathable shoulder straps and a breathable back.
I deliberately chose this bag for it's somewhat smaller size. It's still capable of fitting a good amount of stuff, but it won't allow you to pack everything plus the kitchen sink.
This bag has 4.5 stars with over 6000 reviews on Amazon. It's been tried and tested by thousands of people in various situations and holds up beautifully.
All in all, this is a great lightweight backpack for Disney.
Osprey Daylite Plus Daypack
For anyone looking for a bit of a splurge, the Osprey Daylite Plus is a great option. Osprey is a well known company with a reputation for quality gear, so for that extra money you get that assurance.
This backpack is a more traditionally sized backpack so allows you to carry a lot of items. It has a variety of pockets to improve your organization and easy access.
It also has two mesh water bottle pockets on the sides. The pockets are generously sized so they hold even larger water bottles securely.
And of course, this bag has both the chest clip and the waist clip to help battle all that shoulder fatigue.
It comes in a variety of colors and is definitely a more stylish backpack. It is made from water resistant material to help slow down the rate your stuff gets wet in a rainstorm.
It's on the larger size, so again, you run the risk of overpacking and lugging around a lot of extra weight. Other than that, this is a great pack.
If you like the looks of the larger bag but want a smaller option, try the Osprey Daylite Daypack. This bag has a lot of the same great characteristics, but comes in a smaller size.
This helps blend the best of both worlds when it comes to a backpack for Disney.
Again, the price tag on this bag is on the higher side, actually not much cheaper than it's larger cousin. But if you're looking for a smaller bag for any sort of travel, this is a solid option.
Best Sling Bag for Disney
If you noticed my #1 pick for the best bag for Disney at the beginning of this post, then you already know I'm a huge fan of sling bags.
In fact, slings bags are my preference for Disney World instead of backpacks.
I simply feel that they give you the best of all worlds and benefits. So, what are some examples of the best sling bag for Disney?
SEEU Sling Bag
And here we are, my overall pick for the best bag for Disney: the SEEU Sling Bag. This is the bag my family has personally used for countless trips to Disney, the zoo, hiking, bike riding, etc.
As you can tell, we've gotten a lot of mileage out of this bag.
I already mentioned above all of the various specs that make this bag perfect for Disney. But here's my personal anecdotal experiences.
Even though it's smaller than most backpacks, I've had no problem fitting everything in it that my family of 4 truly needs for a day at Disney.
In fact, I even fit an 11″ Chromebook in it before.
But really, the most important part is the overall comfort of using it all day long. The waist strap is the true game changer for me. By hooking that strap it helps relieve so much pressure on my shoulders and back.
Also, the hooked waist strap actually lets the back slouch so there's minimal contact on my back. I can't tell you how much this cuts down on that lovely back sweat.
And when one shoulder does get a little tired after 8 hours of walking around, I switch the direction of the shoulder strap and move it to the other shoulder. It's like a second wind!
A downside of the bag is definitely the fact that there's only one water bottle slot. Heavier water bottles are also prone to falling out, depending on which shoulder you carry the bag on.
However, while researching this post I discovered there is actually an elastic strap with a toggle to hold the water bottle in place. You can't imagine how excited I was to figure out what that little strap was for.
Ever since this discovery I've tested it with my heavy metal insulated water bottle, and it's now snug and secure, not falling out a single time.
My only other quibble with the bag is I wish the pocket on the chest strap was a little larger. If you have a larger phone it might not fit. My Google Pixel 4a fits with a bulky case on it. But it's fairly maxed out.
The saving grace is the fact that the fabric of the pocket is a stretchy mesh so it does expand to allow you to fit a bit more.
WATERFLY Sling Bag
The WATERFLY Sling Bag is a great alternative to my beloved SEEU Sling Bag. The fact that is has 2 water bottle pockets is definitely a bonus, and fixes a weakness of the SEEU Sling Bag.
And let's face it, it's probably a bit more stylish than the SEEU as well. I also like the larger size of the chest strap pocket. That should easily fit a cell phone, as long as you don't have an enormous one.
This bag is smaller in size as well, which helps keep you from packing too much stuff, but is a problem if it's too small for your needs.
The material is stiffer than a nylon ripstop so isn't as packable as other options. It also doesn't have a waist strap to provide extra support for shoulder fatigue.
Overall, reviewers rave about this back. One complaint that does come up often is the lack of functionality of that tiny front pocket. Reviewers say you can fit a pack of tissues and some lip balm in there, but not much else.
Best Fanny Pack for Disney
Fanny packs are back, baby! And personally, I feel like they could be the best way to carry your stuff at Disney.
On a recent trip, I purchased a fanny pack for the sole purpose of testing it out. And let me just tell you, I'm a convert now.
Because I know how polarizing fanny packs can be, I've added a pros and cons section just for fanny packs.
Frankly, I think those of us who grew up in the 80s and 90s are slightly traumatized by the un-coolness of fanny packs at the time. But trust me, it's time to let that go.
ZOMAKE Large Fanny Pack
The ZOMAKE Fanny Pack might not be the most fashionable thing out there, but let me just tell you, it's fantastic for Disney.
This is the exact fanny pack I use at Disney so it's tried and tested.
The three pockets allow you to keep things pretty darn organized. Inside the largest pocket there are even mini pockets for further organization.
In fact, I chose this particular fanny pack because of it's larger size and many pockets. Again, this makes it a bit more unfashionable, but improves functionality.
It's made of water resistant nylon and has a comfortable breathable layer on the back.
It comes in a variety of colors so you can choose your favorite. It's also very affordable, more so than most backpacks and bags.
The adjustment of the straps can be a little finicky. They very easily loosen while you're trying to get it on. However, once on my body, I never had any issues with it loosening during wear.
I find the large brand name across the front obnoxious. I really wish they had done a more subtle logo as I feel this really detracts from the appearance of the bag. But, I decided to ignore than when I chose it and I'm glad that I did.
This really is the best fanny pack for Disney hands down.
WATERFLY Fanny Pack
This Waterfly fanny pack is another style I personally own and use in the theme parks. For style and appearance, I prefer this one to the Zomake bag mentioned above.
It's definitely more attractive than the Zomake. However, in large part this is due to the smaller size. That means that you definitely can't fit as much in this waist pack.
That aside, it's still very functional for people who want it for just that reason: carrying less stuff around Disney.
The very smart layout of this bag is a large portion of why it's so functional. There are 2 small front pockets are easily accessible for small items that are easier to find when corralled. I typically put my travel wallet, chapstick, car key and nail clippers in these pockets.
In addition, there are 2 large pockets as well. The largest pocket also has a card organizer directly in it if you want to avoid carrying a wallet at all.
The material is water resistant and the heathered color options are attractive.
Surprisingly, I really like having the headphone hole, though I didn't think I would actually use it when I first ordered it. However, that hole is perfect for threading the charging cord through when I'm using my favorite portable charger (a must on a Disney vacation).
This allows me to leave the charger zippered into my fanny pack, thread the cord through the access hole in the pouch, and use my phone while it charges.
Here's an example of what I was able to fit into this fanny pack:
Small travel wallet
Chapstick
Car key
Nail clippers
Cell phone
USB charger with cord
Tissues
Feminine hygiene products
Travel size sunscreen
Sunglasses
Packet of hydration powder
Pain reliever/bandages
Don't get me wrong, when all of this is in there, it's a tight fit and I have to make sure it's all in the proper place. But most of the time my phone is in my pocket anyway and that frees up space.
Waterfly also makes smaller and larger sized fanny packs, so check those out as well if this one doesn't suit your needs.
Pros to Using a Fanny Pack at Disney
It can basically be summed up as follows: hands free easy accessibility.
Everything you need is right at your fingertips, directly in front of your body. There's no need to take the bag off in order to retrieve your stuff.
You can even wear it on most of the rides, so no need to fuss around with where to put your bag while on the rides.
You definitely need to play around with just where to position the bag with some of the safety bars/harnesses, but trust me, it's doable.
The smaller size of fanny packs also force you to prioritize bringing only the items that you absolutely need to have.
Quite simply it's the most convenient and easy to use option for a day at Disney.
Cons to Using a Fanny Pack at Disney
There aren't too many cons as far as I'm concerned, but there are definitely some.
Unless you bring a fanny pack that's designed for hiking, there's no place to put a water bottle.
Also, the smaller size can definitely be limiting. For families that really do need to bring a lot of things, fanny packs probably aren't the best option.
And let's not forget that for those of us who are old enough, this is an instant flashback to the 80s and 90s. At least fanny packs are more stylish now than they used to be!
Best Purse for Disney World
For some people, a purse is the way to go and that's that! If that's that case, you must consider the best type of purse to bring to Disney. If you do plan to carry a purse, make sure it's a crossbody style.
Again, the crossbody style helps to distribute the weight of the bag a little bit better. Crossbody bags also allow you to go completely hands free. No need to hold the purse or the strap to keep it on your shoulder.
Baggalini Triple Zip
The Baggalini Triple Zip Crossbody Bag is a great option for those who prefer to carry a purse. It's a style the specifically designed with features that make it good for traveling.
It's a smaller size bag so you aren't carrying around a suitcase on your shoulder. However, it has multiple pockets, allowing you to keep your belongings organized.
The material is water resistant and lightweight. One of the interior pockets has card slots to keep you ID and credit cards organized. This is a nice feature to avoid carrying a bulky wallet. More room for other stuff!
The Baggalini Triple Zip comes in a variety of colors and a few patterns. It even has belt loops on the back of the bag, giving you the option to convert it to a fanny pack. Perhaps this bag is the best of both worlds!
The shoulder strap is on the thin side and has no padding, as is typical of most purses. This means if you pack your bag on the heavier side, you'll likely experience some extra pressure on your shoulder from the strap.
Travelon Classic Messenger Bag
Travelon is probably one of the bigger names when it comes to purses designed for travel and anti-theft features.
The Travelon Classic Messenger Bag is a great purse for Disney, or any sort of travel, really.
It has a 5-point anti-theft security system, including RFID blocking, slash resistant shoulder straps and body panels, and locking straps and compartments.
In a real coup for a purse, there are two mesh zippered water bottle compartments on the outside of the bag. There are also 2 multi-organizational compartments.
This bag is on the larger size for a purse, allowing you to fit a fair number of items in it. It measures 11″x10″x4.5″.
There is a also a card organizing section, again, allowing you to leave the bulky wallet at home.
The shoulder strap is adjustable but doesn't have any sort of padding to increase comfort. Travelon bags also tend to be a bit pricier than most other crossbody bags because of all the safety features.
If this Travelon bag isn't exactly what you're looking for, do not fear, there are a ton more sizes and styles to choose from.
In fact, my sister has used this exact Travelon bag on quite a few occasions when she came with me to Disney.
She loves this bag for Disney. She states that it's small enough that it's fine on the rides but big enough to hold the necessities.
Alternate Bags for Disney
There are a few categories of bags I want to include in this post. I still maintain that the ones listed above are the best bags to carry at Disney World. However, there are some other options to consider as well.
Let's face it, everything I listed above is all about practicality, sometimes at the sacrifice of cuteness. But as you walk around Disney, you'll see so many people carrying Disney themed bags.
These bags don't necessarily tick all the boxes for what I think is necessary for a day at Disney, but it's always nice to explore the more stylish options.
And the last option listed is a great one for families trying to save some money on dining at Disney.
But you don't have to wait until you get to Disney World to buy one. There are tons of Loungefly styles to choose from on Amazon.
There are princess themed bags, Mickey bags, Minnie bags, Disney dogs, Pixar, seriously, you name it and there's probably a Loungefly bag made with that theme.
These are called "mini-backpacks", and while there might be slight size differences from one bag to another, they are typically 9″ x 10″ x 4.5″.
While you won't be able to fit a ton in it, there should be enough room for one person's things, plus a little extra.
Some of the styles have padded straps, but not all. Take that into consideration when choosing your style. This will clearly impact that overall comfort of the bag.
As long as you don't pack it with a lot of heavy things, you should be fine.
My daughter has a Loungefly bag she's used at Disney and she loves it. Then again, she's 14 and has that young person energy and endurance.
I have a Loungefly bag that I use in my day to day life and I love it. It makes a great purse, and I can fit a fair amount of items in it, including a 20oz metal water bottle.
In that sense, Loungefly bags really are great for Disney World. And you will be perfectly on theme.
Tourit Insulated Cooler Backpack
The Tourit Insulated Cooler Backpack has the advantage of looking just like a regular backpack, with all the bonuses of being able to keep food cool.
Many people don't realize that you can bring a cooler full of meals into Disney. This is one of the biggest ways to save money on food at Disney.
This backpack has a large enough capacity to hold 25 cans, which I think is inadvisable from a weight standpoint, but it lets you see how large it is.
There are three compartments, two of them not insulated to hold some of your standard necessities. You also get two mesh water bottle pockets on the sides.
This type of bag forces you to either pare down the amount of other items you bring into the parks, or have a second person in your group carry a bag too.
There simply isn't a lot of capacity for non-perishable items.
What should I pack in my Disney bag?
This is the question that naturally comes along when considering the best Disney park bag. And there is a wide array of opinions on what you should and shouldn't pack in your bag.
Everyone falls into different camps: some are minimalists and want to carry the bare minimum (some people even go bagless!), while others are over packers.
I will admit I fall into the overpacking category. However, I think I've learned how to pare everything down so I'm carrying a reasonable amount of stuff.
I mean come on, I managed to wear only a fanny pack!
In light of this, I want to break this section down to two categories: 1) Absolute must haves, and 2) Can be nice if you have space.
Disney Park Bag Must Haves
Ok, here are the things that I deem essential to have with you during a long day at the parks.
Portable Phone Charger with charging cord
Cell Phone
ID
Disney gift cards
Credit card/cash just in case
Sunglasses
Travel size sunscreen (smaller bottle size to minimize space and weight)
Lip balm with SPF
A few Band-Aids – yes, you can get them for free at the first aid station at each of the parks, but they don't take up much room and I prefer to have access to them the moment I need them
Pain reliever/any necessary medication
If you want to go minimalistic, then this is a solid list to start with. I fit more than this in my fanny pack during my last trip.
A Word About Portable Phone Chargers at Disney…
There is a reason why I'm listing this first. If you bring nothing else with you other than your ID, it needs to be a portable phone charger.
I'm serious, even if you go without a bag, get one to fit into your pocket. You'll be glad you did.
A day at a Disney park relies heavily on your cell phone for all manner of things. Just taking pictures alone will drain your battery.
But if you are using the MagicMobile Pass on your cell phone, it starts upping the usage. And then you can add in checking wait times, using Disney Genie, and so on.
Your battery drains seriously fast. That's why you should always bring a portable phone charger and a charging cord.
I've tried a few chargers, and my favorite is this INIU charger. It's on the cheaper end for portable chargers but it works phenomenally.
I'm able to get multiple charges done without it losing its juice.
I have a post all about keeping your phone charged at Disney, so take a look at that to get some more details.
Other Disney Park Bag Items
Ok, this is where the list can start to get extensive. There are a million and one items out there which could potentially make your day easier.
Please, don't bring all of them. You won't need everything. And some things you might need only during certain times of the year.
So use your judgement when it comes to these suggestions.
Cooling towel like this one – this one can be handy during the very hot summer months, helps keep you cool even when it's 95 degrees out
Ponchos/Umbrella
Sun hat
Portable neck fan – another one that's specifically for the hottest months
Hydration packets – this might seem weird, but dehydration at Disney is very real. Adding these to a standard bottle of water helps boost your hydration
Moleskin – this helps to provide extra cushion to prevent blisters
Body Glide – if you are someone prone to chafing, put this on before you leave your room, then bring it with you in case you need more later in the day
Reusable water bottle – this is a great way to save some money on beverages during the day (P.S. you can get free ice water at all dining locations)
Reusable metal straws – if you really don't like using paper or noodle straws, this might be a must have for you (there are no plastic straws at Disney)
Your Thoughts
So which do you think is the best way to carry stuff at Disney? Are you team backpack, or will you go nuts and give a fanny pack a try? Let me know in the comments below.
Don't forget to follow The Disney Journey on Pinterest and Facebook to stay up to date with all the latest news and updates.