We may earn money or products from the companies mentioned in this post. Please click my disclosure policy to learn more.
Most people can picture what a Disney vacation entails: days in the parks, relaxing by the pool, and perhaps a little shopping in Disney Springs. However, it is possible to add so much more to your Disney vacation with various Disney add-ons.
Many people don't know that there are numerous Disney extras they can add into their trips. Some are free, some aren't. Some REALLY aren't free.
So before you finalize all the plans for your trip, make sure you understand the extra experiences at Disney World.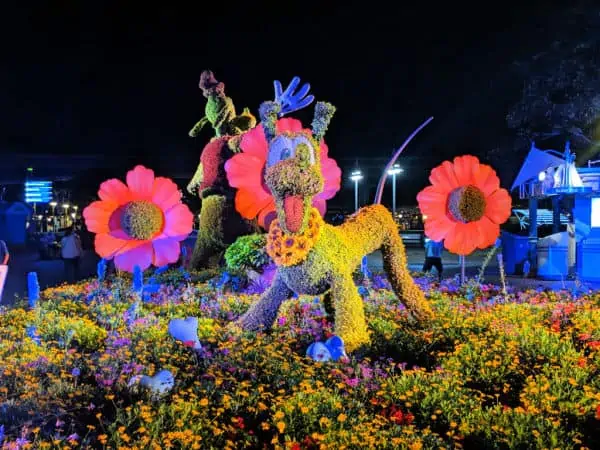 What are Disney Add Ons?
Disney add ons are a vast array of extra experiences you can add to your Disney vacation. The "official" Disney add ons are also known as "Disney Enchanting Extras".
Official Disney Enchanting Extras
Disney's Enchanting Extras can range from tours, to parties, to cruises, to so much more. There really is a dizzying array of options.
Behind the Scenes Tours
Some of the most popular Disney add ons are behind the scenes tours that can be done in various parks. At this time the full array of tours has not returned, but they are slowly getting added back.
Some of these tours are truly stellar and deserve a consideration for your upcoming trip.
Caring for Giants
Wild Africa Trek
50th Anniversary Tour (for a limited time)
Private VIP Tours
Keys to the Kingdom
Savor the Savanna
Starlight Safari at Animal Kingdom Lodge
Up Close with Rhinos
Dessert Parties/Fireworks Packages
These dessert parties have always been extremely popular. They are just now starting to make their way back into the lineup.
Magic Kingdom 50th Fireworks Dessert Party
Magic Kingdom 50th Fireworks Dessert Party: Disney Enchantment After Party
Magic Kingdom 50th Fireworks Dessert Party: Disney Enchantment Pre-Party
Celebration at the Top: 50th Flavors and Fireworks at the Contemporary Resort
FerryTale Fireworks: A Sparkling Dessert Cruise
Rose and Crown Fireworks Dining Package
Spice Road Table Fireworks Dining Package
Seasonal Events
Flower and Garden Festival
Food and Wine Festival
Festival of the Arts
Festival of the Holidays
Mickey's Not So Scary Halloween Party/Disney After Hours Boo Bash
Mickey's Very Merry Christmas Party/Disney Very Merriest After Hours
Rest and Recreation
Beachcomber Shacks (Typhoon Lagoon)
Cabanas
Lake Buena Vista Golf Course
Magnolia Golf Course
Oak Trail Golf Course
Palm Golf Course
Fantasia Gardens and Fairway Miniature Golf
Fishing Locations
Foot Golf at Oak Trail Golf Course
Fort Wilderness Archery Experience
Golf Lessons
Grand Floridian Spa
Horseback Riding
Horse Drawn Excursion – Carriage Ride at Fort Wilderness
Horse Drawn Excursion – Carriage Ride at Port Orleans Riverside
Mandara Spa
Pony Rides
Poolside Patios
Splitsville Luxury Lanes
Surfing Programs at Typhoon Lagoon
Typhoon Lagoon Umbrellas
Wilderness Back Trail Adventure
Winter Summerland Miniature Golf
To get the full list of options currently available, go to Disney's Enchanting Extras page.
However, I'm going to be a little looser in my definition of a Disney add on. I want to take a look at an array of the best Disney World extras which can make your vacation even better.
These Disney add on opportunities can be found in all facets of a Disney vacation. Some of these are great options to enhance your non-park days, while others are the perfect way to make a park day even more fun.
Of course, these experiences come at a cost. Some of these Disney experiences can be accomplished relatively inexpensively, while others are quite pricey.
Because of the higher price tag attached to some of these Enchanting Extras, they make great additions to your Disney Bucket List. One of the top items on my ultimate Disney Bucket List is the Wild Africa Trek!
In addition to listing my favorites (so far!), I asked some other Disney bloggers about their favorite Disney add-ons.
10 Best Disney World Add Ons
Seriously, for right now I have 10 on this list, but it will likely just keep growing! There really are so many different Disney World add on experiences. I predict that some day this post will be quite long!
Disney add ons have taken a hit since the reopening. They've been slow to return, but they are in fact coming back.
However, that means some of the options on this list might not be currently available. In theory, they should return slowly but surely. However, time will tell.
1. Bippidi Boppidi Boutique
Who doesn't want to get the royal treatment? The Bibbidi Bobbidi Boutique is ready to make every little Princess or Prince feel like they are a part of their favorite Disney movie.
With two locations, inside Cinderella's Castle or in Disney Springs, the Bibbidi Bobbidi Boutique experience starts with selecting your package to include everything from hair and makeup, to a full princess dress and crystal tiara.
For the princes, they can choose from different knightly costumes and shields/swords.
Cinderella's Fairy Godmother meets you in a royal dressing room, and you are whisked away to a Fairy Godmother-In-Training. Your child will get to choose their hairstyle, even including pink and purple extensions if they want!
After hair, makeup, and nails, every style is finished off with some pixie dust glitter. The knights can choose to get dragon scales sprinkled in their hair too.
After your child's head-to-toe transformation, they enjoy a photo-shoot all their own! There really is no better way to make your child feel like they are living in a storybook than to treat them to a magnificent makeover at the Bibbidi Bobbidi Boutique!
-Sarah from Moment Mom
2. Wild Africa Trek
The Wild Africa Trek at Animal Kingdom is definitely on the pricier side of things, but you get a fair amount of bang for your buck with it.
Coming in at a starting price of $199 per person, it puts a dent in the vacation budget. However, this gives you multiple hours of behind the scenes fun.
This 3 hour tour includes a private tour of the safari, on a different path than that taken by the standard safari. You also get to walk over rope bridges and through grasslands.
All of this combined gives you the opportunity to explore the safari in ways not experienced by the average guest.
Included in the tour is complimentary photo services to capture some unique memories of your family on the tour.
And to cap it all off, every guest is provided with an African inspired snack. FYI, this "snack" is cooked by the chefs at Tiffins, Animal Kingdom's amazing signature restaurant.
This tour does have some restrictions regarding height, weight, and age due to the harness system that is used. Make sure you double check those requirements before you book it.
3. Caring for Giants
Caring for Giants is a behind the scenes experience at Disney's Animal Kingdom. Because it takes place inside the park, a park ticket for the day is required.
This tour is considered one of the best experiences for the money, coming in at only $35 per person for a 60 minute tour.
First, you get to walk behind the scenes at Animal Kingdom on your way to the tour bus. The Cast Member with us was full of humor and information during this short walk.
While the bus ride wasn't overly exciting, it was very informative. The Cast Member did a great job of keep us all entertained on the short bus ride to the back of the safari.
That's right, this tour takes you behind the scenes of the safari. This gives you such a unique opportunity to go deeper into the property.
But let's face it, the real stars of the show are the elephants. You are taken to a couple of different viewing spots within Kilimanjaro Safari that give you much closer access than typical safari guests.
It was wonderful to hear the names and stories of some of the elephants, and to watch baby Stella explore her surroundings.
We learned so much about the elephants themselves and their personalities, but also about elephant behavior in general.
And of course, we learned about the plight of elephants in the wild and the importance of conservation and education to help them thriving. Overall, a wonderful experience my family will not forget.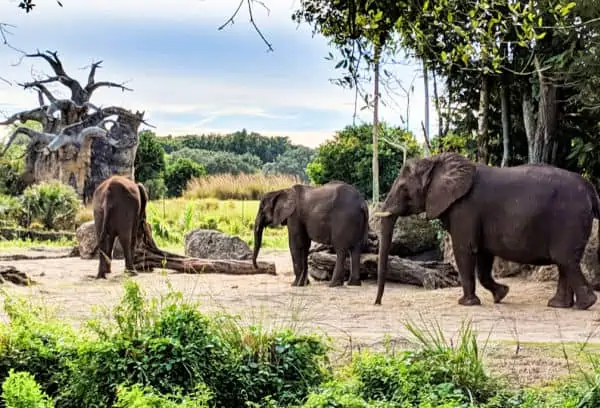 4. Savi's Workshop
Here's another option that is definitely on the pricy side, but if you have any Star Wars fans in your group, it could be worth it.
Savi's Workshop is located in Galaxy's Edge at Hollywood Studios. This experience gives people the opportunity to build their very own lightsabers.
These aren't the standard plastic lightsabers you can buy in any old gift shop, either.
Guests are provided with different themes to choose from, such as Peace and Justice, Elemental Nature, Power and Control, and Protection and Defense.
The theme that you choose determines the type of look your lightsaber will have.
But aside from simply building a lightsaber, which is cool in and of itself, a trip to Savi's Workshop is more about the experience. It is highly themed to try to immerse you into the story told to you by Savi's Gatherers.
Current pricing for Savi's Workshop is $220. This provides you with one lightsaber and the full experience. One nice feature is that each paid guest is allowed to bring in one extra person with them.
This allows a couple people into the experience for the price of one. However, you only get one lightsaber.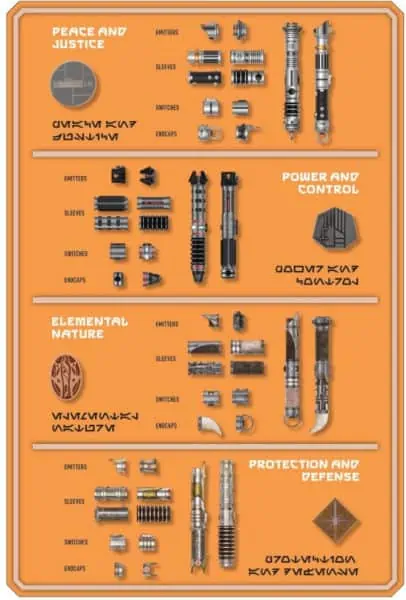 5. Holiday Parties
While the holiday parties were a bit different this past year due to the pandemic, the holiday parties at Magic Kingdom continue to be very popular.
At this point it remains to be seen whether the traditional parties will return (Mickey's Not So Scary Halloween Party and Mickey's Very Merry Christmas Party), or if the adapted parties are the option (Disney After Hours Boo Bash and Disney Very Merriest After Hours).
Whatever the option is, the holiday parties tend to be a lot of fun and can add a lot to your Disney vacation.
I am a huge fan of both of the holiday parties, and highly recommend them to anyone planning a Disney vacation during these holiday seasons.
Both Mickey's Not So Scary Halloween Party and Mickeys Very Merry Christmas Party are filled with exclusive character meet and greets, treats, special parades, and significantly shorter lines for all of the rides.
The best part of the parties is the phenomenal job Disney does with creating the perfect atmosphere to immerse the guests into the spirit of the holiday.
That combined with having access to Magic Kingdom with smaller crowds is an automatic win-win situation.
If you want to know more about the details of Mickey's Not So Scary Halloween Party and Mickey's Very Merry Christmas Party, make sure you check out my others posts. They really are two of my favorite things to do at Disney World.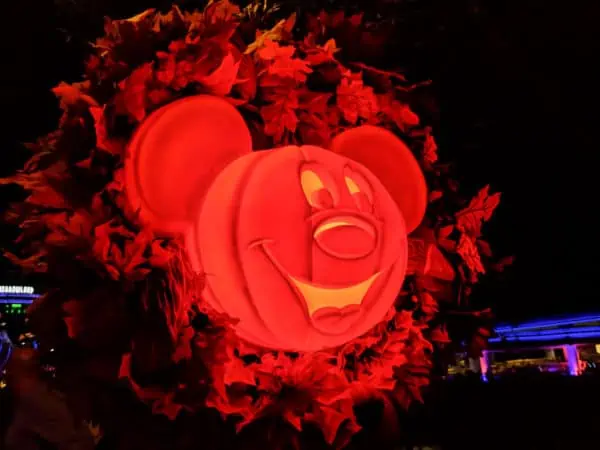 6. Memory Maker
Part of the wonder of Disney is seeing so many amazing things in a very short period time. Planning can take months or even years beforehand, and ironing out every detail can be anxiety ridden.
Enjoying every minute of the experience is key, but what about preserving the memories?
Taking your own photos is a great thing, and the easiest way is to do so is to keep a cell phone handy. But there are areas where it might be difficult or impossible to take photos.
That's where the Disney Memory Maker comes in. It's a fantastic add on and provides an unlimited amount of digital Photopass photos that are captured in various places throughout the park.
Photographers are at attractions and dining venues, and there are photo places on rides as well. Whenever you see a photographer, you can pose and capture your family at that moment without the hassle of dealing with a large camera.
The Memory Maker is logged to your MagicBand or Disney Card and is scanned under your unique code.
After your visit, you can access all the photos within a 45-day period from the day the photo was taken. If you are a premium Disney member you have up to 1 year to access and download your photos.
The Memory Maker does allow for the purchase for an expiration extension to allow you more time to download your photos.
The Memory Maker is one of the best add ons at Disney, as it truly captures some of the most amazing moments during your Disney experience.
-Diana at The Elusive Family
Tip from Nicole: If you are always the one behind the camera, like me, then Memory Maker is a great way to finally include yourself in your vacation pictures!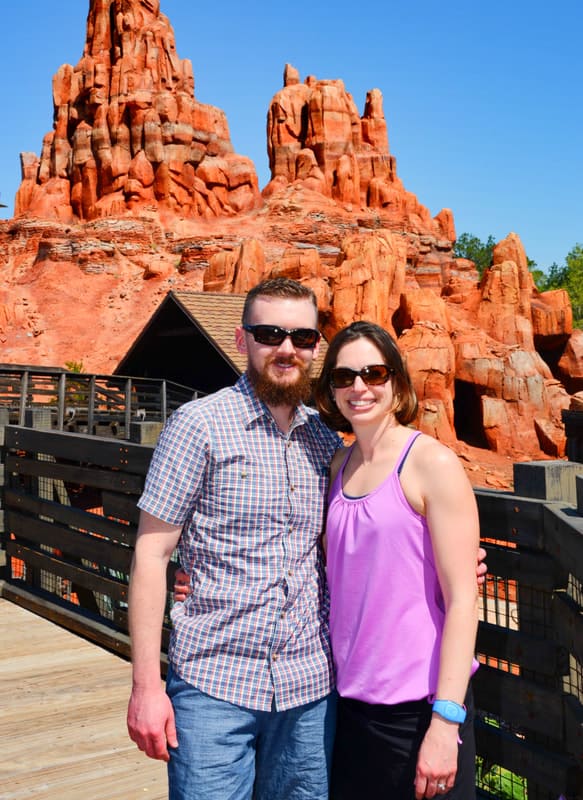 7. Candlelight Processional Dining Package
Candlelight Processional is a nightly event within Epcot's International Festival of the Holidays. If you are at Disney during the Christmas season, it really should not be missed.
One of the ways to guarantee yourself a seat at the experience is with the Candlelight Processional Dining Package. This event is in high demand, with people lining up well in advance.
The Candlelight Processional Dining Package is the only way to avoid the long wait.
When booking opens, you reserve a Candlelight Processional Dining Package at the participating Table Service restaurant of your choice. You are then assigned a corresponding show time for Candlelight Processional.
During the holidays, Epcot does its best to hit you over the head with holiday spirit, and Candlelight Processional is the pinnacle of that effort.
A celebrity narrator (Neil Patrick Harris is a fan favorite) reads the Christmas story from the Bible. The readings are interspersed with corresponding Christmas songs by a large choir. All of this is accompanied by a full orchestra.
The impact of all of this is stunning and chill inducing. It really is such a wonderful holiday experience and I highly recommend Candlelight Processional.
You don't have to book the extra dining package in order to see the performance, it's actually included in the price of your Epcot park ticket.
The dining package simply guarantees you seating in a preferred seating area.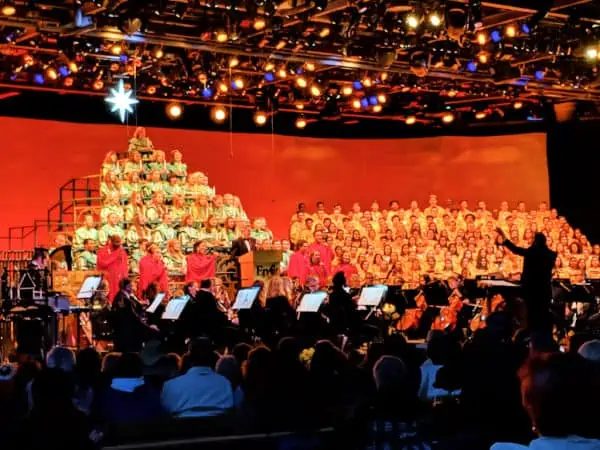 8. Keys to the Kingdom Tour
The Keys to the Kingdom Tour is available at Magic Kingdom and requires park admission as well as a reservation and fee for the tour.
This tour gives an incredible behind-the-scenes look at Magic Kingdom. It is a walking tour and takes around five hours total. There are LOTS of breaks and resting opportunities and the cost (as well as time) includes lunch.
Even an avid Disney visitor will love this tour. In fact, it really is best suited for the fans of Walt Disney and his theme parks. First-time visitors to the park won't have the appreciation for the facts given during the tour (and would have better use of their 5 hours to enjoy the actual park!).
Personally, I plan to take each of my children on the Keys to the Kingdom tour once they are old enough to know the secrets behind the magic at Magic Kingdom.
This tour travels behind the scenes at the park…and even under the park to explore the tunnel system used by Cast Members to travel unseen throughout different areas of Magic Kingdom.
This tour is a fabulous add-on for a vacation to Disney World and will not disappoint!
-Emily from Journey of Parenthood
9. Fantasia Gardens Miniature Golf
Disney World isn't just about the rides and the characters. In fact, they have lots of other great activities for families and friends visiting the resort. One of my favorite things to add to our vacation is a few hours at the Fantasia Gardens Putt Putt Course.
This course is located on Disney Property, but not inside the parks. It's full of fun, and somewhat subtle, references to the popular Fantasia movie.
We love coming here for a few hours of relaxing family fun. The lines are much shorter and some trees provide intermittent shade. It's a perfect get away on arrival or departure days.
Normally, we go on our off day between parks. Typically we want to spend our off day playing putt putt, getting ice cream and then going to Disney Springs for dinner. We've also gone in the mornings on days that we planned to go to MVMCP or MNSSHP.
With hours typically running from 10a-10p during peak seasons, it's easy to fit it into your Disney trip. Regardless of when you come to the park, The course is fun for toddlers through adults at any time of the year!
-Seely at Mouse Ear Memories
Tip from Nicole: If you have a vacation package booked through Disney, look for the Disney Magical Extras discount card in your Magic Band box. This will give you a discount for Fantasia Gardens!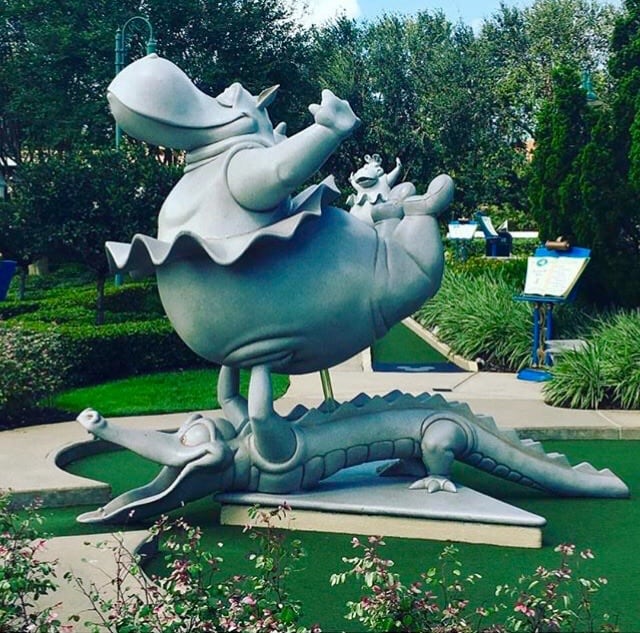 10. Hoop Dee Doo Revue
Why just go to dinner when you can go to dinner and a show? Hoop Dee Doo Revue, located at Fort Wilderness Resort is possibly considered the best dinner show at Disney World.
But don't be intimidated by getting to that location, it's easier than you think.
While you chow down on some down home barbecue cooking, the actors keep you well entertained. There is singing, dancing, joking, and a whole bunch of fun to be had.
The actors come right out into the audience and you never know just who will be selected to participate in their act. Never fear though, they won't force anyone to participate who is uncomfortable with the idea.
I cannot stress to you just how fun this experience is for the whole family. Pricing and some details vary depending on which category you book your table in so head on over to my full review of Hoop Dee Doo Revue to get the details.
Hoop Dee Doo hasn't returned yet since the reopening, but I have high hopes it will be back some day.
How About Those Free Disney Add-Ons I Mentioned?
As I mentioned in the intro, there are some Disney add ons you can do for free. Mind you, these aren't plentiful, but they are there.
To supplement this list, check out my list of things to do outside the Disney parks. While some of those things cost money, the list does include a number of free things to do.
Any Epcot Festival
The most obvious free additions to your trip are any of the Epcot Festivals. At this point they take place almost year round, so odds are good one is happening during your trip.
Admission to any of the Epcot Festivals is included in the admission of your park ticket. This makes attending the festivals free.
However, if you really want to experience the festivals, this will require money to spend on all the delicious food on offer. But there are festival offerings that are free of charge.
Here is a list of the different Epcot Festivals:
Resort Activities
This one only applies to the Disney resorts, though it's possible that other resorts in Orlando might do this as well.
Many of the resorts have little extras that are included for resort guests, but many people aren't even aware of them.
For example, many of the resorts have Movies Under the Stars. This allows guests to come and watch a favorite Disney movie on the lawn of their resort.
Art of Animation resort has an animation drawing class you can take.
These are just a couple of examples, but it helps to demonstrate the point. Make sure you pay attention to what your resort offers. There just might be something you'll enjoy.
Final Thoughts on Disney Add Ons
I love the fact that you can really add some flare to an already awesome trip with these experiences.
I think the price tag on some of the tours and parties is a bit high, but that clearly hasn't completely stopped me, or anyone else, from participating in them.
If you're interested in learning about all the different Disney add ons, head over to the official Disney World Enchanting Extras page. Do so at your own risk: I guarantee you will find something you want to add to your trip.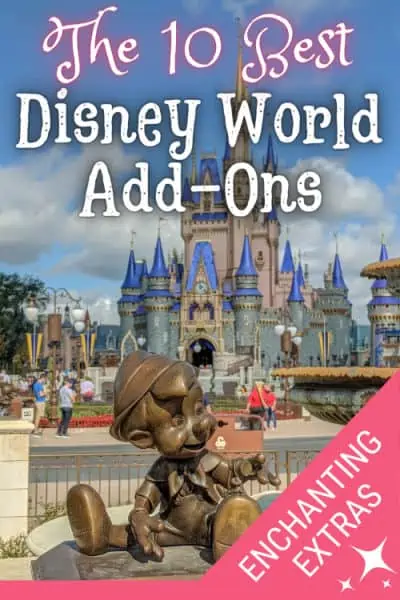 Your Thoughts
Do you have a favorite Disney add on of your own? I would love to hear stories of your own experiences with Disney Enchanting Extras. Please comment below to share.
Don't forget to follow The Disney Journey on Pinterest and Facebook to stay up to date with all the latest news and updates.