We may earn money or products from the companies mentioned in this post. Please click my disclosure policy to learn more.
Disney World is an absolute foodie's delight. Good food can be found anywhere on Disney property. This is even true for people who must eat gluten free.
Disney World is one of the most accommodating places for people who have food allergies. This post will highlight the top 10 best gluten free snacks at Disney World.
As with all food allergy related orders, make sure you notify your server to take precautions to avoid cross-contamination. Everyone's gluten tolerance is different.
These snacks have worked for my own experience, but please, double check with a Cast Member before you order any of these items. Remember, ingredient lists are always available!
If you haven't already, read my guide to eating gluten free at Disney World to learn the ropes.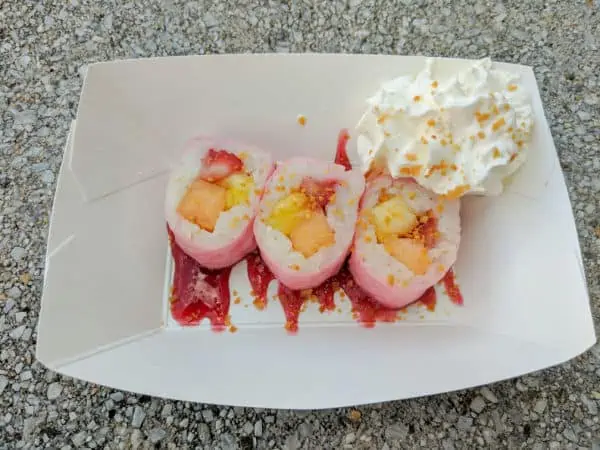 10 Best Gluten Free Snacks at Disney World
Out of necessity, I admit that there are a lot of ice cream based snacks on this list. Let's face it, it's an easy fall back. But Disney gives us some great ice cream options.
However, there are quite a few non-ice cream snacks on this list, some of which are at the parks, some of which aren't. But trust me, they are worth the trek or extra hurdles you have to jump through to get them.
10. Mickey Bars
Yes, this is pretty much a basic popsicle of vanilla ice cream covered in a chocolate shell. It just happens to be shaped like Mickey's head, which makes everything taste better.
Mickey bars are good, clearly, or I wouldn't put them on this list, but they aren't exactly mind blowing.
A common question that comes up is: are Mickey ice cream bars gluten free? The great new is, yes they are!
However, the distinct advantage of the Mickey bar is that you can find them pretty much anywhere around the parks, in multiple locations in each park.
This makes them an excellent fall back when you want a snack and are in a location with few gluten free snack options.
I have often gone right to one of the many food carts that litter the parks to get myself a Mickey bar in the absence of other options. When in doubt, grab a Mickey bar.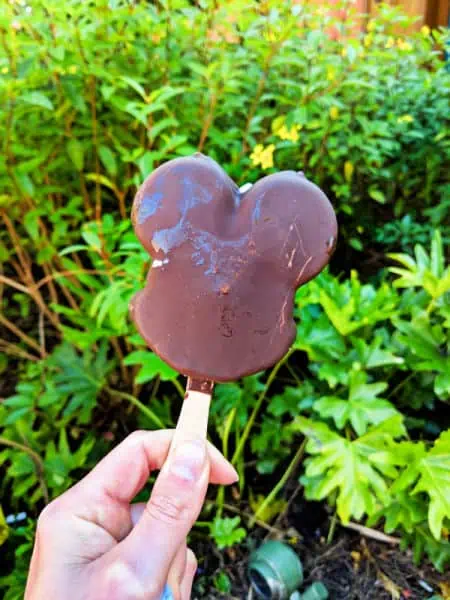 9. Zebra Domes
Unfortunately for everyone, Zebra Domes can only be found at Animal Kingdom Lodge, which isn't exactly conveniently located. However, if you are staying there or plan to go there for a delicious dinner, these should absolutely be on your list.
They can be ordered at Boma or located in the refrigerator at The Mara. The container at The Mara is clearly labeled between gluten free and not gluten free.
Traditionally, Zebra Domes are made with a thin layer of cake on the bottom. However, the gluten free variety is made with a thin piece of chocolate in the bottom, making this already chocolate-y dessert even more so.
Those delightful little domes are filled with a rich chocolate mouse.
Warning: These are incredibly rich, which definitely isn't to everyone's taste. However, if you are a die hard chocolate lover, you just found your new favorite gluten free snack at Disney.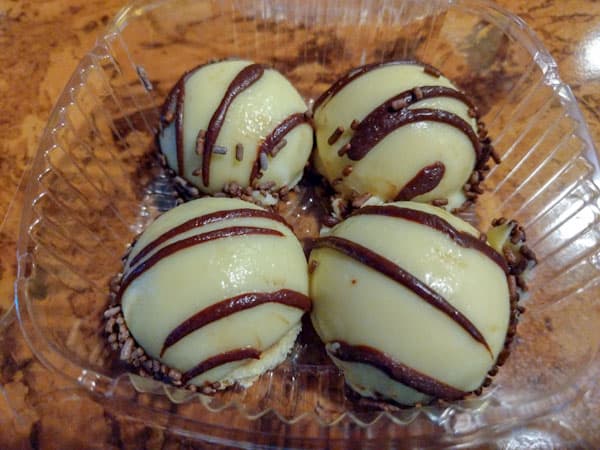 8. Rice Cream
Here is another option that provides you something other than ice cream. Rice Cream can be found at Kringla Bakeri Og Kafe in the Norway Pavilion of Epcot.
As the name implies, Rice Cream is a creamy rice pudding. It is topped with a strawberry sauce.
I will say, this has a different texture than any rice pudding that I've ever had. It's not as "soupy". Perhaps not the best descriptive word, but it get the point across.
The rice is firm and the cream is well flavored. When you put that together with the strong flavors of the strawberry sauce, this is a truly delicious gluten free snack.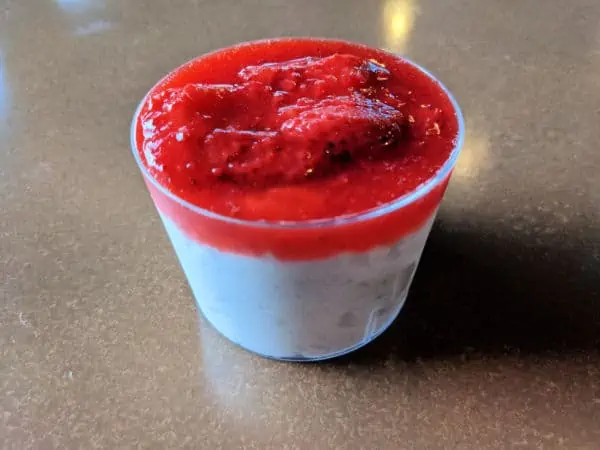 7. Anything from Erin McKenna's Bakery
As I'm sure you've noticed, many of the items on this list involve ice cream of some sort. This is partially due to my all consuming love of ice cream, but mostly because ice cream is simply an easy gluten free option.
That's why Erin McKenna's Bakery, located in Disney Springs, is such a big deal. For a person with a gluten intolerance to walk into a bakery and order whatever they want, well, it's just amazing.
You can find cupcakes, donuts, cookies, teacakes, and more.
You can find Erin McKenna's items at some other locations around the parks, but not the full array of options. The Boardwalk Bakery on Crescent Lake often has a small selection of cupcakes from Erin McKenna's Bakery.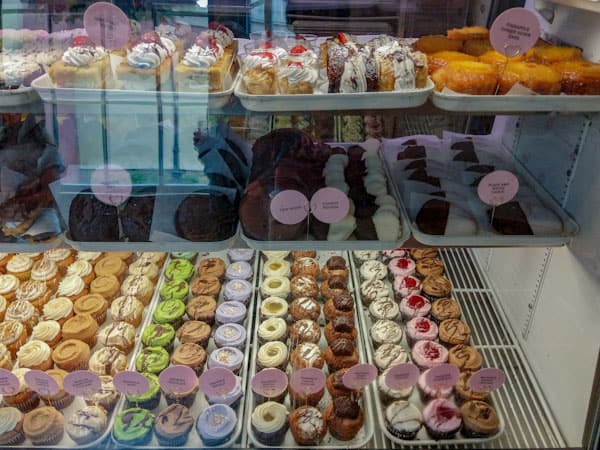 6. Night Blossom
Let's change gears a little to a slushy-type treat. The Night Blossom is a bit of tart deliciousness at Pongu Pongu snack stand in Pandora. Trust me, this picture just doesn't do it justice.
I found this slushy to be so refreshing on a hot day. First off, it's limeade, and I LOVE limeade. Specifically, this limeade is apple and desert pear flavored.
To finish it all off, the slushy is topped with a pile of passionfruit boba balls. I'm not the biggest fan of boba balls in general, so I tend to avoid them when I'm eating this.
If you're feeling extra cautious, you can always ask to have the boba balls left off of your order.
But seriously, the Night Blossom is just refreshingly delicious.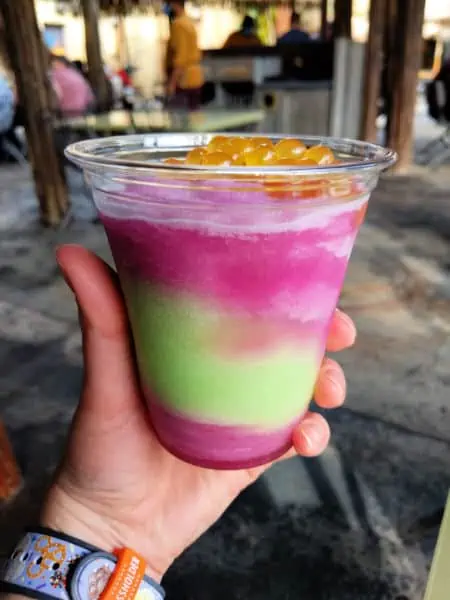 5. Macaron Ice Cream Sandwich
When I first began eating gluten free, I was thrilled to discover that macarons are naturally made gluten free. It's always great to have something you already know is safe.
If you are looking for a little twist on your macaron you can get the Macaron Ice Cream sandwich at L'Artisan des Glaces. This is exactly what it sounds like, ice cream stuffed between two macarons.
Plus, ice cream sandwiches are typically off limits to us. This allows us to have a safe, gluten friendly ice cream sandwich!
There are two different options for your Macaron Ice Cream Sandwich. The first is a chocolate version, the second is Strawberries and Cream.
My personal favorite is Strawberries and Cream, but that's simply because I prefer fruit flavors.
The Strawberry version gives you a strawberry flavored macaron with vanilla and strawberry ice cream sandwiched inside. The ice cream in and of itself is yummy, but adding the macaron cookies to it is a gluten free eater's delight.
Seriously, you can't go wrong with either flavor.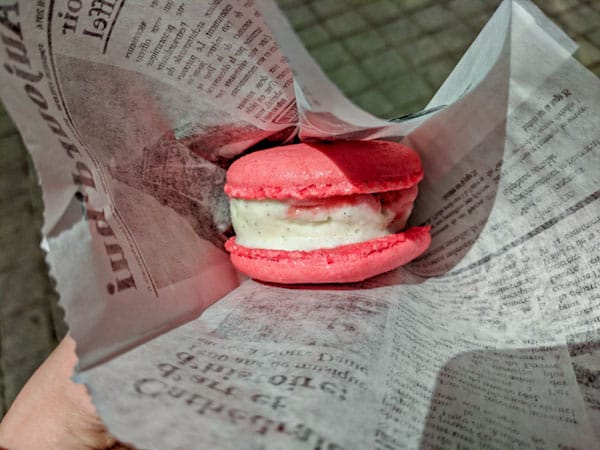 4. Beignets
Yes, there are gluten free beignets at Disney World!
The gluten free beignets, found at Sassagoula Floatworks and Food Factory, have become the stuff of legends in the gluten free Disney community. They are widely known as on of the best gluten free snacks at Disney World.
The novelty of being able to eat something like a beignet is just huge for us gluten free eaters.
The biggest downside to the beignets is simply their location at Port Orleans French Quarter. The resort is out of the way and most people have no reason to go there in the first place.
But if you are gluten free, it is well worth the trip. Order some beignets and then explore what is a very pretty resort.
For an additional $1.99 you can get either a caramel, raspberry, or chicory coffee ganache dipping sauce to go with your beignets. I actually completely forgot about the dipping sauces when I ordered mine!
I will be the first to admit, this picture of the beignet is dreadful, but I was so eager to eat them I never got a better picture! Look at all that yummy confectioner's sugar…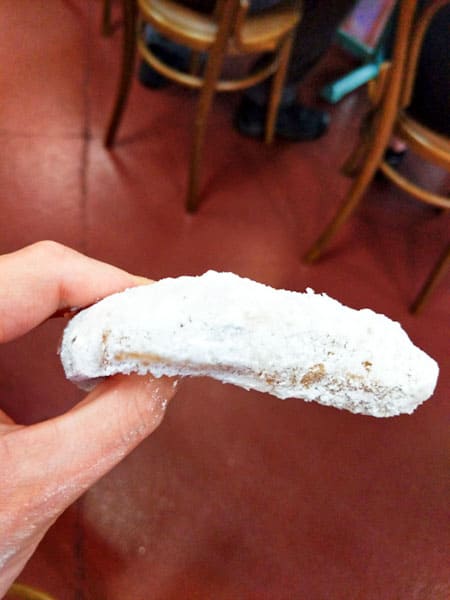 3. Dole Whip/Dole Whip Float
Not only is Dole Whip gluten free, it's absolutely delicious! The traditional Dole Whip is a Pineapple Dole whip. However, Disney offers other Dole Whip flavors throughout the year.
The good news is that ALL of the Dole Whip flavors are naturally gluten free! Tip: they are also dairy free for those who also can't eat dairy.
I should preface that part of my love of the Dole Whip stems from the first Dole Whip I ever had. That Dole Whip was eaten in Hawaii, on my honeymoon, at the Dole plantation. Clearly, that was a great memory.
Doug and I talked about those Dole Whips for years after that trip. When we discovered that Disney also has Dole Whips, it was perfection.
Aloha Isle, located in Adventureland at Magic Kingdom, is the original spot to get Dole Whip in Disney World. You can also find the Dole Whip at Animal Kingdom, the Polynesian Resort, and Epcot.
However, Aloha Isle offers the most variety in flavors.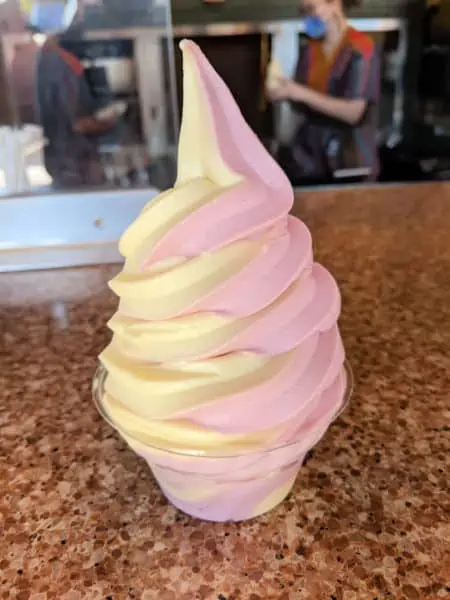 You can get your pineapple Dole Whip in all pineapple, pineapple swirled with vanilla, either of those options drowning in pineapple juice, with a pineapple upside down cake, with rum…you get the point.
My personal favorite is actually the pineapple and raspberry Dole Whip swirl. It's simply delicious.
Bottom line: the Pineapple Dole Whip is a light and refreshing snack, especially on a hot Florida day. It has also become an experience that is synonymous with a Disney World vacation. For that reason alone you should give it a try. Trust me, you won't be disappointed.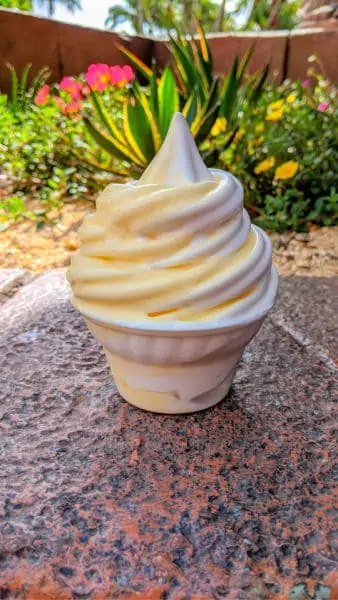 2. Gluten Free Churros (Nomad Lounge and Three Bridges Bar and Grill)
Gluten free churros at Disney World? Sign me up!
Seriously though, eating gluten free churros on my first Disney trip after going gluten free was an eye opening experience. The fact that I could eat churros at Disney World was just mind blowing.
This is part of what led me to love eating at Disney World so much. Where else would I be able to order a gluten free churro?
You can find gluten free churros at two locations in Disney World: Nomad Lounge (Animal Kingdom) and Three Bridges Bar and Grill (Coronado Springs resort).
I often wax poetic about these things. They are just soooooo good. I do not know what recipe the chefs use, but these are gluten free for all customers, not just those with gluten allergies.
The type of dipping sauces offered varies between Nomad Lounge and Three Bridges Bar and Grill.
At Nomad Lounge you get strawberry chili and vanilla cream flavored sauces. At Three Bridges it comes with a chocolate sauce. Seriously, I don't think you can go wrong with either.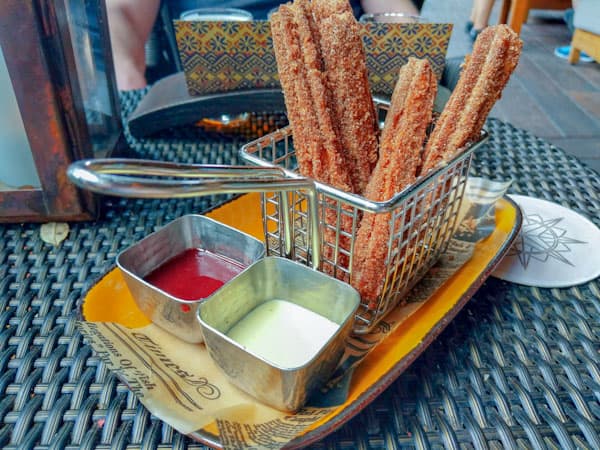 I am a girl who loves baked goods, and I miss them tremendously since going gluten free. To be able to eat a batch of churros and not worry about feeling awful later is amazing.
These are so good that I'm willing to bet that most of the guests have no idea they are not made with wheat flour.
If the wait for a table at Nomad Lounge is too long, you can ask to place an order to go! You might still have to wait, but they'll allow one person at a time to go in a place a to go order from the bar. This lets you get your gluten free churros in a to go container.
I recommend taking them over to the seating area for Flame Tree BBQ. It's a beautiful and surprisingly quiet spot to enjoy those churros.
Important Gluten Free Tip: All churros at Disney are NOT gluten free! The only places to find gluten free churros at Disney World are Nomad Lounge and Three Bridges.
1. Macarons at Les Halles Boulangerie Patisserie
So, I didn't think the churros could ever get dethroned, but then I discovered this gem at Epcot. Yes, the Macaron Ice Cream Sandwich was already listed, but trust me, these are different.
First, Les Halles Boulangerie Patisserie offers standard macarons in the display case. They also offer a macaron collection which gives you six delectable macarons in traditional flavors such as chocolate, vanilla, and pistachio.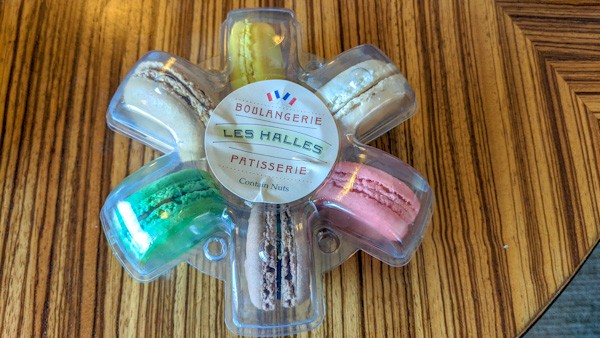 These are delicious and should definitely be purchased and consumed with relish. The lemon and the raspberry were my personal favorites. However, the real gem is coming up next…
I present to you, the Macaron with Raspberry and Lime Cream!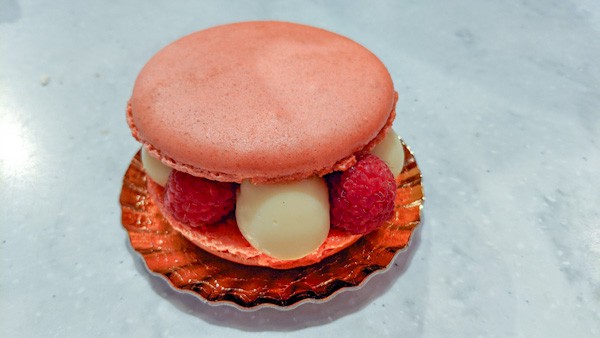 This unassuming little dessert is my #1 favorite gluten free snack at Disney World. Hands down.
The macaron is nice and soft, delicious in and of itself. But the real star is the combination of the raspberry and lime flavoring together. The lime cream is perfection, lip puckering, tart perfection.
This is a bit of a messy treat to eat so grab a knife and fork, but you won't be sorry.
Best Gluten Free Snacks at Disney Honorable Mention: Epcot Festival Booth Food
If your trip happens to fall during Epcot's International Food and Wine Festival, Flower and Garden Festival, International Festival of the Holidays, or the International Festival of the Arts, then you have several other snacks to choose from.
During each Epcot Festival, there is a selection of gluten free foods which are labeled on the menus as gluten free. In addition to the labeled foods, there are also others that can be made gluten free with the omission of an ingredient.
For some examples of what to expect, check out my review of the Epcot Food and Wine Festival gluten free menu items.
The food at the Festivals is definitely worth the money (or snack credit). This automatically expands your gluten free snack options at Disney World.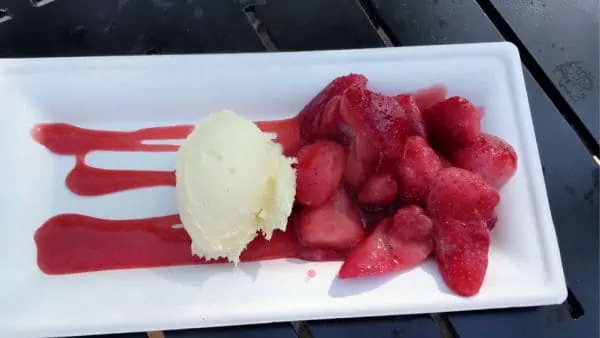 Final Thoughts on the Best Gluten Free Snacks at Disney
Well, there you have it! And this list only contains 10 of the best Disney World gluten free snacks. In reality, there are even more scattered throughout the parks.
I highly recommend you do some research before your trip so you have an idea of what's offered in each of the locations you'll be in.
You'll notice that this list is very heavy on snacks located in Epcot. That is by far the easiest park for gluten free snacks at Disney World.
In some parks you're limited to ice cream based snacks. While that's not exactly a bad thing, sometimes you want something other than ice cream!
By doing your research, you can identify which days you want to prioritize ice cream and which you want to have baked goods. And of course, always pack safe gluten free snacks in your Disney park bag, just in case.
Go forth and have fun discovering what your own list of favorites looks like. Dining at Disney with food allergies really is the best.
Your Thoughts
I would love to hear what some of your gluten free snacks are. Do you think these are the best gluten free snacks at Disney World? What are some that I've missed? I'm always looking for more to try at Disney World!
Don't forget to follow The Disney Journey on Pinterest and Facebook to stay up to date with all the latest news and updates.