We may earn money or products from the companies mentioned in this post. Please click my disclosure policy to learn more.
If you have kids and are considering taking a trip to a Disney theme park, it's impossible not to consider using a stroller. The decision to do so really depends on each family's needs.
In my post about the pros and cons of using a stroller at Disney, I go into much more detail to help make your decision about whether to use one. However, if you do plan to use a stroller, focus shifts to contemplating qualities that make the best stroller for Disney (updated June 26, 2023).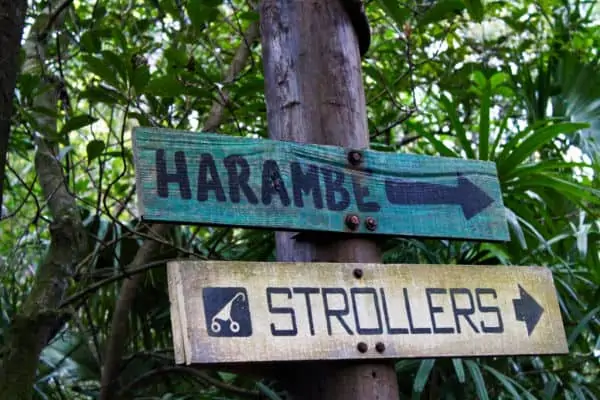 The Overall BEST Stroller for Disney
Before we get into taking a look at what makes the best stroller for Disney, I wanted to cut right to the chase. The following are my picks for the BEST strollers for Disney based on my personal experiences and a whole lot of research.
Further on you'll find out way more details about why these strollers made the cut.
How to Choose the Best Stroller for Disney World
Now that you've decided to use a stroller at Disney, the question turns to choosing the right one. There are several qualities which are important when it comes to the selection of the best stroller for Disney World.
All of these factors apply whether you are renting a stroller (try Kingdom Strollers, they're my favorite!) or bringing your own.
1. Maneuverability
This is perhaps one of the most important considerations when choosing your stroller for Disney. I think we all know how crowded Disney World and Disneyland can become.
You want a stroller which will allow you to traverse those crowds with as much ease as possible.
All strollers are not created equal when it comes to maneuverability. It is for this reason you will note that all of my double stroller recommendations are for side by side doubles, not the front to back style double.
This was based largely on my own experiences with our front to back style double. I thought it would be so much easier to use than those wide load strollers, but I was so wrong.
The extra length makes it more difficult to turn and maneuver through tight places. Ironically, I never had this problem with the side by side doubles.
2. Easy to Close, Open, and Carry
A very close second to maneuverability is being able to easily close, open, and carry your stroller. In the day to day use of a stroller this might not be a huge deal, but when using Disney transportation, this suddenly becomes hugely important.
While there are some times you are able to just roll your stroller onto a boat or monorail, you will be required to empty out, fold up, and carry your stroller every single time you get on a bus.
Let's face it, there are some strollers which are a nightmare to close and carry around. My front to back double stroller was one such stroller. There was just no easy way to cart that thing around, and man it weighed a ton.
3. Storage Basket
A storage basket, even a smaller sized one, can be a real life saver during those long days in the Disney parks. It's just nice to have another place to keep all of the stuff that seems necessary to bring to the park.
Clearly, you want the basket to be as generous as possible, as well as easily accessible. Once again, my nightmare double stroller fails at this. Can you tell I really regret that purchase?
Honestly, the lack of a storage basket to carry stuff in is what I miss most now that my kids are too old to use a stroller at Disney.
4. A Canopy for Shade
In terms of general health and wellness, this one is actually #1 on this list. The Florida sun can be incredibly bright and hot. A generous stroller canopy can mean the difference between a great trip and horrible sunburn.
If the stroller has a particularly large canopy, this also comes in handy if your child takes a nap in the stroller. It simply helps to create a cozier environment for sleeping.
5. Reclining Seats
If you have younger children, or those who you want to nap during part of the day in the parks, this becomes very important.
Anything that contributes to the comfort of a sleeping child is essential in my book!
Why Do I Suggest These as the Best Strollers for Disney?
These stroller suggestions are based on a combination of personal experience and scouring the reviews to identify the best stroller options for a trip to Disney World.
Clearly, if you are spending a lot of money on a stroller, make sure it is one you can use a lot in your every day life as well.
I am confident that all these strollers fit that bill.
I've tried to include a variety of price points and styles to showcase the best of the different types of strollers. Not surprisingly, many of the best double strollers are simply the double version of the top rated single strollers. If it ain't broke, don't fix it!
All of the products listed here have great reviews on Amazon.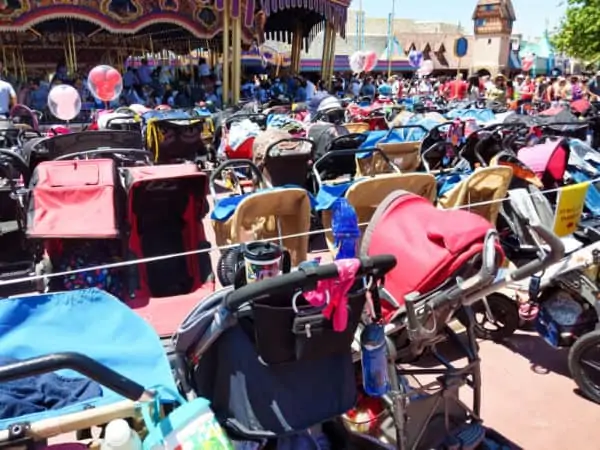 The Disney World Stroller Policy
Before getting into the recommended best strollers for Disney, it's important to understand the Disney World Stroller policy. It would be very unfortunate if you are unable to take your stroller into the park.
The main changes have to do with size of the stroller, as well as prohibiting all stroller wagons.
Disney Stroller Dimensions
All strollers must be no larger than 31 inches wide and 52 inches long. Even if your stroller is only slightly larger than this, I don't think I would risk it.
Frankly, it's not clear just how strictly they are enforcing this. The rule came down before the shut down. Ever since the reopening they have shifted focus to streamlining the park entry process.
That being said, if your stroller is larger than the above dimensions, and a Cast Member flags you for it, then you will not be permitted to take your stroller into the park.
It's better to be safe than sorry.
No More Stroller Wagons
A big question that I tend to see is, What is the best wagon for Disney? The truth is, wagons, including stroller wagons, are not allowed at Disney World.
A few years ago, Keenz stroller wagons had become very popular for use at Disney World. They were able to get around the "no wagons" rule by the simple fact they have handles like a stroller you push in front of you, not pull behind you.
Well, Disney put the kibosh on having any sort of stroller wagon. I don't know the reasoning why, but my assumption is that the stroller wagons are a bit bulkier and unwieldy.
I will say that I have seen some stroller wagons in the parks. Disney is allowing families with kids with medical necessity to use stroller wagons. These strollers need to be marked as such.
I wouldn't run the risk of bringing a stroller wagon because it might be turned away.
Best Stroller for Disney World
I think by now, all of us parents know there are so many different kinds of strollers. Single strollers, double strollers, umbrella strollers, jogging strollers. Seriously, the list just goes on and on.
But what we're focusing on here are Disney approved strollers. These strollers not only fit in with Disney's stroller policy, but have features which make using a stroller at a theme park easier.
Best Single Stroller for Disney
First, we're going to take a look at the best single strollers for Disney. A single stroller is probably the most common type of stroller people look for.
City Mini GT2 (Overall Best Stroller for Disney)
And here we see my favorite overall pick for a Disney approved stroller: the City Mini GT2 from Baby Jogger.
This is the most popular stroller at Disney World, by far. The City Mini ticks all the boxes for maneuverability, good storage, reclining seats, a generous canopy, and easy to open and close.
This version of the City Mini can hold a child weighing up to 65lbs.
The canopy itself is made with UV 50 fabric, a huge bonus when using it in a sunny state like Florida.
And the storage basket on this stroller is insane. You'll be able to carry everything you need for a full day at Disney. Also important, the basket is very easily accessible.
The three wheel format of the City Mini is part of what makes it so maneuverable. It mimics the smooth maneuverability of a jogging stroller, but without the extra bulk.
The stroller also has an easy one hand fold and automatic lock system, making the transition on and off buses and other transportation as easy as possible. When folded it's reasonably flat, though certainly bulkier than an umbrella stroller.
This stroller does weigh approximately 21.4lbs, so it's definitely not light. That is probably the biggest downside for the City Mini GT2.
Well, that and the price. Actually, the price is probably the biggest downside of this stroller. It's definitely a bit of a splurge. However, if you're in the market for a new stroller anyone, I would seriously look at this one. You'll love it.
And if you have 2 kids but don't want to lug around a double stroller, Baby Jogger makes a glider board specifically for their strollers. This platform allows the older child to stand and ride instead of walk.
Also, be aware that the City Mini GT2 does not come with either a parent or child console. That means no snack tray or drink holder. Of course, you buy that separately from Baby Jogger or buy one of the many universal style consoles.
Stroller Weight – 21.4lbs
Child Weight – hold kids up to 65lbs
Stroller Dimensions – 41L x 25.7W x 42.8H
Seat Position – reclines almost flat with a 5 point harness, plus has adjustable calf support for even more comfort
Canopy – adjustable full coverage canopy with UV 50+ protection and a viewing window
Storage – generous basket that holds up to 10lbs
Kolcraft Cloud Plus (Best Affordable Stroller for Disney)
The Kolcraft Cloud Plus is a good, basic stroller that provides a lot of features. The parent console and large storage basket are great. It has a child tray as well, which is great for younger babies and toddlers.
It weighs only 11lbs, making it easy to carry around. The seat reclines, but does not lay flat. The stroller can hold kids up to 50lbs and 40″ tall.
And seriously, in their description on Amazon, it even specifically says that the Kolcraft Cloud Plus is "Disney size approved". Apparently, they really know their market.
It has a fairly large canopy to help provide shade for your little one. This stroller also has a one hand fold feature. And on top of that, when it's closed, the stroller stands up on its own. This would come in handy on transportation.
The biggest downside to this stroller is going to be in ride/push comfort. It's simply not going to move as easily as the City Mini, and the tires are going to provide a ride that's just not as smooth.
Is this going to be a deal breaker? Not necessarily. I see it mainly being an issue when kids are on the heavier end of the weight limit. Harder on the person pushing at least, the child won't know the difference!
This stroller is a great budget option for a Disney trip.
Stroller Weight – 11.8lbs
Child Weight – 50lbs
Stroller Dimensions – 17.6 x 29.9 x 41.7 inches
Seat Position – Multi-position recline with 5 point harness **Does not recline flat**
Canopy – 3 tier extended canopy with peek a boo window
Storage – Large storage basket underneath seat
Summer Infant 3D Lite+ (Best Umbrella Stroller for Disney)
If you prefer umbrella strollers for travel, the Summer Infant 3D Lite+ is the best umbrella stroller for Disney. It weighs only 14lbs but holds kids up to 50lbs.
Some people just prefer umbrella strollers, and if you're one of them, that's ok. However, make sure you pick the right umbrella stroller for Disney. They are definitely not all created equal.
That's why I highlight the Summer Infant 3D Lite+ as the best umbrella stroller for Disney.
You will sacrifice some storage space compared to the other strollers above, but it's still generously sized for an umbrella stroller. Also, the newer model has a HUGE canopy.
The seat back also reclines, allowing more comfort for your child. The compact fold ability of umbrella strollers in general are a definite advantage of umbrella strollers.
It also comes with a padded carry strap, making it easy to carry on and off of buses and monorails.
There is a cheaper model, the Summer Infant 3D, which would also work for those looking to save some money. The canopy size is significantly smaller, but in general it has similar features, just not with the extra bells and whistles.
Stroller Weight – 14lbs
Child Weight – 6 months up to 50lbs
Stroller Dimensions – 33 x 19.5 x 43 inches
Seat Position – One hand multi-position recline with 5 point harness
Canopy – Large canopy with pop out sun visor and peek a boo window
Storage – Small basket, inaccessible with stroller fully reclined
gb Pockit Air Compact Stroller (Best Stroller for Airports)
If you are a family who does a lot of traveling, the gb Pockit Air Compact Stroller might just be the best stroller for travel, period.
This stroller weighs in at a lightweight 10.4lbs. It also folds down so small you can bring it on a plane as a carry-on and fit it under the seat in front of you. I kid you not.
This awesome feature for airport travel also translates perfectly into a best stroller for Disney type of feature: bringing the stroller on Disney transportation.
You could legit just sit the folded stroller on your lap while you sit on the bus. Seriously cool.
You definitely sacrifice a bit with the sunshade and storage basket. Both of them are there, but they are pretty small. This isn't a surprise considering the whole stroller is pretty darn small.
The seat material is also made out of a breathable mesh, which would certainly increase ventilation and comfort for the kids on a hot day.
This stroller is rated for children up to 55lbs. It does not recline, so it wouldn't work well for infants.
However, they do have a higher end model, the gb Pockit+ Ultra Compact Stroller, which does recline.
The Pockit+ has extra bells and whistles, like a larger canopy with UPF 50+ protection and a more comfortable seat. If you have an extra $50 or so to spend, I'd probably go with the gb Pockit+.
But if you're looking for the ultimate in lightweight stroller options, the gb Pockit Air is the way to go.
All in all, if you're a family who travels a lot, I think this stroller is the way to go. The features are good enough for Disney, with some extra features that will make it very convenient at Disney.
The convenience of it simply can't be matched.
Stroller Weight – 10.4lbs
Child Weight – from 6 months to up to 55lbs
Stroller Dimensions – 28 x 17.5 x 39.8 inches
Seat Position – No recline
Canopy – a small sun visor which doesn't adjust
Storage – Very small
Best Double Stroller for Disney World
For any of us with more than one kid, a double stroller is part of our reality. So, let's take a look at some of the best double strollers for Disney.
All of these are Disney approved double strollers. What do I mean by that? They all fit within the size parameters set by Disney. The double strollers are where this starts to become more of an issue due to their naturally larger size.
Even if you don't follow any of these suggestions, please make sure whatever stroller you do buy is the right size!
City Mini GT2 Double Stroller (Best Double Stroller for Disney)
I have personally used the City Mini GT2 Double Stroller at Disney many times and love it. This stroller has great maneuverability, despite it's size. Like crazy great maneuverability.
That's part of the reason why I recommend the City Mini GT2 over the lower end version, the City Mini 2. The wheels and suspension on the City Mini GT2 provide for a smoother ride and make it that much more maneuverable.
When pushing a stroller of this size and weight, anything that makes it easier to push is welcome.
However, the City Mini 2 Double Stroller can be up to $100 cheaper, so check that one out too. For the rest of the features listed, the specs are pretty much the same.
The canopies are huge which provides a lot of protection for your little ones. I also like how the canopies are separate from one another. This allows you to give the needed protection for each child individually.
Also, those canopies are made of UV 50+ fabric providing extra protection against the sun.
And have you seen the storage basket on this stroller? It's absolutely massive. You could bring a diaper bag and a cooler with you in that sucker.
It opens, folds, and locks easily, but is heavy (36.5lbs) and a little bulky on the buses. Even with this factor, it is still easy to use in and around Disney properties.
The company website even specifically states: meets Disney's size requirements. How's that for a Disney approved double stroller?
Stroller Weight – 32.6lbs
Child Weight – up to 50lbs per seat (100lb total weight)
Stroller Dimensions – 48.6 x 43.5 x 30.12 inches
Seat Position – can lie almost flat with adjustable calf support and 5 point harness
Canopy – 2 extra large full coverage UV 50+ canopies with peekaboo windows
Storage – Extra large basket which holds up to 15lbs
Kolcraft Cloud Plus Lightweight Double Stroller (Best Budget Double Stroller for Disney)
The Kolcraft Cloud Plus is a great budget option double stroller. It is very lightweight (only 23lbs), but only holds up to 40lbs each seat.
The Kolcraft Cloud Plus comes loaded with storage options for parents and kids. It has a very easy folding system and folds pretty flat. As a bonus, when it's folded it will stand on its own.
The canopies are a decent size and will give adequate protection. The seats do not recline as far as many of the other strollers listed here, but they do recline.
Unlike many of the other strollers which require you to purchase things like child trays, parent consoles, and so on extra, this one comes with them standard.
And just like the City Mini GT2 double stroller, the manufacturers of Kolcraft go out of their way to identify that this stroller matches the Disney size requirements. So another great Disney approved double stroller.
It's not going to be without some cons, like the lower weight limit and the ride not being as smooth, but the price and its ability to tick most of the boxes cements this as a great budget option for Disney.
Stroller Weight – 23lbs
Child Weight – up to 40lbs per seat (80lb total weight)
Stroller Dimensions – 36 x 31 x 38 inches
Seat Position – seat reclines, but not very much, 5 point restraint
Canopy – two individual three-tier extended canopies
Storage – two individual large easy access storage baskets
Joovy Kooper X2 Double Stroller (Best Double Umbrella Stroller for Disney)
I'm not sold on the double umbrella stroller for Disney, but I know others are, so this one gives you a good alternative. The Joovy Kooper X2 Double Stroller weighs just 28lbs but will hold a combined 100lbs.
There are dual canopies, made with UPV 50 fabric for that extra sun protection. Each child gets their own sun canopy..
The seats also have a pretty deep recline, again functioning independently.
The Joovy Kooper also has two child trays that fold with the stroller, so no need to remove them and carry them separately when it's time to fold and get on transportation.
It folds quite flat, using only one hand. This stroller also has a "standing fold" which allows the stroller to stand without being held. This a big bonus for using it on transportation that requires a folded stroller.
It has a surprising amount of storage which is also very accessible. The wheels are slightly oversized, allowing for smoother ride and easy maneuverability.
Stroller Weight – 28lbs
Child Weight – up to 50lbs per seat (100lb total weight)
Stroller Dimensions – 31.69 x 30.31 x 41.34
Seat Position – Customizable recline goes far back, adjustable 3-position footrest
Canopy – two individual extra large water repellent canopies with UPF 50 sun protection
Storage – two individual easy access storage baskets with 15lb capacity
Best Sit and Stand Stroller for Disney
If you have kids of a certain age, the sit and stand style stroller is definitely a tempting idea. As I'm sure you've noticed, I didn't have the greatest experience with mine, but that doesn't mean they are all bad.
In fact, Sit and Stand strollers provide great options when you have kids around 5 years old and up who might need a rest without the constant need for a stroller.
So, let's take a look at some options for the best sit and stand stroller for Disney.
Baby Trend Sit n Stand Ultra Stroller (Best Overall Sit and Stand Stroller for Disney)
If choosing between these two options now, I'd probably go with the Baby Trend Sit n Stand Ultra Stroller, solely for the extra cupholders and parent tray.
The Baby Trend Sit n Stand Ultra stroller has many of the same features of the Joovy Caboose, with more storage and a smaller price tag.
The full seat is also cushier than on the Joovy, though the canopy is smaller. You'll run into the same problem with accessing the storage basket underneath.
This stroller is a good compromise in being able to cart around 2 children with a smaller, lighter (27lbs) stroller than some of the traditional double strollers.
Stroller Weight – 27lbs
Child Weight – up to 50lbs each (100lb total weight)
Stroller Dimensions – 49 x 21.5 x 43 inches
Seat Position – limited reclining options on front seat
Canopy – small canopy will cover one child
Storage – basket is a good size, but difficult to access
Joovy Caboose Graphite Stroller (Sit and Stand Stroller Runner Up)
There is one major reason I'm even putting the Joovy Caboose Graphite stroller on the lists: it's been updated since the older model that I had.
My biggest problem with it was the weight, it was so heavy. By changing the metal used to graphite, the weight of the stroller dropped considerably (only 27.5lbs). It can hold up to a combined 90lbs.
The canopy also provides slightly more coverage for both passengers, which is a nice upgrade.
It doesn't have a parent organizer, so you'd have to add that accessory. And I'm warning you, the storage is hard to access and small to boot. But the changes they've made to the design get the Joovy Caboose on this list.
Stroller Weight – 27.5lbs
Child Weight – up to 45lb per seat (90lbs total)
Stroller Dimensions – 34.6 x 19.7 x 13.8
Seat Position – 3 position seat recline with 5 point harness in chair, 3 point harness on bench
Canopy – larger adjustable sun canopy provides some protection for both children
Storage – medium sized and difficult to access
Renting a Stroller vs. Bringing Your Own
This is another common question that comes up frequently when contemplating using a stroller at Disney World. The good news is, there's really no wrong answer here. It's all a matter of personal preference.
If you're driving to Disney and have room for a stroller, definitely bring your own. Your kids are already comfortable with it, you know how to use it, it just simplifies things.
However, if you're flying, I highly recommend looking into renting a stroller. There are scads of stroller rental companies in Orlando. However, I recommend using Kingdom Strollers.
They are competitively priced and give you multiple style options, including some I mention on this list of best strollers for Disney. You can rest assured that any stroller offered is a Disney approved stroller.
On top of that, you can schedule your delivery and pick up time, and they'll meet you right at your resort.
Best Stroller Accessories for Disney
Sometimes, there are some accessories you can add to your stroller that give some added functionality and ease of use.
I've included a list of stroller accessories that will make your days in the parks a little easier and more comfortable for everyone.
Disney Baby Universal Stroller Organizer
Seriously, am I even a Disney blogger if I don't put this Disney Baby Universal Stroller Organizer on the list? How cool would it be to tool around Disney World with this baby strapped to your stroller?
But aside from the coolness factor, this helps tremendously with both storage and staying organized. Because there's no such thing as having too much storage.
This bag adds cupholders and a small zippered storage pouch. But aside from that, there are 2 large mesh storage compartments which can hold quite a bit.
Ethan and Emma Deluxe Stroller Organizer
If your stroller doesn't have a parent console, this Ethan & Emma Deluxe Stroller Organizer is a great one to add. It has a lot of well designed storage space for anything you need easy access to.
The reviews on this particular stroller organizer are amazing.
Universal Rain Cover
This is Florida, after all, you never know when it might rain. This Universal Rain Cover helps protect your child, and your stroller while it's parked.
If your stroller has a custom rain cover, look into the price of that one.
This rain cover is a great price and comes with a mosquito net.
My favorite feature is the zipper flap to get your child in and out without having to remove the cover.
With having to park and leave your stroller so often at Disney, it's nice to know that your stroller won't get soaked while you enjoy the rides.
Stroller Fan
A stroller fan like this one can be great, especially if you are at Disney during the hot summer months.
This one has between 6-40 hours of run time, depending on fan speed. That will get you through the hottest part of the day, hopefully more.
Most other fans don't last as long. Make sure you check run time before choosing one!
Tagalong Stroller Handle
I love the Tagalong Stroller Handle! It attaches to the stroller to give older children something to hold on to in the crowds of Disney World.
It's just an easy way to get a little peace of mind when your hands are full pushing the stroller.
Final Thoughts
There you have it, a solid list of the best Disney approved strollers. You really can't go wrong with any of them, but some will certainly work better than others. I really do think these ar the best strollers for Disney parks.
Personally, I'm a big fan of having a stroller at Disney. The amount of walking done in a single park day is crazy. I recently walked just shy of 15 miles in one day at Disney! And my legs can handle it much better than little kid legs.
However, making sure you have the right stroller for Disney is just as important as the decision whether or not to even bring one.
The wrong stroller can really detract from your trip by making things more difficult than they need to be.
Rent a Stroller for Disney
If you don't want to bring your own stroller to Disney World, there is always the option to rent a stroller from an Orlando based stroller rental company.
There are many reputable companies who will deliver the rented stroller directly to your resort and pick it up at the end of your trip.
In no way, shape, or form, do I recommend renting the horrible plastic strollers from the Disney parks. They are hard, uncomfortable, and unwieldy.
They will also end up costing you a whole lot more money than a rental (and potentially even more than buying a brand new stroller).
Your Thoughts
Is your favorite stroller on this list? Do you have a horror story about any of these strollers? If you do, make sure to let us know in the comments.
Don't forget to follow The Disney Journey on Pinterest and Facebook to stay up to date with all the latest news and updates.