We may earn money or products from the companies mentioned in this post. Please click my disclosure policy to learn more.
Once you've decided that you want to stay at a Disney Resort instead of off property you need to pick the right one. So, how do you choose the right Disney Resort? Choosing a Disney resort can get overwhelming once you begin to look at all of the options.
There are so many types of Disney resorts!
If you are a still wondering whether staying at a Disney Resort is right for you, the first step is to go to my post comparing Disney World on-site vs off-site hotels.
I'm not going to lie, this post is an absolute monstrosity. There's just so much that needs to be said and I wanted to give you all of the information you need in one place.
I encourage you to read the whole thing through as there are a lot of details. However, if you know there are particular categories or information that's more important to you, use the Table of Contents to get there.
Questions to Ask Yourself when Choosing a Disney Resort
There are 25 Disney World hotels on property. This number can seem a little overwhelming if you don't now where to begin.
Update 5/28/2021: As of right now, all of the Disney resorts are still not open after reopening. For the most updated list of open resorts (and dates for when the next will open) go to Disney's official website.
Let's start by looking at some questions you need to take into consideration while planning your Disney vacation. The answers to these questions help you learn how to choose a Disney resort. Hopefully this will help keep the process from being too overwhelming.
What is Your Disney Resort Budget?
Of all the questions to ask this one is pretty much the most important. There is a pretty big price difference across the Disney resorts, even within the same resort category.
Knowing how much you are able to spend on lodging will help you figure out which Disney resorts are in your price range.
During the cheapest times of year, the nightly cost of a Disney resort can range from $100 all the way up to over $600. And notice I said that's the cheap time of year…
Base your calculations off of the rack room rate listed. There may or may not be a discount announced for your travel dates. If you do end up able to get a discount on your room that's just a bonus.
Make sure you understand how the Disney resort discounts work, and the types of Disney World discounts you can expect throughout the year.
Disney often offers room discounts based on time of year and Disney resort category, but not always. The good news is, if you already have your room booked you can still call Disney and have them apply the discount to your reservation.
Would you Prefer 4 Nights in a Deluxe Resort or 9 Nights in a Value Resort?
Let's say you decide your budget for a Disney resort is $2000. Once you do your research you find out that will give you 9 nights at Pop Century or 4 nights at Old Key West Villas, a Deluxe resort.
It's up to you to decide which is more important to you. Would you rather have a longer trip at lesser quality accommodations or a shorter trip at a nicer resort? There is no right or wrong answer to this question, it's a just matter of what is right for your family.
What Size is Your Traveling Party?
This one is important. If you are part of a party of 4 or less (or 4 plus a child under the age of 3) then you are good to go. The world is your oyster in terms of room selection.
However, if you are a larger family or simply a large group wanting to share accommodations, your options automatically shrink. There are only certain types of rooms on property which will fit larger families, and those rooms are not found in all resorts.
Later in this post we will look at the options for larger groups.
Do You Want the Most Convenient Disney Resorts?
All Disney resorts are not created equal when it comes to location. The most convenient Disney resorts offer very easy access to at least one Disney park or Disney Springs. These resorts are also the ones with higher price tags.
This has changed a bit with the addition of the Disney Skyliner. Now, instead of just Deluxe Resorts having the best location, you can add a moderate and two value resorts to that list.
If you want the most convenient Disney resort, this narrows down your Disney resort choices.
What is Your Preferred Disney Transportation Option?
The recent addition of the Skyliner Gondolas has changed the typical footprint of this question. The rule of thumb used to be that Value Resorts only offered bus transportation and therefore, the least desirable locations.
This is no longer the case for Pop Century and Art of Animation Resorts. They now have easy access to both Epcot and Hollywood Studios.
Let's take a look at transportation options in more detail.
Disney Buses
Every single Disney resort offers bus transportation to the parks, Disney Springs, and the water parks. The Disney buses are considered the bottom of the ladder in terms of preferred Disney transportation.
The wait can sometimes be annoying, and the buses are often crowded. But they do the job and get you where you need to go.
Disney Boats
Several of the Disney resorts have the option for taking a boat to one or more venues nearby, whether that's a park or Disney Springs.
The resorts that offer boat transportation are either Moderate Resorts (boats to Disney Springs) or Deluxe Resorts (boats to Disney Springs or at least one Disney park).
In general the boats are a more pleasant experience than the buses, though if you hit them at peak times the wait can still be an issue.
Disney's Famous Monorail
The monorail is synonymous with Disney, and everyone seems to want to ride it. If the monorail is important to you, and the access it gives you to both Magic Kingdom and Epcot, then consider staying at the "monorail resorts".
There are only 3 official monorail resorts: Polynesian Resort, Grand Floridian Resort, and the Contemporary Resort (including Bay Lake Tower).
The Skyliner Gondola
As I mentioned above, the new Skyliner changes the face of transportation at Disney World. Resorts that used to be relegated to only bus transportation now have this exciting new option.
There are 4 resorts with Skyliner stations: Pop Century/Art of Animation (shared), Caribbean Beach Resort, and Riviera Resort. In addition to those resorts, Beach & Yacht Club Resorts and Boardwalk Resort have access to the station at Epcot's International Gateway.
So that's 7 resorts with easy access to the Skyliner.
What Kind of Theme do You Want?
The different Disney Resorts are like Jelly Belly Jelly Beans, there is a flavor to suit everyone. The major question to contemplate along with this is basically whether you want to be hit over the head with Disney intellectual property theming or not.
Many families with young kids gravitate more towards the Value Resorts for their overt Disney decorations. There you will find enormous figures of favorite animated characters. Art of Animation Resort is particularly popular for this reason.
If you are looking for a less character focused theme, the Moderate or Deluxe resorts might be more of your speed. There are still Disney character touches, but they are more subtly achieved.
Whichever route you pick just know that you will be immersed in whatever theme your resort has. Disney absolutely excels at creating an environment that pays attention to even the smallest details.
Do You Plan to Spend All of Your Time Away from the Resort?
If your general plan is to use your resort as a place to simply rest your head at night, then consider looking at the Value Resorts. That will save you a ton of money over the course of your trip.
This is an especially good tip for trips that have no rest days. If you will be in the parks all day every day, you don't really need the amenities of a Deluxe Resort.
However, if you do plan to have rest days you might want to consider staying at least at a Moderate Resort. The pools at the Moderate and Deluxe resorts are better. The more expensive resorts also offer way more amenities than the Value Resorts.
Do You Like the Dining Options at the Resort?
Every Disney resort offers dining options right there on-site, so that's not an issue. The question comes into play when considering the type of dining offered at each resort.
Each different Disney resort category has it's own level of dining options. If you aren't planning on eating much at your resort then this doesn't matter.
However, if you want to be assured of convenient, and delicious, dining options right at your resort this is something to consider.
Do You Want a Resort Which is Spread Out or Compact?
This question can be more important than people realize. The fact of the matter is that each of the Disney resorts is large. Some of the resorts take up a smaller footprint while others are more spread out.
What this leads to is potentially a lot more walking and more bus stops to get to your own stop.
If the thought of walking more after what was already a long day of walking doesn't appeal, then look for the resorts which have a smaller footprint. However, if you like the sprawling feel of having everything laid out like a community, than consider those resorts.
Again, there is no right or wrong answer here. I can see the appeal of both situations, and have stayed at both types of resorts. It is up to you to decide whether this is important to you or not.
Choosing a Disney Resort: A Look at Disney Resort Categories
Now that you know the answers to some of those questions, let's take a look at the Disney resorts themselves. Keep all of your answers in mind as we start to go through the different Disney resort categories. This will help you narrow down your search.
There are 4 different Disney Resort categories to choose from: Value, Moderate, Deluxe, and Deluxe Villas. The different Disney World resort categories have some similarities and many differences.
Each and every Disney resort comes with the same general benefits in terms of Disney vacation planning that I talk about in my Disney World on-site vs off-site resort guide. However, each Disney resort category, and really each individual resort gives you a different Disney experience.
Disney Value Resorts
Art of Animation Resort
All Star Music Resort
All Star Movie Resort
All Star Sports Resort
Pop Century Resort
Campsites at Fort Wilderness Resort
The Disney Value Resorts are the best places to stay in Disney World on a budget. The All-Star series of resorts are generally the cheapest out of all the Disney resorts. Prices for these resorts begin in the low $100s per night during the cheapest times of the year.
The absolute cheapest option is the Campsites at Fort Wilderness Resort if you want a truly unique Disney experience at a much lower price. But let's face it, camping is not everyone's jam.
By far, the most popular Value Resort is Art of Animation Resort. Families love the theme and the suites. It is themed with the most popular Disney animated characters (Little Mermaid, Lion King, Cars, and Finding Nemo).
However, the Little Mermaid rooms are consistently excluded from promotions so you cannot get a discount.
The Value resorts offer the smallest rooms of all the Disney resorts. Also, most of them offer rooms with 2 double beds, which is a tight fit for bed sharing.
However, the double bed situation is improving. So far, Pop Century and All Star Movies Resort have undergone completed room renovations. Those rooms now have 1 queen size bed and a pull down queen size murphy bed.
All Star Music Resort also began their own renovations prior to lockdown. Since reopening there has been no word on the status of that renovation.
Since it's still closed (along with All Star Sports) I'm assuming Disney will take this opportunity to get the renovation completely finished before they open to guests.
In terms of appearance and layout, the Value resorts are essentially glorified motels with Disney decorations. The rooms all have exterior doors which lead directly outside.
With the refurbishment the rooms look a lot nicer than they used to and that is a huge deal.
Art of Animation Resort also recently underwent renovations, bringing a more modern aesthetic to the rooms (along with queen sized beds).
Disney Value Resort Amenities
As I mentioned above, all Disney resorts have dining options, just as they all have pools. However, the quality of the pools and dining at the Value Resorts is lower than what you find at the other resorts.
For dining, the Value Resorts all have food court style Quick Service dining. The food courts are actually pretty big and offer a wide variety of options for breakfast, lunch, and dinner. But there's only so much you can do in terms of quality with a food court.
The pools at most of the Value Resorts are fine, but nothing overly exciting.
The exception to this is the Big Blue Pool at Art of Animation. That pool is known as one of the best pools at Disney World. I'll be honest and say I'm not sure why.
It's the largest at Disney World and plays underwater music. I was a little underwhelmed by it overall. None of the Value Resort pools have slides.
In terms of transportation you are looking primarily at buses. In fact, bus is the only transportation at the All Star Resorts. The Campgrounds at Fort Wilderness offer boat service directly to Magic Kingdom.
And as I mentioned, Pop Century and Art of Animation now have the Skyliner to both Epcot and Hollywood Studios.
Disney Value Resort Pick: Pop Century Resort
Pop Century gives you the bonus of cheaper rooms and more transportation options. Also, all of the rooms at Pop Century have been refurbished nicely and offer a queen size bed and a queen size murphy bed.
The resort is not as spread out as Art of Animation, though it's not small either. However, I did find it to be fairly walkable when I stayed there. Also, Pop Century does not share buses with any other resort. There are times when the All Star Resorts share buses making travel take even longer.
The main reason I choose Pop Century over Art of Animation has to do with price point. Frankly, Art of Animation is overpriced.
The suites cost more than it does to stay in a nicer resort. The Little Mermaid rooms are the only "standard" hotel rooms at Art of Animation yet they still cost more. And the building they are housed in is as far as you can possibly be from dining and transportation.
All of those factors combine to make Pop Century the best option for a Disney value resort. If you want to know more about Pop Century, read my Pop Century Resort review.
Disney Moderate Resorts
Coronado Springs Resort
Caribbean Beach Resort
Port Orleans Resort – Riverside
Port Orleans Resort – French Quarter
Cabins at Fort Wilderness Resort
Disney's Moderate resorts allow you to have nicer accommodations and amenities at a slightly higher price point. With that comes rooms with a little more square footage and standard queen size beds.
The Moderate Resorts are a good option for families who have a little more wiggle room in their budget and want to stay at a resort that is a couple (or several) steps up in terms of quality.
Disney's Moderate resorts won't break the bank, but they aren't exactly cheap either.
Theme at the Moderate Resorts is more about atmosphere and less about the in your face Disney details. For example, Port Orleans French Quarter strives to make you feel that you are in the heart of the French Quarter. All of the details evoke that atmosphere.
Moderate Resort Amenities
Like the rooms in general at Moderate Resorts, the amenities are also a step above the Value Resorts. At the Moderates you begin to see more variety in the dining options.
While all of them have at least one Quick Service restaurant, you also start to see Table Service options at the Moderates. This allows guests to have more to choose from during their stay.
The pools at the Moderate Resorts are also a considerable step up from the Value Resort pools. In fact, Coronado Springs Resort and Port Orleans – French Quarter have pools which are considered to be some of the best at Disney World.
The pools become more elaborate with more bells and whistles at the Moderate level. One big upgrade is the addition of slides, always a favorite of kids.
Most of the Moderate Resorts offer a couple different transportation options, with the exception of Coronado Springs which just has buses.
Caribbean Beach resort offers the Disney Skyliner in addition to bus transportation. Both Port Orleans Resorts offer boat service to Disney Springs. And finally, the Cabins at Fort Wilderness offers boat service to Magic Kingdom.
Disney Moderate Resort Pick: Caribbean Beach Resort
If you have absolutely any wiggle room in your resort budget, I recommend staying at a Moderate Resort.
This is a tough one for me. Typically, I would recommend Port Orleans – French Quarter. The atmosphere is amazing, the resort is just so pretty and nice.
But, the transportation option to the parks are lacking. And it's not even open right now, so there's that.
With the opening of the Skyliner, Caribbean Beach Resort automatically leaped head and shoulders above the other Moderate resorts. The resort itself is beautiful, it really evokes that Caribbean feel.
The vibrant colors, the beaches, the hammocks, the pool. They all just come together to create a great atmosphere. Add the easy walk to the Skyliner to get to 2 of the Disney parks? You have yourself a winner.
A bonus to staying at Caribbean Beach Resort is easy access to the restaurants and atmosphere of Riviera Resort. You can't use the pools, but you can walk around, shop, and eat some truly amazing food.
Caribbean Beach Resort isn't without its downsides, but in terms of the best combination of amenities, location, and theme, it's a definite winner. Check out my Caribbean Beach Resort review to learn more about his moderate resort.
Disney Deluxe Resorts
Animal Kingdom Lodge
Polynesian Village Resort
Grand Floridian Resort and Spa
Wilderness Lodge Resort
Beach Club Resort
Yacht Club Resort
Boardwalk Inn
Contemporary Resort
The Disney Deluxe Resorts are the nicest accommodations on Disney property. Now, these resorts still can't touch the truly posh hotels in the "real world" so if you are looking for true luxury, look off property.
However, you can find larger square footage in the rooms with nicer fittings and fixtures. With that square footage you also get more storage which is really pretty important for families!
All of the Deluxe Resorts also offer the option to stay Club Level. Club Level is pricey but it adds an additional layer of service to your trip which is amazing.
Among the Deluxe Resorts you find a variety of immersive themes and layouts. Some of the resorts are self contained in one building while others are a little bit more spread out over multiple buildings.
However, all of the Deluxe resorts are on the more compact side. They are not as spread out as the Value Resorts or most of the Moderate Resorts.
No matter which Deluxe Resort you pick, it costs a pretty penny. Even among the Deluxe Resort category there is a lot of variability in price. Wilderness Lodge starts out at $361 per night while Grand Floridian clocks in at $624 per night. That is a massive price difference.
Deluxe Resort Amenities
This is an area where the Deluxe Resorts truly begin to separate themselves from the rest of the pack. As a whole, they simply offer more than the other resorts.
On the dining front, the Deluxe resorts offer multiple dining options to suit your needs. In addition to a Quick Service and a Table Service restaurant, many of the Deluxe resorts also have Signature Restaurants.
Disney's Signature Restaurants really up the ante if you are looking for a splurge on your trip.
Transportation options abound at the Deluxe Resorts. Simply by their nature, and their price tag, the location of (most) of the Deluxe Resorts can't be beat. Animal Kingdom Lodge is the exception to this rule. It is close to Animal Kingdom but not much else.
However, the other Deluxe resorts are all more centrally located to top attractions and one another. It can't get much more convenient than being able to walk to one of the Disney parks.
Each of the Deluxe resorts also has a wide array of other activities on offer. Think sunrise yoga, ping pong, bike rentals, fishing, boating, fitness rooms, etc. Really, the list of amenities is pretty huge.
Pools at the Deluxe Resort also shine. The theming can be quite in depth and the pools themselves elaborate. Beach Club Resort is known to have the best pool in all of Disney World. It even has a lazy river!
To find out more about what you can do around the resorts on non-park days check out my list of things to do in Disney World besides the parks.
Disney Deluxe Resort Pick: Wilderness Lodge Resort
Okay, I admit that I am completely biased in my opinion, but Wilderness Lodge is hands down my favorite place to stay at Disney World. It combines a lot of the qualities that I feel are important to a Disney trip.
First and foremost, the theme and design is simply stunning. You legitimately feel as if you are standing in a lodge in Oregon. And the lobby? Breathtaking.
Did I mention that Wilderness Lodge is the best resort to stay at during Christmas at Disney World?
The size of the resort is compact. All of the rooms are located within one building, eliminating the need to walk long distances to your room. Or worse, hopping on a bus to get to your room.
However, in that compact space you will find 2 pools, 4 restaurants, a geyser, a nature trail, and so much more.
In terms of location there are the ever present buses, but there is also boat service direct to Magic Kingdom. The boat ride takes around 10 minutes. You are also a boat ride away from the Contemporary Resort and the monorail, opening up access to Epcot.
Wilderness Lodge also has the bonus of being one of the more affordable Deluxe resorts with prices starting around $361 per night.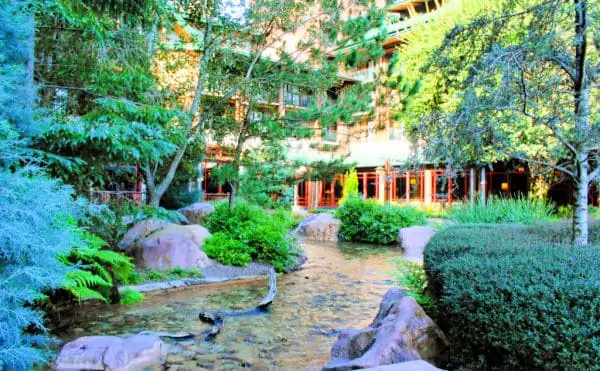 Disney Deluxe Villas
Old Key West Resort
Riviera Resort
Boulder Ridge at Wilderness Lodge Resort
Copper Creek at Wilderness Lodge Resort
Boardwalk Villas Resort
Beach Club Villas Resort
Bay Lake Tower Villas at the Contemporary
Polynesian Villas and Bungalows
Villas at Grand Floridian Resort
Jambo House at Animal Kingdom Lodge
Kidani Village at Animal Kingdom Lodge
The Disney Deluxe Villas are the most expensive rooms at Disney World. This is because you get a whole lot more space along with those bells and whistles.
You will notice that a lot of the Deluxe Villas are located within the Deluxe Resorts we spoke about above. The Villas are a separate type of room category offering suites instead of standard hotel rooms.
At the low end the suites offer studio rooms with kitchenettes. At the higher end of the spectrum you get multiple bedrooms and full kitchens with a washer and dryer en-suite.
All of the Disney Deluxe Villas are part of the Disney Vacation Club. DVC Members use their timeshare points to book rooms at these resorts. However, there are also a number of rooms at every Villa which are available for anyone to book with cash.
Three of the Deluxe Villas (Saratoga Springs Resort, Old Key West Resort, and Riviera Resort) are only considered Deluxe Villa Resorts. There are no standard hotel rooms available, only suites.
Disney Deluxe Villa Amenties
Essentially, the amenities at the Deluxe Villas are identical to those at the Deluxe Resorts. What is important to note is that some of the Deluxe Villa resorts are VERY sprawled out.
In particular, Saratoga Springs Resort and Old Key West Resort are huge. They are so huge that you might need to take a bus to get from the check-in desk to your room.
Again, this is not necessarily a bad thing. I happen to really like walking around Saratoga Springs Resort. There is a great path that winds through the resort which is great for running. However, all the walking or all those buses just isn't everyone's cup of tea.
Transportation options are the same deal with the Villas as with the Deluxe Resorts. All of the Deluxe Villas offer at least 2 modes of transportation except for the villas at Animal Kingdom Lodge. Due to its isolated location only buses are offered at Animal Kingdom Lodge.
Disney Deluxe Villas Pick: Boardwalk Villas
Really, I could say either of the Wilderness Lodge villas here, but let's look at a different Deluxe Villa. Boardwalk Villas is my second favorite of the Deluxe category, so it gets my pick here.
The location and convenience of Boardwalk Villas just can't be beat. You are within walking distance of not one but two Disney parks (Epcot and Hollywood Studios)! There is also boat transportation, buses, and the Disney Skyliner nearby, giving you 4 different transportation options.
The theme of the Boardwalk Villas (and Inn) are based on vintage Coney Island. This creates a fun and iconic environment that is airy and a little bit luxurious.
But one of the big selling points is the Boardwalk itself. Filled with performers, restaurants, and bars you are guaranteed to find something to do .
And truly, the Crescent Lake area of the greater Disney World Resort is just beautiful. Boardwalk Inn and Villas gets my vote as one of the best Disney hotels for adults.
If you'd like more information about Boardwalk, check out my Boardwalk Resort review.
Which Disney Resorts Sleep 5 (or More)?
As I mentioned above, if you are looking for rooms for groups of 5 or more, things can get a little trickier. One child aged 3 and under is not considered in the occupancy max for a room.
This is because a child that age can sleep in a crib or pack n play, not in a bed. So if you are 5 people with one under the age of 3, then you are good to go in a 4 person occupancy room. But what about everyone else?
Standard Disney Resort Rooms for Groups of 5 or 6
There are a few standard Disney resort options for you to consider if your group is in the 5 to 6 person range. What you do need to know is that having a group this size or larger automatically increases the nightly cost.
Value Resort Family Suites
In the Disney Value Resort category you have the option of staying in a suite at either All-Star Music Resort or Art of Animation Resort.
The family suite at All-Star Music Resort can hold up to 6 people. This is done via a queen size bed, a full size sleeper sofa, and a twin size sleeper chair. There is only one bathroom in this family suite. Prices for this family suite start at $255 per night.
Art of Animation Resort ups the ante considerably, along with the price. The suites at Art of Animation also provide lodgings for up to 6 people. This is done through one queen sized bed, one full size table bed, and one full size sleeper sofa. The bonus to this is the queen size bed is in a separate bedroom.
These suites are a lot more spacious, allowing the 6 of you to spread out more. There is also a kitchenette with microwave and 2 bathrooms. Prices for these suites start at $380 per night.
Moderate Resort Rooms for 5 or 6 People
There are some Moderate Resorts that offer a 5th sleeper option in select rooms. This is done via a "child" size pull down bed. To give a frame of reference, my 5'4″ sister fits this bed. However, I don't know that you'd want to put someone much taller than that on one.
The layout in all of the standard Moderate Resort rooms is the same: 2 queen size beds and the pull-down bed. Here are the resorts that offer this option:
Caribbean Beach Resort – starting at $219 per night
Port Orleans Riverside Resort – starting at $234 per night
A final option in the Moderate Resort category are the Cabins at Fort Wilderness Resort. These cabins fit up to 6 people. This is done with a queen size bed (in separate bedroom) and twin bunk beds in one bedroom and a double size sofa bed in the living room.
As a bonus, the cabins come with a kitchen (minus the stove), porch, and a grill. This is perfect if you want to eat at Disney World on a budget. The price of the cabins begins at $356 per night.
Deluxe Resorts and Villas for 5 or More People
The Deluxe Resorts and Villas offer the most flexible options for larger groups. However, with these options comes the corresponding sticker shock. These rooms will cost a significant amount of money per night.
Standard Rooms at Deluxe Resorts for 5 People
Most of the Deluxe resorts offer standard resort rooms that sleep 5 people. This is accomplished via having 2 queen size beds and a 1-person day bed in the room.
The following Deluxe Resorts offer this style of room:
Beach Club Resort – starting at $433 per night
Polynesian Village Resort – starting at $527 per night
Grand Floridian Resort – starting at $624 per night
Contemporary Resort – starting at $443 per night
Yacht Club Resort – starting at $433 per night
Boardwalk Inn Resort – starting at $472 per night
Suites at Deluxe Villas for 5 to 8 People
The next level up in space can be found at the Deluxe Villas. At the lower end of the spectrum you find the Deluxe Studios. These rooms sleep up to 5 people in a queen size bed, a full size sleeper sofa, and a pull down child size bed.
Prices for Deluxe Studios start at $358 and can be found at all of the Deluxe Villas.
For the larger groups you have the option of booking 2 or 3 bedroom Deluxe Villas. The amount of space that comes with these rooms is mind boggling. They also come with full size kitchens, dining rooms, and 2 bathrooms. And did I mention the washer/dryer unit in the room?
Clearly, there are a lot more bells and whistles to be had, but they come at a price. Expect the price for a 2 bedroom suite to start around $719 per night and go up exponentially from there.
To get more information on the larger suites at Deluxe Villas, check out the Disney website.
Tip for MAJOR savings: If a Deluxe Villa is right for your family, consider renting Disney Vacation Club points. You can stay in a 2 bedroom suite for starting at approximately $540 per night instead of $719 per night. That's a decent savings spread out over a week!
Choosing a Disney Resort: Split Stays
Split stays are another option to consider when choosing your Disney resort. A split stay is simply when you split your lodgings during a Disney trip at 2 or more resorts. As long as you don't mind changing resorts it's a great way to experience more than one resort during your trip.
Disney makes it very easy to execute split stays. Once you pack your bags up, bring them to Bell Services for transfer. That way you can go about your day without worrying about physically making the move yourself.
Disney on a Budget with Split Stays
Aside from simply wanting to experience more than one resort, a split stay is a way to splurge a little without breaking the bank. By decreasing the number of nights you stay at the higher priced resort it might make it more manageable in your resort budget
For example, consider spending 5 nights at Pop Century and 2 nights at Wilderness Lodge. By doing this, the bulk of your nights are spent at the cheaper resort, letting your budget breath. This might make 2 nights at the higher priced Deluxe resort much more doable.
Final Thoughts How to Choose a Disney Resort
Choosing a Disney resort is an important aspect of your Disney vacation planning. The theme, location, and experience at the resort can set the tone for your entire trip. I hope that this guide truly helps you decide where to stay in Disney World.
Take your time and carefully go through the options that fit best for your family based on your budget. Read as many resort reviews that you can find and make the choice from there. In the end, you probably can't make a wrong choice, after all, you are at Disney World!
Your Thoughts
Did I miss any important questions you think need to be considered when choosing a Disney resort? I would love to hear your stories and strategies for how you chose your Disney resort. Please make a comment below to share your thoughts.
Don't forget to follow The Disney Journey on Pinterest and Facebook to stay up to date with all the latest news and updates.