We may earn money or products from the companies mentioned in this post. Please click my disclosure policy to learn more.
Disney Springs has become a mecca for dining and shopping in the Orlando area. But with so many restaurants to choose from, how do you pick the one you want to eat at? Of course, you read lots and lots of reviews. So here you have it, my D-Luxe Burger review.
D-Luxe Burger Information
D-Luxe Burger is a quick service restaurant located in the Town Center section of Disney Springs. It is just beyond the large Guest Services building along the water. There are no dining discounts accepted at D-Luxe Burger. However, you can use the always convenient mobile ordering that Disney offers.

Tip: If it is a busy day or you lost track of time, use Mobile Ordering on your My Disney Experience app. The line to order can get very long at peak times.
D-Luxe Burger Disney Dining Plan
The Disney Dining Plan is accepted at D-Luxe Burger. Your meal will cost 1 Quick Service credit on the plan. To learn more about the Disney Dining plan make sure you read my guide.
Atmosphere and Theme
The basic premise around D-Luxe Burger is basic ranch style food. In other words, classic western American cuisine.
With this theme you find an interior with a rustic flare. There is a lot of wood, stone, and metal in the main dining room. Rustic beams, chandeliers, and even a fireplace finish off the look. When you first walk in, the menus for you to look at while in line are sitting inside a leather saddle bag.
D-Luxe Burger Hours
D-Luxe Burger serves breakfast, lunch, and dinner. As a result, it is open most of the day, from 8:30a-11:00p. But here are the breakdown of when the specific meals are offered:
Breakfast: 8:30a-10:30a
Lunch and Dinner: 10:30a-11:00p
Seating at D-Luxe Burger
There is both indoor and outdoor seating at D-Luxe Burger. But be warned, it seems that about half of the seating is outdoors, with even more outdoor seating available in a little annex to the porch. We happened to be there during a very heavy rain system complete with sideways rain. Sitting outside was not exactly an option.
The porch is covered with a roof and relatively well protected as long as the rain isn't sideways. However, the seating on the annex is more patio table style with umbrellas. That will not work in any sort of nasty weather.
Despite all of this, the seating is comfortable. If the weather is nice, I highly recommend getting an outside table. The porch overlooks the lagoon and is a really nice spot to sit and enjoy a meal.
I thought you might also enjoy reading about:
D-Luxe Burger Menu
But of course, the main attraction is the food. The menu has basic staples which don't tend to change, but they do add a seasonal burger to the menu depending on the time of the year.
As you can guess from the name, burgers are the star of the menu. However, D-Luxe Burger also has an extensive menu of gelato based shakes. What gelato has to do with American ranching, I don't know. But I don't argue when there are milkshakes…
D-Luxe Burger Breakfast Menu
Breakfast Poutine – Fried Egg, Sausage Gravy, and Wisconsin Cheese Curds
Crispy Chicken Biscuit – Buttermilk Fried Chicken, Honey Butter, Chipotle Mayonnaise and Pickles on a Cheddar Biscuit
El Diablo Breakfast Burger – Chorizo-Signature Blend Patty, Pepper Jack Cheese, Smoked Bacon-Pepper Jam and Egg on a Cheddar Biscuit
Breakfast Sandwich – Egg, Cheddar Cheese and Bacon on a small Parker House Roll
Classic Breakfast Burger – D-Luxe Signature Patty, Cheddar, Bacon, Egg and Hash Browns served on a Parker House Roll
Egg White Frittata Sandwich – Egg Whites, Spinach, Hash Browns, Pico de Gallo and Avocado Crema on a Parker House Roll
D-Luxe Breakfast Sandwich – Egg, Cheddar Cheese and Bacon with choice of D-Luxe Signature Patty, Chorizo Patty or Buttermilk Fried Chicken
Fresh Cut Fries with Sausage Gravy
Lunch and Dinner Menu
Southern Burger – Signature Blend Beef Patty topped with a Fried Green Tomato, Pimento, Lettuce, Grilled Onion and Bacon
Buffalo Chicken Sandwich – Fried Chicken Breast topped with Buffalo Sauce, Blue Cheese Crumbles, Bacon, Lettuce and Tomato
Classic Cheeseburger – Signature Blend Beef Patty topped with Cheddar, Lettuce, Tomato, Grilled Onion and Pickle
Barbecue Burger – Signature Blend Beef Patty topped with a Fried Onion Ring, Smoked Gouda, Bacon, Barbecue Sauce, Grilled Onion and Lettuce
El Diablo Burger – Chorizo and Signature Blend Beef Patty, Fried Banana Peppers, Pepper Jack, Lettuce, Tomato, Grilled Onion and Chipotle Mayonnaise
Plant Based Pacific Island Burger – Plant-based Patty, with Cabbage and Mushroom Compote, Mango Salsa, Lettuce, and Dill Pickles on Plant-based Parker House Roll
Seasonal Burger – this rotates throughout the year, check the official menu to see what the current seasonal burgers is
In addition to just ordering a burger and adding a side and drink, D-Luxe Burger also offers a few different combos that allow for sharing between two people.
Classic Duo – Two Classic Cheeseburgers or Plant-based Pacific Island Burgers, includes one regular order of Fresh-cut Fries and two Coca-Cola® Fountain Beverages
Premium Duo – One Classic Cheeseburger or Plant-based Pacific Island Burgers and choice of one Premium Burger: El Diablo, Barbecue, Southern, Plant-based Pacific Island, Seasonal Burger, or Buffalo Chicken Sandwich served with (1) one regular order of Fresh-cut Fries and (2) two Coca-Cola® Fountain Beverages
Ultimate Duo – Choice of two Premium Burgers: El Diablo, Barbecue, Southern, Seasonal, or Buffalo Chicken Sandwich served with (1) one regular order of Fresh-cut Fries and (2) two Coca-Cola® Fountain Beverages
D-Luxe Burger Sides
Fresh Cut Fries (Regular or Large) – served with your choice of dipping sauces

Dipping Sauces – Three Mustard and Honey, Garlic Ranch, Curry Ketchup, Chipotle Mayo, Horseradish, and Buffalo
D-Luxe Burger Kids' Menu
Grilled Chicken Sandwich – Grilled Chicken Breast topped with Lettuce and Tomato, served with Dannon® Danimals® Smoothie and Carrot Sticks, choice of Small Lowfat Milk or Small Dasani® Water. Meets Disney Nutrition Guidelines for Complete Meals without substitutions
Cheeseburger – topped with Lettuce and Tomato, served with Dannon® Danimals® Smoothie and Carrot Sticks, choice of Small Lowfat Milk or Small Dasani® Water
Chicken Breast Nuggets – Chicken Breast Nuggets served with Dannon® Danimals® Smoothie and Carrot Sticks, choice of Small Lowfat Milk or Small DASANI® Water
Artisinal Gelato Shakes and Floats
The shakes and floats menu is offered at all meals. Why not have some ice cream with your breakfast? Honestly, the menu is quite extensive with both alcoholic and non-alcoholic options.
D-Luxe Burger Gluten Free Menu
There is no specific gluten free, or any other allergy, menu available to peruse at D-Luxe Burger. However, the Cast Member works with you to create a safe meal. They do offer gluten free buns to swap out, or you can get your burger bunless.
The staff has a binder that lists all of the ingredients if you need to see if various components of the burger have gluten in them. Essentially, you just customize your order however you need to to make it safe.
Of utmost importance, all of the dipping sauces are gluten free!
D-Luxe Burger Review
Just in general, D-Luxe Burger is a restaurant my family really enjoys. This was our second time there, with the first time being pre-blogging a couple of years ago. Both times we went Doug and I got the Ultimate Duo. If you are paying out of pocket and there are two adults, getting a duo is just the way to go in order to make it a little bit cheaper.
My Thoughts on the Restaurant Itself
The aesthetic of the restaurant is one I tend to enjoy. I love the rustic design of the space. Then again, I'm a sucker for wood beams, weathered boards, and fireplaces. I'm pretty much guaranteed to like any space that includes all of those.
The interior seating space is shockingly small. Somewhat understandably, most of the seating is located outdoors. And if the weather is nice, eating outside on the porch is definitely the way to go. In particular, try to grab a table right along the rail of the porch overlooking the lagoon. It's probably one of my favorite views in Disney Springs.
However, if there is bad weather, seating suddenly becomes pretty limited. And let me tell you, D-Luxe Burger is a popular place during peak meal times. The porch has a very substantial roof, so if it's raining with little wind you should be fine. But if the wind is heading in your direction with the rain, it might be a problem.
I recommend getting to D-Luxe Burger at slightly off-peak times to guarantee a short line and a good table. We ordered and were seated at our table by around 11:45a. That timing was fortunate because very soon after we sat down at a cozy table by the fireplace the line was out the door. And it was pouring buckets outside.
D-Luxe Burger Food Review
The ordering process was pretty smooth, with the Cast Member taking note of the modifications to our order. Both Doug and I got the El Diablo Burger minus the fried jalapenos. I also requested mine on a gluten free bun. He noted down my allergy for the order.
D-Luxe Burger provides you with an electronic table marker to put on your table. A Cast Member will bring all of your food to you. The food is all made to order so it does take a little bit of time to get your food.
This is where mobile ordering can come into play to cut down on the wait time. If you order ahead of time, your order will be ready when you arrive. However, there is no allergy menu available for D-Luxe Burger so anyone with food allergies cannot use mobile ordering.
When our food was delivered I immediately noticed there was no allergy stick in my burger. I questioned the Cast Member and he assured me it was on a gluten free bun. And let's face it, gluten free buns look quite a bit different so I was able to see the difference. I just like having that stick in there letting me know for sure.
Both Doug and I really enjoyed our burgers. Because there is sausage in the meat mix the kitchen cooks it to well done. I typically like my burgers cooked medium, but I had no problem with this being well done. It was still plenty juicy and full of flavor.
One thing to note is that the chorizo blend patty is very dense. The texture is definitely different than a standard hamburger. This didn't bother me at all, but for people with specific ideas on what the texture of a burger should, this could be a problem.
And as you can tell from the picture of Doug's burger, they are very saucy! I love a lot of sauce on my burgers so I was happy with this. And you could always add more if you want from the sauce station.
Speaking of the sauce station, I love that there is such a variety of dipping sauces. We tried 4 out of the 6 this trip. The only one I'm not a fan of is the curry ketchup. My two favorites are the garlic ranch and the buffalo ranch. I encourage everyone to try their fries in as many sauces as you can.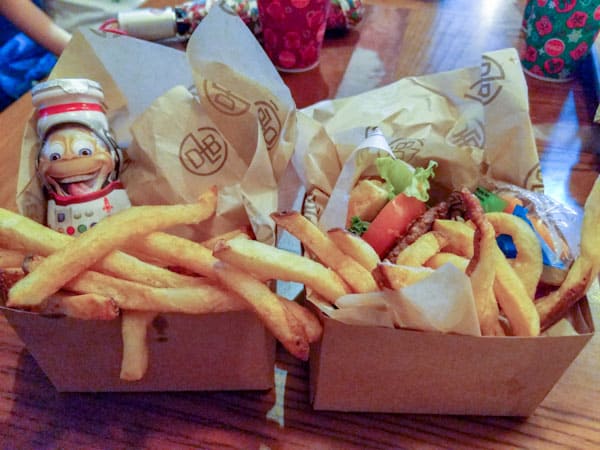 The kids also enjoyed their meals and put a hammering on their food. My little guy was fascinated by the drinkable yogurt. Apparently I have deprived him of that joy.
On our previous visit to D-Luxe Burger (before I started obsessively taking pictures of all my food), I ordered a gluten free variation of the seasonal Holiday Turkey Burger. I had them remove the fried risotto (it was put to the side so Doug could eat it). That was also a very tasty burger. But what it highlights is just how much they are willing to help make the burger safe for people with food allergies.
Final Thoughts on D-Luxe Burger
We love D-Luxe Burger and will go there again at some point in the future. My only complaint is I do wish they had an even more extensive menu of burger options. The addition of the seasonal burger is always welcome to mix things up a bit.
It just seems like a burger joint should have more than 6 burger choices. I'm not counting the plant based option. I just can't. But really, that is splitting hairs. I would get the El Diablo again in a heartbeat.
If you liked this post, Pin it for later!
Your Thoughts
Have you eaten at D-Luxe Burger? Do you have a favorite burger there? Are you eager to try it out for the first time? Let me know in the comments below.
Don't forget to follow The Disney Journey on Pinterest and Facebook to stay up to date with all the latest news and updates.