We may earn money or products from the companies mentioned in this post. Please click my disclosure policy to learn more.
When looking for a more affordable Disney World resort, the All Star resorts are as inexpensive as it gets at Disney World. Unless you plan to sleep in a tent.
I recently stayed at the newly renovated All Star Movies resort and wanted to give you my thoughts on the resort as a whole.
All Star Movies Resort is in the Value category of the Disney resorts. This means that it's one of the cheaper options, but also impacts the types of amenities available.
Make sure you know all the differences between the Disney resort categories before you make your choice.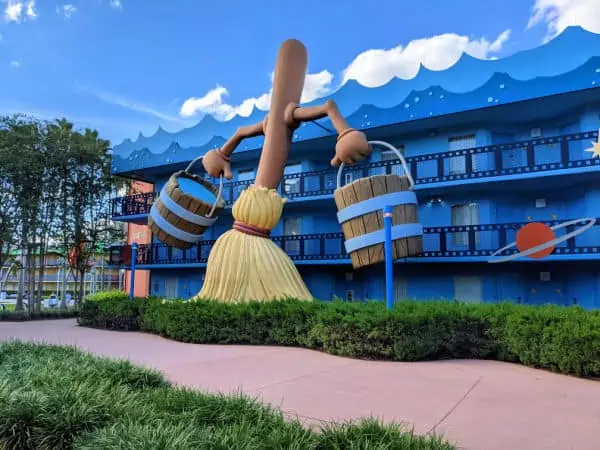 All Star Movies Resort Theme and Atmosphere
I think it's no mystery based on the name, but All Star Movies resort is themed after Disney movies!
Some of the movies are definitely more obscure (I'm looking at you, Herbie Love Bug), but there are mainstream movies included as well.
This is a very popular resort for families, so expect a lot of kids running around. Because of this, there's definitely a higher energy at All Star Movies than you'll find at a resort like Riviera.
As with all of the Disney value resorts, All Star Movies Resort is littered with larger than life Disney characters. And when I say larger than life, I'm not kidding.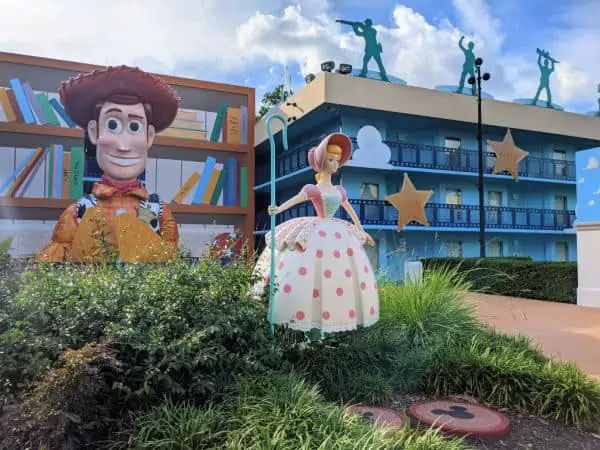 Another thing to note is that all Disney value resorts feature exterior doors for the rooms. You'll notice in the picture above that there's an exterior walkway around the building with guest room doors along it.
This means there is one small window that looks directly out onto the hallway and no balcony.
Where is All Star Movies Located?
All Star Movies Resort, along with all of the other All Star resorts, is located in the Animal Kingdom resort area.
This means that the resort is closest to Animal Kingdom, ESPN Wide World of Sports, and Blizzard Beach.
Because of the proximity to ESPN Wide World of Sports, and price, the All Star resorts are popular choices for cheerleading, dance, and Pop Warner conventions.
All Star Movies Resort Address
Here's the address for All Star Movies Resort:
1901 West Buena Vista Drive
Lake Buena Vista, Florida 32830-8412
All Star Movies Map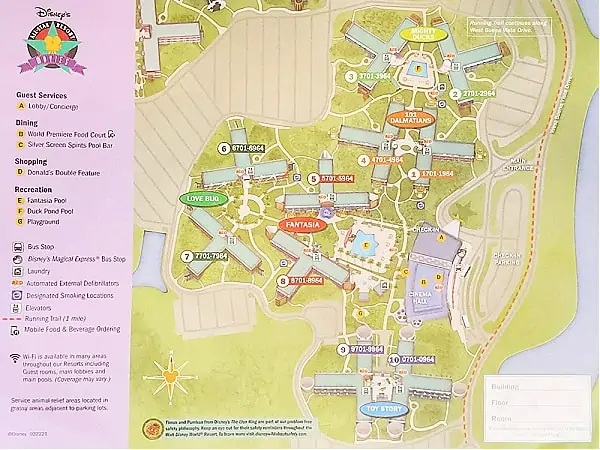 All Star Movies Resort Rooms
The rooms are scattered throughout the property in five different themed areas. The themed areas are:
Toy Story
Fantasia
Love Bug
Mighty Ducks
101 Dalmations
There is of course no guarantee, but if there is a specific theme or location you would prefer, you can always make a request to be put there.
Room Layout
A few years ago Disney began the process of refurbishing the value resorts. With this refurbishment came a complete alteration in not just the decor of the room, but the layout.
Prior to the refurbishment, the rooms included two double beds. I don't know about you, but I try to avoid sleeping on a double bed whenever possible.
Fortunately for all of us, the rooms now offer sleeping arrangements on 2 queen size beds. But it's how those beds are situated which I think is the best part.
One of the beds is a standard old queen bed, while the other bed is actually a murphy bed that pulls down from the wall.
When the bed is in the wall, it also gives you a table and 2 chairs to sit at.
This layout gives guests the opportunity to use the room with more flexibility.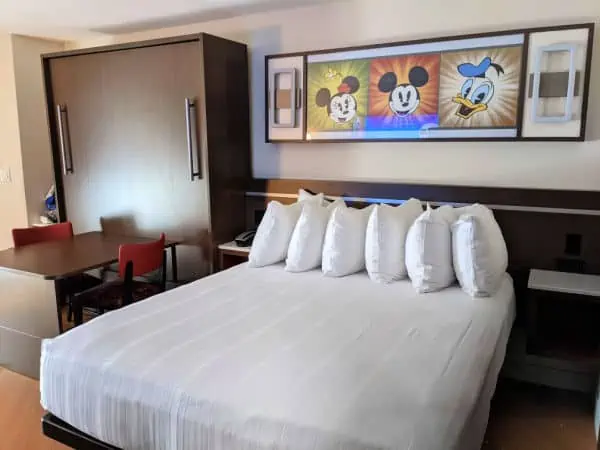 Aside from the beds in the main room, there is also a dresser and a separate "kitchen" area. That kitchen area houses a mini-fridge and a coffee maker.
The bathroom is separated from the the room with sliding barn style doors. For convenience, the bathroom is then broken up into two different sections.
The first section has the sink and an open "closet" area. It's not really a closet in the strictest sense of the word, but it has space for hanging clothes and number cubby style shelves.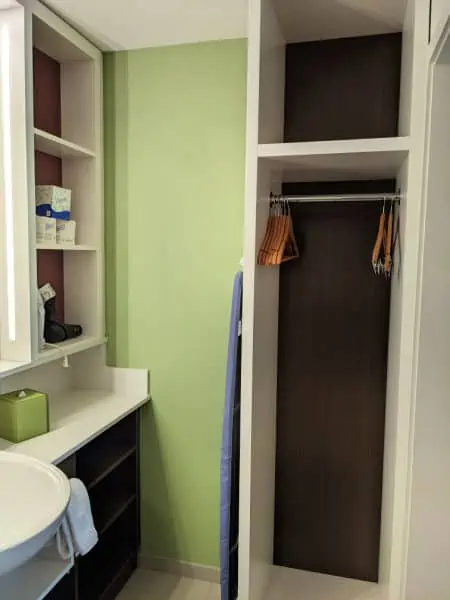 The second section contains the toilet and shower/tub combination. This is separated from the sink area with a pocket door.
As far as I'm concerned, this is essential for families so more than one person can get ready at once.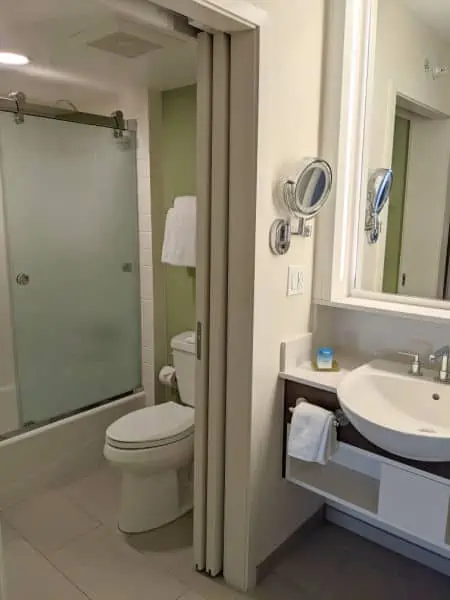 What is the difference between standard and preferred rooms?
Whenever you see rooms at Disney World broken up into standard or preferred categories, it's typically referring to either location of the room, view, or both.
In the case of All Star Movies Resort, the more conveniently located rooms are considered preferred. This includes Fantasia, Toy Story, and 101 Dalmations.
Conversely, the standard rooms are found in Love Bug and Mighty Ducks.
Within all of these buildings there is a mix of view types, i.e. pool view vs. trees/garden vs. parking lot. Selecting a preferred room doesn't guarantee you a good view, is just gets you into a building that's closer to dining and transportation.
All Star Movies Amenities
As is the case with all of the Value category resorts, All Star Movies has what would be considered the "base" amenities of a Disney resort.
Transportation Options at All Star Movies
The only Disney provided transportation option is the bus. The buses take you to all of the Disney parks, water parks, and Disney Springs.
If you want to go to another resort for dining or resort hopping, you need to take a bus to one of the parks or Disney Springs first, then hop on a different bus, monorail, boat, or gondola to get to the resort.
Or you can just call an Uber!
Does All Star Movies share a bus?
This is a fairly important question, and the answer is yes, and no. During high traffic times of the day, think first thing in the morning and when parks close, each of the resorts has it's own designated bus.
However, it is possible the All Star Resorts share buses during low traffic times of the day.
The All Star Resorts are lined up one right after another along the road. So a shared bus will stop at the first one, then the next, and so on.
Just make sure to pay attention to which resort you're at before you get off the bus!
All Star Movies Pools
There are two pools available for all of the All Star Movies guests to use. The feature pool is the Fantasia Pool located in the central courtyard just behind Cinema Hall.
As the name suggests, Fantasia Pool is themed after the Disney movie Fantasia. In fact, Sorcerer Mickey is there spraying water on all the swimmers.
In the Fantasia Pool area there is a smaller kiddie pool in a private area across the walkway.
There are no slides in Fantasia Pool, which is consistent with all pools at value resorts.
The second All Star Movies Resort pool is Duck Pond Pool. This one is located in the Mighty Ducks section of the resort.
As one would expect, Duck Pond Pool is themed after the movie, The Mighty Ducks.
Other than the theming, it's a pretty basic pool with no water features or slides.
Dining at All Star Movies Resort
There are two dining options at All Star Movies Resort, though only one of them is truly a "dining" option.
World Premiere Food Court is the primary dining option at All Star Movies. As the name implies, this is a food court style dining experience.
There are a wide variety of options available for breakfast, lunch, and dinner. There might be subtle differences in open hours, but in general, World Premiere Food Court is open from 7a-11:00p.
The menu is actually quite extensive, giving guests options of burgers, pizza, sandwiches, entrees, and more.
As menus are constantly changing, make sure you check the official menu to see what is currently being offered.
For the time being, mobile ordering is encouraged as the primary way to order your food. Simply order from the app, schedule a pick up time, and go on in and get it when it's ready.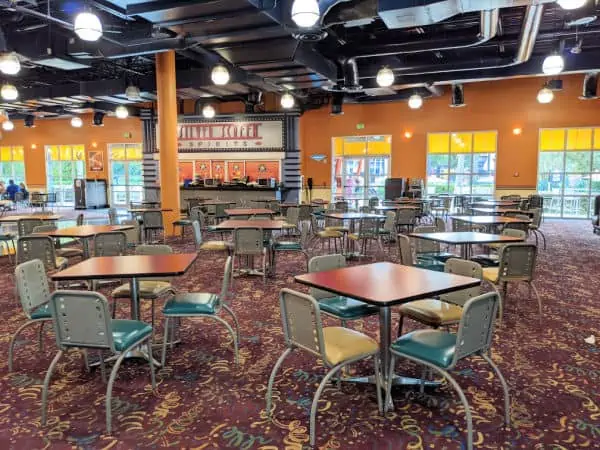 You have the choice of getting a table in the food court, getting a table outside, or taking your meal back to your room.
The second dining option is actually a pool bar. Silver Screen Spirits pool bar is located near the Fantasia Pool.
And really, dining option is a bit of a misnomer as the menu currently doesn't actually include food. But if you want a drink while lounging at the pool, this is the place to be.
Other Amenities
Along with the primary amenities listed, there are some other amenities offered at the resort. As with all Disney resorts, there is a gift shop at All Star Movies Resort.
The gift shop is called "Double Feature" and carries a mix of souvenirs and potential necessities like water, milk, ibuprofen, sunscreen, and more.
There is a playground tucked away between the Fantasia and Toy Story buildings.
The resort also offers Movies Under the Stars.
As with all resorts, there is a jogging trail for those who want to get in a run or a walk during their vacation. Note, there is no gym.
And of course, what would a family friendly Disney resort be without an arcade?
All Star Movies Resort Review
Now that you know the basics about All Star Movies, let's take a look at my experience there and my overall thoughts on the resort.
Overall Impressions
I spent 3 nights at All Star Movies on a solo trip. Consequently, it was just me taking up space in that room, not a whole family.
Also, this trip happened to coincide with the opening of Disney's 50th Anniversary Celebration. This means I was dealing with Defcon level 1 crowds the whole trip.
Despite this, I never felt crowded or overwhelmed when out and about at the resort. In fact, it was pretty darn peaceful.
I was in the Love Bug section, which I specifically requested as I wanted a quieter atmosphere a bit removed from the hub of the resort. Mission was definitely accomplished in that regard.
I found the resort to be pretty walkable. Keep in mind though, I don't mind walking. The resort is spread out, but I don't think to an unreasonable degree. If walking is more of an issue for you, definitely book a preferred room.
One of my favorite things about the value resorts is actually character statues you run into everywhere. And I'm not referring to the giant ones.
There are characters interspersed throughout the walking paths of the resort. Kids would love exploring and finding as many of them as they could.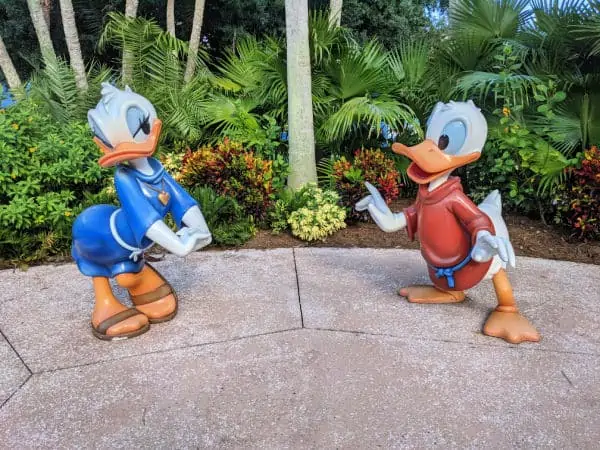 Thoughts on the Pools
Full disclosure, I didn't go in the pool, I just explored it. That being said, I find the All Star Movies pools to be a bit lackluster.
But really, this is an issue I have with ALL of the value resort pools.
I fully admit, I'm a bit of a pool snob when staying at a Disney resort. This comes from my experiences at the amazing pools found in the Deluxe and Moderate resorts. They aren't just themed, they are over the top themed.
And they have slides, which ups the fun factor considerably.
But would a child who has no comparison of the other options care? No, they absolutely wouldn't. They're probably just happy to go for a swim.
Thoughts on Dining
There are no sit down restaurants at value resorts. This isn't a bad thing, I just want you to know this.
Really, World Premiere Food Court meets your needs when you need a meal at the resort. The truly vast array of choices makes this possible.
The food quality is good. It won't knock your socks off, but it's good. When you just need to grab a quick meal before or after the parks, it fits the bill.
Thoughts on Transportation
Let's talk about transportation. The fact that buses are the only option is a big negative. Let's face it, most other transportation options are easier.
When a resort has multiple to choose from, it helps spread everyone out.
And let's not forget about possibly sharing a bus with the other All Star resorts. That certainly add some time on to your ride.
I think my experience with the All Star Movie buses is an unfair comparison. First, the other All Star resorts were closed so there was no chance of a shared bus.
Second, because of the extremely crowded nature of that weekend, Disney was in top form with buses. They even hired charter buses to increase quantity of buses.
I don't think I ever waited terribly long for a bus. At most, maybe 15-20 minutes at the end of the day to return to the resort. But to leave the resort in the morning, I don't think I waited 5 minutes.
Truly, this is abnormal. You need to assume a 15-20 minute wait every time you want to get a bus. Sometimes, even longer.
All Star Movies Room Review
The room quality and layout is an important consideration in any hotel stay. So what did I think about my All Star Movies Resort room?
Frankly, I'm a huge fan of this redesign. Due to a previous stay at Pop Century Resort, I already knew how much I love it. I was not disappointed at All Star Movies.
The decor itself is simple but the Disney touches really help give it life. There's just enough to make it clear you are staying at a Disney World resort without being overbearing.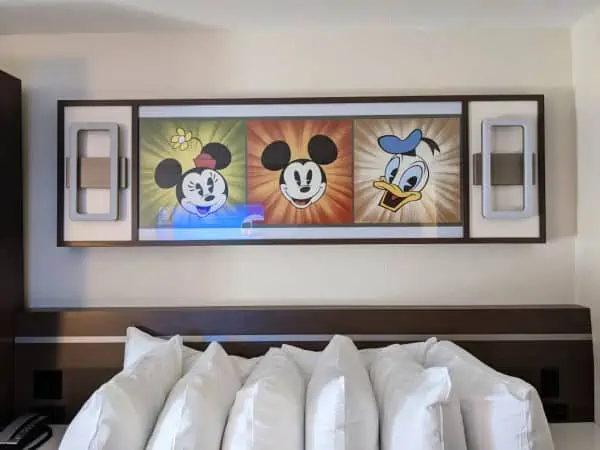 I think the changes make this room much more functional. Just the upgrade from double beds to queen beds is essential!
I love that the second bed is a drop down murphy bed. Guests have so much flexibility. Since I was on a solo trip, I only pulled it down to take pictures. The rest of the time it was up, giving me so much space and the table and chairs.
The murphy bed is easy to pull down and put back up. Using it is pretty self explanatory. For families of 3 and 4, it would be reasonable to put it up and down as needed during the day.
An important note, the murphy bed is a REAL bed. It's the same mattress that's on the other bed, not a flimsy sofa bed kind of mattress.
My adult sister slept on the murphy bed at Pop Century and deemed it very comfortable.
One of my favorite things about the murhpy beds is the surprise artwork you'll find inside. It is such a Disney touch.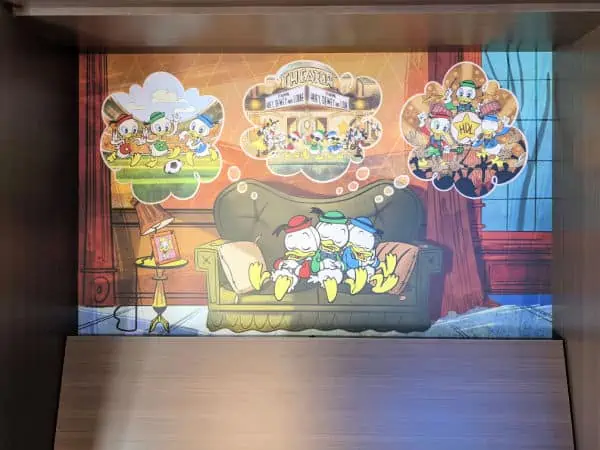 I always find the walls to be thin at the value resorts, and some moderate resorts as well. If you do plan to stay at All Star Movies resort, I highly recommend bringing a white noise machine like this one.
I personally own the one shown and have traveled to Disney with it many times. It does a bang up job of drowning out the sounds of your neighbors and people outside.
Storage
Granted, it was just me on this trip, but I find the storage in the redesigned rooms to be adequate. The open bottom platform bed allows you to store suitcases under it. This helps free up space in your room.
The dresser has 3 generous sized drawers and a safe and shelf inside the cabinet. The bathroom is full of shelves for additional storage.
Prior to this trip I stayed at Caribbean Beach Resort. Storage was one of my biggest complaints about the room. This value resort gives you much better storage options.
Outlets and USB Charging
Yes, this is important enough to have it's own heading. A Disney trip requires heavy use of your smart phone. It is essential to fully charge all devices and portable chargers whenever possible.
P.S. – if you haven't bought a portable charger yet, I highly recommend you do. This one is my favorite to use in the parks. Trust me, you'll need it.
During the refurbishment, Disney very wisely upped the ante on charging options. There are plentiful standard outlets and USB outlets all over the room.
You'll find them on the night stands and above the dresser. There are also standard outlets in the walls around the room.
Bathroom
I don't have much to say about the bathroom other than it is efficiently functional. The separate area for the sink and toilet/tub is standard in all of the Disney resorts.
This definitely makes it easier for multiple people to use at once.
I felt the storage space for toiletries was adequate to my needs, though for 4 people things would get a bit tight.
Do I recommend All Star Movies Resort?
In the end, I definitely recommend All Star Movies resort for families looking to get the absolute cheapest Disney resort room.
Your stay at All Star Movies Resort would be enjoyable and functional, plus you get all the benefits of staying at a Disney resort.
However, if you can swing it, my choice of Disney Value resort is always Pop Century resort. It costs more, but the ability to use the Skyliner Gondolas opens up a whole new world of transportation options.
All Star Movies simply can't compete with that. To compare the two, make sure to read my Pop Century resort review.
But seriously, you can't go wrong with All Star Movies Resort as long as you manage your expectations.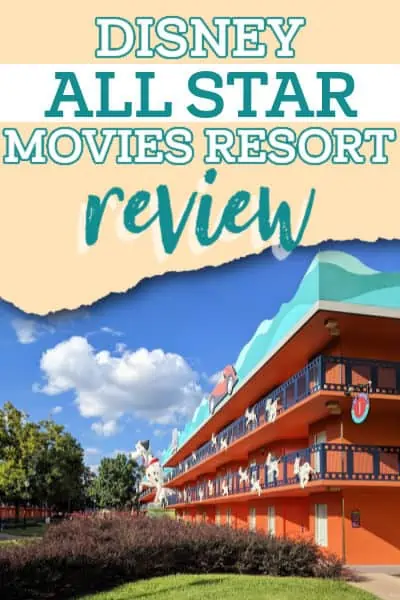 Your Thoughts
Are you interested in staying at All Star Movies resort? Do you have any questions or concerns about it? Let me know in the comments below.
Don't forget to follow The Disney Journey on Pinterest and Facebook to stay up to date with all the latest news and updates.