We may earn money or products from the companies mentioned in this post. Please click my disclosure policy to learn more.
Disney World has become known as a great place to enjoy food. There are so many high quality restaurants to choose from it can be hard to narrow down.
Even though Disney is thought of as a place for children, Disney is a great place for adults to visit as well.
One of the many offerings Disney has for adults is fine dining, and Disney's Flying Fish restaurant fits the bill.
As I'm sure you can guess from the name, Flying Fish serves seafood to it's happy customers. However, don't be put off if you don't like seafood. Flying Fish also serves prime steaks and creative appetizers (updated January 30, 2022).
Disney Dining Plan Information
Flying Fish is one of Disney's Signature Restaurants, meaning it is a place to expect a fine dining experience. With this comes the expected higher price tag.
If you have the Disney Dining Plan, you will be charged 2 credits for a meal at Flying Fish. You know, when the dining plan actually returns…
With the Disney Dining Plan you will get an appetizer, an entree, and an alcoholic or signature beverage.
Dining Discounts
If you do not have the dining plan, there are some discounts available to bring the bill total down. The first option is the Tables In Wonderland dining discount card, or TIW.
TIW is an option available to Annual Passholder, Disney Vacation Club members, and Florida residents. However, it hasn't been available since lock down, and there's been zero word on whether it will return.
Anyone with a TIW card will receive 20% off at most Table Service restaurants at Disney World. The 20% off includes any alcoholic beverages purchased with your meal.
Annual Passholder/DVC Discounts
Annual Passholders and Disney Vacation Club members also have the option to take advantage of a 10% discount at Flying Fish, with no discount card purchase necessary.
The discount is good for the cardholder and up to 3 guests. However, this 10% discount will not include alcoholic beverages.
There have been times when the Annual Passholder dining discount has been increased for promotional time frames for certain Signature Restaurants.
Flying Fish has been included in these promotions in the past, even having up to a 30% off discount.
Flying Fish Reservations
As with all other Disney restaurants, you have the option to make an Advance Dining Reservation for your meal at Flying Fish. I always recommend that you make a reservation if you know you want to eat at a certain restaurant, and Flying Fish is no exception.
Typically Flying Fish used to be one of the less popular restaurants, making it easier to get same day reservations.
This is likely due to its slightly out of the way location combined with its Signature Restaurant status.
However, Flying Fish has been closed for almost 2 years and just reopened on January 27, 2022. As a result of this, and several other factors due to the pandemic, there is pent up demand.
As I write this, I tried to find an available reservation and I couldn't. Even 60 days out, an hour after dining reservations opened for that day, there was nothing available.
So, if you want to dine at Flying Fish, make sure you book your reservation 60 days prior to your trip!
I do imagine that eventually this fervor will die down and it will be easier to get a table at Flying Fish, but until then, plan ahead.
Flying Fish Hours
The Flying Fish is only open for dinner service. The daily hours of operation are from 5:00p-9:30p.
Abracadabar is the lounge attached to Flying Fish and is open slightly longer than Flying Fish, serving customers from 4:00p-10:30p.
Unlike many Signature Restaurant lounges, Abracadabar does not offer food service from the Flying Fish kitchen. It does have a very small bar snacks menu, but the rest of the menu is ALL cocktails.
However, if you are interested in a drink and some atmosphere before or after your meal, Abracadabar is an easy stroll.
Dress Code at Flying Fish
Be aware that Flying Fish, and all other Signature Restaurants at Disney, have a dress code for guests to follow. It's nothing outlandish, but it might require you to pack an extra outfit.
Men are asked to wear either slacks, khakis, or dress shorts along with a collared shirt.
The dress code for women includes dresses, Capri pants, dress shorts, and skirts. The dress code doesn't forbid jeans, but requests that if they are worn, jeans are in good condition.
The following types of clothing are forbidden: ripped clothing, cut-offs, flip-flops, clothing with offensive language, swimsuits, swim cover ups, and hats for gentlemen.
Location and Atmosphere
Flying Fish is one of the restaurants located on Disney's Boardwalk. The Boardwalk can be found along Crescent Lake in the Epcot resort area.
If you drive to the restaurant, you can park at the Boardwalk Resort for the easiest access to the restaurant.
It is also an easy walk to Flying Fish from either Epcot or Hollywood Studios, or a relaxing boat ride on the Friendship Boats. Buses from any of the theme parks can also drop you off at the Boardwalk Resort.
The Disney Skyliner gondolas offer another transportation option for guests coming from Caribbean Beach Resort, Riviera Resort, POP Century, and Art of Animation.
Simply take the Skyliner to the Epcot station and walk from there.
Atmosphere
As I mentioned above, the Flying Fish is one of the many restaurants that enhances the adult Disney experience. In 2016, Flying Fish closed for renovations and reopened with its current design.
The overall decor of the restaurant is modern with whimsical touches that really hammer home a theme without being over the top.
For example, the chandeliers in the dining are glass flying fish swimming against the beautiful blue ceiling. The overall effect of this design feature is stunning.
Because I'm a dork, my favorite touch is actually the fish themed silverware. While quirky and fun, it really highlights Disney's commitment to creating a unique experience wherever you are in the parks.
Flying Fish Menu
Finally, we get to the good part: the food. Flying Fish offers a seasonal menu, taking advantage of food items readily available at any given point of the year. As a result, the menu can change frequently.
However, they do have main staples that are always offered. I recommend that you check the menu posted on Disney's website to stay up to date with menu offerings during your trip.
As a I mentioned above, if you are looking for seafood, Flying Fish is certainly the place to be. The menu offers an array of seafood dishes as both appetizers and entrees.
There is also the option to add enhancements to your dish in the form of shrimp, lobster tail, or scallops.
However, if seafood isn't your thing, you will have plenty of options as well. The menu at Flying Fish includes filet mignon, New York strip steak, and chicken.
Appetizers
Lobster Bisque: Sambuca, Chive Oil
Prince Edward Island Mussels: Fresh Herbs, Chardonnay Broth
Slow Roasted Pork Belly: Spiced Apple, Cherry Gastrique
Shrimp Cocktail: Blood Orange, Horseradish and Black Cyprus Sea Salt
Mesclun Greens Salad: Chèvre, Marcona Almonds, Watermelon Radish and Blueberry Vinaigrette
Tasting of Artisan Cheeses: Brillat-Savarin, V.S.O.P Gouda, Thomasville Tomme, Truffle Tremor and Smokey Blue
Oak-grilled Romaine: Cherry Tomatoes and White Balsamic Dressing (Plant-based)
Entrees
Verlasso Salmon: Bok Choy, Celery Root and Golden Saffron Nage
Filet Mignon: Asparagus, Sweet Onion Risotto and Truffle Sauce
Seafood Pearl Pasta: Shrimp, Lobster, Scallops, Clams and Mussels
Char-crusted New York Strip: Mille-Feuille Potato Gratin, Cauliflower Colors and Béarnaise Sauce
Plancha-seared Scallops: Savory Grits, Sweet Corn and Peppadew Emulsion
Potato-wrapped Red Snapper: Leek Fondue, Cassis-Red Wine Reduction
Organic Chicken: Parsnip Purée, Roasted Beets, Cracked Pistachios, Sauce Suprême
Roasted Tofu: Garden Vegetables, Holland Pepper Coulis (Plant-based)
Enhancements
Sautéed Shrimp
Seared Scallops
Cold Water Lobster Tail
Grilled Octopus
Desserts
Flying Fish offers up 5 different desserts for your post meal enjoyment. The dessert choices give a wide variety of options that should appeal to most people.
Cocoa Breach: Vanilla Custard, Chocolate Bavarois, Feuillentine Crunch
Creamy Goat Cheesecake: Honey Glaze, Cassis Gel and Pistachio Cake
50th Celebration Midnight Lemon: Fresh Berries, Crispy Meringue and Sweet Lemon
Key Lime Cake: Coconut-Lime Mousse, Guava and Tropical Coulis (Plant-based)
Tasting of Artisan Cheeses: Brillat-Savarin, V.S.O.P Gouda, Thomasville Tomme, Truffle Tremor and Smokey Blue
Kids' Menu
The kids' menu at Flying Fish has a decent number of options, but depending on your child's pallet, there might not be much of interest. There are even kids' appetizers available.
The way that kids' meals work, they are given a choice of one entrée and two "selections". These selections range from veggies and starches to desserts.
All Kids' meals also come with a beverage.
Kids' Appetizers
Chicken Noodle Soup: Organic Chicken and Whole Grain Noodles
Romaine Salad: with Ranch and Croutons
Kids' Create Your Own Entrees (choose one)
Salmon
Chicken Breast
Grilled Steak
Red Snapper
Pasta with Marinara
Kids' Create Your Own Selections (choose two)
Asparagus
Carrots
Fruits on Palm Island
Green Beans
Macaroni & Cheese
S'more Time at the Beach
Flying Fish Gluten Free Menu
There is an allergy menu posted for Flying Fish directly on Disney's website. It denotes which of the menu options without any changes are considered gluten free.
However, you'll note when you go through this menu that gluten free options appear to be slim. This is deceptive, and proves that it's always wise to ask questions.
If you have not done so already, read up about how to dine gluten free in Disney World. That gives you a good foundation of what to expect. The biggest takeaway is to always answer questions.
There are items on this menu that can easily be altered in order to make them gluten free. The chefs are more than willing to accommodate your needs.
For example, I asked what about the filet mignon preparation made it unsafe for those with gluten allergies. It turns out the chef could easily make it gluten free by excluding the seasoning and pan-searing the meat.
When in doubt, always ask to speak with a chef about the food to make sure it is safe. Our waiter acted as the go between in this instance, and I felt comfortable with his answers.
He went so far as to write down notes on what the chef said about my questions to make sure he relayed the information correctly. But that is always your call. Don't be afraid to ask to see the chef.
Flying Fish Review
So, what are our overall thoughts of Flying Fish restaurant? On the whole we really enjoyed the dining experience.
Frankly, I'm in love with the decor and overall feel of the restaurant. The use of glass on the ceiling is pure brilliance. There are glass "bubbles" and fish suspended from the ceiling all throughout the restaurant.
When you combine this with the blues and tans are clearly meant to evoke an under water feeling. However, it is all done so elegantly and subtly.
Food Review
And now to the most important question: how's the food? In short, the food at Flying Fish is fabulous. My husband and I loved everything about our meal.
We chose Flying Fish after a lot of deliberation and research in the planning stages of that trip. It was our first adult-only trip to Disney, and this dinner was a splurge anniversary dinner.
We were not disappointed with the food or the service at Flying Fish. Going into the dinner we both already had an idea which foods we wanted to order.
Appetizer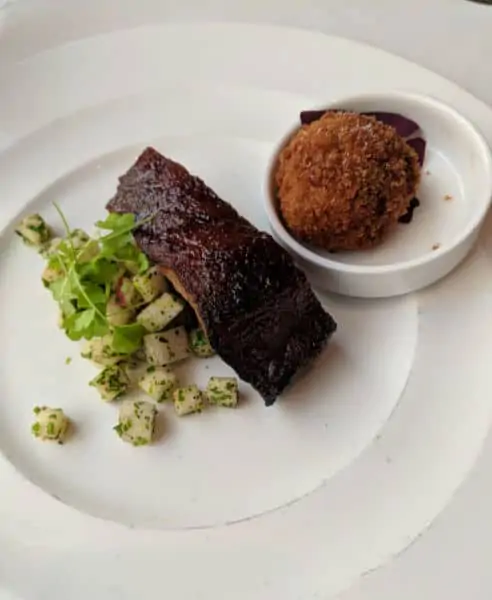 The version of the pork belly that we ordered was slightly different from the one currently offered on the menu. Ours came with a croquette as listed on the menu.
That croquette was the only thing that made the dish non-gluten free. Simple solution: have it served on the side so Doug could eat it.
This current version of the pork belly is not listed as gluten free, but please, ask if it can be made gluten free because it is so worth it. Who know, maybe the croquette is still served with it but it isn't listed.
It is very fortunate that the pork belly was made gluten free because frankly, it was phenomenal. I would have been very sad to miss out on this treat. The meat quite literally melted in our mouths. I highly recommend this to anyone.
Entrees
I chose the Filet Mignon with asparagus, sweet onion risotto, and truffle sauce, cooked medium rare. The meat was just slightly over cooked, probably between medium and medium rare.
Despite this, the meat was very juicy and tender. The knife slid through it like butter.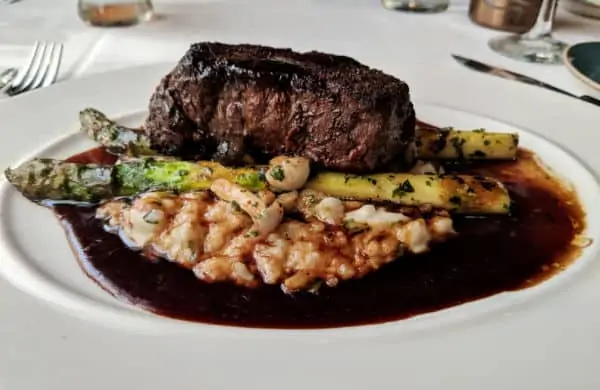 The risotto was a great partner to the meat and asparagus, adding lovely flavor to the meal. And the truffle sauce, oh the truffle sauce. All in all, a fantastic meal.
I highly recommend this entree to anyone who goes to Flying Fish restaurant. It is purely delicious.
Doug chose the Chilean Sea Bass with Leek Fondue and Cassis-Red Wine Reduction. This is an example of how entrees can change slightly depending on what fish is available fresh.
This dish is currently available as Potato-wrapped Red Snapper instead of Chilean Sea Bass.
His whole meal came straight from the menu with no alterations necessary to make it gluten free so we could share. In fact, we deliberately chose our menu options to split so we could both have a seafood option and a meat option.
**The Red Snapper version is also gluten free straight off the menu**
I loved the leek fondue, probably a bit more than Doug did. I found it to be a delicious and unique side that you would not find very often.
In the end, we both agreed that the Filet Mignon was the superior entree of the two we tried, though they were both excellent. We just both tend to like beef more than seafood in general.
Drinks and Dessert
Doug and I each chose a drink to go with our meals. We ended up with the Pink Grapefruit & Lychee martini and the Blood Orange Margarita based on reviews we'd read.
They were both very good drinks, light and easy to drink.
We did not try any of the desserts as the gluten free options are limited. I didn't even ask about gluten free alternatives, but I am sure they have some.
At the time, Ample Hills Creamery was still open on the Boardwalk and I had designs on their ice cream for dessert. I just about cried when I found out that Ample Hills Creamery didn't survive the shut down!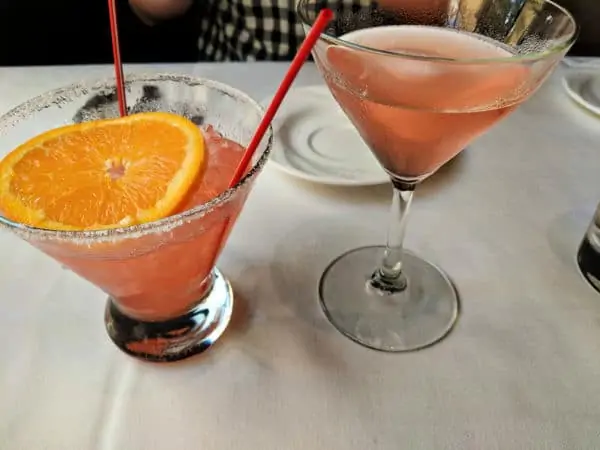 Final Thoughts
Clearly, we absolutely loved the dining experience at Flying Fish. Everything about this meal and restaurant was enjoyable. The setting was elevated without feeling stuffy, thanks to the whimsical touches.
Our seat was towards the back of the restaurant so we were unable to watch the chefs through the open kitchen. The flip side to this is a calmer dining experience.
The food at Flying Fish is a feast for the eyes as much as the mouth. Everything that came to our table was attractively presented to make the food look even more appetizing.
To this day, our meal at Flying Fish remains one of our favorite meals at Disney World. It was just so delicious.
We've since eaten at California Grill, which is typically everyone's pick for a romantic dinner at Disney World. We would pick Flying Fish over California grill any day.
It is not nearly as popular as it should be, but I think that is also part of the appeal. It lacks some of the chaotic, busy, feeling that comes with a meal at California Grill.
I think most people assume Flying Fish only serves seafood, which is a polarizing food. Because of this they never really look into it as an option for a solid meal at Disney. Their loss is certainly our gain.
Your Thoughts
Have you ever been to Flying Fish? Was your experience as good as mine? If you have any questions or comments, please comment below.
Don't forget to follow The Disney Journey on Pinterest and Facebook to stay up to date with all the latest news and updates.