We may earn money or products from the companies mentioned in this post. Please click my disclosure policy to learn more.
Disney World has many resort options to choose from. The problem is knowing which one is the right choice for you. I present for your consideration: Disney's Port Orleans Riverside Resort!
We'll explore all there is to know about this resort to help you to decide whether this resort is the best one for your family. I'll follow up all the details with my family's experiences at the resort and a summary of pros and cons.
But how's this for a spoiler: this resort should definitely be on your short list…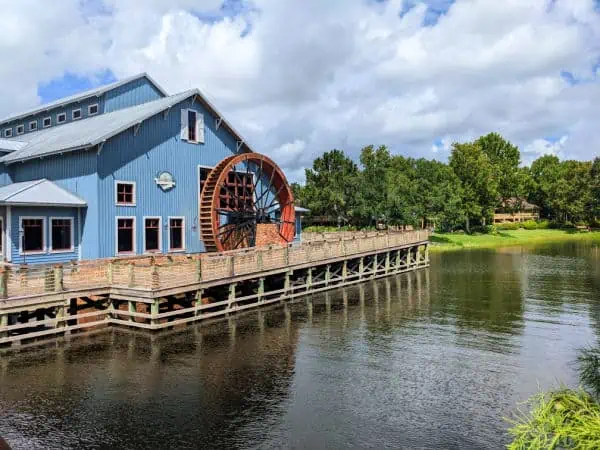 Disney Port Orleans Riverside Resort Overview
Port Orleans Resort is one of Disney World's Moderate category resorts. In short, that means you get a few more bells and whistles than the Value Resorts, but not as many as the Deluxe Resorts.
Consequently, the price of these resorts tends to fall in that middle ground area. They are definitely a more affordable option while still giving you a good Disney resort experience.
If you want more information about what the differences are, read all about the Disney resort categories. This gives you a much more in depth look at what makes each category different.
Disney Port Orleans Riverside Atmosphere and Theme
There is one word that comes to mind when describing the atmosphere of Port Orleans Riverside: laid back. There is a very relaxing, low key feel to this resort.
The overall theme of the resort is designed to evoke the romance of rural Louisiana. It's all winding river, southern architecture, and quaint backwoods cottages.
Different Areas of Port Orleans Riverside
Port Orleans Riverside has two distinct design areas within the resort. First, you have Alligator Bayou. Just as the name implies, the aesthetic in this section is much more quaint and rural feeling.
Think camp cabins in the woods of the bayou. That sums up the feels of Alligator Bayou pretty darn well.
On the flip side, you have Magnolia Bend. In this section there is a much more refined, southern manor kind of feel. The buildings are laid out completely differently and really evoke the feel of southern mansions.
There are manicured lawns and gardens, fountains, and so on that really help to drive this theme home.
Port Orleans Riverside has a Sister Resort
Just to make things a little more interesting, Port Orleans Riverside has a sister resort right next door. If you follow the path along the river, you'll arrive at Port Orleans French Quarter.
I'm sure you can guess that this resort is modeled after the French Quarter of Louisiana.
With this being a sister resort, that means you have access to all of the amenities at this resort as well, including the pools.
Where is Port Orleans Riverside Located?
Nestled along the Sassagoula River, Disney's Port Orleans Resort is in the Disney Springs Resort area of the greater Walt Disney World Resort property.
Port Orleans Riverside Address
1251 Riverside Drive
Lake Buena Vista, Florida 32830-8514
(407) 934-6000
Port Orleans Riverside Resort Map
Port Orleans Riverside Rooms
You will find several different room options at Port Orleans Riverside. However, don't expect that this actually gives you a ton of options.
All of the pictures of the rooms so far show the decor of the rooms in Magnolia Bend, since that's where we stayed. Know that the layout of the rooms will be the same in Alligator Bayou, but the design features and aesthetic are different between the two sections.
Port Orleans Riverside Room Types
Most of the rooms found at Riverside follow the same basic layout. The main different tends to come in the form of the different view options and therefore location within the resort.
There are a couple of exceptions with this, specifically with the 5th sleeper rooms and Royal Guest rooms.
View Options
As one would expect, the less interesting your view, the more affordable the room is. The base room is the standard view guest room. This will give you views of parking areas.
Next up in terms of price is the woods view guest room. This option gives you views of landscaping, courtyards, or the bayou.
Of course, there are pool view guest rooms as well. These rooms overlook one of the 5 leisure pools. Keep in mind, no rooms actually overlook the Ol' Man Island pool since it's literally on an island in the middle of the bayou.
Finally, in terms of views, the most expensive rooms are river view guest rooms. This gives you a nice view of the riverfront.
One thing to keep in mind, none of these rooms have balconies to sit on to enjoy the view and I'm going to hazard a guess that you'll keep the curtains closed all the time for privacy.
So if you are looking to save some money, go for a standard room. You won't really know the difference in terms of view, but your bank account will thank you. From my perspective, the actual building/room location is more important than the view itself.
Now with the other room categories, these same views will exist as well, with of course the price getting higher and higher.
Preferred Rooms
The preferred room at Port Orleans Riverside give you the opportunity to choose the room more specifically based on location. These rooms are located close to all the action at Riverside.
You'll be close to Sassagoula Steamboat Company, dining, shopping, and transportation.
With this one you don't really have an option in terms of view, except to have a view of landscaping, a courtyard, garden, or the bayou. All of these rooms are located in Alligator Bayou, so if you hope to stay in Magnolia Bend, do not pick this option.
5th Sleeper Rooms
The 5th sleeper rooms at select Disney resorts are a great option for families who have 5 people, or smaller families who want to spread out the sleeping arrangements.
In these rooms you'll find 2 queen beds plus a child size pull down bed. You definitely can't put someone tall on this bed, but I'm 5'3″ and could fit comfortably on it.
These rooms are offered with either a standard view or a woods view. All of the rooms with the 5th sleeper (or king rooms with the pull down bed) are located in Alligator Bayou.
Royal Guest Rooms
The Royal Guest Rooms are an extra special option for all those princess lovers out there. These rooms have a completely different decor than the rest of the resort. Of course, they look more royal!
These rooms fit up to 4 adults on 2 queen beds. Basically, the only difference from the standard rooms is the theming of the rooms.
You'll find the decor done in jewel tones, of course because every princess loves jewel tones. The various Disney princesses are also worked into the decor through artwork.
Port Orleans Riverside Room Layout
Just to forewarn you, I'm about to spam you with pictures of the room. Nothing can quite show you the Port Orleans Riverside room layout like pictures.
Disney basically has a standard formula for the room layouts in most of the resorts, and Riverside is no different. Most of the guest rooms at Port Orleans Riverside have 2 queen beds designed to fit up to 4 people.
There are two exceptions to this layout. The first is in the form of a king bedroom. As one would expect, this room contains a king size bed. Some of the king rooms also have a child sized pull down bed to allow up to 3 people.
All of the rooms have an entry door that leads directly to the great outdoors. There are no interior hallways at this resort. Next to the front door is the only window as well.
The bathroom is broken up into 2 sections, with the sinks in a separate area from the tub/shower and toilet. This allows multiple people to use the bathroom at the same time. These areas are separated by a pocket door for space saving.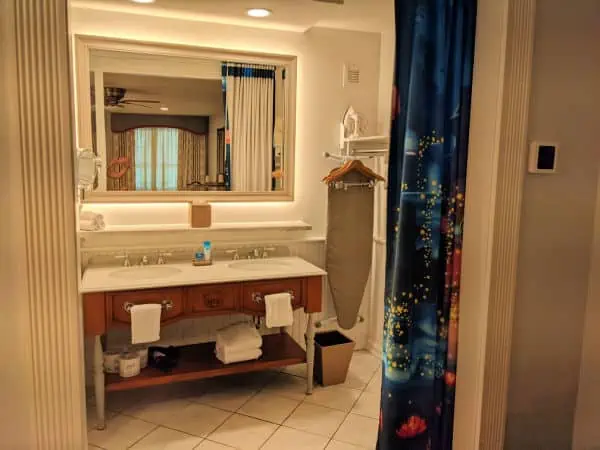 The bathroom is separated from the main sleeping area by a curtain. I kid you not.
Keep in mind, while the layout between Magnolia Bend and Alligator Bayou will be very similar, the style in each of the rooms matches the region of the resort they are in.
The rooms have an open closet area located inside the bathroom. In terms of drawer storage, there's a dresser in the 4 person rooms with 3 drawers and a night stand between the beds.
Any rooms with the 5th sleeper will have even less. That's because the pull down bed takes the place of the dresser.
You'll also find a table with 2 chairs in each of the rooms.
Each of the rooms also comes with a mini-fridge and coffee maker. The mini-fridge is tucked into the cabinet door you see here on the dresser.
Dog Friendly Accommodations
Port Orleans Riverside is one of the select resorts that allow dogs to stay in the room with you. There is a limit of 2 dogs per room, and there are possible restrictions on the type of dog allowed.
If you want to bring your dog with you on your visit to Port Orleans Riverside, you need to call Disney at (407) 939-7539.
What are the best rooms at Port Orleans Resort?
Personally, I'm typically of the opinion that the best rooms at the resorts keep you out of the main hustle and bustle, but still give you easy access to amenities and transportation.
We stayed in building 85 in Magnolia Bend and loved it. There is a bus stop located right outside that building. Also, it puts you right next to one of the bridges over to Ol' Man Island and the main pool.
Ol' Man Island itself then acts as a picturesque shortcut over to the dining location and amenities. With the exception of the preferred rooms, the rooms in building 85 probably give you the best mix of ease of access to everything.
Along those lines, building 80 in Magnolia Bend gives a close second option.
However, if you want more of that in the middle of the woods feel, anywhere in Alligator Bayou fits the bill. I seriously can't even describe in words just how different the feel is over here compared to Magnolia Bend.
Port Orleans Riverside Amenities
You'll find quite a few amenities at Port Orleans Riverside Resort, on par with most of the other moderate resorts.
Transportation Options at Port Orleans Riverside
Port Orleans Riverside transportation includes two options: bus and boat. If you want to go to ANY of the parks, the bus is your only Disney provided transportation option.
There are 4 bus stops around the resort. That means if your stop happens to be the last one on the route, the bus could be full by the time it gets there. This is really only an issue during peak times.
But either way, you need to be prepared for a slightly longer bus ride because of the need to go to all the stops.
There is also a bus to take you over to Port Orleans French Quarter.
The boat is available to take guests over to Disney Springs.
Dining at Port Orleans Riverside
One of the benefits of staying at a moderate resort is you start to have more options for dining. Typically, there is a quick service option, just like the value resorts, but you'll also have a table service dining option.
And don't forget, you also have easy access to all the restaurants over at Port Orleans French Quarter. And trust me, Sassagoula Steamboat Factory over there is a phenomenal quick service option. For no other reason, go there to get some beignets.
Riverside Mill Food Court
The Riverside Mill Food Court is the quick service dining option at Port Orleans Riverside. Just as the name implies, this is a large area with multiple different counters that have various food options.
Think about your local mall, just without the chain restaurant options. You're going to find burgers, pizza, sandwiches, salad, entrees, and more.
Riverside Mill Food Court is open for breakfast, lunch and dinner.
Boatwright's Dining Hall
Don't be fooled by the phrase "dining hall" in the name. This is Port Orleans Riverside's very own table service restaurant. This gives more of a sit down dining experience instead of fast food.
Boatwright's is open for dinner only, from 5:00p to 9:00p.
Here you'll find Jambalaya, shrimp and grits and more southern style favorites.
If you definitely want to eat at Boatwright's, the recommendation is to make reservations ahead of time. This way you know for sure you have a meal at the time you want.
However, there is the possibility of either walk up or same day reservation. I could make one for tonight at 7:00p if I wanted to. It's not really a high demand restaurant if you want to be a bit more spontaneous.
River Roost
River Roost is a bar located inside the main buildings of the Sassagoula Steamboat Company. It is open from 5:00p until 12:00a.
There is a small appetizer menu that is served from 5:00p to 10:00p, but clearly, there are A LOT of different drink options to choose from.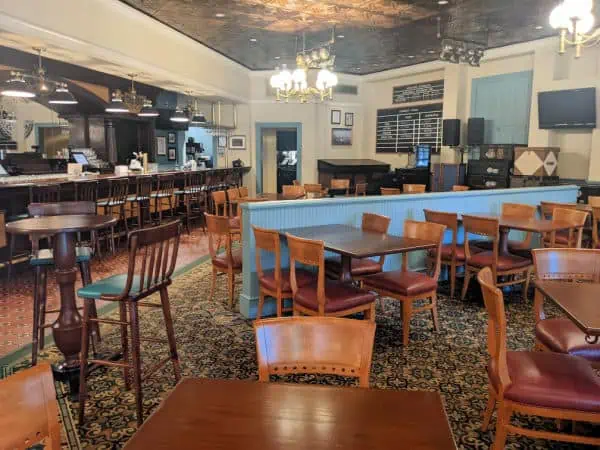 Muddy Rivers
Welcome to the pool bar at Port Orleans Riverside. This is located on Ol' Man Island right next to the main pool of the resort.
Muddy Rivers operates from 11:00a to 9:00p.
You can get some sandwiches and salads to eat while sitting poolside, but the menu is by no means extensive.
Port Orleans Riverside Pools
If you are staying at Port Orleans Riverside, there is certainly no shortage of pools to choose from. Not only do you get the main pools for for Riverside, but you also have access to the pools at Port Orleans French Quarter.
Ol' Man Island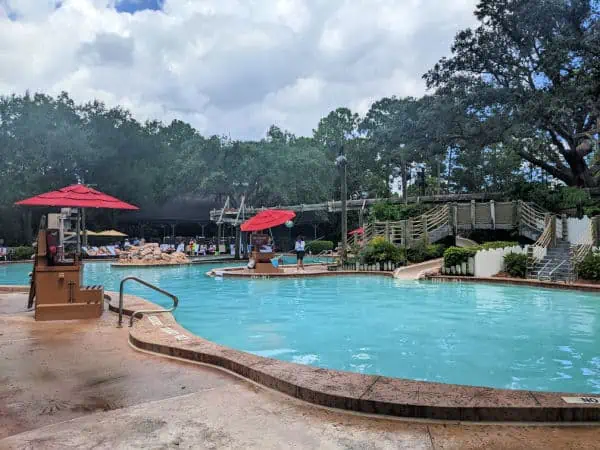 Ol' Man Island is just that, an island connecting the two half of Port Orleans Riverside. On this island you'll not only find a fishing hole, but also the primary resort pool.
You can access Ol' Man Island from 3 different wood foot bridges.
The whole area is designed to resemble an old abandoned sawmill. And coming out of that saw mill is a 95 foot long waterslide.
You'll also find a whirlpool tub along with the Muddy Rivers pool bar.
This is the largest and most tricked out pool of the resort.
5 Leisure Pools
You'll find 5 additional pools tucked into the various resort areas. Three of them are found in Alligator Bayou and two in Magnolia Bend.
These extra pools can be found at all of the Disney resorts, and are sometimes referred to at the quiet pools. That doesn't mean there's a particular noise rule, just that they are a more relaxed atmosphere and less heavily used.
In the above image, you can get a feel for just how quiet it can be at these leisure pools. This was the early afternoon on a scorching hot summer day. This pool is almost empty. The same could not be said of Ol' Man Island.
Pools at Port Orleans French Quarter
And don't forget, you have access to all of the pools at Port Orleans French Quarter as well. The main pool of interest there is Doubloon Lagoon.
Here you'll find a Mardi Gras theme, complete with 51 foot long sea serpent slide. You literally slide down his tongue.
Recreational Activities
There is a wide variety of recreational activities available at Port Orleans Riverside for those who want to take advantage.
Horse Drawn Carriage Rides
What says southern comfort quite like a horse drawn carriage ride around a gorgeous resort? The carriage follows the main pathway around the resort, give you a scenic tour without having to walk.
The ride lasts for 25 minutes, starting at the Riverside Levee Marina. You can fit up to 4 adults, or 2 adults and 3 children.
At this time the cost is $55, but of course this could change at any time.
Advance reservations are highly recommended for this extra feature. You can make reservations up to 60 days in advance either on the website or through the My Disney Experience app.
Bike and Surrey Bike Rentals
Disney's Port Orleans Resort is one of several locations you can rent bikes and surrey bikes around Disney World.
Surrey bikes are available as either 2 seater or 4 seater options.
Again, you can take these bikes around the pathways of the resort, including over into Port Orleans French Quarter.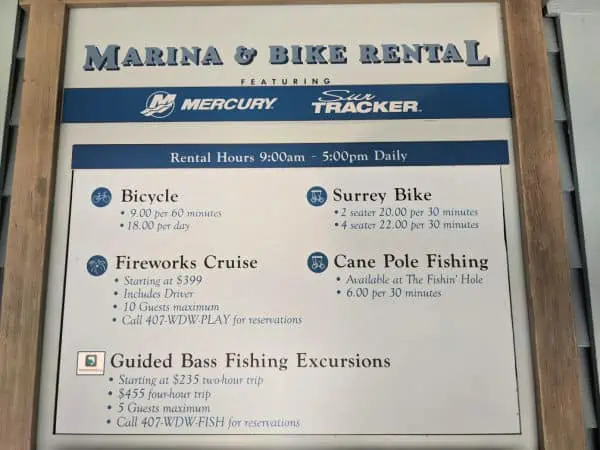 The rentals can be made at a small building right at the Riverside Marina Levee.
Movies Under the Stars
All of the Disney resorts offers this in some way shape or form. At Port Orleans Riverside, this happens on the Magnolia South Pool deck on select nights.
Unsurprisingly, the movie is always a Disney movie!
Campfire on de' Bayou
This is another popular activity you can find at the Disney resorts. Who doesn't like to gather around a roaring fire and make smores?
This activity happens 7 days a week on Ol' Man Island near the playground from 5:30p-6:30p.
Fishing
There are a couple of different fishing options and Disney's Port Orlean's Riverside Resort. The first is good old fashioned cane fishing at the fishin' hole on Ol' Man Island.
For people looking for a much more expansive experience, you can book a guided bass fishing excursion that leaves fro mthe Riverside Levee Marina.
Cane pole fishing will cost you $6 for a half hour, while the guided boating experience starts at $256 and goes up from there.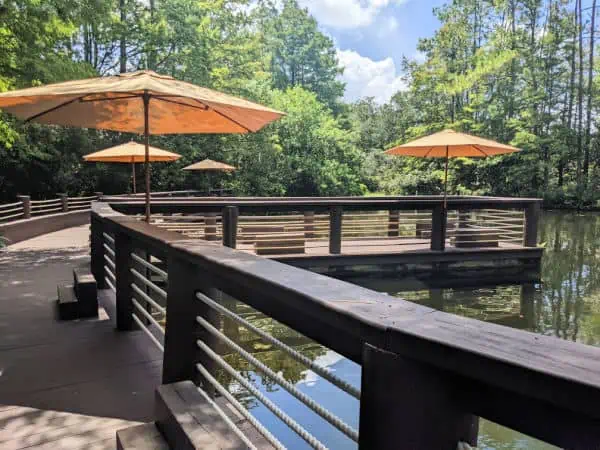 Playgrounds
You can find a playground on Ol' Man Island at Port Orleans Riverside. And don't forget, you can also use the playground over on Port Orleans French Quarter.
Medicine Show Arcade
Inside the Colonel's Cotton Mill building you'll find the Medicine Show Arcade where you'll find standard arcade fare.
Port Orleans Riverside Resort Review
Listen, I'm not even going to be coy about this one. No building of suspense or anything like that. We simply LOVED our stay at Port Orleans Riverside.
It's a resort I would highly recommend for pretty much anyone, but especially for people who are looking specifically in the moderate resort category.
But let's break down my Port Orleans Riverside review so you know why I feel this way about the resort. By the way, I'm going to just intersperse more pictures throughout this section, just so you can get an even better idea of what to find at Port Orleans Resort.
Overall Impressions
One of my absolute favorite things about staying at a Disney World resort is the theming. Disney Imagineers are experts at immersing you into another world.
Let's face it, the resorts without the theming are basically no more than standard hotels you can find anywhere.
But at Port Orleans Riverside, the Imagineers went all in and you suddenly find yourself in Louisiana, a Disney-fied version of it, anyway.
I spent 2 nights at the resort with my family of 4 so it allowed me to get a feel for how the resort works and flows with a family.
We really like the size of the resort. Yes, it's a bit spread out, but it's a very walkable type of spread out. It's pretty easy to essentially walk around the whole resort without too much difficulty.
This makes it much easier to get around than at some of the other large resorts like Caribbean Beach Resort or Saratoga Springs Resort. Walking from one end of those to the other definitely takes much more effort.
There is such a quiet, peaceful feel when you walk around the resort. It's easy to forget you are in fact surrounded by tens of thousands of people strewn across the Walt Disney World Resort.
In fact, one of my favorite things to do during our stay was to simply walk around exploring and taking pictures. It was a welcome respite from the hustle and bustle of the parks.
On the whole, this is probably my favorite moderate category resort, and I definitely plan to stay here again in the future. That being said, the transportation situation knocks Port Orleans Riverside down several pegs in terms of convenience.
The fact that there is only bus transportation to the parks is a definite bummer. Bus situation aside, I would still highly recommend Port Orleans Riverside as a desirable Disney resort option.
Room Review
Really, there's not much exciting to say about the rooms. They are pretty standard Disney resort rooms in terms of layout and storage.
The decor inside of the Magnolia Bend rooms is blah at best. The only real spot of interest is the design on the curtain that separates the main room from the bathroom. It adds a much needed pop of color and special Disney princess touch.
That being said, having a curtain separating the two rooms was kind of weird. Other Disney resorts have a sliding door system that separates the bathroom from the main room. I can't say that this blocks out noise better than the curtain, but it certainly feels like a more substantial divider.
I mean, it's a door, so that automatically makes it superior. But this is probably me splitting hairs. There truly isn't an actual functional difference between the two, it's more of a mental thing.
In terms of decor, the rooms in Alligator Bayou definitely win. I haven't stayed in them, but I've seen pictures, and they are much closer to what I would picture for a Disney resort room. There is more color and theming in these rooms, making it feel much more themed.
On the whole, the flow of the room is fine and the amount of square footage is adequate.
Of course, having the toilet and tub/shower in a separate private space from the sinks is a major bonus in terms of functionality, but this is a feature you'll find in pretty much any hotel, anywhere.
Clearly, in the end, the room will meet your basics needs but isn't necessarily something that's overly exciting.
A Note About Room Storage
Storage continues to be an issue in Disney rooms. Frankly, I seem to find this an issue in whichever Disney resort I happen to stay in.
Bottom line: don't anticipate being able to neatly organize clothes for a family of 4 or 5 in these rooms. There are 5 small drawers or less, and that's it. The less is specifically in the rooms that sleep 5 people as the dresser is replaced with a bed.
Disney's big solution for this is to change out all of the bed frames so you can slide suitcases under the bed. This pulls double duty as a convenient way to simply get your luggage out of the way, but also act as your dresser. Because really, there's not enough space to store your clothes.
If you are a couple or a family staying for a short trip, you can probably manage. But a week long stay with a family of 4, not so much.
Plan to try to hang up as much as you can in the closet and take advantage of any shelves in there. Not that they actually give you a lot of hangers, but that's a whole other discussion.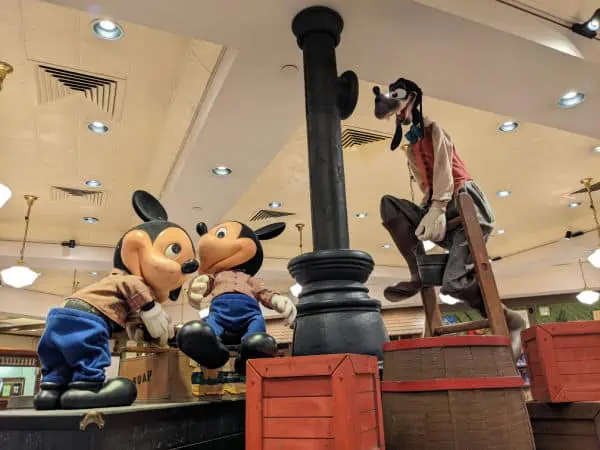 Transportation
The transportation options at Port Orleans Riverside are definitely a weak point. In fact, this is THE weak point for the resort. With buses being your only transportation option to the parks, this is a major bummer.
The buses are widely viewed as the least desirable transportation option, and are certainly the least convenient. This means getting to the from the parks generally takes a lot longer on buses.
The boat over to Disney Springs is definitely a nice touch. I would choose the boat over the bus any day of the week. Unless it's during a storm. Then I would think twice about an open air boat.
With multiple bus stops around the resort, you should have an easy walk to a bus regardless of where you are staying within the resort layout.
However, this also means that if you are the last stop of the loop, the bus could be filled up before it even gets to you. This only potentially happens during some of the busiest times of the day. I did not have this issue during my stay.
While the transportation situation is inconvenient, it's not a deal breaker. But if you want a moderate resort with better transportation options to at least 2 parks, consider Caribbean Beach Resort instead.
Amenities Review
Overall, Port Orleans Riverside gives you a decent array of amenities, more than some of the other Disney resorts, actually. You could easily keep yourself entertained her on a non-park day.
The fact that you have easy access to Port Orleans French Quarter as well is a huge bonus. That means double the amenities for you to explore.
Dining
The dining options at Port Orleans Riverside are fine, but not necessarily anything to write home about. The quick service food court is great in the sense that you have a wide array of options. Odds are pretty good you can find something for the whole family here.
I did not eat at Boatwright's Dining Hall, so I can't speak to it specifically, but simply the existence of a table service restaurant is one of the things that elevates the moderate resorts above the value resorts. Sometimes it's simply nice to have a different dining option easily accessible.
However, if you are up for a walk, I highly recommend heading over to Port Orleans French Quarter for a meal or two. Sassagoula Floatworks and Food Factory is an EXCELLENT quick service dining option.
The food is different from most other quick service dining options, and it is darn tasty. On top of that, Port Orleans French Quarter is the home to the Mickey shaped beignets. These are an amazing dessert or snack option.
Pools
Keep in mind, I'm pool averse half the time, so most of these opinions come straight from my kids. They checked out the pool at Ol' Man Island as well as Doubloon Lagoon over at Port Orleans French Quarter.
Their overall opinion is that Ol' Man Island is the superior pool. They found the slide to be a lot more fun at Ol' Man Island. That being said, if you have younger kids, they'll probably like the slide at Doubloon Lagoon better.
Coming from the adult perspective, I just like the feel of the pool over at Ol' Man Island. It feels a lot less kitschy than Doubloon Lagoon. And despite all the people there, it didn't feel crowded.
Overall, my kids had a blast at the Ol' Man Island pool. They couldn't say the same for Doubloon Lagoon. Apparently, that slide was so slow my husband actually stopped moving mid-slide.
We rarely ever try out the quiet pools due to their lack of slides and theming. However, it is nice that Port Orleans Riverside has plentiful pool options spread throughout the resort. It just makes it easier to find a pool – and avoid crowds if you want to.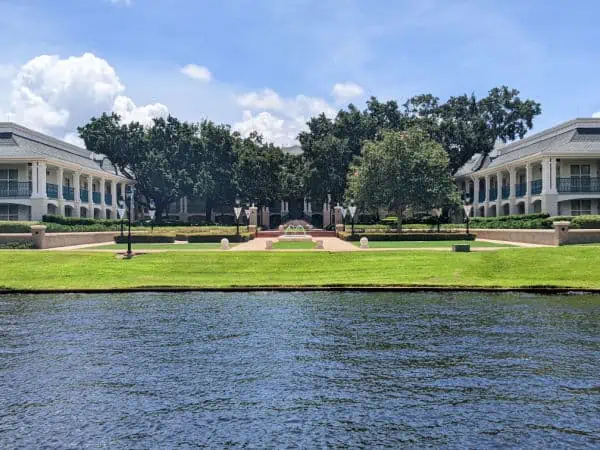 Do I Recommend Port Orleans Riverside Resort?
I think it's pretty clear by now that I whole-heartedly recommend Disney's Port Orleans Riverside Resort. As I mentioned before, really the ONLY downside I could come up with is the transportation option to the parks. Other than that, we really enjoyed our stay here.
If you are contemplating a non-park Disney World vacation, then this resort is ideal. My husband even said that he'd rather stay here than at Saratoga Springs resort for a resort only trip. Yes, at Saratoga Springs you can walk to Disney Springs, but Port Orleans Riverside was the more enjoyable resort.
Having stayed at both of these resorts, I'd have to agree with him.
I definitely enjoyed staying here much more than I liked staying at Caribbean Beach Resort. However, with Caribbean Beach Resort's easy access to 2 Sky Liner routes that easily whisk you away to two different parks, it's really hard to beat that convenience.
So that is definitely something to throw onto your pro-con list when trying to choose between the two. Port Orleans Riverside is definitely more peaceful, but Caribbean Beach Resort is one of the most conveniently located resorts in all of Disney World.
And just to throw another resort in there for consideration, check out Pop Century Resort. As a value resort, the theming and environment can't even come close to Port Orleans Riverside or Caribbean Beach, but you get the convenience of the Skyliner at a cheaper price.
Despite that convenience, I know that Port Orleans Riverside will now be on the list of one of my family's favorite resorts to stay at. And that's saying a lot since as Disney Vacation Club members we tend to stay most often at deluxe resorts.
If that's not a ringing endorsement, I don't know what is.
I'm amassing quite a collection of Disney resort reviews. So make sure to check them out as you make your Disney resort decisions!
Your Thoughts
Are you considering a stay at Port Orleans Riverside, or do you plan to go for the convenience of another resort? Let me know in the comments below.
Don't forget to follow The Disney Journey on Pinterest and Facebook to stay up to date with all the latest news and updates.