We may earn money or products from the companies mentioned in this post. Please click my disclosure policy to learn more.
Having a cell phone has become a necessity for any Disney vacation. The way Disney has structured their system requires you to use your phone to navigate a successful day in the parks. And with the entrance of Disney Genie, this is about to get worse.
As a result, your phone battery drains at a higher rate than it would during the course of a normal day. Because of this, good portable chargers for Disney are an absolute must.
This review will take a look at why you should get a charger, and then identify the best Disney portable chargers. It will also take a look at other charging options available, such as Fuel Rods and the good old fashioned idea of finding an outlet.
If you're curious (or in a hurry)…
✅ This specific portable charger is the most popular with my readers (and me).
It's an excellent portable charger for Disney and you'll find the price is very affordable. As a bonus, I often see a coupon offered for it to make it even more affordable! If you see a coupon available, make sure you snap it up at a great price.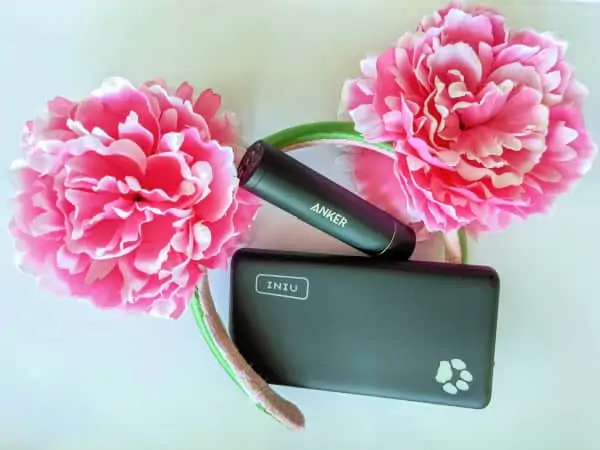 Why Do I Need a Good Portable Charger for Disney?
A day spent in one of the Disney parks will absolutely suck the life out of your phone battery. I have drained my phone battery quicker at Disney World than any other place I've traveled. But why does this happen so much at Disney World?
My Disney Experience App
The My Disney Experience app (MDE) has its faults, but it is indispensable to making it through your day at Disney World. Throughout the course of your day in the parks, you will use MDE to keep track of your Advance Dining Reservations, perhaps place a mobile order, and check the wait times for the rides.
Previously, it was using FastPasses the ate up most of your phone battery. However, FastPasses are a thing of the past now. In its place is Disney Genie+ and Lightning Lane booking.
Disney is putting more and more vacation functionality on the cell phone, and we need to have a charged battery in order to keep up.
PlayDisney App
In the past couple of years, Disney has released the PlayDisney app. It started off pretty basic, but they continue to add more and more to it, making it a fun enhancement to your day in the parks.
The app is primarily designed to provide some entertainment while waiting in line for rides such as Soarin', Space Mountain, and more.
Entertainment options vary from trivia quizzes to games, but either way, it's a drain on the battery of your phone. If you know you plan to use PlayDisney on top of MDE, you will definitely need a charge (or two) part way through the day.
Photos, Photos, and More Photos
If you are anything like me, or even the teeniest bit, you spend a lot of time on vacation taking pictures. Of course, the easiest way to take pictures these days is with your cell phone.
There are so many great photo opportunities throughout a Disney World vacation you might find your phone in your hands almost constantly.
So, depending on your photography habits, this could potentially be a rather large drain on your battery throughout the course of a day.
5 Best Disney Portable Chargers
The following 5 Disney power banks are great options to purchase and bring along on your Disney vacation. Trust me, they are major lifesavers.
INIU Portable Charger 10000mAh Power Bank
The INIU Portable charger is a pretty powerful charger at a very good price. It has 2 USB ports which allows you to charge two phones at once. This amount of power allows you to fully charge an iPhone or similar Android phone 2-3 times.
It is comparable in size and weight to an iPhone Xs, making it fairly compact. The price on this is considerably lower than the Anker brand equivalent.
I've personally used this charger at Disney and it works like a charm. I love how the paw indicator light lets you know at a glance how much charge is left in the power bank.
It now comes in multiple colors as well, and I'm seriously bummed they didn't have that option when I ordered.
They have also upgraded this charger since I bought it a couple years ago. It's now even thinner and more lightweight, and most importantly, charges even faster than before.
Also, the USB-C port is for both input AND output to reduce needing extra cords for some of your devices.
Anker PowerCore 5000 Portable Charger
Anker is a top brand in portable chargers with monster reviews. The Anker Powercore 5000 is also known as a "lipstick" charger due to the size and shape.
It has 1 USB port and has enough power to provide over a little over 1 full charge on most phones. It has Power IQ technology to automatically provide the fastest charge possible.
I can confirm that I get maybe a charge and a half out of it when it's fully charged. I also feel that it charges my phone up fairly quickly.
In terms of cord requirements, you need a charging cord that has a USB male plug on the one end and the proper USB type for your phone on the other end.
The USB-Micro B port on this charger is only for charging the power bank, not your phone.
The compact size makes it ideal for those who want to travel lighter through Disney.
Anker PowerCore 20000mAh Portable Charger
The Anker PowerCore 20000mAh charger is the best option for families that have multiple phones that need to be charged, or anyone who wants a charger that will get them through DAYS before it runs out of juice.
You can get 4-7 charges with this charger, depending on your phone type.
Despite this power, this portable charger is still relatively compact, making it easy to stick in a purse or backpack on a Disney park day.
Again, the USB-C port is only for input, so you can't charge your phone with it, but it does have 2 USB ports which allows you to charge two devices at once.
With all of that extra power you do get a slightly bulkier product. But saying that, it's still pretty compact and would fit into a back pocket fairly easily while you charge. Well, assuming you don't have the tiny pockets that tend to go with women's clothes…
Brand Q 10000mAh Portable Charger
This Brand Q 10000 mAh charger gives you a lot of power and allows you to charge two devices at once.
This is great for taking advantage of meal breaks to charge 2 phones at a time. It has a relatively compact size considering the amount of power it supplies.
This charger is great for people who don't want to carry around extra charging cables with them. It has 2 built in cables, and also gives you the option to charge the battery pack itself in a good old fashioned wall outlet.
But if you do want to use your own cord, there is also a USB output port to give you that flexibility. I personally prefer to have a longer charging cord for my Disney portable charger. This allows me to have the charger in my pocket or bag while I still have the phone in my hand.
Anker 337 Power Bank
The Anker 337 Power Bank is for families who want the peace of mind of knowing they have the ability to charge multiple devices throughout the day with no problems.
This powerhouse has 26800mAh, enough to charge most phones up to 6 times. It also has 3 USB ports, allowing you to charge 3 devices at once.
This is a great option for charging multiple phones while you take advantage of sitting down to eat.
The Anker 337 also provides quick charge functioning for your device so you don't have to wait as long. On top of that, the power bank itself can reach a full charge in approximately 6 hours. Many of the others can take quite a bit longer than that.
Due to it's power, it is a bulkier option. Sure, it will still fit in a purse or bag pretty easily, but it's not going to be as compact as many of the other options.
Tip: The Anker chargers frequently go on sale on Amazon, especially during Prime Day and the holidays. Keep an eye on prices and you can score a great deal.
✅ Compare ONLY a selection of Anker portable chargers, one of the best brands on the market.
Fuel Rods at Disney
As a way to help people keep their phones charged and ready during an entire day in the parks, Disney provides access to Fuel Rods at select locations throughout the parks and Disney Springs.
The premise behind Fuel Rods is simple: you purchase one to use until it has no charge left, then you swap it out for a freshly charged Fuel Rod, free of charge. Sounds pretty good, right? Maybe not.
Pros and Cons of Fuel Rods at Disney
Pros
An unending supply of portable chargers anytime you need one
Small and lightweight
Comes with USB cord to recharge the unit
Includes adapters for iPhone and most Android phones
Locations outside of Disney
Free to swap out the Fuel Rod – for people with Founder status
Cons
Has a low power capability so will not be able to fully charge your phone, especially if you continue to use it while it charges
Outside of Disney, swap locations are not plentiful making them impractical in most places outside of Disney
Initial Fuel Rod kit costs $30 plus tax at Disney World
Buying your own reusable portable charger is more economical – you can get a more powerful charger for less money
For anyone buying a Fuel Rod now, there is a $3 swap fee to get a fresh charger
Really, this comes down to personal preference. Personally, I prefer having my own charger that I can use outside of Disney as well. My Disney portable charger is also much more powerful, providing me with a full charge, even if I continue to use it while it's charging.
However, if you find yourself at Disney World without a portable charger, or if yours stops working, the Fuel Rods are a viable option to get you through the day.
There was a big bruhaha a couple years back when Fuel Rod suddenly added a charge to swap out your used Fuel Rod for a new one. Fuel Rod backed down
Disney Fuel Rod Locations
So where in Disney World are you able to find Fuel Rods? There are kiosks located throughout Disney property. If you don't have one already, Disney will charge you $30 for the initial Fuel Rod. After that all swaps are free.
Magic Kingdom
Tomorrowland Light and Power Company
Pecos Bill Tall Tale Inn and Cafe
Big Top Souvenirs
Curtain Call Collectibles
Cosmic Ray's Starlight Cafe
Epcot
Disney Traders
International Gateway
Camera Center
Hollywood Studios
Celebrity 5 & 10
Rock Around the Shop
Animal Kingdom
Typhoon Lagoon
Blizzard Beach
ESPN Wide World of Sports Complex
ESPN Wide World of Sports Grill
HP Fieldhouse
ESPN Clubhouse Shop
Disney Springs
Disney Springs Welcome Center
Sundries
Disney PhotoPass Studios
Resorts
There are locations at most of the resorts, but not all of them
How to Charge Your Phone for Free at Disney World
There are a few places within the Disney parks where you can plug in to charge your phone. Again, this comes down to a personal preference issue. If you don't want to deal with swapping out Fuel Rods or purchasing your own portable charger for Disney, then it is possible to find outlets within the parks.
Frankly, I don't want to waste my precious time sitting around waiting for my phone to charge. The whole point of your Disney vacation is to enjoy yourself and make memories with your family. Having your own portable charger can help keep you moving through your day at Disney.
Guest Relations
Disney World guests can drop off their phones at any Guest Relations location and Cast Members will happily charge it for you. In order to do this, you need to also provide the plug that comes with your phone.
The bonus to this option is you do not have to sit around and wait for it to finish charging. You simply leave the phone with them and return a little while later to pick it up. If you have a newer phone with a rapid charge system you won't even have to wait that long.
The downside to this plan is you are without easy access to your My Disney Experience app, and therefore your ability to use Disney Genie. If you plan to use Guest Relations to charge your phone, I highly recommend another adult in your group have MDE on their phone for you to use in the interim.
Outlet Locations at Disney Parks
This information relies solely on anecdotal reports of people who have found outlets throughout the parks. Perhaps the most talked about outlets are the ones hidden in fake tree stumps near the Tangled bathrooms in Magic Kingdom.
Again, the major downside to this strategy is you are tethered to a specific location for an extended period of time. If this is timed with a stroller nap and a rest, this isn't so bad. But if your kids are impatient to continue with their Disney experience, this might not be a palatable option. Not to mention you have to remember to bring your charger with you.
Of note, first aid and baby care centers in all parks are noted to contain outlets.
Magic Kingdom
Tree stumps near the Tangled bathrooms (has benches and tables to sit at for this very reason) – these take regular plugs and USB
Columbia Harbor House, near many tables – this one is ideal for being able to charge while you eat, allowing you to multitask
Tomorrowland Terrace
Cosmic Ray's Starlight Cafe – the hallway leading to the bathrooms has wall outlets
The exit to Space Mountain
Outside the Tomorrowland bathrooms – there are outlets near a low wall to sit at while you wait
Dumbo/Barnstormer tent, near Pete's Silly Sideshow (there are benches to sit at) – includes regular plugs and USB
Epcot
Norway and Morocco reported have outlets
The Land, outside the Electric Umbrella
The Living Seas – wall outlets near Women's restrooms
Innoventions
Between Fountain View and Character Spot there is an area with tables and outlets
Electric Umbrella
Hollywood Studios
Star Wars Launch Bay
PizzeRizzo
ABC Commisary
Animal Kingdom
Pizzafari
Shops on Discover Island
Finding Nemo Theater – outlets can be found hidden in the plants near the benches outside the theater
Tips to Keep Your Phone Charged Longer at Disney World
With or without a Disney portable charger, you want to try to keep your battery from draining unnecessarily. Trust me, you will be using it enough, you don't need anything else contributing to the battery drain. Here are some tips to help slow the battery drain.
Turn off any unnecessary apps and stop the ones you don't need from running in the background

Alternately, you can delete any apps you know you won't need and simply reinstall them after the trip

If you don't need to use it, turn off your Bluetooth
Focus more on pictures instead of videos – those videos require more battery usage than a still photograph
Put the My Disney Experience app on more than one phone in your party – this allows you to split the usage between phones, slowing the battery drain for each one
When in situations you are asked to turn off your phone, choose to switch it to airplane mode instead – turning your phone off and on uses up more battery
The Last Thing You Need to Know about Disney Portable Chargers
It really does come down to personal preference exactly how you tackle the problem of a dying phone at the parks, but the bottom line is you must have some sort of plan.
Your cell phone is your ticket to a more productive and efficient day in the parks. Sure, you can absolutely have a wonderful time in the parks without your phone, and if it does die, it's not the end of the world. But if you can prevent that situation, you are better off.
I think it's pretty clear that my personal preference is to be in ultimate control of my phone battery destiny. I don't go to Disney without bringing my portable charger. It's seriously such a game changer.
Your Thoughts on Disney Portable Chargers
What is your preferred portable charger? Did you find it on my list? I would love to get other opinions on the best Disney portable chargers. Also, have you found any other outlets for charging that can be added to the list? Please leave a comment below so I can add your outlet locations to the list.
Don't forget to follow The Disney Journey on Pinterest and Facebook to stay up to date with all the latest news and updates.