We may earn money or products from the companies mentioned in this post. Please click my disclosure policy to learn more.
If you've done any research into taking a Disney vacation, you've probably noticed just how complicated it can be. That's why some people prefer using a Disney travel agent.
Some people love planning their own trips, but that isn't the only option. In fact, booking your trip with a Disney travel agent might be the right choice for you.
But, it's not for everyone. We're going to take a look at the ins and outs of using an Authorized Disney Vacation Planner so you can decide whether using a travel agent is what's best for you.
This post also includes an interview with my pick for the best Disney travel agent, Siera Duiser from Destinations in Florida. You can request a free no obligation quote from her at any time.
6 Benefits of Using a Disney Travel Agent
If you've read any of my posts, you know my mission is to help people have a stress free Disney vacation planning experience. Sometimes, this just might mean using a Disney travel agent.
Actually, instead of using the term "Disney travel agent" they are called "Disney vacation planners". You'll see me use both phrases interchangeably throughout this post.
1. Using a Disney Travel Agent is FREE!
Probably one of the most frequently asked questions is: How much does it cost to use a Disney travel agent?
Because most of us automatically assume there is a charge whenever someone is providing us a service. But today is your lucky day because using an Authorized Disney Vacation Planner is completely free!
Disney vacation planners are paid a commission directly from Disney on the trips they book. What you do need to ask about is whether or not there is an additional fee for more advanced concierge services like itinerary planning.
An authorized Disney vacation planner should have this information posted on their website, but if in doubt, always ask.
If a travel agency tries to charge you a fee for simply working with them to book a basic Disney vacation package, walk away. There should be no charge for that from authorized Disney travel agents.
2. Your Own Personal Sounding Board for Planning Ideas
Frankly, having someone at your disposal to help make the many decisions involved in Disney vacation planning is nothing to sneeze at.
Sure, I try my hardest to fill this gap by providing as many posts as I can to help you make these decisions, but it's not the same as having a conversation with someone about it.
There are MANY confusing parts of Disney planning. What are park pass reservations? What is the difference between Disney Genie, Genie+, and Lightning Lane reservations?
I think you get my point. The sheer volume of decisions necessary when planning a Disney trip is staggering.
Disney travel agents are trained professionals who can help guide you to make the decisions which work best for your family.
Even if you have no idea of the dates you want to go, the resorts you want to stay at, or what parks you want to visit, a Disney vacation planner can help.
3. A Disney Travel Agent Might Save You Money
Another very popular question that comes up is: Is it cheaper to book Disney through a travel agent? The answer to this is no…and yes.
There are no extra discounts for booking with a Disney vacation planner, so there is no specific advantage there.
However, the advantage lies in the fact that authorized Disney vacation planners have their fingers on the pulse of all things Disney.
Because of this, they know all of the Disney discounts you might be eligible for.
Disney releases their discounts in fits and starts throughout the year. If a discount is released that applies to your reservation, your Disney vacation planner can secure the discount for your reservation.
If you made your reservation yourself a year in advance and never heard about the discount, that's hundreds of dollars down the drain you could have saved.
Your Disney travel agent can make sure you never miss a discount.
For example, let's say you know you want to nab any discounts for you Disney resort that rolls out. If you and your Disney travel agent have talked about this beforehand and she/he knows what you want, they can book it immediately.
This is essential as discounted room inventory can book up very fast.
4. Disney Vacation Planners Help Choose Your Itinerary
A major part of planning your Disney trip is deciding where to go on what day. Let's face it, there are a lot of things you could do each day!
A Disney vacation planner can help you narrow down your priorities AND have tips for which days to do what things.
For example, did you know that Mondays are always more crowded at Magic Kingdom? I bet a Disney travel agent does!
5. Sit Back and Relax!
This gets right back to my mission to help keep you stress free when planning your Disney trip.
Working with a Disney travel planner can help keep your stress levels down in multiple ways already mentioned here.
In addition to letting them do a lot of the work, it's nice to simply have the single point of contact to bounce ideas and questions off of.
As a therapist, I'm fully aware of the value of just having a trusted person to talk to about things. Disney trip planning is no different.
6. Help in Case of Emergencies
What if you are on your trip and something goes very wrong? It could be anything. Just give your Disney travel agent a call and they can start working on things behind the scenes.
Hopefully you never need to use this aspect of the service, but it's nice to have as a back up, just in case.
Downsides to Using a Disney Travel Planner
Of course, there are some downsides to using a Disney travel planner. Whether or not these are a deal breaker for you is up to you to decide.
These cons might not bother some people at all, while others won't even consider a Disney travel agent because of them.
Giving Up Control
Let's face it, some of us are control freaks (I'm in the corner raising my hand sheepishly…) and can't tolerate the thought of letting someone else take the reins in booking a trip.
If that's the case, no biggie, a Disney travel agent isn't for you.
However, there is a lot of middle ground here. You can work with a Disney travel agent and still book your own dining. Talk with your agent to determine just what level of participation you want to have.
All Changes to Your Reservation Must be Done by the Disney Travel Agent
This one really only applies to the main components of the trip, like your resort, tickets, dining plan, etc. If your vacation package is booked through a Disney vacation planner, they are the ones who have to make any changes to your reservation.
You will not be able to do it on your own.
Again, you still have ultimate control over your Disney dining reservations, this is mainly just referring to changes to your resort reservation.
So if you originally book Art of Animation but decide you want to switch to Pop Century, your agent must do it for you.
All Disney Travel Agents are NOT Created Equal
When choosing your Disney travel agent it is important to work with an Authorized Disney Vacation planner. Sure, any generic travel agent can book the basics of a trip to Disney World.
However, will that travel agent know the ins and outs of booking a Disney vacation? Or that dining reservations should be made 60 days in advance?
The single biggest advantage of using an authorized Disney Vacation Planner is tapping into their wealth of knowledge. Most Disney travel planners are people who simply love all things Disney.
These are people who are passionate about planning Disney trips and know Disney like the back of their hand.
A generic travel agent simply doesn't have the same knowledge, so you miss out on many of the benefits listed above.
And this knowledge isn't just limited to Disney World or Disneyland. They can help book trips to any of the Disney parks around the world, Disney cruises, and Adventures by Disney trips.
What Does Authorized Disney Vacation Planner Mean?
The phrase "Authorized Disney Vacation Planner" is language that comes straight from Disney. This is a term they coined to apply to Disney travel agencies that they feel meet their exacting standards.
Essentially, Authorized Disney Vacation Planners are earmarked Disney travel agencies. Disney gives them their seal of approval.
Frankly, using an Authorized Disney Vacation Planner helps you to know it is an agency you can trust to do the best possible job.
Disney travel agents even have a "degree" in Disney! Each year they attend the Disney College of Knowledge to get recertified. Talk about being up to date in all things Disney.
Finally, all of that brings us to my interview with Siera…
Interview with Disney Vacation Planner Siera Duiser from Destinations in Florida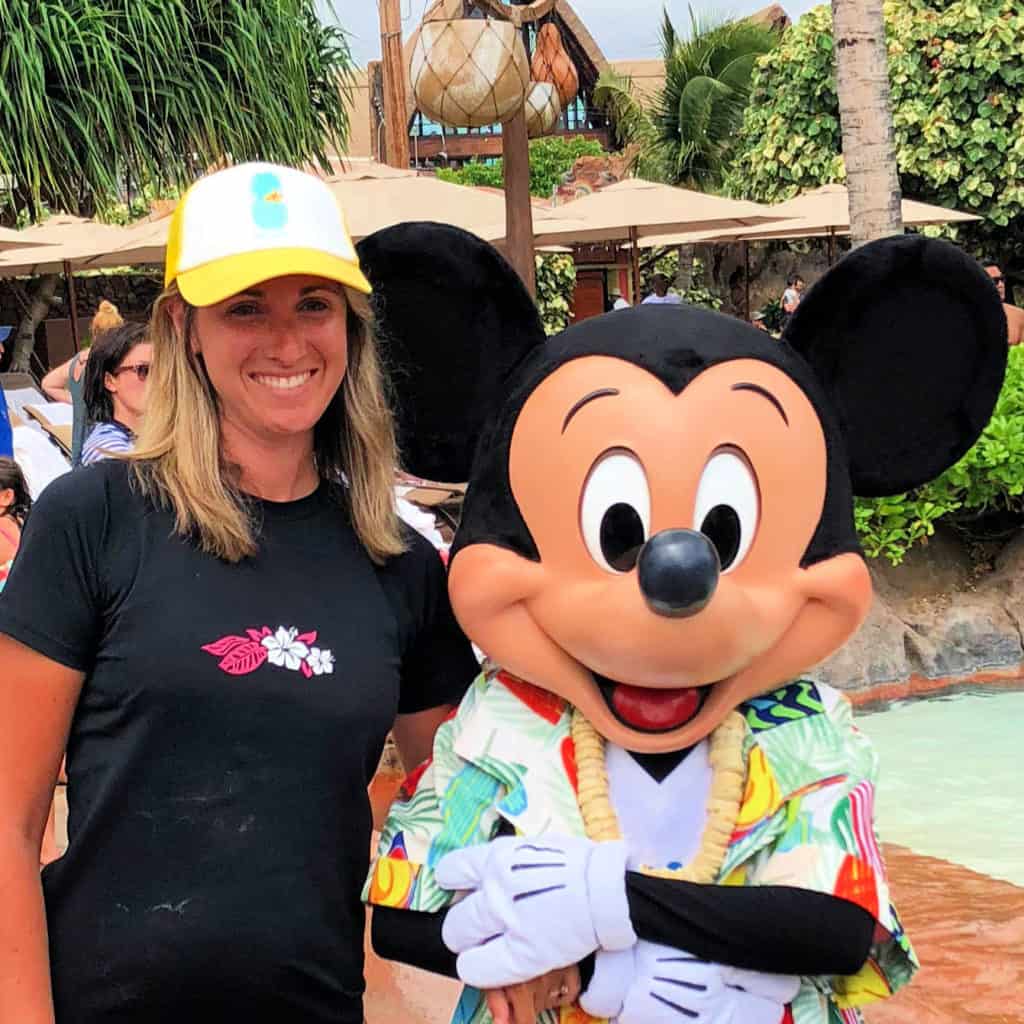 Just as a brief introduction, Siera is a Top Seller with the Authorized Disney Vacation Planner, Destinations in Florida.
She has been featured in Huffington Post, Fox News, Brides, and more! So without further ado…
Why did you become a Disney vacation planner?
I have always loved all things Disney and even travel in general! I grew up visiting Disney World a couple times a year with my family and visited some incredible places both inside the country and all over the world.
I enjoyed planning my vacations and wanted to share my knowledge and experience that I had gained over the years to help other people make memories on their adventures.
How long have you worked as a Disney vacation planner?
I have worked as an Authorized Disney Vacation Planner for about 9 years now.
What does a Disney vacation planner do?
I am as involved as you want me to be. Some guests use my services just for the resort booking process and discount watching to make sure that they get the best deal possible on their vacation (since I take care of all discounts for you) while others need help with making their dining and itinerary decisions. I'm happy to help with whatever you need for your vacation. 
What planning services are complementary and which have an additional fee?
All of my services are free to my guests who book their vacations through me. The only time there is a fee is for guests who need help planning their vacations, but have booked on their own.
Why is it important to book with an authorized Disney vacation planner?
The Authorized Disney Vacation Planner is a designation given by Disney that shows these agencies are approved and recommended by Disney. We are even paid by Disney this way (so my price is never higher than booking on your own). We also have completed Disney's College of Knowledge training to prove that we know the parks and resorts to Disney's standards.
What is your favorite part of helping people book their Disney vacation?
My favorite part of helping people book their vacation is planning special experiences that will become priceless memories with their families. Whether it be a special dinner to celebrate their child's birthday, a romantic dinner for a honeymoon, or a princess' first visit to the Bibbidi Bobbidi Boutique, I love helping my guests plan their special moments.
What other destinations can you help with?
I can book destinations all over the world! I specialize in both family travel and romance travel. In Florida, I help many guests add a day or an extended stay at Universal Orlando Resort to their Disney World vacations, but I also book all cruise lines, all inclusive vacations, Hawaii, and so much more!
What is your favorite Disney memory?
I have so many favorite Disney memories, from when my husband and I went for our honeymoon to my kids' birthday celebrations over the years! I think I have to say that my absolute favorite Disney memory is my wedding. I got married at the Polynesian, took wedding photos in both Magic Kingdom and Epcot, and then stayed for my honeymoon.
Do You Want Siera to Help You Plan Your Disney Trip for FREE?
Nicole here, popping back on in. If you are as impressed with Siera and her love of Disney as I am, it's easy to get your no obligation vacation quote. You can contact her by clicking on the button below and filling out the form. She will get back to you as soon as possible.
Should I Use a Travel Agent for Disney World?
In the end, this is a question only you can answer. It's definitely not for anyone, but it could possibly be for you. Go with your gut. Read through everything I've said in this post and give it some thought.
However, here are some instances where you definitely want to consider the option of a Disney vacation planner:
High stress levels – You are feeling so stressed out while planning you are missing out on the fun and excitement the planning process should bring
Last minute trip planning – Planning a last minute trip to Disney can be more complicated and very time sensitive. A Disney vacation planner knows exactly what needs to be done in this situation
Large groups – If you are traveling with a large group, whether that is extended family, a sports team, or anything else, the complexity of booking increases dramatically. Not to mention, using a Disney vacation planner can help cut down on some of the inevitable drama…
What if I Already Booked My Trip and Decide I Need Help?
It's never too late to try to get some assistance with planning your trip. However, since the Disney vacation planners are paid via commission on booking the package, things might look a little different.
Many Disney vacation planners offer these additional concierge services for an additional fee.
If it is within 30 days of booking it is also possible to contact Disney and get your booking transferred to your Disney travel agent. This will help save you the concierge fee and get the agent their commission.
I guess as an alternative, you could always cancel your reservation and have your travel agent rebook. Clearly this only works if there's plenty of time left and the room you want is still available, but it's worth a shot.
Your Thoughts on Disney Travel Agents
Have you ever used a Disney vacation planner? Did you have a good or a bad experience? I'd love to hear your thoughts and questions in the comments below.
Don't forget to follow The Disney Journey on Pinterest and Facebook to stay up to date with all the latest news and updates.