We may earn money or products from the companies mentioned in this post. Please click my disclosure policy to learn more.
As far as I'm concerned, any amount of time you can spend at Disney World is amazing. However, I think the sweet spot exists somewhere in the 7 to 9 day trip range.
Since a week long trip is probably the most popular, I decided to put together my ideal Disney World 7 day itinerary.
Is 7 days enough for Disney World? In reality, yes it is, though understand you still won't get to experience everything.
For those on the flip side of that questions, is 7 days at Disney too much? Absolutely not. I really do think 7 days is the ideal amount of time for a Disney trip, especially if it's your first trip (updated August 2, 2022).
FYI – This whole post is full of links to other posts that will help with planning each of these days. They open in a new page so you won't lose this one. I really hate when websites do that.
Why is a Disney World 7 Day Itinerary the Best?
There are several potential answers to this question, but simply, the more time you can be there, the better, right?
But really, most people think of vacations in terms of something you go on for a week, so we default to that a little bit.
In terms of Disney specifically, a 7 day Disney World itinerary gives you enough time to spend a full day at each of the parks plus a rest day to either explore resorts or hit Disney Springs.
Did you know there are so many things you can do besides the Disney parks? And that's not even counting what you can do if you leave Disney property!
Whenever possible, it's always a good idea to plan a long enough Disney vacation that you don't have to feel so rushed and frantic. Let's face it, even in a week you won't even come close to fitting everything in.
However, a full 7 days at Disney World will give you a chance to experience a lot.
And when you're experiencing a lot, that "rest day" is important. So, let's get to it!
My Ideal 7 Day Disney World Itinerary
Here's where I lay out the basic structure of your 7 day Disney itinerary. In reality, you can order things however you want to. However, my biggest recommendation is to insert a rest day smack in the middle of the park days.
Disney vacations are usually pretty exhausting, so everyone will be ready to recharge their batteries by then.
In terms of the park days themselves, truly, you can swap around the parks to whichever day you want. I don't think there's necessarily one order that gives you a better experience.
If you have a family full of Star Wars fans, make your Hollywood Studios day earlier in the trip. Looking forward to eating (and drinking) around World Showcase? Same deal.
I have one simple little caveat to this: if this is your first trip to Disney World you MUST make Magic Kingdom your first park day. Quite simply, Magic Kingdom is the foundation of Disney World.
There is nothing quite like rounding the corner onto Main Street and seeing the castle at the end. This is the moment you've been waiting for while planning this trip.
Nothing says, "my Disney trip has started" like this moment right here. I've been to Disney many times at this point and the feeling never gets old.
Day 1: Arrival Day
Whether you are flying or driving, this is always such an exciting day. Your Disney World vacation is starting! A full week of amazing experiences is before you.
My biggest tip for Arrival Day is to try to arrive at Disney as early in the day as humanly possible. Yes, that might mean getting up insanely early to catch a flight or hit the road, but trust me, you won't mind once you get there.
Clearly, the goal here is to give you as much time as possible on Day 1 to settle in and start experiencing the fun.
The rest of what you do on this day depends on how much time you have and how "busy" you want to be. These are the two most popular options for arrival day:
Resort/Pool Day
Disney Springs
There are pros and cons to doing either option. The good news is you really can't make a wrong choice!
Depending on your arrival time, your room might not be ready yet. That's ok, you can leave your luggage with bell services and go about your business.
If you want to hit the pool on day 1, just make sure you pack the swimsuits at the top of the luggage for easier access. You can change in the lobby bathroom and enjoy the day until your room is ready.
Tips for Arrival Day
Plan for an early bedtime to try to catch up on sleep. You will hit the ground running tomorrow!
Going along with the above tip, if you make a dining reservation, make it an early one
If you are renting a stroller, schedule drop off for today (and read all my Disney stroller tips)
Day 2: Magic Kingdom
In reality, Magic Kingdom is actually a 2 day park if you want to get everything done. However, a well planned out Magic Kingdom day can accomplish a lot.
Take a look at my Magic Kingdom itinerary to get an idea of how to plan out your perfect day at Magic Kingdom.
I know I mentioned it above, but it's worth repeating: If you've never been to Disney World, Magic Kingdom MUST be your first official park day. You just have to see the castle and experience a park that is quintessential Disney World.
Can't Miss Experiences at Magic Kingdom
Here's the deal, I'm going to give you this list, but you may very well have to miss some of it. That's ok! As I said, there's so much to do in Magic Kingdom it's not even funny.
But every family is different and has different interests and priorities. Take the parts of the list that appeal to you and forget the rest.
Rides and Attractions
Seven Dwarfs Mine Train – this is the most popular ride at Magic Kingdom
Thunder Mountain
Space Mountain
Splash Mountain
Haunted Mansion
PeopleMover – I have an absolute love affair with the PeopleMover. It's a great way to sit back, relax, take in some great views, and learn some stuff
Pirates of the Caribbean
Buzz Lightyear Space Ranger Spin
Country Bear Jamoboree
Peter Pan's Flight
Dumbo
It's a Small World
Carousel of Progress
I think everyone should make a point of doing some of the classic Disney attractions, even though they aren't necessarily as "exciting" as some of the other rides.
It's a Small World probably won't be everyone's favorite ride, but did you really go to Disney World if you didn't ride it?
There are plenty more rides at Magic Kingdom (the most out of any of the parks), but this core group is a great place to start.
Extra Experiences
Character cavalcades
Character meet and greets
Parade
Disney Enchantment fireworks
Good Places to Eat
Be our Guest
Skipper Canteen
Cinderella's Royal Table
Pecos Bill Tall Tale Inn and Cafe
Columbia Harbour House
Seriously, your cup runneth over with this topic. There are so many amazing places to eat at Magic Kingdom it's not even funny.
Whether you want quick service, table service, or to grab a snack, you can't really go wrong.
Tips for your Magic Kingdom Day
Tour the park efficiently by getting as much done in one land before moving on to the next
Want to take a bit of a break? Tom Sawyer Island and Swiss Family Robinson Tree House are great places to get away from the crowds and have some quiet
If you have access to it, definitely take advantage of early theme park entry to get on big rides with small lines
When they are running, attending one of the parties (Mickey's Not So Scary Halloween Party or Mickey's Very Merry Christmas Party) is a great way to sneak in more time at Magic Kingdom without using up a whole park day
Day 3: Animal Kingdom
For some reason, everyone wants to skip Animal Kingdom (or Epcot) in favor of more time at the other parks. While I understand the desire to spend another day at Magic Kingdom, you don't want to miss out on Animal Kingdom.
If you absolutely aren't sold on a full day at Animal Kingdom, you can fit a lot into a half day with the right strategy. Take a look at my Animal Kingdom itinerary to get an idea of what a full day versus a half day looks like.
That post also gives you a very detailed breakdown of rides, timing of things, and so much more, so make sure you read it.
Can't Miss Experiences at Animal Kingdom
Unfortunately, people tend to view Animal Kingdom as nothing more than a glorified zoo. But it's so much more than that!
Sure, you can spend a good chunk of the day wandering around and looking at animals in amazingly themed exhibits, but you don't have to.
There are typically also some amazing street performances throughout Animal Kingdom. My favorite street performances are in Africa. Whether it's the drummers or the acrobats, they are awesome.
Unfortunately, as I write this, the acrobats haven't returned yet. However, the musical street performances have returned to liven up the atmosphere.
But what experiences should you absolutely prioritize, especially if you're only spending a half day at Animal Kingdom?
Rides and Attractions
Flight of Passage – seriously if you do NOTHING ELSE at Animal Kingdom, you must ride this. Hands down the most amazing experience
Kilimanjaro Safari
Expedition Everest
Festival of the Lion King
Finding Nemo: The Big Blue…And Beyond
Dinosaur
At least one animal exhibit trail
Soaking up the atmosphere in Pandora

Visiting Pandora at night is an absolute MUST if you're there that time of the day, it's breathtaking
Good Places to Eat
Tips for Your Animal Kingdom Day
Tired and need a place to rest? The seating area of Flame Tree BBQ is one of the prettiest, and calmest, places you'll find. And you don't need to order any food to sit there
Other than riding DINOSAUR, don't waste much time in Dinoland
Only do Rafiki's Planet Watch if you randomly find yourself with a ton of time to kill. Just taking the train out there and back takes a lot of time.
Day 4: Rest Day
I'm a huge fan of having a rest day. My family is go, go, go when we're at Disney so throwing a day into the middle of it where we aren't up before the sun is a good idea.
But more than that, it's another opportunity to fit in some of the amazing things you can do at Disney World besides the parks.
We're big fans of resort hopping and eating so those are our frequent rest day activities. We also try to get to Disney Springs for a few hours during our longer trips.
The kids are huge fans of World of Disney and the Lego Store while my husband and I like wandering and eating as much food as possible.
On rest day we also try to plan some time at the pool. Because we are morning to night park goers, there never seems to be time on the park days to squeeze in the pool.
But your rest day is the perfect opportunity.
Where to Eat on Rest Day
Seriously, I don't even have an answer for you other than, wherever you want. We often use rest day as a chance to try out restaurants at other Disney resorts.
This ties right into our enjoyment of resort hopping. We either pick the restaurants based on where we plan to hop, or hop around the area where we plan to eat.
And that's not even including all of the options to be found at Disney Springs! If you love good food, I'd recommend planning your day around that.
Research the different restaurants at the resorts and Disney Springs and use that as your spring board to decide your rest day plans.
Day 5: Hollywood Studios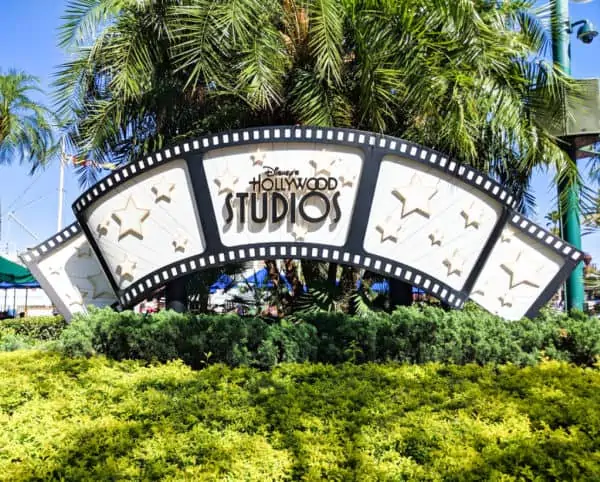 Hollywood Studios has become an extremely popular park, and for good reason. It houses an amazing new land and perhaps one of the coolest rides around.
However, this comes with one very significant drawback: sometimes it's not possible to get on everything you want in a single day.
Hollywood Studios does not have as many attractions as you might think. This means the lines tend to get on the long side.
Don't get me wrong, the attractions they do have are amazing, but there just aren't too many of them. This has improved over the past couple of years as 2 new rides opened, but it's still an issue.
In case you haven't seen yet, Rise of the Resistance no longer has a virtual queue. While this does make life easier in some ways, it means the wait for Rise of the Resistance could be obscene.
The other option to get on Rise of the Resistance is to book Lightning Lane access. If you don't know what that is, read my guide to Disney Genie+ and Lightning Lane.
However, you need to be on the ball when booking opens at 7:00a or your won't get a time slot. If that happens, revert back to Plan B and wait in the standby line.
I put together a whole post dedicated to tips on how to ride Rise of the Resistance with lower lines. That should tell you how important a good strategy is to get on that ride.
Can't Miss Experiences at Hollywood Studios
Once upon a time (a few years ago) there wasn't much to do at Hollywood Studios. It was a construction zone. But times, they are a changing!
Hollywood Studios has seen a few major additions to the park which now makes it the most sought after park at Disney World.
The addition of Toy Story Land, Star Wars: Galaxy's Edge, and Mickey and Minnie's Runaway Railway have upped the ante at Hollywood Studios.
However, Hollywood Studios requires a pretty solid strategy if you want to get on everything. And plan to have some down time too. Even with these new lands, there's a shortage of rides and attractions.
Because of the complexity of Hollywood Studios, I highly recommend that you take a look at my guide to creating a Hollywood Studios touring plan, as well as how to rope drop Hollywood Studios.
Rides and Attractions
Because of the scarcity of overall attractions, this list contains almost everything at Hollywood Studios. Not quite everything, but pretty darn close.
Rise of the Resistance
Millenium Falcon: Smuggler's Run
Mickey and Minnie's Runaway Railway
Toy Story Mania
Slinky Dog Dash
Tower of Terror
Rock n Roller Coaster (goes upside down)
Star Tours
Indiana Jones Epic Stunt Spectacular
MuppetVision 4D – because who doesn't love the Muppets?
Good Places to Eat
Hollywood Studios has some pretty good places to sit down and grab a bite to eat.
ABC Commissary (quick service)
Woody's Lunchbox (quick service)
Dock Bay 7 (quick service)
Ronto Roasters (quick service)
Hollywood Brown Derby (signature restaurant)
50's Prime Time Cafe (table service)
Sci Fi Drive In (table service)
Extra Experiences
Unfortunately for everyone, Fantasmic! remains closed at Hollywood Studios. There are always rumors about it reopening, but nothing concrete yet.
Along with that, right now there are no fireworks shows at Hollywood Studios.
However, there are character cavalcades that run through Hollywood Studios throughout the day.
Building a light saber at Savi's Workshop is an amazing (yet very expensive) experience. Ditto to building a droid at Droid Depot.
Tips for Your Hollywood Studios Day
Be prepared to be flexible. You need to think on your feet to try to get on all the rides with less of a wait
The physical park itself has more than a few pinch points. This makes certain sections of the park feel extremely crowded
Need some quieter time? There are benches over by 50's Prime Time which are a bit out of the way from the big crowds
The ride lines can get very long by afternoon. Consider leaving and coming back for the last few hours of the day. This could be a good opportunity for some pool time back at the resort or a meal at another resort
Day 6: Epcot
Epcot is another park that often gets short changed by people who claim there isn't much to do there, especially for young children. And while I can kind of see their point, I also respectfully disagree.
There is so much to do at Epcot I still haven't managed a trip where I fit everything into a single day that I wanted to. I ALWAYS end up having to cut things out of the day that I wanted to do.
For ideas on how to spend your day, take a look at my 1 day Epcot itinerary.
Can't Miss Experiences at Epcot
Epcot is about more than just rides, though there are some truly enjoyable rides as well. So much of Epcot is designed around learning and exploring.
With that in mind, Epcot opens up doors for the imagination and the mind. Each pavilion in World Showcase is its own masterpiece. Many of the countries have short movies or other experiences that help immerse you into the culture.
But a main attraction at Epcot? The food. Go with an appetite (and a lot of money).
Rides and Attractions
Guardians of the Galaxy: Cosmic Rewind
Test Track
Remy's Ratatouille Adventure
Soarin'
Frozen Ever After
Spaceship Earth
Living with the Land
Exploring the countries
Did you know there's an aquarium?
Epcot has Disney World's newest ride, at least until Tron opens in Magic Kingdom. Guardians of the Galaxy: Cosmic Rewind is an absolute blast and a must do at Epcot.
Right now, you can only ride Guardians of the Galaxy by using Disney's virtual queue system so make sure you know how it works.
And for more information about the ride in general, you can check out my Guardians of the Galaxy ride guide and (spoiler free) review.
Good Places to Eat
Seriously, I can't even list them all or you'll be here all day. If you are at Epcot during a festival, you don't even need to go to a restaurant. You can just snack your way around the park.
Space 220 is now the single most difficult dining reservation to get in all of Disney World. I haven't managed to get one yet, nor has any of my family and friends.
Someday I will get there!
Extra Experiences
International Festival of the Holidays
I think you can see the trend here. Epcot is renowned for its festivals full of food and drink. These festivals add a major boost to any day at Epcot.
Along with amazing food and drink, the festivals bring extras for the whole family. Each festival has it's own themed scavenger hunt
In addition, Epcot has a new nighttime spectacular, Harmonious, which opened for the 50th anniversary. It's a solidly entertaining show which gives me all the feels.
Tips for Your Epcot Day
Bring comfortable shoes, World Showcase alone is about 1.5 miles around – here are my picks for the best shoes for Disney World
Epcot can be very sunny and hot with not much shade so slather on the sunscreen
There is a ton of construction going on in Future World right now which diminishes the experience somewhat
Day 7: Departure Day – What a sad day!
Boo! Your last day is here! If you are lucky, you have a later flight. This gives you time to fit in some more Disney fun. However, it seems that more often than not, the flights are early in the day.
Hopefully, you have time to grab a quick bite to eat and maybe take a final walk through of the resort. Or make some purchases at the resort gift shop.
If you have an evening flight, I absolutely recommend you go to one of the parks. We did this once when our flight didn't leave until the evening.
We had to get back to the resort to catch the bus by 3:00p. So we rope dropped Animal Kingdom and left there by around 1:30p.
In that time we managed to ride EVERYTHING we wanted, including riding Expedition Everest 6 times. It was glorious. My kids still talk about it.
Tip: If you do have a later flight, leave your bags at bell services. They'll keep them all safe and sound for you while you enjoy your last day.
Alternate 7 Day Disney World Itinerary: More Time at Magic Kingdom
Not surprisingly, many people want to spend more than one day at Magic Kingdom. And this is completely understandable. As I mentioned, you can't do it all in one day.
So how should you set your itinerary in that case? Well, do you want a rest day or not?
Option #1: No Rest Day
Day 1: Arrive
Day 2: Magic Kingdom
Day 3: Animal Kingdom
Day 4: Hollywood Studios
Day 5: Epcot
Day 6: Magic Kingdom
Day 7: Depart
In this option, I very deliberately sandwich everything between the two Magic Kingdom days. Beginning and ending your trip at the quintessential Disney park is the way to go.
Clearly, you'll need a 5 day park ticket for this particular Disney World 7 day itinerary.
Option #2: Keep a Rest Day
Day 1: Arrive
Day 2: Magic Kingdom
Day 3: Hollywood Studios
Day 4: Rest Day
Day 5: Epcot
Day 6: Split day Animal Kingdom/Magic Kingdom
Day 7: Depart
There's a massive argument for keeping a rest day in your schedule. Trust me, you'll need that rest, and it allows you to explore the rest of the Disney World resort.
If you do want a rest day, I recommend doing a split day between Animal Kingdom and Magic Kingdom. Of all the parks, Animal Kingdom is the one that you can reasonably spend half a day there and still get just about everything accomplished.
That way you don't feel like you're drastically short changing your experience at any of the parks. You just need to make sure you are VERY efficient at Animal Kingdom.
With that in mind, make sure you look at my Animal Kingdom touring plan. That gives you more specific details on how to successfully visit Animal Kingdom in a half day.
Also, this allows you to again end your trip with some time at Magic Kingdom.
Yes there are other ways you can split those parks up (Hollywood Studios/Epcot is the easiest in terms of getting from one park to the next), but I think you miss out on too much with the alternatives.
Note: If you plan to do something like this, make sure you have park hopper tickets. I buy my discounted Disney ticket from Undercover Tourist to save a little money.
Other Places to go for Your 7 Day Disney World Itinerary
While I still maintain you should prioritize visiting all 4 of the parks, you certainly have other options you can entertain.
If you don't want to have a rest day (or decide to skip one of the parks), here are several ideas of what you can do instead:
Disney World also has two water parks: Blizzard Beach and Typhoon Lagoon
Universal Studios is a hop, skip, and a jump away
SeaWorld
Legoland
Of course, another Disney park day (I recommend a second Magic Kingdom day if you do this)
Do I Need Park Hopper Tickets for my Disney World 7 Day Itinerary?
In truth, you don't NEED Park Hopper tickets, ever. Your trip will be just as much fun with the standard park tickets. That's not to say you might not WANT Park Hoppers.
As I'm sure you can see just by going through the Disney World itinerary above, while you don't need it, it sure would come in handy. If you absolutely want to do an additional half day at Magic Kingdom, you need a park hopper.
What if you run out of things to do at Epcot (I mean, I guess it's possible…)? Hop on over to Hollywood Studios instead.
While park hopper tickets aren't necessary, they sure do give you a lot more flexibility in your itinerary. Not only that, they give you spontaneity once you are there.
What if the family learns that Animal Kingdom is there absolute favorite park by day 2? Those park hoppers let them think on the fly and hop over there for an evening after being at another park.
For me, if you can spare the extra money for Park Hoppers, I always recommend them. However, if you are on a tight budget, save that money and get the standard tickets. You'll still have a blast.
Whether you plan to buy standard park tickets or park hoppers, consider buying your park park tickets at a discount with Undercover Tourist. It saves you some money and is an authorized Disney ticket seller.
Tips for Planning Your Disney World 7 Day Itinerary
There are some general rules of thumb that are a little more on the insider track for you to consider while planning your Disney World 7 day itinerary.
A lot of these tips pertain to specific days of the week and certain parks. So how this lays out is really determined by your arrival and departure dates.
Avoid Magic Kingdom on Mondays
I seriously have no clue why this is, but Magic Kingdom tends to be more crowded on Mondays. Probably because most people fly in on Sunday and leave on Saturday.
And of course, the first park they want to go to is Magic Kingdom. If this scenario sounds familiar to you, then I say just go for it. I truly do think it's best to start your first visit to Disney World at Magic Kingdom.
Just be prepared that the park will be a touch extra busy that day.
However, if you can shift your arrival and departure dates to be during the week, it can help with setting up park days on less crowded days.
Avoid Epcot Friday Evening through Sunday During Festivals
Epcot is known to be a locals park because of the dining and date night options. However, this is especially true during any of the Epcot Festivals.
Because of this, Epcot tends to be at its busiest from Friday after work through Sunday evening.
Aside from the busy-ness factor, the festivals have a lot of "drink around the world" potential. This increases the likelihood of loud, drunk people wandering around World Showcase as the day wears on.
If this isn't your scene, don't go to Epcot on the weekends.
A Split Stay Changes Everything
If you plan on booking a split stay (staying at multiple resorts instead of just one), ignore absolutely everything you read before this.
In the case of a split stay, I always base our park days on the location of that resort.
For example, we recently did a split stay between Beach Club Resort and Bay Lake Tower. Because of their locations, we went to Hollywood Studios and Epcot while staying at Beach Club, and Magic Kingdom while staying at Bay Lake Tower.
Animal Kingdom didn't matter because there's not much that's easy and close about that one. We just shoved that one in when we were at Bay Lake Tower.
Transportation needs are the main reason behind this strategy. We could walk or take the Skyliner to Epcot and HS while at Beach Club. And we could walk to Magic Kingdom from Bay Lake Tower.
Any time you can avoid the bus is a thumbs up in my book.
Final Thoughts
When you're looking for the best Disney World itinerary, I don't think you can go wrong by planning a week in Disney World. You truly can do most everything that you'd like to do in that amount of time.
In terms of picking which parks to do when, definitely use this as a guide, but ultimately, trust your gut. If you really think about it, you can't make a wrong decision as long as you go in with a flexible mindset ready to handle each day.
Seriously, try not to get bogged down in all the tiny details of planning or you'll take the fun out of it. Look at the big picture and come up with the plan that works best for you.
Your Thoughts
Do you plan to try this 7 day Disney itinerary out? If not, what itinerary did you choose for your family? Let me know in the comments below.
Don't forget to follow The Disney Journey on Pinterest, Instagram, and Facebook to stay up to date with all the latest news and updates.