We may earn money or products from the companies mentioned in this post. Please click my disclosure policy to learn more.
Disney World is well known as one of the most popular family vacation destinations in the world. It seems like most people will try to take their kids there at least once to experience the magic that is Disney. But when grown adults become enthusiastic about going to Disney, with or without kids, people will begin to give you the side eye.
As adults who love going to Disney World, we have faced our fair share of odd looks from family and friends who just don't get it. In the end, they don't have to get it, I know how great Disney is and that's all that matters to me. But I want others to understand just how great Disney World is for adults.
What's So Great About Disney World for Adults?
There are a lot of dimensions in the answer to that particular question. We will try to explore some of it in this post to help other grown ups appreciate just how much fun Disney World can be.
The Disney Bubble is Real
Right off the bat, one of the first things that comes to mind in why I like Disney so much is the concept of the Disney Bubble. When you are at Disney World, especially when you are staying at a resort on property, you become completely immersed in the Disney Bubble. By design, Disney has made it so that you do not need to put forth much effort in most of your transactions.
Of course, from Disney's perspective, they want you to be able to spend your money as easily as humanly possible. A tap of the magic band and viola, transaction complete. Need to open your room door or get into the pool, tap that magic band! Want to enter one of the parks? Tap that band! You get the point, it's just easy.
Do you know what I'm not thinking about when I'm at Disney? The real world and the many problems and stresses that comes with it. It's impossible to be an adult and not have difficulties at various times in your life. When I'm on vacation I do not want to think about those stresses that occur in my daily life, I simply want to enjoy myself and relax.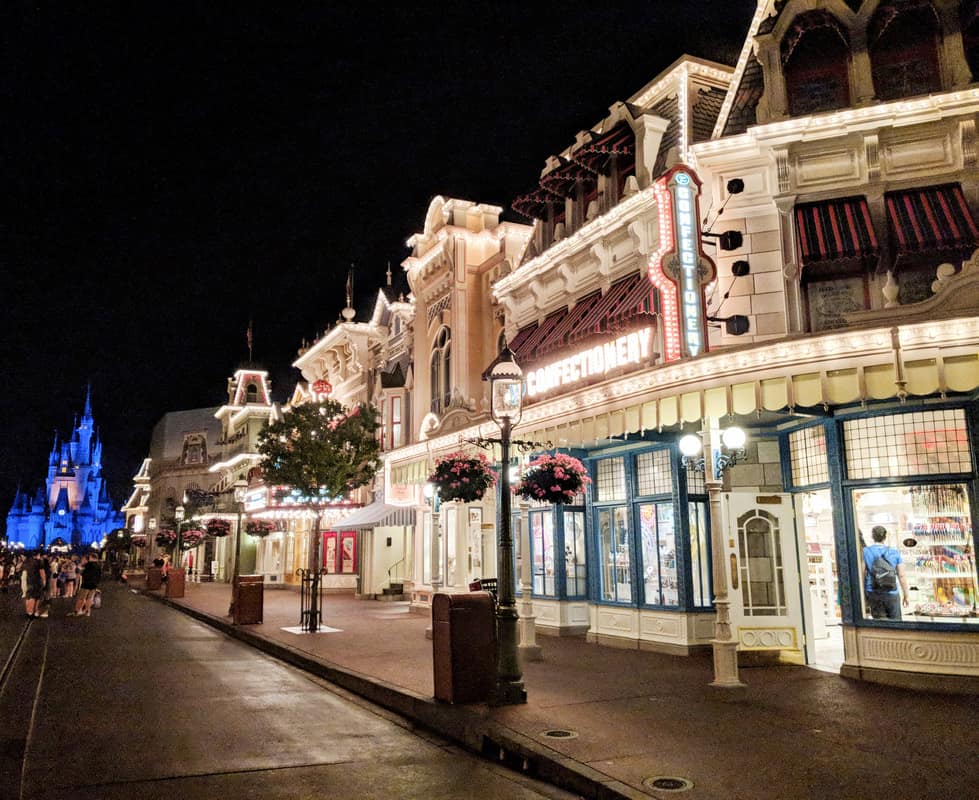 How is Disney able to immerse you so fully into their world of magic, allowing you to truly forget about all those day to day problems? In large part, I think this has to do with what a phenomenal job the Imagineers have done in creating the details of each and every aspect of the parks. The thematic immersion in each of the different lands, resorts, and restaurants can be truly transportive.
No matter how many times you have gone, there are new details to be seen on every trip. There is just an element of fantasy and magic that is considered completely appropriate when you are at Disney World, which might not be as acceptable in the "real world". Perhaps this ability to escape to a more carefree time of our lives, namely our childhood, is the true magic and draw of Disney World for adults.
Best Things at Disney World for Adults
Now that we've had this deep philosophical discussion on the joy of Disney, let's take a look at what there is to do, as well as the benefits of being without kids at Disney World.
1. The Parks at Disney World for Adults
Well, duh, of course there are the parks, they are the big draw, after all. But one of the most common questions I get about my love for the Disney parks has to do with the preconception that the rides are all "kiddie rides". While Disney World is not exactly known as being the mecca for thrill seekers, that doesn't mean that all of the rides plug along at 5 mph with dancing figurines. I'm looking at you, It's a Small World…
Again, I think the overall theming and immersion that Disney provides on their rides definitely plays a role here as part of the reason why their rides are so enjoyable. Whether you like thrill rides or not, the parks offer a wide variety of rides, attractions, and shows that are guaranteed to keep you entertained all day and into the night.
Of course, the advantage to being there without kids is that you have more freedom to skip the rides that you aren't as interested in (Aladdin's Magic Carpets, I'm looking at you), and concentrate your energy on doing things that you know you can't necessarily do with your kids.
And without kids there with you, you can simply go at your own pace, see what you want to see, and sit on a bench on Tom Sawyer Island for a half an hour and relax if that's what you want to do.
The Parks at Night
Being in the parks after dark has actually become my absolute favorite time to be in the parks. Typically, I'm a major morning person, as is evidenced by my tendency to rope drop the parks. I just wake up early and go to bed early. Except when I'm in Disney. At Disney World, the priority is staying until the parks close and taking advantage of the awesome atmosphere of the parks at night.
The lighting effects alone make that all worth it, the smaller crowds are just the cherry on top of this sundae of awesome. If you've read the trip report for Mickey's Very Merry Christmas Party, you know that this was one of my favorite parts of the party.
When you are at the parks with kids this will naturally limit how late you are able to stay in the parks. Some kids are night owls and some are not. Some kids can handle it maybe for a night or two, but not every night for a while trip. When you are there with no kids, the world is your oyster. Stay out as late as you want!
The current options for staying in the parks beyond regular closing time are: Mickey's Very Merry Christmas Party, Mickey's Not So Scary Halloween Party, Disney After Hours, and Disney Villains After Hours. I've done 2 out of this list, and they are amazing. Both Disney After Hours and Disney Villains After Hours are big contenders for my ultimate Disney Bucket List.
2. The Best Restaurants at Disney World for Adults
If you've read any of my previous posts, you know that I have a serious love of food, and I need to eat gluten free at Disney. Disney World has become the perfect antidote for me in terms of being able to explore the culinary world in a safe environment. This is another reason why I love Disney World so much.
But for most other people who don't have special dietary needs, the focus can still be all about the food. I don't even know the total number of restaurants that Disney offers, but the bottom line is the number is extensive, and they are always adding more.
There are restaurants that fit every category of budget, from the reasonably affordable to the ridiculously expensive. Sure, there are a lot of good quick service restaurants, but the real treat will be found in the myriad of Table Service restaurants, especially the Signature Restaurants.
Yes, you can absolutely bring your kids to any one of the restaurants on property, but some of them are in price ranges that would make that a really expensive dinner, and a whole lot less relaxing and romantic (if that's what you're looking for).
Best Disney World Signature Restaurants for Couples (or Friends)
Victoria & Albert's – This is an award winning restaurant and the ultimate splurge meal for an anniversary or honeymoon
California Grill
Morimoto Asia
Hollywood Brown Derby
STK
Le Cellier Steakhouse
Boathouse
The bottom line is, you can come to Disney World over and over and over again for years and you would still be hard pressed to hit all of the restaurants, and if food is your thing, that is an awesome prospect.
3. The Best Lounges, Bars, and Nightlife at Disney World for Adults
Yes, you read that right: there is nightlife to be had at Disney World. Pretty awesome nightlife at that. We've already talked about staying in the parks late into the night and how cool that is, but there are other options. And the even better news is that the bars and lounges aren't limited to just the nighttime.
Bar Crawls at Disney World
Let's get real, you can make a bar crawl out of pretty much any series of bars that happen to be close to one another. However, there are two within Disney World which are considered the most common: Drinking Around the World and the Monorail Bar Crawl.
Drinking Around the World
Drinking Around the World is probably the most famous activity at Disney World for adults. All you need in order to do it is have a ticket to get into Epcot! And a high tolerance for alcohol.
The full challenge of Drinking Around the World is to have one alcoholic beverage (beer, wine, mixed drink, etc.) at each of the countries in World Showcase. Did I mention there are 11 countries in World Showcase? Clearly, this is an activity that you must engage in responsibly!
World Showcase opens at 11:00a and stays open until the park closes, on average around 9:00p. That is a lot of drinks to spread out throughout the day. If you already recognize that this is too much for you, pick a handful of countries that you want to highlight for your own Drinking Around the World adventure.
Tip: If you are at Epcot during one of the Festivals, you can switch up Drinking Around the World to add in some of the specialty drinks at the outdoor kitchens. There are many awesome beverage offerings during the Festivals.
Monorail Bar Crawl
Doing a Monorail Bar Crawl is a much more low key, but no less fun, alternative to Drinking Around the World. The Monorail Bar Crawl highlights the bars and lounges which can be found at the Monorail resorts, i.e. The Grand Floridian, The Polynesian, and The Contemporary.
Personally, I add Wilderness Lodge to this list as well because of its close proximity to Magic Kingdom and the ease of getting there by boat from the Contemporary. And I'm just a huge fan of Geyser Point.
Again, you can tailor a Monorail Bar Crawl to your heart's desire. When Doug and I did a Monorail Bar Crawl, we focused on the bars and lounges which really struck our fancy the most. Which bars will you be most interested in? Below we will identify all of your options!
Nightlife at the Resorts
All of the resort areas have their own bars and lounges to enjoy. Some have a more laid back, relaxing vibe, while others hit you over the head with fun and energy.
The Boardwalk area around Crescent Lake has a vibrant scene, with street performers a la Coney Island spread around the boardwalk, in addition to the bars that are also there.
And I've already mentioned above that hitting up the Magic Kingdom area resorts has already turned into its own adventure via a Monorail bar crawl.
Below you will find a list of bars and lounges in each of the resort areas. The bars in bold are particularly popular and I highly recommend. P.S. – I'm not including pool bars in this list, but each of the resorts has at least one of those as well.
In addition to drinks, these bars and lounges also serve a variety of foods, some of which are downright delicious.
Money Saving Tip: Going to a lounge connected to one of the Signature Restaurants is a great way to experience some of the food from the restaurant kitchen, without the big price tag.
Magic Kingdom Resort Bars and Lounges (Monorail Bar Crawl Contenders)
Crockett's Tavern (Fort Wilderness)
Trader Sam's Tiki Terrace (Polynesian Resort)
Trader Sam's Grog Grotto (Polynesian Resort) – this bar is extremely popular, often having lines to get in when the doors open
Tambu Lounge (Polynesian Resort)
Citricos Lounge (Grand Floridian Resort)
Mizner's Lounge (Grand Floridian Resort) – Mizners is currently closed for refurbishment until Fall 2019. It will have a Beauty and the Beast theme when it reopens
Geyser Point Bar & Grill (Wilderness Lodge Resort)
Territory Lounge (Wilderness Lodge Resort)
Outer Rim (Contemporary Resort)
The Wave Lounge (Contemporary Resort)
California Grill Lounge (Contemporary Resort)
Top of the World Lounge (Bay Lake Tower Resort) – This lounge is only available to Disney Vacation Club members. If you are one, you should definitely check out Top of the World.
Epcot Resort Area Bars and Lounges
Banana Cabana (Caribbean Beach Resort)
Ale & Compass Lounge (Beach and Yacht Club Resorts)
Martha's Vineyard (Beach and Yacht Club Resorts)
ESPN Club (Boardwalk Resort)
Belle Vue Lounge (Boardwalk Resort)
AbracadaBar (Boardwalk Resort)
Jellyrolls (Boardwalk Resort) – This bar is only for guests aged 21 and older, making it a completely kid-free zone. With dueling pianos and a lively vibe, it is extremely popular and fills up fast. It stays open until 2:00a.
Animal Kingdom Resort Area Bars and Lounges
Laguna Bar (Coronado Springs Resort)
Rix Sports Bar and Grill (Coronado Springs Resort)
Sanaa Lounge (Animal Kingdom Lodge)
Cape Town Lounge and Wine Bar (Animal Kingdom Lodge)
Victoria Falls Lounge (Animal Kingdom Lodge)
Disney Springs Resort Area Bars and Lounges
River Roost (Port Orleans Riverside)
Muddy Rivers (Port Orleans Riverside)
Scat Cat's Club (Port Orleans French Quarter)
Mardi Grogs (Port Orleans French Quarter)
Disney Springs Nightlife
In addition to the nighttime events in the resorts themselves, there are a plethora of bars and lounges scattered throughout Disney Springs. Most of the coolest ones are located at Disney Springs, which remains open until midnight, with some of the bars staying open until 2:00a.
Some of the options in Disney Springs are more than just bars, they offer an enhanced or unique experience to enjoy.
Disney Springs Bars and Lounges
The Edison – Has a cover charge some nights of the week. Also, after 10:00p, only guests aged 21 and older are allowed
Jock Lindsay's Hangar Bar
Enzo's Hideaway
House of Blues
MacGUFFINS
Raglan Road – While technically not a bar, it's lively atmosphere makes it a notable option for a night out. Live Irish bands and Irish Step Dancers add to the experience
Splitsville – Bowling, food, and drinks. Need I say more?
Stargazer's Bar
The Edison is extremely high on my list of must do's at Disney. After 10:00p the whole restaurant becomes a bar for only age 21 and up, making it one of the only truly kid free places in the parks. There are drinks, a bar menu, a DJ, and entertainment acts interspersed throughout the night. Every review I've read about it has been amazing and I can't wait to be able to give it a go.
And the best part about all of the bars and lounges at Disney Springs and the resorts is you don't even need a park ticket to go to them. This makes these bars a great option for non-park days or trips that don't include the parks themselves.
4. The Best Resorts at Disney World for Grown Ups
It should come as no surprise that my recommendation is to stay at a Disney resort if you are on an adult only Disney trip. After all, immersion into the Disney bubble is a huge part of the draw. But let's face it, all Disney resorts are not created equal. So which resorts are the best for adults?
What Makes a Disney Resort Good for Adults?
There are a few qualities that I consider to be the priorities when determining the best resorts for and adult only trip to Disney. Let's face it, this is Disney World, there are going to be kids everywhere. However, there are certain resorts that create a more adult friendly environment through theming.
Unfortunately for those on a budget, that eliminates all of the Value Resorts. They are themed with kids in mind. I recommend looking only at Moderate and Deluxe Resorts if you really want a nicer atmosphere.
The location of the resort is also important to consider. For example, the resorts around Crescent Lake put you within walking distance of Epcot and Hollywood Studios. This is key if you plan on Drinking Around the World or doing Disney After Hours at Hollywood Studios.
If you plan to spend most of your time around Disney Springs, than selecting a resort with easy access to the bars and restaurants there might be a priority.
Best Resorts at Disney World for Adults
Grand Floridian Resort – The most elegant and refined resort in all of Disney World. It also provides easy access to Magic Kingdom and a Monorail Bar Crawl
Boardwalk Inn & Villas – This puts you smack in the middle of the action on the Boardwalk. You can also walk to both Epcot and Hollywood Studios.
Wilderness Lodge – Have you seen pictures? It's just beautiful. And my favorite Disney resort, so perhaps I'm biased. But it has easy to all the monorail resorts and Magic Kingdom
Saratoga Springs – If you want easy access to Disney Springs, this is the clear winner. You can WALK to Disney Springs!
Port Orleans French Quarter/Riverside – A moderate level resort option which will give you some of the advantages of a deluxe resort without the price tag.
5. Best Add Ons at Disney World for Adults
Disney has a plethora of experiences you can add to your Disney vacation. Some of those add ons are great for the whole family, while others might be better suited an adults only trip.
From tours to dining experiences, there is something for everyone. This list is just a small sample of some of the best, but there are many more to choose from.
Victoria & Albert's Chef's Table Dinner
Dining with an Imagineer
Jiko Wine Tasting
Savor the Savannah: An Evening Safari Experience
Wild Africa Trek
Keys to the Kingdom Tour
Ultimate Day of Thrill VIP Tour
6. Spas, Golfing, Wandering, and More
Outside of the parks, there are still tons of opportunities to be had for various forms of entertainment. If a spa day is your thing, there are several other choices. Want a chance to hit the links? Disney has 4 different golf courses. Can't hit a golf ball to save your life but still want to go golfing (my hand is in the air)? There are two miniature golf courses.
As mentioned above, Disney Springs has tons of restaurants and bars to explore. But in addition to that there's shopping to be had! If you have a hankering to do some shopping, Disney Springs is the place to be, even if it's just some window shopping or wandering.
And let's not forget the resorts themselves for activities. In addition to the main feature pools at the resorts, most of them also have a separate quiet pool which is geared to be less boisterous for any adults who want to take advantage of the Florida heat and lounge by the pool.
Some of the resorts have surrey bike rentals, as well as regular bike rentals. When we stayed at the Boardwalk they offered sunrise yoga classes on the green. All of the resorts seem to have running trails and walking paths to explore.
Final Thoughts on Disney World for Adults
In the end, there are a tremendous number of things to do in and around Disney World that will keep adults entertained for days. I hope that this post gave you a better idea of the sheer volume of options for adults at Disney World
Between all the adult only trips I've taken to Disney World, I have only hit the tip of the iceberg in terms of entertainment at Disney World. Guess that means I'll just have to take more adult focused trips in the future!
Are you planning a Disney World vacation? To get started, read up on the beginner's guide to Disney vacation planning. Learn more about Advanced Dining Reservations, as well as, the Disney Dining Plan. Also, start learning all about the Disney World FastPass system, as this can become your best friend during your trip. And once you're ready, read up about what to pack for your Disney vacation.
If you like this post, Pin It for later!
Your Thoughts
What are some of your favorite things to do at Disney World as an adult? Sound off in the comments below so I can add more things to my list of must-dos! Don't forget to follow The Disney Journey on Facebook and Pinterest.