We may earn money or products from the companies mentioned in this post. Please click my disclosure policy to learn more.
Now that you've picked the dates of your trip and hopefully have your hotel booked, it's time to turn your attention towards picking the best days to visit Disney parks. This is a very important aspect of your Disney World itinerary!
What we are looking for here is how to fabricate a Disney touring plan that will best meet your needs, however many days you plan to be in the parks.
There really are certain tips and tricks to be aware of to try to stack all of the odds in your favor when creating the layout of your trip.
This step is necessary before you book your Disney park passes. And trust me, you want to book your park passes as soon as you can. Why risk the parks hitting capacity? Make sure to read my Disney park pass guide if you haven't heard about the park pass system yet.
If you want to see an example of a solid Disney World itinerary, check out my ideal Disney World 7 day itinerary. It is full of additional tips for each of the days.
Towards the end of this post I have a sample 5 day Disney World itinerary to give you a peak at how all of this comes together.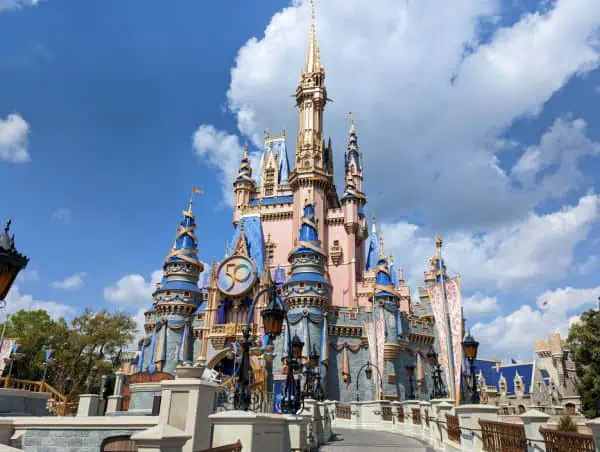 Choosing the Best Days to Visit Disney Parks
Let's take a look at the general factors you should consider when planning your Disney World itinerary. Taking all of these things into consideration should give you a hand in picking your Disney World park days.
On the flip side, it's important to note that you can choose to ignore all of these factors and simply pick the order of parks that seems best to you. If this is your first trip and you absolutely want to start everything off with a day at Magic Kingdom, then spend your first day at Magic Kingdom.
Honestly, if you have the right attitude and plan you can make any Disney World itinerary work.
When are you going?
The time of year you go to Disney has an effect on various aspects of your Disney World itinerary. If you haven't done so already, make sure you learn about the best time of year to go to Disney World. This will help give you an idea of pros and cons about different times of the year.
The main way the time of year impacts your Disney itinerary will be via crowds and park hours. Different times of year offer different park hours, and ultimately controls the amount of time you can spend in each park.
Special events that are unique to different times of the year will also impact your park experiences. But more on all of the below!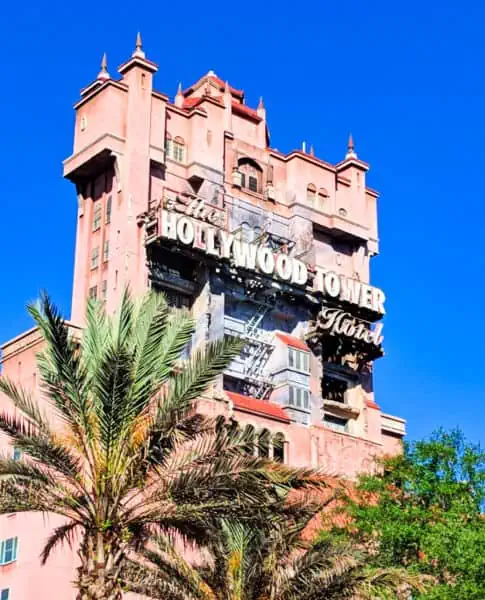 What Kind of Disney Park Ticket Do You Have?
The type of park ticket you purchased (or will purchase) has a pretty significant impact on your itinerary. Obviously, the length of the ticket has the most apparent impact on your Disney World itinerary. From the get go, the length of your ticket determines how many days you have to spend in the parks themselves.
The type of park ticket you choose impacts whether or not you can visit more than one park a day. Only people with Park Hopper tickets or Annual Passes can hop from one park to the next in a single day. Anyone with 1 park-1 day tickets are limited to visiting one park a day.
There is a pretty significant price difference between the ticket types, so you definitely pay extra for the added flexibility of a Park Hopper ticket.
Make sure you read my guide to the Disney World park tickets to make sure you understand your different options. Your choice will be important once you get to this stage of planning.
Park Crowd Levels
Now we get into the nitty gritty. Let's face it, most of us are worried about the crowds. Maybe you chose your dates based on crowds in the first place, maybe not. Either way, taking a look at predicted crowds is a good way to choose your Disney World park days.
Undercover Tourist has a great crowd calendar you can use as you figure out your Disney World itinerary. They even recommend which park will be least crowded and most crowded on a given day.
However, even all of your careful planning to avoid crowds could be for naught. Disney World has been very crowded in general, even during historically "slow" times of the year. It's best to just assume that crowd levels will be high and plan accordingly.
What Are the Busiest Days of the Week at Disney World?
In general, there are some days that are recognized as the busiest days of the week at Disney World. I've ranked them here in order, but really, they aren't terribly surprising.
Sunday and Saturday
Monday
Friday
Clearly, the least crowded days of the week will be Tuesday through Thursday. However, it's not really ideal to jam all of your park days into those three days. Unless you are taking a trip with only 3 park days, then I would absolutely schedule the whole trip around this premise.
Special Events
There are certain special events throughout the year which impact the experience of a park during the day. This impact might be on crowds or on park hours.
Mickey's Very Merry Christmas Party and Mickey's Not So Scary Halloween Party
Any day that Magic Kingdom has one of it's hallmark seasonal parties scheduled equals a 6:00pm closing time for that day.
Both Mickey's Very Merry Christmas Party and Mickey's Not So Scary Halloween Party have an official start time of 7:00p. At that point, all guests without party tickets must leave.
This is a double edged sword. On one hand, if you go to Magic Kingdom on that day you miss out on Magic Kingdom at night, which is a major downside. However, crowd levels on party days are notoriously some of the lowest crowds you'll find at Magic Kingdom during your trip.
If you are okay with missing out on the evening at Magic Kingdom, party days are great days to go to Magic Kingdom. However, if you only have one day at Magic Kingdom on your first ever Disney trip, I wouldn't go there on a party day. There is too much you would miss out on.
Epcot Festivals
Any of the Epcot Festivals are immensely popular with Orlando locals. Because of this, Friday nights and Saturdays tend to draw a big local crowd who want to enjoy themselves.
This leads to higher crowds during this time, and an increase in the odds of drunken revelry. The general rule of thumb is to avoid going to Epcot on Friday night and Saturday when there is a festival going on.
Epcot Festival Dates
As you can see below, there's hardly a time of the year that DOES NOT have a special festival going on at Epcot. There used to be a break during the summer, but no more!
Now the gaps in festivals are really down to a week or two here and there throughout the year. To be safe, just assume that there is an Epcot festival going on during your trip.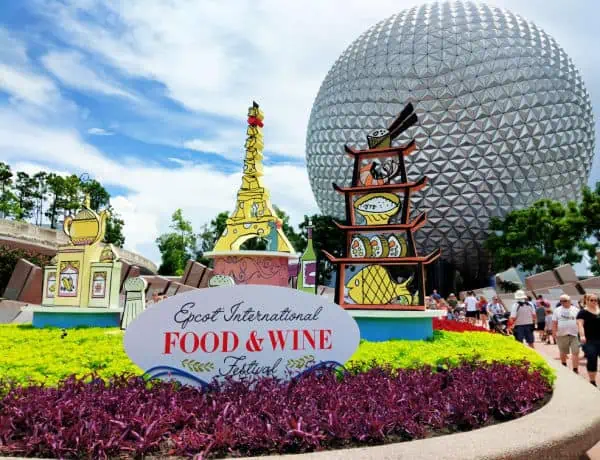 Best Days of the Week for Each Disney Park
Ok, let's get into some of the nitty gritty for each park, shall we? Remember, all of this is dynamic, but I'll talk about basic trends that you can use to make an informed decision.
One thing you'll notice is that there is a lot of overlap in which days are the best for each park. This means that inevitably you'll need to go to at least one park on a higher crowd day. Please, don't sweat this. You will be fine and still have a wonderful time!
Please know that no matter what days you choose to be where, you can make any of it work as long as you are smart.
If you know you'll be at Disney during a busy time of year make sure you have a good strategy going into each day and you'll be able to do fine.
Best Day to Visit Animal Kingdom
We start the discussion with the most forgiving of all the parks. Sadly, this is partly due to the fact that there aren't as many attractions at Animal Kingdom. But, this does make it easier to successfully do everything that you want!
In general, the best days to go to Animal Kingdom are Monday through Friday. That's right, you can go there on any weekday and be in a pretty good position.
But honestly, you can go to Animal Kingdom ANY day of the week, including weekends, and it's fairly easy to have a successful day.
Because of this, I recommend that you plug Animal Kingdom into your schedule on whatever day you have left after you choose the days for the other parks. They are much more fiddly than Animal Kingdom.
In general, Animal Kingdom is the park with the earliest opening time on any given day. This is a huge advantage because people don't like to get up early.
This allows you to get a head start on all of the rides. On the flip side, Animal Kingdom sees a good size drop off in crowds in the evenings for various reasons.
That makes the mornings and evenings wonderful times to be at Animal Kingdom on any day. That is why you don't need to stress over which day to visit Animal Kingdom.
Just go in with a good touring plan for the day and you'll be good to go. With that in mind, take a look at my Animal Kingdom 1 day itinerary for a solid strategy.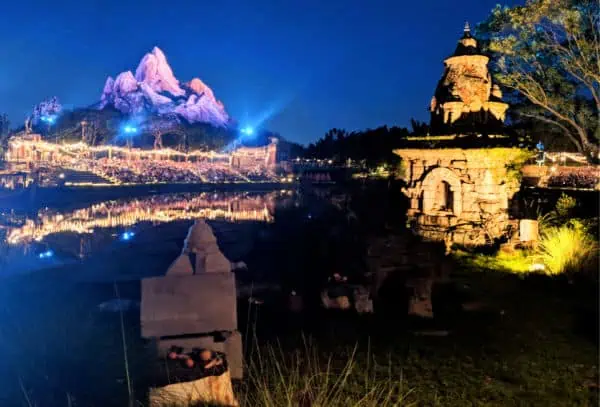 Best Day to Visit Epcot
Epcot is very much considered a local's park. This is especially true during any of the Epcot festivals, which as I've pointed out, is pretty much most of the year.
Because of this, Friday evening, Saturday, and Sunday are bad days to visit Epcot. This is when all of the locals flock to Epcot to eat and drink their way around the world. It's a popular date night location, or a hang out with friends nights. Or like a very expensive frat party.
I kid you not.
The drunken revelry can get high on the weekends at Epcot. Clearly, this is not necessarily the most family friendly atmosphere. So between the higher crowds and the frat party atmosphere, it's best avoided.
Ride lines might not necessarily be longer on the weekends, which I suppose is one bonus. The locals aren't necessarily there to get on the rides. They are there to eat and drink! But while the ride lines aren't impacted, the crowd feel in World Showcase is huge.
This also means that the lines for any of the food booths are much longer. And really, that's a huge part of going to Epcot in the first place!
On the plus side, of all of the parks, Epcot is the best for absorbing crowds. It is huge! This allows everyone to spread out a bit more so it at least doesn't feel like you are in a can of sardines.
After all of that long windedness, I bet you'd like to actually know what the best days to visit Epcot are. In general, the best days at Epcot are Monday, Tuesday, or Wednesday.
Many families with small children avoid Epcot entirely because they think there isn't enough to do at Epcot. This works in your favor as it just makes the crowds better for you.
Others view Epcot as only a half day park. I vehemently disagree with this. I never seem to be able to fit everything I want to do at Epcot in a single day!
Take a look at all of my thoughts about how to maximize your day at Epcot with this itinerary.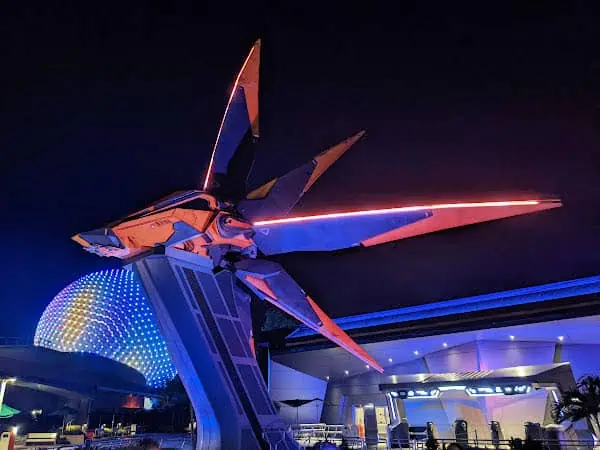 Best Day to Visit Hollywood Studios
With the addition of Toy Story Land and Star Wars: Galaxy's Edge, Hollywood Studios has quickly become the second most popular park in Disney World.
Unfortunately, this isn't backed up by having enough rides to absorb all of the crowds! In my opinion, Hollywood Studios is a park that has a very high crowd feel. There are pinch points all over the place and sometimes it just feels downright crowded. Add high wait times to the mix and it can make for a frustrating day.
With that in mind, make sure you have a solid plan for how to tour Hollywood Studios. It can really help with navigating the crowds and getting on all of the rides that you want.
In general, you want to avoid going to Hollywood Studios on Monday and Tuesday. After Magic Kingdom, this is the park that everyone wants to go to. Hence why Monday and Tuesday are more crowded.
Ironically, Hollywood Studios is a good park to go to on Saturday and Sunday, as long as you plan to arrive early and leave late. This allows you to take advantage of the two best times of the day in terms of crowd levels.
Wednesday and Thursday could be good alternate days to go to Hollywood Studios.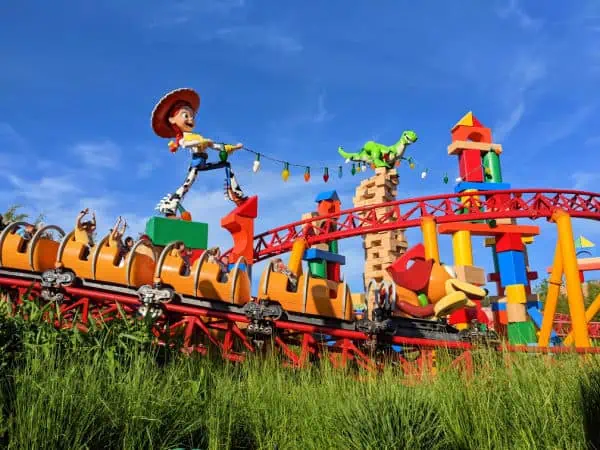 Best Day to Visit Magic Kingdom
Here we are at the main attraction. EVERYONE wants to go to Magic Kingdom, as they should. Magic Kingdom is the quintessential Disney World experience.
Because of this eagerness, there is a distinct trend that emerges when it comes to Magic Kingdom crowds. Most people make their vacation run from Sunday to Saturday/Sunday. Magic Kingdom is usually the first park they want to go to, making Monday a very crowded day at Magic Kingdom.
On the flipside, people like to also end their trip at Magic Kingdom, making Friday and Saturday higher crowd days. The Saturday crowds are compounded by locals and long park hours.
Locals tend to flock to Magic Kingdom on Saturdays and southerners taking a quick trip for a long weekend also go to Magic Kingdom on Saturday. Then in the evenings people park hop over to Magic Kingdom to take advantage of the long hours. So really, you have a major double whammy here.
In general, try to avoid going to Magic Kingdom on Saturday whenever possible.
So, what is left? This means that Wednesday and Thursday are the best days to visit Magic Kingdom.
Magic Kingdom is also a good park to buy Disney Genie+ to take advantage of the line cutting abilities. With the high volume of rides and the high popularity, Genie+ is a good splurge for Magic Kingdom to allow you to get on more rides with less fuss.
In addition to all of this, make sure you look at my 1 day Magic Kingdom itinerary to get an idea of how to structure your day.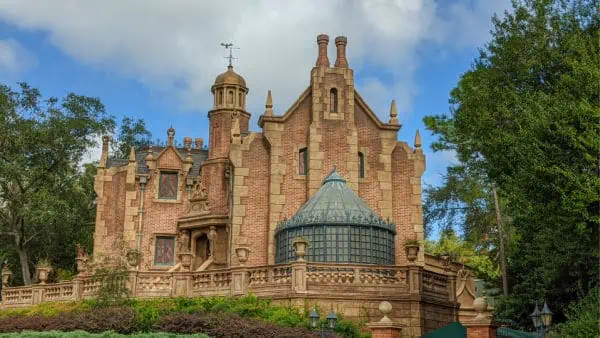 Magic Kingdom and Party Days
And to throw a monkey wrench into all of this, we have the special parties that take place in Magic Kingdom from mid-August through late December.
As I mentioned above, Mickey's Not So Scary Halloween Party and Mickey's Very Merry Christmas Party are to huge events at Magic Kingdom. This results in Magic Kingdom closing early, by 6pm, a few days a week, every week, for months.
This takes up a massive part of the calendar.
In general, most people make the obvious choice of avoiding going to Magic Kingdom on a non-party days so they can experience Magic Kingdom at night. And believe me, Magic Kingdom at night is awesome.
However, this means that non-party days from mid-August through late December automatically become the busiest days of the week at Magic Kingdom.
This is where you could benefit by weaving when everyone else bobs. Wait times are significantly shorter on party days. On top of that, Magic Kingdom opens an hour earlier on party days. For those with early entry, this equals an extra hour and a half in the morning, which is the best time to go to Magic Kingdom.
This alone makes the party days at Magic Kingdom a good option. Not as many people want to get up early enough to make it to Magic Kingdom before 7:30a. That makes this your moment!
Since the park closes by 6p on party days, it's a good idea to park hop from Magic Kingdom to one of the other parks around 4p so you can still enjoy the rest of the day at a park. Clearly, this strategy only works if you have park hopper tickets.
The number one downside of this strategy is missing the evening hours at Magic Kingdom. This is a major ding because the Magic Kingdom fireworks are a great experience. And I'm just a fan of being in any of the parks at night. They are just magical.
You can always choose to park hop over to Magic Kingdom on a non-party night to experience Magic Kingdom at night. Just be aware that tons of other people will have this idea as well.
Alternately, you can watch the Magic Kingdom fireworks from outside of the park too. The beach at the Polynesian resort is a popular location, for example.
Disney Rest Days
With any Disney World touring plan that lasts for more than 5 nights, planning a rest day at Disney World is highly recommended. This is recommended for two reasons.
The first reason is because you will all simply need a slower paced day. Most people, my family included, tend to jam as much as they can into their park days. This is a lot of walking and long hours for little kids. Deliberately planning at least one rest day allows everyone to have a day that isn't so hectic and exhausting.
The second reason to take a non-park day at Disney is simply because there is so much to do outside of the parks that shouldn't be missed! From frolicking in the resort pools to checking out Disney Springs there is so much to do.
In fact, I have an entire post with over 70 things to do at Disney World besides the parks. Even better, quite a few of those things are free!
Disney Arrival and Departure Days
Depending on what time you arrive and depart from Disney World, your arrival and departure days are great opportunities to do some of these outside the park activities.
On shorter trips, or if you have unused park days on your ticket, these days can also be great opportunities to visit the parks for a few hours.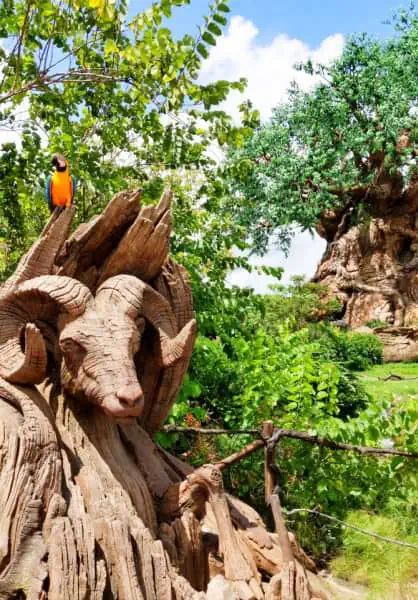 I almost always try to do this to eke out every possible second of my time at Disney World. Animal Kingdom is a good option for departure day because it tends to open earliest. Conversely, Magic Kingdom is often a great option for arrival day since it stays open until 11p on some days.
The Disney Journey's Formula for a Good Disney World Itinerary
Now that we've looked at all of the different factors in play when picking your Disney World park days, what do we do with it? First off, I highly recommend that you have a visual tool to help you with this. Blocking things off visually can really help.
Also, while it's not impossible to only pick your park days based on predicted low crowds, find a blend between doing that and what makes sense for the flow of your trip. Sometimes I choose the busier park on one day because it allows me to have a low crowd day at a different park another day.
It's a fluid process that really has no right or wrong way to do it.
Basic Tips for Picking the Best Days to Visit Disney World Parks
Fly in and out mid-week: Flights are typically cheaper on Tuesdays, Wednesdays, and Thursdays
Check the Park Ticket Calendar for Crowd Levels: when going through the park ticket calendar on Disney's website, the cheaper the starting price of the tickets, the lower crowd level time of year it is. Same goes for looking at 1 day ticket prices for individual parks. That means Disney expects lower crowds at that park on that day.
Prioritize Park Order vs. Low Crowds: Hopefully the stars can align and you can get both, but figure out which is more important to you
Magic Kingdom is #1: Not that it needs to go first, but Magic Kingdom should never be on the chopping block. It's too important to the overall experience
Park Days with a Split Stay: If you have a split stay scheduled (staying in more than one resort) plan your park days based on which parks are easiest to get to from each resort you stay at
Don't skip any parks: Try your hardest to at least spend some time in all 4 parks during your trip, especially if it's your first or only trip. Each park has its own flavor and amazing experiences.
Take Advantage of Early Entry: If you are staying at a Disney resort you can enter the parks 30 minutes before park opening. This is prime time to get on rides with little to no line. DO NOT miss early entry.
Avoid Major Holidays: This isn't always possible, but if you can go during a time when there isn't a major holiday, you're already in a better position in terms of crowds. Even holidays such as Columbus Day or President's Day can be insanely crowded because of school breaks
Sample 5-Day Disney World Itinerary
With a shorter trip like this, my priorities shift big time. I strategically chose these days of the week to take advantage of the fact that Tuesday, Wednesday, and Thursday are the least crowded days of the week.
Also, room rates tend to be a little cheaper during the week so why not take advantage of that as well?
With a 5-day Disney World itinerary I highly recommend either park hopper passes OR a flight time that allows you to go to a park on either arrival or departure day.
Day 1 (Monday) – Arrival Day (Pool and/or Disney Springs)
Day 2 (Tuesday) – Magic Kingdom
Day 3 (Wednesday) – Hollywood Studios
Day 4 (Thursday) – Animal Kingdom then Epcot
Day 5 (Friday) – Departure Day (Disney Springs if time)
Really, you will want to choose which parks to split on that last day. However, the main parts of Animal Kingdom can be reasonably done in one morning, especially if you follow my Animal Kingdom rope drop strategy.
By using that strategy you also start the day in the park that tends to open the earliest, helping you to stretch those days as much as humanly possible.
Do not spend only half a day in Magic Kingdom. Of all the parks, Magic Kingdom is easily a 2 full day park.
Final Thoughts
There you have it, my thoughts on how to choose the best days to visit Disney parks. Picking your Disney park days is such an important part of the trip.
In the end, pick the order that makes the most sense for you and your family. What works best for my family might not be what works best for yours. Though I think we can all agree that if we could manage lower crowds we'd do it in a heartbeat!
Your Thoughts
Do you have any other factors that go into choosing your Disney park days? What is your golden rule for picking your park days? Let me know in the comments below.
Don't forget to follow The Disney Journey on Pinterest and Facebook to stay up to date with all the latest news and updates.