We may earn money or products from the companies mentioned in this post. Please click my disclosure policy to learn more.
Choosing where to stay for your Disney World vacation is one of the first big dilemmas you face in the Disney vacation planning process. There are some significant differences in the debate of on-site vs. off-site Disney World hotels.
This post takes a look at various aspects of both sides in order to help you make this very important decision.
I will admit from the very beginning that I LOVE staying at Disney World on site hotels. However, if it came down to either staying off-site or not going to Disney at all, you better believe I would stay off-site in a hot second.
So take a look at all the information I provide and make the choice that is best for your family (Updated April 14, 2022).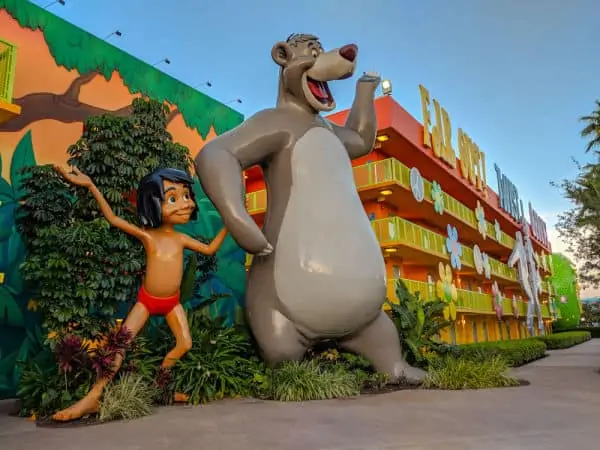 On-Site Vs Off-site Disney World Hotels – The Basics
So what exactly do I mean when I say Disney World on site or off site hotel? An on-site Disney hotel, or Disney resort as they are called, is a hotel that is owned and operated by Disney World.
The location of the hotel is within the physical parameters of the overall Disney World Resort.
Off-site hotels are any hotels which are owned and operated by third party vendors. These are typically located outside of Disney World itself, though there are some exceptions.
And just to make things even more confusing there are Disney Good Neighbor hotels which are a hybrid of on-site and off-site Disney hotels.
Each of these hotel categories comes with its own pros and cons. Read through all of the information I've provided in this post in order to help you prioritize which choice is the right one for you.
Disney World On-Site Hotels
The terms Disney World Hotels on property and Disney World Hotels on site are completely identical. They just like to make things as confusing as possible.
However, all in all, you will most often hear on-site Disney hotels referred to as Disney World resorts. Because the word "resort" just sounds swankier.
Here is a list of the official Disney World Resorts:
Art of Animation Resort
All Star Music Resort
All Star Sports Resort
Fort Wilderness Campgrounds and Cabins
Coronado Springs Resort
Port Orleans – French Quarter
Port Orleans – Riverside
Animal Kingdom Lodge and Villas
Grand Floridian Resort & Spa
Contemporary Resort
Yacht Club Resort
Beach Club Resort
Polynesian Village Resort
Riviera Resort
Old Key West Resort
Bay Lake Tower
Within this list you find a wide array of price ranges and amenities available. In general, the more expensive the resort, the more bells and whistles you get.
Disney Resort Categories
All of the Disney resorts listed above fall into one of 4 different Disney resort categories. The Disney resort categories are:
Value Resorts
Moderate Resorts
Deluxe Resorts
Deluxe Villas
Each of these resort categories come with it's own different amenities and benefits. In general, the higher the category, the more bells and whistles you get.
If you want to know more about what you get in the different categories, read through my guide to understanding the Disney resort categories.
However, the pros and cons listed below are universal to ALL Disney World resorts, regardless of category.
Pros and Cons of Staying on Disney Property
Let's dive in to why we are really here, to take a look at the pros and cons of Disney World on-site vs off-site. We'll start with the Disney World resorts.
Benefits of Staying at a Disney Resort
Of course, Disney wants you to spend money with them, not with off-site hotels. Because of this, there are some benefits of staying at a Disney resort.
Unfortunately for all of us, some of these benefits are dwindling. When Disney World reopened after lockdown, many benefits did not return. Some are now slowly returning, but many are either discontinued or will never look the same.
I sincerely hope that Disney brings back more benefits soon, as it's getting harder and harder to justify spending the extra money on a Disney resort.
Early Theme Park Entry
Once upon a time, this was called Extra Magic Hours. This was one of the many things that disappeared following lockdown.
As a replacement, Disney announced Early Theme Park Entry, which began on October 1, 2021. The basic gist of Early Theme Park Entry is that Disney resort guests are allowed to enter any of the Disney parks 30 minutes prior to park opening.
Each guest must have a park ticket and a park pass reservation for that park, but other than that, all Disney resort guests are good to go to access it.
The main bonus to this is that Disney resort guests are the only guests who'll be able to rope drop any of the parks. Off-site guests are effectively locked out of it.
This is actually a huge deal because rope drop is one of the best times of day to be at the parks. This is primarily because you can get on rides with short lines during this time.
I have some major issues with Early Theme Park Entry, but the access to rope drop at all four Disney parks is a huge benefit of staying at a Disney resort.
My guide to Early Theme Park Entry goes into this benefit in much more detail. Make sure you understand the ins and outs of it before you go.
Disney Transportation
If you stay at a Disney World Resort there is no need to rent a car or pay for a Lyft or taxi. Once you arrive at your Disney resort all of your transportation needs can be met through Disney's transportation system.
There are either buses, boats, monorails, or gondolas departing each Disney resort to take you all around Disney World.
While these transportation systems aren't without their issues, they are free and usually convenient. This also eliminate the need to pay parking fees at resorts or parks.
Off-site Disney guests can also use Disney transportation, but that's only once they've gotten themselves onto Disney property. It's the bit about getting to Disney World first which is the problem.
However, this is a problem that Disney resort guests don't have to worry about.
Disney Dining Plan
As a note, the Disney Dining Plan is currently suspended as Disney gets itself back to full capacity. However, Disney has stated that they do plan to bring it back, we just don't know when. In my optimism it will return soon, I've kept this section in as a benefit.
The Disney dining plan isn't for everyone, but if it is something that you want, you must stay at a Disney World resort. The Disney Dining Plan is simply a pre-paid plan that allows you to use credits to "buy" your meals and snacks instead of money.
There are three different Disney Dining Plans to choose from depending on your needs. Make sure you read my guide to the Disney Dining Plan to learn more if you are interested in it.
The bottom line is the Disney Dining Plan likely won't save you any money but it makes your trip so much easier. There is a peace of mind that comes with knowing all of your food is already paid for (minus any tips).
It eliminates any surprises in the final dining bill at the end of your trip.
Disney Vacation Packages
If you are someone who wants to simply book everything you need for your trip in one go, then Disney vacation packages are for you. Disney resort guests can book a Disney vacation package which includes resort, park tickets, and dining plan all at once.
While this is definitely the easiest option it is not necessarily the cheapest. So if budget is an issue make sure you do your homework beforehand.
Dining Reservation Booking Window Advantage
The booking window for Disney dining reservations opens up 60 days prior to the date of check in for Disney resort guests. At that time, Disney resort guests can book dining reservations for ALL of the table service restaurants they want for their whole trip (up to 10 days).
This is different from what off-site guests can do. Off-site Disney guests also have a 60 day booking window, however, for them it's 60 days before every individual day they want.
That means if they want a dining reservation for each day of their 7 day trip, they have to go through the reservation process on 7 consecutive days, 60 days prior to the day they want the reservation.
This is important for two reasons. The first, is that Disney resort guests have first dibs on all the hardest to get (aka most popular) dining reservations.
The second, is the online dining reservation window opens at 6:00am EST. That's really early in the morning, and Disney resort guests only have to do it once.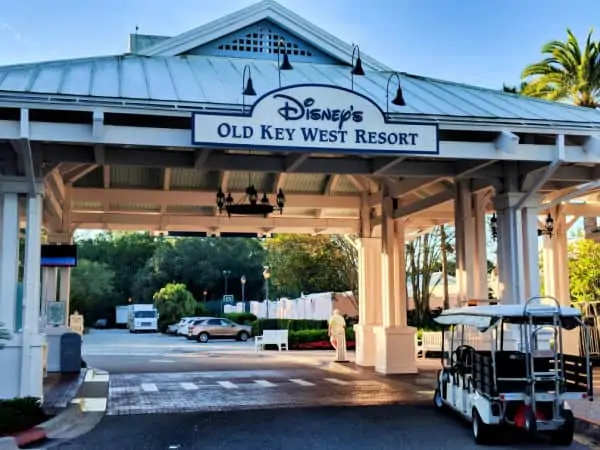 Earlier Access to Individual Lightning Lane Booking
Frankly, jury's still out on whether Disney Genie+ and Individual Lightning Lane access is actually worth it, but that's besides the point.
The point for our purposes is the fact that if yo do plan to book individual Lightning Lane access during your trip, Disney resort guests have a head start to do this.
Disney resort guests can make their Individual Lightning Lane reservations at 7am EST. People who are staying off-site have to wait until the official park opening time.
This applies only to Individual Lightning Lane booking, not the Genie+ ride bookings.
In case you need to, make sure you read this guide about Disney Genie+ and Lightning Lane access to understand what exactly I'm talking about.
The short version is this is Disney's paid line skipping option. It's pretty darn complicated so read the guide, for sure.
Discounted MagicBands
There once was a time when Disney resort guests received MagicBands for free as part of their reservation. While they are no longer free, Disney resort guests can get them at a discount.
MagicBands are a wonderful piece of technology that make your trip easier. They function as room keys, park tickets, Genie+ access, save your PhotoPass pictures, and act as a credit card for guests.
Some of the functionality of MagicBands has now been replaced by the new Disney MagicMobile Pass. The MagicMobile Pass is used with your smartphone to do almost all the same things as a MagicBand. And everyone gets it for free (including off-site guests).
However, I find MagicMobile to be a little clunky unless you have an Apple Watch, it's a little clunky to use.
MagicBands are still superior for convenience and functionality, plus they are a fun Disney accessory. Disney resort guests can expect to save $10-$15 dollars, depending on the style.
Also, there are some designs exclusive to Disney resort guests.
Before your trip, I highly suggest that you read all about MagicBands, and then read all about Disney MagicMobile.
This will help you decide which option works best for you.
In Park Purchase Delivery
This is a small benefit, but a significant one nonetheless. If you make a purchase at any store around Disney World you can have it delivered to your Disney resort. I have used this many times and love it.
Who wants to carry around their souvenirs for the rest of the day if they don't have to?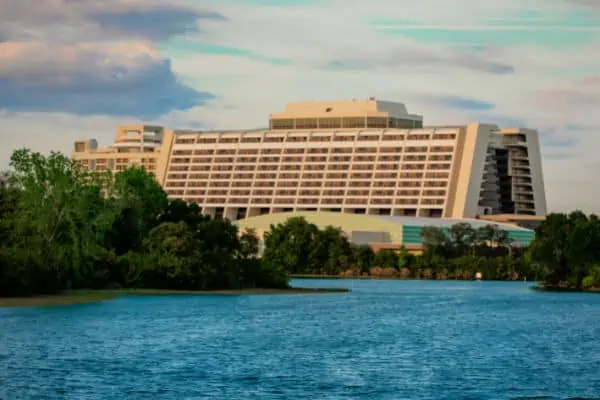 The "Disney Bubble"
This last pro is a complete intangible which doesn't have a price tag. Your ultimate decision whether to stay on-site or off-site at Disney can potentially come down to this factor alone.
How badly do you want to be immersed in what is known as the "Disney Bubble"?
The Disney Bubble is pretty much exactly like it sounds. If you are in the Disney Bubble you are essentially completely insulated into the world of Disney.
You are surrounded by everything Disney, magic, and happiness. This is the ultimate goal for many people when they travel to Disney.
I'm fully aware that it sounds nuts, but this is the reason so many people love Disney World. When people try to figure out why adults and families alike return to Disney over and over again, this is why.
Disney does a phenomenal job of creating an environment that allows you to leave all your stress at home.
By staying on-site in a Disney resort you allow for complete immersion. Disney makes movement throughout your Disney vacation as easy and seamless as possible. This cannot be captured in the same way if you stay off-site.
If full immersion in the Disney Bubble is your goal, then you want to stay at a Disney Resort. There's just no other way around it.
If budget is an issue pick a value resort, go at a time of year with discounts, and use every money saving Disney hack you can find.
It will be worth it if the Disney Bubble is important.
Cons of Disney World Resorts
As much as I love Disney World Resorts, there are definitely some cons to staying there. Hard to believe, I know.
Unfortunately, as of late, it seems like the playing field has been leveled a bit more between the pros and cons due to the removal of some of the Disney resort stay benefits.
More Expensive
This is clearly the most significant con you could possibly come up with. There's just no way around it: if you want to stay on-site at Disney World you will pay more.
Even the cheapest Disney resort with a discount will be more expensive than booking a standard hotel room somewhere in Orlando.
I know I'm a broken record with this, but if the cost of staying at a Disney resort will prevent you from being able to take the trip, just stay off-site. The magic will still happen.
Not Everyone Wants THAT Much Disney
Alas, this is sad but true. Some people prefer to not be surrounded by all things Disney all the time. I find this hard to understand, but there you have it.
If you are someone who would like to have a little bit of normalcy each day, staying at a Disney resort can be a little overwhelming.
This is especially true at the Value Resorts which pretty much hit you over the head with Disney everywhere you go.
The Deluxe resorts have less of an "in your face" approach to Disney but then you are dealing with much higher price tags.
I will say, a lot of the room renovations of late have been less Disney-fied. I personally find this to be unfortunate. If I'm staying at a Disney resort, I want Disney.
That's not to say they don't still include characters, because they do, but it's more subtle. But the rooms themselves are a bit more generic so you aren't hit in the face with Disney quite so hard.
Large Groups Can be Tougher
This is actually a pretty significant con for Disney World resorts. If you are a family of 4 or less, no big deal. But as soon as you need to sleep a 5th person you have a problem.
The problem isn't that the choices for larger groups don't exist, because they do. However, those options immediately increase the cost of lodging exponentially.
There are a few resorts who have standard types of rooms that fit 5, but everything else is considered a suite.
There are Grand Villas which allow you to fit up to 12 people in one suite, and they are gorgeous. They'll also cost you a fortune per night.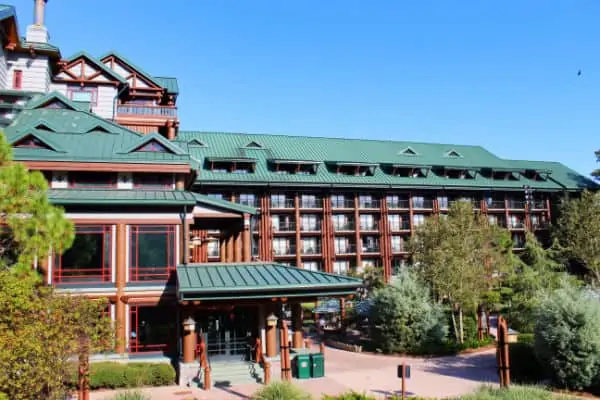 Pros and Cons of Staying Off-Site at Disney World
Now that I tossed all of that information at you, let's take a look at the pros and cons of staying off-site at Disney World.
Pros of Staying Off-Site at Disney World
Save A LOT of Money
The bottom line is: if you are planning your Disney World vacation on a strict budget, you simply save the most money staying off-site. Every single other pro and con on either side of the great hotel debate can be worked around.
If the only way you can comfortably afford the trip is to save as much money as possible on your hotel then you can have a wonderful trip while staying off-site. It's as simple as that.
Don't let anyone else's opinion tell you otherwise. Because remember, a Disney vacation staying off-site is better than no Disney vacation at all.
Note for 2022: With the amount that hotel costs have risen across the board, your savings for staying at an off property Disney hotel might not be as large as they used to be. Do the math first!
Transportation
Most Orlando hotels provide shuttle buses to the Disney theme parks (or Universal Studios). Usually this bus service is free, but not always so make sure you double check before you book your rooms.
Once you are inside of Disney World itself you have access to all of the same Disney transportation as everyone else.
This makes is a lot easier to get around the overall Disney World property once you've entered it.
Accommodations for Large Groups
For a fraction of the cost of a suite at one of the Disney World resorts you can rent a condo in Orlando. This option gives your large party all the space that it needs to spread out without the massive price tag.
And let's face it, there is such a thing as too much togetherness…
More Centrally Located in Orlando
This would mainly come into play if you plan to also visit some of the other Orlando area attractions. Orlando does have several other amusement parks to enjoy and staying off-site makes them a little more accessible.
Cons of Staying Off-Site at Disney World
Location, Location, Location
This is the biggest con of them all. It's simply not as convenient to stay off-site. No matter what anyone tells you, even a hotel that is a couple miles away from Disney World is not convenient.
Traffic around Orlando is not friendly, so the farther you are from the parks the more traffic you run into. If you are a family that plans on taking any sort of mid-day break back at your hotel you will end up losing A LOT of time in traveling.
Taking an Uber or Lyft around Orlando is astonishingly easy, but again, traffic.
And that's not even taking into consideration if you rent a car. There are some parks (I'm looking at you, Magic Kingdom) where parking a car is way more work than is worth it.
You still need to get on a boat or monorail to even get to the park. Disney transportation drops you off right at the park entrance.
If convenience is king, staying off-site might not be for you.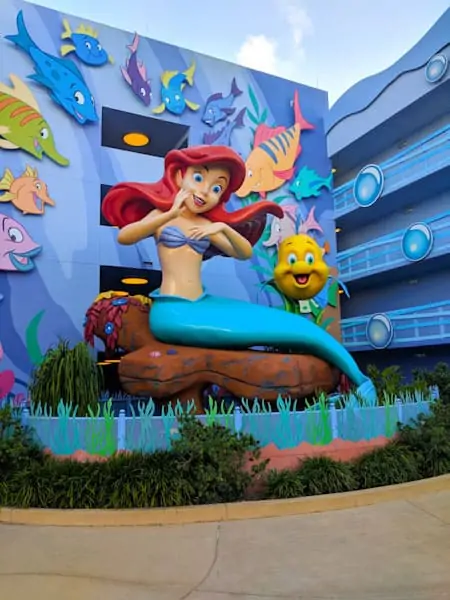 Dining Reservation Booking Window
If you don't like being up at 6am EST on multiple days to book your dining, this might be a problem for you.
Even if you don't mind the sunrise wake up call, if you want a hard to get dining reservation, odds are pretty good it will be filled up by the time you can book.
This is because those Disney resort guests were able to book all of their dining reservations at once. Your Day 1 might be their Day 7, giving them a booking head start of several days.
Again, openings could potentially pop up before your trip, so this can be worked around. And if you want to eat at Disney on a budget and don't plan on eating at Table Service restaurants at all, then this con doesn't even matter.
It's important to note, booking Disney dining reservations has become more competitive than ever. This makes this con even more significant.
Hidden Fees Can Add Up
This is a big one that I caution everyone to pay attention to before they book a room off-site. Many of the Orlando hotels charge daily "resort fees". I hate resort fees and find them to be money gouging, personally. I try to avoid them on principle.
Some of these resort fees can be exorbitant. If the resort you want to stay at has them, it might not be such a good deal after all. Always do the math first.
Here are some other fees to consider when staying off-site that may or may not apply for you:
Rental car cost
Daily fee for parking at Disney Parks ($25/day for standard parking)
Uber/Lyft/Taxi
Just make sure you do the math to figure out how much your overall expenses will be to stay off-site. The value resorts at Disney might be more affordable than you originally thought.
Disney World Good Neighbor Hotels
Disney World Good Neighbor hotels bridge the gap between staying on-site and off-site. Some of these hotels are even located on Disney property!
The Walt Disney World Swan and Dolphin Hotels are probably two of the most well known Disney Good Neighbor hotels. They are located within walking distance to both Epcot and Hollywood Studios.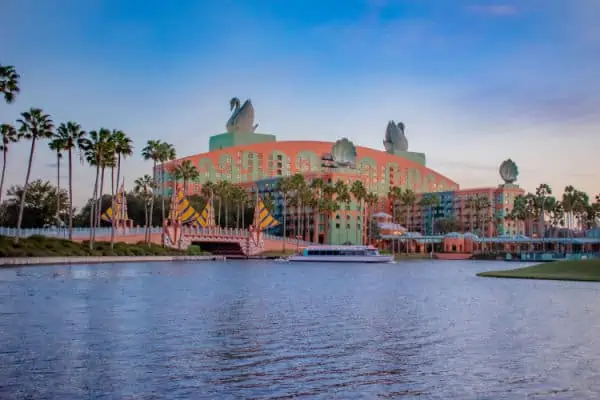 They are even located right on the Friendship Boat line to travel in between the parks and Crescent Lake resorts. In fact, most people think they actually are Disney World Resorts.
There is a whole separate Disney run website for Good Neighbor hotels that allows you to get information you need about them.
All of the Disney Good Neighbor hotels are within 2-14 miles of Disney World. This is important because being 14 miles away in Orlando traffic is nothing to take lightly.
Essentially, these are hotels which Disney World has given two thumbs up. They meet the standards that Disney has established to provide a good stay to Disney guests.
Disney Good Neighbor Hotel Benefits
The Disney Good Neighbor hotels have some of the same benefits of Disney World resorts. This began as a result of Disney World itself not having enough rooms to match the current needs of the consumer.
It's a way for Disney to still retain some level of control and advantage.
Some have access to Early Theme Park Entry, which again, is a huge benefit.
Your Disney Good Neighbor hotel stay can also be linked to your My Disney Experience account, adding a little bit of that one stop shop feel.
One Disney Good Neighbor hotel benefit is that you are eligible to book Disney Vacation packages. You can find out if the Good Neighbor hotel you are interested in offers this by looking at the hotel website or calling 407-W-DISNEY.
All of the Disney Good Neighbor hotels offer transportation to Disney World. However, not all of the hotels offer this service for free.
You'll find that some of the Disney World Good Neighbor Hotels offer free breakfasts, some have mini water parks, large villas, and more.
The amenities vary by resort, so take the time to sift through everything. Odds are pretty good there is a Disney Good Neighbor Hotel to suit your needs.
Disney World On-Site vs Off-Site Frequently Asked Questions
Is It Cheaper to Stay Off-Site at Disney?
As I mentioned above, it kind of depends. While an off-site resort itself might have a cheaper price tag there are sometimes other fees that make it less of a discount.
Make sure you thoroughly research just how much it will cost per day for EVERYTHING associated with staying off-site.
Is it Worth Staying at a Disney Resort?
Well this is a loaded question with no real answer. Is it really better to stay at a Disney resort or off site?
Some people will say yes (myself included) but others will say no. It really just depends on the type of Disney vacation experience that you want.
If you are looking for the full Disney vacation experience and immersion into that bubble, then yes, it is definitely worth it. The magic is real and it will certainly enhance your trip.
Go through each and every one of the Disney World Resort benefits I talk about above. If any of them tip the scales for you then consider staying on site.
What is the Cheapest Disney World Hotel?
If you want to stay on property and are looking for the cheapest possible Disney hotel, then the All Star Resorts are your answer. They provide the cheapest price tag out of any Disney World resort.
Refurbishments have even taken place on these rooms to make them nicer and more up to date.
The room style of the old rooms is 2 double beds with an occupancy of 4. The refurbished rooms have a queen size bed with a second queen size murphy bed that drops down from the wall.
I recently stayed at Disney's All Star Movies Resort and found the stay to be enjoyable. You certainly won't get all the bells and whistles of the more expensive resorts, but you get that Disney resort feel without the massive price tag.
For now, I would recommend either All Star Movies or All Star Music over All Star Sports Resort. All Star Sports has not yet had the room renovations, and trust me, that's essential.
And again, make sure you understand the different in the Disney resort room categories before you make your final Disney resort decision.
Can you use Disney Transportation if you stay off-site?
Yes you can! Once anyone is on Disney property, they have access to all of the Disney transportation options. Even if you don't have park tickets, you can still ride around on the transportation if you want.
This is great if you want to plan a resort hopping day to just bounce around the different Disney resorts and check them out.
Using Disney transportation is also a brilliant idea if you plan to park hop from one Disney park to another in the same day.
If you go to the entrances of any of the Disney parks, you'll have access to the resort buses, boats, monorail, and/or, the Skyliner.
You aren't allowed to park your car at any of the resort themselves without a room or dining reservation. Same goes with Uber or Lyft.
So if you do want to go to the resorts, your best bet is to take an Uber/Lyft to the closest park and take Disney transportation from there.
Final Thoughts on Disney World On-Site vs Off-Site Hotels
There are definitely a lot of factors that come into play when making this decision. There are several pros and cons that can sway you in either direction.
Take stock of which aspects of your stay are most important to you. That can help shed some light on which will be the best choice for your family.
This is a big part of your trip and can potentially enhance your experience. Conversely, it's also one of the most expensive pieces of the trip.
If you plan to spend all of your time in the parks and only use your hotel as a place to lay your head at night, I would recommend a Good Neighbor hotel. That way you get the cheaper price tag and access to some of the Disney world resort benefits.
But whichever way you decide in the great Disney World on-site vs off-site debate, you can still have an amazing trip.
Your Thoughts
Do you prefer to stay on-site or off-site? Do you have any other big pros and cons that go into making your hotel decision? I would love to hear from you in the comments below.
Don't forget to follow The Disney Journey on Pinterest and Facebook to stay up to date with all the latest news and updates.