We may earn money or products from the companies mentioned in this post. Please click my disclosure policy to learn more.
Disney World does a great job of making travel to and from the Disney Resort area as convenient as possible. One of the ways they accomplish this is through the Disney Magical Express transportation service (updated May 16, 2021).
This is a great money saving perk that Disney provides. However, this service is rapidly coming to an end and we all need to come up with an alternative way to get to our resorts.
Disney's Magical Express itself is pretty straightforward, but here is some quick information to make the process go smoothly.​
What is the Disney Magical Express?
Disney's Magical Express is a complimentary airport transportation service for travel to and from Orlando International Airport (MCO). At the end of the trip, this service is often referred to at the Tragical Express, simply because it signals the end of your magical vacation.
The fact that Disney offers this service is great in and of itself, just another way to make traveling to Disney World more convenient. The cost of hiring a taxi, shuttle, LYFT/Uber, or renting a car then becomes an unnecessary expense.
I've used Lyft to go from MCO to a hotel in Orlando before. Expect to pay around a minimum of $50 each way. Based on that number, Disney's Magical Express will save you at least $100 over the course of your trip.
Who Qualifies for Disney's Magical Express?
Disney's Magical Express is a benefit offered to guests staying at any of the Disney resorts. If you have a Disney resort reservation booked, you automatically qualify for the service.
All guests staying at off-site resorts have to determine alternative ways to get to their hotels, though renting a car is probably the most commonly used strategy.
Also, the Magical Express only operates at Orlando International Airport. If your flight arrives into Sanford Airport you do not qualify for the Disney Magical Express.
How Disney Magical Express Changed in 2021
Ever since reopening, Magical Express has not worked in exactly the same way. The main difference is the removal of the luggage transfer service.
Once upon a time, you could put a yellow tag on your checked luggage. This signaled to workers at the airport that those suitcases were going to Disney.
They would gather your luggage and it would eventually make its way to your resort room, with no effort on your part. While the system wasn't perfect, it was certainly better than having to get your own bags.
This is no longer offered, and any guest riding the Magical Express needs to collect their own luggage. The suitcases are then loaded onto the bottom of the bus you are physically on.
The bonus to this situation is that you have access to all of your belongings right away.
Disney Magical Express Ending Dates
Disney announced that the Disney Magical Express service ends as of December 31, 2021. The service is completely discontinued as of 2022.
It still remains to be seen exactly what options will exist to Disney travelers. We do know that Mears, the company that actually provided the Magical Express service, plans to offer a similar replacement. However, it most certainly won't be free.
Disney of course never fully revealed the reason the service is ending. Though it most likely has to do with the contract with Mears and the two companies not agreeing on something.
The complete end to free airport transportation for Disney resort guests is a curious move on Disney's part. It was one of the biggest perks of a Disney resort stay.
At a time when all of the perks of staying on property seem to be disappearing, it's a curious move.
Also, the existence of free transportation eliminated the need for a rental car. Which translates to all those guests being more of a captive audience. And captive audiences spend their money at Disney instead of other places.
So all in all, it's a curious decision. I still have some hope that Disney will eventually provide an alternative service, but I think my hope might be in vain.
Now that we've taken a look at this rather significant change, let's find out how Magical Express will work for the rest of 2021.
Disney's Magical Express Hours
Fortunately, Disney's Magical Express is a 24/7 service. This allows travelers to arrive at any point in time, even in the middle of the night and still get free transportation to the Disney resorts.
How to Make Disney Magical Express Reservations
Arranging the Magical Express for your trip is pretty easy. In fact, it's probably one of the more straightforward aspects of planning a Disney vacation.
You cannot set up the Disney Magical Express until you have your flight booked. Your flight reservation number is required to book the Magical Express.
At that point, you can set up Magical Express online or via phone.
How to Book Magical Express Online
The easiest way to book is through the Magical Express online form (follow that link and bookmark the page for later!). For some reason, Disney does not provide this link as a booking option on their website.
Be prepared with your Disney resort reservation number and flight information. Within a matter of minutes, Magical Express is booked!
How to Book Magical Express on the Phone
Your other option is to call Disney directly to book the Disney Magical Express. Here are the phone numbers:
United States and Canada: (407) 939-1936
United Kingdom: 0800 16 90 730
International Travelers: Book through the same travel agent or tour operator you booked your Disney trip through
I stumbled upon Chat as an option when I once couldn't remember if I had booked Magical Express or not. Through chat they were able to access my reservation and handle things from there.
I mainly figured this out because I have an aversion to making phone calls and will always try the live chat function when it's offered.
Disney Magical Express Luggage Tags
Disney no longer offers luggage transfer service as part of Disney Magical Express.
The Disney Magical Express letter still gets mailed out about 21 days prior to your trip. However, it's simply the letter telling you where to go in the airport and what to do.
What if I Forgot to Book Disney's Magical Express?
It is recommended that you set this up in advance in order to streamline the process, but if you booked a last minute trip or just plum forgot until the last minute, you can still use Magical Express.
If you don't have a Magical Express letter in your hand all you need is a Disney resort reservation number. Cast Members at the airport can look up your reservation and confirm you are a Disney resort guest. At that point you simply get in line for a bus and are on your way.
Scanning your MagicBand at the Disney Magical Express check in station is the easiest way to confirm your Disney resort information.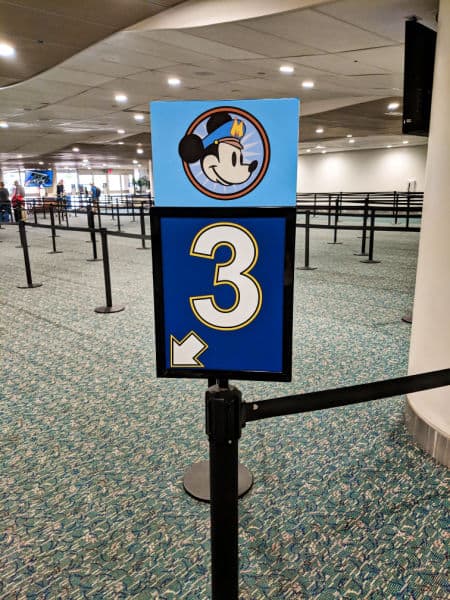 How Magical Express Works – Arrival
That wonderful letter is the start of your journey to Disney World. The letter contains your reservation information as well as a map of where to find the Disney Magical Express Welcome Center. And trust me, the map comes in handy…
Depending on which terminal your flight comes into, you may have a decent trek ahead of you. There are signs throughout the airport which tell you where to go for Disney's Magical Express. Your map then comes in handy to simply make sure you are headed in the right direction.
Once you've walked the 2 miles to find where Magical Express is located the rest of the process is pretty simple.
A Cast Member scans the MagicBand of one party member (or look up the Resort reservation or see your letter), tell you what number line to get into and then you simply wait for your bus.
The Trip to Your Resort
The buses are shared by multiple resorts, depending upon location within Disney World. For example, our bus to Wilderness Lodge also serves the Contemporary Resort guests.
Any luggage that you have with you (carry-ons, strollers, checked bags) are stowed in the compartments under the bus.
Sometimes you sit on the bus waiting to leave for a while. I think 15-20 minutes might be the longest I have waited before we actually left the airport. However, more often now, the bus fills up pretty much immediately so you're simply waiting for all the luggage to get loaded. 
The ride itself can take 45-75 minutes once you've left the airport, depending on your resort location and how many other resorts that bus is servicing. That's right, 45-75 minutes. And when you are this close to being at Disney World, it feels like forever.
But the bus is a coach bus, complete with bathrooms on board, and is pretty comfortable. They also have TVs on them that play videos and do trivia to help keep people entertained. It's an easy ride, just a long one when you are already impatient.
The bus will then drop you off right at your doorstep and your vacation is ready to begin.
How Magical Express Works – Departure
Alas, your vacation must come to an end at some point. The day before you check out you receive yet another Magical Express letter, this time in your room, typically hanging on your doorknob. This is a sad day indeed.
The letter will provide you with the assigned time you need to be at the Magical Express pick up location for your resort. Typically, you are assigned a time that is 3 hours prior to your flight for domestic flights. If you are flying internationally expect to leave 4 hours ahead of time.
Unfortunately, these time frames are not negotiable. If you really don't want to leave that early you need to provide your own transportation to the airport.
The bus ride back to the airport follows the same routine as the trip to your resort: the bus serves multiple resorts, they play videos, etc. The return ride is just missing all that anticipation and excitement, hence the Tragical Express.
Important Things to Note about Magical Express
If you are looking at flying into Sanford as a way to save money, make sure you factor in the cost of an Uber/cab/car service, etc. from the airport to Disney and back to see how much savings you actually end up with.
Finally, while super convenient and awesomely free, the Magical Express is a process. Take this into consideration when you are determining your plans for the day. Any Disney dining reservations should be made probably at least 3 hours after your airplane lands, if not even later.
As I mentioned above, the drive alone will take at least 45 minutes, but possibly longer. Then it depends on how long it takes you to walk to the Magical Express, how long the line is to check in, how long you wait for the bus, how long you wait ON the bus, etc.
Long Lines for Magical Express in 2021
The sheer size of the lines to get onto Disney Magical Express at the airport has been big news in the Disney planning community. The pictures I've seen are truly startling.
The lines are completely massive. Like stretching really far down the hallway before you even get to the check in station.
However, this is somewhat deceptive. The line is that long because of the need for physical distancing. People are simply spaced out.
Despite this, your wait could still be substantial. I've seen people swear up and down that even with those massive lines they wait under an hour to get on the bus.
Our last experience on DME was in January 2021. The line was much shorter than more recent pictures I've seen, but we still waited about an hour to get on the bus. At the time I think that Mears was simply supplying less buses due to the lower crowds at the time.
If I had known going in that the wait would be that long, I wouldn't just hired an Uber.
Clearly, Mears has stepped up in terms of providing more efficient service if the current massive lines are leading to a 45 minute wait.
But, if you use Magical Express at any point for the rest of 2021, be prepared for the long lines. Hopefully they continue to be efficient. If not, seriously, just order an Uber.
Your Thoughts
So there you have it, the Magical Express in a nutshell. Do you have any good words of advice to add to this based on your own ME experience? Please add any comments or questions you have about ME in the comments below.
Don't forget to follow The Disney Journey on Pinterest, Instagram, and Facebook to stay up to date with all the latest news and updates.