We may earn money or products from the companies mentioned in this post. Please click my disclosure policy to learn more.
La Creperie de Paris is one of the newest restaurants to open in Epcot. It's a unique combination of quick service and table service, providing different options for different needs.
I can't tell you how excited I was to give La Creperie de Paris a try. Because who doesn't want crepes? Without further ado, here is my La Creperie de Paris review (Updated March 3, 2023).
For my gluten free friends, I've included my experiences with making my meal at La Creperie de Paris gluten free. Because yes, you can get gluten free crepes at Epcot!
However, most of the review also applies to my gluten eating friends as well. My husband endured the "hardship" of undertaking the important task of giving his thoughts on the standard menu. Ah, the life of a Disney blogger husband!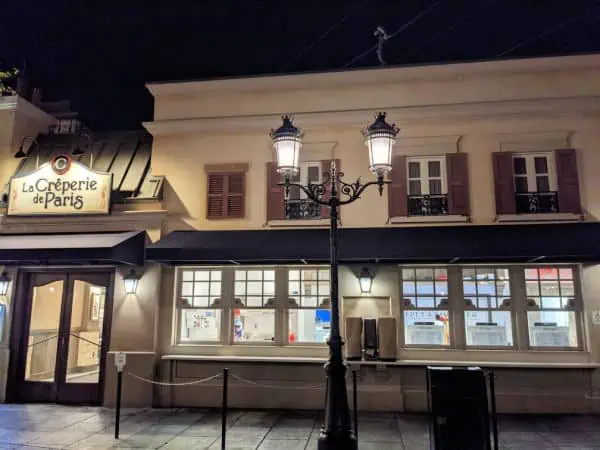 La Creperie de Paris Epcot Information
La Creperie de Paris is located in the France Pavilion at Epcot. This is in the new France Pavilion expansion which was created to house Remy's Ratatouille Adventure.
Remy's is a new ride eagerly awaited by many Epcot goers. Both the restaurant and the ride opened on October 1, 2021.
Unlike most other restaurants at Disney World, La Creperie de Paris is a hybrid table and quick service restaurant.
The table service end of the restaurant offers a daily prix fixe menu that includes a choice of soup or salad, a savory galette, a dessert crepe, and a glass of hard cider, soda, or juice.
If you don't want to do the prix fixe menu you have the option of ordering a la carte as well.
So if you simply want to try all the savory galettes (I'm over here raising my hand), you can just buy all the savory galettes.
The quick service portion of the restaurant is offered through an order window on the outside of the building. The order window is called Crepes A Emporter at La Creperie de Paris.
La Creperie de Paris Reservations
When it first opened, La Creperie de Paris did not accept reservations ahead of time. This meant it was all on a first come, first served basis.
I kid you not, they used a good old fashioned clip board and pencil when I was there opening weekend. But it worked, so I can't complain.
Now you can make your reservation at La Creperie de Paris up to 60 days in advance of your trip.
Make sure you understand the ins and outs of how to make a Disney World dining reservation before your reservation window opens!
If you want to eat at La Creperie de Paris in Epcot, I do highly recommend making a reservation ahead of time. When I went recently, I walked right past all of the people waiting in the foyer who had not made a reservation.
Because I had a reservation ahead of time, we were seated immediately while others kept on waiting. I will take that any day of the week.
Atmosphere
The interior of the restaurant itself is pretty small. There aren't a ton of tables so they can't seat a lot of people at once.
The decor is simple and understated, with a lot of use of wood with some stone accents. The whole restaurant is decorated with neutral, natural colors.
This actually makes the simple outfits of the cast members stand out even more. They might have the most comfortable uniform in all of Disney World.
Their uniforms are inspired by those worn in traditional creperies in France, with striped shirts. Disney claimed they would have red hats, known as a miki, but I didn't see anyone wearing a hat.
All in all, I like the feel of the decor. While it's clearly trying to look older, they just couldn't shake that brand new feeling. But that will change in time.
La Creperie de Paris Menu
The table service menu is designed around the traditional flavors of the Brittany region of France. As the name clearly suggests, the restaurant is a traditional creperie.
All of the food is made from scratch and to order. This of course means you have a wait a little extra to get your food, but you know it's made fresh.
Overall, the menu consists of sweet dessert crepes, savory galattes, and some of Brittany's famous hard ciders.
Appetizer or Side Dish
Soupe du Jour: Soup of the day
Salade Maison: Mixed Greens, tomatoes, Onions, and Vinaigrette
Savory Galettes at La Creperie de Paris (Buckwheat Crepes)
Classique: ham, egg, Swiss cheese
Poulet: chicken, bechamel cheese sauce, mushrooms
Chevre: goat cheese, spinach, walnuts
Saumon: smoked salmon, creme fraiche, chives, lemon
Ratatouille: tomato, zucchini, eggplant
Savoyarde: Raclette cheese, onions, imported Bayonne ham
Here's the part where I got an education on traditional galettes. Because I knew nothing about them other than the fact that they look delicious.
Galettes are made with a thin pastry cooked at a high temperature. This allows the outside to become very crispy and crunchy.
This folds around a variety of savory fillings.
And guess what? The galettes are naturally gluten friendly! I can't begin to describe how excited I am about this.
They are made with buckwheat imported exclusively from France and feature classic fillings.
Sweet Crepes at La Creperie de Paris (Dessert Crepes)
Gourmande: hazelnut chocolate spread, whipped cream
Banane: banana, caramel beurre sale
Melba: peach, red berries sauce, almonds
Poire: pear, chocolate ganache, whipped cream
Pomme: caramelized apples, caramel beurre sale
Add-Ons: Whipped Cream, Ice Cream, Sauce
Add a Shot to Any Crepe: Grand Marnier, Rum, or Calvados
These are more like the traditional crepes that everyone knows and loves. There is also an option to top the sweet crepes with house made ice cream.
La Creperie de Paris Kids' Menu
The kids' menu at La Creperie de Paris offers kids the chance to get one each of the savory and sweet crepe.
Choice of one:
Brie Cheese Galette
Ratatouille Galette
Ham and Cheese Galette
Choice of one:
Sugar Crepe
Red Berries Crepe
Hazelnut Chocolate Spread Crepe
Prix Fixe Menu
As I mentioned before, you can choose from ordering your crepes and galattes a la carte, or you can choose to order from the Prix Fixe menu at La Creperie de Paris.
Here's what you get with the Prix Fixe menu:
Choice of Soup of the Day or Salade Maison
Choice of one Galette
Glass of Hard Cider, Soda, or Juice
Choice of one Dessert Crepe
The current price for the Prix Fixe menu is $35.95.
Crepes A Emporter at La Creperie de Paris
That's a mouthful of a name, but Crepes A Emporter at La Creperie de Paris is the quick service window.
Unfortunately for all of us, the walk-up window only offers a limited menu compared to the table service restaurant. I mean, it makes sense, but it's a bummer.
At least this provides an option if you're unable to get a table inside.
Crepes A Emporter serves three savory galettes, four sweet crepes, soft serve ice cream, and an assortment of ciders and wines.
Savory Galettes at Crepes A Emporter
Cream of Brie Cheese Galette
Ratatouille Galette: tomato, zucchini, eggplant
Bechamel, Cheese, & Ham Galette
Sweet Crepes at Crepes A Emporter
Butter & Sugar Crepe
Hazelnut & Chocolate Spread Crepe
Red Berries Crepe
Vanilla or Chocolate Ice Cream Crepe
As one would expect, the prices for the galettes and crepes at the quick service window are lower than in the table service restaurant.
Crepes A Emporter is a very popular quick service option at Epcot. Every time I walk by there's a decent line of people waiting to place their order. It's not outlandish, but don't expect to just walk on up and place your order right away.
La Creperie de Paris Review
While I've eaten at the table service portion of the restaurant a couple of times, I have not yet tried the quick service window. For starters, I can only fit so much food in my stomach during the course of one day.
Also, I love the option of the Prix Fixe menu and the idea of getting all of that food plus a glass of hard cider. I also just like the menu options of La Creperie de Paris better than Crepes a Emporter.
But given my family's love of all crepes, I think it's safe to say we'll give it a shot in due time.
Now that we got that out of the way, what are my overall impressions of La Creperie de Paris?
Atmosphere and Seating Area
As I mentioned above, I'm a fan of the décor and theme of the restaurant. Everything was neat and clean. Even now, over 2 years later, the interior of the restaurant wears well.
I'm a sucker for wood beams in general, so the liberal use of them here certainly made me happy.
I liked that it isn't a huge restaurant. With fewer tables it feels like a more intimate experience. Not romantic by any stretch of the imagination, but comfortable and cozy.
La Creperie de Paris Review – Food!
Let's get to the good stuff! What did we think of the food?
Every time I have gone to La Creperie de Paris, I've chosen to get the Prix Fixe menu. This essentially gives you a multi-course meal and the opportunity to try more things at once, while charging you less. How often is that possible these days?
It is a surprising amount of food, though. More filling than you would think. So if you aren't all that hungry, I'd stick with just getting one crepe or galette and calling it a day.
My husband also ordered the prix fixe, and he thought it was just too much food. He said that when we come back again, he'd probably just go straight for the sweet crepes.
Needless to say, every meal I've had at La Creperie so far has led to me walking around Epcot feeling stuffed to the gills.
Appetizer and Cider
I have a love affair with soups, so whenever possible, I lean towards getting a soup rather than a salad. Especially if it's a gluten free option, because that's not always possible.
The first time I went, the soup of the day was a potato leek soup.
I LOVE potato leek soup and once I confirmed it was gluten free, it had my name written all over it. There was no way I was turning that down, even though it was 90 degrees out.
The soup itself was creamy and full of flavor. Even though it was hot outside and this is a hot, winter type of soup, I have no regrets. I ate every last drop and it was absolutely delicious.
On my most recent trip, the soup of the day was a cold soup. This will automatically turn a number of people off, my husband included. However, I decided to go for it and was rewarded.
This chilled Cauliflower soup was pureed with potatoes and a whole mess of other flavors I can't remember. I'm really sorry about that one. I was so focused on eating it I didn't pay close enough attention.
You'll notice from the picture that is looks very similar to the potato leek soup. But don't be fooled, there is a big difference between cold and hot soup!
Cold soup really isn't for everyone, but I really enjoyed it. Would I have liked it better hot? Probably, but that didn't stop me from eating the entire crock of soup.
I would order both soups again in a heartbeat.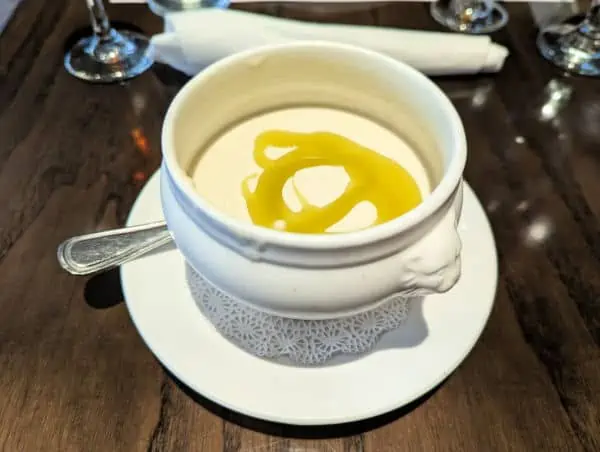 The service size of the soup is pretty darn generous. This isn't a mini-bowl of soup by any means. This is a full serving of stick to your ribs soup.
Ironically, I had the cold soup on a day that was in the 60s. If these two soup offerings were on opposite days, I would say it was utter perfection.
And let's not forget the salad. My husband isn't a huge soup person, so he typically opts for the salads. There's not a whole lot to say about this, other than, it's a salad! But it's a colorful salad, at least.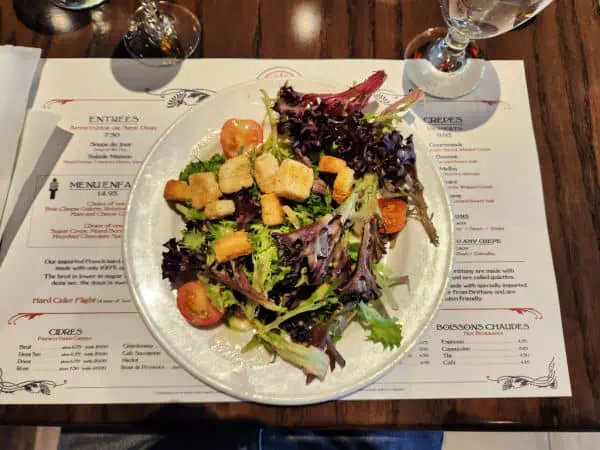 I also always choose to the get the hard cider. Because if someone is offering me hard cider for the same price as soda, I'm all over it.
So far, I've had the Doux and the Rose as I'm a sucker for a sweet hard cider. Honestly, these are the two I will probably continue to get because I personally don't like dry cider as much.
The Cidre Doux was also very yummy. Sweet ciders are definitely not for everyone, but they are my preferred style of hard cider.
This particular sweet cider was velvety smooth with just the right amount of sweetness. I slowly sipped my way through this throughout the course of the meal to make it last.
I found the Rose to be equally as good. It's a slightly different option, giving some variety to the sweet ciders. In terms of bang for your buck, the Rose is the most expensive cider option on the menu. That automatically makes it a better value on with the prix fixe pricing.
My one complaint would be the small size of the glass. But really, what do you expect when hard cider costs the same as soda?
Poulet Galette
On my first trip to La Creperie de Paris I eventually settled on the Poulet for my galette. As a refresher, this galette contains chicken, bechamel cheese sauce, and mushrooms.
I talked over my choices with the waitress and she helped confirm my choice. The Poulet is one of her favorites.
In an absolute blogging fail, I neglected to take any pictures of the insides of either of my crepes. Whoops. All I can say is that I was too busy devouring them to remember.
The buckwheat crepe that encases all the yummy goodness inside has a distinct, and strong flavor. There's nothing subtle about it.
There are definitely people who won't like the strong flavor. If that's the case, make sure all of your bites have the filling distributed through them.
The presence of the flavors of the filling blend well with the buckwheat and it tames down the flavor of the buckwheat.
As for the filling? Oh my delicious. With all the bechamel cream sauce, this is no shrinking violet. It's definitely a heavy galette.
I found the Poulet to be delicious and very filling. Don't get me wrong, I ate the entire thing and loved every bite of it. It's just a filling meal, that's all.
I found the flavors to all blend very well and I truly enjoyed eating it.
IMPORTANT NOTE FOR GLUTEN FREE EATERS: When I had this opening weekend, I was told it was gluten free. During my most recent trip, I was told by the manager that this is the ONLY galette that is not gluten free due to flour used in the bechamel sauce. I am unsure whether the recipe changed or if someone goofed during my first trip. I am not hugely sensitive so it's hard to say. But be prepared that this galette is not an option if you eat gluten free.
Saumon Galette (Naturally Gluten Free)
I decided to go out on a limb with this one and try something different than I normally would. I've only ever had smoked salmon once before in my life.
The very first thing that struck me was just how generous they were with the salmon. I'm so used to anything involving seafood to be stingy size portions.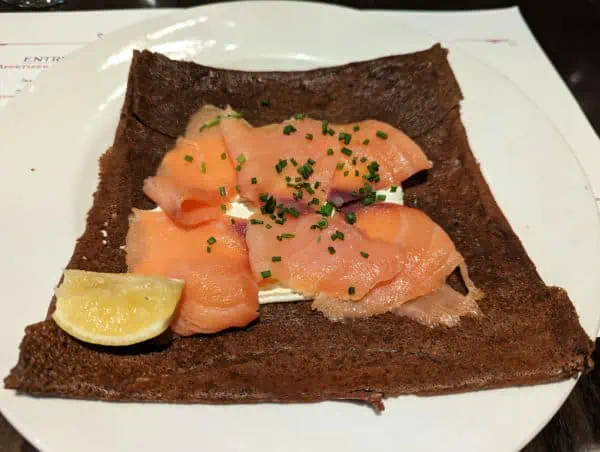 On top of that, the creme fraiche is plentiful. This gives you the ability to really spread out your fillings through the entire galette and have a good ratio of food to galette.
Considering that this order was a departure from my norm, I was very pleased with it. I found the flavors to be well balanced. I'm someone who loves a good sauce or cream, so I was very happy with the amount of creme fraiche.
I would say they actually could have used a touch less of the creme fraiche if I was splitting hairs.
This is a rich option and will start to fill you up pretty quickly. That being said, I ate the whole darn thing, so clearly the richness didn't stop me from chowing down on it.
Overall, if you like salmon, I would highly suggest the Saumon Galette.
Savoyarde Galette (Naturally Gluten Free)
Both my husband and I ordered this on separate occasions so you get 2 opinions on this one. Again, this galette is naturally gluten free so it is an option for anyone with a gluten free diet.
As far as I'm concerned, how can you go wrong with bacon?
My husband opted to get this without the caramelized onions as he tends to not like those to begin with. He later said that might have been a mistake because that was essentially one less filling inside the galette.
Specifically, caramelized onions add more moisture, and that's what he said this galette was missing for him. He said it was a little dry around the outside where there was less filling.
Overall, he said he liked the Savoyarde Galette, but it was a little salty.
Speaking from my experience, I suspect he did what I did the first time I ate there: didn't spread the fillings around to encompass the whole galette.
My first time eating here I did the same thing. They really only put the fillings towards the center of the galette. It's up to you to make sure that filling speads to each bite.
After I had this on my next trip, I agree with his statement about the caramelized onions being a necessary component. I happen to love caramelized onions so would never dream of having them removed.
But having them there added that extra flavor and moisture that was missing for him. On the whole, I really enjoyed the Savoyarde Galette and think it's a solid option.
However, I think I might have preferred the Saumon a little more.
So the verdict is: don't be scared to try this one, but definitely plan to get the onions!
Poire Dessert Crepe (Gluten Free Version)
For those of us who don't eat gluten, La Creperie offers the sweet crepes on the buckwheat crepe instead of the traditional crepe. It's nice to have the option instead of having to forgo the dessert crepes.
However, this isn't without a downside. As I mentioned above, the buckwheat crepe has a very distinct, strong flavor. Because I chose to get the dessert crepe with a fruit that has such a mild flavor, I tasted a whole lot of buckwheat.
For the bites I was able to get a good mix of the pear and the chocolate it was fine, but once I ate up all the filling, I left the rest of the crepe.
Most people won't have that issue with the buckwheat flavor, so you're good to go.
The filling itself was delicious, with chocolate being the dominant flavor. I would definitely order it again, but not until I've tried all of the other flavors.
You can really see in this picture how all of the filling is essentially lumped in the middle. If this happens with your, simply be conscious of either smooshing it to distribute it more or just cut everything up at once to be able to get the perfect bite each time.
Pomme Dessert Crepe (Gluten Free Version)
After having the Poire during my first trip to La Creperie de Paris, I had a better idea of what I needed to choose to have a better gluten free experience with the desserts.
For those of you who can have the standard version of the Pomme, you are good to go as you get the traditional dessert crepe shell. However, for gluten free, you'll have this with the buckwheat crepe.
In either case, you are in for a very flavorful treat. I will say, this is definitely on the sweet side. The apples themselves are caramelized like apple pie filling. On top of that, you get a healthy amount of the caramel beurre sauce.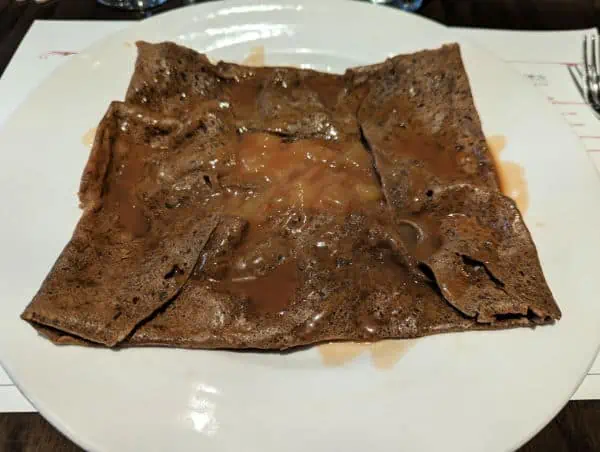 As you can see, my entire dessert crepe was both filled and doused with the sauce itself. This is perfect because it helps to balance the strong buckwheat flavor if you have the gluten free variety.
I felt there was a good quantity of apples inside of the crepe. This allowed me to be able to have every single bite full of both the crepe shell and the filling.
I will say, it's not the most photogenic thing in the world. It's a lot of beige and brown. It would benefit from having some whipped cream added to it, which they used to do. I'm not sure why they don't anymore.
In short, the Pomme crepe is absolutely delicious and I would highly recommend it.
Banane Crepe
The first thing I want you to notice about this particular crepe is the difference in color of the crepe itself. This is the standard dessert crepe and what most people will see.
Also, look at all of that caramel! They certainly aren't skimping here on the filling.
This picture also perfectly demonstrates what I mentioned above: the filling is basically piled in the middle. It's not evenly distributed through the crepe.
Because of this, make sure you make sure to spread that filling around yourself.
Now, clearly I couldn't eat this one (nor would I as I hate bananas) but here are my husbands thoughts on the Banane crepe.
He's a man of few words, but here's what he said, "Banane was amazing."
That about sums it up. He described it as warm, creamy, and sweet.
In the end, he wished he had just gotten this instead of the Prix Fixe where you get the multiple courses. Because of the salad and galette he had before this, he wasn't able to finish the whole Banane, and he thought that was a crying shame.
Melba Crepe (Gluten Free Version)
As I continue my mission to eat my way through all of the crepes, the Melba is the latest crepe on my list. Again, notice that this was made with the buckwheat shell for my gluten free diet, but for everyone else it would be the same idea, just the traditional crepe shell.
This crepe was served to me piping hot. This is a trend I've noticed with all of the dessert crepes. And of course, I'm not patient enough to let it cool down sufficiently. I should, because then I'd be able to enjoy the flavors more right from the start!
Peach and berries happen to be two of my favorite fruits so I had high hopes for this one. I didn't run into the same issue as I did with the pear crepe. There are a lot of flavors in here between the fruits and the red berry sauce.
Again, I found myself wishing for whipped cream as a balancing flavor. You can add whipped cream to this for a whopping $3.25, which I think is absurd.
All in all, I enjoyed this option, as I expected I would. However, for me, the Pomme crepe is still the best I've had so far.
Tips for Eating at La Creperie de Paris Gluten Free
I found this to be a great meal option as a gluten friendly eater. Crepes are one of my favorite things to eat, so to be able to have a crepe was a wonderful treat.
However, those who have celiac and need to be much more strict in exposure will want to be a bit more aggressive than I was.
When I first went, the allergy procedure was definitely sketchier. You could tell they just weren't as on top of it. But again, I was literally there on opening weekend that time, so I expected some hiccups.
Now, they have things down pat. First, my waitress went over the menu with me to explain what I could and couldn't have and how they would use the buckwheat crepe for the dessert.
After that, the manager came over to go over all of that same information with me as well. This is their standard practice. The waitress informed me as soon as we sat down that the manager would come over.
If you want to speak directly to a chef, feel free to ask for that. I felt comfortable sticking with the manager, but you know you best.
All of my food came out with the traditionally used allergy sticks, which was helpful so I knew that it was in fact my order and they were listening.
On the whole, eating at La Creperie de Paris gluten free is a great option for us. Especially since crepes are typically something completely off limits!
One final tip: Once you get your sweet crepe, make sure you evenly divide that filling throughout the crepe. Mine was all lumped in the center, leaving a lot of plain buckwheat crepe. As I mentioned above, this was not really the best thing for a sweet crepe.
Final Verdict: La Creperie de Paris
In case you haven't picked up on it yet, I really loved my dining experience at La Creperie de Paris in Epcot. It is yet another solid dining option in a park already overflowing with amazing choices.
That would probably be the biggest problem I have with it! There is so much amazing food in Epcot, how on earth do you decide what you want to eat?
But I digress…
All in all, I was blown away by my meal. It was absolutely delicious and way more filling than I anticipated.
But do you want to know the best part about it all? That amazing meal costs only $36 (plus taxes and tip)! That automatically makes La Creperie de Paris one of the most cost effective table service restaurants in Disney World.
Where else in Disney World can you get an app, an entrée, a dessert, and an alcoholic drink for $36?
Your Thoughts
Are you as excited for a crepe restaurant as I am? Or are you underwhelmed by this offering? Let me know in the comments below.
Don't forget to follow The Disney Journey on Pinterest and Facebook to stay up to date with all the latest news and updates.