We may earn money or products from the companies mentioned in this post. Please click my disclosure policy to learn more.
Geyser Point Bar and Grill is a Quick Service restaurant located at Wilderness Lodge in the Magic Kingdom resort area. We have eaten here several times now, and it's definitely been love at first sight (updated April 21, 2021).
Now, Wilderness Lodge is our favorite resort and we love everything about it. As a result we might be a little biased towards Geyser Point, but I think both its location and food stand up very well against other Disney dining options.
As with all my restaurant reviews, it touches on both standard menu items as well as gluten free options.
Geyser Point Bar and Grill Basic Information
First, let's take a look at some basic information about Geyser Point.
Geyser Point serves food from 11:00a to 11:00p.
How to Get to Geyser Point
Pure logistics might be the largest factor keeping people from going to Geyser Point, but it shouldn't. The food and experience at Geyser Point are great, and EVERYONE should have the chance to wander around Wilderness Lodge.
If you are coming from another resort, the easiest option is to take the bus (or monorail) to Magic Kingdom. From there you can either hop on the Wilderness Lodge bus, or the boat. P.S. – I recommend the boat…
The boat ride to Wilderness Lodge is easy and relaxing, giving you time to simply sit back and enjoy the scenery around you.
Another alternative is to take the monorail to the Contemporary Resort. From there you can take a boat directly to Wilderness Lodge. Check before trying this, since reopening, this boat route might not be running.
I think escaping to Wilderness Lodge for a meal at Geyser Point is actually a great way to take a break from a busy day at Magic Kingdom, especially if you find yourself in a situation where things are not going as planned and you need to regroup.​
Geyser Point Dining Plan Information
Geyser Point is technically classified as a Quick Service restaurant thought that's a bit of a misnomer (psst, more on that below). It will use 1 Quick Service credit if you are using the Disney Dining Plan.
Note: The Disney Dining Plan is not currently offered, but may return in the future.
While it is always good to ask, at this time, Geyser Point does not accept Tables in Wonderland, Annual Passholder Discounts, or Disney Vacation Club discounts.
However, this changes constantly so always ask. We were able to use our DVC discount the first time we ate at Geyser Point.
Quick Service with a Table Service Twist
Geyser Point actually gives you a couple of different options for enjoying its fare. There is an order window section that is just like a traditional Quick Service restaurant. You simply go up to the window, order your food, and then take it on your merry way.
This is a good option if you wanted to take your food back to your room or some other location at the resort to eat.​
The other option allows a bit of a hybrid between Quick Service and Table Service settings. There is a hostess kiosk to check in at to give your party information. If they have an available table they will seat you right away.
If not, they will ask for your cell number and send you a text when a table has become available. This is fine as it gives you time to wander around Wilderness Lodge a bit, something I recommend for everyone.​
Geyser Point Mobile Ordering "To Go"
One of the good things that's come out of the reopening is the ability to use Disney's mobile ordering service at more and more restaurants.
Just this week, Geyser point was added to this ever expanding list of restaurants. Now, even if there are no seats available inside, you can simply order your meal through My Disney Experience and eat wherever you want.
And if there's any resort that is awesome to simply find a place to sit and eat, it's Wilderness Lodge.
Geyser Point Setting and Experience
The setting of Geyser Point Bar and Grill is simply awesome. The restaurant is nestled a little ways away from the main buildings of the lodge, right along the waterside of The Seven Seas Lagoon. This location lends itself to a less chaotic feel than a lot of other Quick Service restaurants.
Seating and View
There are a few different types of tables to be seated at around the restaurant. There are low, comfy lounges and couches surrounding a coffee table, traditional tables and chairs, and the bar at the center of the restaurant.
We've been seated at both the lounge style tables and the traditional tables. For a meal, my preference is definitely the regular tables, but if I was there for drinks and an appetizer, the lounges are nice and comfy.​
One of my favorite aspects in the setting of the restaurant itself is that it has an open-air concept, almost like a pavilion. There is a roof overhead, but 3 of the 4 sides of the restaurant have no walls, just openness to the outside.
They do have wall panels that slide down into place during inclement weather so it is still a usable restaurant during rain and cold. We have only been there in beautiful weather, so I can't speak to how well those walls work.​
There is not a tremendous amount of seating around the restaurant, so it can fill up quickly.
So if just the food itself is your priority, go to the QS window, get your food, and find some other awesome spot to sit around the resort. But if you want the whole experience, it is worth a bit of a wait for one of the tables.​
Geyser Point Menu
The Geyser Point menu is well fleshed out with food options that you don't see much at Quick Service restaurants. My main concern with eating gluten-free at solely Quick Service restaurants for a whole trip is being forced to eat similar types of food over and over again.
This is definitely not the case at Geyser Point as they do offer quite a few options.
Geyser Point offers gluten-free bread for the burgers and sandwiches and will happily remove things from the order if necessary, such as the fried onion straws on the Bison Burger.​
If you plan to eat at only Quick service restaurants to save money, Geyser Point is a great one to add to your list.
Unfortunately, since the reopening, Geyser Point Bar and Grill is operated with a diminished menu. Previously, there was a separate quick service and lounge menu.
Now, there is only the lounge menu to choose from. But, there are still plenty of truly delicious options to choose from.
As always, make sure you check the official Geyser Point menu to see the most up to date offerings. There is also an extensive drink menu that is definitely worth your while to check out.
Geyser Point Menu – Small Bites
These menu items are available daily until 11:00pm.
Handcrafted Charcuterie
Teriyaki Chicken Wings: with Soy, Sesame and Green Onion
Crispy Salmon Croquettes: with Miso Tartar Sauce
Shrimp on a Wire: with Soy-Lime Vinaigrette, Togarashi, Shishito Peppers, and Chili-Aïoli
Edamame: with Chili-Salt
Cheesy Barbecue Brisket: with House-made Chips
Geyser Point Menu – Rustic Fare
You'll be able to get items from the Rustic Fare menu until 10:00p.
Bison Bacon Cheeseburger: Crispy Onion Straws, Marionberry Sauce and Garlic Aïoli
Grilled Portobello Salad: Zucchini, Roasted Red Peppers, Squash, Onions, Multigrain Salad, Goat Cheese Dressing and Balsamic Reduction
Grilled Portobello Salad with Chicken: Zucchini, Roasted Red Peppers, Squash, Onions, Multigrain Salad, Goat Cheese Dressing and Balsamic Reduction
Grilled Portobello Salad with Salmon: Zucchini, Roasted Red Peppers, Squash, Onions, Multigrain Salad, Goat Cheese Dressing and Balsamic Reduction
Grilled Portobello Salad with Steak: Zucchini, Roasted Red Peppers, Squash, Onions, Multigrain Salad, Goat Cheese Dressing and Balsamic Reduction
Roasted Salmon: served over warm Ancient Grains, Petit Greens, Grilled Vegetables and Lemon Vinaigrette
Fruit Plate: Dannon® Yogurt (Plant-based)
Handcrafted Crab Cake: Spicy Slaw, Crispy Onions and Miso Tartar
Multigrain and Grilled Portobello Salad: Zucchini, Roasted Red Peppers, Squash, Onions, Multigrain Salad and Citrus Vinaigrette (Plant-based)
Smoked Turkey Sandwich: Lettuce, Tomato, Cranberry Mayonnaise and Apple Slaw
Geyser Point Dessert Menu
And let's not forget about dessert. There are some pretty unique desserts on this list!
Campfire Mousse
Seasonal Pie
Apple Cider Sorbet: served with Berries
Geyser Point Kids' Menu
Kids need to eat too! They seem to object if you let them go hungry. Geyser Point does its best to help you with that problem.
Unless noted otherwise, the kids' meals at Geyser Point Bar and Grill come with a choice of two of the following sides:
Apple slices
Vegetable sticks
Grapes
French Fries
Dannon Danimals Smoothie
Once, when we were there with the kids, the waiter gave us the option of a cookie as one of the sides. So, your mileage may vary during your trip.
Kids also get a choice of beverage, including water, apple juice, milk/chocolate milk, and fountain beverages.
Ok, now, onto the kids' entrees:
Chicken Strips: served with dipping sauces
Finger Food Sampler: Sliced Smoked Turkey, Tilamook Cheddar, Spiced Apple Jam, Grape Tomatoes and Sourdough Crisps
Cheeseburger
Grilled Chicken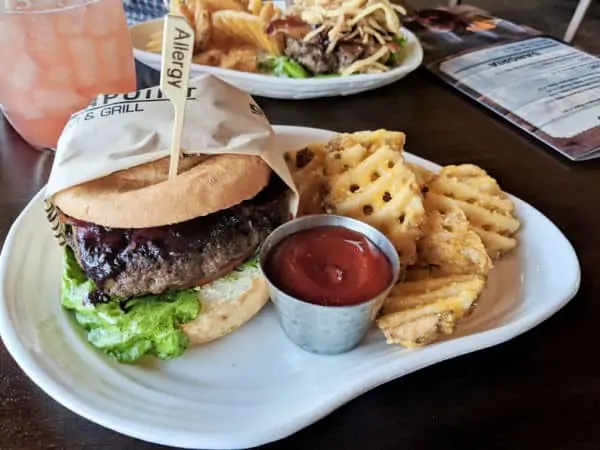 Geyser Point Review
Let's get ready to ruuuummmmbbbblllllleeeeeee!!!! Well, did we like it? I'm fairly certain you've figured that out by now. But let's talk specifics, shall we?
Bison Cheeseburger with Marionberry BBQ Sauce (Standard & Gluten Free)
Both Doug and I often order the Bison Cheeseburger with waffle fries because we just really enjoy the burger. It's a novelty to have Bison and both of us are fans of wild game.
I've tried it both with a gluten-free bun and bun-less to make it gluten-free. In both cases, I asked to have the fried onion straws omitted.
In the end, I prefer the bunless variation. I typically gravitate towards gluten-free buns for the novelty of having "bread". However, in this case, the meal is better without the bun. The Marionberry barbeque sauce is a star of the dish, and the gluten-free bun soaks it right up, leaving the burger too dry.
​If you get the meal with no bun, they put all of the sauces on the side, which allows you to enjoy the sauce to your heart's content.
Both of us really enjoy this meal. It's always interesting to be able to try meats that are not typically available in our day to day lives. The burger is juicy, the marionberry BBQ sauce is delicious, and bacon always makes everything better.
We were also huge fans of the waffle fries. I love a good waffle fry in general, but these are tossed with cornmeal to boot, and I love cornmeal.​ Of note, if you look on the mobile order menu for Geyser Point, the french fries are regular old fries. I really hope this is temporary…
Doug has also ordered the Bison Cheeseburger with and without a regular bun. Of course, his order included the fried onion straws since he does not eat gluten-free.
According to him, the addition or subtraction of the bun didn't change his overall enjoyment of the burger. He did not have the same problem I have with the bread soaking up the sauce.
Smoked Turkey Sandwich
On our most recent trip, I decided to try a different menu item. In truth, this was the second time we ate at Geyser Point during that trip, so I felt comfortable giving up my favorite!
In the end, I decided on the Smoked Turkey Sandwich because it was different from all the other food I had on the trip. Again, the meal is accompanied by those delicious waffle fries.
Keep in mind, this picture is with gluten free bread. It would look even better with real bread!
I was glad I chose to try something new as I really enjoyed this sandwich. The gluten-free bread was fine but really was just there as a vehicle for the fillings.
As with most gluten-free bread, it fell apart easily, so just be mindful of that as you are eating. Next time, I might ask that the gluten free bread is toasted. I find that it tends to hold together better that way.
For everyone else who gets this on real bread, clearly that won't be an issue for you!
The turkey was delicious and cooked to perfection. It was so tender it made the sandwich easy to eat. This really helped make the crumbly gluten-free bread stay put longer!
To be honest, the cranberry mayonnaise was the main reason I ordered this sandwich. You can probably tell I love sauces and condiments. The cranberry mayo gave the sandwich an extra hit of flavor and made it more distinctive than a regular old turkey sandwich.
Crispy Chicken Sandwich
At the time of this update, the Crispy Chicken Sandwich isn't currently on the menu. However, I'm leaving this here in hopes in returns soon.
As I'm sure my gluten-free readers have noticed, this one is not gluten-free. This was Doug's choice as an alternative to the Bison Cheeseburger. He is a sucker for anything that involves crispy chicken and a spicy accompaniment.
And look at that bun. It's so shiny and delicious looking. Makes me wish I could eat bread.
His succinct review of the Crispy Chicken Sandwich: it's delicious. He's a man of many words. Clearly, he enjoyed the sandwich and would get it again.
When asked if he preferred the Crispy Chicken or the Bison Cheeseburger he had an existential crisis and stated it just depends on his mood that day.
Kids' Cheeseburger
My kids will almost always order the hamburger, no matter where we are. Nolan will always choose a cheeseburger, while Avery feels melted cheese on a burger is disgusting, but loves lettuce and tomato on her burger.
Both kids give their burgers two thumbs up. The sides that are offered are actually plentiful, not necessarily limited to what is shown on the menu. My kids each opted for either apple slices or grapes as one of the sides, and a packaged cookie as the other.
They made a point of saying that they enjoyed the hamburgers, but they weren't shy about how much they liked having the cookie as an option.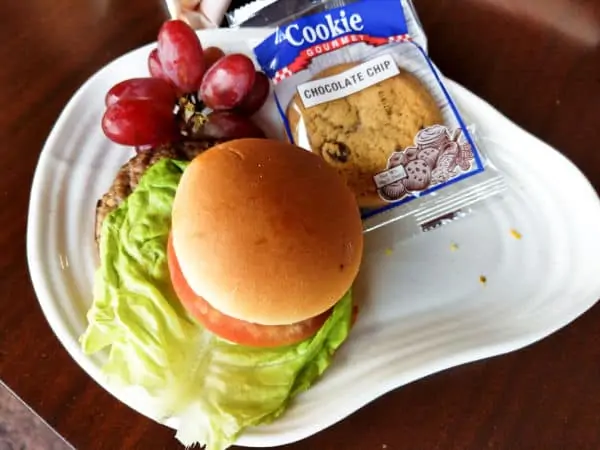 Geyser Point Drinks Menu
Geyser Point also has a pretty substantial drink menu which calls our names. We have tried the Huckleberry Punch and a mystery drink. It's a mystery because I wrote down in my notes that it's called Bourbon Strawberry Sour, but when you look on the menu, it's not there.
So either I hallucinated that name, or it was dropped off the menu right after we were there.
This is a shame, as the hallucinated drink was quite tasty. But I won't be at a loss to find something else to drink when we next go there as they have tons of other tasty options.
We both liked each of these drinks, though the Huckleberry Punch was the more refreshing of the two. It is dangerous in the sense that it tastes just like juice so you forget you are drinking alcohol!
Geyser Point also has an extensive beer menu, which makes Doug happy. They have a lot of the standards, but they also have some more unique beers that you won't find readily in other places.​ If you are a beer drinker, I guarantee you can find a beer that interests you at Geyser Point.
Unfortunately, they only have one hard cider at Geyser Point, and it's Angry Orchard. This is an area that I think most restaurants in Disney World can improve.
Angry Orchard is everywhere in the restaurants. Whoop-dee-doo. I can find that in the grocery store.
Hard cider is a popular drink for the gluten-free community as we know it's safe. Please, throw us a bone and give us some variety.
In addition to the cocktails listed on the menu, there is a full bar in the center of the restaurant. Feel free to order an old favorite.
Final Thoughts on Geyser Point
If you couldn't tell already, we really love Geyser Point. The combination of good food and relaxing atmosphere just can't be beat. We spend a good amount of time just sitting here, relaxing and talking.
This is a potential downside to the restaurant as there is limited seating, and the people already at their tables are likely not in a hurry to leave, so you might have to wait for a table.
As I mentioned above, this would be a great place to come to if you wanted to take a break during the afternoon of a busy day at Magic Kingdom to just relax and recharge your batteries. It's very easily accessible, and even just getting there is a relaxing experience.​
Geyser Point has become one of our favorite restaurants to enjoy at Disney World. Now, we still have a lot more to try out, but Geyser Point Bar and Grill offers tough competition.
Since Boulder Ridge at Wilderness Lodge is our Disney Vacation Club home resort, Geyser Point is a frequent flyer for us. I can't wait to enjoy the food and atmosphere of Geyser Point again.​
Sharing is caring my friends!
Your Thoughts
Have you tried out Geyser Point yet? What were your experiences? Have you been there when the walls were lowered down? Comment below to tell us your experiences.
Don't forget to follow The Disney Journey on Pinterest and Facebook to stay up to date with all the latest news and updates.