We may earn money or products from the companies mentioned in this post. Please click my disclosure policy to learn more.
Epcot's International Flower and Garden festival is one of four festivals held at Epcot every year. Each year, the festivals seem to offer more and more gluten free options. If you haven't done so already, first check out the complete guide to Epcot's Flower and Garden Festival. After that come back here and take a look at this gluten free Flower and Garden Festival info in more detail.
This post will focus on identifying (and reviewing) the gluten free foods offered at the Outdoor Kitchens. I included pictures of everything I've had to give you a good idea of what to expect. At the end, I rank my top 5 gluten free Flower and Garden Festival foods.
Updated 2/25/2020: This post currently lists the foods identified as gluten free for the 2020 Flower and Garden Festival. I also discuss foods that may be gluten free but aren't marked gluten free by Disney. I will continuously update it as I learn more details and try more foods. Cross-contamination is always a risk in the outdoor kitchens. You know your body best, so make the choices which are best for you.
When I go to the Flower and Garden Festival I make a strong effort to try all of the gluten free foods. I don't always get to all of them, but I give it the old college try. However, I did manage to eat quite a few of them, so this will give you a good idea of what to expect if you eat gluten free at the Flower and Garden Festival.
If you haven't done so already, make sure you read my guide to eating gluten free at Disney World. It is full of different pointers that could make or break your Disney dining experience.
Tips to Eat Gluten Free at Flower and Garden Festival 2020
Make a list of all known gluten free foods you want to try. Trust me, you will get overwhelmed and forget something
If you think something might be gluten free ALWAYS ask to see the ingredient binder

Every Outdoor Kitchen has a food binder which lists all the ingredients in all the foods. Cast Members have also called their centralized contact person to verify ingredients when I've asked. DON'T BE AFRAID TO ASK THE QUESTIONS!

Consider omitting items from the dish to make it gluten free

Things like flour tortillas, gravies, and sauces could potentially be removed to make the dish completely gluten free

Still hungry? Head to L'Artisan Des Glaces or Les Halles Boulangerie-Patisserie in France or Kringla Bakeri og Kafe in Norway. They have some great gluten free snacks
Confirmed 2020 Gluten Free Flower and Garden Foods
We start with foods that are either labeled as gluten free by Disney, as well as foods I know are safe from asking to see ingredient binders. The next section will include foods I plan to look into further to see if they are in fact gluten free.
Bauernmarket
The Potato pancakes are not officially listed as gluten free by Disney. However, when I asked about the potato pancakes at the Bauernmarket Outdoor Kitchen, they assured me there are no direct gluten ingredients in the recipe. The cast member contacted the chef while I stood there and confirmed this.
Once again, the risk is in potential cross contamination with the ingredients from manufacturing. You know your body best. If you are sensitive to cross contamination, then you will not want to try these.
Potato Pancakes with House Made Applesauce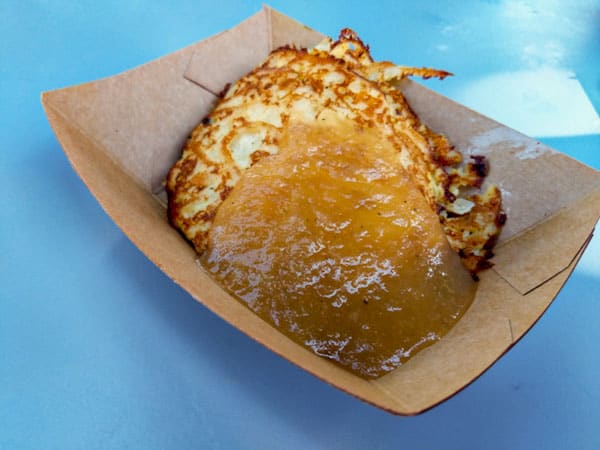 The somewhat sloppy presentation of this dish pretty much sums it up. It is simply two potato pancakes with some applesauce dropped on top. Don't get me wrong, it was still tasty, and I ate almost all of it (those potato pancakes were really filling!), it just wasn't exactly a WOW moment.
The applesauce itself had some nice spice to it which was about as complex at the flavors got in this dish. All in all, it was good, but I vastly prefer the flavors of the savory potato pancake.
Potato Pancake with Caramelized Ham, Onions and Herb Sour Cream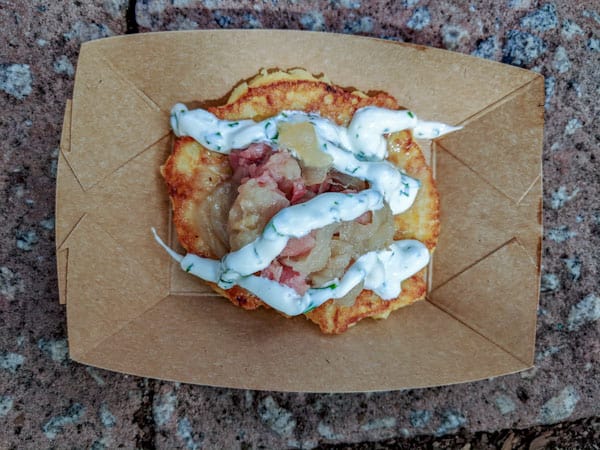 Let me just get this out of the way: I love potato pancakes in any form. I especially love these savory potato pancakes. This mix of flavors simply elevates this above the potato pancakes with applesauce.
All in all, this is a pretty substantial little snack. All of the elements of this dish are on the heavy side and will fill you up fairly quickly.
Hanami
Frushi: Fresh Pineapple, Strawberry and Melon rolled with Coconut Rice garnished with Whipped Cream, Berry Sauce Drizzle and Toasted Coconut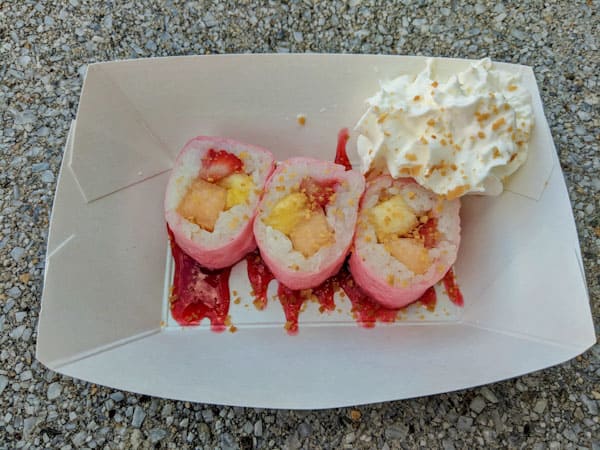 The Frushi is not listed by Disney as a gluten free option. However, Frushi is a repeat offering, and discussions in previous years with the booth chef have confirmed that there is no gluten in the Frushi.
The concern is the possibility of cross contamination in the toasted coconut. If you would like to try Frushi, ask for it without the toasted coconut.
I really enjoyed the Frushi. I love the novelty of the whole idea, really. Overall, the Frushi is a bright and easy snack on a hot Florida day. The flavors of the fruit blend well with one another, and the coconut rice adds some great texture. Clearly, if you don't like coconut, then this isn't the dish for you. But if you do, definitely give this one a try.
Northern Bloom
Seared Scallops with French Green Beans, Butter Potatoes, Brown Butter Vinaigrette and Apple-wood Smoked Bacon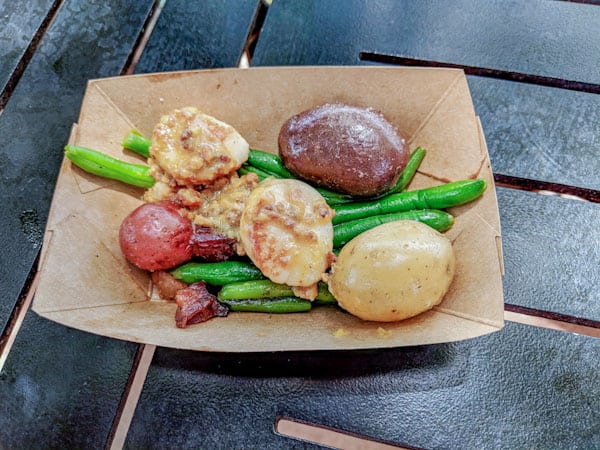 The Seared Scallops dish gives a surprisingly substantial portion. Of course, there are only a couple of the scallops, but they are accompanied by ample potatoes and green beans. Everything is cooked well and the flavors are delicious.
My one complaint about the dish is that the balsamic flavor can be overpowering. Balsamic vinegar is such a strong flavor, and it seems like the creator of the recipe was just a little too heavy handed when they poured the balsamic.
However, I still highly recommend this dish. The rest of the ingredients and the size of the portion make it a desirable addition to your gluten free festival line up.
Pineapple Promenade
Dole Whip
Finally, a way to get a Dole Whip at Epcot! I don't know why they haven't labeled this as gluten free. Dole Whip is one of the standard snacks that everyone who is gluten free flocks to. Just make sure it isn't served in a cone!
Frozen Desert Violet Lemonade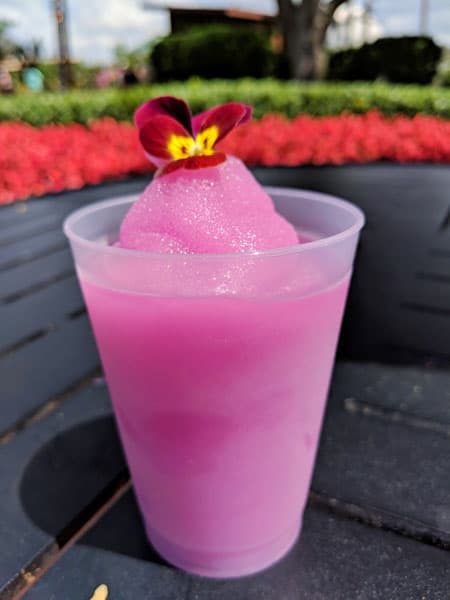 Ok, this is technically not a snack. But, it is gluten free, and if you can, you absolutely need to get the Violet Lemonade.
First off, the drink is just pretty as a picture. The color of the drink itself is just stunning, and the violet placed on top really suits the theme of the whole festival.
In terms of flavor, it's just delicious. The violet lemonade has a light and pleasing taste that is perfect for quenching your thirst on a hot Florida afternoon.
The Citrus Bloom
The Citrus Bloom actually has two options which are safe for gluten free eaters!
Lobster Tail with Meyer Lemon Emulsion and Grilled Lemon
I fully admit that I tend to be in the minority when it comes to lobster. I'm not typically overly impressed with lobster, finding it bland. But let me tell you, I really enjoyed this lobster tail.
There is the heavy use of butter with the lobster, which is fairly standard practice. And really, butter is always good. But it was the lemon emulsion that really elevated this lobster tail. The lemon added a lot of flavor to the lobster. The only downside of the whole dish was how small it was.
Coming in at $8, it is an expensive option at the Festival. However, if you have the Disney Dining Plan, it is a great use of a snack credit.
Crispy Citrus Chicken with Orange Aioli and Baby Greens
This one is officially labeled as gluten free by Disney so you can rest assured that the ingredients are safe. This is high on my list of dishes to try when we go this year. If you beat me there, please let us all know what you thought!
The Honey Beestro
Roasted Cauliflower with Buckwheat Honey Carrot Purée, Wild Rice Pilaf, Asparagus, Honey-blistered Grapes, Sunflower Brittle and Coriander Flowers
I will admit, I initially went into this dish prepared to be underwhelmed. It sort of fell into the category of gluten free beggars can't be choosers. Boy, was I in for a surprise.
The Roasted Cauliflower ended up being one of my favorite snacks of the whole day. First, once again you are provided with a decent size portion of food. The flavors of the vegetables and the rice blend together very nicely.
With this booth based on the use of honey, it is no surprise that honey is used in the flavoring of the various vegetables. However, the star is the sunflower brittle. The crunch, combined with the salty sweetness of the brittle, just put this entire dish over the top.
The Roasted Cauliflower is also a great option for vegetarians.
Trowel & Trellis
Chocolate Pudding Terrarium with Avocado Cream, Matcha Crumb, Pomegranate and Baby Herbs
The Chocolate Pudding Terrarium sure gets the prize for originality. I was impressed with the overall presentation of the snack. The whole thing was very pretty and unique.
There are a lot of textures going on with this dish. Between the matcha crumbs, what I'm assuming are chia seeds, and pomegranate, there's a whole lot going on. There was nothing boring, that's for sure.
In the end, all of these other ingredients and textures are absolutely necessary, because the chocolate pudding was so incredibly rich. If these other flavors weren't involved, the denseness of the chocolate would have been too overpowering.
But the chef used a wise ratio of other ingredients to counterbalance the chocolate. In the end, this snack is a fun and unique addition to the offerings at the Flower and Garden Festival.
Grilled Street Corn on the Cob with Savory Garlic Spread
This is another one that is officially labeled as gluten free by Disney. And considering how straightforward it is, it seems pretty safe! I also plan on trying this snack when I go this spring.
POSSIBLE Gluten Free Flower and Garden Festival Options
Notice I put POSSIBLE in shouty caps. Until I get confirmation one way or another, these are conjectures about other food that MAY BE gluten free. By all means, if you go on your trip before I can confirm them, as at the booths and see what they say. In fact, I would love if you could let me know anything you learn in the comments below! Let's work together to make a great experience for all the gluten free eaters!
As I get word I will keep this section updated. If you want to be eyes on the ground during your trip, email me at nicole@thedisneyjourney.com!
Grilled Baby Vegetables with Hummus Cream and Red Pepper Coulis (Flavor Full Kitchen)
Canard Confit à l'Orange: Braised Duck Confit à l'Orange with Mashed Sweet Potatoes (Fleur de Lys)
Spicy Blackened Shrimp and Cheddar Cheese Grits with Brown Gravy and Local Sweet Corn Relish – possibly see if brown gravy can be removed as that is probably what has gluten in it (Florida Fresh)
Quesadilla al Pastor: Flour Tortilla filled with Monterey Jack Cheese and Pork Pastor topped with Grilled Pineapple, Salsa Verde, Red Onion and Cilantro – see if it's gluten free if you order it without the flour tortilla. I have done this in previous years with this booth (Jardin de Fiestas)
Lamb Curry with Sweet Plantains and Rice (La Isla Fresca)
Sugar Cane Shrimp Skewer with Steamed Rice and Coconut Lime Sauce (La Isla Fresca)
Southern Seafood Boil: Shrimp, Mussels, Crawfish, Potatoes, Corn and Andouille Sausage (Magnolia Terrace)
Grilled Oysters with Cajun Butter (Magnolia Terrace)
Popsicle Trio: Honeydew, Raspberry-Mint, and Coconut-Lime (Refreshment Port)
Pineapple Skewer with Tajin Seasoning (Refreshment Outpost)
5 Best Gluten Free Flower and Garden Festival Snacks 2019
Here you have my top 5 for 2019. You'll notice that some of these items aren't offered this year! I'm so sad about this. However, 3 of my top 5 are still offered. You better believe I plan to get all of the again! Once I go and have a chance to try everything this year I will update my top 5.
Roasted Cauliflower
Citrus Poached Salmon
Chocolate Pudding Terrarium
Lobster Tail with Lemon Emulsion
Chocolate Macaron Lollipop
I am probably more surprised than anyone else that my list is topped by savory foods instead of sweet. But that's just what happened this year. This is not to say that I didn't enjoy the rest of the food, because I certainly did. However, these 5 dishes just stood out above the rest.
If you like this post, Pin it for later!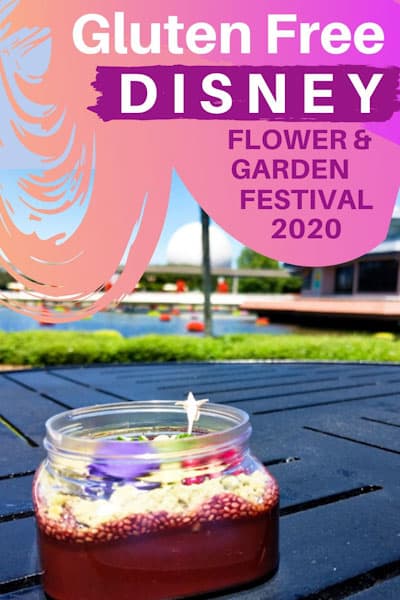 Your Thoughts
Have you tried the gluten free offerings at this year's Flower and Garden Festival? What did you think? Is your top 5 different from mine? Let me know your thoughts in the comments below.
Don't forget to follow The Disney Journey on Pinterest and Facebook to stay up to date with all the latest news and updates.