We may earn money or products from the companies mentioned in this post. Please click my disclosure policy to learn more.
For me, one of the true joys of Disney World is how easy it is to enjoy great food when you have any sort of food allergy. The freedom to be able to eat what we want with the confidence it is safe is unparalleled.
With that in mind, I wanted to put together a guide for how to eat at Magic Kingdom gluten free. The good news is that Magic Kingdom has a solid number of restaurants and snack kiosks to choose from.
There's not really any bad news to counteract that!
So without further ado, let's head right into this gluten free Magic Kingdom adventure.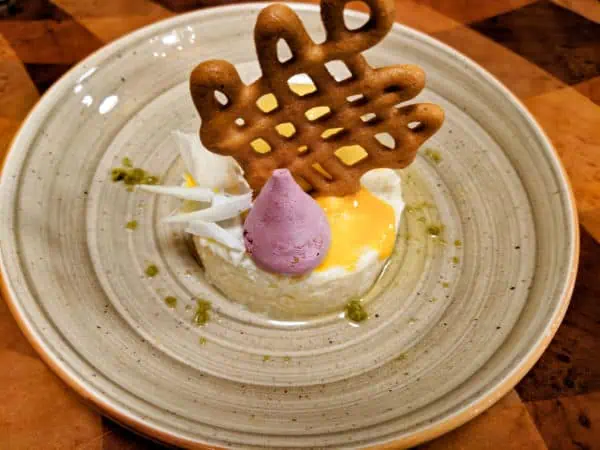 Eating at Magic Kingdom Gluten Free
I am going to break this down into three different sections. The first will focus on quick service, or counter service restaurants at Magic Kingdom. The next, will take a look at the sit down, or table service as they're called in Disney speak, restaurants.
And finally, we'll round it all out with looking at the gluten free snack options at Magic Kingdom.
Important Tip: Menus and ingredients can change from day to day. Because of this, ALWAYS ask for assistance. You can either talk to a chef, a manager, or look at the ingredient binder, depending on the venue.
Your mileage may vary on what you are or are not able to eat. This is a general overview of gluten free food at Magic Kingdom. Your comfort level with certain types of cross contamination potential may differ from mine.
So take this as the big picture and then customize it into your own personal list of gluten free fun at Magic Kingdom.
Also, make sure you read my guide to eating gluten free at Disney World. That will give you a comprehensive look at what to expect and how to eat safely. Once you know all the ins and outs you'll know how to master eating at Magic Kingdom gluten free.
Gluten Free Quick Service at Magic Kingdom
Quick Service restaurants are Disney World's equivalent to fast food. In some cases this means standard "fast food" fare, like burgers.
However, there are quite a few restaurants which give you many different options. Many of the restaurants have dedicated fryers for allergy orders.
Disney has made a push towards using mobile ordering for many of the quick service restaurants. Fortunately, the mobile ordering system also includes allergy friendly options right on the menu.
This makes it easier to use mobile ordering when you have gluten free needs. However, if you have any doubts, you can ALWAYS order in person and speak to a manager to know everything is safe.
With that in mind, make sure you know how to use Disney's mobile ordering system. It can be a huge time saver to use mobile ordering.
Casey's Corner
Casey's Corner is a small little quick service restaurant on Main St famous for serving hot dogs. At this time, Casey's Corner does not allow for gluten free ordering via the mobile ordering system. However, that doesn't' mean you can't enjoy a hot dog from Casey's Corner.
Historically, Casey's Corner does have gluten free hot dog buns, or there is the option to order a bunless hot dog to make the order gluten free.
You simply need to go and order the old fashioned way, speaking with a manager or chef to place your order.
Columbia Harbour House
The food at Columbia Harbour House is generally considered to be a great gluten free option at Magic Kingdom. In large part, this is due to the ability to get gluten free chicken nuggets, a food that is typically off limits.
There is also an option for a grilled salmon platter or a shrimp skewer, foods which are not typically an option at any sort of fast food restaurant.
Columbia Harbour House, like many other restaurants on property, also has allergy friendly brownies and cookies for dessert or snack.
I have eaten at Columbia Harbour House and was rather thrilled to have the chicken nuggets. The portion of food was enormous, which is always appreciated at these prices.
Also, the chicken nuggets were surprisingly crispy. This is a welcome change to those of us used to soggy and crumbly gluten free replacements.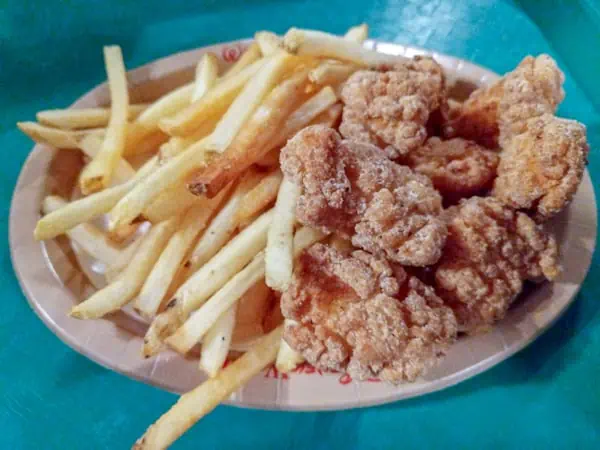 Columbia Harbour House is a solid option for a gluten free meal at Magic Kingdom, especially once you are stick to death of eating hamburgers all the time.
Cosmic Ray's Starlight Cafe
When we first went to Magic Kingdom in 2014, Cosmic Ray's Starlight Cafe was viewed as the food allergy friendly quick service restaurant to go to. I am quite happy that Magic Kingdom's food allergy options have expanded significantly since then.
Not that Cosmic Ray's is bad, it just has more standard "fast food" fare. You will find mainly burgers and fries as the main gluten free options.
As the menu stands right now, you can have a cheeseburger, a bacon cheeseburger, or a vegetarian patty melt. Yup, that's about it. To be fair, the menu does change, but it's pretty basic.
In general, you'll find gluten free buns at every single restaurant at Disney World. Even if you see something on regular menu that could be made gluten free by swapping out the bread, you can speak with someone in person to customize it to be made gluten free.
The staff at Cosmic Ray's Cafe is VERY food allergy friendly. We received 1 on 1 attention and ended up crafting a personalized combination of foods that made everyone happy. So always ask to speak with a manager if you have any doubts.
Cosmic Ray's has a separate dedicated fryer especially for food allergies.
But honestly, unless you have a family of picky eaters who only want burgers, Cosmic Ray's would probably be my last choice for gluten free food at Magic Kingdom. There's simply nothing that stands out on the menu and I always find the burger to be pretty darn dry.
Pecos Bill Tall Tale Inn and Cafe
Pecos Bill serves the widest array of gluten free meal options at Magic Kingdom. They serve varying types of Mexican themed dishes. And a bacon cheeseburger. Because nothing screams Mexican food like a burger…
The rice bowls give you a few different options in the form of chicken, pork, or veggies. If you want a bit of a crunch, you could go for the nachos with either beef or chicken on them.
As an example of customizing a non-gluten free menu item: you can order the taco trio as lettuce wraps instead of with soft taco shells. Once the taco shell is removed from the order, it is suddenly gluten free.
Tip: If you are concerned about cross-contamination at the toppings bar, ask the Cast Member to provide you with toppings directly from the kitchen.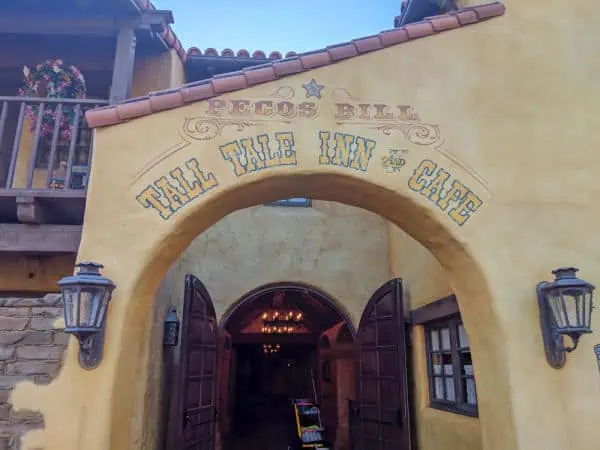 Pinocchio Village Haus
If pizza is what you are craving at Magic Kingdom, then Pinocchio Village Haus is the place to go. Pinocchio Village Haus offers 4 different types of pizza on an allergy friendly crust: meat lovers, margherita, cheese, and pepperoni.
Just like Columbia Harbour House, you can also get a nice plate of gluten free chicken nuggets and fries.
In addition to the usual gluten free brownies and cookies, and oddly, greek yogurt.
And while I never took a picture of the pizza I ate there (fail!), I can tell you it's actually pretty darn good. And quite large for one person to eat on their own. On the whole, it's a pretty solid gluten free dining option at Magic Kingdom.
Gluten Free Table Service at Magic Kingdom
Table Service restaurants at Disney World provide the more traditional "sit down" restaurant setting. A major bonus to eating at Table Service restaurants is an expanded list of meal options, and increased flexibility in what the kitchens can produce.
Be Our Guest (Lunch & Dinner)
Be Our Guest is an insanely popular restaurant at Magic Kingdom. This one is considered signature restaurant. That means this is Disney's equivalent of "fine dining", with the price increase to denote this.
Once upon a time, Be Our Guest had a quick service lunch and breakfast option, but no more. Now, Be Our Guest serves a prix fixe menu at both lunch and dinner.
This means you pay a set amount per person (currently $67/$39) and you get a three course meal. You choose one appetizer, one entree, and dessert from the choices provided.
There is an allergy friendly menu on the website for Be Our Guest to get an idea of which options are automatically offered as gluten free
In addition to enjoying some tasty food, you are able to meet the Beast! This is not an option during breakfast and lunch.
Fittingly, the menu is very French themed, providing options such as escargot and filet mignon. Many of the dishes listed are already gluten free, making this a friendly option for gluten free eaters.
In addition to this, you can opt to speak with the chef about any other alterations you might need.
Aside from the food, the inside of the restaurant is a Beauty and the Beast fan's delight. It's a beautiful space that I wish was more accessible as the quick service breakfast and lunch restaurant as it used to be. But no such luck!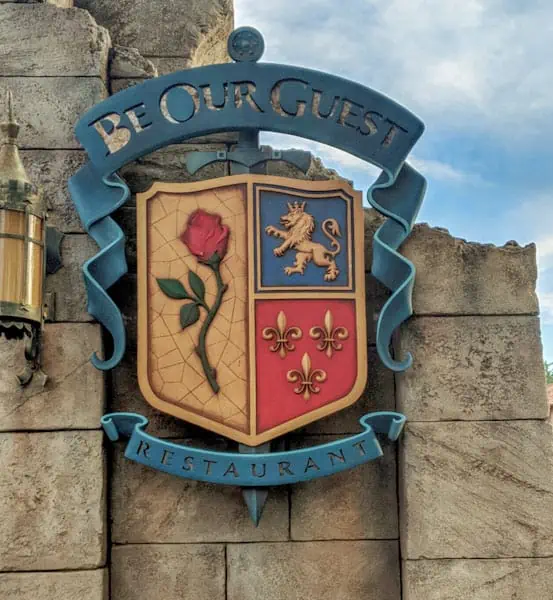 Cinderella's Royal Table
Here we have another signature restaurant option in a gorgeous setting.
Cinderella's Royal Table is the hallmark dining experience in all of Disney World and should be on everyone's bucket list. Dining inside of Cinderella's Castle is a special treat.
Cinderella's Royal Table is open for breakfast, lunch, and dinner, and provides character interactions with Cinderella and other princesses.
As with most places, there are more gluten free options at lunch and dinner then at breakfast. In fact, the breakfast menu is shockingly short on listed options for gluten allergies.
If you do want to go to Cinderella's Royal Table for breakfast, plan on talking with a chef to customize an order.
The structure of Cinderella's Royal Table is along the lines of a Prix Fixe menu. You are given various choices for your appetizer, entrée, and dessert. You choose one item from each category.
Once upon a time, the lunch and dinner menu used to have a lot of gluten free options, but it no longer does. I hope you like either beef or fish, because those are your only two entrée options.
The Crystal Palace
The Crystal Palace is a buffet style character meal. It is the only buffet option in all of Magic Kingdom. So, if buffets are your jam, this is your place!
Crystal Palace serves breakfast, lunch, and dinner to hungry Magic Kingdom guests. Since it is buffet style, there are a wide array of options to choose from. Many of the lunch and dinner items are already naturally gluten free.
They offer various vegetables, proteins, and rice dishes, though the exact offering might vary from day to day. And gluten free rolls are always an option.
The breakfast buffet will require specially made foods in the form of Mickey waffles, if those are your preference. Crystal Palace is also known to offer gluten free muffins and cinnamon donuts which come highly recommended.
As always with buffets, if cross-contamination is a concern, ask for your food to be prepared in the kitchen. The chef is more than happy to do so to keep you safe and healthy.
The Diamond Horseshoe
The Diamond Horseshoe is a restaurant in Frontierland that has undergone a complete overhaul from what it was prior to the pandemic. Now, it basically serves the same menu as Liberty Tree Tavern.
The good news is that Liberty Tree Tavern is one of the best gluten free dining options in Magic Kingdom, so if you can't get a reservation there, try The Diamond Horseshoe.
Like Liberty Tree Tavern, this is an all you can eat family style meal. For more commentary on the menu itself, scroll a little further to my blurb about Liberty Tree Tavern, because that's where the credit is actually due.
Jungle Navigation Co. LTD Skipper Canteen
Skipper Canteen is another great choice for those who must eat gluten free. Most of the menu is already gluten free without any substitutions or omissions.
In general, the menu is a little more adventurous than many of the others at Magic Kingdom, making it a great option for a totally different meal experience.
The most famous gluten free menu item at Skipper Canteen is the fried chicken. That's right! Fried chicken! And it is made gluten free from the start!
The breading is nice and crispy while the chicken inside is super juicy.
They no longer have my favorite dessert, which is a crying shame as it was absolutely delicious. In fact there's only one gluten free dessert option on the menu, so this is the weak area of Skipper Canteen now.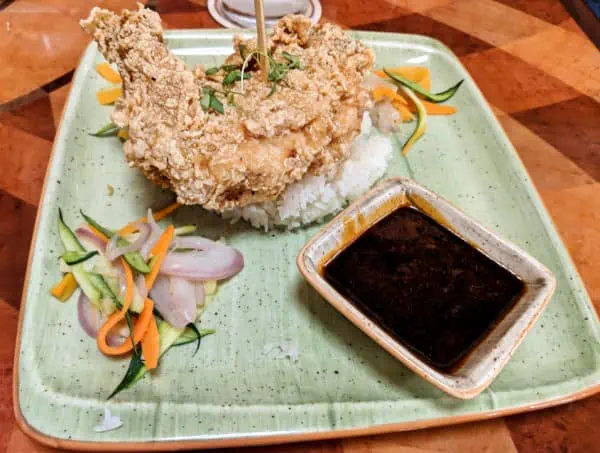 Liberty Tree Tavern
In all seriousness, Liberty Tree Tavern is a gluten free eaters dream. The chefs at Liberty Tree Tavern do a fantastic job of offering gluten free options of foods we aren't typically allowed to eat, like stuffing and gravy.
I would go here all the time simply to be able to eat stuffing…
Lunch and dinner both offer a preset family style menu. The meal includes a salad, entrée, and dessert. But don't be fooled by the word entrée, otherwise known as the Patriot Platter. This is actually code for a massive variety of dishes you are presented with.
All of the food is also considered "All You Care to Enjoy" which translates to all you can eat! This is definitely a place you can get your gluten free money's worth!
Roast Turkey Breast
Pot Roast
Oven Roasted Pork
Mashed Potatoes
Seasonal Vegetables
Gluten Free Stuffing
Gluten Free Gravy
It's not listed on the menu, but they also made gluten free macaroni and cheese for me. Look at that massive list of food! Including some foods we're never able to have!
There are some desserts offered as well, including a warm apple cake! Seriously, Liberty Tree Tavern needs to be towards the top of your list of gluten free options at Magic Kingdom.
The Plaza Restaurant
Lunch at The Plaza Restaurant gets the award for the single best gluten free dining experience I have ever had. And then a disappointing one…it all depends on the chef sometimes.
Chef Ken at The Plaza is absolutely amazing. He insists on speaking personally about any with food allergies and comes out to your table repeatedly. Chef Ken even explained the secret to how he cooks the gluten free rolls so I can do it at home.
He also made an allergy friendly milkshake for my friend's son, something he'd never had before. For Chef Ken, you are not restricted to the allergy menu. He specifically tells you to just pick what you want off the regular menu and he'll make it work.
Overall, the food at The Plaza is very tasty and offers options you might never be able to have normally. For example, how often can someone who eats gluten free have a fried green tomato sandwich? And let me just tell you, it's delicious. I cried when this disappeared from the menu.
But The Plaza Loaded Fries are still on the menu, and they are divine.
The Plaza is also one of the most economical Table Service restaurants at Disney World. You can have a very delicious gluten free meal for not much more than the cost of a Quick Service meal.
You can read all about my experiences in this review for The Plaza Restaurant.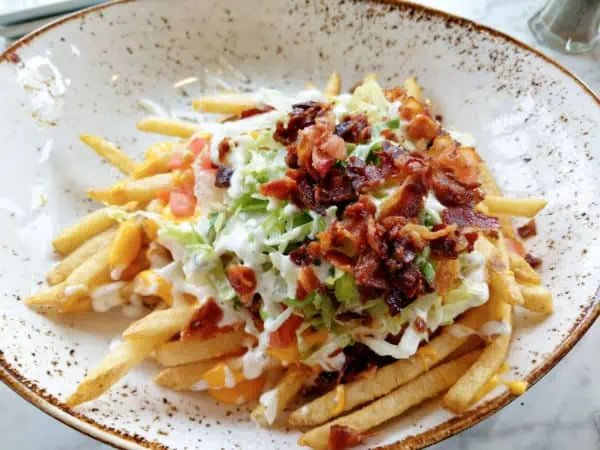 Tony's Town Square Restaurant
Tony's Town Square Restaurant is located right on Main Street in Magic Kingdom. It is an Italian restaurant themed after the restaurant in Lady and the Tramp.
They have gluten free pasta, so that right there helps tremendously with eating at an Italian restaurant gluten free! Reviews on Tony's Town Square are a little mixed, though this is true for people without food allergies as well.
I'm a bit meh about Tony's Town Square. It's fine, but I would choose pretty much any of the other restaurants listed here first.
They are able to adapt some of the recipes to make them gluten free, such as the chicken parmigiana. Don't be fooled by the lack of options listed on the gluten free menu online.
With the gluten free pasta, many of the options can be converted to be gluten free.
To learn more about my experience there, read my review for Tony's Town Square restaurant.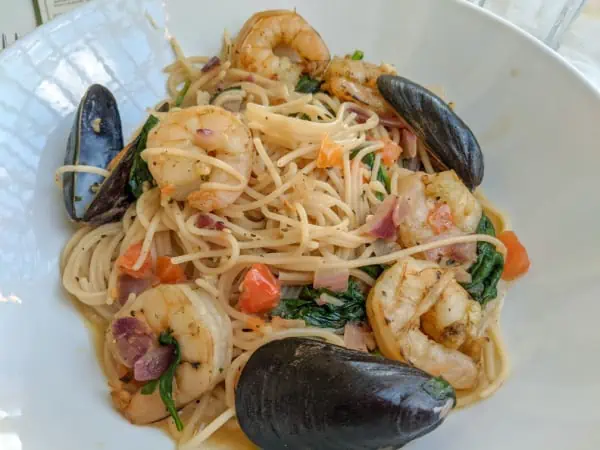 Gluten Free Snacks at Magic Kingdom
Magic Kingdom has a lot of gluten free snack offerings. This comes in handy for those long Magic Kingdom park days where you need a snack or two!
There are of course fruit and veggie snack options at various locations, along with yogurts and the like. This list will contain snacks that are more unique to the Magic Kingdom experience.
As with everything else, ingredients and allergy information can change from day to day, so always ask a Cast Member to be sure before you order.
For example, I've seen reports that some turkey legs are considered gluten free, but others aren't. I can't speak to this personally as I can promise you I have no intention of every trying the turkey legs!
Ice cream style snacks clearly factor prominently in this list. That's just the nature of gluten free snacks, I'm afraid. But they aren't the only option.
Ice Cream and Dole Whips
Since this is the biggest option, let's talk about that first. Disney World, and Magic Kingdom in particular, is famous for the Pineapple Dole Whip. This has expanded over time to include various seasonal Dole Whip flavors and specialty options.
The good news is that Dole Whips are naturally gluten free. Pineapple Dole Whips are essentially like pineapple soft serve. You can get straight pineapple, have it swirled with vanilla, or have it swirled with whatever the specialty flavor is. I once had Pineapple and Raspberry Swirl Dole Whip!
You can also get the Dole Whip flavors as a float with pineapple juice. All of these options can be found at Aloha Isle in Adventureland.
Also in Adventureland you'll find Sunshine Tree Terrace. Here you'll find the Citrus Swirl. This is a lovely swirl of frozen orange juice slushy and vanilla soft serve ice cream. Frankly, this is one of my favorite gluten free snacks in Magic Kingdom.
It's so refreshing and delicious. The frozen orange juice slushy gives it a bit of a different, and refreshing feel, to plain old soft serve.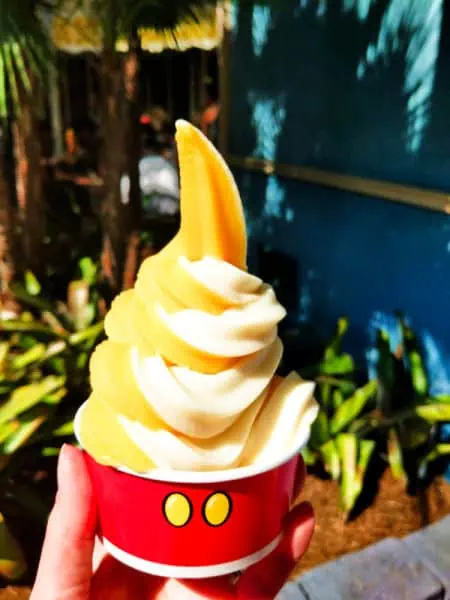 You can also find orange and strawberry Dole Whip at Sunshine Tree Terrace, along with vanilla and chocolate soft serve.
The other intriguing option is I Lava You Float. This is a lovely and refreshing combination of Fanta Strawberry Soda served with Orange Dole Whip and topped with popping candy.
I might be breaking some Disney superfan rules when I admit this, but I think I actually prefer the Citrus Swirl and I Lava You Float better than the Dole Whips at Aloha Isle!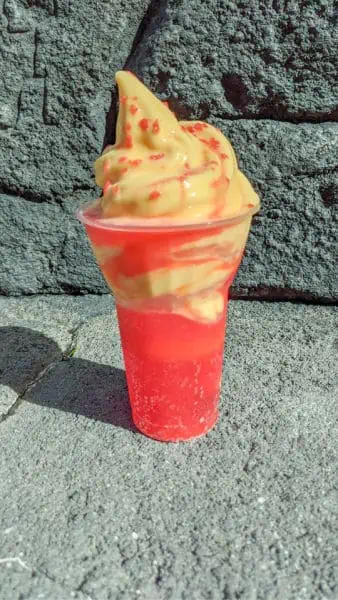 Moving on…pretty much all ice cream locations have gluten free options. There is soft serve ice cream at other locations, like Auntie Gravity's in Tomorrowland.
The Plaza Ice Cream Parlor is a good place for ice cream and sundaes. There is a selection of ice cream flavors, like mint chocolate chip and strawberry.
You can also get floats and sundaes of various flavors. With the sundaes, you need to make your gluten free needs known and they will make it in a bowl instead of a waffle cone bowl.
I recently had The Plaza Ice Cream Sundae in a bowl and it was delicious. They give you the option of having the sundae made in the back in order to avoid cross contamination. This holds true for any ice cream you want scooped there.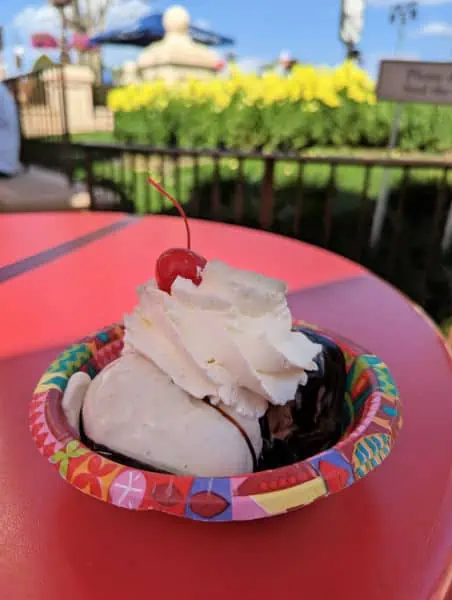 And finally, we come to one I probably should have mentioned first considering how many times you see pictures of these. But Mickey Bars are gluten free!
You can find Mickey Bars at numerous snack cars throughout any of the Disney parks. They are a solid option anywhere you are in Disney World. They are individually packaged and always gluten free.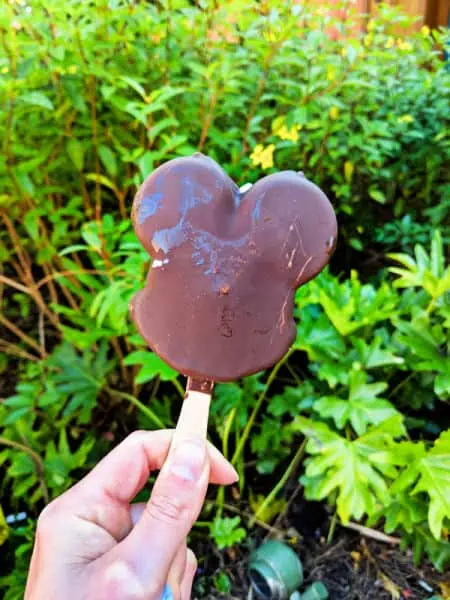 There might be even more ice cream type options at Magic Kingdom, but these are the most common ones!
Other Gluten Free Snacks at Magic Kingdom
Unfortunately, this list is much smaller than the ice cream list. But there are options. At various retail locations around the park, you'll find pre-packaged snack options called Snacks with Character. There are different flavors, but all of these are certified gluten free.
Another very popular (read famous) gluten free snack is LeFou's Brew. This is more of a drink so I think "snack" is a generous term. But it's large and refreshing and gives you a different option rather than ice cream.
You can find LeFou's Brew at Gaston's Tavern in Fantasyland. It's frozen apple juice with a hint of toasted marshmallow, all of this is topped with passion fruit-mango foam.
I'm not gonna lie, it sounds like an odd mixture, but it is surprisingly tasty! This is an especially good option on a hot Florida day.
There's also Enjoy Life cookies and brownies here and there throughout Magic Kingdom. You can also get popcorn from any of the popcorn stands scattered throughout Magic Kingdom.
And oh yes, that aforementioned Smoked Turkey Leg. I will never understand why anyone feels the need to eat a giant turkey leg as a snack, but it's certainly the quintessential Magic Kingdom experience!
And last but not least, check out Main Street Confectionary. There are a lot of pre-packaged candy options. You can also speak with a Cast Member to see if there are any other options that day which are gluten free.
Disney is always making changes to the foods found throughout the park, so this list may not be inclusive. If you have a favorite gluten free snack at Magic Kingdom I would love to hear about it. And eat it…
Tips for Eating Gluten Free at Magic Kingdom
Most of these tips apply to gluten free dining at any of the Disney parks, not just Magic Kingdom. For much more in depth information about eating at Disney World gluten free, make sure you read my guide to eating gluten free at Disney.
Don't be scared of eating at a buffet. If you are concerned about cross-contamination, the chef will be happy to prepare your food in the kitchen and serve it directly to you
Your options are not necessarily limited to what is written on the menu. Chefs and Cast Members are more than willing to make substitutions and make a customized meal for you
If you have any questions before your trip, contact dining specialty services at specialdiets@disneyworld.com or call 407-WDW-DINE
Pack your standard gluten free snacks to bring with you just in case. You likely won't need them, but you never know
Always ask questions and make your allergy known. Disney chefs and Cast Members bend over backwards to make sure you have a safe meal
You know your situation best. Always follow your gut before eating anything you are unsure of
Menus change regularly so always check the menu before your trip to get the latest version
Read gluten free reviews for the Magic Kingdom restaurants to get an idea of what types of foods are available – it's always a good idea to plan ahead
Final Thoughts About Dining Gluten Free at Magic Kingdom
Well, there's my rundown of all your options to eat gluten free at Magic Kingdom. As you can tell, the choices are actually quite extensive.
Whether you choose to stick to Quick Service restaurants to save money, or indulge in a Table Service meal, it's pretty hard to go hungry at Magic Kingdom.
My biggest piece of advice is simply to research the menus and options as much as you can before your trip. Make sure you book your Advanced Dining Reservations for any of the restaurants which offer that. Once you realize all the safe options available to you, you will be even more excited about your Disney vacation!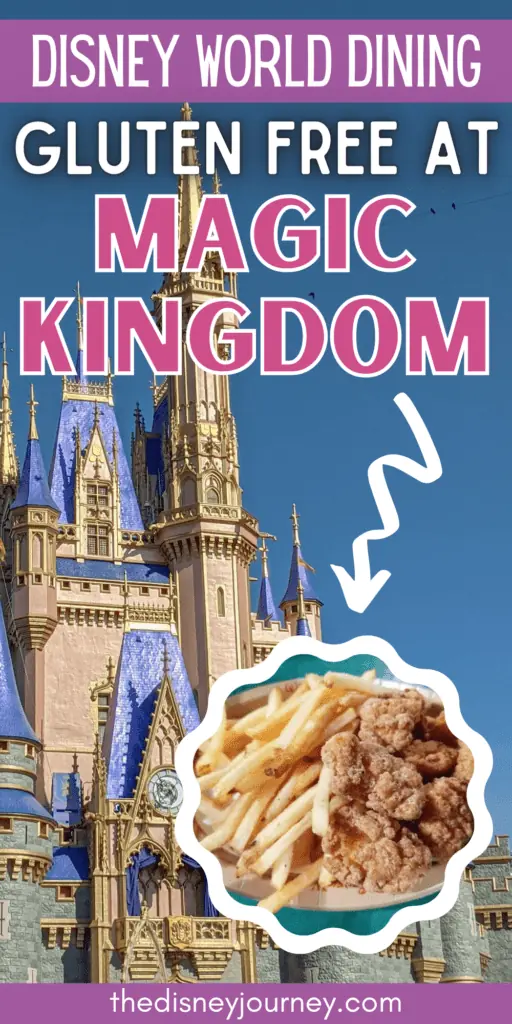 Your Thoughts
Did I miss your favorite gluten free food at Magic Kingdom? I'm always looking for information on more delicious things to eat at Magic Kingdom. Make sure to list your favorites in the comments below.
Don't forget to follow The Disney Journey on Pinterest and Facebook to stay up to date with all the latest news and updates.