We may earn money or products from the companies mentioned in this post. Please click my disclosure policy to learn more.
Hollywood Studios has been in a state of transition for the past few years. Finally, the new attractions were completed as of March 2020, and then the world turned upside down. Now with the reopening, Hollywood Studios is a hot commodity during Disney vacations. Because of this, a solid Hollywood Studios touring plan is essential.
This Hollywood Studios itinerary is designed to help you maximize your park experience and ride as many of the attractions as possible while also avoiding the crowds. Without the options for FastPasses at Hollywood Studios, getting on all the rides takes a lot of thought.
This is a new, fully updated touring plan for Hollywood Studios. The focus of this touring plan is getting on all of the rides you want to experience (updated 3/4/2021).
Hollywood Studios Touring Plan Challenges
Previously, the main gist of my Hollywood Studios touring plan was based on the ability to potentially park hop. That way when the crowds catch up with you, you could abandon ship and go somewhere else.
Well, that idea doesn't necessarily work anymore since Disney modified park hopping. At the same time, crowds are not low.
And Hollywood Studios is the most sought after park because of the new rides.
Between these factors and the lack of FastPasses, you really need to head to Hollywood Studios with a plan.
How Rise of the Resistance Impacts Your Hollywood Studios Itinerary
There is no option to ride Rise of the Resistance, the most popular ride at Hollywood Studios, by waiting in line. All guests who want to ride Rise of the Resistance must score a boarding pass for a boarding group. Without that boarding pass, you can't ride.
These boarding passes get scooped up in a matter of seconds. This has improved recently as they've added plexiglass to the ride vehicles to increase capacity.
But there's still no guarantee you'll get one. However, if you want to increase your odds, my Rise of the Resistance boarding group tips post is essential reading.
The real challenge to planning your Hollywood Studios touring plan is the fact that you don't know what your boarding group number will be, or what time of day that group will get called.
This makes it more challenging to plan your day as a whole since you simply don't know when you need to be there.
Clearly, a bit of flexibility is required.
Only One Show is Running
Typically, the Hollywood Studios shows were the perfect attractions for the afternoon when the lines are so long. Well, that refuge is gone.
Due to the pandemic and necessary precautions, all but one of the shows is shuttered. And there seems to be no opening date in sight for the others. The cast members who worked those shows have been laid off.
This means that attractions which used to absorb large numbers of people are no longer an option. Accordingly, all of those bodies are in line for the other attractions.
The one show you can see is Frozen Sing-Along Celebration.
Best Times of Day at Hollywood Studios
What I'm about to say isn't anything new. This pattern has always been the case at most of the parks. However, the issue seems way more pronounced now than it ever did.
The best times to visit Hollywood Studios are first thing in the morning, and in the evening. The real problem is that this has become really pronounced. The wait times from mid morning through late afternoon are quite long.
If you're an early morning kind of family, make sure you read over my Hollywood Studios rope drop strategy. The window to take advantage of this is VERY small. Please don't show up right when the park opens and think that will work. You're already too late.
In the evening, 4:00p is the earliest you'll see enough of an improvement in ride times. Really, it's the last 2 hours of the day that you'll hit the butter zone.
So what do you do in that several hour gap? Well, that's the problem, isn't it?
How many days do you need at Hollywood Studios?
Considering how much dead time there is in the middle of the day, my answer sounds a little counterintuitive.
I recommend spending 2 days at Hollywood Studios. Breaking things into two days allows you to prioritize different rides on different days during the morning and afternoon sweet spots.
This is what we did on our recent trip, and we were able to do our top priority rides multiple times, and hit all of the other rides at least once.
However, I recognize that most families won't be able to spend 2 days at Hollywood Studios, so we'll look at both itineraries later in this post.
Hollywood Studios Rides
So, what are these amazing rides that everyone is scrambling to experience? Let's take a look:
Toy Story Land
Toy Story Mania
Slinky Dog Dash (38")
Alien Swirling Saucers (32")
Star Wars: Galaxy's Edge
Rise of the Resistance (40")
Millennium Falcon: Smuggler's Run (38")
Sunset Boulevard
Rock n Roller Coaster (48")
Tower of Terror (40")
Lightning McQueen Racing Academy
Echo Lake
Star Tours – The Adventure Continues (40")
For the First Time in Forever: A "Frozen" Singalong Celebration
Vacation Fun – A Mickey Mouse Animated Short
Hollywood Boulevard
Mickey and Minnie's Runaway Railway
Animation Courtyard
Walt Disney Presents (Gallery and Theater)
Disney Junior Play & Dance
Top Rides at Hollywood Studios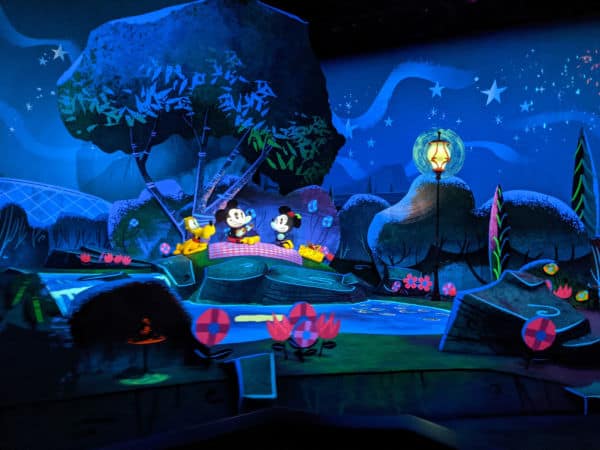 That being said, there are quite a few rides and attractions which are amazing and should top your priority list.
These are the rides you absolutely want to ride:
Rise of the Resistance (boarding pass only)
Millennium Falcon: Smuggler's Run
Mickey and Minnie's Runaway Railway
Slinky Dog Dash
Toy Story Mania
Rock n Roller Coaster
Tower of Terror
Star Tours
Consequently, most of these rides have the longest lines in the park. Hence the challenge.
Rides with Lowest Wait Times
Not all of the rides have ridiculous wait times, thank goodness. However, some patience is still required.
Partly this is because you should wait to get on these rides until a bit later in the day. When everything else is a ridiculous wait, these lines are typically much shorter.
Alien Swirling Saucers
Toy Story Mania
Star Tours
Frozen Singalong
MuppetVision 3D
You'll notice that two of the rides from the best rides list are on this list, score! Toy Story Mania and Star Tours are both fun attractions.
Due to a higher capacity, along with people probably selling them short, their lines are often shorter.
The attractions on this list should all be done when the wait is less than 30 minutes. Really, well under 30 minutes. I don't think we waited more than 15-20 minutes for any of these attractions.
A Note About Wait Times on My Disney Experience…
Most of us live and die by the wait times posted on My Disney Experience during our park days. And it's a great tool. However, keep in mind that the waits aren't necessarily accurate.
Disney uses posted wait times as a way to direct people where they want them to go. Don't want a lot of people on Tower of Terror because they line is getting longer? Inflate the posted wait time even more.
Because of this, take wait times with a grain of salt. Sometimes the wait is quite a bit shorter than posted. But sometimes it's accurate. So it's a bit of a crap shoot. But most of the times, especially since reopening, the wait is not nearly as long as it looks.
I have a Touring Plans membership that helps me with this. They have their own lines app which tells you both the posted wait times and the expected wait times. It's pretty darn accurate and gives me a better idea of how to plan out my day.
Tips for Creating Your Hollywood Studios Touring Plan
There are some basic components to consider for your Hollywood Studios itinerary. These components will help you prioritize your rides and hopefully get on everything you want with less waiting.
Nab your Rise of the Resistance boarding group
Rope Drop
Fill in the afternoon with shows, shops, and dining reservations (or leaving the park)
Eat an early (or late) dinner so you don't waste valuable evening park time
1. Nab Your Rise of the Resistance Boarding Group
As I mentioned before, the only way to ride Rise of the Resistance is to get yourself a boarding group assignment. And trust me, you want to ride Rise of the Resistance.
Disney has constantly changed the boarding pass timing over the past several months. Because of this, make sure you know for certain what the current procedure is the day before you plan to do it. I say that specifically because during our last trip, the procedure changed in between the two days we spent at Hollywood Studios.
At the time of this update, the virtual queue opens up at 7:00a and 2:00p.
For the 7:00a opening, you don't have to be at or near the park. You simply need park tickets attached to My Disney Experience and a Park Pass Reservation for that day. This is a huge change in the right direction. Previously, the queue opened right at 10:00a and you had to physically be in the park. This caused a huge log jam of people there at 10:00a.
The second time the queue opens, at 2:00p you must be physically present in the park to qualify for it. General consensus is that the 7:00a grab is the better one to go for. More boarding groups are assigned at that time. If the ride is having a bad day, there might be very few groups available at 2:00p.
How Your Boarding Group Impacts Your Itinerary
This is the part you have zero control over. Maybe you only plan to go to Hollywood Studios in the afternoon and you get boarding group 2. This forces you to go in the morning. Or the reverse can happen.
Or the ride can go down for a couple hours and you're simply wandering the park during the busiest time of the day waiting for the ride to reopen because your boarding pass was called hours ago. That one's a true story from our last trip…
Bottom line: you need to be prepared to be flexible and think on your feet. Yes, the ride is worth it.
2. Hollywood Studios Rope Drop
As I learned the hard way once, don't plan on showing up at Hollywood Studios in the afternoon and expect to get everything done. This is especially true now because the park closes so early. Don't get me wrong, the later afternoon/evening is a great time to get on rides, just don't expect to get on everything. That's why rope drop is so important.
As with all the other parks, rope drop (right when the park opens) is the best time to get on a lot of the E-ticket rides.
However, that does not mean that you should show up right when the park opens. If you want to be at the head of the pack at Hollywood Studios at rope drop, plan to arrive 1-1.5 hours before park opening.
At the time of this writing, the park is opening around 9:15a, even though the official park opening is posted as 10:00a. This is why it's so important to get there extra early.
I've detailed an entire timeline for you in the Hollywood Studios rope drop post. Go ahead and click that link to get more specifics. It will open in a new window so you can keep reading this one!
Hollywood Studios Rope Drop Priorities
Briefly, there are certain rides you should consider getting on during rope drop. The rides not listed here are easier to get on later in the day so shouldn't take up this precious time slot.
Rides to Consider During Hollywood Studios Rope Drop
Millennium Falcon: Smugglers Run
Mickey and Minnie's Runaway Railway
Slinky Dog Dash
Rock n Roller Coaster
Tower of Terror
Clearly, you can't be in all places at once. So prioritize your plan before you go. The vast majority of people head to Mickey and Minnie's Runaway Railway and Slinky Dog Dash.
If you want either of these rides, be prepared to get to Hollywood Studios no later than 8:30a (for a 10a opening, adjust accordingly based on opening time). You want to be at the front of the pack for those two.
The lines for these particular rides fill up quickly. If you aren't in the front of the pack, you'll still end up waiting 30 minutes or more (likely more) to get on them. I've watched the estimated wait time jump up to 60 minutes for both within 10-15 minutes of them letting people into the park.
While the line might not actually be quite that long, it's longer than you want to wait during rope drop.
Rock n Roller Coaster and Tower of Terror are located next to each other so you could get those done pretty quickly first thing in the morning. Millennium Falcon seems to have a little bit of forgiveness before it starts to have long lines so consider making this your second or third ride of rope drop.
3. Fill in the Afternoon with Shows, Shops, and Food (or Leave)
The afternoon is notoriously the most crowded part of the day in any of the parks. This is made worse in Hollywood Studios by some of the traffic patterns within the park. There are just some areas that get extremely congested, making it challenging to get through.
This seems even more pronounced now that we are all so aware of trying to stay more distant from other people.
Now that the first Rise of the Resistance boarding group drop is at 7:00a, the parks aren't getting as crowded as quickly first thing in the morning. However, the low crowd window isn't as long as any of us would like.
No matter what point of the day the lines get long, whether late morning or lunch time, this same plan still applies. In general, this is your slow down time. The beginning portion of the day is a little frantic. Now is the time to slow down and enjoy the details of Hollywood Studios.
Wander around both Toy Story Land and Galaxy's Edge to soak up the details. Both are really fun and amazing areas.
Checking out the Shows and Shops
This is also time to consider the more "show" like attractions at Disney World. As I said, there aren't really too many of these open right now, but there are some.
The afternoon is a great time to go to the Frozen Singalong, MuppetVision 3D, and Lightening McQueen's Racing Academy. A word of caution though, don't wait for more than 30 minutes for any of these if you can avoid it. They're not worth that kind of wait.
The other advantage to watching the shows is it involves a built in break. The theaters are air conditioned and there are seats to sit in. Most of the shows last for 20-30 minutes, so it allows for a nice bit of relaxation for a little while. Trust me, your tired legs will thank you.
I will admit, window shopping isn't for everyone, but I do enjoy checking out the stores in the parks. There were quite a few unique items that caught my eye in the windows, merchandise that I hadn't seen at the other parks.
Advanced Dining Reservations and Leaving the Park
Alternatively, this is a great time to consider making a Disney Dining Reservation for a late lunch. This will allow you to relax in air conditioning during the hottest, busiest part of the day.
Right now, everyone has a different tolerance for eating indoors. If you aren't comfortable eating indoors, that's ok. Instead swap this out with a leisurely Quick Service lunch. It won't kill as much time, but it will help some.
If things have just gotten too congested for you, you can't get on anything you want, or the family just needs a break, another alternative is to head to Crescent Lake. It's easier than ever to get there now with the Skyliner gondolas. If those aren't your cup of tea, you can also walk or take the Friendship boats there.
I adore simply walking around this area on a beautiful Florida day. It's such a nice, calm area, and a good place to escape from the crowds for a little while. It gives you a bit of breathing space.
Now with the Skyliner, there are even more areas open for exploration if you need a bit of a break from the Hollywood Studios crowds.
Here are some ideas if you leave the park for a break:
Take the Skyliner to any of the resorts on it for a meal or exploration
Pool break if you are staying at a resort with easy access via Skyliner, boats, or walking (don't do this if you have to take a bus, it's too much of a time suck)
Play mini-golf at Fantasia Gardens (take a Friendship boat to the Swan & Dolphin, it's an easy walk from there)
Meander your way around Crescent Lake and explore the resorts
Whatever you decide to do, you want to be back at Hollywood Studios by 4:30p at the latest, possibly 4:00p for an extra buffer.
If you have a later boarding group (or need to be in the park at 2:00p to try again to get one) this will impact your afternoon plans. If you already have a boarding group assigned, pay attention to your phone. You'll get a push notification when your group is called. Then you have an hour to return.
Park Hopping
Now that park hopping is allowed again, that is always an option. However, park hopping isn't even allowed until 2:00p to begin with, so it doesn't give you much time if you plan to return for the evening.
Due to this small time frame, the only park I recommend hopping to from Hollywood Studios is Epcot. You can be there within 15 minutes.
If you don't plan to go back to Hollywood Studios for the evening, the world is your oyster! Go wherever you want!
4. Don't Waste Valuable Evening Park Time
If you've read many of my posts, you are aware at this point that I love the parks at night. They are just beautiful all lit up at night. The same is true of Hollywood Studios. Both Toy Story Land and Galaxy's Edge themselves are worth an evening visit.
Aside from this, now you've entered prime time for short(ish) ride lines. They waits are now more manageable than they were earlier in the day.
Right now, Hollywood Studios closes at 7:00p on most nights. While they've extended some of the other park hours as crowds have swelled, they haven't touched Hollywood Studios closing time except for Christmas week. But keep an eye on this closer to your trip. Disney can (and does) change operating hours at any time.
This gives you a pocket of about 2 hours where wait times will be lower. Don't expect walk on for the biggest rides, that won't happen. But the waits should be reasonable.
However, these rides should be a walk on, or close to it:
Toy Story Mania
Alien Swirling Saucers
Star Tours
Millennium Falcon: Smuggler's Run – This one might be a longer wait than the others, but shouldn't be too bad
Because of this, don't have dinner at any point during this time. We flubbed this (twice!) on our recent trip. Make sure you either eat around 4:00p or wait until after 7:00p.
Also, get in line for a ride a couple minutes before park close. This is a great time to get on a hard to get ride with less of a wait. Disney deliberately inflates posted wait times to discourage people from riding. It's a gamble as you don't know how long the wait will be, but it will be one of the shortest waits of the day.
Hollywood Studios Touring Plan – 1 Day Itinerary
Now that we've looked at the different parts of putting together your Hollywood Studios itinerary, let's create a sample touring plan. We'll start with a 1 day plan since that's the most common for families.
One thing to note: this plan assumes you want to get on ALL the rides. If you have members of your party who aren't tall enough for rides you can use the rider swap option on rides with height requirements. This allows all the adults to take turns riding.
Of course, if you don't want to get on all of the rides, adjust your plan accordingly.
Remember, this is a basic framework, but anything can happen on the big day. Rides break down, crowds are excessive, your Rise of the Resistance boarding group is at an odd time, etc. So be prepared to be flexible.
Also, you'll need to mix Rise of the Resistance into the plan at any given moment when your group is called. But remember, you have an hour window. If your group is called at 10:10a, go towards the end of the boarding group window (11:10a) since the 10:00a hour might be better for other rides.
Sample 1 Day Hollywood Studios Itinerary
I'll break this down by what you want to try to accomplish each hour. And remember, be flexible! This assumes park hours of 10a-7p. If opening is at 9a, bump everything up by 1 hour.
While this Hollywood Studios itinerary is perhaps more vague than I'd prefer, that's a little unavoidable right now. Since the reopening, things change often. And now the crowds have arrived in earnest.
The following recommendations are based both on watching line trends over the past month or so in addition to being there myself recently. With the newest change to the Rise of the Resistance virtual queue, things could change again.
Arrive at park at least 1 hour before opening (ideally more): This puts you at the front of the pack that heads towards the rides and is an essential component to this plan.
First Hour (the 45 minutes to an hour before park opening): Cast members let you into the park and into ride lines typically by 45 minutes before park opening. It could be a little earlier or a little later. This of course impacts how much you can get done. But your goal is to try to get on 2 rides in this time frame.
At this point you want to head directly to either Mickey and Minnie's Runaway Railway OR Slinky Dog Dash. For a 1-day itinerary I would suggest Slinky Dog Dash as the priority. That line swells pretty quickly and stays there much of the day.
We hopped on line for Mickey and Minnie's Runaway Railway a couple minutes before park closing and were on the ride in 15 minutes. This is just to demonstrate that first thing in the morning might not be the best time for Runaway Railway. That's because EVERYONE is heading there first.
After Slinky Dog head to one of these rides:
Millenium Falcon: Smuggler's Run
Rock n Roller Coaster
Tower of Terror
You should be able to get on one of these rides just before 10:00a.
Second Hour: The park is now officially open. All the people who don't know about rope drop have arrived. You might see a rapid swelling in wait times. And I mean rapid. Goal: 2 more rides
If wait times get ridiculous, wait it out a little, they'll come down again. Look for anything with a wait time of 30 minutes or less. This will be easier towards the beginning of the hour.
Rides to consider during this hour:
Millennium Falcon
Toy Story Mania
Alien Swirling Saucers
Star Tours
Rock n Roller Coaster and Tower of Terror should be considered only if wait times are still on the lower end. If at any point you see a ride time for these listed as 30-40 minutes, it's a decent time to ride.
Towards the end of this hour, also consider the recommendations for the third hour if the above lines are too long.
Third Hour: The crowd will start to catch up with you now, limiting your options. It's time to switch gears to other types of experiences. Goal: 1-2 attractions (depending on which you do, some are just longer shows than others)
Attractions to consider:
Lightning McQueen Racing Academy
MuppetVision 3D
Star Tours
Frozen Singalong (though I'd probably save this until later in the day)
Lunch: It's lunch time! Take a leisurely break for a meal. I highly suggest either 50s Prime Time Cafe or Sci-Fi Drive In. A fun experience, good meal, and it kills some time.
Afternoon Hours: Here we have the super busy chunk of the day. Frozen Singalong is a perfect choice during this time frame. The show times are set, so time your arrival to get in line about 15 minutes before show time. I showed up about 10 minutes before and walked directly into the theater for a 2:30p show.
Beyond that, take the time to explore the park or escape it. This will vary based on the preferences of your group.
My personal recommendation would be to leave the park, at least for a little while. Hollywood Studios is currently lacking in "extras" and it doesn't have the wanderability (new word?) of the other parks. Do a little bit of exploring, but leave for a break.
The exception is to make sure you have a chance to just wander around Star Wars: Galaxy's Edge. We managed to do this multiple times throughout the day as we were passing through. But if you haven't, definitely use the afternoon to wander about.
Three hours before closing: It's time to either eat a quick dinner or make your way back to the park. Rest up, you're about to pick up the pace again!
Two hours before closing: Now you want to focus your attention on the e-ticket rides again. Clearly, you're prioritizing whatever rides you weren't able to get on earlier in the day. Or just get on rides you love a second (or third) time.
Check out wait times for these rides:
Rock n Roller Coaster
Mickey and Minnie's Runaway Railway
Tower of Terror
Slinky Dog Dash
Millennium Falcon
Toy Story Mania (this one will be fairly low, ride at any time over the next 2 hours)
Your goal for the next 2 hours is to get on as many of these rides as you can. Try to focus first on lines with a wait of 30 minutes or less. You don't want to spend too much time in lines and whittle away the rest of the night.
Last hour of the day: Things are really winding down now. You should be looking at the wait times for the same rides listed above. However, if you haven't gotten on Slinky Dog Dash or Mickey and Minnie's Runaway Railway yet, those are your priorities.
Keep an eye on the clock. A few minutes before closing time, get in line for one of them. This will give you the shortest wait of the day, other than rope drop.
Park closing -??: Slowly make your way through the park to the exit. This is an awesome time to enjoy the park all lit up at night (assuming it's the time of year where it's dark at 7p). The shops are still open at this time too so it's a great time to pick up that souvenir you had your eyes on.
Hollywood Studios Touring Plan – 2 Day Itinerary
Right now, I highly recommend spending 2 days at Hollywood Studios instead of one. I know most families schedule in 4 park days, 1 day at each park. And if that's you, definitely follow the 1 day Hollywood Studios touring plan. But if you have the flexibility, 2 days is the way to go.
I mainly recommend this because 2 days lets you move at a less frantic pace. It also provides you with a lot more flexibility in terms of the rides, crowds, and time you spend in lines.
Honestly, I would even consider making one of those 2 days a half day, ideally the second day. Again, your boarding group for Rise of the Resistance could screw that all up, but you can try!
This strategy also doubles your chances of getting a Rise of the Resistance boarding pass. At least you have a back up plan in place, just in case.
And if you get everything done on the first day, you could always switch out your Park Pass for the second Hollywood Studios day for another park (assuming there are passes available).
Sample 2 Day Hollywood Studios Itinerary
Let's start looking at the details of how to make this happen. Again, the beauty is you don't have to worry about getting on everything at once, so you can target things more specifically on day 1. Then whatever you don't get on is the target for day 2. Or just ride your favorites over and over again.
As usually, insert Rise of the Resistance wherever your boarding group tells you to.
Day 1
All in all, you want to structure this very similarly to the above 1 day Hollywood Studios touring plan. However, instead of frantically going from ride to ride, adopt a more leisurely pace.
But here are some highlights.
Rope drop: Focus on Mickey and Minnie's Runaway Railway. It's straight ahead as you enter and as long as you are in the front of the pack, you won't be standing in the hot sun much.
After that, head to Millennium Falcon. The ride should be a near walk-on, 15 minute wait at the most. After you get off the ride, check the wait times. The park should be officially open now.
If wait times for even the easier rides to get on is over 30-40 minutes (Toy Story Mania, Alien Swirling Saucers, Star Tours) take this time to explore Galaxy's Edge. Or get yourself a breakfast Ronto Wrap. You won't regret it.
Rest of the morning: Your focus is for all rides and attractions under a 30 minute wait. Unless it's a slow day, or maybe rainy, this will eliminate the busiest rides. Instead, focus on Alien Swirling Saucers, Toy Story Mania, and Star Tours. You should be able to get on all three of these rides before lunch time.
The breakfast Ronto Wrap might limit this to 2 rides, but again, so delicious…
Lunch: Same recommendation as above, or consider looking further afield for your lunch and start your afternoon break now. Or grab some quick service at Hollywood Studios before you leave the park.
Afternoon: Either leave or explore the park. This will depend on your crowd tolerance and how the day's been looking. If everyone is a bit hot and tired, don't hesitate to leave the park entirely. Go for a swim, cool down, or just be somewhere quieter.
If you want to stick around take things at a much slower pace and simply explore. During this time you can be opportunistic with rides if you see a reasonable wait time (Star Tours, Toy Story Mania, MuppetVision) and go to Frozen Singalong.
There are some quieter areas of the park you can go and sit for a while. There are benches in the Echo Lake region, near 50s Prime Time. Sometimes they are sunny, depending on the time of day, but this area is not very congested, giving a pocket of serenity.
Also, there are benches by Hollywood Brown Derby. And Animation Courtyard is practically empty at this point.
But seriously, if everyone is hot, overwhelmed, and cranky, abandon ship and come back later.
Three hours until closing: If you left, you want to be back. Get some dinner or sustenance of some sort if you haven't already. Ideally, you'll want quick service for this meal as it's faster and easier.
Plan ahead and schedule your mobile order for this time frame earlier in the day so the restaurant of your choice isn't full in this time slot. This happened to us and we had to scramble. It messed up or evening plans quite a bit.
Also, both ABC Commissary and Backlot Express close early (4:30p and 5:00p respectively). After that your options are extremely limited.
If there's any time left in this hour, head to Star Tours or MuppetVision 3D.
2 hours until closing: Start with Toy Story Mania as that line should now be quite reasonable, potentially even walk on. If it's a walk on, consider going on it twice! Also look at Millennium Falcon if you want to get on that again.
Last hour: Rock n Roller Coaster and Tower of Terror are the focus here. You should be able to ride both of these during that time frame. If you are running behind schedule, just make sure you are in line for one of these rides a few minute before closing. Your wait will be low.
Day 2:
I'm sincerely torn between whether to recommend rope drop or the late afternoon/evening if you want to do a half day itinerary. There are pros and cons to both. And I might amend this recommendation as I monitor crowd changes.
Rope drop: This time, head straight to Slinky Dog Dash if you rode Mickey and Minnie's Runaway Railway on day 1. You won't need to be quite as close to the head of the pack to get on Slinky Dog as a walk on, but don't fall too far back.
We were at the front of the pack and were able to get on Slinky Dog twice before the crowd caught up. After this hop over to Alien Swirling Saucer for another quick walk on. Or Toy Story Mania if that's a family favorite.
Rest of morning: This is an opportunistic time for you. If you hit most of your priority rides yesterday take a look at the wait times and simply see what's good.
You will likely see these rides with manageable waits throughout the morning:
Star Tours
Alien Swirling Saucers
Toy Story Mania
MuppetVision 3D
Frozen Singalong
Lightning McQueen Racing Academy
Whatever you haven't done yet, head towards those. If by some miracle Rock n Roller Coaster or Tower of Terror are in the 30 minute range, go to those ASAP.
Lunch: If the morning was enough for you, head on out to spend the rest of your day doing something else. If there are more restaurants at Hollywood Studios you wanted to try, have lunch before you go.
Afternoon: Even if you want to experience more of Hollywood Studios this day, leave the park for the afternoon. Because you've already accomplished so much, you don't need to be here.
Evening: Wash, rinse, repeat day 1. This time, consider Rock n Roller Coaster or Tower of Tower as the ride you get in line for right before closing.
As you can see, with the additional time of 2 days at Hollywood Studios you can be way more flexible and less stressed about how you tour Hollywood Studios.
You can also skip rope drop all together and just show up for the last few hours of the day and get quite a bit done.
Final Thoughts on a Hollywood Studios Touring Plan
Well, there you have it, my recommended Hollywood Studios itinerary. I fully recognize it's an imperfect plan. However, these are certainly imperfect times. I plan to continue to refine this plan as things change. I'll definitely keep you updated on the best way to experience Hollywood Studios.
On the whole, you can have a fantastic time at Hollywood Studios. There are some truly amazing rides. Rise of the Resistance is like no other experience, anywhere.
The park is definitely worth your time, but frankly, it takes a lot more planning than any of the other parks right now. I'm hopeful this Hollywood Studios touring plan gets you going in the right direction.
If you like this post, please Pin it!
Your Thoughts
What do you think of this Hollywood Studios touring plan? Do you plan to do one day or two days at Hollywood Studios? Let me know in the comments below.
Don't forget to follow The Disney Journey on Pinterest and Facebook to stay up to date with all the latest news and updates.