We may earn money or products from the companies mentioned in this post. Please click my disclosure policy to learn more.
Hoop Dee Doo Revue is one of those Disney experiences which just might add an extra special touch to your Disney vacation. It is one of several dinner shows at Disney World.
I'm going to be the first to admit that my pictures of Hoop Dee Doo Revue are not the greatest. In fact, I forgot to take pictures of a lot of things. Why? Quite simply, because I was having such a darn good time I completely forgot. I guess that answers the question about whether I think that Hoop Dee Doo Revue is worth it…
Hoop Dee Doo Revue General Information
This section is actually pretty important to go through. There's a lot of information to understand about this Disney dinner show. Some of the decisions you make determine where you sit and the overall cost of the meal.
Hoop Dee Doo Revue is eligible for the Tables in Wonderland discount, however you can only use it at the 8:30p sitting. It is also (sometimes) eligible for the Disney Dining Plan, but more on that below.
Hoop Dee Doo Revue Location
Hoop Dee Doo Revue is located in Pioneer Hall at Disney's Fort Wilderness Resort. But please, don't let that location prevent you from going. It's easier to get to than you might think.
How to get to Hoop Dee Doo Revue
There are a few different options for how to get to Hoop Dee Doo. The most obvious option is probably to take the boat there from Magic Kingdom. The boat ride itself is pretty brief and is a nice relaxing journey.
Alternately, you can take a bus from any of the Disney parks or Disney Springs to get there.
Hoop Dee Doo Theme and Atmosphere
As you might guess from the name and location, Hoop Dee Doo Revue is a good old fashioned down home environment. Pioneer Hall is decorated with all of the rustic charm one would expect from Disney. It's the frontier meets vaudeville.
While the decor sets the stage, it's the actors up on that stage which truly hit the nail on the head. I will not go into details about the storyline of the show. I am a firm believer in keeping those initial experiences as pure as possible. However, we'll go over the basic structure of this Disney World dinner show.
What to Expect at Hoop Dee Doo Revue
The show and the meal occur simultaneously. There are times where the show takes a break to allow the guests to eat undisturbed, but they always come back for more fun.
The actors in the stage show don't just limit themselves to the stage. All of them come out into the seating area itself. Guests are encouraged to become actively involved in the show.
In the end, the show is a combination of jokes, songs, dancing, and more. Expect to be well entertained while you enjoy all you can eat down home cooking.
Hoop Dee Doo Revue Hours
Hoop Dee Doo Revue does not work like most of the other restaurants at Disney World. There are 3 set show times each day at 4:00p, 6:15p, and 8:30p.
Disney recommends that guests arrive 30 minutes prior to the doors opening. As soon as you arrive you can pick up your show ticket from the booth outside. There are also typically PhotoPass photographers hanging out just waiting to help you capture more memories. The doors open exactly at your designated show time and the show starts 20 minutes later.
Hoop Dee Doo Revue Cost and Seating
When you make your dining reservation you must choose the seating area you want. They are broken up into 3 different categories. The category you choose determines the location of your table as well as the overall cost of the meal.
It is important to note that you are expected to pay in full at the time of the reservation. But don't worry, you can still cancel and receive a full refund as long as you cancel within the restaurant's stated time frame.
Hoop Dee Doo Dining Plan
Even though Hoop Dee Doo isn't considered a signature meal, it does require 2 Table Service credits on the Disney Dining Plan. There is even one category which doesn't allow you to use the dining plan at all (see chart below).
Hoop Dee Doo Seating Chart and Cost
| | | | |
| --- | --- | --- | --- |
| Category | Price (ages 10 and up) | Price (ages 3-9) | Disney Dining Plan |
| Category 1 | $72 | $43 | Not Eligible |
| Category 2 | $67 | $39 | 2 Dining Plan credits |
| Category 3 | $64 | $38 | 2 Dining Plan credits |
Any seats in Category 1 are located close to the stage. Category 2 seats are mainly located on the first floor as well, but are further back from the stage. Category 3 seats are almost all in the balcony surrounding the room.
It is important to note that all tables on the balcony are NOT wheelchair accessible. If someone in your group has a wheelchair choose Category 1 or 2.
Guests at Hoop Dee Doo Revue are included in the shenanigans. If you are allergic to being put on the spot, try to sit as far away from the stage as possible. This doesn't completely protect you, but the people in the closest seats are at the greatest risk.
However, if you truly don't want to participate, you don't have to. One of the actors approached my son to bring him up on stage to be a part of the show. He was too scared (he's very shy and hates being the center of attention) and she simply moved on to find someone else who was more willing.
I have to say, I don't think there are any "bad" seats. The dining hall itself is fairly small so no one is terribly far away from the stage. Make sure you understand the Hoop Dee Doo Revue seating chart before you make your reservation so you know which category you want.
Other Posts I Think You'll Enjoy:
Hoop Dee Doo Revue Menu
Now that we have the basic premise of the show out of the way, let's talk Hoop Dee Doo Revue food! Hoop Dee Doo Revue shares a kitchen with Trail's End Restaurant which is directly next door. The food at both restaurants is very similar.
Hoop Dee Doo Revue is like an all you can eat buffet where you never have to leave your seats. Wait staff will bring you all the items on the menu, and if you want more all you need to do is ask.
Each person gets a starter, entree, dessert, and unlimited soft drinks, beer, wine, and sangria. Yes, you read that right.
Appetizers/Starters
Tossed salad
Loaf of bread with honey butter
Entrees
Smoked BBQ pork ribs
Fried Chicken
Mashed Potatoes
Baked Beans
Seasonal Vegetables
Corn Bread
Dessert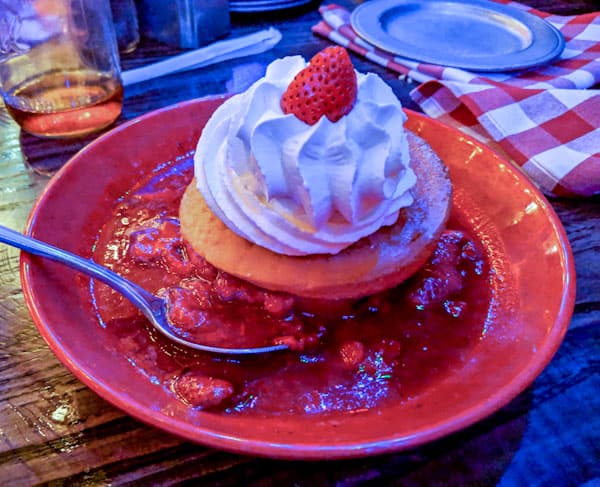 Hoop Dee Doo Revue Gluten Free Menu
For those of us who eat gluten free, the menu is almost identical. The pork ribs, mashed potatoes, baked beans, and vegetables are all gluten free. Instead of fried chicken you are offered baked chicken drumsticks instead.
The chefs make gluten free cornbread so I was even able to have a substitute for that. Instead of Strawberry Shortcake I was served the strawberries and cream with allergy friendly chocolate chip cookies instead of shortcake. I have heard that if you ask you might be able to get it served with gluten free brownies instead.
Hoop Dee Doo Revue (Review)
Even though I'm sure you can already tell, what did we think of the show and food? Instead of breaking my review up by menu items like I usually do, this one will be structured a little different to cover the various aspects of the experience.
Check-In and Seating
We arrived at Fort Wilderness shortly before the doors were scheduled to open (so much for arriving 30 minutes early). Even though we had the Tables in Wonderland card and could have gotten a discount for the 8:30p show, we chose an earlier one. I just can't imagine eating that late and we had an early morning rope drop planned for the next day.
The line was already quite long so we hopped on to the end. What we didn't realize was that we needed to check in to a little kiosk outside. We just merrily got in line and had our pictures taken. This really wasn't a big deal though. Once we realized our error (when we got to the front of the line to enter) we simply got our tickets and entered.
Our seats were Category 2. I wanted Category 1 but my husband was leery of having to participate. However, we ended up assigned a table within the first row of Category 2 tables on the main floor. It was as if we were in Category 1 without the higher price tag!
We had a fantastic view of the stage and were close enough for potential shenanigans.
Hoop Dee Doo Revue Food Review
As soon as we were seated our waitress stopped by to get us settled and explain the menu to us. This was when I let her know of my gluten sensitivity and my order was modified accordingly.
While I did feel that this process was somewhat rushed, in no way did I feel my food would be unsafe. I think they are simply very efficient at getting everyone seated and settled with drinks before the show started.
Doug got a beer and I had the sangria. They had a choice of af couple different types of sangria. I tend to prefer white wine so went in that direction. I felt the drink to be light and refreshing. A good complement to my food.
While Doug and kids had communal buckets of food placed on the table, my food was served on its own plate. I could have asked for seconds but it definitely wasn't necessary. There was already a lot of food on my plate.
The gluten free cornbread was good, but of course did not look nearly as good as the real cornbread the rest of my family had. I often have the attitude of simply being happy I have the option of a substitute so I'm easy to please. But in the end I'd say the gluten free cornbread is good but not great. It just so happens that I make a phenomenal gluten free sweet cornbread at home which I like better.
In the end we simply devoured the food. The meat was tender and the BBQ sauce was delicious. We were all pretty full after eating all that food. Fortunately there is a gap before dessert is served.
Doug and the kids were served a plate of strawberry shortcake for them all to share. I was given my own bowl filled with the strawberry sauce, whipped cream, and allergy friendly cookies. My serving was HUGE! I didn't even come close to finishing it, and I typically inhale desserts. It is a testament to just how much food we had during the course of Hoop Dee Doo.
Bottom line: We loved the food and I felt my gluten sensitivity was handled appropriately.
The Show
I would be happy with my meal in the absence of the show, but really, that would essentially be a meal at Trail's End right next door. The actual Hoop Dee Doo Revue is what sends this dining experience up to the next level.
The show is a combination of singing, dancing, and a whole lot of tomfoolery. It is very entertaining and laugh out loud funny. The actors do a phenomenal job in their roles and appear to truly enjoy what they do.
The serving of the food and eating is integrated into the show itself. At times, the food is even incorporated into the show. This allows you to eat at your own pace while being thoroughly entertained at the same time.
We all simply loved the show. My kids didn't stop smiling the entire time the actors were on stage. And that right there makes it all worth it.
Final Thoughts about Hoop Dee Doo Revue
As I'm sure you picked up on, we absolutely adored this entire experience. In fact, we want to do it again some day. Even though the show itself doesn't change, there is enough of an unpredictable human element to make it entertaining again and again.
Yes, this show is definitely a bit of a splurge in terms of price, but it is totally worth it. I think some people are intimidated by the seemingly out of the way location, but you shouldn't be. Just allow yourself plenty of time to get there and it's all good.
We came from our beloved Wilderness Lodge so getting there for us was extremely easy. If you stay at Wilderness Lodge, Hoop Dee Doo Revue is the perfect complement to your stay there. You should definitely go!
To book a dinner at the Hoop Dee Doo Musical Revue visit Disney's website.
If you like this post Pin it for later!
Your Thoughts
Are you considering making a reservation at Hoop Dee Doo Revue? Have you already been there? I would love to hear all about your thoughts and experiences in the comments below.
Don't forget to follow The Disney Journey on Pinterest and Facebook to stay up to date with all the latest news and updates.