We may earn money or products from the companies mentioned in this post. Please click my disclosure policy to learn more.
If you are in the process of looking for a more affordable resort option at Disney World, then Pop Century might be the right resort for you. This Pop Century resort review will take a look at everything you need to know to decide whether it is a good fit for your family. The review is also chock full of Pop Century resort pictures to help you see just what Pop Century has to offer.
If you haven't done so already, make sure you read my post about the different Disney resort categories and the pros and cons of each. Pop Century falls under the "value" resort category in Disney's hierarchy.
Pop Century Resort Atmosphere and Theme
As the resort name suggests, Pop Century Resort is an homage to pop culture through the decades of the 20th century. The fads of the 50s through the 90s are on full display all over the resort.
As with the other Disney value resorts, this is mainly done through larger than life figures scattered everywhere throughout the resort. There is a heavy use of bright primary colors on all buildings. This adds to the overall cheerful atmosphere of the resort.
I thought you might also enjoy reading: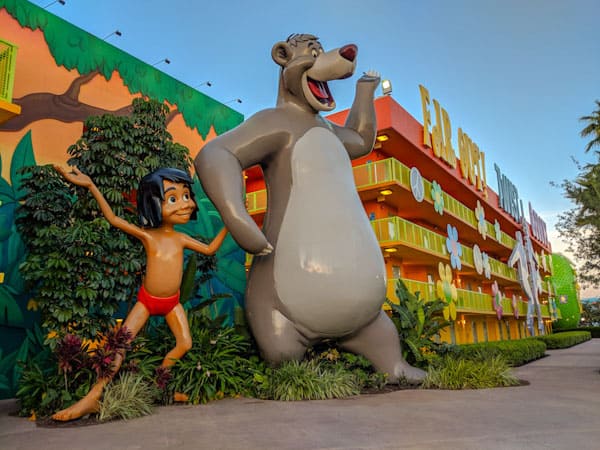 Where is Pop Century Located?
Pop Century is located within the Wide World of Sports Area of the Disney World campus. Where on earth is that, you ask? In general, that means it is not located near any of the parks. Instead it is closer to the sports complexes used by cheer, dance, and sports teams.
Pop Century Resort Address
For those of you driving during your trip, here is the Pop Century Resort address:
1050 Century Drive, Lake Buena Vista, Florida 32830-8433
(407) 938-4000
Pop Century Map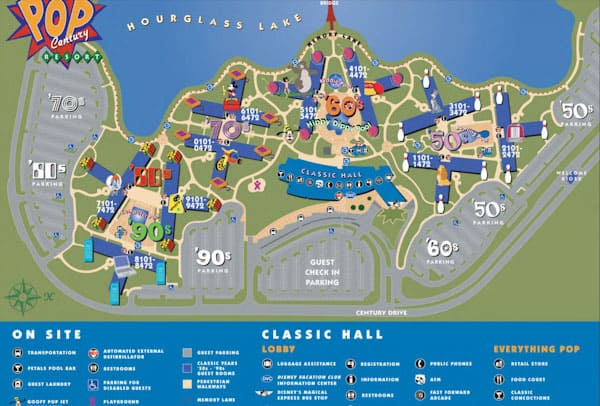 Pop Century Resort Rooms
Pop Century offers two basic room layouts with a couple different location and view options. While the room layout doesn't impact your overall price, the location and view will.
An important thing to note about the Pop Century rooms (and all the value resort rooms) is that there are no balconies. All of the rooms have doors which lead directly to the exterior hallways. The Pop Century room window shows views directly out on the exterior hallway that all guests walk through to get to their rooms. In that sense, your actual view doesn't matter a ton.
Also, the max room occupancy for any of the Pop Century resort rooms is 4 guests (5 only if one of those guests is a baby).
Pop Century Room Layout
As I mentioned, there are two room layout possibilities. The first is simply a room with a king size bed. However, most of the rooms have the other layout. The other option is a room with one queen size bed and one queen size murphy bed.
This is a vast improvement over the old option which was only two double beds before the refurbishment!
Pop Century Refurbishment
There was a massive Pop Century refurbishment that happened in 2018 and 2019. All of the Pop Century rooms were given a major overhaul. Not only was the interior decoration gutted, but this is when they changed the bed options.
The new decor is crisp and clean giving the room a very bright look. They were very smart about fitting in storage options even though there isn't a traditional closet.
Now, with the murphy bed a couple does not have a useless bed taking up space. This provides a substantial amount of extra floor space. But for families of 3 or 4, the extra bed space is available.
Standard Rooms at Pop Century Resort
The standard rooms at Pop Century resort are the most affordable option. In general, standard rooms are located farther away from the main resort area, making it a little more inconvenient to get to dining and transportation.
Within the standard room category there are two different view options: standard and standard pool view. A basic standard room gives you a view of parking lots and other exciting things like that. The standard pool view has your room overlooking one of the pools.
As you might have guessed, the better your view, the higher the price tag.
Pop Century Resort Standard Room Cost
Of course, the overall cost per night of the room varies depending on the time of year you take your trip. The cost you see reported below is the cheapest possible price you can find. It will go up from there.
Standard Room: $137 per night
Standard Room Pool View: $143 per night
Pop Century Preferred Rooms
The only difference between the standard and preferred rooms at Pop Century Resort is the location within the resort property. Pop Century preferred rooms are located with easier accessibility to all the dining, shopping, and transportation.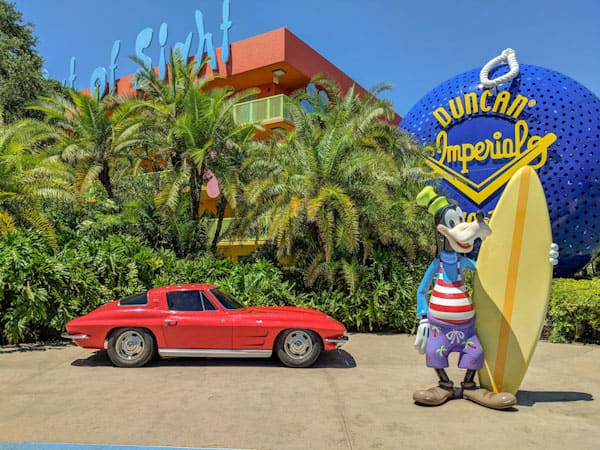 Pop Century Preferred Room Cost
Preferred Room, Standard view: $152 per night
Preferred Room, Pool View: $162 per night
For all of these room prices, please keep in mind that Disney often releases room discounts throughout the year. Make sure you bookmark my post about all of the most up to date Disney World discounts to see of your trip qualifies for a room discount.
Pop Century Amenities
As with the other Disney value resorts, Pop Century is not exactly overflowing with amenities. However, it does include all of the basics which are important to most families.
In addition to the areas I highlight below, you can also find an arcade, movies under the stars, a playground, and a jogging trail.
Pop Century Resort Transportation
Let's start with transportation because it is a big one. Previously, bus transportation was the only option for all Pop Century guests. This was a major downside to staying at the value resorts in general.
However, that has all changed with the opening of the Skyliner gondolas. There is a Skyliner station shared between Pop Century and Art of Animation resort and it is a total game changer. The Skyliner opens up easy access to both Epcot and Hollywood Studios. Pop Century guests can now get to either park within 10 minutes of a very easy ride.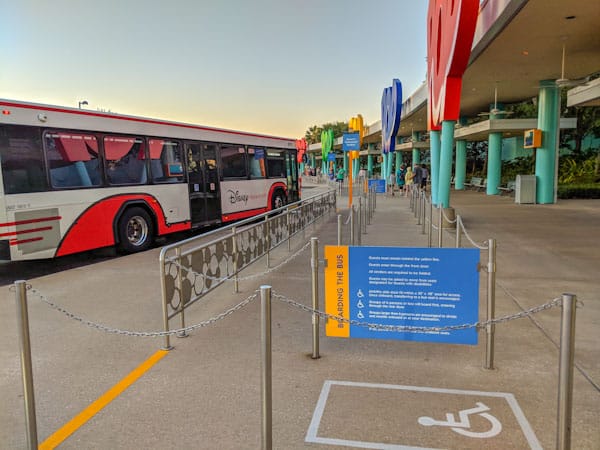 It should be noted that Disney has now reduced bus service to Epcot and Hollywood Studios from all Skyliner resorts as of January 2020. The bus for those parks now only comes once an hour. This makes bus service to Epcot and Hollywood Studios impractical. Because of this, if you do not want to use the Skyliner, I highly recommend staying at a different resort.
Bus transportation still runs normally to all other parks, approximately every 15-20 minutes.
Pop Century Pools
Pop Century has 3 different pool options for guests. The Hippy Dippy Pool is the primary resort pool, located directly behind the main building. This large pool boasts a laid back attitude and flower shaped jets. The pool itself is in the shape of a large flower. There is also a kiddie pool located in this area.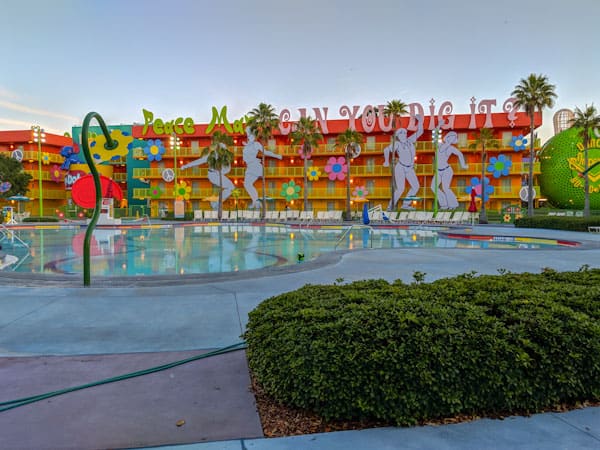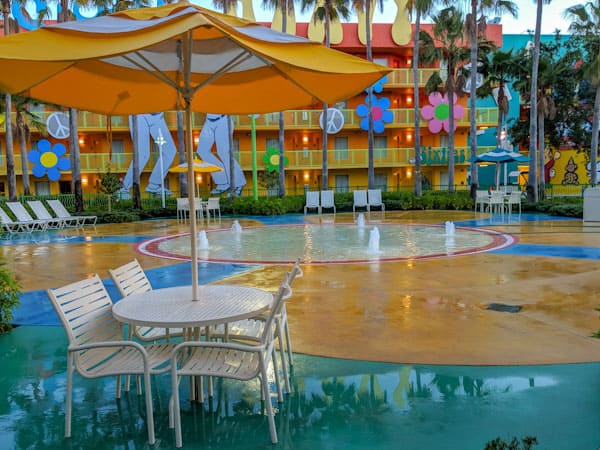 The two other pools are pretty basic pools with no bells and whistles. The only point of interest is that they come in non-traditional pool shapes. The Bowling Pool is located in the 1950s area and is in the shape of a bowling pin. The Computer Pool is located in the 1990s section, complete with floppy disk and keypad.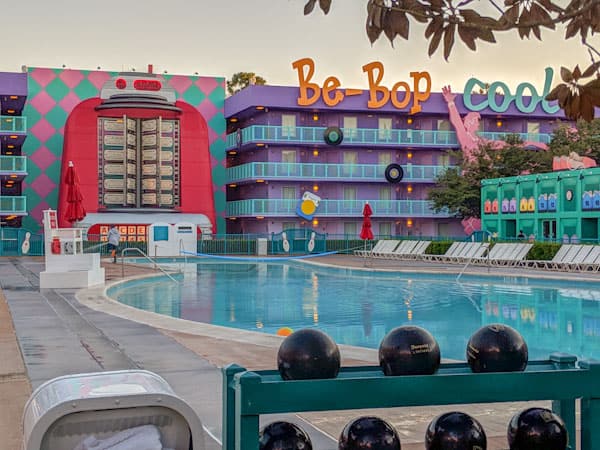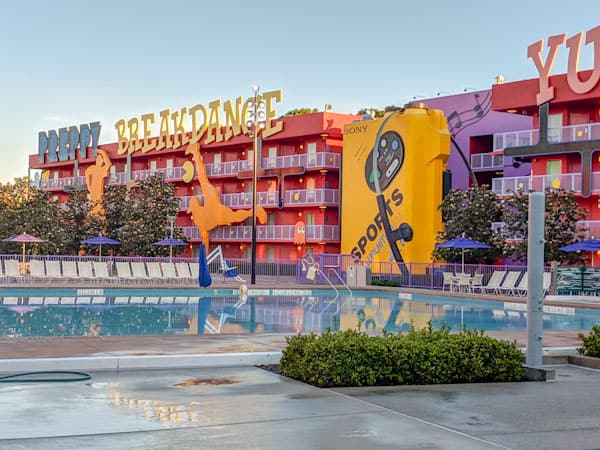 **The Hippy Dippy Pool is closed for renovations beginning in winter 2020. I was there in the beginning of January 2020 and construction hadn't started yet. There is no completion date provided.**
Pop Century Restaurant
Everything POP is the name of the only restaurant located at Pop Century resort. It is a quick service restaurant open for breakfast, lunch, and dinner. You can also use the highly convenient mobile ordering at Everything POP.
In order to imagine what Everything POP is like, picture a food court mall. Just like a food court, you find multiple different food stations with a wide variety of food options.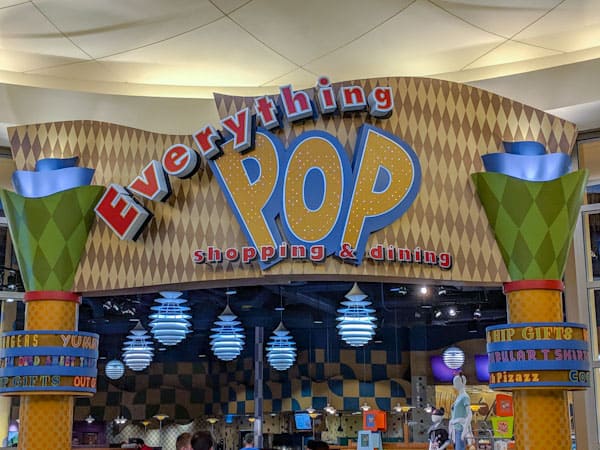 In addition to the restaurant, there is also a section of refrigerators and shelves with grocery type items for purchase.
Everything POP is generally open from 6:00am until 12:00am.
Pop Century Menu
The menu at Everything POP is actually QUITE extensive. Truly there is an option there for everyone. For breakfast you will find pancakes, waffles, omelettes, egg sandwiches, grits, and more.
For lunch you can get burgers, chicken, pizza, salads, and sandwiches. Dinner has all of those options plus a series of entrees such as salmon, pot roast, and meatloaf.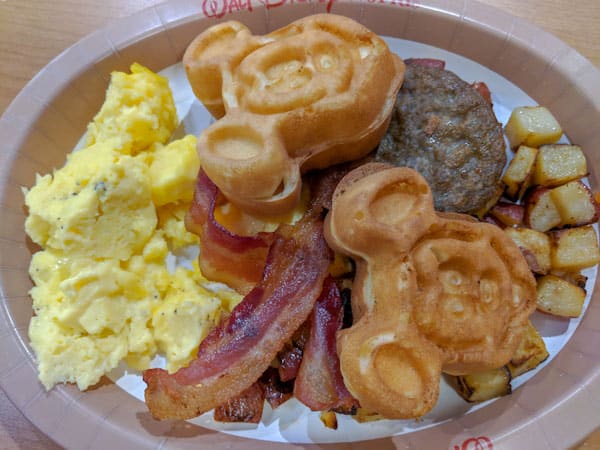 If you want to see the most up to date menu, go to the official Everything POP menu on Disney's website.
Pop Century Review
Now that we've gone over all of the basic information about Pop Century I want to review my experience there and give you some things to think about. First I'll give you some background.
I stayed at Pop Century with my sister during one of our trips together. We stayed for 3 nights and our priority at booking was budget combined with a good experience. I don't like the shared bus situation of the All Star resorts and had heard good things about Pop Century in general. Plus they were newly renovated!
It should be noted that we stayed there before the Skyliner gondolas opened up so the only transportation we had was buses. I also want to say, prior to this I had only ever stayed at Deluxe resorts since we are Disney Vacation Club members.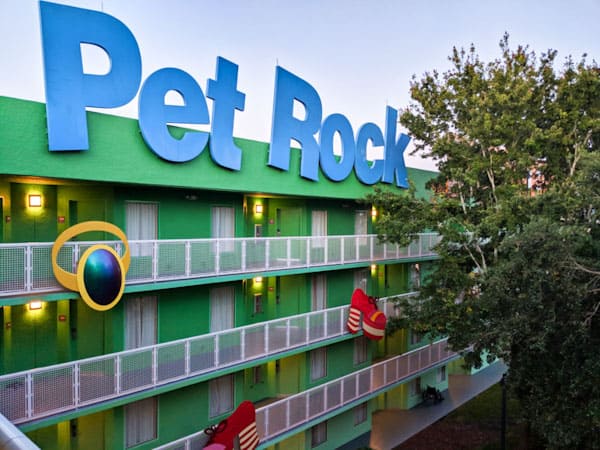 Overall Pop Century Resort Review
My impressions of the overall resort are actually very positive. I found everything to be very neat and clean, just as I would expect from any Disney property. After seeing many of the Deluxe resort lobbies a value resort just can't compare, so perhaps that's not fair. Despite this the lobby is big and didn't feel congested.
There is something intangible about Pop Century that just made me happy while I was walking around. I'm sure if we delved into the psychology that goes into some of these designs we will find this was deliberate. There is a heavy use of bold primary and secondary colors EVERYWHERE. I think this is part of what creates that feeling of happy energy.
The larger than life figures that dot the entire resort also aid this. Kids get a kick out of seeing some of these icons of the decades, but the adults will get more out of this. It's a kitschy walk down memory lane.
Since I am a chronic early riser I spent the morning of our departure walking all around the resort taking pictures. It was actually a lovely morning and I enjoyed seeing the whole resort. I highly recommend doing this to anyone else who tends to get up early.
Pop Century Room Review
Our room was located in the 70s section of the resort. When I submitted my room request I specifically asked to be in that section. Because it is located in between pools and backs onto Hourglass lake it is a quieter area.
We were generally quite pleased with the room. The decor of it is well thought out and very clean. I actually really liked the layout of the bathroom and all the little shelves and cubbies to store things.
With the murphy bed up in the wall the room actually feels quite spacious. When the bed comes down it eats up pretty much all of your extra space. The room definitely feels much more crowded once that comes down.
Tracey slept on the murphy bed and reports that is quite comfortable. The fact that it is a real bed instead of a sofa bed is a very important point.
Below I've simply put a series of Pop Century room pictures so you can get a good idea.
Everything POP Review
I only ate one meal at Everything POP and it was breakfast. However, I found it to be a pretty good, if basic meal. Of course, I had to make my order gluten free and felt well taken care of by the chef there. My meal was made separate from everyone else's and brought out to me directly by the chef.
Without having tried any other meals at Everything POP I don't feel that I can truly give a full review, but I will say that I am impressed by the sheer number of interesting items you can get here for breakfast, lunch, and dinner. This is well above McDonald's level of "fast food", that's for sure.
Review of Transportation at Pop Century
As I mentioned above, I was there before the Skyliner opened. We relied solely on bus transportation to get to the parks. I know that the buses tend to get vilified, but really, they aren't that bad. We had no problems with the buses and never had to wait more than 15 minutes for one.
But now the Skyliner is open. Can you say game changer? Because that's exactly what this is. I was just at Disney last weekend and riding the Skyliner through its entire route was a top priority for me. The Pop Century station is mere minutes from the Caribbean Beach hub station. From that station you pick one line to go to Hollywood Studios and the other to go to Epcot. And that's it! I didn't time how long it took to go from Pop to Hollywood Studios, but it was probably in the range of 10-15 minutes, including waiting in "line" for a gondola.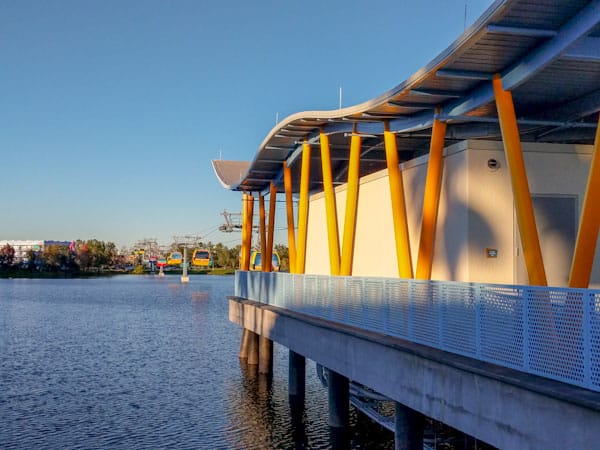 Pros and Cons of Pop Century Resort
For anyone who skipped my rather long winded review, let's get right to the point and take a look at the basic pros and cons of Pop Century Resort
Pros of Pop Century Resort
Newly renovated rooms
Good price
Very good dining options
Skyliner station for easy travel to Hollywood Studios and Epcot
Room layout is well thought out
Campus size isn't so big that it is overwhelming – it is walkable by most people's standards
Cheerful and bright atmosphere
Cons of Pop Century Resort
Rooms are on the smaller side
Exterior entry rooms
It's essentially a standard motel that is simply designed very well
Not a whole lot of bells and whistles
Pool area is not as exciting as other resorts
Do I Recommend Pop Century Resort?
The answer to this should be obvious by now. In fact, if you plan to stay at a value resort, Pop Century is my #1 resort recommendation. In this price point it is probably the best you will get on Disney property.
I enjoyed my stay there and will stay there again in a heartbeat. Is this a resort that I would look forward to enjoying on a rest-day from the parks? Probably not. The pool isn't exactly anything to write home about. The entire resort just doesn't have the same nooks and crannies to explore and enjoy that the higher level resorts do.
The resort serves its function of providing comfortable and clean accommodations. Disney takes it one step further and makes the decor and overall feeling of the resort happy and cheerful. It's a great place to lay your head after a busy day at the parks without breaking the bank. If those are your expectations, then Pop Century resort is perfect for you.
If you like this post, Pin it for later!
Your Thoughts
Are you considering Pop Century resort for your next trip? Have you stayed there before? I would love to hear your thoughts on Pop Century below.
Don't forget to follow The Disney Journey on Pinterest and Facebook to stay up to date with all the latest news and updates.