We may earn money or products from the companies mentioned in this post. Please click my disclosure policy to learn more.
Mickey's Very Merry Christmas Party (MVMCP) is a hard ticket event held at Magic Kingdom each year during the Christmas season. Of course, at Disney World Christmas starts immediately following Halloween, but I'm OK with that! The party takes place 3-4 times a week, every week, from the second week in November until just before Christmas Eve.
There are a lot of details to know about Mickey's Very Merry Christmas Party, and this post will try to cover them all. At this time the post has been completely updated with all the party information you need. This includes special party food, merchandise, and character meet and greet information (updated 4/8/2020).
You might also like to read:
Mickey's Very Merry Christmas Party Dates
Disney goes out of their way to extend the Christmas season as long as humanly possible, and I'm OK with that! MVMCP begins in early November and extends until just before Christmas. In 2020, Mickey's Very Merry Christmas Party will run on the following dates:
November 8, 2020
November 9, 2020
November 12, 2020
November 13, 2020
November 16, 2020
November 17, 2020
November 19, 2020
November 20, 2020
November 22, 2020
November 24, 2020
November 29, 2020
November 30, 2020
December 3, 2020
December 4, 2020
December 6, 2020
December 8, 2020
December 10, 2020
December 11, 2020
December 13, 2020
December 15, 2020
December 17, 2020
December 18, 2020
December 20, 2020
December 22, 2020
Mickey's Very Merry Christmas Party Sold Out Dates 2020
Each year MVMCP sells out on certain dates. Some of these are predictable, but some are not. The first party of the year always sells out. If you are going to be there around Thanksgiving, those are also at risk. And the last few parties of the year also always sell out.
If you want to go to Mickey's Very Merry Christmas Party I recommend that you buy your tickets sooner rather than later.
MVMCP Sold Out Dates 2020
Mickey's Very Merry Christmas Party Hours
Just like at Mickey's Not So Scary Halloween Party, MVMCP technically runs from 7:00p until 12:00a. However, party guests are permitted entrance to Magic Kingdom at 4:00p.
Again this year, Disney Vacation Club members are permitted entrance as early as 2:00p as a membership bonus. This gives you at least 8 hours of park time with your party ticket!
Regular day guests are permitted to get on rides until 6:00p. From that point on, they are subtly herded towards Main Street and the exits.
MVMCP 2020 Entrance Procedure
All guests with a MVMCP event ticket are provided with a color coded wrist band upon entrance to the park. Each day has a different color, preventing people from trying to reuse old wrist bands to simply stay in the park.
This wrist band is how Cast Members determine who is allowed in the park after 7:00p and who needs to be asked (politely!) to leave.
If you are already inside of Magic Kingdom using a regular park ticket, you will need to go to one of the wristband stations set up around the park. They will scan your MagicBand/ticket and provide you with a wrist band.
Mickey's Very Merry Christmas Party Tickets
For right now, I'm reporting these prices as rumors. These were the prices seen when Disney released the MVMCP dates briefly on accident. It is possible these prices may change with the official release. Let's hope so because the price jump is huge.
Like most things at Disney World, attending Mickey's Very Merry Christmas party is not cheap. Tickets start at $105 for adults and $100 for children on the low end. The closer you get to Christmas, the more expensive the tickets get, peaking at $155 for adults and $150 for children.
Compared to 2019, this is an increase in price ranging from $6 per ticket all the way up to $11 per ticket. That's a pretty steep price increase.
Tickets will cost you $10 more if you buy them same day, so make sure you buy your tickets ahead of time.
Discounted MVMCP Tickets
If you are an Annual Passholder or a Disney Vacation Club member, you are eligible for a discount on the MVMCP tickets. The discount brings the price down to a range of $94-$124 for adults. However, the discount is only good on select dates, and never includes the last two parties of the year.
An even better way to get a discount on Mickey's Very Merry Christmas Party tickets is to buy them from Undercover Tourist. For an adult on the cheapest day, you would pay $97.95 AFTER tax. Disney always lists their ticket prices BEFORE tax.
Tip: On average, Undercover Tourist will save you around $19 per ticket for Mickey's Very Merry Christmas Party.
Military Discount for Mickey's Very Merry Christmas Party
In addition to those, The Disney Journey reader PegP gave me the scoop on getting a military discount on the tickets. The discount is only available on certain dates, and the amount of the actual discount varies for each date, but savings is savings! If you want to take advantage of the military discount you can either buy your tickets directly from a ticket booth at Disney World or get them through Shades of Green.
If you don't want to wait until you arrive at Disney World you can contact Shades of Green to purchase your tickets ahead of time. They will guide you through the process of purchasing them. If you know you want to attend MVMCP, I highly recommend you buy the tickets ahead of time. Many of the party dates sell out in advance.
For more information on the Mickey's Very Merry Christmas Party military discount visit the Shades of Green tour page.
What Should I Wear to Mickey's Very Merry Christmas Party?
This question always seems to come up when talking about a Disney trip. Of course, you can wear anything you want. However, I highly recommend you pay attention to the weather during your party time. December nights in Florida can see temperatures in the 40s and 50s. That's a very chilly evening in shorts and a t-shirt.
Review my Disney packing list to make sure you are prepared for the weather. I have a whole section focused on winter packing for Disney.
But why wear any old clothes when you can wear a Disney themed ugly Christmas sweater?!?! If the weather is cooler this is so much better than a regular old sweater. Amazon is full of all sorts of Disney ugly Christmas sweaters for good prices. They even have t-shirt versions in case you go in early November when it's still warmer.
Here are some of my favorites:
Aren't these amazing? And there are plenty more where that came from!
Mickey's Very Merry Christmas Party Events
Mickey's Very Merry Christmas Party is chock full of fun seasonal events included in the ticket price. It might not be possible to do all of them over the course of one party, but it sure is fun to try. The times of the events tend to be the same each year, but information will be updated as information is released.
A Frozen Holiday Wish (6:15p, 8:15p)
Perhaps one of the most iconic moments of the party, this is when Elsa lights up Cinderella's Castle. I think we all know by now that I'm a sucker for anything involving Disney an Christmas. This makes me so happy every single time.
Tip: To save time later in the party, try to watch A Frozen Holiday Wish at 6:15p, when it is shown for the day guests before they leave the park.
Mickey's Most Merriest Celebration (7:40p, 9:25p, 10:30p, 11:55p)
This adorable show takes place on the castle stage several times each night of the party. Mickey and Minnie invite all of their friends over for a holiday celebration. The show includes singing, dancing, and overall frivolity by our favorite Disney characters.
If you've never been to MVMCP before, then seeing Mickey's Most Merriest Celebration is an absolute must.
Once Upon a Christmastime Parade (8:30p, 11:00p)
I don't care how old you are, a good parade is fun for everyone. A Christmas themed parade at Magic Kingdom is just icing on the cake. The Once Upon a Christmastime Parade is filled to the brim with Mickey and his friends, the princesses, toy soldiers, reindeer, and of course, Santa!
The parade runs twice during each party and is a huge draw for the crowd, with the 8:30p parade the most popular.
If you watch the parade from Main Street, you will even see it snow!
Minnie's Wonderful Christmastime Fireworks (10:00p)
For the past several years, Holiday Wishes has been the fireworks show during Mickey's Very Merry Christmas Party. Ever since Happily Ever After replaced Wishes as the Magic Kingdom fireworks show, it was assumed the Holiday Wishes would also be retired.
Disney announced that in 2019, a new fireworks show will debut during the Christmas party. Minnie's Wonderful Christmastime Fireworks show will be able to be enjoyed from all around the park, according to Disney.
Guests will enjoy familiar Christmas favorites such as "We Wish You a Merry Christmas" and "Deck the Halls" while the fireworks explode around them.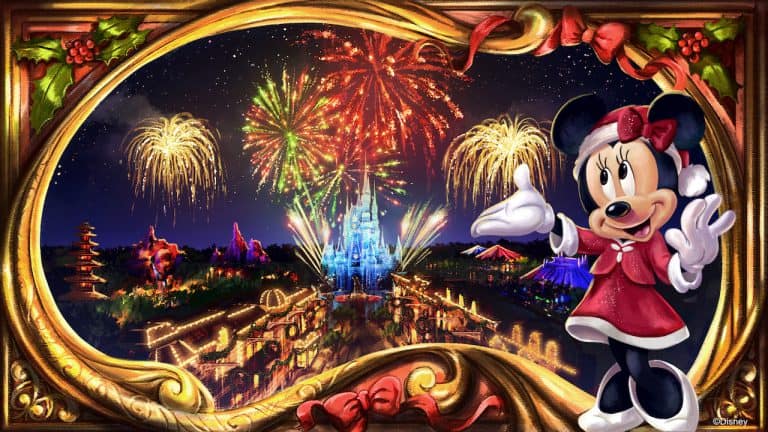 A Totally Tomorrowland Christmas (7:45p, 8:35p, 9:25p, 10:45p, 11:35p)
This party includes your favorite Tomorrowland friends like Buzz Lightyear and Stitch. It's a truly out of this world party. It takes place on the Rockettower Plaza Stage.
Complimentary Sweets and Treats
There are treat stations scattered throughout the park, each identified with a giant candy cane. These treat stations will offer cookies, snowman shaped pretzels, chocolates, and sno-cones. You can wash all those treats down with hot chocolate, egg nog, and cider.
And the best news is, there is no limit to the number of times you can go back for more.
Mickey's Very Merry Christmas Party Complimentary Goodies Locations 2019
The complimentary goodies that are given out at Mickey's Very Merry Christmas Party are an added bonus for sure. They aren't necessarily the best cookies you'll ever eat, but they sure do hit the spot during a late night of party enjoyment.
As an added bonus, there is no limit on the amount of treats you are able to get. So fill up on goodies to your heart's content.
Tip: Since they are unlimited, get extras and take them back to your room. Now you have snacks for days!
Pinocchio Village Haus: Snickerdoodle Cookie, Hot Chocolate, and Fanta
Storybook Snacks Cart: Snowman Pretzel
Miner's Cove: Peppermint Cookie
Friar's Nook: Chocolate Chip Cookie
Lunching Pad: Ginger Molasses Cookie and Apple Cider
Cosmic Ray's Starlight Café: Peppermint Cookie, Hot Chocolate, and Apple Cider
Jungle Cruise: Ginger Molasses Cookie
Tortuga Tavern: Snowman Pretzel and Fanta
Golden Oak Outpost: Snickerdoodle Cookie
Diamond Horseshoe: Chocolate Chip Cookie and Eggnog
Note that there are allergy friendly options available at all of the treat stations, you simply need to ask for them. Typically, these are the usual prepackaged allergy friendly cookies.
Mickey's Very Merry Christmas Party Ride Overlays
Disney just announced that Mickey's Very Merry Christmas party will get some holiday themed ride overlays. This follows that trend that began with Mickey's Not So Scary Halloween Party and Disney Villains After Hours.
Tomorrowland Speedway
The newly freshened up Tomorrowland Speedway will give you the chance to drive through a festive wonderland. This will include festive lights and stylized decor.
Monsters Inc. Laugh Floor
The monsters of Laugh Floor will swap out their Ha, Ha, Ha for a little Ho, Ho, Ho for some extra special holiday fun. This will be a new show only for MVMCP guests.
Space Mountain
The usual Space Mountain theme and decor will be replaced with dazzling lighting and high energy holiday tunes.
Mad Hatter's Tea Party
There will be four new combinations of holidays lights and music for you to spin your tea cup to as you enjoy a wacky Christmas Party.
Open Attractions During Mickey's Very Merry Christmas Party
Most of the rides and attractions are open during the party. There are some which are not offered, like Mickey's PhilharMagic, but all of the most important ones are available. Because of the lower crowds during the party, this is a great time to get on rides with lower waits than normal.
Main Street USA
Town Square Theater
Sorcerers of the Magic Kingdom
Adventureland
Pirates of the Caribbean
The Magic Carpets of Aladdin
Swiss Family Treehouse
Jungle Jingle Cruise – Jungle Cruise is given a special holiday overlay!
Frontierland
Big Thurnder Mountain Railroad
Country Bear Jamboree
Liberty Square
Fantasyland
Peter Pan's Flight
Prince Charming Regal Carrousel
Princess Fairytale Hall
Dumbo the Flying Elephant
"it's a small world"
The Many Adventures of Winnie the Pooh
The Barnstormer
Mad Tea Party
Seven Dwarfs Mine Train
Under the Sea ~ Journey of the Little Mermaid
Tomorrowland
Tomorrowland Speedway
Space Mountain
Astro Orbiter
Buzz Lightyear's Spaceranger Spin
Tomorrowland Transit Authority PeopleMover
Monsters, Inc. Laugh Floor
(Last show at 10:00)
Mickey's Very Merry Christmas Party Character Meet and Greets
The special characters that are available during Mickey's Very Merry Christmas party are hugely popular. Some of the rare characters will have very long lines throughout the duration of the party, with many people lining up well before the party officially starts.
Disney will not release the official character list. Most of the information comes in as people report which characters are where. However, the list is very similar from year to year. The following list is based off of the characters who did meet and greets at the 2018 parties. It will be updated once information is confirmed.
Main Street U.S.A.
Santa Claus (Town Square Theater)
Mickey Mouse in Christmas Outfit (Town Square Theater)
Jack Skellington (as Sandy Claws) and Sally (Town Square Theater) – these very popular characters begin meeting at 4:30p, you can get your party wrist band while in line for them
Adventureland
Aladdin (dressed as Prince Ali) with Abu
Jasmine with Genie
Captain Jack Sparrow (across from Pirates of the Caribbean)
Moana (inside Walt Disney's Enchanted Tiki Room) – starts meeting at 5:45p
Peter Pan with scarf (roaming)
Frontierland
Fantasyland
Ariel and Prince Eric (across from Under the Sea ~ Journey of The Little Mermaid)
Cinderella with Prince Charming and Elena of Avalor (Princess Fairy Tale Hall)
Tiana with Naveen and Rapunzel with Flynn Rider (Princess Fairytale Hall)
Aurora with Prince Phillip and Snow White with Prince (near Princess Fairytale Hall) – Line up at 6:30p
Snow White and her Prince (near Princess Fairytale Hall)
Belle (near Bonjour! Village Gifts)
Tweedle Dee and Tweedle Dum (next to Mad Hatter's Tea Party)
Tigger and Friends with scarves (next to The Many Adventures of Winnie the Pooh) – Starts meeting at 6:20p
The Seven Dwarfs with holiday scarves (inside Pete's Silly Slideshow in Storybook Circus) – Very popular, line up by 5:00p; Begin meeting at 6:15p
Minnie Mouse and Daisy in holiday dresses (Storybook Circus)
Scrooge McDuck and Donald in holiday outfits (Storybook Circus)
Santa Goofy (near Barnstormer exit)
Timon, Doc McStuffins, Vampirina, and Fancy Nancy (Disney Junior Jingle Jam)
Liberty Square
Tomorrowland
Nick Wilde and Judy Hopps – Starts meeting at 6:15p
Reindeer
Polar Bears
Mickey's Very Merry Christmas Party Add Ons
While Mickey's Very Merry Christmas party is in and of itself one of the best Disney add ons, there are even add ons within the party to enhance your experience. Of course, all of these additional experiences cost extra.
2019 Minnie's Wonderful Christmastime Fireworks Dessert Party at Tomorrowland Terrace
This dessert party combines special holiday treats with preferred viewing of Minnie's Wonderful Christmastime Fireworks. Guests are treated to a buffet of delectable treats prepared by Disney pastry chefs where they can indulge their sweet tooth. There are also several beverages and specialty drinks included in the package.
There are two options to choose from with the dessert party which determine what kind of fireworks viewing the guest will have.
Minnie's Wonderful Christmastime Fireworks Dessert Party at Tomorrowland Terrace – this party costs more and will provide guests with exclusive seating to enjoy the fireworks from. Cost for the Minnie's Wonderful Christmastime Fireworks Dessert Party at Tomorrowland Terrace is $84 for adults and $50 for children.
Minnie's Wonderful Christmastime Fireworks Dessert Party with Plaza Garden Viewing – this party has a slightly lower price tag due to the standing fireworks viewing option. These guests are escorted to a private garden area for the fireworks viewing. Cost for Minnie's Wonderful Christmastime Fireworks Dessert Party with Plaza Garden viewing is $69 for adults and $41 for children.
Tony's Most Merriest Town Square Party
This upcharge party runs at Tony's Town Square restaurant from 9:30pm until 12:30am, a half hour past the closing time of the party. You are allowed to come and go from this party as you please, enjoying snacks and drinks throughout the evening.
However, the biggest advantage of the party is the reserved viewing location for the 11:00pm running of Mickey's Once Upon a Christmastime Parade. Last year the reserved area was prime real estate that allowed you a full view down Main Street with the castle lit up at the end.
Party tickets are $99 per person and are currently on sale now.
Mickey's Very Merry Christmas Party Merchandise
Every year, Disney releases exclusive merchandise which is only available to Mickey's Very Merry Christmas Party guests. It is available on a first come, first serve basis, and items are known to sell out.
MVMCP Annual Passholder Exclusive Merchandise
There are a couple of items at Mickey's Very Merry Christmas Party which are only available to Annual Passholders.
Mickey's Very Merry Christmas Party Special Treats
Each year Disney's chefs release a barrage of special holiday themed treats of both the sweet and savory variety. While some of them are available in the park all day long, there are many treats which are exclusive to MVMCP.
One thing I definitely noted is there aren't a lot of options for our gluten free friends. Typically they will even specify in their press release what is gluten free but they did not this year. Some of the ice cream based treats should be modifiable to make them safe. Make sure you ask a Cast Member about ingredients before you buy anything.
MVMCP Party Exclusive Treats
Magic Kingdom Daily Christmas Treats
These treats are available all day at Magic Kingdom, including during Mickey's Very Merry Christmas Party. This list does have the one specifically identified gluten free option.
Is Mickey's Very Merry Christmas Party Worth It?
This is probably the most asked question in regards to MVMCP. Considering the high cost of the tickets, this question is perfectly natural. You want to be assured that it is an experience to be enjoyed by the whole family.
If you read my trip report for Mickey's Very Merry Christmas Party for 2017, or for the party in 2018, then you know that we absolutely love MVMCP. However, like everything else related to a Disney World vacation, advanced planning is your friend. The more prepared you are for the experience, the better off you are (more on that below).
In the end, I clearly think that Mickey's Very Merry Christmas Party is worth it for my family. It's an extra expense to budget for during a trip at Christmastime. If you are a Christmas nut and love being inundated with Disney's special brand of Christmas magic, then MVMCP just might be right for you too.
Mickey's Very Merry Christmas Party Tips
Below you will find some very important tips for Mickey's Very Merry Christmas Party. If you follow these, and do your homework, your odds of loving the party as much as I do greatly increase.
Prioritize events and attractions
Plan a rough idea of where you want to be, and when
Enter the park at 4:00p and stay until the end
Be realistic in your expectations
1. Prioritize Events and Attractions
At some point leading up to the party, Disney releases the schedule of events for MVMCP. However, this could be released mere days before the parties begin, or not until the opening party. If you are going to parties later on in the schedule, this is no big deal.
However, if you are going to some of the first parties, this is more of a problem. You can circumvent this by looking at the schedule of events for the previous year, as they tend to follow a similar pattern for the parties year after year.​
Once you've seen a list of the typical party offerings, now is when you start to decide which aspects of the party your family will enjoy the most. Even if you are there for all 8 hours of park time you can have on a party ticket, it is impossible to do everything offered at the parties.
Does your family prefer rides? Do they like characters? Do you prefer party exclusive offerings over things you can do on a regular MK day? These are the questions to start with and then build your strategy from there.​
Rides are a big priority for my family. In addition to rides, we enjoy party specific offerings such as the castle shows, Mickey's Once Upon a Christmastime Parade, Holiday Fireworks, and the snacks. Once I had this narrowed down, I had my foundation on which to build out the specifics of our plan. I took this a step further and prioritized the top rides we absolutely wanted to ride, then had a mental list of secondary rides that would be an added bonus if we got on them.​
Strategies for Character Meet and Greets
Get in the character's line before the party starts (think 5:00p)
Hop in line at the end of the night (after the fireworks and on)
Create your priority list of characters
If you plan to be more focused on character meet and greets you need to plan very specific strategies for the characters you want to meet the most. Some of the party exclusive characters can very quickly build absolutely massive lines.
I'm sure there are others, but some of the most popular characters include Sandy Claws, The Seven Dwarfs, and Moana. In fact, at this time you can only meet Moana at either MVMCP or MNSSHP. Considering her popularity amongst kids, this makes her line build fast.
2. Plan a Rough Idea of Where You Want to be, and When
This is perhaps where I was just a touch obsessive in my planning strategy, but as it served me well, it could do the same for you. Get on out there and search for maps of Magic Kingdom, because now is when you want to put them to use.
If you've been to MK more often and are pretty familiar with the general layout, this might not be as necessary, but if you've never been or have only been there once, I highly recommend this part.
Prior to our first party, we'd only been to MK a couple of times before (not counting that first trip where we barely left Fantasyland!). I quickly realized as I was planning out the events that we wanted, that I needed to know where on earth everything was in order to minimize the amount of time we spent staring at the map figuring things out on the day of the party.
Decide: View Events from Main Street or Elsewhere in the Park
Here is where another very specific part of our strategy comes into play. With the exception of entering and leaving, we avoid Main Street and The Hub like the plague. Now, this definitely will not work for everyone. Most people insist that if you don't watch things like the shows, parade, and fireworks from directly in front of the castle you miss out on some of the magic.
And I definitely agree with this sentiment. There is much to be said for watching the parade come down Main Street with the castle all lit up in the background. And did I mention that snow that falls on Main Street during the parade? Talk about Disney magic!
However, there are downsides to being present for the full on magic of Main Street. The main drawback is that the crowds are at their heaviest in those areas and if you want a good spot, you need to stake it out well in advance to the start of the event. Some people will even stay put in their parade spot and wait for the fireworks to begin.
For us, that is just way too much time spent sitting around instead of having experiences. While I would love to experience the magic from Main Street, we made the conscious decision to view things from less desirable locations. This lessens the impact of the event (i.e. not being able to see all the characters on stage unobstructed) but gives an easy escape route when the event is over.
If your priority is to fully experience all of the magic, that is wonderful! Just make sure you understand how that will impact the number of things you will be able to accomplish overall.
How I Created Our Successful MVMCP Touring Plan
I sat down with a map of Magic Kingdom and a list of the events and times and went to work. I pieced together which times would work best to minimize the number of times we had to crisscross the park. There were a few different variations before I hit upon the plan that ultimately worked very well for us.
Included in this was identifying where we wanted to sit for the parade and fireworks, as well as where to watch the castle shows from. Again, our priority for all of these viewing spots was easy in, easy out. We rolled up to watch the castle lighting show a mere 5 minutes before it started, left as soon as it was done, and were on our next ride within minutes.
We watched the parade from Frontierland and the fireworks from Fantasyland. This doesn't work for everyone, but it worked for us. You need to decide what works best for your crew.
​
3. Enter the Park at 4:00p and Stay Until the End
Party goers have always been allowed to enter the park at 4:00p, and this stands to continue. New for 2018, Disney Vacation Club members were allowed entrance to the park starting at 2:00p for themselves and up to 7 guests who have party tickets. These party tickets are expensive so squeeze every last second out of them as you can.
FastPass at Mickey's Very Merry Christmas Party
A somewhat controversial aspect of all of this, that no one actually knows the correct answer to, is "Can I use FastPass from 4:00p-6:00p on the party ticket?" The answer is yes, and no.
People with party tickets have always booked FPs during this time frame, but in 2017 some difficulties began popping up. If you haven't done so yet, read the basics of the FastPass system. It is an important part of any Disney vacation.
If you have party tickets in addition to multiple park day tickets in the My Disney Experience app, this could lead to an email after you booked all your FPs telling you that you exceeded your allotment of FPs. The email warns that if you don't cancel some of those FastPasses, your FastPasses for the last park day will be erased. Some people got this email, and some didn't. It seems to be completely arbitrary.
But if you get the email, simply delete the party FPs and go with the flow. The MVMCP FastPasses aren't worth losing your Flight of Passage FastPass!
​Keep in mind, between 4:00p and 7:00p, the crowds will be at their heaviest as you have an influx of party guests combined with the day guests still there. I recommend that you do not linger on Main Street. Get in, walk through, and go to other areas of the park while you wait out the crowds.
This was a large reason why we went ahead and booked an Advanced Dining Reservation for 4:00p. We spent that first hour of crowd craziness eating a delicious meal and getting ourselves ready for the fun to come.​
Close out the Party!
The other key part of this advice is to stay at the party as long as you can. Clearly, if you have small children, this is easier said than done. You don't want to push them to the point of exhaustion and meltdown, but you want to get close to that.
My kids were 8 and 5 when we went the first time, and are typically in bed, sound asleep by 8:00p every night. They are not late night kids by any stretch of the imagination. But we decided to push them as late as possible because we knew that the crowds would dwindle in the later hours.
Tip: Make sure the day after you attend Mickey's Very Merry Christmas Party is a rest day. Trust me, you will all need it.
If you have younger kids, I highly recommend having a stroller for this day (if not your whole trip) so kids can rest in the stroller if necessary. I have a list of recommendations for the best strollers for Disney which all fit Disney's new stroller guidelines.
My kids were able to make it until midnight, and we had some of our favorite parts of the night between 10p-12a. We hopped in line for 7DMT around 11:40p and waited only 20 minutes to ride it! It was awesome. We felt that by spending the full 8 hours at the party and getting so much accomplished, we got our money's worth out of those tickets.​
4. Be Realistic in Your Expectations
This particular piece of planning advice is worth it's weight in gold. As with all things in life, the perspective in which you approach something will ultimately determine a large part of the outcome. As with any part of planning an awesome trip to Disney, there are many unpredictable factors. No matter how much you plan, you can't control the weather, the crowds, or the mood of your children.​
While the parties are touted as having significantly lower crowds than the average park day, an assertion I completely agree with, no one has the official data on how many tickets Disney will sell before they consider a party to be sold out.
Will it be less crowded than a typical park day? Absolutely. Will it be a crowd-free bonanza in which you can run around and do everything you want? No. There will be crowds, especially on Main Street and The Hub.
I read so many accounts of people being at the same exact party, one person asserting it was miserably crowded and they had a terrible time, and another saying the crowds were low and they had a great time. This was the same exact party!
When planning, just assume that there will be a lot of people and plan your strategy around that. This helps you to keep the proper perspective and keep your expectations in check. If there are lower crowds than you expected, great! You can get more done than you even imagined. If the crowds are bad that night, you are prepared to go in and still have a blast.
Don't forget to Pin this Post so you don't miss any updates!
Your Thoughts
What do you think? I'd love to read your comments about the strategies that you've used at the parties. Don't forget to follow The Disney Journey on Facebook and Pinterest.