We may earn money or products from the companies mentioned in this post. Please click my disclosure policy to learn more.
The question of whether or not to use strollers at Disney World is a very common one. Every family is different and has different needs and preferences.
There really is no wrong answer to this question. It is all about what is best for your family. But there are some pros and cons to both using and not using a stroller. ​
This post will take a look at everything you need to know about using a stroller at Disney. It will cover the different stroller options available to you as well (updated January 27, 2022).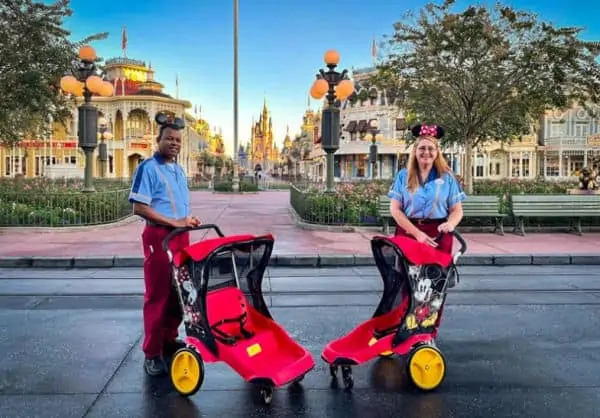 Pros and Cons of Using Strollers at Disney World
I will come straight out with the fact that I am very pro-stroller, so this might be a bit biased, but I will do my best to be fair to both sides.
If you have kids under the age of 5, I would not even think twice about having a stroller, and I think most people would agree.
We always used a stroller at Disney if the kids are with us. I even rented a double stroller for a single day, just so I could use it at Mickey's Very Merry Christmas Party. In fact, now that the kids are older, I miss having a stroller to carry around all the extra stuff!
So clearly, I'm a fan of having a stroller there, but there are definitely some cons to take a look at.​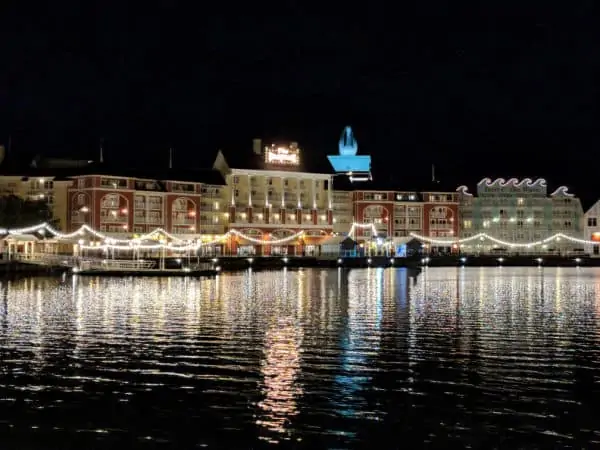 Pros of Using Strollers at Disney World
A chance to rest while still on the go
Storage, storage, storage
Safety in very crowded conditions
A Chance to Rest While Still on the Go
​Obviously, the main advantage of having a stroller is to allow the kids to rest when they need to. We easily average over 10 miles a day on park days. 10 miles a day!
That's nothing to sneeze at, and when you have little legs and muscles that are not yet fully developed, that's just exhausting.
Think of how many steps your kids have to take in order to equal one of yours! They are taking two or three times the number of steps we are.
And as all parents know, an exhausted child often equals meltdown. I really try to avoid that situation while in the middle of my vacation.​
Storage, Storage, Storage
All parents are aware of just how much stuff comes along with taking a kid anywhere. And the younger they are, the more stuff they seem to need.
This is where having a stroller can become invaluable. Most strollers come with a storage basket, some more generous than others.
We rent the City Mini GT Double stroller when we go, and that sucker sure can hold a lot of stuff. We keep all of our valuables in a backpack we can easily pull out when we park it and go on rides, and leave the rest of the stuff in the basket of the stroller.
It's brilliant. Especially if you are a family that has a cooler with you for water or a packed lunch, this advantage is huge.​
Safety in Crowded Situations
Keeping the kids contained is certainly an important advantage to a stroller. Disney can be crowded, at times to ridiculous levels.
It eases my mind to be able to sit the kids in the stroller as we make our way through really crowded areas, like The Hub, and know that we won't get separated.
Having them in the stroller has also come in handy at rope drop when we are trying to make our way to a popular ride before the hundreds of other people trying to do the same thing.
Doug and I move fast when we walk, a lot faster than our kids can manage. So we have them hop into the stroller, and we are off.​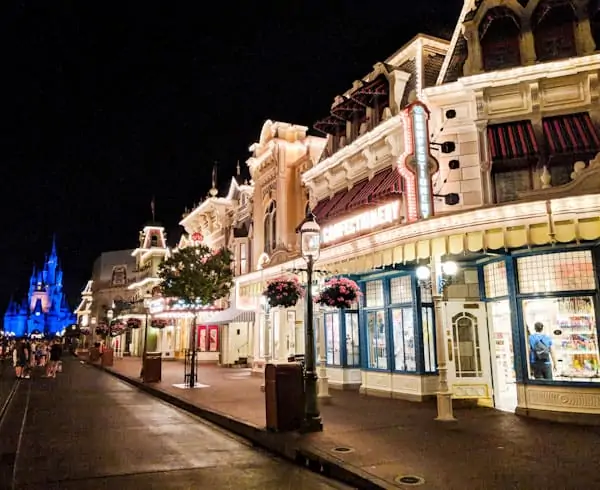 Cons of Using Strollers at Disney World
Maneuvering through crowds
Stroller parking, everywhere
Getting on and off transportation
Maneuvering Through Crowds
​Let's face it, trying to push a double wide stroller through the Hub is an exercise in patience and good driving. Logic tells us that the more space we take up, the harder it is to squeeze through crowds.
This definitely applies to strollers, especially those double strollers.
The stores in particular can be very challenging to get through when you have a stroller. Plus you must also try not to ram anyone with your stroller and incur their wrath.
In one crazy incident, we unwisely tried going through The Hub shortly before a castle show. Rookie mistake. I was rammed into repeatedly with one of those plastic Disney rental strollers.
This same lady then launched that stroller over a man who was LYING DOWN on the ground in The Hub. I kid you not, this is a legit story.
That stroller got air. With the child in it! The whole thing was absurd. I ignored my bruised calves and ushered my family out of there as fast as we could manage before a riot broke out. This is perhaps an extreme example, but please, don't be like that lady.​
Stroller Parking, Everywhere
A major annoyance to having a stroller is the need to park that sucker everywhere. Any time you want to ride a ride, see a show, or eat a meal, that stroller has to get parked.
And then when you go to retrieve it, it's not always in the same spot where you left it! There are cast members whose job it is to organize and move strollers to make them neat and efficient.
All fine and dandy until you are trying to find your City Mini GT Double in a sea of identical strollers.​
Getting Off and On Transportation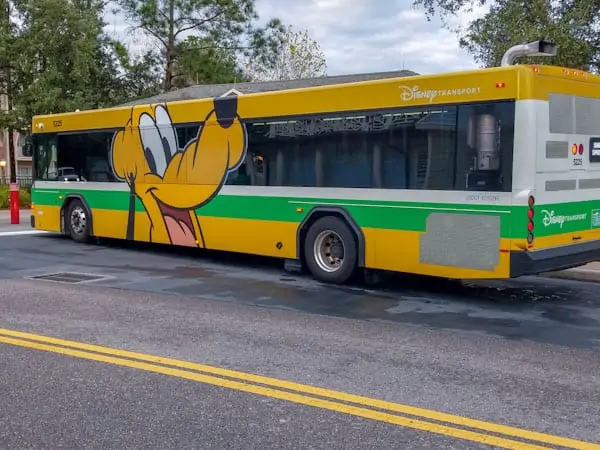 Probably the single greatest disadvantage to having a stroller at Disney World is dealing with getting on and off transportation. And the larger the stroller, the worse this gets.
I will say, the City Mini GT Double Strollers that we have rented are pretty easy to open and close, in theory. I really do wish I had discovered this thing when I was in the market for a double stroller years ago. It is just so easy to maneuver and use in general.
However, when you are renting these, they might not always work as well as they should. We've had issues with a stroller not locking closed, as well as issues with getting it to close in the first place.
This led to us needing to hold the thing closed on the buses so it didn't open up and hit people, or wrestling with it to get it closed as we saw the bus pulling up to the bus stop.
Again, perhaps a couple more extreme examples, but the overall issue is real. You need a stroller that will be easy enough to collapse, open, carry, and hold in place on the various modes of transportation you might be on.
This can add some stress and difficulty in some situations, but whether this is a deal breaker or not is up to your needs.​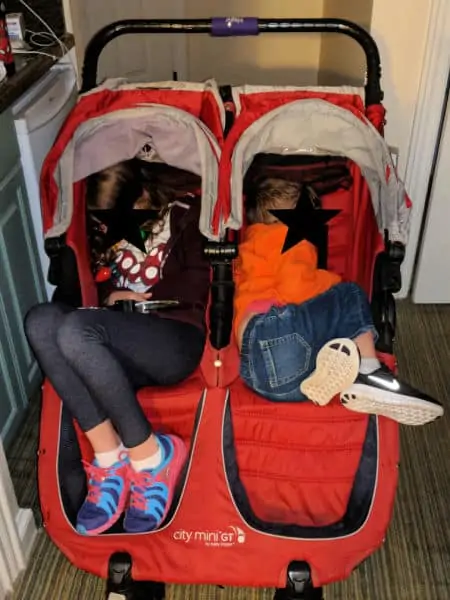 Options for Strollers at Disney World
Once you've decided that having a stroller at Disney World is the best for you, it's time to take a look at the options. There is no one size fits all option so again think of what works best for your family.
Use Your Own Stroller at Disney World
This one is fairly self explanatory and is a great option for a lot of families. Having a stroller you are familiar with and your kids are already comfortable in can really help.
There is the added bonus of having a stroller handy for travel through airports. Most airlines permit you to gate check your stroller free of charge. However, check to make sure your airline doesn't have any size restrictions for gate check.
If you are looking to buy a stroller specifically for Disney, check out the best stroller for Disney. It is full of information on important qualities to consider in a stroller at Disney.
If you want some more immediate examples, here are a couple of my top recommended strollers for Disney World.
Kolcraft Cloud (a nice cheap option!)
Cost
Free – if you already own one or borrow one
Pros
You already know how to use it
Kids are already comfortable in the stroller
Having the stroller in the airport and for travel
And did I mention that it's free?
Cons
A stroller that works at home may not be the best option for a Disney trip
Having to deal with it while traveling
If lost or damaged, you are out your personal stroller
You need to make sure your stroller fits the right dimensions to be allowed in the park (see Disney Stroller Policy below)
Disney World Strollers
This option actually breaks down into two further choices. You have the opportunity to either rent your stroller directly from Disney World or rent from a third party vendor.
Renting Strollers from Disney World
Each of the Disney parks has both single and double strollers that guests can rent on a daily basis. However, there are some significant pitfalls to the stroller choices Disney provides.
Disney does give you the option of purchasing a "length of stay" package that gives you a reduced daily rate.
Remember the first picture in this post? That is the new rental stroller design that Disney just rolled out. At least they aren't an ugly brown anymore.
Disney Stroller Rental Cost
Single Stroller (for children 50lbs or less): $15/day or $13/day if purchasing length of stay access
Double Stroller (for children 100lbs or less): $31/day or $27/day if purchasing length of stay access
Pros
Great if you decide you need a stroller once you are already in the park
That was seriously the only Pro I could come up with…
Cons
They are made of uncomfortable hard plastic
Hard plastic becomes hot in the sun
Not appropriate for babies
Does not recline
Expensive
Can only be used inside the parks. Before you leave the park for the day you must turn in your stroller
Disney Stroller Rental Companies
Renting a stroller from a Disney stroller rental company is by far the more palatable option. There are a plethora of stroller rental companies in the Orlando area to choose from.
On top of that, each stroller rental company has a few different stroller styles to choose from.
My preferred Disney stroller rental company is Kingdom Strollers. They are by far one of the biggest and most recognizable names in stroller rental in Orlando.
They will meet you at your hotel lobby to drop the stroller of to you and then meet you again at the end of the trip to pick it up. It truly is that easy.
Kingdom Strollers will even give you the option of having your stroller dropped off to you at Orlando International Airport! Head right on over to the Kingdom Strollers website to check out their inventory and pricing. Trust me, you won't regret it.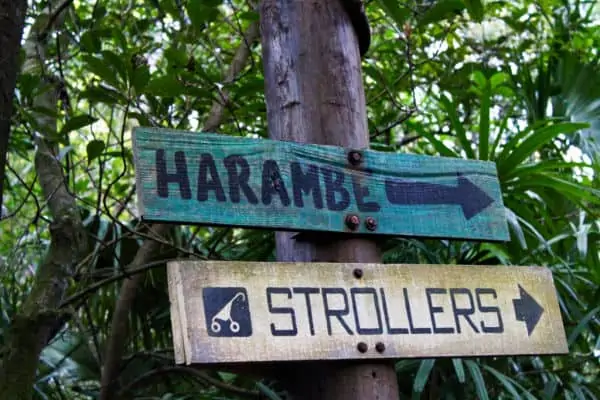 Cost
This varies depending upon type of stroller and number of days. Below you will find a couple of examples of a week long rental from Kingdom Strollers.
Citi Mini Single Stroller: $65 for 4-7 days ($9.28/day for 1 week)
Citi Mini Double Stroller: $75 for 6-7 days ($10.71/day for 1 week)
Pros
You have it for the length of your trip and can use them anywhere
More cost effective than renting from Disney World
Much more comfortable stroller options
Have confidence the stroller is the right size to be allowed into Disney
Cons
Your stroller will match everyone else's
Have to potentially handle pick up and delivery
Buy One in Orlando
This is definitely not the best option for everyone, but it works for some. Many people choose to potentially stop at WalMart or Target in Orlando to buy an inexpensive stroller.
Often, people will then pass the stroller on to another family at Disney and pay it forward.
I would even bump this up another level: consider ordering a stroller from Amazon Prime Now to be delivered to your resort in a matter of hours.
You have to be an Amazon Prime member to access this option. If you don't have one, consider signing up for the 30 day free Amazon Prime trial just for your trip.
This is a great tip for ordering cheaper snacks, strollers, or that extra piece of luggage you need to bring home souvenirs. That's a true story by the way…
Cost
Pros
Don't have to deal with getting a stroller through the airport
Have a stroller of your choosing
It's a whole lot more comfortable than the plastic Disney strollers
Cons
Can be expensive, depending on the style you get
Probably easier to rent one from third party vendor
Tip: If you don't bring a stroller but realize you need one once at Disney, I would choose to order one through Amazon Prime Now instead of renting one from Disney.
6 Important Disney World Stroller Tips
Here are a few different tips which will make using a stroller at Disney World much simpler.
1. Make Your Stroller Recognizable
This is a big one. As I mentioned above, there will be a sea of other strollers identical to yours. This is especially true if you rent a stroller.
A lot of families turn stroller decoration into an art form. This is not only fun for everyone but it makes it much easier to find your stroller.
Not up for a big decorating effort? Simply tie a distinct, colorful ribbon to the stroller handle.
2. Don't Be Alarmed if Your Stroller Isn't Where You Left It
You need to park your stroller before you enter just about anything at Disney World. There are Cast Members whose job it is to keep the stroller parking areas organized. They will move the strollers when necessary to make more room.
This is why it's good to make your stroller recognizable. It might not be where you left it.
3. Be Prepared to Fold Your Stroller
Your stroller needs to be folded before getting on most forms of Disney transportation. There are some instances you can roll it right on, but if things are crowded it needs to be folded up to make room.
Strollers can never stay open on Disney buses and parking lot trams.
Tip: Don't wait until the bus/boat/etc. is loading before emptying and folding your stroller. Then you'll be rushed and stressed trying not to hold everyone up. As you see the bus/boat/etc. pulling up, start then or have it already folded while you wait.
4. Be Prepared for the Weather
Weather in Florida can be unpredictable. Make sure you have the right accessories for your stroller. You don't want to park your stroller to eat dinner only to come out and find it soaked from a sudden downpour.
Accessories to consider:
Rain cover
Stroller fan for those hot months
Blanket for chilly mornings and evenings in winter
5. Keep All Valuables in a Separate Bag
It goes without saying that your stroller will be loaded with stuff. After all, acting as a pack mule is one of the big advantages of having a stroller at Disney World.
Pack one bag that is filled with all of the valuables you would hate to lose in the event your stuff is stolen. Make sure any wallets, identification, cell phones and portable chargers, medications, etc. are in the bag.
Then when you park your stroller to get on a ride you have one thing to grab and take with you. Easy peasy.
6. Park and Walk to Parades and Shows
Because strollers can be a pain to maneuver through crowds, it's always easier to park your stroller at an out of the way location and walk to the parade/show.
We will often pick a spot to park our stroller and then walk to any rides, shows, or events happening nearby. Sometimes this just makes it easier to get around in busy situations.
For example, we watch the parade in Frontierland with the specific goal of hoofing it to a ride to get in line while everyone else watches the parade on Main Street.
We park our stroller somewhere before we find our parade spot. Once the parade is over we each grab a kid's hand and hustle to the chosen ride. We can slither through the crowd faster than a stroller can.
Disney World Stroller Policy
Let's look at basic information about strollers in the Disney parks. Strollers are allowed in the parks, and you will see plenty of them. Disney does have size restrictions on strollers, and beginning in May 2019, the restrictions became more stringent.
The max stroller size for all strollers entering the parks must be no larger than 31″ wide and 52″ long. This will eliminate some of the larger double strollers, so do your measurements before you arrive.
In addition, Disney does not allow wagons into the parks. This includes anything that you pull behind you or push in front of you. The insanely popular Keenz stroller wagon had become all the rage, but they are now no longer permitted in the parks.
Policy Change for Stroller Delivery
Disney announced at the end of September 2019 a big change in their Featured Provider situation. They removed that title from a long list of third party vendors.
With this removal Disney decreed that any strollers rented from those vendors cannot be dropped off and picked up from Bell Services.
Previously, a drop off to Bell Services allowed the guest to be absent at the time of delivery and pick up. This change simply means you must now be present to receive and drop off the stroller.
I know this seems like a huge inconvenience, but I've done it and it's fine. Kingdom Strollers will arrange a drop off time at your discretion and meet you in the lobby.
Disney announced that their only Featured Provider is a company called ScooterBug. If you rent your stroller from ScooterBug you can still utilize Bell Services for delivery, meaning you don't have to be present to receive the delivery.
ScooterBug is now the only company allowed to do this.
Depending on your length of stay, ScooterBug prices are a bit higher than Kingdom Strollers. For example, a 7 day rental from ScooterBug costs $90, while 7 days with Kingdom Strollers costs $75.
However, a 4 day rental at ScooterBug costs $65 while Kingdom Strollers is $75.
Always good your research first to find the best, and most affordable, option for your family.
Final Thoughts
Don't let anyone else's opinions about strollers at Disney World sway you from what you know if best for your family. A lot of people think there are too many strollers at Disney, but the reality is, it can just make life easier.
There really is no right or wrong answer to the question of whether to use a stroller at Disney, it really just depends on what the right answer is for your family and your needs.
We continued to rent a stroller for our kids at Disney World, even when we no longer used a stroller in our day to day lives. I knew my kids, and paying the rental fee for a stroller for the duration of the trip just made the most sense for our family.
Now my kids are old enough to not need a stroller anymore, and I have mixed feelings. It sure is nice to be able to not deal with the hassle, but now it means I have to carry all of our stuff myself. Or con my husband into it.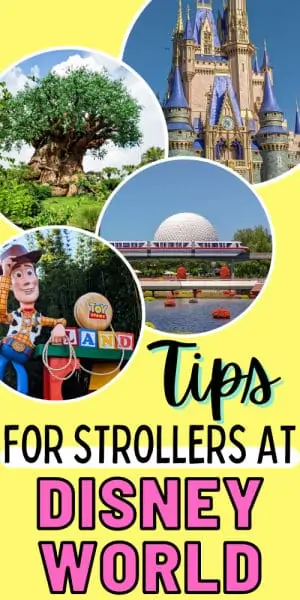 Your Thoughts
What about your family? Do you always use a stroller or do you manage just fine without one? Let us know your thoughts on strollers in Disney World.
Don't forget to follow The Disney Journey on Pinterest and Facebook to stay up to date with all the latest news and updates.