We may earn money or products from the companies mentioned in this post. Please click my disclosure policy to learn more.
Disney World is most famous for its theme parks, and for good reason. The parks contain amazing theming, great rides, and awesome food. You could spend every day of your trip inside the parks and never run out of things to do.
But did you know that there are fun things to do in Disney World besides the parks?
We have even taken trips to Disney World without stepping foot into the parks at all. There are so many things to do around the Disney World resorts without having to go into the parks.
All of these Disney activities are also perfect for any rest days you take during your Disney vacation. Even better, some of the activities on these lists are free things to do at Disney outside the parks!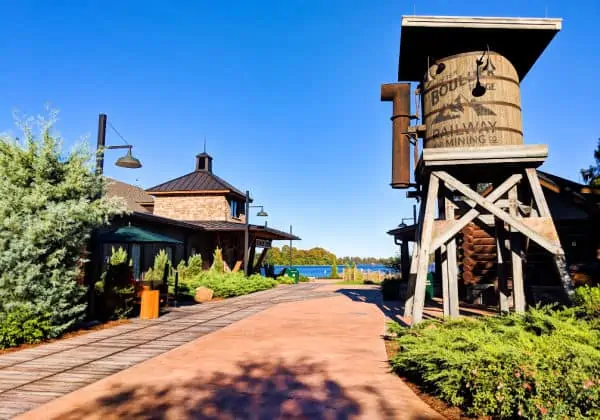 Why It's a Good Idea to Have Non-Park Days
First things first, let's talk a little bit about why you might want to spend some of your Disney vacation outside of the parks.
If you haven't done so already, read through my thoughts on the ideal 7 day Disney World itinerary. It gives you a bit more detail into my thought process, as well as some solid ideas on how to lay out your trip.
If your trip is longer than 4 days, I highly recommend you take at least one non-park day to explore the offerings around Disney Springs and the resorts.
The main reason that I recommend this is simple: Disney vacations can be exhausting. The days you are in the parks tend to be very busy as you try to get from ride to ride.
If you take advantage of rope drop and evening hours to get on rides with less wait, it makes for a VERY long day. And that's not even factoring in the fact that you'll walk around 10 miles a day. Enter the rest day!
Typically, I try to schedule the rest smack in the middle of the park days. I'll do 2 park days, rest day, 2 park days. Clearly, this only works if you have a solid week for your trip.
However, arrival and departure day can be another great opportunity to take advantage of all the things to do in Disney World besides the parks.
Very often, people don't want to use one of their park days when they only have part of the day to enjoy. But what do you do for the rest of the day if your flight lands at 9am?
Luckily, I have this rather long list of suggestions for you!
18 Things to do at Disney Springs
For some reason, Disney Springs never seems to get the credit that it deserves as a worthy destination of its own. In reality, there are plenty of things to do at Disney Springs, especially at Christmas time.
Of course, there is the obvious option of shopping, but there is also so much more.
What exactly is Disney Springs? It's Disney's version of an outdoor mall on steroids. But even that is a rather understated description.
Disney Springs is full of stores, restaurants, and specialized experiences. Some of the stores are Disney owned stores, but most of them aren't.
Unsure of what you can do at Disney Springs? Let's take a look…
Shopping, shopping, shopping
Eat lots of awesome food-from snacks to Quick Service, to Table Service, to food truck, Disney Springs has it all when it comes to food
Go bowling at Splitsville
See a movie at AMC Cinema
Go for a balloon ride
Concerts and live entertainment at the House of Blues
Take a ride in an Amphicar
Let the kids ride the carousel…
…or let them ride the Marketplace Train
Play with Legos at the Lego Store
Go to the Photopass Studio for a family portrait – If you have the Memory Maker package, the photos are included in that
Visit The Edison for late night drinks and entertainment
See a Cirque de Soleil show: Drawn to Life
Take in the live entertainment scattered around Disney Springs
Take the kids for a makeover at Bippity Boppity Boutique
Make your own treat at Goofy's Candy Company
Go souvenir shopping at World of Disney – it's essentially an enormous store full of Disney merchandise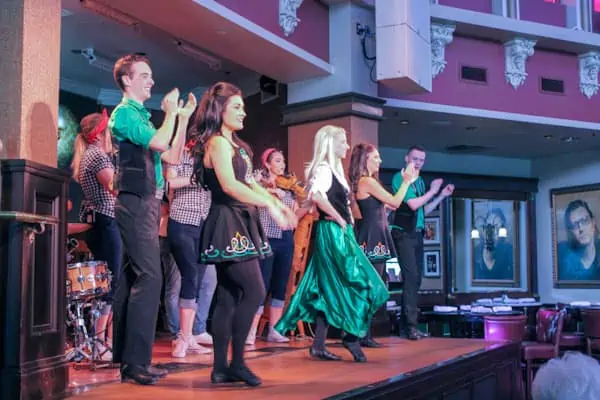 While this technically isn't on the list, it's certainly implied: simply enjoy walking around the seeing the sights! Disney Springs contains it's own atmosphere to be enjoyed.
44 Things to Do at Disney Resorts
The resorts have an extensive array of activities to keep guests of all ages well entertained. And you aren't limited to just the activities at your Disney World resort. Use Disney transportation to visit any of the other resorts and check out their offerings.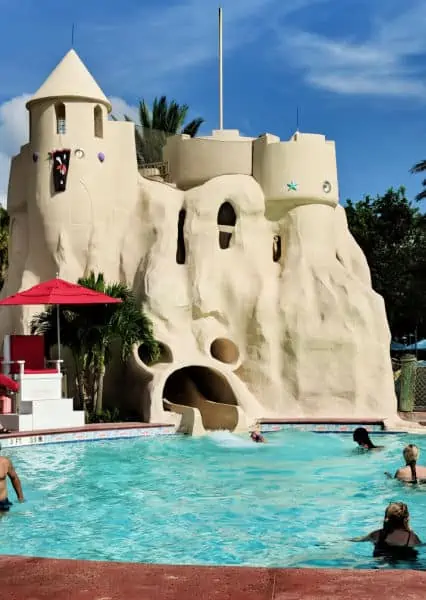 Quite frankly, I think this list of things to do at Disney resorts is probably not even close to complete. There really are just that many things to do at the resorts.
While I'm leaving them on this list in case they come back, not everything listed here has returned since everything shut down during the pandemic. Most of the things have, but some have closed their doors for good.
For example, the Luau at Polynesian Resort permanently closed. So if some of these things really jump out at you, double check whether they started back up again first.
Go for a run or walk – all of the resorts have designated walking/running paths
Exercise in the fitness room
Go swimming at your resort
Rent a boat on Bay Lake…
…Or go parasailing and waterskiing
Rent a bicycle
Eat the Kitchen Sink at Beaches and Cream – this famous sundae includes 28 different ingredients. It can even be modified to be gluten free!
Take a surrey bike ride around Crescent Lake
Resort hop – each of the resorts has its own unique theme and things to see. It's definitely worth it to visit other resorts to check them out. Resort hopping is probably one of my #1 recommendations for things to do in Disney World besides the parks
Pool hopping – only a benefit for Disney Vacation Club members staying with points – but you essentially get to try out different resort pools. Though of course, the most popular pools are off limits to everyone but guests of that resort
Head to the spa for some pampering and relaxation
Movie night at your resort – what fun to watch a complimentary movie under the stars to wind down at the end of a long day
Watch the Electrical Water Pageant
Go horseback riding at Fort Wilderness – or simply visit the stables and watch the blacksmith work
While at Circle D Ranch at Fort Wilderness, visit the horses that pull Cinderella's carriage
Take a yoga class
Find hidden Mickeys around the resorts
Trade some pins with Cast Members
Walk around Crescent Lake
Walk the nature trail between Wilderness Lodge and Fort Wilderness
Check out the extra recreational activities of your resort: For example, Wilderness Lodge has ping pong tables, giant Connect Four, and other activities available to its guests
Go to dinner and a show at the Hoop Dee Doo Revue
Ride a surrey bike around Port Orleans Resort Riverside and French Quarter
Roast s'mores and since some campfire songs
Dine with Characters – you don't have to go to the parks to have a great meal with a vast array of Disney characters
Monorail Pub Crawl
Check out the animals at Animal Kingdom Lodge
Eat, eat, and eat some more – there are so many restaurants and lounges scattered around the Disney Resorts it would take many visits to eat at them all
Ride a Friendship boat, just for fun
Watch Magic Kingdom fireworks from the beach at the Polynesian
Ride the Skyliner around, just for fun!
Archery lessons at Fort Wilderness
Hang out at Jellyrolls on the Boardwalk
Speaking of the Boardwalk, hang out and watch the performers
Go fishing
Horsedrawn carriage rides at Fort Wilderness or Port Orleans
Learn to draw at Art of Animation – this is a FREE class which is offered to all. You do not need to be a guest at Art of Animation, either. Simply ask for the class times at the front desk
Take complimentary hula lessons at the Polynesian Resort lobby – lessons are held on weekday afternoons and Saturday mornings
Let the kids become pirates – There are two different Pirate Adventure Cruises that bring the kids on raucous pirate adventures (departing from Yacht & Beach Club and Caribbean Beach Resort)
Go to a sing-along with Chip and Dale – This includes a campfire, s'mores kits (sold separately), and a movie under the stars
Take a fireworks cruise on Bay Lake to watch the Magic Kingdom fireworks
Hang out in the arcade
Build a sand castle – there are a few Disney resorts which have sandy beaches to play on
Mine for gems at Fort Wilderness Lodge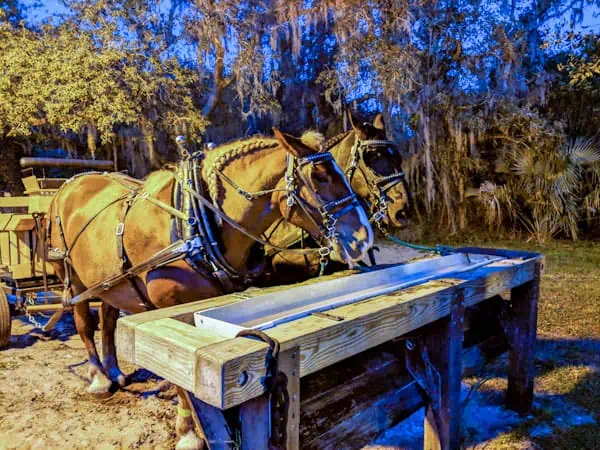 7 More Things to Do in Disney World Besides the Parks
Because in this case, more is better! This section is basically full of things that didn't quite fit into the other categories, being neither at the resorts or at Disney Springs
Go golfing at one of several Disney golf courses. Or hit them all!
Have fun at Blizzard Beach
Let's not forget Typhoon Lagoon
Mini Golfing – There are two separate mini-golf courses on Disney property
Take a Disney Vacation Club tour – as an added bonus, you can often get a freebie by going on a DVC tour
Some of the best Disney add ons are special tours you can take at various Disney resorts – double check which tours have returned, not all of them have
Pick a Pearl – There are locations at Disney Springs and Beach Club
6 Seasonal Disney Activities Outside the Parks
The holiday seasons, especially Christmas, create even more opportunities for fun. As an added bonus, all of these are free things to do in Disney World.
Actually, if you are at Disney World during the Christmas season, I would prioritize resort hopping even more than normal. The resorts during Christmas are simply stunning. There is so much to see and do.
Walk the Christmas Tree Trail at Disney Springs
Take a "Sleigh Ride" at Fort Wilderness to see the Christmas Lights
Visit the other resorts to see Christmas Decorations
Listen to Christmas music performed in the lobby of the Grand Floridian
Visit Santa at Disney Springs
Resort hop at Easter to see the famous chocolate Easter egg displays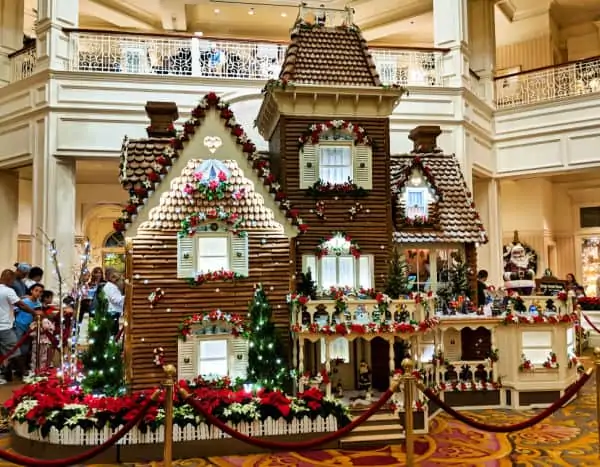 Final Thoughts
As you can see, there really are a lot of things to do at Disney without going to the parks. In fact, you can take a trip to Disney and never set foot inside of the parks and still have a great time.
This is totally true as we've done it quite a few times!
And to make matters even better, several activities on this list are free! How often can you say that about something involve in a Disney vacation?
This list only contains idea for things to do at Disney outside the parks that are still on Disney property. But beyond the boundaries of the Walt Disney World Resort there are a million more things to do!
Orlando is chock full of other amusement parks to consider. Also, the Atlantic beaches are a little over an hour away, not to mention Kennedy Space Center.
There's definitely no excuse for being bored during your Disney vacation!
Your Thoughts
Have I forgotten to list one of your favorite things to do outside of the parks? If I have, please add it to the comments below. I'm always looking to expand my Disney horizons and find new experiences to try.
Don't forget to follow The Disney Journey on Pinterest and Facebook to stay up to date with all the latest news and updates.