We may earn money or products from the companies mentioned in this post. Please click my disclosure policy to learn more.
Tron Lightcycle Run is the last of the long awaited rides announced before the pandemic. The time has finally come for the ride to welcome guests and become a beloved new fixture at Disney World.
This post takes a look at everything you need to know about the Tron roller coaster to determine whether it's a ride you want to integrate into your upcoming trip.
This ride definitely won't be for everyone, namely small children, but it will likely become a fan favorite ride. I rode Tron in one of the previews, and just had my family on it for the first time, so our thoughts on the overall Tron ride experience are included at the end (updated May 16, 2023)
Overview of Tron Lightcycle Run at Disney World
Tron Lightcycle Run is a ride that's been a long time coming. The news originally broke about this ride back in 2017. Yes, you read that right, 6 years ago!
Construction seemed to move at a snail's pace from the beginning, and then 2020 happened. I think we all remember what happened in 2020…
Basically, construction came to a screeching halt at that point. A ride that was supposed to open in time for Disney World's 50th anniversary celebration on October 1, 2021, now wasn't even close. In fact, it is opening exactly as the 50th anniversary celebration ends.
Tron Lightcycle Run is based off the Tron movie series. The original hit the theaters back in 1982, while the sequel was released in 2010. Let's face it, this is IP that not a lot of people are actually going to be familiar with. However, both of them are on Disney+ if you want to get into the mood before your trip!
In general, the movies are all about entering a digital gaming world, called The Grid, to challenge the AI that resides there. Clearly, it's much more complicated that just that, but that's the gist. It's all about being digitized and entering The Grid to battle evil.
Tron Lightcycle Run at Magic Kingdom picks up where the 2010 movie story line ends. Sam Flynn, the main character of the second movie, has opened a second gateway to The Grid at Magic Kingdom. The first gateway is located at Shanghai Disneyland (the original Tron ride).
Once you are digitized and enter The Grid, you are on Team Blue and set to race against either Team Red, Team Yellow, or Team Orange. During the race, your mission is to capture 8 energy gates. The first team to capture all eight Gates by passing through them wins.
Because these are movies which are less popular, Disney actually put together a whole guide explaining Tron concepts and vocabulary.
The ride goes by a few different names: Tron, Tron Lightcycle Run, or Tron Lightcycle Power Run. Let's face it, most of us will simply call it Tron because all the others are a bit of a mouth full.
Tron is a roller coaster style attraction. It is semi-enclosed, meaning that it goes both indoors and outdoors. Most of the ride takes place indoors, but there is a section at the beginning that goes outside.
Tron Lightcycle Run Ride Location
Tron Lightcycle Run is located in Tomorrowland of Magic Kingdom. This adds yet another ride to the park that already has the most rides.
You'll find the ride tucked between Tomorrowland Speedway and Space Mountain, beyond the railroad tracks. In fact, construction of Tron is one of the reasons the Disney World Railroad was shut down for so long.
The entrance isn't immediately apparent, when I say it's tucked back between Tomorrowland Speedway and Space Mountain, I mean it. There's now a pathway off to the left of Space Mountain that leads back to the Tron entrance sign.
Height Requirement for Tron
Tron has a height requirement of 48″. The main reason for this height requirement has to do with the restraint system.
We'll talk about this more below, but there are a lot of moving parts to this restraint system, and you need to be a certain height and overall size in order to use them safely.
Ride Vehicle and Restraint System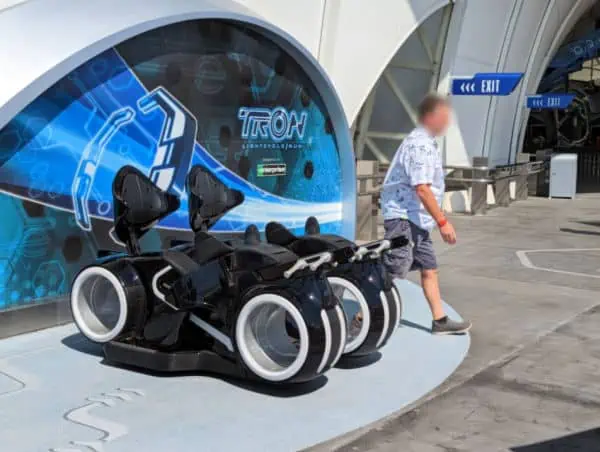 The ride vehicle itself is unique and part of the overall experience of Tron. However, the vehicle has also come with a fair amount of criticism.
The seat itself is made in a replica of the Lightcycles in the Tron movie. It essentially mimics the posture of being on a motorcycle. The fast ones for racing, not like Harleys.
This is an awesome feature as the posture on the bike enhances the ride experience itself. It's very similar to the posture on Flight of Passage. You lean forward and hold onto hand grips, essentially handle bars.
The restraint system is like none other. Because your body is leaning forward, basically on your stomach, the restraint system is behind you instead of in front of you.
There is a padded restraint behind you that locks into place behind your back. In addition to that, there are metal restraints that lock into place against the backs of your calves/knees, depending in your height.
Your shins rest against padded, movable braces that adjust to your size and ergonomic needs.
All of these pieces lock into place, initiated by you pulling the lightcycle's handlebars towards you.
This restraint system is where the controversy kicks in. This ride system does not accommodate all body types. If it does not fully lock into place, they will not let you ride on the lightcycles.
However, there is a special car where the seats are styled after a more traditional style of roller coaster seat. Anyone who can't ride in the "bike" style, can ride in that one.
There are sample ride vehicles near the entrance of the ride. If you aren't sure whether you will feel comfortable in the restraint system, give those a try before you get into line.
On the flipside, if you are someone who has a hard time swinging your leg up and over to straddle the bike, you can use the traditional seats as well.
How Intense is Tron Lightcycle Run?
As I mentioned Tron is a roller coaster style ride, a proper roller coaster, not like Barn Stormer which is designed for small children.
Because of this, the intensity level is on the moderate to high side, depending on your personal frame of reference. On top of that, Tron is considered one of the fastest roller coasters at any of the Disney parks around the world.
On Disney's website, the ride is categorized as a follows: Big Drops, Thrill Ride, Dark.
Clearly, due to the higher intensity of this ride, it's not for everyone. However, the intensity won't come close to rides such as Velocicoaster over at Universal Studios.
Does Tron Lightcycle Run go upside down?
No, Tron Lightcycle Run does not go upside down.
Tron Requires Ride Lockers
While the use of ride lockers is old hat at Universal Studios, Tron is the first ride at Disney World to require ride lockers. This is mainly because the ride vehicles themselves have no floor to put your belongings on.
Fanny packs, which you are allowed to wear on all other rides, are not allowed on Tron. So those too must also go in the lockers.
The lockers are free for every guest and can be used with your MagicBand, Key to the World, MagicMobile Pass, or whatever else you are using as your park ticket.
You simply unlock the locker of your choice with your park ticket, put your belongings in the locker, and remember what your locker number is.
These are double sided lockers. What that means is you put your possessions into the locker on one side as you go through the queue itself. Then, when you get off the ride, you are on the back side of the lockers, which also has a door. You'll need to remember your locker number in order to find the correct door on the backside.
There is a small compartment on the lightcycle to store your phone. It is located pretty much in front of your face once you mount the lightcycle, with a hard plastic lid. Frankly, I didn't even know it was there until I specifically looked for it.
Disney PhotoPass and Video Info
Tron does have an on ride PhotoPass opportunity. There is both a still photo, as well as a video that will be linked to your My Disney Experience account automatically.
This is done either through reading your My Disney Experience account through Bluetooth on your cell phone or through your MagicBand or MagicBand+ linked to your My Disney Experience account.
I'm actually a pretty big fan of this PhotoPass opportunity. The quality is better than a lot of them, and I like how you and your partner are in a picture by yourself. It's pretty neat.
How to Ride Tron Lightcycle Run
As with all of the new rides that opened in Disney World over the past few years, Tronis only be available to ride via a virtual queue or by purchasing an Individual Lightning Lane.
This means there is no opportunity to get on this ride by waiting in a standby line.
I'll give the quick basics of the virtual queue, but make sure you read my guide to using Disney's virtual queue system so you don't miss your opportunity.
In general, the virtual queue opens up two times a day: 7a and 1p. Right as the clock strikes the hour, thousands of people are all in their My Disney Experience app trying to get an assigned boarding group.
The boarding group piece of this puzzle is the key part. That boarding group is your ticket to getting on the ride.
When your boarding group is called, you get a push notification on your phone that it's time to board. From that point, you have an hour window to enter the line.
Cast Members have been very strict about riding within that window. They have turned people away who have showed up too late.
This is a departure from the other virtual queue experiences. I was able to get on Guardians of the Galaxy hours after my window closed (long story).
However, with Tron, they are trying to prevent people from missing their window in an attempt to get on the ride after dark, which is a better ride experience.
The exception is if you're in the middle of a dining reservation. Show up to the ride with your meal receipt as soon as you are done eating. If that doesn't work, go to see the guest experience Cast Members (they are located underneath blue umbrellas throughout the park) and see if they can help you.
Tron is a very popular and in demand ride. Assume that getting a boarding pass is highly competitive. Hopefully, it will be similar to Guardians of the Galaxy and have easier to get availability, but don't count on that.
Go into the virtual queue experience knowing all of the tips and tricks to increase your odds of getting a boarding group.
Staring April 5, there is a third time to get a boarding pass for a select group of people: Extended Evening Hours. This is a benefit for guests staying at a Deluxe Resort, Deluxe Villa Resort, and other select hotels. These guests do not need to be present in Magic Kingdom when the Extended Evening Hours queue opens at 6p.
While the option to use the virtual queue is free with your ticket, riding via an Individual Lightning Lane is not. This requires an upcharge in order to purchase a reservation to cut the line.
The reservation window for Lightning Lane also opens at 7a.
I always prefer to ride for free, but at least you know there's another option. However, they open up at the same time, so it makes it hard to try for both to see which one you get.
Tron Lightcycle Ride Review
As I mentioned, I was able to ride during the Passholder Previews, and have since taken my whole family on it. Let's take a look at our experiences and thoughts about the various components of the ride.
Queue
In recent years, we've become accustomed to elaborate queues that in and of themselves are part of the ride experience. This helps to make the wait seem shorter by keeping you interested. Also, the movement from one room or area to another gives you something new to look at.
Tron doesn't have quite so much of this. Part of the queue is outside in the basic old chain link and metal rail aisles. Once you get inside things do get a lot more interesting, though I honestly didn't wait in much of a line once inside, which is nice. You kind of move past things quickly.
The chunk of the line that is outside is relatively unprotected from the elements. They do have umbrellas placed periodically, similar to Slinky Dog's line, but they don't really do much.
The one day I was there was 89 degrees and very sunny. Waiting in the line outside was definitely not an enjoyable experience. I was very relieved once I got inside.
Another time we rode, the ride shut down due to lightning in the area. They had to move all the people not under the canopy somewhere else. We were under the canopy so stayed put so I honestly have no idea what they did with those people.
Once inside, they do employ the trick of moving you from room to room. I call this exit counting. When I'm on long road trips, I mark the passing of time by counting how many exits have passed. This is the same concept.
It's a psychological trick to ease the feeling of waiting. It helps you to mark your progress through the queue.
Contrary to the queue of Flight of Passage or Guardians of the Galaxy: Cosmic Rewind, there's not much of a "story" going on here. Nothing much to look at other than cool neon lights all over the place.
There are a couple of pre-ride rooms that focus on "digitizing you" to enter the world of Tron. But other than that, it's pretty much going from room to room until you reach the lockers.
The coolest part of the queue is actually going around the launch area of the ride. You are on a balcony area with the launch area beneath you.
You'll see the lightcycle train fully boarded pull up and go through the countdown for launch. This definitely wets the appetite for what's to come.
Using the Lockers
Having used ride lockers at Universal Studios before, I pretty much knew what to expect here. Theme parks basically have this process down to a science, and things are no different here.
As you enter the locker area, Cast Members give you basic instructions. There are either 7 or 8 sections (I forgot to count!) with 3 digit numbers. For example, I was in section 2, in locker 205.
The lockers that are still available are lit up with blue numbers. All lockers already in use have the light turned off.
Once you tap your MagicBand/ticket to the sensor, the light starts blinking white. It took me a second to realize that meant it was unlocked and I could open it using the handle. Because it's dark in there, and my locker was low, I didn't immediately see the recessed handle.
I kept waiting for it to pop open, like the lockers do at Universal Studios. But here, if it's blinking at you, it's unlocked and you can open it.
Because I wanted to take pictures of the loading area, I kept my phone on me. I had a secure pocket in my skort I could put it, and that worked out just fine. And don't forget, there is a compartment on the lightcycle you can put it in.
The lockers themselves are a pretty good size. They are large enough to fit backpacks, ears, and so on. However, if you have a large, overstuffed backpack, be prepared to do a little smooshing and shoving.
The process after the ride itself was essentially the same. You now come up on the backside of the locker. Now, the lighting of the locker number has a different meaning. All lockers that are in use are lit up blue, while the lockers not in use stay dark.
This makes it easier to find your locker.
Now, you simply go to your locker number, tap your MagicBand/ticket, and the locker unlocks.
If you forget your locker number, don't fret. There are a few stations in the locker area that allow you to tap your MagicBand/ticket and it will tell you your locker number.
On the whole, this was a simple and relatively self explanatory process. And the good news is, once you hit the locker room, you transition right into the loading area!
Ride Vehicles
Ok, here we have the area of controversy with this ride. But first, I want to speak to the ride vehicles and their role in the ride experience.
The fact that you are in a posture so different from other roller coasters is part of the experience here. Leaning forward, essentially on your stomach, enhances the ride. Similar to riding a motorcycle, it's like you are leaning into the turns, which ups the intensity of the experience.
This picture gives you an idea of body positioning, as well as what it looks like for both a child and an adult to be on the lightcycle.
In terms of the ride experience, these vehicles are great. In terms of long term comfort, not so much. Fortunately, it's not like you are on it for very long, so it's tolerable.
It takes a hot minute to get yourself settled into all the moving parts of this restraint system. Because of this, loading takes a little longer than normal. But since this is a safety issue, it's necessary.
My son was awfully confused at first with where and how to put his legs, but I helped him out and he was fine.
The Cast Members are there to help guide you through the process.
There is padding along your stomach, the back brace, and the shin rest. The back brace and shin rests are also on hinges, so it allows them to adjust to your body contours.
Even once locked in place, the back brace hinge is unlocked. This allows you to adjust your body position from lying fully forward (when the ride is in motion) and being able to lean up closer to sitting (when waiting).
I found this to be key as it wasn't necessarily comfortable to stay leaning forward longer than necessary.
The metal brace that comes up behind your legs is an area of potential discomfort for people. I have ridiculously skinny calves, so I didn't feel the bar at all. But others have reported that the brace can be tight and pressed into their calves.
The handlebars pull double duty. First and foremost, this is how you engage the restraint system. There are double handles to allow kids with shorter arms to have closer handles to pull. But most adults will easily reach the front handlebars.
Then, during the ride itself, you simply hold the handlebars like you would a bike. The handlebars themselves are a textured metal. They definitely aren't the most comfortable thing in the world.
But they also need to be durable since thousands of people will touch it a day, so I guess this is the trade off.
When loading the train, the person riding on the far lightcycle needs to walk behind the bike to the platform on the other side to load. You'll see arrows on the floor to guide you. You can see them in the picture above.
Riding in the Regular Cars
If you are at all unsure about whether you will be able to use the lightcycles, I highly recommend using the sample lightcycles outside the ride. These are exact replicas, they just don't lock in place.
This way, you know whether you need to use the traditional seats or not before you get to the launch area. The biggest takeaway seems to be that people with larger builds can't get the restraints properly locked in place.
There is room for individual differences here based on everyone's specific proportions. And the back braces and shin braces are on those hinges to adapt as much as possible. That's why it's so important for you to try out the sample lightcycles first so you know whether it works for you.
If you determine that you can't ride on the lightcycles, for whatever reason, let the Cast Member know once you reach the loading area. You are then placed in a separate line to wait for the trains with the traditional seats.
These seats are always in the last row and aren't on every single train of vehicles. This means that anyone looking to use these seats has an additional wait. Think of it like waiting extra to get in the front row.
The biggest downside to this is you don't get the experience of leaning into the corners in that bike position. But regardless, it's a fun ride and still enjoyable.
Ride Experience
Now we finally get to the good stuff! Here are my thoughts on the ride itself: this ride is fun. If you are someone who likes roller coasters, especially with a bit of a higher intensity level, this is a must do when you are at Magic Kingdom.
At the same time, it's not too intense for kids. It works as a good bridge experience for kids, an in between before they get to the more intense roller coaster options at places like Universal Studios or Busch Garden.
The initial launch is a thrilling part of the coaster, perhaps one of my favorite parts. It gets up to a good speed and has a nicely thrilling bank to the track.
It definitely feels fast during this part of the ride. This is also where the design of being on a bike comes into play. As you hit the sideways track you really lean into it, making it extra fun.
The vast majority of the ride actually takes place inside. The inside portion of he ride has a similar feel to Rock n Roller Coaster. There's a lot of neon, lights, and music.
The ride itself is very smooth, which I feel is a must for all newly built roller coasters. There's just no excuse to have a herky jerky track anymore.
I found myself laughing and shrieking with joy throughout the entire ride. My biggest complaint: this ride is way too short. It's over pretty much as soon as it began.
My next biggest complaint is that the ride vehicles become so uncomfortable that if the ride was any longer it would be a bit painful.
Not everyone will be so uncomfortable on the ride, a lot has to do with body shape, mobility, and so on. For me, it's my hips that became so uncomfortable. Also, since you are lying forward, there's a fair amount of pressure on your chest and stomach.
The worst part was once the ride was over and you were just sitting there waiting your turn to unload. You no longer have the distraction of the fun of the ride, now it's just all about how uncomfortable you are in that position.
As soon as I got off the ride, my bestie texted me to ask me if I like Tron or Guardians of the Galaxy: Cosmic Rewind better. My answer was instantaneous: Guardians of the Galaxy.
That's not to say that I didn't like Tron. Quite the opposite, I liked it very much and will make riding a priority whenever I'm in Magic Kingdom. It will definitely become one of my Disney World must-dos.
But you get so much more bang for your buck with Guardians. If you read through my review for Guardians of the Galaxy: Cosmic Rewind, you'll see why I love it so much.
My husband was disappointed by Tron. Doug had a good time and enjoyed the ride, but felt it was not quite worth the hype. He also loves Guardians of the Galaxy and feels it's vastly superior in pretty much every way.
He agreed with me about the discomfort of the ride vehicles by the end of the ride, as well. With the exception of the initial launch, he found the rest of the ride to simply be fine.
My kids both loved it and I know will beg to ride it whenever we can.
But on the whole, Tron Lightcycle Run is a highly recommended, fun addition to your day at Magic Kingdom.
Riding at Night vs. During the Day
I haven't had the personal experience of riding at night yet, but I already know that riding at night is going to up the enjoyment level of this ride.
As you can see in this picture, the Tron canopy at night is a sight to see. This represents the portion of the ride immediately after the initial launch.
The lightcycle train soars through the canopy before returning inside. Even in the daylight, this part of the ride is a whole lot of fun. It will be even more so at night.
That and any ride just feels different a night. There's something about flying through the air in the dark that makes it more fun.
So, if you have the option, try to get on the ride after the sun goes down. With the virtual queue and Lightning Lane that's not necessarily going to be an option.
It's more of a "you get what you get and you don't get upset" type of situation. Once the standby line opens, clearly you'll have more control over this.
But whether you ride at night or during the day, I highly recommend taking the time to ride Tron Lightcycle Run!
Your Thoughts
Are you as eager to get on the Tron roller coaster as I was? Or is this ride going to be a hard pass for you? Let me know in the comments below!
Don't forget to follow The Disney Journey on Pinterest and Facebook to stay up to date with all the latest news and updates.