We may earn money or products from the companies mentioned in this post. Please click my disclosure policy to learn more.
Disney's Wilderness Lodge is a Deluxe Resort located in the Magic Kingdom area at Walt Disney World. In comparison to the other deluxe resorts, Wilderness Lodge is more affordable. This makes it a great option for families who want the amenities of a deluxe resort at a cheaper price point.
I'm warning you now, this post is long. I wanted to give you every possible detail I could think of about Wilderness Lodge. You might as well grab some coffee and make yourself comfortable.
I'll just get this spoiler out of the way so you can read the rest of this review with a grain of salt: Wilderness Lodge is my happy place. As a result, this post will be somewhat biased…
????I haven't added them to this post yet, but some of the first newly renovated rooms have opened up, and I have a photo tour of them! Check out my Wilderness Lodge refurbished room photo tour and let me know if you like the new look!
Wilderness Lodge Location
As I mentioned above, Wilderness Lodge is in the Magic Kingdom Resort Area of the greater Walt Disney World Resort. This means that of all of the parks, Magic Kingdom is the closest to Wilderness Lodge.
Wilderness Lodge is nestled along the banks of Bay Lake. This lake provides transportation and entertainment to guests at Wilderness Lodge. And really, it's just pretty.
The two closest resorts to Wilderness Lodge are the Fort Wilderness Campgrounds and Contemporary Resort. In fact, there is a boat service that goes in between those three resorts.
Tip: Many people people think that Wilderness Lodge and Fort Wilderness are the same place, but they are not. Fort Wilderness has campsites for tents and RV camping, as well as some cabins. Wilderness Lodge is a more "traditional" resort.
Atmosphere at Disney's Wilderness Lodge
Wilderness Lodge is themed in the style of the National Parks during the turn of the century (not our century, that other one). It is chock full of rustic details from top to bottom, and is one of the most breathtaking resorts to walk into and wander around.
The soaring ceiling of the lobby is an obvious focal point, followed next by all that timber. ​
From the moment you set foot in Wilderness Lodge you immediately feel as if you are in a rustic lodge in the Pacific Northwest. This is the type of experience you want to have when walking into a Deluxe resort in Disney World. The level of detail the Imagineers went to when designing this resort is tremendous and a job well done.
The general layout of Wilderness Lodge is compact in comparison to many of the other resorts. The rooms are housed within 2 main buildings which are right next to each other. The lodge has 7 floors while the Boulder Ridge building has 5 floors.
This relative compactness allows guests to very easily walk all throughout the resort without having to hop on a bus to go from one end to the other. This is an important factor to consider if you know that you want a resort that is easy to get around.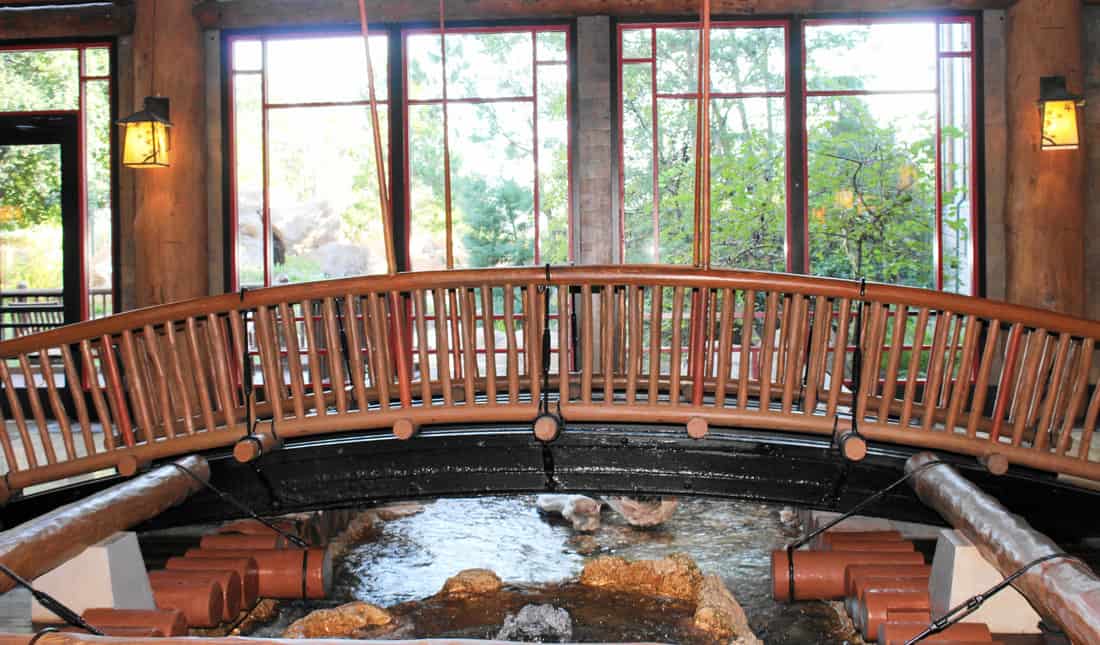 Wilderness Lodge Rooms – Standard Rooms
Wilderness Lodge offers a variety of accommodations to suit your needs. The Standard Rooms are your traditional style hotel rooms. They each have either 2 queen size beds or 1 king bed.
There is even one category of standard room with 1 queen bed and 1 bunk bed. This is a great option for families with a couple of kids who perhaps are not excited about sharing a bed with one another.
The Standard rooms offer a variety of views from the room, with the price point increasing accordingly with the better views. Price for the standard rooms range from a starting price of $332 to $659 per night, depending on the view and the time of year.
The standard resort rooms are designed in a rustic theme, with carved "wood" beds and iron work details on the fixtures. The bedding itself is the standard white coverlet that seems to be all the rage in resorts these days. The room is a toned down homage to rusticity, with the carpet and pillows adding subtle accents.
The headboards themselves are the focal point in the room design, featuring leather upholstery at the base of the headboard, topped with an elaborate "carved" nature scene. If you like rustic (which I clearly do) it's very well done.
Each of the rooms also has either a balcony or patio with a couple of chairs that allow you to sit and enjoy the weather, and if you're really lucky, a view of the Magic Kingdom fireworks or the Electric Water Parade.
The bathroom has a double vanity which is open to the room, while the toilet and bath/shower combo is behind a separate door. This is a convenient layout to allow multiple people to get ready at once, not leaving family members waiting to brush their teeth while someone else is in the shower. The rest of the room amenities are pretty standard: Flat screen TV, small dresser, small table with 2 chairs, etc.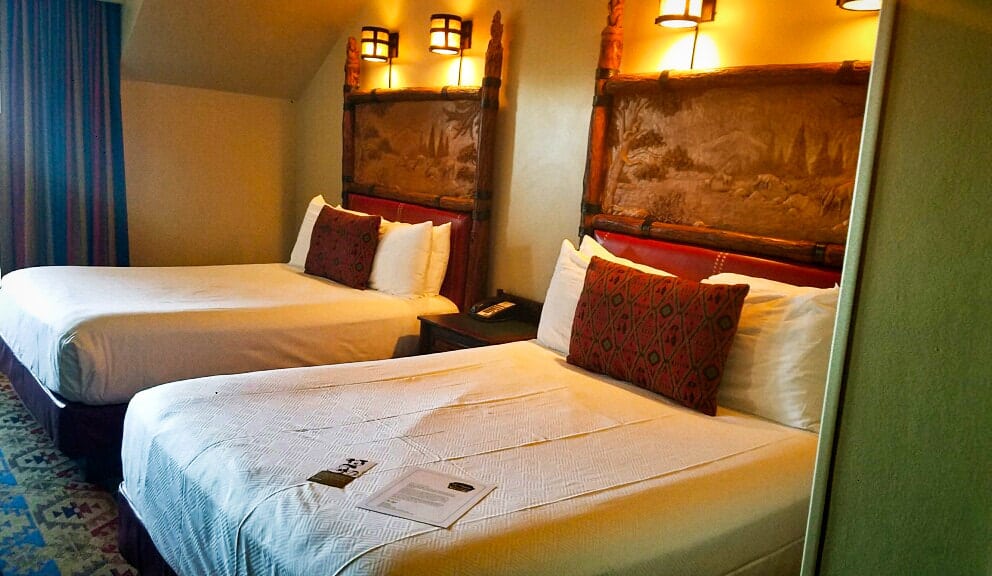 Wilderness Lodge Club Level
The next category of room that Wilderness Lodge offers is the Club Level room. When you stay Club Level at Wilderness Lodge you have the option of a Standard Style room (2 queen beds or 1 queen and 1 bunk bed) or a Deluxe Room (2 queen beds and 1 queen size sleeper sofa). The square footage in the deluxe room is larger than the standard rooms, giving you and your family more space to spread out.
However, staying club level comes at a cost: the standard rooms start at $555/night, while the deluxe rooms start at $708/night. During popular times of the year, this cost is going to go even higher.
The decor and layout of the club level standard rooms is identical to the regular standard rooms.
What Do You Get with Wilderness Lodge Club Level?
Where the big difference comes into play is in the amenities that you get outside of your hotel room when you stay Club Level. These amenities are designed to make your stay even more enjoyable.
The most notable perk is access to the Club Level Lounge, the Old Faithful Club, which provides you with food and drinks throughout the day. This includes beer on tap, a favorite amongst our party.
There is more than enough food to have a satisfying breakfast and a light lunch, snack, or dinner, which allows you to save some money on food costs throughout your trip. We stayed Club Level in 2016 and to this day my kids still rave about the fact that there was a constant supply of gummy bears in the lounge.
True to Disney form, the Club Level staff goes above and beyond to provide safe and delicious food options for people with food allergies.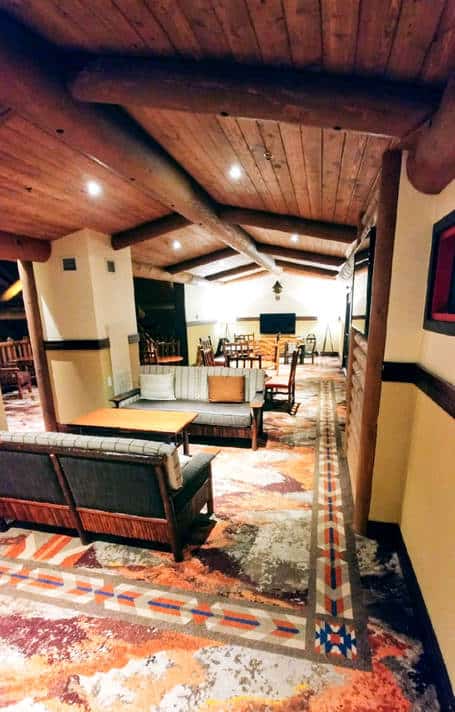 Beyond that, there are the little touches that really go the extra mile. Each evening you get a printout of your next day's FastPasses and reservations left on your bed when they do the turn down service. And with that turn down service comes a lovely little chocolate.
And as always, it's the cast members who really make the experience. The smaller number of Club Level rooms really allow you to build relationships with the Cast Members who work there, and those Cast Members will often go above and beyond to help you out.
When I needed a bed rail for my little guy, I had one in less than 20 minutes. When I asked if there were ear plugs (because as we established in my packing list post, I have issues with noise when sleeping), the CM got on the phone and hunted some down for me. ​
Disney Club Level FastPasses
The final benefit to having a Club Level room (at any of the resorts) is that it gives you access to a beta program that Disney rolled out to purchase extra FastPasses. At this time, this perk is offered only to Club Level guests while they test it out.
This is Disney, so it's not cheap, but according to our friends who tried it out on our trip in November, it was worth every penny and they would do it again in a heartbeat. The current cost is $50/person/day with a 3-day minimum. For that amount you get 3 extra FastPasses per day that you can book 90 days prior to check in. And the final bonus: you can ignore those pesky tiers in most of the parks.
Disney Wilderness Lodge Villas
Next up on our list of room types are the villas available through Disney Vacation Club (DVC), Disney's version of a timeshare. Wilderness Lodge actually has two different categories of DVC villas: Boulder Ridge and Copper Creek. The types of rooms offered at Boulder Ridge and Copper Creek villas consists of deluxe studios, 1 bedroom villas, and 2 bedroom villas. Copper Creek also has the beautiful cabins along the water.
However, there is another avenue open to anyone who wants to stay at Boulder Ridge or Copper Creek: look into renting points from a DVC member. This allows you to stay at a Deluxe resort for less than the sticker price that Disney offers.
Boulder Ridge Villas
All of the Boulder Ridge Villas are located in a separate building adjacent to the main Wilderness Lodge building. It is an easy, covered, walk from the main building to Boulder Ridge. Boulder Ridge has its own lobby, its own roaring fireplaces, and its own rustic charm.
The design behind Boulder Ridge is meant to evoke the setting the railroad hotels of the American West in the 1860s.
​The charm and peacefulness found at Boulder Ridge can't be overstated. While the main lobby at Wilderness Lodge is stunning and a little awe-inspiring, the lobby at Boulder Ridge is a more subdued version of the same. Timber and stone prevail throughout the lobby, with a center atrium that reaches up to the fourth floor.
Cozy seating arrangements are set up throughout the lobby enticing guests to take a load off and relax for a while. Some of my favorite moments on our last trip were spent sitting in the Boulder Ridge lobby at 5:00am in utter calm in front of a roaring fireplace.
As a habitual early riser this was a perfect spot for me to begin my day while the rest of my family continued sleeping. As much as I love the entrance into Wilderness Lodge for its sheer beauty, I love the lobby of Boulder Ridge even more for its peaceful atmosphere.
Fair warning, you are about to see my overwhelming love of Boulder Ridge really shine through. This is my happy place.
Boulder Ridge Studio
​The Deluxe Studio is similar to a standard size hotel room in terms of square footage. The studios at Wilderness Lodge have 1 queen bed, 1 double size sleeper sofa, and 1 single pull down bed.
This is important to note as this puts the occupancy rate for this room up to 5, which is a game changer for some families. In the case of my family, this allows the kids to sleep in two different beds, allowing peace to settle across the land.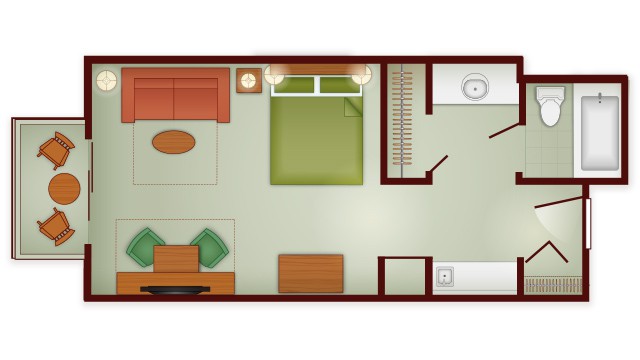 The big downside to this bonus bed: you either have the bed down, or you have a table to eat at, there is no in between. The bed is a murphy bed that pulls down from the table. The bathroom layout is similar to the standard resort rooms described above, however there is only 1 vanity instead of a dual vanity.
There is also a kitchenette in the Deluxe Studios, with a microwave, toaster, small refrigerator, sink, and cabinets.
Depending on the time of year you visit, the price of a Boulder Ridge studio starts at $426 per night.
Boulder Ridge 1-Bedroom Villa
The 1 Bedroom Villa gives you a king size bed in a separate room behind a closed door. The living room of the suite then contains a queen size sleeper sofa. So while you have more square footage the occupancy of this room is actually only 4 people, as opposed to the 5 of the studio.
However, the Boulder Ridge 1 Bedroom Villa comes with much more space and amenities than a Boulder Ridge Studio. The 1 Bedroom Villa has a full kitchen, dining room, and a washer/dryer.
There is still only one bathroom, but it is significantly larger. There are two entrances to the bathroom, allowing people to use the two halves at the same time. One side houses the bathtub and a sink, while the other side has a shower, toilet, and sink.
The extra space of a Boulder Ridge 1 bedroom increases the per night starting cost to $599.
Boulder Ridge 2-Bedroom Villa
The 2 Bedroom Villa ups your occupancy to 8 people, with one bedroom holding a king size bed, the other with 2 queen beds, and the good old queen size sleeper sofa in the living room.
Just like the 1-bedroom villa, the Boulder Ridge 2 bedroom villas come with a full kitchen, dining room, and washer/dryer.
However, unlike the 1 bedrooms, the 2 bedroom villa offers 2 bathrooms. This is a good thing as I can't imagine 8 people sharing one bathroom very well.
There are two different categories of Boulder Ridge 2 bedroom villas. The first is simply a standard 2 bedroom floor plan (see below). The second is called a Boulder Ridge 2 Bedroom Lock-Off.
When a room is called a 2 bedroom lock-off, it is actually a 1 bedroom villa combined with a studio. In the floor plan below you can see the slight differences in layout.
The Boulder Ridge 2 bedroom villas have a starting price of $961 per night.
Copper Creek Villas
The Copper Creek Villas are the newest offering at Wilderness Lodge. These rooms are also Disney Vacation Club rooms so work in the same way as Boulder Ridge above.
However, these rooms are former regular resort rooms that were remodeled and completely renovated in 2016-2017. As such, with the exception of the cabins, these rooms are located within the main Wilderness Lodge building.
The main advantage to this is having easier access to most of the restaurants and the stunning main atrium at Wilderness Lodge.
Across the board the prices for the Copper Creek Villas are more than Boulder Ridge, likely due to the shiny newness of Copper Creek. However, this newness comes with what I consider to be the biggest drawback of Copper Creek: it's bland. While the standard rooms and Boulder Ridge are full of rustic charm, the Copper Creek rooms are white and lacking details.
Quite frankly, some of the furniture looks like it's from Ikea. Don't get me wrong, I love Ikea, but not in my Disney Deluxe Resort. This has been a disturbing trend over the past several years in all of the renovations Disney has done in the resorts. They seem to be trying to appeal to the common denominator, but essentially are slowly removing all of the details that create the essence of a Disney Deluxe Resort.
Copper Creek Studio
The Deluxe Studio at Copper Creek has an occupancy of only 4, as opposed to the 5 you can fit in the Boulder Ridge Studios. This is because the Copper Creek Studios do not have the pull down single bed.
The trade-off here is that the sofa bed is a queen size. Other than this the layout of the room is very similar to Boulder Ridge Studios. However, the Copper Creek Studio does give you an option when booking to choose either shower/tub combo or a walk in shower.
The starting price of a Copper Creek studio is $446 per night.
Copper Creek 1-Bedroom Villa
The Copper Creek 1 bedroom villa gives you all of the same basic amenities you will find in Boulder Ridge. This similarity extends the the same 4 person occupancy.
However, the layout of Copper Creek 1-bedroom villas is slightly different than those found in Boulder Ridge. Again, likely this is due to Disney using existing footprints when they converted standard rooms into Copper Creek.
The Copper Creek 1 bedroom villa has a nightly starting price of $638.
Copper Creek 2 Bedroom Villa
Just like the Boulder Ridge 2 bedroom villas, Copper Creek also gives you the option of a standard 2 bedroom floor plan or a lock off. The occupancy of both types of 2 bedroom villas is still 8 people.
One bedroom has a king size bed, while the second bedroom has 2 queen beds (or 1 queen bed and a pull out sofa if you have a lock-off). Again, the 2 bedroom villa has two bathrooms for convenience.
The Copper Creek 2 bedroom villa starts at $1005 per night.
Copper Creek 3 Bedroom Grand Villa
The Copper Creek 3 Bedroom Grand Villa is Copper Creek's first offering to up the ante against Boulder Ridge. In total, the 3 bedroom villa will hold up to 12 people across the 3 bedrooms. There is 1 king bed, 4 queen beds, and 1 queen size sleeper sofa to divide everyone up on.
The amount of space that comes with these rooms is truly mind boggling. We are talking a proper kitchen which has a larger island than the one in my house. Also, a dining table that is large enough to seat all 12 people staying in the room.
There are also 3 bathrooms for all of those guests to use, along with 2 over-sized balconies. Seriously, if you ever decide to stay in one of these, can you adopt me for a few days? Because the nightly cost of these villas starts at $2080 per night.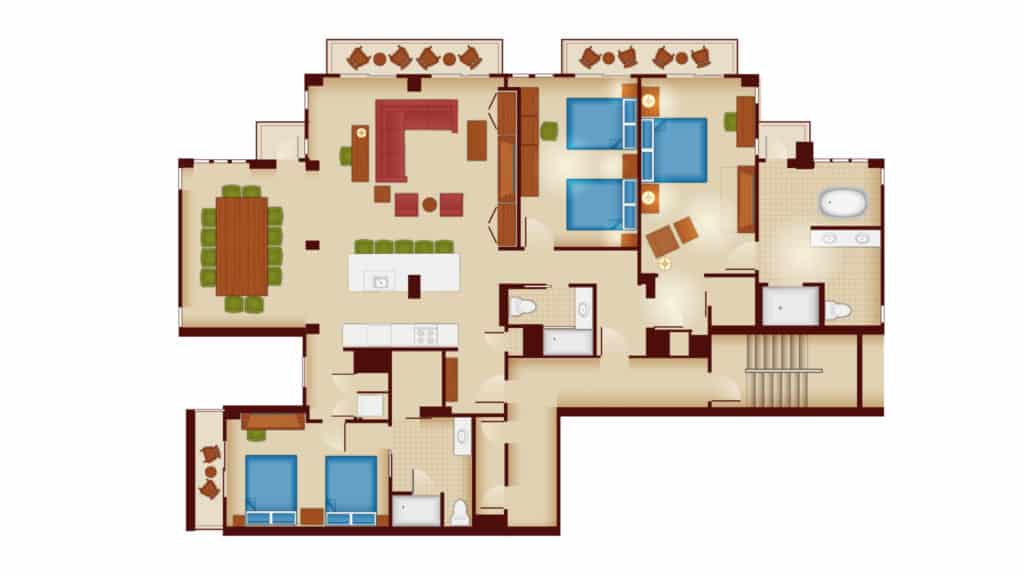 Copper Creek Cabins
The final unique offering at Copper Creek villas are the Copper Creek Cabins. You can't miss these gorgeous cabins whenever you are riding on a boat across Bay Lake.
The Copper Creek Cabins are their own separate units. Each of them has 2 bedrooms and 2 bathrooms. There is 1 king bed, 1 queen bed, 1 queen size sleeper sofa, and 1 single pull down bed. This gives the room a total occupancy of 8 people.
Did I mention the cathedral ceilings lined with timber? And the fireplace? And the jacuzzi tub on your own private screened in porch? I think you get the drift. We are talking serious luxury here. A stay in this cabin is seriously high on my bucket list.
All of that luxury starts out at $1973 per night.
Wilderness Lodge Restaurants
Wilderness Lodge offers 4 different dining experiences within the property. These are important to consider as the convenience factor of them, particularly the Quick Serve restaurants, means you are likely to eat there at least once during your trip.
Roaring Fork
Roaring Fork is the Quick Service restaurant located within the main building of the Lodge. It offers up food for all three meals, as well as easy and convenient grab and go food and beverages. But watch out as that container of greek yogurt will cost you 4 times more than it will at the grocery store.
The food at Roaring Fork is fair, nothing overly exciting but it will fit the bill. I've only ever eaten breakfast there, and my last experience left me feeling less than impressed. I understand that it takes them longer to prepare gluten free foods, but I waited 20 minutes for my waffles to show up at my table. My sister had almost finished her meal at this point.
And did I mention they were completely raw inside when I cut into them? I don't know what they did for 20 minutes, but they sure didn't cook my food.
The replacement meal they gave me also took so long to cook I needed to get it to go as we were on our way to the Magical Express to begin the trek home. In the end I had flavorless eggs, overly greasy bacon and sausage, and the driest breakfast potatoes I've ever eaten. This meal goes down as the worst meal I've ever had at Disney World. I will likely avoid Roaring Fork as much as possible in the future.
Geyser Point
You can read my full review of Geyser Point to listen to me wax poetic about it, but the gist is that Geyser Point is a vastly superior Quick Service option for lunch and dinner. Unfortunately, Geyser Point does not serve breakfast at this time.
Geyser Point is located right on Bay Lake and has open air seating to help soak up that wonderful setting. There is a choice of either a sit down meal in the lounge which comes complete with wait staff, or you can order at the window and take your food with you to eat wherever you so choose.
The food at Geyser Point is excellent and fits the overall theme of the whole resort. You can enjoy a bison burger if you so choose (and you should, it's delicious). Geyser Point also has good gluten free options, including delicious waffle fries dusted with corn meal.
Whispering Canyon Cafe
Whispering Canyon is a Table Service restaurant located right off the main lobby. In fact, it is completely open to the main lobby, which allows you to soak in the full Wilderness Lodge theme. Whispering Canyon is known for its boisterous atmosphere to go along with heaping skillets full of family style BBQ. It is definitely a fun dining experience with good food to go along with it. Just make sure you ask for the ketchup…
Read my full review of Whispering Canyon Cafe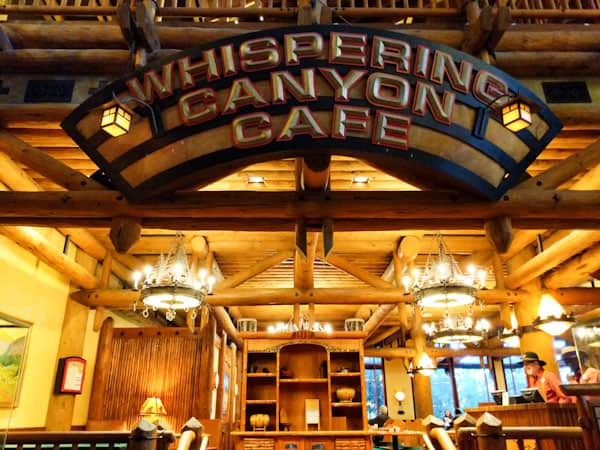 Storybook Dining at Artist Point
Artist Point used to be the signature dining experience at Wilderness Lodge. However, it was temporarily closed and restyled into Storybook Dining at Artist point, a character dining experience. It just opened in December 2018, unfortunately just a few days after we left, or I definitely would have made it a priority to eat there.
There was a lot of grumbling about removing the only Signature Dining option from Wilderness Lodge, as it just seems that a Deluxe Resort should have a deluxe dining option. And while I agree with this in general, I think Storybook Dining is going to be a smash hit. Early reviews and pictures are certainly supporting this prediction.
The theme of it is a magical forest setting where you can meet Snow White, Dopey, Grumpy, and perhaps the biggest draw of all: The Evil Queen. ​Storybook Dining is a Prix Fixe menu with prices set at $55 for adults and $33 for children aged 3-9.
For your money you will get one of each appetizer on the menu, your choice of entrée, and one of each dessert along with a non-alcoholic beverage. The food offerings look good and unique, and early reviews are favorable. This is a dining experience I look forward to trying out.
Wilderness Lodge Pool
Copper Creek Pool
Wilderness Lodge offers two different pools to its guests. The main pool is the Copper Creek pool and is by far the more popular of the two. It is located in the main courtyard of the resort, with many of the resort rooms overlooking this area. Once again, the theming and design of this whole area is spot on.
The pool is surrounded by boulders and gardens, and even features a geyser just beyond it. The pool is fed by a "stream" that starts up in the main lobby, trickles through the courtyard, and goes over a waterfall before ending in the Copper Creek Pool. This is probably my favorite feature of this particular pool area. It's just a pretty place to be.
Copper Creek Pool features a small slide that all the kids seem to enjoy. It's not the tallest or the longest slide around, but it's enough that it keeps the kids happy. There is also a sprinkler playground for the smaller kids with all the features a sprinkler playground should have: water spraying everywhere, a dump bucket, and little slides that are perfect for the wee ones.
Copper Creek also has a Cast Member there directing various games and challenges as an added source of entertainment for the kids.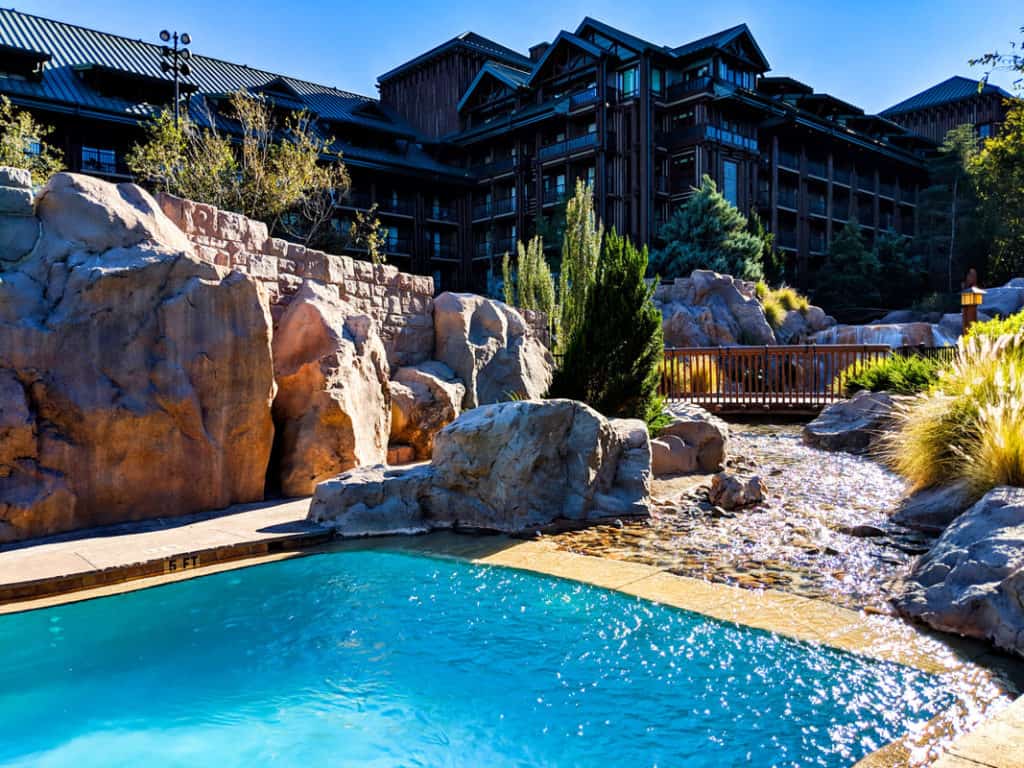 Boulder Ridge Pool
​The Boulder Ridge Pool is the "quiet" pool of the resort. There are no lifeguards at this pool and the entrances are locked, requiring a magic band to enter. Boulder Ridge Pool is another good size pool, with lots of space. There are no slides or bells and whistles like Copper Creek, but it does have two separate zero entries which is a nice feature to have. My little guy in particular likes zero entry pools.
The whole area here is much more serene than Copper Creek. There is plenty of seating, both lounge chairs and tables with chairs and umbrellas. This would actually be a great place to eat that food you picked up from the Geyser Point take out window. Boulder Ridge Pool also offers a few cabanas with sofa loungers on a first come first serve basis.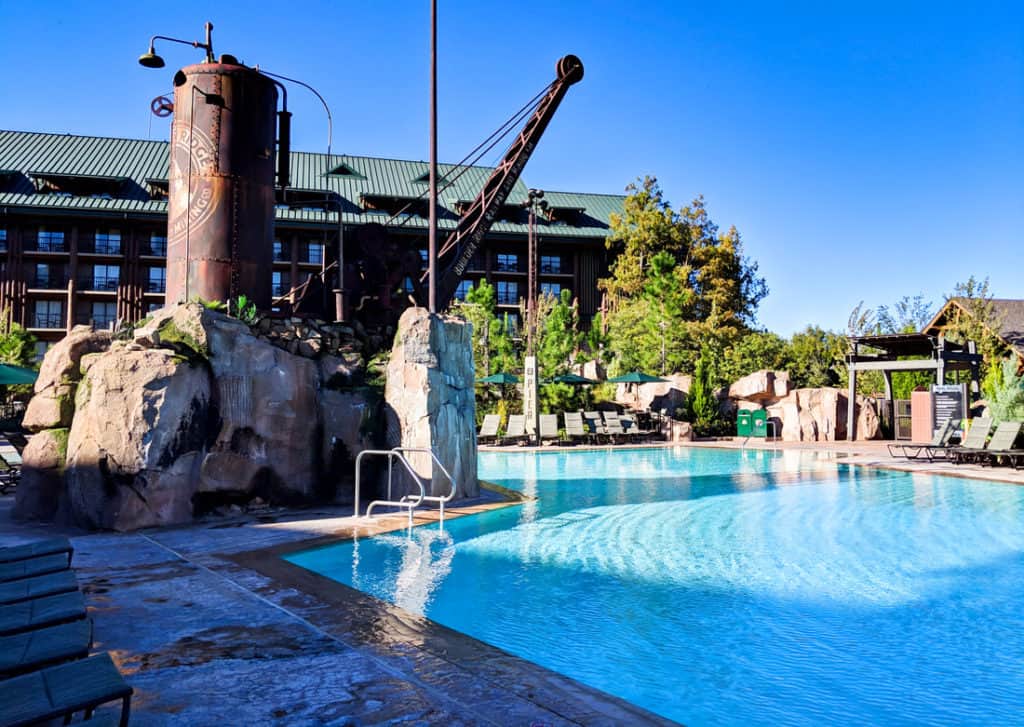 Wilderness Lodge Transportation
Wilderness Lodge offers two types of transportation to the parks: boat and bus.
There are two boat routes operating from the pier at Wilderness Lodge. The first solely goes back and forth from Magic Kingdom, while the other one does a loop between Wilderness Lodge, the Contemporary, and Fort Wilderness.
Wilderness Lodge Boat to Magic Kingdom
While Wilderness Lodge is not considered a "monorail resort", it is still rather close to Magic Kingdom. The boat ride to Magic Kingdom is pretty brief, no more than 10 minutes.
I know it's sacrilegious, but I'm not a fan of the monorail, so riding a boat is preferable to me. That's not to say that I don't get frustrated with the boats, because I do, but it's better than the monorail.
The boats will stop running when there is lightening within 5 miles, and considering this is Florida, that's a regular occurrence. When it's raining without thunder and lightning they will keep running, but be prepared to get wet: the smaller boats are completely open air.
Wilderness Lodge Boat to Resorts
Wilderness Lodge also has a boat circuit that takes you back and forth between Fort Wilderness and Contemporary Resort/Bay Lake Towers. This makes it easier to go to those restaurants for dinner or just general sight seeing.
By taking the boat to the Contemporary, you also give yourself easy access to the monorail. This essentially widens your convenient range of travel.
Wilderness Lodge Bus Transportation
Because of it's compact layout, there is only one bus stop in all of Wilderness Lodge. It is located down a walkway in between the main lodge and Boulder Ridge. This means that any bus rides to Wilderness Lodge end in one location, eliminating the need to wait for your stop.
The Disney World buses are infamous for their unreliability, and it's no different at Wilderness Lodge. However, with the exception of an isolated incident here and there, we haven't had many bad experiences on the buses. And there are definitely situations where the bus is preferable to the boat.
For example, I can either take the bus to Epcot, or I can take the boat to the Contemporary, take the monorail to the Ticket and Transportation Center, switch to the Epcot monorail, and finally arrive at Epcot. Even if you have to wait 15-20 minutes for the next bus to arrive, odds are good you'll still get there faster on the bus.
There is also an "internal" bus that runs between Wilderness Lodge and Fort Wilderness for easy access between the two resorts. However, if you don't want to wait, there's a lovely nature path that connects the two resorts as well.
Final Thoughts on Disney's Wilderness Lodge
As I'm sure you've picked up on already, I love Wilderness Lodge. There is just something about this resort that speaks to me and makes me smile. A little sappy, but I don't care. I have stayed at a few other resorts at this point, and visited several others, and none of them create the same reaction as Wilderness Lodge.
When I go to Disney World, my goal is to be immersed in the "magical" environment the park is famous for, and boy does Wilderness Lodge do that for me. Admittedly, even taking out the Disney aspect of it, I naturally lean towards this style of atmosphere just in general. That is what initially drew me to Wilderness Lodge when picking a resort for our first extended trip. At that point it was up to Wilderness Lodge to deliver the goods, and boy did they.
Wilderness Lodge is a great fit for people who want a deluxe resort that is a bit more affordable, rustic décor, natural beauty, good food offerings, and relatively easy access to the parks.
If you like this post, Pin it and save it for later!
Your Thoughts
Have you stayed at Wilderness Lodge? Do you love it as much as I do, or does a different resort speak to you? Let me know in the comments and remember to follow me on Facebook and Pinterest.