We may earn money or products from the companies mentioned in this post. Please click my disclosure policy to learn more.
As soon as Disney announced the demise of the Magical Express for 2022, the immediate question everyone asked was: What is the best way to get from the Orlando Airport to Disney?
We're going to take a look at the different Disney airport transportation options now that the Magical Express has retired.
This includes the latest offering from MEARs to replace Magical Express altogether. So, let's take a look at how to get from Orlando airports to Disney World (updated February 6, 2022).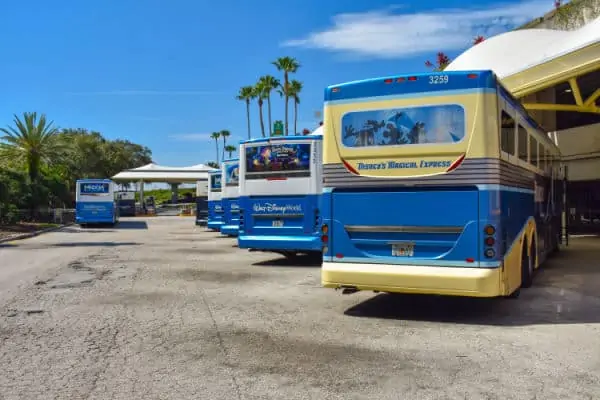 7 Disney Airport Transportation Options
First things first, I must specify that these specific examples, and any costs associated with them, are specific to Orlando International Airport only.
Sanford Airport is another popular airport to fly into for a Disney vacation because some discount airlines land there.
However, your transportation options are more limited, and likely more expensive. Make sure you factor that into your calculations for the cost of airfare.
1. Mears Connect
Mears Connect is the replacement for Disney Magical Express. If fact, Mears has always been the company behind the service, but in a partnership with Disney.
Now, that partnership is ending and Mears is offering the service themselves. However, don't expect the same exact experience, because it won't be.
What You Get With Mears Connect
Here is what Mears says comes with your Mears Connect reservations:
Quick access to Mears Connect once you land (still in Terminal B)
Limited wait time to board
Entertainment during the ride
Spacious, comfortable seating
Unparalleled safety
An arrival souvenir
Limited stops to your hotel/resort
Clean, sanitized vehicles
Professional, friendly drivers
Much of this will operate similar to the Magical Express. You share a bus or a van with other guests and are taken directly to your resort or hotel.
On the return to the airport, you'll be picked up from your hotel up to 3 hours in advance of your flight.
There is also the Premium Service with reduces your wait time at the terminal and provides direct service to your resort.
Mears Connect is only available for people staying at Walt Disney World Resorts and some of the Disney Good Neighbor Hotels.
The service is not available for other Orlando area resorts and hotels.
What You DON'T Get from Mears Connect
Now that we know what you do get, let's look at what you don't get.
The main thing you're not going to get is Disney theming of any sort. No more cut buses designed especially for Disney. In fact, this service is for more than just Disney World. So expect Mears branding.
I also doubt that the onboard entertainment will be Disney themed as well.
Mears Connect also does not include the old fashioned luggage service that Magical Express used to have before COVID. Presumably, all guests are required to pick up their owned checked baggage before they check in at the Mears Connect desk.
How Much Does Mears Connect Cost?
I must stress that prices released are considered introductory prices. Which means they will go up at some point. So if you know you want to use it in 2022, I suggest you book it now.
Standard Service
| | Per Adult | Per Child |
| --- | --- | --- |
| One Way | $16.00 | $13.00 |
| Round Trip | $32.00 | $27.00 |
Premium Service
| | |
| --- | --- |
| Round Trip | $200.00 (up to 4 passengers) |
| Per Additional Passenger | $55.00 |
If you want to book a ride on Mears Connect, go the Mears Connect website.
2. The Sunshine Flyer
The Sunshine Flyer is a brand new service announced in December 2021. This is a very similar option to Mears CONNECT, giving you couple places to try for.
The Sunshine Flyer is run by Transportation Management Services and is set to begin running on February 1, 2022.
Where The Sunshine Flyer differs from Mears Connect is in the fact that it is a themed transportation option, while Mears is just a bus.
These are premium motorcoaches themed after old fashioned passenger trains. The bus design and the costumes of the drivers help to bring this theme to alive.
The Sunshine Flyer also provides entertainment during the ride itself.
Guests can get on the buses right at the Orlando Airport and they will take you to any of the Disney World Resorts, and then back to the airport.
If you want to learn more, head over to The Sunshine Flyer website.
How much does The Sunshine Flyer cost?
Pricing for The Sunshine Flyer is pretty similar to Mears Connect.
One Way Adult: $17
Roundtrip Adult: $34
One Way Child: $12.50
Roundtrip Child: $25
In honor of Disney World's 50th Anniversary, The Sunshine Flyer will donate 50% of their proceeds for the first 50 days of service to Make a Wish Foundation of Central & Northern Florida.
3. Mears Transportation
Don't be confused by the fact that Mears is listed twice. This is actually a completely different offering from Mears Connect. These are the traditional offerings from Mears that they've always had.
Mears provides the following transportation options:
Luxury Transportation
Bus Charters
Taxi
Shuttle (this is only transportation from your hotel to area theme parks and attractions)
If you want to book one of these other Mears options, go to the Mears Transportation website.
Luxury Transportation
The luxury transportation offered by Mears is a black car transportation service. This includes town cars, SUVs, vans, and limousines.
Price is determined by the number of passengers you need to transport.
As an example, to book a luxury sedan for one person to go from MCO to All Star Movies Resort, costs $102 one way.
Bus Charters
Clearly, this option is for much larger groups. Mears offers 55 passenger coach buses, 25 passenger mini buses, 13 passenger executive vans, 11 passenger luxury vans, and 8 passenger limousines.
Taxis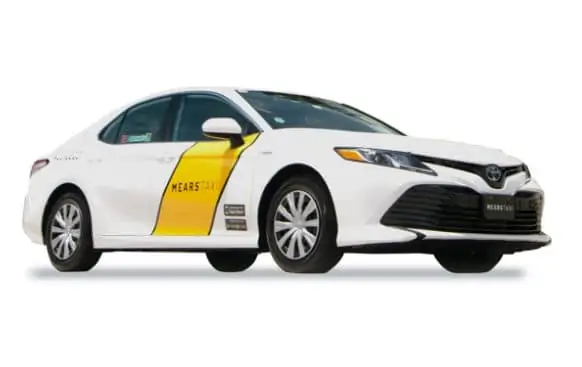 So, I've seen Mears taxis driving around, so I know they exist. And they even show pictures of them on the website. However, when you go online to reserve one, they only offer you the luxury vehicles from above.
Clearly that's not an economical choice if you're just looking for a cab.
To truly book a Mears Taxi, you need to call them directly at 407-422-2222.
4. Ride Share with Uber or Lyft
Most people know by now that ride share services with Uber or Lyft are popular and easy to use. But are they a good option for your Disney airport transportation?
The answer is a resounding yes. Aside from a free option, ride share with Uber or Lyft is likely your most cost effective Orlando Airport transportation option.
Using our same example of needing a ride from All Star Movies Resort to MCO as comparison, an Uber will cost me $32 one way. That's for the smallest car option. An UberXL costs $42.
Either way, that's a lot less than $102, that's for sure.
However, your price might vary as the ride share rates aren't fixed. A busier time of year, or busier time of day, might result in a higher fare.
I have personally used both Uber and Lyft often in and around Disney World. It's often my go to for getting to a park in time for rope drop.
I've also used it to get to and from the airport, I believe I spend around $38 at the time.
Ride share services definitely aren't for everyone. You are riding around in someone's personal vehicle which they are using to contract with Uber or Lyft.
So while this is a cost effective option, it might not be in your comfort zone.
As of the current pricing, using Mears Connect is cheaper for one person. Start adding on family members, and it might not be. Make sure you do your math.
Are there ride shares with car seats?
Let's face it, the vast majority of people coming to Disney World have children, some of whom still need car seats. In the ride share app, you have the option of choosing a car that comes with car seats.
5. Taxi
Let's face it, there are no shortage of taxis in Orlando. They're a dime a dozen at the airport.
Taxis give you one of the easiest, fastest, most convenient ways to get to your hotel without draining your wallet. No waiting for the bus to depart, no waiting for your ride share driver to arrive.
You either order your taxi in advance (i.e. telling them what time to pick you up at your resort), or there's simply a row of them sitting in a line outside of the airport.
You can find the taxis located outside the baggage handling area of the Orlando Airport.
It's basically a "get what you get and don't get upset" situation. There will be taxi cars and vans galore from a multitude of companies.
Hop in and you're on your way to Disney World.
The fact that they are already at the airport waiting is part of what makes taxis so convenient. Even with ride share you have a little bit of a wait while the driver gets to your location.
But, taxis will cost you a bit more for this professional service. Plan to spend around $70 one way.
However, many people prefer the professional aspect of a taxi over ride share. These are professional drivers working for a real company. In their minds, this provides a little extra safety and security.
6. Rental Car
Many people simply choose to rent a car for the duration of their Disney trip. Nothing like putting the power of your Disney airport transportation in your own hands.
However, this is the most expensive transportation option available. Even if you get the best possible deal on the rental car, there are a lot of hidden fees that come with it.
Orlando is known for its toll roads, so add that fee on. Then there's the $15-$25 dollar per night parking fee at the Disney resorts.
And let's not forget that if you plan to drive the car to the parks there's a $25 parking fee for each day if you aren't staying at a Disney resort (Disney resort guests don't have to pay for parking at the parks).
Oh, and gas.
So yes, you get the ultimate freedom, but if you are staying at a Disney resort, there is no need to have a rental car.
The only exception to this rule is during a pandemic. If you don't feel comfortable on shared transportation of any sort, this is your best option.
7. Private Car Service
This is essentially just like the Mears black car service, but there are seriously so many companies to choose from. You can shop around and see which company has the best prices while still maintaining a good customer rating.
You'll have a lot more freedom and convenience with a car service. And they'll be right there to pick you up at the airport.
Some companies, like Quicksilver Tours, even allow a free grocery stop. Happy Limo is another company which offers free grocery stops.
In general, you are probably looking at a cost starting around $70 and up, depending on the size of the vehicle you need.
Add Airport Transportation to Your Disney Vacation Package
Disney now offers the option to add ground transportation to your Disney vacation package.
This option is only available if you have a Disney resort room and park tickets purchased through Disney.
If you have an annual pass or bought your tickets from a discounted Disney ticket seller, you don't qualify for this add on.
Keep in mind, this add on isn't saving you any money, it's just making it easy to book Disney airport transportation with your vacation package.
You have the option of adding on a rental car from Alamo or Mears Private Ground Transportation.
The Mears Private Ground Transportation allows you to choose from the following types of vehicles:
Stretch Limo
Sedan
SUV
Executive Limo
Exclusive Van
While these prices could fluctuate, in my research I found that the Sedan service is the cheapest option and costs approximately $200 round trip.
The Stretch Limo is the most expensive option and costs approximately $394 round trip.
I believe this option is also available from Tampa Airport and Sanford Airport as well, but double check that one to make sure!
Final Thoughts on Disney Airport Transportation
Clearly, there are no shortage of Disney airport transportation options. With that being said, I'm still a bit disappointed that Magical Express is going away.
It's not without its faults, that's for sure. But there's a lot to be said about free Disney airport transportation. Not to mention, it was a nice perk of staying at a Disney resort.
But at this point, we don't really have a choice but to find another option.
For myself, it's likely to be ride sharing. But that's really not for everyone. Take a look through the list and start to weight all the pros and cons for your own family.
The good news is, you'll find something that works for you.
Your Thoughts
Are you as upset about the end of Magical Express as I am? How do you plan to get to Disney from the airport now? Let me know in the comments below.
Don't forget to follow The Disney Journey on Pinterest and Facebook to stay up to date with all the latest news and updates.