We may earn money or products from the companies mentioned in this post. Please click my disclosure policy to learn more.
When Disney World reopened in July 2020, they rolled out the brand spanking new Disney Park Pass system. The park pass system was in place as the primary tool to enforce limited capacity at the Disney parks.
However, Disney has made clear that Park Passes are here to stay for the long haul, possibly even permanently. Because of this, you better make sure you know that they are, how to book them, and why they are essential to your Disney vacation planning.
Effective August 23, 2022, Disney made some changes which streamline the experience a bit.
Disney Park Pass System Basics
As I mentioned, the primary function of the Disney park pass system is to allow Disney to monitor attendance at each of the parks and prevent it from going above a certain level.
All guests who wish to visit the Disney World parks are now required to have a park pass for each member of their group, for each of their park days.
Guests still have the freedom to choose which park they want to visit on which day, pending Disney park pass availability, that is.
Any guest who has a Disney park ticket linked to their My Disney Experience account is eligible to book a Disney park pass.
Disney Park Pass Availability
Disney park pass availability WAS divided between three categories:
Annual Passholders
Disney Resort Guests
Disney Ticket Holders
Each of these categories had a different number of park passes available.
However, this is one of the areas that has been streamlined. Instead of pulling from different categories, all of the ticket types now pull from one giant pool of park passes.
Frankly, this just makes things a lot neater and tidier for all involved.
Each of the Disney parks has its own individual capacity designation. Again, we have no idea what that capacity designation is. But just because Hollywood Studios reaches capacity, doesn't mean the other parks are at capacity.
Disney Park Pass Availability Calendar
Disney allows guests to look up availability on the Disney park pass availability calendar at any point in time. You can access the Disney park pass availability calendar here.
In this image you can clearly see the buttons for the 3 different Disney park pass categories. For some reason, those buttoms remain on the page. However, this could change as they more fully roll out the updates.
Click on whichever applies to your trip. In this instance, we're looking at January 23, 2021. We can see that for Disney resort guests there is full park availability.
This next image clearly shows the difference when you are in the Annual Passholder category. For the same date in January, there is no availability for Hollywood Studios on that day.
I hope this helps to demonstrate what I mean by the different categories. Now, as January 23 approaches, Disney can go and take some open park pass availability from the Disney resort guest category and move it to Annual Passholders in order to allow more people in.
This isn't increasing overall park capacity. It's simply redistributing the total amount among the three categories.
How Does Park Hopping Work With Park Passes?
Park Hopper passes make their return in 2021, much to the delight of many. However, the system is a bit more controlled than it used to be in order to account for limited capacity.
At this point, you need a park pass reserved for the first park you plan to go to that day. This is the only park pass you need to worry about.
Park hopping is allowed after a certain time of day. Initially, Disney has decided that park hopping can't occur until 2:00p. This time will likely be tweaked, but you get the idea.
At 2:00p you can then enter a different park, without a park pass. However, you must go to your initial park first (aka, use your park pass) in order to "activate" park hopping.
Of course, park hopping is dependent upon capacity. If you plan to hop over to Hollywood Studios but the park is at capacity, you cannot enter.
Getting Ready to Use the Disney Park Pass System
Before you are even permitted to book your Disney Park Pass, you need to have a few things set up.
Create a My Disney Experience account – My Disney Experience is your hub for all things related to your Disney trip. You can do that here.
Link Your Park Tickets – If you have a valid park ticket, make sure it is linked to you in your My Disney Experience account. Make sure you read my Disney park ticket guide to learn more about park tickets
Link Your Disney Resort Reservation – Again, if this is not already in there, make sure your reservation number is linked to My Disney Experience (this impacts which "category" of guest you are put in)
7 Steps to Use the Disney Park Pass System
Contrary to pretty much everything else, the Disney Park Pass Reservation System does not run through My Disney Experience. You need to access it through the Disney World website.
This can be done a browser on your computer or on your phone. If possible, you might want to try on both…
1. Go to Disney World's Website
This is a big one. Many people assume you need to go to the My Disney Experience app in order to do this. However, if you try that, you might be very confused when you can't find it.
Instead, go to the Disney World website to start your park day booking process.
2. Find the Disney Park Pass System Link
In this handy dandy screenshot you can see exactly what I mean. Yes, this takes you to the information page about the Disney Park Pass System. But this also takes you to the link we're actually looking for.
When you get to the Disney World website, hover your mouse over My Disney Experience in the upper right corner. This triggers the drop down menu for your My Disney Experience account. From there, click on the link labeled "Disney Park Pass System".
This takes you to the information page all about the pass. However, just below the page heading, you should see a white button that says, "Make a Park Reservation". Now we've finally found the magic portal!
Or, you can just take a shortcut and follow this link to go directly to the "Create Your Travel Party" page.
3. Create Your Travel Party
This is very similar to how you book FastPasses (oh, the good old days) and dining reservations. You should see all the people you have plans with in My Disney Experience. Simply click on each person you want as part of your party.
4. Select Your Date and Choose Your Park
The next screen brings you to a calendar. On this calendar you need to find the date of the park day you want to book. Once you select the date, all of the parks with availability for that date appear. If the park you were hoping for doesn't appear, that means there is no availability on that day.
If the park you want is there, go ahead and click on it. You'll notice that the park's hours are also listed.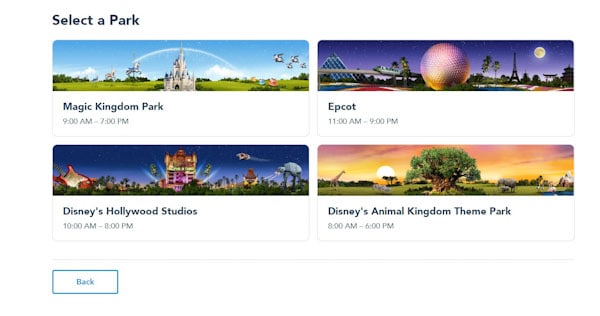 Note: All of the parks may still show up whether there's availability or not. Once you click the park you'll get a message if there's actually no availability.
5. Select Your Arrival Time
So, as of today, this is a bit of a misnomer. This makes it sound like there are multiple time slots for you to choose from. However, there was only 1 option to choose from, and it covers the entire day.
Anyway, select that time and move on to the next step.
6. Review Your Reservation and Accept Terms and Conditions
The next screen allows you to double check everything you've selected so far. At the bottom of the screen you are required to check a box saying that you accept the terms and conditions, including the COVID waiver. We knew that signing a waiver was going to be required for Disney trips, and this is where they've decided to stick it.
I'm not going to lie, I didn't even read it. But expect it to highlight the fact that if you get COVID, you can't blame Disney.
Once you've made sure that everything is correct, go on and click the button to book your Disney Park Pass.
7. Wash, Rinse, Repeat
On the same screen as your Disney Park Pass confirmation, you get the below notice. It provides you with necessary information you need to know.
And below that, you have two buttons to choose from to move forward. You can either "View My Plans" or "Make Another Park Pass". If you have more days to book, click to make another park pass. This will bring your directly to the Create Your Party page. Just repeat the entire process.
Can I cancel or modify my Disney Park Pass reservation?
Fortunately, the answer to this question is now yes! This was one of the biggest flaws of the system prior to the August 23 update.
Now, when you look at your plans in My Disney Experience, you'll see your existing park pass reservations. There is a link there to cancel or modify your reservations.
Press that link and from there it will guide you through the process. This is so much better than having to cancel your existing pass first and then get a new one.
Final Thoughts
Let me just tell you, the Disney park pass system was pretty darn glitchy at first. It took me 2 hours to get all the park passes I needed on the day the system dropped.
Now, it's pretty simply. Not to say you won't encounter glitches, because you might. But keep refreshing and trying again. I found that the glitches always eventually corrected themselves.
If not, you can always call Disney and speak with a Cast Member to assist you.
Sharing is caring my friends!
Your Thoughts
What do you think of this new Disney Park Pass System? I would love to hear your thoughts in the comments below.
Don't forget to follow The Disney Journey on Pinterest and Facebook to stay up to date with all the latest news and updates.