We may earn money or products from the companies mentioned in this post. Please click my disclosure policy to learn more.
Epcot's Rose and Crown Pub is a table service restaurant located in the United Kingdom pavilion at Epcot. The restaurant itself is pretty popular and always seems to have a good number of people there enjoying the food and setting.
But the even better thing to know about is the Rose and Crown fireworks viewing opportunities. There are 2 ways to go about that, and I'll discuss them here.
This post covers the strategy I've used in order to take advantage of Rose and Crown's fireworks viewing location without paying extra. This is separate from the Rose and Crown Fireworks Dining Package that Disney offers.
However, I do include information for that package in this post too so you can determine which Rose and Crown fireworks dining strategy you want to go with (Updated July 21, 2023).
Epcot Rose and Crown Pub Overview
As I mentioned already, Rose and Crown Pub is located in the United Kingdom pavilion of Epcot. It is a popular table service restaurant (meaning it's a sit down meal, not fast food).
Due to it's popularity, making Disney dining reservations ahead of time is highly recommended. It used to be open for both lunch and dinner, but ever since the reopening, it's only been open for dinner.
The Rose and Crown Pub hours might vary slightly, but in general, Rose and Crown is open from 4:00pm to 9:00pm.
If you want to take advantage of the fireworks viewing at Rose and Crown and need a specific dining time, you'll face the most competition for reservations.
When the Disney Dining Plan is available again in 2024, a meal at Rose and Crown uses 1 Table Service credit per diner. Don't know what I'm talking about? Make sure you read all about the Disney Dining Plan so you know what it is and if it's something that you want for your trip.
Setting and Atmosphere
Rose and Crown offers seating outside on their porch or inside the restaurant itself. The lake views and nice atmosphere make the porch seating much sought after. Of course, if you are trying to view the fireworks, having a table out on the porch can be nice, but isn't necessary.
There is a bar located inside, which is necessary in anything trying to be an English pub. There's also a small to-go bar set up outside the restaurant for people who don't have reservations.
Inside, you'll find polished wood everywhere along with leaded glass touches. All in all, it evokes that English Pub feel. All it needs is a little stonework to complete the job.
Rose and Crown Fireworks Viewing Options
This right here is a great "secret" for getting prime viewing of the Epcot fireworks with minimal effort. It's a secret in the sense that it really isn't something that most people know about.
However, that doesn't mean that there's no competition to execute either of these options. I promise you, there is, especially for the free strategy.
But what am I talking about? The bottom line is that Rose and Crown Pub is ideally located for prime fireworks viewing. The restaurant is right on the lake with great views of were the fireworks are launched.
Because of this location, any diner who happens to be at Rose and Crown when the fireworks start has a front row seat to the show.
But it goes even beyond that. Rose and Crown has its own private little patio directly on the lake that is open only to diners at the restaurant.
Most of this patio is dedicated to those guests paying for the Rose and Crown dining package (more on that below), but there's a section of it designated for the other guests at Rose and Crown, aka, the free Rose and Crown fireworks dining strategy.
If you want to guarantee your prime fireworks viewing option, you can book the dining package. However, if you're willing to use some strategy, and get lucky with a well timed reservation, you can accomplish this for free.
FREE Rose and Crown Fireworks Reservation Strategy
First off, this strategy is free in the sense that you don't have to book a separate dining package that will cost you more. However, you clearly are still paying for a meal in the free strategy.
But if you were planning on spending that money on a meal anyway, you might as well get a great fireworks view for free.
When trying to turn your Rose and Crown dining experience into a perfect fireworks viewing strategy, it's all about the details. The first step is to secure an Advance Dining Reservation for a time that allows you to still be at Rose and Crown when the fireworks begin.
For a larger party, or one that generally takes their time, a reservation start time between an hour and a half to two hours prior would probably work. However, the closer you can get to an hour ahead of time, the better off you are.
When we've used this strategy, we had a 7:45p reservation (for a 9:00p fireworks show) and it worked out fine. If the fireworks show starts at a different time during your trip, adjust accordingly.
However, we did have to make sure to take our time eating because the food came out promptly. A reservation at 8p or later would be ideal, but 7:45p should be fine. I really wouldn't try to push it too much earlier than that unless you're a large group that will naturally be slower.
Because you are looking for such a specific reservation time, you might want to have Rose and Crown near the top of your list when making your Disney dining reservations.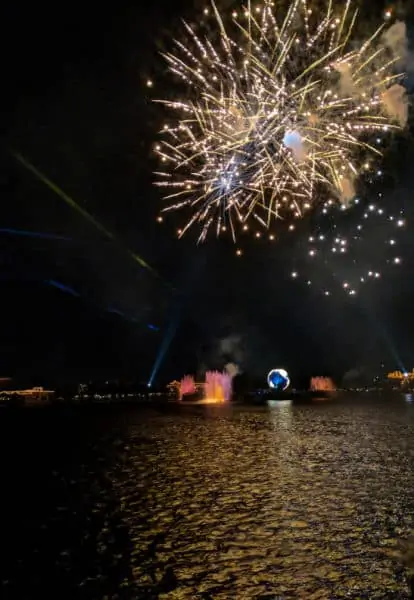 How the FREE Rose and Crown Fireworks Viewing Strategy Works
Here's the basic process that you should know. All Rose and Crown guests dining at the restaurant when the fireworks are scheduled to start have the ability to watch the fireworks from Rose and Crown's private patio.
All guests who are already seated on the covered porch will have a decent view, with some tables better than others. If your view from the porch isn't good, you can follow this procedure as well.
At the beginning of your meal, mention to your server that you want to be able to watch the fireworks from the private patio. This part is essential. They won't necessarily mention this to you. Remember, this is a bit of a "secret" hack.
You are unable to access this viewing area unless accompanied by a Rose and Crown Cast Member. The area is roped off to prevent general guests from getting into it.
A few minutes before the fireworks start, the Cast Member will bring your group down to the area to watch.
You MUST still be at your table when the time arrives. You can't finish and pay 15 minutes before then and expect to necessarily still get in.
On our last visit we timed it with our waitress that we paid the bill right before she took us down so we could leave once the fireworks were over.
But if you're still eating, you simply return to your table afterwards to finish.
Rose and Crown Fireworks Dining Package
This is a whole separate Rose and Crown Pub offering from simply making a well timed reservation. Prior to lockdown Disney started this new offering and it finally made it's return.
Guests who purchase the Rose and Crown Fireworks Dining Package receive the following:
One appetizer
One entree
Dessert
Selection of unlimited beverages (including some alcoholic beverages)
A table on the patio for easy fireworks viewing
How much will this set you back? Rose and Crown Fireworks Dining Package costs:
Adult: $89 per person, including tax and gratuity
Child: $39 per person, including tax and gratuity
Remember, Disney considers anyone aged 10 and above an adult.
In order to book this package, all guests on the reservation must have a valid theme park ticket as well as a valid theme park reservation. I'm not sure how they're handling this if you plan to park hop from a different park earlier in the day.
Miscellaneous Details about Rose and Crown Fireworks Dining Package
Here are a few other important details to note. Advance dining reservations are necessary for this package.
You can check in 45 minutes prior to the start of the fireworks. In all, your dining experience is expected to last 90 minutes, ending when the show itself ends.
The seating area for this event is outdoors and uncovered. If it rains or the weather interferes in some other way, guests with the Rose and Crown Fireworks dining package will be seated in a covered outdoor area (likely the wrap around porch).
Comparing the Dining Package to My Rose and Crown Fireworks Strategy
The thing is, I don't think there's necessarily a right or wrong choice here. Either way, if you play your cards right, you'll have an easy view of some amazing fireworks and delicious food.
Personally, I wouldn't book the dining package. This is mainly because I have two children who could never in a million years eat $89 worth of food to make the Rose and Crown Fireworks Dining Package worth it.
Do the math for your family to figure out whether you could have a cheaper meal by simply making a standard reservation during Harmonious.
If you aren't able to get the time that you want, at least you know there's a back up plan in place and you can try to book the dining package.
Rose and Crown Menu
As with all Disney restaurants, make sure you check out the most up to date menu on Disney's official website, as the menu can always change.
On the website, the menu is broken up into a lunch menu and a dinner menu, but at this point they are exactly the same.
Rose and Crown Appetizers
Scotch Egg: Golden-fried Hard-boiled Cage-free Egg wrapped in Sausage with Mustard Sauce
Coronation Salad: Crisp Salad with Madras Dressing on top of a Crunchy Grain Cracker
Rose and Crown Entrees
Fish and Chips: "Rose & Crown's Signature Dish" Beer-battered and served with Tartar Sauce
Shepherd's Pie: Ground Beef, Seasonal Vegetables, English Peas, and Mashed Potatoes with Irish Cheddar
Bangers and Mash: Traditional English Sausage with Colcannon Potatoes, Mushroom, Onion, and Red Wine Demi
Savory Impossible Hot Pot: Seasonal Vegetables in a Plant-based Meat Casserole baked with a mashed potato topping (Plant-based)
Rose and Crown Desserts
Sticky Toffee Pudding: Steamed Pudding "Cake" served with Warm Vanilla Custard and Hot Butter-Rum Sauce
Plant Based Seasonal Gelato: with mixed berries
Kids' Menu
Kids' Appetizers
Kids' Create Your Own Entrees (Choose One)
All Kids' create your own meals come with one entree and a choice of two sides. All meals also come with a beverage.
Fish and Chips
Grilled Chicken: Served with Brown Rice, Roasted Carrots
Kids' Dessert (Choose One)
Fruit Salad
Plant based Gelato with mixed berries
Rose and Crown Pub Gluten Free Menu
As with most Disney restaurants, there is an allergy menu at Rose and Crown listing foods which are safe for the 8 common allergens. This used to only be found at the restaurant, but now you can find it posted on Disney's website.
The following items are listed as gluten friendly on the Rose and Crown Pub menu:
Coronation Salad: Crisp Salad with a Madras Dressing (For Gluten/Wheat, Egg, Fish/Shellfish, Milk, Peanut/Tree Nut, Sesame, and Soy Allergies)
Baked Fish and Chips: Baked Seasonal Fish with Lemon (For Gluten/Wheat, Egg, Milk, Peanut/Tree Nut, Shellfish, and Soy Allergies) – This isn't listed on the menu anymore, but it is still an option. The waitress offered it to me verbally
Shepard's Pie: Ground Beef, Seasonal Vegetables, English Peas, and Mashed Potatoes with McCall's Irish Cheddar (For Gluten/Wheat, Egg, Fish/Shellfish, Peanut/Tree Nut, and Soy Allergies)
Savory Impossible Hot Pie: Seasonal Vegetables in a Plant-based Meat Casserole baked with a sliced Potato Topping (For Gluten/Wheat, Egg, Fish/Shellfish, Milk, and Peanut/Tree Nut Allergies)
Unfortunately or us, Rose and Crown Pub does not make a gluten free breaded Fish and Chips. If you do want the rare treat of having traditional Fish and Chips, head over to Cookes of Dublin or Raglan Road in Disney Springs.
Keep in mind that these are made to encompass ALL of the top 8 food allergies. If you only have a need for gluten free food, there is more leeway for you.
Speak with a chef and they can custom make a meal for you.
Rose and Crown Pub Blends
Rose and Crown has all of the drinks you would expect from an English Pub. This includes ales, stouts, and lagers, wines, mixed drinks, and scotch flights. But the pub blends are where it's at.
Golden Imperial Pint: Half Harp and Half Bass Ale
Golden Fox Imperial Pint: Half Boddingtons and Half Bass Ale
Half & Half Imperial Pint: Half Harp and Half Guinness
Bass & Guinness Imperial Pint: Half Bass Ale and Half Guinness
Cider & Blackcurrant Imperial Pint (gluten friendly): Cider with a shot of Blackcurrant Juice
Bumblebee Imperial Pint: Half Boddingtons and Half Guinness
Shandy Imperial Pint: Half Sprite® and Half Harp Lager
Snake Bite Imperial Pint: Half Cider and Half Harp
Blacksmith Imperial Pint: Half Smithwick's and Half Guinness
Black Velvet Imperial Pint: Half Cider and Half Guinness
Aside from these drinks listed, the drink menu is absolutely huge. I won't include them all here or you'll be scrolling for the next few minutes just to get to the review!
Epcot's Rose and Crown Review
So, what are our official thoughts on the experiences we've had dining at Epcot's Rose and Crown Pub? Here's a deeper dive…
Seating Location and Atmosphere
We've had the opportunity to eat both on the porch and in the dining room. My personal preference is to eat outside on the covered porch. The only reason I didn't ask to sit out there on our most recent trip was because it was ridiculously hot all day and I needed some air conditioning!
If you are trying to view the fireworks, consider requesting a table on the porch. To do this, arrive early for your reservation and talk with the hostess. Let her know that you don't mind waiting a little longer for a table outside.
Remember, a table outside doesn't guarantee a good fireworks view. However, it at least gives you a chance for one.
Our first time at Rose and Crown we sat at a table outside, but not one that would give us a good view of the fireworks. We were just fine with that as Rose & Crown has a private viewing deck that ALL diners at the restaurant could use during the fireworks.
This means that you don't actually have to sweat getting a table outside, unless you simply want to enjoy some outdoor dining.
Even with a less than ideal view at our table, sitting out on the porch was nice.
Unlike our experience with enjoying the porch seating at Nomad Lounge, this porch was not a quiet atmosphere. This is not to say it was obnoxiously loud or unpleasant, because it wasn't.
The Rose and Crown has a much higher energy, it is an English pub after all.
Our table was located very close to the entrance, as well as the street kiosk that is associated with the Rose & Crown. Because of this, combined with the general time of night, there were the sounds of people grabbing a pint and some of the outdoor tables by the kiosk enjoying the revelry.
Really, it all just lent itself to the atmosphere.​
If you are at one of the tables that wraps further around the restaurant, closer to the lake, you will have less of the street ambiance and more of a relaxing vibe.
There are plastic panels on the porch that can be lowered in the event that it's cold outside. The night we were there a cold front came through with a decent breeze off of the lake that made it pretty chilly.
A Cast Member lowered our panel as soon as we made the request. It definitely helped to cut down on the wind and made us a little warmer. The clear plastic took away from the view, but it was worth it at that point to be more comfortable.
Sitting inside has a whole other feel to it. The interior of the restaurant is all about the wood paneling. All that wood gives it a warm and cozy vibe. The restaurant itself isn't huge but has a decent number of tables in it.
You'll find various knick-knacks and pub-like items scattered throughout the restaurant.
All the way to the right of the restaurant is the Rose and Crown Pub bar. This section does not require a reservation, it's open to any walk-ins.
Here you'll find the good old traditional English bar with long and glossy wood. The volume in this section of the restaurant is LOUD. Of course it is, it's full of drunk people.
The night we were there (a Saturday) the pub was doing brisk business. It was packed, standing room only.
Our table was the table closest to the pub side of the restaurant. As a result, this was a rather boisterous meal! At first I wasn't too keen on this, but after a while I just sort of tuned it out and didn't really notice it anymore.
Technically, this loudness/boisterousness adds to the overall pub feel.
Either the porch or the interior will give you a close approximation of eating at a legit English pub, but clearly, eating indoors will give much more of a feel.
That being said, I personally prefer eating on the porch outside.
Food
The first thing I want to say is that this menu is drastically smaller than it used to be. Even since I last updated this review the menu has changed significantly.
This right here is probably my biggest issue with the restaurant. There is no reason for the menu to be so small. I understand not wanting to have too many options, but having very few isn't exactly ideal either.
Unfortunately, some interesting and yummy menu options are no more. Because of this, make sure you review the latest official menu before your trip. If there's nothing on the menu that appeals to you, cancel the reservation.
That being said, the food that is on the menu is utterly delicious and generously doled out.
Fish and Chips (Entrée and Kids' Meal)
My daughter ordered the regular Fish and Chips entrée while my son ordered the kids' meal version of it. The only difference between the two is quite obviously the size.
My daughter's platter of Fish and Chips was absolutely enormous. They piled 3 rather large pieces of fish on top of a sea of chips. The fish was so large you couldn't even see the chips, but trust me, there's a ton there!
Because of this, the Fish and Chips entrée is an option that I feel you definitely get bang for your buck. Of course, my daughter didn't stand a chance at finishing it, but my husband gallantly "took one for the team" and made the ultimate sacrifice of helping her eat it.
Both of them said it was delicious and they really enjoyed it. The batter was crispy and well flavored. They did say it wasn't as good as fish and chips from a restaurant local to our house, but they still liked it very much.
This was my son's first time trying fish and chips. He's a picky eater in general, but likes fish sticks and has recently surprised us by liking fish in general. He was game to try this and said it was very good. Considering he did a darn good job of cleaning his plate, I guess the proof is in the pudding.
His meal came with a salad, but frankly, he had no interest in it and I wound up eating it. He enjoyed the gelato that came with his meal too. The waitress put it in a paper cup for us so we could take it to go while we watched the fireworks.
Shepherd's Pie
I had the Shepherd's Pie, which is a naturally gluten free option. Because it's already gluten free this part of the review applies for anyone who wants this dish.
First off, let's talk about the fact that it's served directly in the pan that it's cooked in! I love this touch as it gives it a bit more authenticity.
But that authenticity is irrelevant if it doesn't taste good. There are no worries here with that as I loved this meal.
I'm someone who loves shepherd's pie in general. I make it at home and just truly enjoy this kind of dish.
However, what I make doesn't hold a candle to Rose and Crown's Shepherd's Pie. The amount of flavor packed into this dish was amazing.
I didn't stand a chance in Hades of finishing this whole meal. It looks unassuming, but this is a filling meal. It's a bit of a shame though, because I loved it so much.
I gave it the old college try and eventually admitted defeat, enjoying every single bite along the way.
To go with my meal I also got one of the pub blends, the Cider & Blackcurrant Imperial Pint. Man do I love this drink. It's so gosh darn good, and huge!
It's definitely a sweeter cider, so if you don't like sweet, it might not be for you. I personally don't find it to be too sweet and think it's a good balance of being semi-sweet without tipping the scales into too sweet.
Bangers and Mash
Doug is a huge fan of meat and potatoes, so after much deliberation, he ended up going with the Bangers and Mash. He said the meal was very enjoyable, and again, quite filling.
This is the same meal he got last time we went, so clearly he enjoys it!
Of all of our meals, his was probably the smallest portion size. But at the same time, how many bangers can any one person eat in a single sitting?
I know my husband doesn't care one bit about what I'm about to say, but I think they've improved their presentation of the dish. Before it was just in a plain white bowl. Boring!
Now, it's served up on decorated china with a more aesthetically pleasing bowl on top of it. In general, it just makes the whole thing more attractive.
Doug said it was delicious with a very rich flavor. He felt that the gravy was a little too heavy on the onion flavor, but he admits that is probably just him because he's not a huge fan of onions to begin with.
This didn't stop him from eating the whole thing though!
Doug also ordered one of the pub blends, the Half & Half for him. This is something he's had before and generally loves, so it's a win all around.
Fireworks Viewing
The very first thing to make clear is that the fireworks viewing from Rose and Crown is pretty darn good. The location right on the lake gives you an unobstructed view of the fireworks.
If you want to avoid the whole ordeal of staking out a spot ahead of time and waiting for the fireworks to start, booking a well-timed Rose and Crown reservation is definitely much more pleasant.
I always love an option that allows me to watch fireworks and enjoy a good meal.
Whether to try to employ the free fireworks viewing strategy or just book the dining package, either way, you'll have a darn good show and an excellent meal.
Remember, a Rose and Crown cast member must lead you to the deck or you are not permitted entrance. There is another Cast Member there manning the rope and will only open it when you are accompanied by staff.
The viewing platform itself is a deck that sits below the seating deck of the restaurant. The deck gives you a clear shot to the center of the lake for the fireworks show. The first time we did this we found our spot right at the rail with only a minute or two to spare.
Our most recent attempt had us towards the back of the viewing area with people in front of us, but that didn't really matter. We still had a great view.
The most shocking thing to me was the number of people who were still inside the dining room eating during the fireworks. This highlights the fact that a lot of people are unaware of the viewing deck.
When we mentioned to our waitress that we wanted to watch the fireworks from the deck, she even whispered to us when talking about it. It's definitely not something they advertise.
But for those in the know, this is an awesome fireworks hack.
We've seen both Illuminations and Epcot Forever from this location. Both shows were suited to this particular viewing angle.
I purposefully never did this for Harmonious. The barges for the show required watching from a very particular angle, and Rose and Crown simply wasn't the right angle.
Now that Harmonious has been scrapped 18 months after it started because of those unsightly barges, I'm hopeful that the new show will also continue to provide good views from Rose and Crown. We still don't know anything about the new show, but hopefully soon.
One potential snafu with this location for watching the fireworks is the smoke. If the wind happens to blow in the direction of the restaurant, this will impede your view. And of course surround you with smoke.
So far, this hasn't been an issue for us either time we've tried it. I think the wind was strong enough and slightly off to the side of us so it went on past us and gave us a superb view.
My pictures of the fireworks aren't exactly the best, but what you can see is the fact that I had an unobstructed view of the show. More importantly, I had this view by strolling up to the location right as the fireworks were starting.
I am someone who despises the idea of wasting precious evening park time sitting next to a railing for an extended period of time waiting for fireworks to start.
To be fair, the need for this isn't as huge at Epcot to begin with. The lake is so big that it allows you many more viewing options than at Magic Kingdom. Except for Harmonious, but that's no longer an issue.
For me, securing a dining reservation at a restaurant I enjoy anyway, for a meal that I would have paid for anyway, that allows me to also easily view fireworks? It's a no brainer.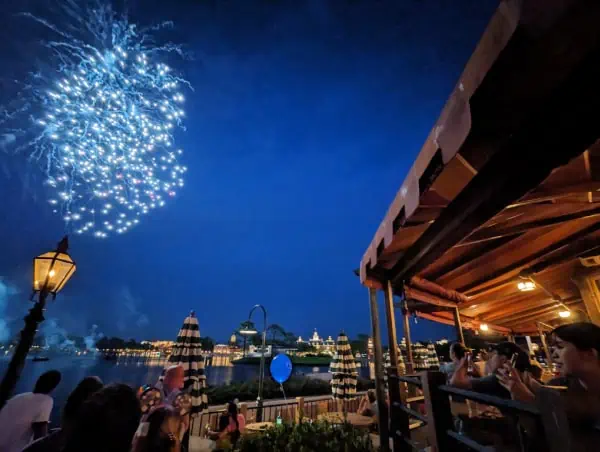 This picture shows you 3 different Rose and Crown fireworks viewing options. The right side of picture shows regular diners eating outside on the porch. The particular tables are the most ideal for being able to view from your table in the free version of this strategy.
The striped umbrellas you can see towards the center are the tables designated for the Rose and Crown Fireworks dining package. Again, these give you an ideal view without needing to go anywhere.
The people that you see all the way over to the left are the other diners standing on the patio taking in the view.
Final Thoughts on Rose and Crown with Fireworks Viewing
The Rose & Crown Pub is an excellent dining choice in and of itself. The food is very good and we really enjoyed the whole experience of dining there, particular when seated on the porch.
The combination of a meal that we really enjoyed with such easy access for fireworks viewing was priceless. We didn't have to deal with the crowds at all.
At the most, there were 20 other people on that private deck with us. We just had to roll up on the private deck a couple of minutes before the show, instead of staking out a good spot well ahead of time.
I would highly recommend this strategy for anyone who wants a good fireworks experience. The 7:45p reservation time worked perfectly for a 9:00p fireworks time.
It would probably work just fine for a 9:30p start time as well, you would just need to slow down your eating to a more leisurely pace.​
Your Thoughts
Have you ever watched Illuminations from the Rose & Crown porch? What other awesome spots have you discovered to watch the show? Let us know in the comments below.
Don't forget to follow The Disney Journey on Pinterest and Facebook to stay up to date with all the latest news and updates.