We may earn money or products from the companies mentioned in this post. Please click my disclosure policy to learn more.
In my mission to try out as many Disney World restaurants as humanly possible, we move on to Sebastian's Bistro. As far as I'm concerned, it's a bit of an unsung hero in the Disney dining world.
Apparently, I'm not good at building up suspense and surprise. I just throw the end result right into the introductory paragraph…
Sebastian's Bistro was closed for the longest time after the pandemic. When it finally returned the entire menu was restructured to a family style meal. However, the good news is that the meal hasn't suffered for this change.
As usual for my gluten free followers I have sections devoted to any notes on the gluten free menu and my overall gluten free experience (updated July 14, 2023).
Sebastian's Bistro General Information
Location of Sebastian's Bistro
Sebastian's Bistro is located at Disney's Caribbean Beach Resort. Once upon a time this might have been considered an out of the way location, but no more. The Skyliner Gondola makes it extremely easy to get to Caribbean Beach Resort now.
There is a little bit of a walk from the Skyliner station to Sebastian's Bistro itself. However, finding it is pretty straightforward. Walk in the direction of the main pool, which you can pretty much see from a distance, and you'll be right where you need to be.
Sebastian's Bistro Theme and Atmosphere
As I'm sure you can guess from the name and location of the restaurant, it is an homage to Sebastian from The Little Mermaid. However, the references to Sebastian are subtle, you are never hit over the head with cartoon crabs.
Frankly, that's a bit of a drawback as far as I'm concerned. It's a pretty restaurant, and I truly do like the décor, but it doesn't exactly scream, "I'm at Disney World!" This has been a concerning trend with redesigns at Disney recently. I do not go to Disney World to see a bland version of things.
But aside from that, I truly do like the design used in the restaurant. It creates a calm and peaceful vibe.
The restaurant itself is pretty small and quiet. It did see a steady flow of people while we were there but never felt busy. One thing that I really liked was the more than adequate spacing between the tables.
Sometimes, it feels like the tables are jammed into a restaurant, but that isn't the case here. There was plenty of room for each table. This had the added bonus of making traffic flow very easy.
I found the overall decor to be understated but very warm. As one would expect, coastal colors reign supreme. Everything is done in blues, weathered gray, and white.
I'll be the first to admit, I'm a sucker for vaulted ceilings and beams so it was pretty much a guarantee the I would like the decor.
Sebastian's Bistro Hours
Sebastian's Bistro is only open for dinner, daily.
These times can shift slightly, so just make sure you double check what the times are on your potential date.
Sebastian's Bistro Dining Plan and Discount Information
When the Disney Dining Plan returns in 2024, it will be accepted at Sebastian's Bistro. A meal here will cost you 1 Table Service credit with the standard Disney Dining Plan.
If you have a trip in 2024 and beyond and don't know about it yet, make sure you read up about all the Disney Dining Plan has to offer.
Of course, there is always the option to pay out of pocket for your meal. There are a couple of discounts accepted at Sebastian's Bistro. Both Annual Passholders and Disney Vacation Club members receive a 10% discount.
Reservation Difficulty at Sebastian's Bistro
I always recommend getting a reservation at whatever restaurant you are certain you want to go to. Let's face it, it's better to be safe than sorry.
That being said, Sebastian's Bistro isn't exactly a hot spot of activity so you can typically get away with grabbing a last minute reservation here.
In fact, I just did this the other day when our original plan to go to Disney Springs was scrapped due to rain. Instead we booked a reservation at Sebastian's Bistro a little over an hour before we wanted to dine. And there were multiple options to choose from.
This makes Sebastian's Bistro a great option for a more spontaneous dinner option.
Sebastian's Bistro Menu
Ok, here's where all the changes have taken place. Previously, this was a traditional a la carte menu with many different options to choose from. Now, it's a family style menu.
What that basically means is, you get what you get and you don't get upset…the menu is essentially the same for everyone. There are enhancements that you can add to the menu for an additional fee.
There is also a plant based option you can get to make the entire meal vegan/vegetarian. And as always, Disney is amazing at accommodating for food allergies so you can easily modify your order to meet your dietary needs.
As always, the menu can change at any time. Make sure you check the official Sebastian's Bistro website.
Sebastian's Bistro Pricing
First things first, how much does this meal cost?
Adults: $35 plus tax and gratuity
Children: $19 plus tax and gratuity
All in all, and very good price by Disney World standards. $35 for the amount of food that you get is very reasonable.
As always, take this price as a general idea. Disney World can, and will, increase the prices at will, so the cost could be a little different for your trip.
Is Sebastian's Bistro All You Can Eat?
No, Sebastian's Bistro isn't technically all you can eat, however, that doesn't mean you aren't able to get more of certain items. A lot of this might be up to the discretion of the waitstaff, but our waiter repeatedly asked us if we needed any of the items replenished.
So, it seems you can ask for more, within reason.
Taste of the Caribbean Menu
Buttery House-baked Pull Apart Rolls: with Guava Butter and Onion Jam
The Spice Necklace Salad: Mixed Greens and Kale with Spiced Candied Pumpkin Seeds, Tropical Fruit, and Radish with Key Lime Dressing
Taste of the Caribbean: Oven-roasted Citrus Chicken, Slow-cooked Mojo Pork with Mango Sambal, Grilled Chili-rubbed Beef* with Mojito Relish, and Sustainable Baked Fish with Veracruz Sauce
Entrée Sides: Cilantro Rice and Beans, Vegetable Curry, and Grilled Seasonal Vegetables
Our Celebrated House-made Coconut-Pineapple Bread Pudding: with Caramel Sauce and Vanilla Ice Cream
Enhancements (Upcharge Items)
Coconut Shrimp: Enhance your meal with an order of Fried Coconut Shrimp with Creamy Chipotle Dipping Sauce
Crab and Fish Cake: with Tropical Mango Slaw and Guajillo Aioli
Seafood Escabeche: with Passion Fruit and Plantain Chips
Taste of the Caribbean Plant Based Menu
Dinner Rolls: with Guava Butter and Onion Jam
The Spice Necklace Salad: Mixed Greens and Kale with Roasted Pumpkin Seeds, Tropical Fruit, and Radish with Key Lime Dressing
Taste of the Caribbean (plant based): A selection of our favorite dishes inspired by the flavors of the Caribbean. Impossible™ Kabob, Fried Jerk Tofu, Plant-based Sausage, and Caribbean "Fish" Cake served with Cilantro Rice and Red Beans, Vegetable Curry, and Grilled Seasonal Vegetables
Plant-based Coconut-Pineapple Bread Pudding: with Plant-based Caramel Sauce and Vanilla Soy Frozen Dessert
Sebastian's Bistro Kids' Menu
Unfortunately, there is no kids' menu at Sebastian's Bistro any longer. Kids eat the same meal as the adults.
And remember, the cost of the meal for your child is based on Disney's definition of a child (ages 3-9). That's right, your 10 year old's meal is charged as and adult…
Sebastian's Bistro Gluten Free Menu
It's now fairly easy to tell what on the menu is gluten free and what isn't. The Spice Necklace Salad and all items in the Taste of the Caribbean main platter and sides are all gluten free.
Clearly, the pull-apart rolls are not, which is a crying shame because they look delicious. Gluten free eaters are provided with gluten free rolls instead.
Likewise, the bread pudding isn't gluten free and a substitute dessert will be offered.
Make sure you understand how to eat gluten free at Disney World to maximize your gluten free eating potential!
Sebastian's Bistro Review
We've eaten at Sebastian's Bistro a couple of time now, once with the old a la carte menu, and once with the new family style menu. This allows me to make a comparison on the changes.
On the whole, I still think Sebastian's Bistro is a worthwhile dining option during your Disney trip. Don't let the seemingly out of the way location deter you. It's really not that difficult to get here.
As I mentioned above, the Skyliner makes getting to Sebastian's Bistro very easy. If you happen to be at Pop Century, Art of Animation, Beach/Yacht Club, Boardwalk, Riviera, Epcot, or Hollywood Studios you can get to Sebastian's Bistro in a matter of minutes.
For as much as I complained about the blandness of Topolino's Terrace design, I enjoy the design of Sebastian's Bistro. In terms of aesthetics, it uses a color palette that I gravitate towards naturally.
The feel of the space is intimate and warm, which is a bonus. It's a small restaurant but never feels overcrowded or noisy. The chairs are not only attractive but are comfortable as well.
One of the changes since the reopening involved changing out all of the table settings. I think this was a very smart idea as it makes everything more colorful.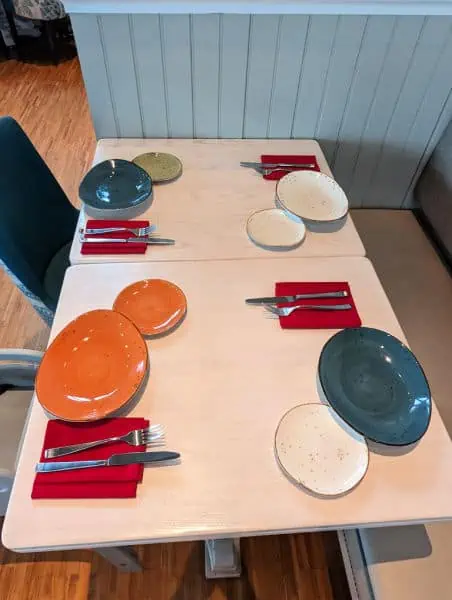 My biggest beef is the lack of Disney touches. I mean, there's a painting with Sebastian in it, but that's about it. There might be some other subtle touches, but if there are, I clearly missed them.
I don't need to be hit over the head with all things Disney, but when I'm going to a Disney restaurant, especially one featuring a character in the name, I want a little bit more oomph.
Food Review for Sebastian's Bistro
But was the food any good? It doesn't matter how nice a restaurant looks if the food is horrible. Fortunately for all of us, the food is very good.
That being said, this was a meal that had some absolute standouts with other parts being good, but not great.
Before we get into that, there was one aspect of our service which we didn't care for. We were still eating our rolls and salad when the entrees and sides were suddenly brought to the table.
First, we simply weren't ready for them yet. We were trying to enjoy the foods we had already been offered. Second, there simply wasn't enough room on the tables for all of the food.
We had platters, bowls, cups, plates, and silverware everywhere. Because we were still eating the salad and rolls, they took up valuable real estate.
But aside from this, it had the result of making us feel a little rushed, which is never what I want in a dining experience.
Buttery House-made Pull Apart Rolls
If you read any review about Sebastian's Bistro, one of the first things everyone says is that the Pull-Apart rolls are amazing. Comparisons have even been made between these rolls and the bread service at Sanaa. Not that they taste the same, but that they are equally good.
Unfortunately for me, these were off limits, but I did watch the rest of my family devour them. I can report from my observation that these looked amazing. They are so light and fluffy.
Doug loved the Buttery House-made Pull Apart Rolls. He described them as light, buttery, and melt in your mouth good. He also really enjoyed the guava butter and the onion jam.
Likewise, my kids absolutely devoured these things. They too gravitated towards the guava butter, but that's not a surprise as the onion jam is a little too adventurous for their palettes.
For my thoughts of on the guava butter and onion jam you'll have to read the next section with the gluten free rolls. I'm just glad I had the option!
There used to be an oil dipping option which is no longer offered. That is just as well because it pales in comparison to the guava butter and onion jam.
Gluten Free Dinner Rolls
I was provided with two gluten free dinner rolls. These are the standard gluten free dinner rolls that I've had at many Disney restaurants.
The rolls themselves are fine by gluten free standards, I've certainly had way worse. However, the star of the show is the guava butter and onion jam.
I was fair and tried both of them, but the guava butter was the clear winner for me. In just about any other situation, the onion jam would be what I gravitated toward. It's very flavorful and adds a lot of dimension to otherwise ho-hum rolls.
However, the guava butter is just a treat. I could eat that stuff slathered on anything I could get my hands on. It's just so good.
The Spice Necklace Salad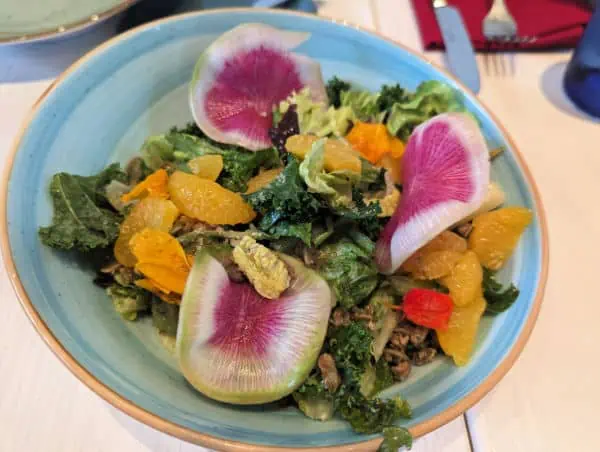 I think this is legitimately one of the prettiest salads I've ever seen. Since the flavor matches the awesomeness of the appearance, this is a fantastic salad.
Listen, I am not a fan of kale. Never have been, never will be. Unless it's in soup. Then it's acceptable. So I was a little bit skeptical about this salad.
But man were my concerns misplaced.
The best way to describe this salad is "bright". It's visually bright and has the flavor to match. The oranges in the salad and the key lime dressing are the main factors in this bright, citrusy flavor.
It's the perfect salad for a restaurant based on the Caribbean.
We asked the waiter if the dressing was house made. He confirmed that it is house made and contains a ton of ingredients, so I have no hope of replicating this one at home!
I would seriously buy this dressing by the gallon if they sold it. It's just that good.
The spiced candied pumpkin seeds added just the right amount of crunch and additional flavor to the salad.
I think you can tell by now that we absolutely adored this salad. Between my husband and I we finished the entire bowl. This is part of why were were a little taken aback by our entrees coming out so fast. We had every intention of finishing the salad. ALL the salad.
In the end we did anyway. We would not let them take that bowl away until we did.
Taste of the Caribbean Platter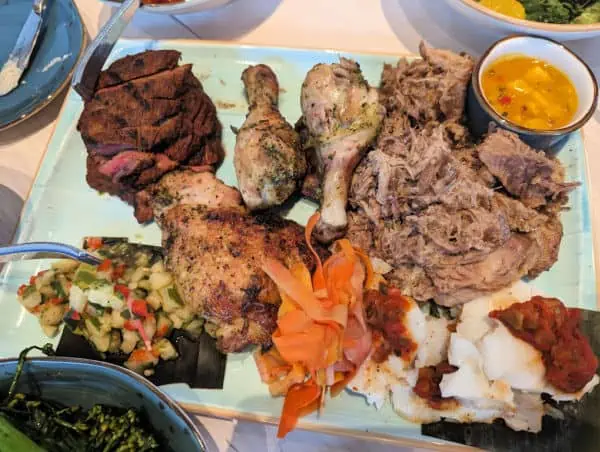 This is the point where my raving about the food calms down a bit. And isn't that unfortunate?
That's not to say that the Taste of the Caribbean isn't good, because it is. It just doesn't match the magnificence of that salad or the pull apart rolls.
I enjoyed the food on offer here, but that was about the extent of it. My favorite out of all the meat offerings was the Mojo Pork. I tend to gravitate towards slow cooked pork like this in general and this time was no different.
The chicken was nice and juicy, which is key. Chicken is so often dry and rubbery. But not in this case.
My son really enjoyed the fish. That was about the only protein, other than the pork, that we could get him to try. We've discovered recently that he really enjoys fish, so that's a win!
On the other hand, I was a bit meh about the fish. It was fine, though a bit lacking in flavor. I personally wasn't overly interested in the Veracruz Sauce that came on it. When my son asked for more, I gladly gave him what was left on my plate.
My husband and I had different experiences of the beef. It seems I was unlucky that the slices I picked had a fair amount of grizzle in them. I had to cut off a good amount of it and wasn't left with a ton of beef to actually eat. What I did eat was darn tasty.
On the other hand, Doug said his had no grizzle and was really tender. It's quite possible that I grabbed the only slices on there with the grizzle. I never went back for more to test out that theory as I was trying to pace myself between all the food while still saving room for dessert.
The Mango Sambal and the Mojito Relish are smart additions to this platter. Without them this feels like a very heavy platter of meat. Too heavy. They had a brightness to the meal that is 100% necessary.
Side Dishes
The side dishes almost have the feel of an afterthought. They are just there. Again, they aren't bad by any means, I quite enjoyed them. But they didn't make you sit up and take notice.
The Curry Vegetables are probably the most interesting flavor profile of the bunch. They are spicy, so if you don't like spice, this will light your mouth on fire. However, if you can get past that, the vegetables are very flavorful and a nice addition to the rest of the meal.
The Cilantro Rice and Beans were probably my favorite side, but then again, I gravitate towards rice to begin with. I found the dish to have a lot of flavor. This isn't your run of the mill rice and beans, it tasted different, which I appreciate.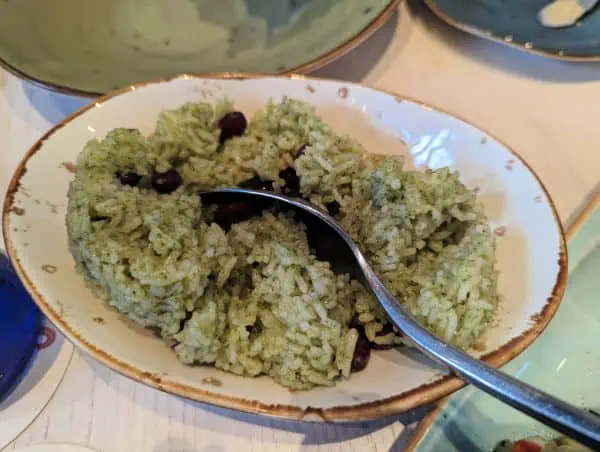 I went back for seconds of it, but I think I was the only person in the family who did so.
The Grilled Broccolini was basic and fine. Nothing really overly exciting about it. We had a ton of this left over because other than taking a little bit, no one was really excited about them.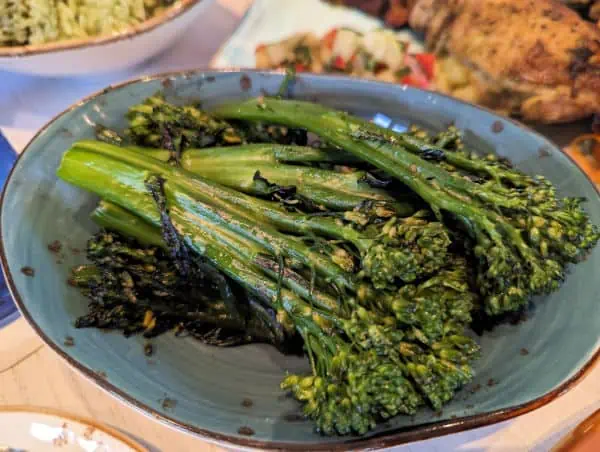 All of that being said, the presence of these side dishes was absolutely necessary to try to balance out the platter full of meat. I think I would have appreciated some sides that were on the lighter side. Everything about this portion of the meal just felt heavy.
Coconut Pineapple Bread Pudding
Let me start off by saying that bread pudding is one of my favorite desserts and I can no longer eat it. I can only watch and drool while other people enjoy the heavenly delight that is bread pudding.
And boy did I drool over the Coconut Pineapple Bread pudding.
When they put it on the table it's already a thing of beauty. And then when you pour the warm caramel sauce over top, it's just a feast for the eyes.
The caramel sauce is warm so it creates a delightful melty ice cream situation.
I mean, look at that! So stinking good.
Anyway, enough of my drooling over the bread pudding I couldn't eat. What did the people who actually could eat it think?
In short, they absolutely loved it. I'm pretty sure they wouldn't have minded being served a much larger slab of it.
They wolfed this dessert down like it was their job. And as the taste testers for a Disney blogger, I guess it technically is their job.
The whole family loved the gooey richness of this dessert. My family aren't fans of coconut in general, but there were no complaints of overpowering coconut flavor. It was nice and subtle and balanced by the pineapple.
Seriously, I'm pretty sure my whole family would come back here to eat the rolls and bread pudding.
Gluten Free Brownie with Ice Cream
Not to be left out, they did have a dessert offering for me. Thank God or I might have cried while I watched everyone else eat the bread pudding.
When it was time for dessert, I asked if it was possible to have the ice cream and caramel sauce served with my brownie. That way I can at least pretend I was eating the bread pudding.
The waiter said it was possible and they would get my caramel sauce from the back so there was no risk of cross contamination from the caramel sauce that was sitting out with the bread pudding.
As far as gluten free brownies go, this one was quite good. It was warmed up which made it nice and gooey and chocolatey. This wasn't like a flourless chocolate cake, which I typically find too rich.
It legit tasted like a real brownie. Add to that the vanilla ice cream and the warm caramel sauce and I was in heaven. This dessert was good enough that it didn't make me feel like I was missing out on anything.
Overall Thoughts on Eating Gluten Free at Sebastian's Bistro
In the end, it is so easy to eat gluten free at Sebastian's Bistro. As is, almost the entire meal is already gluten free. The only things that needed to be altered in any way were the rolls and the dessert.
Every single other menu item is made gluten free from the get go.
This of course makes it so much easier to eat here. No long discussions on what you can and can't have and less risk of cross contamination in the kitchen.
And while the substitutions that are necessary can't possibly be as good as the real deal (pull apart rolls and bread pudding) I didn't feel like I was missing out.
The fact that I could still eat the guava butter and onion jam made my gluten free rolls delicious. I could have eaten more of them, which I never say about gluten free rolls.
And that dessert, I was pleasantly surprised by just how much I enjoyed it. Again, the ability to make most of the dessert just like the real deal went a long way towards increasing my enjoyment of it.
In the end, Sebastian's Bistro might be one of the easiest places to eat gluten free at Disney World.
My Thoughts on Sebastian's Bistro for Kids
And here's where everything suddenly hits the skids. Unless your kids are particularly adventurous eaters, this entire restaurant is now pretty much a no-go.
And this is a real shame because Sebastian's Bistro should be tried by everyone!
My 14 year old daughter did fine with this menu, but she's always been a good eater with a wide range of foods she likes. She's also a kid who is willing to try new and different foods.
My 11 year old son on the other hand, not so much. He's a picky eater and almost none of this meal appealed to him. He loved the rolls, the fish, and the dessert, but was that was about it.
And notice their ages: 14 and 11. I had to pay the full adult price for the meal for both of them. In my daughter's case, I don't feel too bad about it since she ate her money's worth. But for my son, it's not really a fair trade.
I think this is a HUGE misstep on Disney's part, and I wish they would change this. They've essentially eliminated the possibility of a large number of families going to the restaurant.
There has to be some more kid friendly options that appeal to the palettes of younger children and picky eaters. Because Vegetable Curry definitely isn't going to fit the bill for most kids.
Because of this, I have a hard time recommending Sebastian's Bistro to families with picky eaters or kids that are required to pay full price.
Is Sebastian's Bistro One of the Best Values at Disney?
All of my concerns aside, if you are either going without picky eaters or have kids who are willing to eat anything, Sebastian's Bistro is one of the best values you can find at Disney World.
Not only is the food very good, but the price is a downright steal. For $35 per adult meal you are getting a lot of food for a lower cost than you normally see at Disney World.
If you calculate how much each of these menu items would have cost you individually before the change to family style, this meal would have cost a fortune.
The lower price is likely due to the fact that Sebastian's Bistro simply doesn't have the popularity of places like 'Ohana, Cape May Cafe, and so on. I think most people have never even heard of Sebastian's Bistro.
But they should hear about it because it's delicious, filling, and costs a fraction the same meal would cost at another Disney restaurant.
Final Thoughts
Sebastian's Bistro will now be added to my own personal list of favorite restaurants to go to at Disney World, as long as my kids aren't with me.
Though to be honest, I think that list is pretty long so that's not saying much. But I will go here again.
The standouts for us were the rolls, salad, and dessert. Yes, I would go back here just for those. We enjoyed them that much! While we didn't think the entrée and sides quite matched up, they were still good and enjoyable enough that it makes the whole meal worthwhile.
Funny, in my old review I stated that if they ever took the Mango Passionfruit Panna Cotta off the menu I might cry. It was my favorite dessert in all of Disney World.
And they went ahead and took it off the menu. So I'm pretty salty about that. But my brownie sundae was delicious so at least there's that.
But in all seriousness, if you are looking for a place to eat with great food and a relaxed atmosphere, then Sebastian's Bistro is worth a look.
Your Thoughts
Have you tried Sebastian's Bistro? What did you think of the food and atmosphere? I would love to hear your thoughts in the comments below.
Don't forget to follow The Disney Journey on Pinterest and Facebook to stay up to date with all the latest news and updates.