We may earn money or products from the companies mentioned in this post. Please click my disclosure policy to learn more.
Flame Tree BBQ is one of many dining options in Disney's Animal Kingdom. If you happen to walk through Discovery Island in the morning you can smell all of that meat cooking. It's enough to make anyone hungry!
This review of Flame Tree Barbecue will provide you with all the information you need to decide whether you want to eat there on your next Disney vacation. Not all of the food in this review is gluten free, but I have noted the items we've ordered which are either naturally gluten free or can be made so easily. For those who can eat gluten, the review covers what you need to know as well.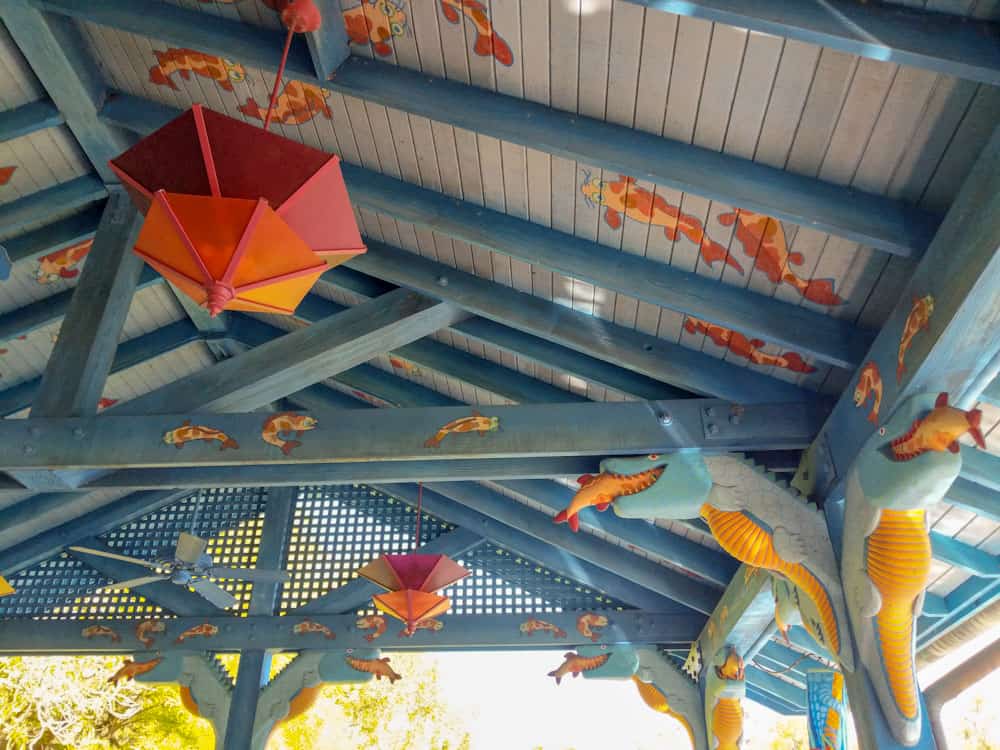 Flame Tree BBQ General Information
Let's get down to the nitty gritty of the details for Flame Tree BBQ, shall we? Flame Tree Barbecue is considered a Quick Service restaurant, making it similar in idea to fast food.
Randomly, Flame Tree BBQ is one of the only Quick Service restaurants eligible for the Tables in Wonderland discount. This discount card provides Florida residents, Annual Passholders, and Disney Vacation Club members a 20% discount at eligible restaurants.
The Flame Tree restaurant is also a great place to use Disney's mobile ordering system. Disney mobile ordering is a great way to skip the lines at restaurants and is something you absolutely should use. Learn all about how to use Disney's mobile ordering and save time.
Flame Tree BBQ Location
Flame Tree Barbecue is located in the Discovery Island section of Disney's Animal Kingdom as you head towards Asia. Seriously, once you are on Discovery Island you simply need to follow your nose and you will find it.
Orders are placed in an outdoor area. Don't worry, it is under substantial cover so you don't have to worry about getting wet while waiting in line. There are multiple registers and Cast Members are pretty efficient at keeping things moving.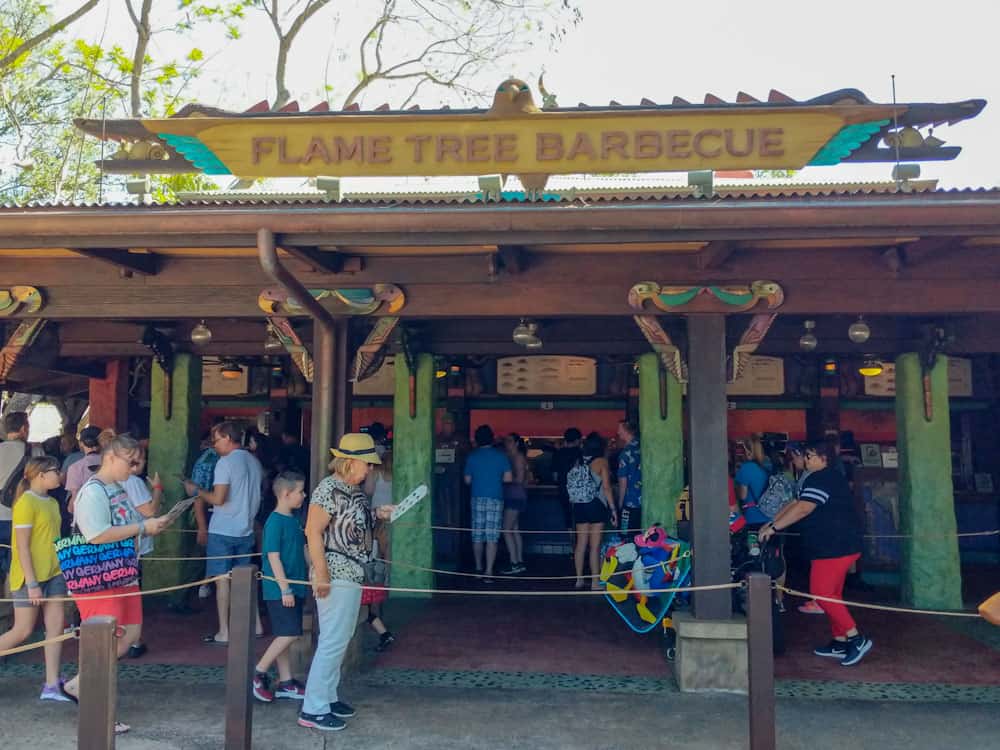 Flame Tree BBQ Hours
Flame Tree Barbecue is open only for lunch and dinner, there is no breakfast menu. The restaurant opens at 11:00a and stays open until closing.
Flame Tree BBQ Theme and Atmosphere
The decor and atmosphere at Flame Tree BBQ definitely leans more in the direction of Asian inspiration than African. This makes sense given its location near the entrance to Asia.
While there isn't an obvious story or theme like you find over at Satu'li Canteen, the overall atmosphere is something to behold. Frankly, Flame Tree Barbecue is one of my favorite places to relax in all of Animal Kingdom.
Flame Tree BBQ is rather unassuming at first. All you see from the "street" on Discovery Island is the order stations. Once you grab your food you walk around to the left of the kiosk and suddenly the area opens up considerably.
You are now faced with a sprawling expanse of seating options, both covered and uncovered on varying levels. Among these seating areas you can find ponds, fountains, and wildlife. All of this overlooks a lake with direct views of Expedition Everest and Rivers of Light.
Perhaps you begin to see why this is one of my favorite places to just sit and relax at Animal Kingdom. I have never seen this area very busy and never have difficulty finding a place to sit. It really is like an island of calm in the middle of a crowded theme park.
I will sprinkle pictures from around Flame Tree throughout the post. I loved it so much I took a ton.
Flame Tree BBQ Disney Dining Plan Information
Flame Tree BBQ accepts the Disney Dining Plan, using a Quick Service credit. Make sure you learn all about the Disney Dining Plan if you don't know about it already. It's not for everyone, but it may be for you.
Flame Tree is actually considered a great use of the Disney Dining Plan. There are some menu options which are so large it's possible for two adults to split the meal and be full. This allows you to save Quick Service credits for more food at another time.
There are also some savory foods at Flame Tree that qualify as a snack credit on the dining plan. This gives you increased flexibility in how you can eat here.
Flame Tree BBQ Menu
We finally come to the good stuff! Everyone just wants to know what kind of food you can get at Flame Tree Barbecue. Not surprising given the name, the Flame Tree Barbecue menu is full of barbecued meat. They did recently add a plant based menu option as well.
Almost all of the entrees are served with a side of their signature baked beans as well as coleslaw.
The menu items I list here are accurate as of 12/1/2019. Always double check the menu directly on Disney's website to get the most updated entrees. It would be a shame to have your heart set on something that's no longer served.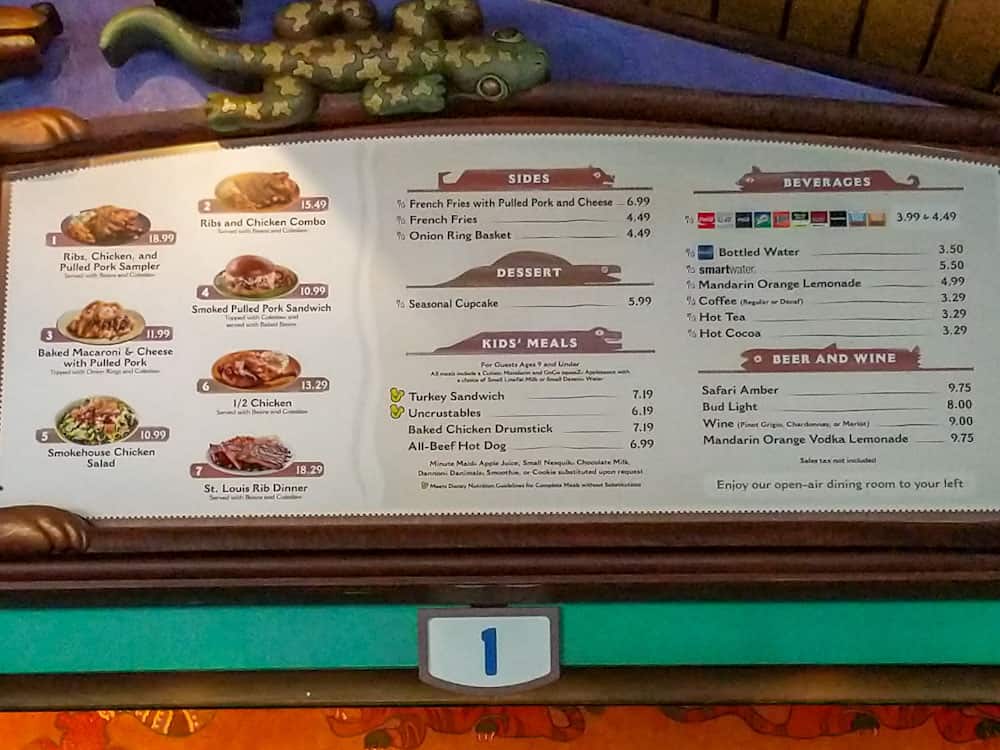 Entrees
Ribs, Chicken, and Pulled Pork Sampler – this one is huge and great for sharing. If you can't decide which meat to get, this one lets you try them all!
Ribs and Chicken Combo
Baked Macaroni and Cheese with Pulled Pork – comes with coleslaw and onion rings on top, no baked beans
Smokehouse Chicken Salad – no sides
St. Louis Rib Dinner
½ Chicken
Smoked Pulled Pork Sandwich
Hot-Link Smokehouse Sandwich – this is made with plant based sausage to make it vegetarian
Sides
French Fries with Pulled Pork and Cheese – these qualify for a snack credit and would make a good small meal
French Fries
Onion Ring Basket
Cornbread
Cuties Mandarin Orange
Desserts
Salted Caramel Apple Crisp Cupcake (Fall/Winter 2019) – this is a seasonal cupcake which will change throughout the year
Beverages
Aside from the Mandarin Orange Lemonade your options are the standard soda, water, etc. Flame Tree does have an alcoholic beverage menu, including getting the lemonade with a splash of vodka.
I gave the Mandarin Orange Lemonade a nice bold bullet point because it's just that good. You should totally get it.
Flame Tree Kids' Menu
All of the kids' meals come with a Cutie's mandarin orange, Go-Go Squeeze applesauce, and either milk or bottled water. However, there are often opportunities for substitution of the sides for less healthy things like cookies.
Baked Chicken Drumstick
All Beef Hot Dog
Turkey Sandwich
Uncrustables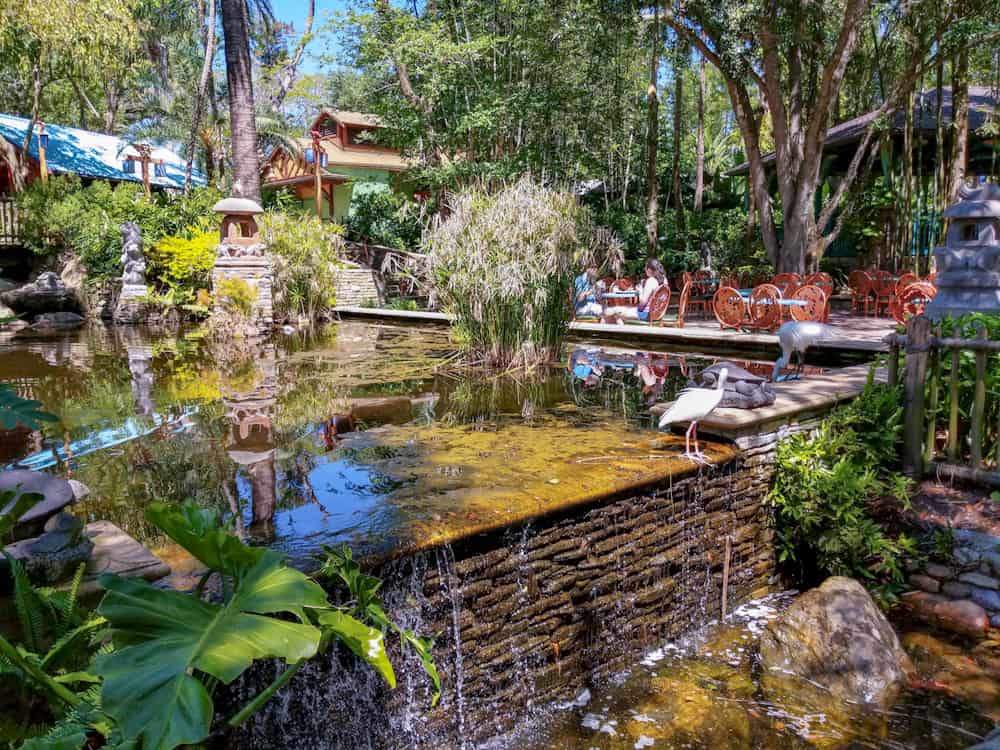 Flame Tree Barbecue Gluten Free Menu
Flame Tree restaurant is actually a great place to eat gluten free. Many of the menu options are easily modified with simple switches to make them safe for gluten free eaters. It is important to note that you aren't limited to what is listed on the allergy menu. I have asked questions at Flame Tree and looked at the ingredient binder. Sometimes a small tweak can be made to make something safe for you (i.e. removing the croutons from the salad).
If you haven't already, make sure you take a look at my post all about how to eat gluten free at Disney World. It is full of helpful tips.
The main modification to make many of the entrees gluten free is to swap out the coleslaw for fruit and use a gluten free bun if applicable.
Below is the official gluten free menu at Flame Tree, but remember you have more flexibility than this.
Ribs, Chicken, and Pulled Pork Sampler
Ribs and Chicken Combo
St. Louis Rib Dinner
½ Chicken
Smoked Pulled Pork Sandwich – with gluten free bun
Kids' Baked Chicken Drumstick
Kids' All Beef Hot Dog – with gluten free bun
Allergy Friendly Cookie
Allergy Friendly Brownie
A major thing to note: while they don't list french fries on the gluten free menu, they are made in a dedicated fryer. I have safely eaten the pulled pork french fries after speaking with a Cast Member and reading the ingredient binder. Always double check before you order, though.
Flame Tree BBQ Review
We've finally made our way to the real question. How is the food? I've eaten at Flame Tree a few different times but only seem to have pictures of my most recent meal there. Oops. I do remember my kids being difficult at one point, so I'm going to blame my distraction on them.
I'll talk about the foods I've had even though I don't have pictures of most of them. Blogger fail. At least I'm getting better at taking those pictures!
An important thing to note: the seating areas contain all the condiments, napkins, and plastic utensils you need. There you will find the bbq sauce if you are someone who prefers their bbq meat super saucy (you can't see it, but I'm raising my hand).
Ribs, Chicken, and Pulled Pork Sampler (Can be Gluten Free)
Alas, I have no pictures for this one. This was before I started blogging and became obsessed with taking pictures of everyone's food. All of that aside, what did I think?
Doug and I split this meal while on the Disney Dining Plan. It is the most expensive meal on the menu and huge. This makes it a fantastic value on the dining plan. If you are paying out of pocket, this meal is a great way to save a little money if you split it.
Even with my large appetite it was adequate food. However, if you are worried about it not being enough for two you can always add a side to make it a little more food at a fraction of the cost.
All in all, this sampler is enjoyable. I mean, for what is essentially fast food, the meat is delicious. The ribs in particular are melt off the bone tender.
The Ribs, Chicken, and Pulled Pork Sampler is a solid choice at Flame Tree Barbecue, especially to split and save money.
Baked Macaroni & Cheese with Pulled Pork
Clearly, this one is not possible to make gluten free. But I watched my sister devour it while I drooled. She really enjoyed everything about this meal. The portion size was more than adequate for her and she felt considerably full.
Later in the trip she had almost the same meal at The Plaza Restaurant and said that the Baked Macaroni & Cheese with Pulled Pork at Flame Tree BBQ was superior. This is also one of the cheapest entrees on the whole menu. That makes this mac n cheese ideal for families on a budget.
French Fries with Pulled Pork and Cheese (Gluten Free)
I really wish I had a picture of this one, but alas, I don't. Oops. This side is potentially very good and can also work as a meal in and of itself. If you are trying to save some money on your dining, the French Fries with Pulled Pork and Cheese at Flame Tree Barbecue is perfect. Since it is technically considered a side the cost is only $6.99!
This needed no modifications to make it gluten free other than having it prepared in a dedicated fryer.
Both Doug and I were underwhelmed by this dish. Ours was randomly kind of dry, which should be difficult considering all that cheese. In hindsight, and after seeing how much cheese other people have had, I think whoever prepared our food just didn't use the right proportions of ingredients.
I'm not giving up on this entirely as I think the potential for this dish is huge. I think we simply got a dud. When I get it again, I will make sure there is enough cheese, even asking for extra if necessary.
Smoked Pulled Pork Sandwich (Can be Gluten Free)
Don't get me wrong, I love pulled pork. But I mainly got this during my last trip because it's one of the cheaper menu items. This is a good option if you are trying to keep your Disney food budget low.
I found the pork to be nice and tender, but I did also drown it in barbecue sauce. This wasn't due to any deficiency in the meat, I just like a lot of sauce. The gluten free bun was pretty standard, probably Udi's. It held up well enough for me to eat my sandwich without it falling apart.
Those of you who can have real bread will be happier.
In the end, it's a filling and tasty meal at a reasonable price, but probably nothing to write home about.
Signature Baked Beans (Naturally Gluten Free)
I put these in their own category even though you can't order them separately. However, as the main side dish that comes with almost everything on the menu, it's an important menu item.
I like the baked beans, though they are probably slightly tangy for my tastes. They are also not "saucy" and I think we've established that I like sauce. The sauce is there, it's just thick instead of saucy. All of that aside, I eat my entire serving every single time.
Related Posts:
Final Thoughts on Flame Tree BBQ
All in all, I think Flame Tree Barbecue is one of the best Quick Service options in all of Disney World. You actually forget that this is counter service food most of the time. The food is just very good and filling. I mean, how can it not be with all of that protein.
However, the real star of Flame Tree is the fact you get to eat the food in a quiet and serene setting. Unless you are there during prime meal times, it's easy to go to the seating area of Flame Tree and simply decompress.
You don't actually need food from Flame Tree in order to sit here. You can go on into the seating area and just enjoy.
If you like this post, Pin it for later!
Your Thoughts
Have you eaten at Flame Tree BBQ? What is your favorite meal to order? Do you love the atmosphere as much as I do? Let me know in the comments below.
Don't forget to follow The Disney Journey on Pinterest and Facebook to stay up to date with all the latest news and updates.