We may earn money or products from the companies mentioned in this post. Please click my disclosure policy to learn more.
Disney World tries to give their guests ways to make their days in the parks easier and more efficient. Sometimes this attempt succeeds, and sometimes it doesn't. The Disney mobile ordering option is a win-win for all involved (Updated April 22, 2021).
At this time (spring 2021) Disney mobile food ordering is a highly recommended strategy to help improve social distancing and contactless transactions.
If you have a Disney trip planned in 2021, I highly recommend becoming familiar with how to use the Disney mobile order system. While it's not technically required, Disney encourages everyone to use it.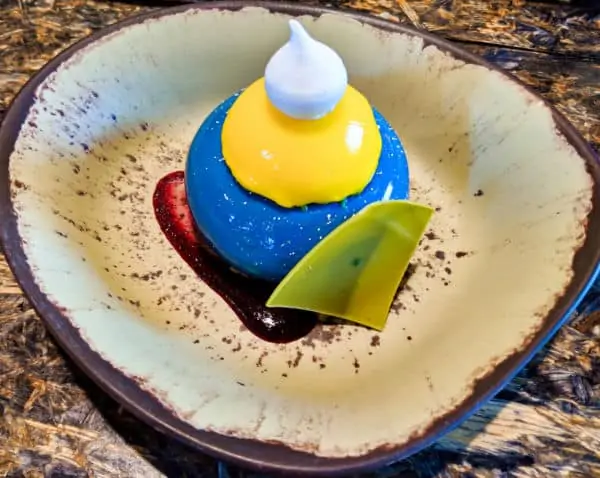 What is Disney Mobile Ordering?
​Disney mobile ordering is a service that Disney World offers at select Quick Service dining locations throughout the parks, Disney Springs, and now at Disney Resorts.
You can access this service through your My Disney Experience account on your smart phone.
Disney World mobile ordering is essentially the equivalent of a FastPass for your food. Minus the need to book it 60 days in advance.
It allows you to pre-order your food and simply show up at the restaurant to pick it up.
Since Disney World mobile ordering premiered it has expanded drastically. Following the pandemic and reopening, Disney mobile ordering has now become an essential tool.
Because of this, Disney mobile ordering was expanded in a lot of beneficial ways must faster than it normally would have. This is probably one of the good things to come out of Disney's reopening changes.
Many of the ways the system was lacking have now been resolved, including providing menu options for food allergies, allowing discounts to be applied, and the ability to use Disney gift cards to pay.
Can You Use Mobile Ordering with the Disney Dining Plan?
Once upon a time, when mobile ordering debuted, it was only possible to use the system if you did not have the Disney Dining Plan. The system simply wasn't set up for anything other than paying with a credit card.
Fortunately, that major problem was fixed! Guests using Disney mobile ordering were given the option of using Disney dining plan credits or paying out of pocket.
However, since the reopening, Disney stopped offering dining plans.
I do anticipate that the Disney dining plan will return at some point, probably once more restaurants open and capacity increases. Once it does, guests should be able to use their dining credits with mobile ordering.
Can You Use a Disney Gift Card for Mobile Ordering?
The good news is yes, you can use a Disney gift card when using Disney mobile ordering. This didn't used to be the case and is an important addition.
The bad news: it doesn't save your gift card on file so you have to re-input the numbers every time you use it. A bit of a bummer since it wastes time, but better than nothing.
This is great news for anyone who wants to use discounted Disney gift cards to save money on their Disney expenses.
Disney Table Service To Go Mobile Ordering
Another new offering to come from the reopening is the addition of select table service restaurants to Disney mobile ordering.
Called Disney Table Service To Go, this gives guests the ability to order food from some resort restaurant locations.
The list of restaurants isn't extensive, but they do keep adding to it. This offers a great option for guests who want a higher quality meal without the hassle of making a dining reservation.
The list of restaurants which offer Disney mobile ordering below includes the table service restaurants which offer Table Service To Go.
Can I Use Any Discounts with Disney Mobile Ordering?
The answer to this question used to be no, but happily, now the answer is yes!
Anyone who is an Annual Passholder or Disney Vacation Club member will automatically see an option to apply their dining discount if the restaurant is eligible.
This mainly applies only to table service restaurants through Disney Table Service To Go.
Disney World Mobile Ordering Restaurant List
While the list of restaurants that offer Disney's mobile ordering services started out pretty limited, they keep adding more options.
Here is a list of the current restaurants eligible for Disney mobile food ordering. I expect this list to continue growing.
Magic Kingdom Mobile Ordering
Aloha Isle
Casey's Corner (temporarily closed)
Columbia Harbour House (temporarily closed)
Cosmic Ray's Starlight Cafe
The Friar's Nook – New
The Lunching Pad
Pecos Bill Tall Tale Inn & Cafe
Pinocchio Village Haus
Sleepy Hollow – New
Sunshine Tree Terrace – New
Tomorrowland Terrace Restaurant
Epcot Mobile Ordering
Animal Kingdom Mobile Ordering
Harambe Market
Pizzafari (Temporarily closed)
Restaurantosaurus
Hollywood Studios Mobile Ordering
ABC Commissary
Backlot Express
Catalina Eddie's (Temporarily closed)
Docking Bay 7 Food and Cargo
Fairfax Fare (Temporarily closed)
Milk Stand
PizzeRizzo
Ronto Roasters
Rosie's All-American Cafe
Disney Springs Mobile Ordering
Blizzard Beach Water Park Mobile Ordering
Avalunch
Lottawatta Lodge
Warming Hut
Disney Resorts Mobile Ordering
All Star Resorts
World Preimiere Food Court (All Star Movies Resort)
End Zone Food Court (All Star Sports Resort) – temporarily closed
Intermission Food Court (All Star Music Resort) – temporarily closed
Art of Animation Resort
Animal Kingdom Lodge
The Mara
Sanaa To Go – Table Service Restaurant
BoardWalk Bakery
Pizza Window
Trattoria al Forno To Go – Table Service Restaurant – New
Centertown Market
Spyglass Grill (temporarily closed)
Contemporary Resort
Contempo Café
The Wave…of American Flavors To Go – Table Service Restaurant
Coronado Springs Resort
Three Bridges Bar and Grill at Villa del Lago To Go – Table Service Restaurant
Fort Wilderness Cabins & Campsites
P and J's Southern Takeout
Grand Floridian Resort & Spa
Old Key West Resort
Olivia's Cafe To Go – Table Service Restaurant
Polynesian Village Resort
Captain Cooks
Kona Cafe To Go – Table Service Restaurant
Everything POP Shopping and Dining
Port Orleans Resort-French Quarter
Sassagoula Floatworks & Food Factory (temporarily closed)
Port Orleans Resort-Riverside
Riverside Mill Food Court (temporarily closed)
Riviera Resort
Saratoga Springs Resort & Spa
Wilderness Lodge
Yacht & Beach Club Resorts
Ale & Compass Restaurant To Go – Table Service Restaurant
Beach Club Marketplace
The Market at Ale & Compass
Disney Mobile Ordering Allergy Menus
Initially, anyone with a food allergy was unable to use mobile ordering. There simply wasn't a place to put any order notes to specify a food allergy.
However, Disney began updating some of the mobile order menus with allergy friendly offerings before everything shut down.
Since the reopening, Disney mobile ordering allergy menus are the norm.
There are a few restaurants here and there that don't have allergy menus listed. For example, Sleepy Hollow at Magic Kingdom does not.
However, you can always ask to speak with Cast Members to see if there are in fact allergy safe offerings at that location.
Some of the smaller kiosks, like Sleepy Hollow, might not be able to accommodate you. For example, they simply don't make allergy friendly waffles there.
However, if you ever want to eat at a quick service restaurant but there is no allergy friendly menu listed in mobile ordering, ask to speak with a Cast Member.
They will allow you inside to order your food the old fashioned way.
The easiest way to know whether a restaurant offers allergy friendly mobile ordering is to check it out on the Disney mobile ordering section of the My Disney Experience app (more on that below).
There are still some limitations to the allergy friendly menus through mobile ordering. The menu does not include items that can be made allergy friendly by omission of an ingredient.
For example, at Pecos Bill Tall Tale Inn & Cafe, it is possible to get the taco trio served as a lettuce wrap instead of with flour tortillas. This simple change makes the meal gluten free. But you won't find this listed as an option on the allergy friendly menu.
You are basically limited to the options directly noted on the mobile ordering menu. If you want something else or need to make any sort of modifications, it is OK to order with a Cast Member at the restaurant.
Each allergy is listed separately with its own section, so if you have multiple food allergies you will have to do a little cross referencing to find which items are listed as safe for all of your allergies.
If your allergies require a little more modification than what you see offered on the screen, you are better off skipping Disney mobile ordering and speaking with a manager at the restaurant. Better safe than sorry.
How does Disney Mobile Order work?
Using the Disney mobile ordering system is actually pretty simple. I will guide you through step by step, complete with screen shots, to show what to do.
Even though I'm not counting it in my steps, you absolutely must have the My Disney Experience app installed on your phone.
STEP 1: Open My Disney Experience
If you haven't done so already, make sure you have My Disney Experience set up on your phone. It's vital for any Disney trip.
STEP 2: Press + and then Order Food
On the home screen of My Disney Experience, press the + button on the bottom center of the screen. This brings up a menu of various options, one of which is Order Food.
STEP 3: Select a Restaurant
The next screen lists all of the restaurants that currently offer mobile ordering. They are arranged by park then resort.
Press the restaurant of your choosing. The next screen is a basic information screen for that restaurant. Scroll through the arrival window times and choose the time you want to eat your meal.
STEP 4: Build Your Order
You can go about this a couple of ways. First, you can simply scroll down the screen to see all of the menu items.
The second option is to use the shortcuts at the top of the screen. These icons are clearly labeled and are a jump link directly to that section of the page.
Also, if there is an allergy friendly menu, this is where you'll find the icon. If there is no allergy friendly icon, you cannot place an allergy order through mobile ordering.
This is the method I typically use as it allows me to easily get to where I want to look without the extra scrolling.
There's a picture and a description of each menu item, along with the price. If you want to know more about what comes with that meal, tap on the menu item.
This opens up a screen dedicated to that menu item. The picture is larger and it lists any sides that might come with the order.
Also, this screen allows you to customize the order a little more. At the bottom you'll see a prompt with an arrow that says "Customize Your Selection".
This drops down and allows you to add or remove toppings.
STEP 5: Add to Cart; Repeat
Once you've made your final adjustments to that meal, press the "+ Add" button to add the meal to your cart.
At this point, you are returned to the menu to continue adding the rest of your order to the cart.
STEP 6: View Your Order
At this point, you can get to your final order in one of two ways. You can either press the picture of a shopping bag at the top right corner of the screen, or you can press the "View My Order" button at the bottom.
Each of these options takes you to the same exact page, so the choice is yours.
At the bottom of the page there is an option to either modify your order or review order summary. To continue your order, press "Review Order Summary".
STEP 7: Payment Information and Purchase
This is the final purchase page. You'll see your order summary and the total cost. If you are eligible for a discount, you'll see it there automatically. Select what you are eligible for.
The entire mobile ordering platform automatically adds the credit card you have on file on My Disney Experience. If that's what you want to use to pay, simply press "Purchase" and go about your business.
If you want to use a Disney gift card or a different credit card, press "Add a Card" to input that information. When done, press "Purchase".
At this point, you can go about your business until you're ready to pick up your order.
STEP 8: Prepare Your Order
When you are ready to eat it's time to ask them to prepare your order. You can find any active mobile orders by pressing on the three lines on the bottom right corner of the home screen on My Disney Experience.
Scroll down until you see the card labeled "Mobile Food Orders". Here you will find your mobile orders listed, ready and waiting for you.
When you're ready, press "I'm Here, Prepare My Order", and the Cast Members will get to work.
And seriously, don't press this until you want to eat your food and are nearby. Otherwise, you could have some cold food by the time you get to it.
Conversely, you'll receive a push notification once your order window opens up. By pressing that notification it will take you directly to your order.
STEP 9: Wait For Order Ready Confirmation
Once you've asked them to prepare your order, it's time to sit tight until you are notified your order is ready. You receive notification through a push notification from My Disney Experience.
When the notification appears, click through the notification and it will take you directly to the necessary screen. Conversely, you can simply monitor your order through the Mobile Food Orders section.
The screen will tell you which number bay to go to in order to receive your food. Show any Cast Members who ask your screen and they'll direct you where you need to go.
Disney Mobile Ordering Review
As I mentioned above, the expansion of Disney mobile ordering is one of the my favorite consequences of the reopening. So I guess my overall Disney mobile ordering review won't come as a surprise.
I find mobile ordering vastly superior to waiting in a line inside, ordering in person, and then waiting for my food to be ready. I'd rather be able to do as much as I can on my own time.
One of my favorite parts about it is the fact that you can sit in your hotel room that morning and order your meals ahead of time.
All of the time frames open up at once, so you don't have to wait for a certain time to place your order. In fact, I highly recommend placing your order well ahead of time in order to secure your time slot.
The most popular restaurants will fill up during prime meal time slots, forcing you to wait until a later time slot. This happened to use once and we learned our lesson quickly.
That isn't to say that my Disney mobile ordering experience has been all sunshine and roses, because it hasn't.
We had one experience when we ordered food at the last minute at Backlot Express. It was the last time slot before the restaurant closed, and we placed the order about 10 minutes before closing.
On our end, the slot was open so we took it and our order was placed successfully. We waited for 15 minutes before I got a notification that our order was cancelled.
I don't know if a glitch happened, or if the Cast Members simply overlooked our order until they were unable to make anymore food. But we were hungry with no food to show for it. My money was at least automatically refunded.
My only other odd experience was during a different trip, but at Backlot Express again. On this occasion, my order was scheduled for late afternoon/early evening. I ordered it well ahead of time based on my previous experience.
Well, my order ended up getting filled a couple of hour early. Got the notifications it was ready all of a sudden, even though I never even asked for it to be prepared. We weren't even in Hollywood Studios at the time.
When I arrived at the restaurant during our scheduled time, a Cast Member told me that had happened to a few people that day.
They remade my order and gave us a complimentary slushy for the rather long time we had to wait to get our food.
In the end, we found Disney's mobile food ordering capabilities to be a great enhancement to a trip. I love the fact that I could be on one end of the park enjoying myself and ordering my lunch at the same time.
Both of these situations were pretty annoying because they seriously messed up our evening timeline for getting on rides. At least in the second situation Cast Members bent over backwards to try to fix it.
However, in the many times we've used mobile ordering, these were the only to negative experiences we had. I figure that's a pretty good track record.
Overall, mobile ordering is a fantastic way to streamline your day at Disney. Because the less time spent waiting in a line, the better.
Other Disney Mobile Ordering Tips
Here are a few things I've discovered about Disney mobile food ordering which are simply good to know.
Don't wait until the last minute to place your order – you might find the time slot you want is already full
Don't ask them to prepare your food until you are pretty much right there near the restaurant. All my experiences so far resulted in my food being ready almost immediately
You don't have to wait nearly as long for allergy orders made through mobile ordering as you do when you order in person
When your credit card is charged, it's charged directly, not added to your running tab through the resort. You'll end up with a million email receipts from Disney for each transaction
You will get an alert on your phone when your food is ready.
Using mobile ordering unlocks "Secret Menu" items. Look for them under the heading "Limited Time Offerings"
You can test out mobile ordering from the comfort of your living room to get comfortable with the process. Just make sure you don't actually purchase anything. It would be a long trip to pick up your order
Final Thoughts on Using Disney Mobile Order
I have to say, I am a huge fan of mobile ordering and will use it at every opportunity in the future. Every time that we used it, we probably saved ourselves at least 15-20 minutes of waiting. I essentially just walked up to the counter to grab my food and go.
Some of the initial massive time savings is probably lost now that most everyone is using it. However, it should remain faster than waiting in the line to order and then wait some more while they prepare your food.
The big difference is the fact that if you time it right, you'll wait a minimal amount of time for your order to be ready, meaning you don't technically wait much at all.
Time will tell how this evolves once mobile ordering at Disney World isn't emphasized as much as it currently is. While it's not "mandatory" right now, it's highly encouraged.
Once people have more freedom of choice, there are many who might prefer the old fashioned in person ordering. If that's the case, mobile ordering becomes a great strategy to avoid those lines.
As you can probably tell, I give mobile ordering two thumbs up, and would even consider it as a key strategy to use throughout your trip.      
Don't forget to check out the mobile ordering information page on Disney's official website for the most up to date changes.
If you need more information about dining at Disney World, check out these posts:
Sharing is caring my friends
Your Thoughts
Have you used Disney mobile order yet? Have you come across any hiccups that we haven't encountered yet? Let me know your thoughts in the comments below.
Don't forget to follow The Disney Journey on Pinterest and Facebook to stay up to date with all the latest news and updates.