We may earn money or products from the companies mentioned in this post. Please click my disclosure policy to learn more.
Disney's Caribbean Beach Resort is a very popular resort option for staying onsite at Disney World. This Caribbean Beach Resort review takes a look at everything you need to know about the resort to decide if it's the right resort for you (updated September 21, 2022).
In the hierarchy of Disney's resort categories, Caribbean Beach Resort is considered a Moderate Resort. Make sure you read about the different resort categories to learn about the pros and cons of each.
Caribbean Beach Resort Atmosphere and Theme
If you like beaches, pastel colors, and Calypso music, you are sure to like the atmosphere at Caribbean Beach Resort. Unsurprisingly, this resort is modeled after the islands of the Caribbean.
The resort is split in half by a lake, Barefoot Bay. As you walk throughout the resort you'll come across sandy beaches with delightful hammocks. Of course, there's no swimming permitted here, but it's a pretty spot to sit.
The buildings all around the resort are vibrantly colored making it a rather picturesque location.
There is an island in the middle of Barefoot Bay, which is a great place to explore. It also has the bonus connecting both sides of the resort across the lake.
On the island you'll find a playground, a spot to watch movies under the stars, and several benches to sit and relax while you look out over the resort.
Where is Caribbean Beach Resort Located?
Caribbean Beach Resort is located within the Epcot area of Walt Disney World. However, this is not to be confused with the easy access found in other Epcot area resorts such as Beach Club Resort and Boardwalk Resort.
Those two resorts are quite literally right next door to Epcot. You can even walk to Epcot (and Hollywood Studios) from those resorts. Caribbean Beach Resort is a bit farther away but still in the general Epcot area.
In fact, a ride on the Skyliner will only take about 10 minutes from the Riviera station.
Caribbean Beach Resort is right next door to Riviera Resort. In fact, they are considered "sister" resorts, even though they are different Disney resort categories.
You can see how close they are to one another in the Caribbean Beach Resort map shown below. Riviera is the resort located at the top of the map.
Caribbean Beach Resort Address
If you are driving to the resort (or having groceries delivered), here is the resort address:
1114 Cayman Way, Lake Buena Vista, FL 32830-8411
(407) 934-3400
Caribbean Beach Resort Map
Caribbean Beach Resort Rooms
Now, let's look at the always important room types and layout to get a feel for what the accommodations look like.
Caribbean Beach Resort Room Types
There are a few different room types at Caribbean Beach Resort. Mostly the categories are broken down into location and view. But there are some noticeable exceptions at this resort.
You of course have the Standard View rooms. These are your cheapest option at the resort. Next you have either a Water or Pool View room.
Within these two view options, you also have a choice of a 5th sleeper room. The 5th sleeper room has a pull down child-sized bed (think in terms of twin size).
Also within the Standard View and the Water View categories you have the option to choose a Pirate Room. Yes, you read that right. A pirate themed room.
Beyond that is a category of room with a single King sized bed. And finally, you have the option of staying in a preferred room.
Caribbean Beach Resort Room Layout
With the exception of a couple of categories, the rooms contain a pretty similar layout. Most of the rooms have 2 beds along one wall. On the opposite wall you'll find a table with 2 chairs and a storage credenza of some sort. That part depends on the type of room you have.
The rooms with a 5th sleeper have the bed inside that credenza. The rooms without the 5th sleeper have more a dresser credenza.
Above the storage you'll find a large flat screen TV.
Straight through the room you'll find the entrance to the bathroom. It is separated from the sleeping area by sliding barn style doors.
The Bathroom is split into two parts. The first area contains 2 sinks with some open storage under the sinks. The closet and safe are also in this area.
Through a door in the bathroom you'll find the toilet and tub/shower combo. In the shower are the new style of shampoo, conditioner, and body wash dispensers bolted to the wall.
The King Bed room layout is pretty much identical, just with one bed instead of two. Clearly, there's a bit more floor space with this layout.
The Pirate rooms have the same basic footprint and idea as the other rooms, but with a pirate-y twist. Argh, maties!
Standard View Rooms at Caribbean Beach Resort
These are the cheapest rooms you'll find at Caribbean Beach Resort. Essentially, these rooms are considered to have the least desirable locations throughout the resort.
This is kind of ironic, because all of the Standard View rooms are located in the 2 areas of the resort I actually consider to be the best, Jamaica and Aruba. But more on that below.
The Standard View room also comes with the option of the 5th sleeper.
The type of view you can expect in a Standard View room is of the resort hotel, courtyard, or woodlands.
Standard View Room Cost
Keep in mind, the time of year can cause the price to fluctuate, as well as the number of people in the room and various other factors. All of the prices listed in this post are to give you a general idea of what to expect.
On top of that, Disney often releases discounts that can be applied to reservations, bringing the price down.
Standard View: $220/night and up
Standard View with 5th Sleeper: $236/night and up
Water or Pool View Rooms
I'm pretty sure you can figure out that the view is for these rooms simply based on the name. That's right, these rooms overlook some form of water, whether it's a lake or a pool.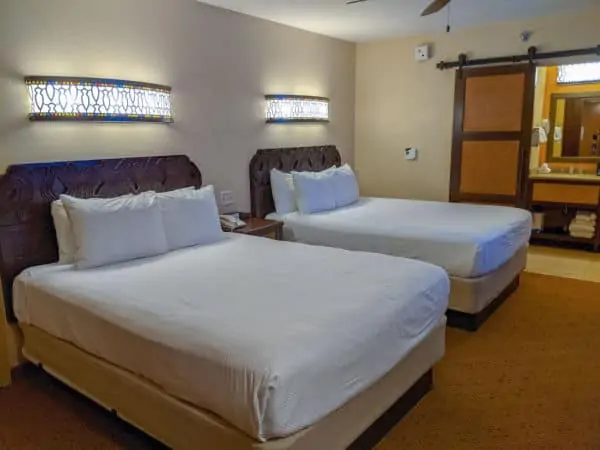 These rooms are located in Martinique, Barbados, Jamaica, and Aruba.
There is also the 5th sleeper option in this room category.
Water or Pool View Room Cost
Water or Pool View: $252/night and up
Water or Pool View 5th Sleeper: $267/night and up
King Bed Rooms
There are far fewer of the King Bed style rooms throughout the resort, but that's not surprising since most families need more than one bed.
These rooms can be found in certain buildings in Martinique, Barbados, Jamaica, and Aruba.
The view option for this room encompasses both the Standard View and Water View room categories.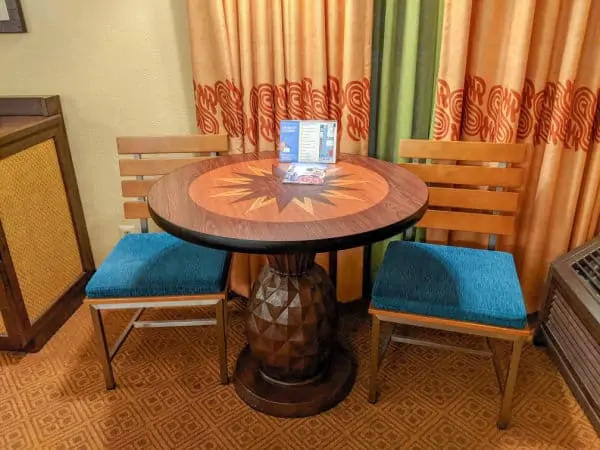 King Bed Room Cost
King Bed Room: $258/night and up
Caribbean Beach Resort Pirate Rooms
If you have any pirate fans in your group, then this is a unique option for you. Because what's the Caribbean without some pirates?
While the layout of the Pirate Rooms is the same as the other rooms, clearly the decor is completely different. Perhaps the most exciting detail is that the beds are actually shaped like boats, complete with a mast headboard.
The downside to those beds? They are double beds instead of the queen size beds you'll find in the other rooms. Also, instead of a sliding door separating the bedroom from the bathroom, the Pirate rooms have only a curtain.
All of the Pirate rooms are located in Trinidad. They are available as either Standard View or Water View.
Pirate Room Cost
Pirate Room with Standard View: $280/night and up
Pirate Room with Water View: $287/night and up
Caribbean Beach Resort Preferred Rooms
Everything about the Caribbean Beach Resort preferred rooms is identical to the Standard View and Water View rooms. You can even get these rooms with the 5th sleeper option.
The only difference is location, location, location.
All of the Preferred Rooms are located in Martinique and Barbados. These are the regions directly located next to Old Port Royale, Centertown, and the Fuentes del Morro pool.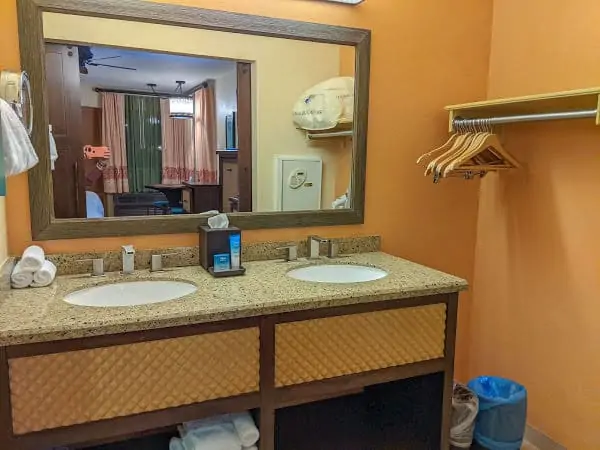 Essentially, these rooms put you in the hub of all the action at Caribbean Beach Resort. You have easy access to all of the dining and recreation.
The view options for Preferred Rooms are of the resort hotel, courtyard, or woodlands.
Preferred Room Cost
Preferred Room: $302/night and up
What are the best rooms at Caribbean Beach Resort?
Now that we know the room types, what are the best rooms at Caribbean Beach Resort? If you plan to send in a room request, this is certainly an important question.
In this particular case, I'm going to focus on the best buildings instead of the best rooms. With a resort this spread out, location is everything.
Despite the fact that the preferred room category rooms are all located near Old Port Royale, that is not the best location. The best sections to be in are either Jamaica or Aruba.
This is because both of those areas are within easy walking distance to 2 different Skyliner stations. One station goes directly to Hollywood Studios while the other goes directly to Epcot (and is a less busy station).
This means you have your pick of stations depending on your plans for the day.
More specifically, the best rooms at Caribbean Beach Resort are in buildings 45, 51, 46, and 44. These specific buildings are in the middle of this side of the resort. Not only does that mean short walks to either Skyliner station, but also easy access to Old Port Royale.
There is an island in the middle of Barefoot Bay connecting both the shores by two bridges. By crossing this island, you are suddenly right in the hub of Caribbean Beach Resort.
This gives you easy access to the pool, dining, concierge, and so on.
That's why I deem the best rooms at Caribbean Beach Resort to be in buildings 45, 51, 46, and 44. They give you the most well rounded convenience in terms of both transportation and the resort amenities.
Caribbean Beach Resort Amenities
One of the things that elevates the moderate resorts above the value resorts are the amenities. Everything you'll find at a moderate is just a little bit nicer. The pools are bigger and have water slides, there are more dining options, etc.
Old Port Royale
Old Port Royale is considered your "Port of Entry" into the resort. At Old Port Royale you'll find the check-in desk, bell services, and concierge.
Also located within this building is the Calypso Trading Post, the resort gift shop.
You'll find Centertown Market located inside this building as well.
Caribbean Beach Resort Transportation
There are two transportation options at Caribbean Beach Resort. The most noticeable is of course the Disney Skyliner Gondolas. The Skyliner soars overhead, carrying guests to Epcot and Hollywood Studios.
The other Caribbean Beach Resort transportation option is the buses. Buses take guests to either Magic Kingdom, Animal Kingdom, or Disney Springs.
Because the Skyliner goes to Epcot and Hollywood Studios, the bus service for those parks is reduced. Buses for those parks come approximately once an hour instead of every 15-20 minutes.
Because of this, you're much better off taking the Skyliner to either Epcot or Hollywood Studios.
Caribbean Beach Resort Pools
There are a total of 6 pools spread across Caribbean Beach Resort. This gives people plenty of options, but let's face it, most of the interest is in the Fuentes del Morro Pool.
Each of the island sections of the resort have their own designated pool. All of these pools are pretty standard, rectangular pools. There's nothing really interesting about them. But if you want a quieter and calmer pool experience, this is where you want to go.
Fuentes del Morro Pool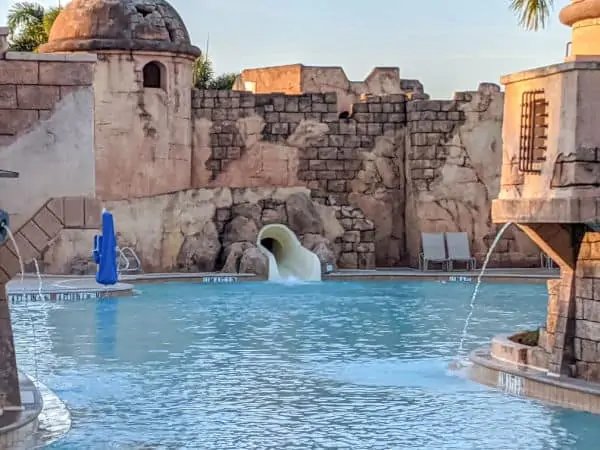 Fuentes del Morro is the feature pool at Caribbean Beach Resort. It is designed to look like an old Spanish citadel. It is pretty large in all, allowing room to spread out.
At Fuentes del Morro you'll find a zero entry pool, water cannons, and 2 water slides. One of the slides is 82 feet long and sends you through the fortress wall.
There is also a separate splash area for kids under 48 inches tall. Here you'll find 3 small slides and a barrel the periodically dumps water.
Restaurants at Caribbean Beach
Caribbean Beach Resorts has several different dining options. There is one quick service restaurant, two pool bars, and one table service restaurant.
In addition to the restaurants located right at Caribbean Beach Resort, you also have easy access to all of the dining options at Riviera Resort, just a short walk (or ride on the Skyliner) away.
Centertown Market (with Grab & Go option)
If you're looking for a quick meal throughout the course of the day, Centertown Market is the place to go. This quick service restaurant serves breakfast, lunch, and dinner.
The breakfast menu offers the standard breakfast fare you'll find at most of the quick service restaurants: Mickey waffles, eggs, breakfast sandwiches, and so on.
For lunch or dinner you have several different choices. The menu is actually quite large, making it easy for everyone in your group to find something they want. Menu items include sandwiches, burgers, fish tacos, pizza, and more.
There are a few Caribbean themed food items on the menu, but most of it is pretty standard fare.
The Centertown Market Grab & Go area offers meals on the go, such as salads, sandwiches, snacks, and bakery items.
Sebastian's Bistro
If you are looking for a dining option that is heavily influenced by what you'd find in the Caribbean, then Sebastian's Bistro is worth your time.
This table service restaurant is available only at dinner and focuses on the flavors of the Caribbean. There are some truly phenomenal options at Sebastian's Bistro (I'm looking at you, Caribbean Pull-apart Rolls).
I have an in depth review of Sebastian's Bistro you can check out to get an idea of all they have to offer. I HIGHLY recommend giving Sebastian's Bistro a try. It's so good.
Banana Cabana
The Banana Cabana is a pool bar and lounge located next to the Fuentes del Morro Pool. You'll find burgers and sandwiches for a relaxing meal.
And of course, there's a rather extensive drink menu.
Spyglass Grill
While Spyglass Grill is located next to the pool in Trinidad, it's not quite a pool bar. It's a walk up counter restaurant which serves breakfast, lunch, and dinner.
It's a convenient meal option for people staying in the Pirate Rooms in Trinidad, the area that's furthest away from Old Port Royale.
Caribbean Beach Resort Recreation
There are some other recreation options available at Caribbean Beach Resort.
Marina (fishing)
Movies under the stars
Caribbean Cay playground
Campfire activities
Running trail
Bike rentals
Volleyball
Caribbean Beach Resort Review
Now that we know all the details, I want to take a more in depth look at our experience at Caribbean Beach.
Overall Caribbean Beach Resort Review
All in all, I enjoyed our stay at Caribbean Beach Resort. I ended up liking the theme and atmosphere more than I actually anticipated. There's just something about the colors and atmosphere that I really liked.
Even though the resort is spread out, I found the walking distance was still manageable. Other resorts, like Saratoga Springs Resort, are much larger and not quite as walkable.
Of course, we were located in Building 45, giving us the best possible walking experience, so I might be a little biased.
The downside to building 45 (and some of the others) is the presence of the Skyliner going directly overhead. There were a couple Sklyliner support beams which were actually quite loud. Like loud enough to hear in our room with the door closed.
It might not have been that bad in rooms on the other side of the building. The support beam was literally right outside our door so we couldn't get any closer.
Fortunately for us, the parks weren't operating late into the evening during our stay, so the gondolas stopped running at a reasonable time for sleeping.
This is a pretty significant oversight, as far as I'm concerned. Those things are whisper quiet when you stand under them right at Epcot. Why can't the ones located next to people trying to sleep also be quiet?
But, this is really only an issue for certain buildings, and with a good sound machine isn't a deal breaker.
Caribbean Beach Resort Room Review
Unfortunately, I was pretty darn disappointed by our room at Caribbean Beach Resort. All in all, the decor of the room was "fine". It wasn't anything to write home about, but it was perfectly ok.
The thatching detail on the wood furniture helps to convey that Caribbean vibe, as well as some of the artwork on the walls. Other than that, I didn't find the room to be well themed. On top of that, there were not enough Disney touches for my tastes.
Storage Issues
But the décor is tolerable. What isn't tolerable was the storage situation. We were a party of 4 (two adults and two kids) staying in a room with a 5th person sleeper.
If you look at this picture you might think, but look at all that storage! What is she talking about?
But this image is deceptive. The "drawers" to the left are actually a door the reveals a mini-fridge. The two rather large looking drawers under the TV are the bottom of the 5th sleeper.
That leaves 5 drawers in total. Until you drop that bed down and the bottom 3 are completely inaccessible. So really, you have 2 drawers. For potentially 5 people. That math simply doesn't work.
I spent the entire trip living out of my suitcase. There's space for hanging clothes up, so I hung up what I could, but that still wasn't enough. I let my sister have the 2 drawers, the kids and I lived out of either our suitcases or packing cubes.
This issue won't be as extreme in the regular 4 person rooms because the storage console is different. But it's something to prepare for if you want to stay in the 5th person sleeper.
Bed Comfort
The 2 queen size beds were super duper comfortable. I always sleep better on mattresses at Disney resorts than I do at home. There were plenty of pillows to choose from between the 2 beds.
My adult sister slept on the pull down bed. To be fair, a child (who the bed is truly designed for) probably wouldn't care, but that mattress was like a brick.
Even just sitting on it to put on shoes, there was no give at all. My sister is a petite adult (5'4″ish) who is also quite skinny. I think anyone taller than 5'4″ would be cramped, adult or child.
So yes, the fact that an adult slept there and found it ridiculously uncomfortable is a factor that a child might not care about. But if you do plan to put a grown up on that bed, just be aware.
Our comparison is actually the pull down 5th sleeper in the Boulder Ridge Villas at Wilderness Lodge. My sister slept on that bed as well and found it perfectly comfortable. We expected the same this time. Apparently, we shouldn't have.
Outlet Shortage
If you look closely at the picture I posted when talking about the drawer space, you can just make out the outlets on the top. Those are regular plugs plus a couple of USB outlets. There's a set on each side of the TV.
Perfect, you say! Yes, they would be perfect if they actually worked. We tried all 4 outlets and all 4 USB outlets and not a single one of them on the main console worked.
There was one on the nightstand between the beds which did work. In this day and age, we all have a ton of electronics that need to be charged overnight. We had stuff plugged in all over the place.
There are regular wall outlets throughout the room which we put to good use once we found them. They are just inconveniently located for things like charging your phone or USB charger.
My daughter charged her phone in the bathroom for the entire trip.
This is a fairly common problem at Disney resorts. There aren't enough outlets, and I've stayed at other resorts with outlets that just don't work.
Review of Transportation at Caribbean Beach
This is where Caribbean Beach Resort really shines. At least for two of the parks. Easy access to two different Skyliner stations is a total game changer at this resort.
The Caribbean Beach Station is a main hub for all the lines to intersect. Because of this, it gives you access to Hollywood Studios, Epcot, Pop Century Resort, and Art of Animation Resort. You can't beat that convenience.
On the flip side, the Riviera Station takes you directly to Epcot's International Gateway in record time. The Skyliner is my favorite form of Disney transportation so this is a major positive when staying at Caribbean Beach Resort.
The bus situation is less than ideal, but that's pretty much the case with most of the buses in general. With so many bus stops at the resort, it can be challenging in terms of wait times. There is the risk that a bus will be full before it reaches your stop.
Anytime we used the bus we found ourselves walking to the station by Old Port Royale instead of the stop in Jamaica. It's one of the first stops so there was a better chance of a seat. On the return trip it was simply faster to get off there and walk.
Pros and Cons of Caribbean Beach Resort
After all of that, what are the pros and cons of Caribbean Beach Resort?
Pros of Caribbean Beach Resort
The atmosphere and overall feel of the resort is appealing
It's really such a pretty area
Location, location, location: it's great to have such easy access to two of the parks
Well themed and fun pool area
Good dining options right on site with more easily accessible at Riviera
In terms of resort price, it's reasonably priced, especially if you get a good Disney discount
Cons of Caribbean Beach Resort
Relying on buses to get to 2 of the parks
Unfortunately, the rooms themselves are not the greatest
Room doors that lead directly outside make for a noisy room – aside from the Skyliner support beam making noise, we could hear everyone who walked by talking
Do I Recommend Caribbean Beach Resort?
For the most part, I do recommend Caribbean Beach Resort. It's an aesthetically pretty resort in a great location, so what's not to love about that?
However, in the end, I think I would rather stay at Pop Century Resort. Even though Pop Century is a value resort, I liked my stay there better. And you still have access to the Skyliner for easy travel to Epcot and Hollywood Studios.
Don't get me wrong, the atmosphere at Caribbean Beach is vastly superior, but the rooms at Pop Century are just more comfortable and functional.
Pop Century won't work if you need that 5th sleeper, though. If that's the case then Caribbean Beach Resort is a great option. But if you're looking for 2 queen beds, I think you'll be more comfortable at Pop.
At some point I image Disney will renovate the rooms at Caribbean Beach Resort and it will no longer be an issue. But for now, you can spend less money and stay at Pop Century Resort and be perfectly comfortable.
Read my review of Pop Century Resort so you can compare the two resorts.
Your Thoughts
Do you plan to stay at Caribbean Beach Resort soon? Or are you still on the fence. I'd love to hear your comments and questions in the comments below.
Don't forget to follow The Disney Journey on Pinterest and Facebook to stay up to date with all the latest news and updates.