We may earn money or products from the companies mentioned in this post. Please click my disclosure policy to learn more.
One of the biggest Disney planning questions is how much does a Disney vacation cost? Unfortunately, there are so many variables this question is hard to answer.
That's part of the reason I put together this Disney World cost calculator for you.
I think we all know by now that a Disney World vacation is EXPENSIVE. Just how expensive depends on a lot of different factors. And these factors are different for absolutely everyone.
If you want an accurate idea of how much YOUR Disney vacation will cost, you need a Disney trip calculator. But more on that later.
First, let's look at the factors to determine how much a Disney vacation costs. I highly recommend that you read through this Disney vacation planning guide. It gives you a comprehensive breakdown of exactly what goes into planning a Disney trip.
This in turn, helps you to begin to choose the details that allow you to estimate Disney trip costs.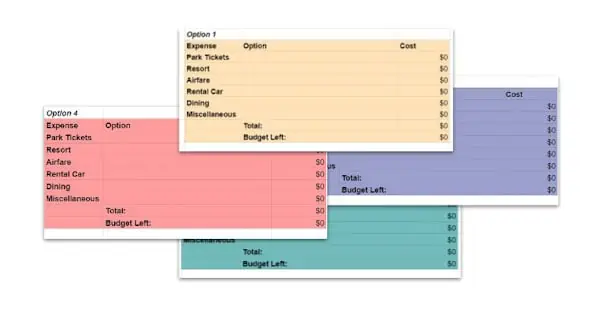 Disney World Cost Calculator Factors
We're going to look in much more detail at these factors, but here's the short version. The choices you make in each of these categories determines the overall cost of your trip.
The good news: there are many ways you can play around with these answers to change the cost of your trip. If planning a trip to Disney World on a budget is your goal, than this post holds your answers.
Here are your Disney World cost calculator factors:
Time of year
Getting to Florida/Transportation costs
Type of hotel
Type of Disney park ticket
Dining and snacks
Souvenirs and incidentals
Now, let's get into the nitty gritty of exactly how these factors come into play.
Disney World Cost Calculator: Time of Year
Really, when you think about it, this factor right here will determine the price of pretty much everything else that follows.
The time of year you choose to go to Disney impacts the cost of hotels and park tickets, two of the largest expenses.
Disney breaks the year up according to price. During times of the year that attendance is a little bit lower the prices tend to follow suit. Common lower cost months tend to be January, February, end of August, and September.
If there's a school break, expect higher crowds and higher prices.
I have a guide that goes into more detail about deciding the best time of year to go to Disney. Take a look at that and make your decision from there.
Another Factor: Length of Trip
Clearly, the number of days you plan to be in Disney directly impacts just how expensive the trip will be. Once you decide on your budget, playing around with the length of the trip is one of the easiest ways to manipulate the total cost.
Do you want to stay longer with a lower resort category or have a shorter trip with deluxe accommodations? There's no wrong answer to that question. Just the right answer for your family.
Disney World Cost Calculator: Getting to Florida
Here's the tricky one. We all live different distances from Disney World. This expense will clearly vary dramatically depending on many factors.
I highly recommend utilizing as many tricks as you can to reduce the overall cost of travel to Orlando.
Flying
Flying is clearly the most frequent way to get to Orlando, and can cost a small fortune. Again, there are so many factors that go into this cost, like airline, family size, geographic location, etc.
Do your research regarding what the best options are from your local airports. Many people gravitate towards Spirit and Allegiant for their rock bottom prices. However, there are trade offs for flying on a budget airline.
I've had two different family members have significant problems flying Allegiant recently. And my best friend flies Spirit all the time and loves it. So think about what you can and can't tolerate.
We prefer to fly Southwest anytime we go to Orlando. It helps that I've used my credit card rewards to fly for free for the past 3+ years. This is one of the ways that I've significantly cut down on the cost of our trips to Disney.
Southwest also seems to have some of the best prices around to boot. Plus no additional charges for luggage.
If you want to try this, use my Southwest referral link. Then we'll both get a bonus!
Getting from the Airport to Your Hotel
Unfortunately for all of us, Disney discontinued the Magical Express service, which provided free airport transportation from Orlando Airport.
Consequently, this is now an additional cost to factor in for anyone flying into Orlando.
Some new airport transportation options have popped up as replacements for Magical Express. Two of these options still involve a charter bus and are probably the most economical.
To find out more about your choices, read all about Disney airport transportation.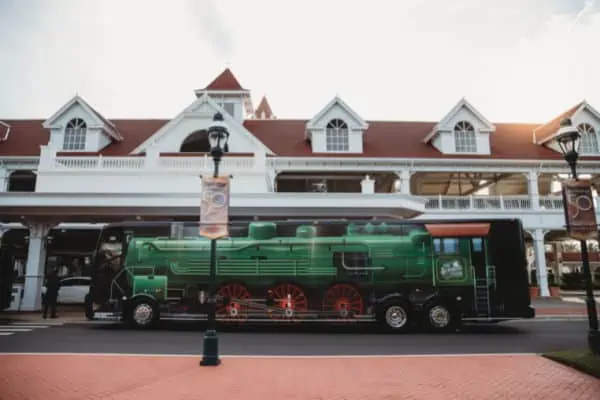 Road Trip!
Taking a nice long drive is probably the most cost effective way to get to Disney World. Of course, the overall cost depends on gas prices at the time and whether you need to stay overnight at a hotel.
Frankly, with the way gas prices have been over the past several months, this option is no longer so cheap.
Now, I know this isn't everyone's cup of tea, but long drives aren't all that bad. We drove from PA to Florida for years. Don't get me wrong, it's not exactly fun, but it's tolerable. Especially if the trade off is a Disney vacation.
To get an estimate of how much money you should expect to spend on gas, use the following equation:
(Miles to Orlando/Miles per gallon of vehicle) x gas price per gallon = Total gas cost estimate
Here how that looks for the drive from our house right now, one way.
(1181/19) x 3.35 = $208.23
Clearly, that's much cheaper than plane tickets for a family of four.
If you are planning to make a road trip out of it, don't forget to factor in the cost of food and any necessary hotels along the way.
Parking Fees
If you decide to either rent a car or drive your own, be aware of the parking fees at the resorts and the parks. Disney resort guests get complimentary parking at all 4 Disney parks.
However, offsite park guests are charged $25 a day. Clearly, that can add up depending on how many park days you have.
But don't worry, Disney found a way to ding the resort guests too! Disney began charging a parking fee at each of the Disney resorts. The fee varies based on the resort category:
Value Resort: $15/night
Moderate Resorts: $20/night
Deluxe Resorts: $25/night
Disney Vacation Club members have an exception to the parking fee in some situations (staying at a DVC deluxe villa with points, using points at other Disney World resorts).
To calculate your parking fees, at either the parks or the resorts, use the following equation:
Daily/Nightly parking fee x Number of days/nights = Total Parking Fees
The parking fee itself depends on whether you're a Disney resort guest or not. Let's do an example for a Disney moderate resort guest on a 6 night trip.
$20 x 6 = $120
If you are staying at an offsite hotel, check to see if it has any parking fees, just to be safe.
And for those who are staying offsite and need to pay for parking at the parks, don't forget to multiply your number of park days by $25.
Disney World Cost Calculator: Type of Hotel
The type of hotel, and the location, has a significant impact on your overall Disney vacation cost. There are a few different decisions you'll need to make.
First, you need to decide whether you want to stay at a Disney resort or at a hotel in Orlando. I put together a guide looking at the pros and cons of staying on or off Disney property.
Needless to say, it's significantly cheaper to stay at a hotel that's off Disney property. However, there are some tradeoffs that you should consider, so take a look at the post I linked to above.
If you decide you definitely want to stay at a Disney resort, make sure you understand the differences between the Disney resort categories.
The resort categories are Value, Moderate, and Deluxe. As you can see just by the names, the prices range dramatically between all of the categories.
The formula to figure out your hotel costs are pretty self explanatory, but let's do a formula anyway!
Average Nightly Cost of Hotel x Number of Nights + Resort Fee = Total Hotel Cost
Notice that resort fee I added into the equation. At this point in time, Disney does not charge any sort of resort fee at any of their resorts.
However, this is not the case for many of the Orlando hotels. Always look at the fine print when it comes to resort fees. Sometimes, the resort fee closes the price gap compared to a Disney resort more than you would think.
Disney World Cost Calculator: Park Tickets
And here we come to the crux of the cost of a Disney vacation. Disney park tickets are EXPENSIVE. Notice I put that in all capital letters. Park tickets take up a sizable portion of your Disney vacation budget.
I highly recommend you understand the different Disney park ticket options. The type of ticket you choose can change the cost of your trip by several hundred dollars.
The bottom line is, if you want to save as much money as possible, get the standard one park per day ticket. If you want maximum flexibility, the Park Hopper ticket is your friend, but you'll pay extra for that privilege.
You can also play around with the number of park days you plan to have. This allows you to adjust the cost to fit your Disney vacation budget.
However, it generally works out that the more park days you have, the less you'll pay per day.
For example, I decided to get 7 day park hopper tickets for a trip instead of 5 day tickets. The price difference was only $20 per person.
For that $20 a person I decided to give us the ultimate flexibility of being able to pop into a park on any day of our trip.
If you want to buy discount Disney park tickets, then Undercover Tourist is your answer. They are an authorized Disney ticket seller and I've used them many times myself.
They are 100% legit and will save you a nice chunk of change.
Disney World Cost Calculator: Dining Choices
The amount one family spends on dining at Disney World will vary widely compared to another family. Really, your food expenses at Disney can be as cheap or as expensive as you want them to be.
There is that much wiggle room.
In general, if you want to spend less on dining, stick with all quick service restaurants, bring your own snacks, and eat breakfast in your hotel room.
If you want to explore the many delicious sit down restaurants at Disney, plan to spend quite a bit more.
In case you're interested, I have a whole guide full of tips for how to eat at Disney World on a budget. Yes, I really did take a trip where I spent $35 a day on food!
Tip: If you want to save money on food, DO NOT buy the Disney Dining Plan (when it's actually available again). As much as people like to think it saves money, it rarely does.
But how do you estimate your food budget? Here is a breakdown of price ranges for the different types of meals:
Quick Service meals: $10-$25 per person
Table Service meals: $20-$60 per person
Signature dining: $30-70+
Snacks: $5-$9 per snack
Clearly, this is a bit of a rough estimate, but it will give you a jumping off point.
The other option is to determine approximately how much you feel comfortable spending per person, per day and go from there (i.e. $50 per day for adults, $30 per day for kids).
Once you have that number you can choose dining options that help keep you at that goal.
Disney World Cost Calculator: Souvenirs and Incidentals
This one is really a big old question mark. Mainly because you just don't know what will come up during your trip. Trust me, I didn't plan on buying that tiny package of exorbitantly expensive bandaids on our last trip…
Disney World is a souvenir paradise, or purgatory, depending on your view. There are so many different stores filled with very cool souvenirs.
It is extremely easy to go massively over budget once you get there. Temptation is everywhere.
I highly recommend identifying the amount of money you are willing to spend on souvenirs per person before you even leave your house. It just makes it easier once you're there.
Then add a little cushion to that number to cover the things you don't ever think about needing. Like bandaids.
Maybe consider giving each member of the family a Disney gift card preloaded with the amount they are allotted for the trip. This allows each person to know just how much they have left, and allows them to make decisions on what to buy.
Disney World Cost Calculator: Real Life Example for Family of 4
Now that we've talked about some vague examples, I wanted to give you the calculations for a recent trip we took. This will give you an idea of both how to create your Disney vacation budget as well as get an idea of how much a Disney vacation costs.
Here's a summary:
6 night stay for a family of four
This is a road trip example (amount includes gas, overnight hotels, Disney resort parking fee)
Dining involved mainly quick service, 2 table service meals, and a whole lot of Food and Wine Festival snacks
Full disclosure: we actually used our Disney Vacation Club points for the resort, but this example resort price is the actual cost for another trip I have coming up
Park ticket is a 7 day standard park ticket
| | | |
| --- | --- | --- |
| Disney Vacation Costs | Estimated Cost | Actually Paid |
| Caribbean Beach Resort, 6 nights | $1541 | $1068 |
| 7 Day regular park ticket (x4) | $2408 | $2308 |
| Dining | $986 | $868 |
| Road Trip Expenses, round trip | $606 | $374 |
| Souvenirs, Lyft, & Bandaids… | $100 | $100 |
| Total | $5641 | $4718 |
So what's the difference between my estimated cost and what I actually paid? Some Disney (and travel) saving hacks.
This breakdown shows that while still expensive, it is possible to eke out some savings on your Disney vacation.
I paid for some of the dining with a combination of discounted Disney gift cards and Disney Visa rewards points (that link includes a sign on bonus). I could have saved more than the $118 that I did, but I went conservative when buying the gift cards. Foolish!
For the resort stay, I activated a Disney discount that was released after I originally booked my stay. It's important to keep an eye on the Disney World discounts for this exact reason!
In my road trip expenses, I used my Capital One travel rewards to cover the cost of the overnight hotels on each leg of the trip. The Capital One Venture card is my FAVORITE travel rewards card. I've saved so much on travel over the years I've had it.
If you want one, sign up with my Capital One referral link and you'll get a sign on bonus too (between 50,000 and 100,000 miles)!
Because we typically fly free on points with Southwest, we actually would have saved money had we flown, but we were going to Florida for an extended stay on this particular trip so we drove.
Now that we've taken a look at my real life example of how much a Disney trip costs, let's talk about this handy dandy Disney World budget worksheet I have to make this easier for you.
What is this Disney World Cost Calculator?
Basically, it's the name I came up with for this handy dandy Disney budget calculator I made for you!
I know that printables are all the rage, and they are great! I have quite a few of my own on this site. However, there's just something nice about allowing a computer do the math for you.
At least I think so. And frankly, I have this complete and utter love of a good spreadsheet.
I know, I'm a dork!
Why not translate my dorkiness into a tool that makes your life easier?
What does the Disney Cost Calculator Do?
The goal of the Disney cost calculator is not only to let you automatically get an idea of your potential Disney trip cost, but to give you options to play around with different category combinations.
With so many different resorts, ways to approach dining, park tickets options, travel options, and more, making a change to any one area can make a huge difference in your overall Disney trip cost.
Disney Trip Cost Calculator Categories
The Disney vacation calculator in it's original form has a spot for each of the following trip planning categories:
Park tickets
Resort
Airfare/road trip expenses
Dining
Rental Car
Miscellaneous
Those categories should cover most everything you need. However, if you do need more categories, you can easily add them, or change the name of a heading that you don't need, like rental car.
Seriously, with the framework in place, you can tailor this however you need it!
Create MULTIPLE Potential Disney Budgets
As I created the Disney cost calculator, I realized, why create just one budget when you can create multiple?
With that in mind, this Disney vacation calculator gives you 5 different areas to test out various combinations of the categories above.
Want to see how much the overall cost changes if you change the resort? Done. Playing around with getting a dining plan versus paying out of pocket? Throw those estimates in there.
By having all of these Disney World cost calculators going, you can see which options in each are the most cost effective. This allows you to easily piece together all those different categories into one final Disney vacation budget spreadsheet.
It's always a good idea to use a Disney cost estimator in your planning. The more you can minimize any surprise expenses for your trip, the better.
What if I Have a Set Budget to Stay Under?
If you know how much money you are willing to spend on your Disney vacation, a spot for that number is already built in for you!
At the top of the spreadsheet, simply put in the budget you've decided you feel comfortable with. For example, let's say you've determined that $4000 is the max amount you want to spend on the trip.
Simply input $4000 into the spot labeled "My Budget". This amount is now factored into every single Disney World trip cost calculator you see on the page.
At this point, go about adding in the amounts you are researching for resort, tickets and so on. As you plug those numbers in, IT DOES THE MATH FOR YOU! You can see in real time the total cost of the trip so far and the amount of your budget you have left.
This is so useful to help make sure you don't accidentally go over budget on your spending.
Ideas to Stay Under Budget
If you do have a set budget you want to stay under, here are some quick ideas on how to play around with cost to get it lower.
Some of these I've mentioned interspersed throughout this article, but I figured it couldn't hurt to put them all in one place.
How Do I Get My Disney Cost Calculator?
The great news is, it's a piece of cake. Simply sign up with any of the forms on this page and it's yours. As a bonus, you'll be added to The Disney Journey newsletter.
The newsletter provides you with helpful Disney planning tips and keeps you informed about news that can impact your upcoming Disney trip.
Once you sign up and confirm your email, you'll receive the link to access the Disney cost calculator. It will prompt you to open a copy of the Disney World Cost Calculator in Google Sheets.
Whether you do or don't have Google Sheets, it won't matter! You'll still be able to open it. If you prefer to use the speadsheet in Excel, simply click on File – Download – Microsoft Excel.
You can also download it as a PDF if you prefer it in printable form!
How to Know EXACTLY How Much You'll Spend
Now that I've rambled on forever about how to use this Disney cost estimator, what if you simply want to know exactly how much the trip will cost you?
My best advice to make all of this easier on you is to enlist the help of an authorized Disney Vacation Planner. Siera at Destinations in Florida is my go-to Disney travel agent.
She would be more than happy to give you a free estimate of your Disney trip cost. Yes that's right, you get the estimate for free. In fact, you never have to pay for an authorized Disney travel agent to book your trip for you.
Using an authorized Disney Vacation Planner is completely FREE for you.
So, if you're interested, fill out this inquiry form for Siera to find out just how much your Disney trip would cost.
Trust me, she's amazing at what she does. If you have more questions about using a travel agent to plan your Disney trip, make sure you read my post all about how to use a Disney travel agent to plan your trip.
That post goes into painstaking detail and also looks at the pros and cons of using a travel agent.
Does Disney World Offer a Payment Plan?
Let's face it, we all know that this trip is going to be quite pricey. Wanting to pay it down a little at a time over the span of months certainly has an appeal.
But does Disney World offer a payment plan option? The answer is both yes and no.
Disney itself doesn't have a formal payment plan, however there is a way you can set one up for yourself very simply.
I'm breaking this down into two categories because the details are slightly different, but the process is the same.
Resort Only Guests
This category applies to people who book a Disney World resort with no park tickets or bundle. You simply booked your hotel room through Disney.
For these guests, you'll have to pay a deposit that's equal to the cost of one night of your trip immediately upon booking.
The rest of the balance isn't due until check-in. Yes, you read that right: you don't have to pay the balance until the day you check in.
However, if you want to set up a payment plan for yourself, you can simply pay the remaining balance down on your own while you wait for your trip to start.
Let's say you have 6 months to go before your trip. Take the total remaining balance of your trip and divide by 6. Now you know how much you want to pay each month for your payment plan.
Unless they change the website, you'll likely have to call in to a Disney cast member to make these payments, but it's doable.
Disney Vacation Package Guests
As I mentioned, things are slightly different here, but the concept is the same. A Disney vacation package is when people bundle their resort and park tickets into one package.
This is the only way to be able to do a payment plan on the cost of park tickets.
When it is offered, the Disney dining plan can also be added in to a Disney vacation package.
When you book a Disney vacation package, the deposit that you're required to put down immediately is $200. The remaining balance of the trip is due 30 days prior to check-in. Please take note of this, because it's a different time frame than for resort only guests.
That means you have one less month to factor in to your "payment plan".
So this time, for your trip that's in 6 months, you need to divide the remaining balance by 5 to find out how much to pay each month.
Clearly, you can pay as much or as little as you want in the lead up to the trip, it doesn't have to be exactly even for each of your advance payments. Do whatever works for you.
Final Thoughts on the Disney World Cost Calculator
I really hope you find this Disney trip calculator helpful. I really do have a (probably) unhealthy fascination with spreadsheets.
But it was important to me to design a tool more useful than a standard printable. And really, the less math I have to do on my own, the better!
But seriously, download this Disney World trip calculator and make your life a little easier.
Your Thoughts
What do you think? Is Disney trip calculator a useful tool to help work within your Disney budget? Put your thoughts in the comments below. I would love to know of any improvements you suggest.
Don't forget to follow The Disney Journey on Pinterest and Facebook to stay up to date with all the latest news and updates.