We may earn money or products from the companies mentioned in this post. Please click my disclosure policy to learn more.
As you walk around any Disney property, whether it's a resort or one of the parks, you will probably see Disney Vacation Club (DVC) signs scattered around. You might also find an invitation to meet with a DVC cast member sitting on your bed one day. So, what exactly is the Disney Vacation Club, and is it right for you? ​
As is the case for seemingly every detail related to Disney World, the answer is: it's complicated. The short answer is that DVC is Disney's equivalent to a timeshare system that allows you to stay in the Deluxe Resorts. However, DVC behaves like no other timeshare around, so it is very important that you understand how the system works as you determine if DVC is something that will work for you and your family.
It is also a very expensive proposition, so there are many factors that should go into this decision making process for you.
Disney Vacation Club Resorts
The very first piece we will take a look at is which resorts are Disney Vacation Club home resorts. Many things are determined by which home resort you select to purchase your points from, such as the cost per point and your annual dues.
Disney Vacation Club Home Resort: The Disney resort you decide to buy your Disney Vacation Club contract from. You own real estate interest in that resort.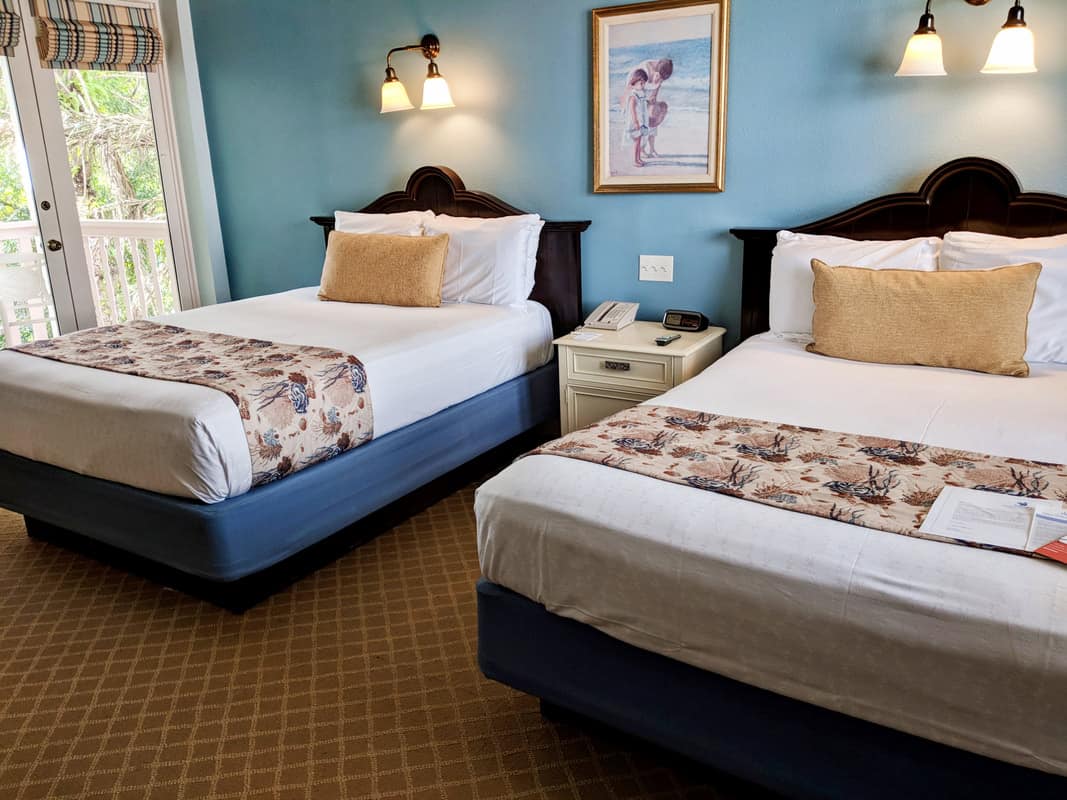 You also have a booking advantage at your home resort which is a key factor to consider when choosing your home resort. Most of the DVC properties are located at Disney World, with 1 at Disneyland, and 3 non-park locations in the United States. The Disney Vacation Club resorts are:
​Animal Kingdom Lodge Villas – Disney World
Aulani – DVC resort in Hawaii
Bay Lake Tower – Disney World
Boulder Ridge Villas at Wilderness Lodge – Disney World
Copper Creek Villas at Wilderness Lodge – Disney World
Beach Club Villas – Disney World
BoardWalk Villas – Disney World
Grand Californian – Disneyland
Grand Floridian – Disney World
Hilton Head – DVC resort in South Carolina
Old Key West – Disney World
Polynesian – Disney World
Riviera Resort – Disney World (opens December 2019)
Saratoga Springs – Disney World
Vero Beach – DVC resort in Florida
Also, Disney recently announced yet another DVC resort that will be built between Wilderness Lodge and Fort Wilderness on Bay Lake. Reflections – A Disney Lakeside Lodge is in the very preliminary stages of work and is set to open in 2022.​
Disney Vacation Club Booking Window
DVC members have the opportunity to book their home resort up to 11 months prior to the date you plan to check in for your vacation. For example, if you want to check into your resort on May 5, 2020, your booking window opens up on June 5, 2019.
All DVC members have a 7-11 month booking window at their DVC home resort that gives them the advantage in booking rooms. However, a DVC member can also book a stay at non-home resorts in the 0-7 month time frame.
It is important to note that you are not limited to staying in just your home resort. DVC members are able to use their points at any of the DVC resorts, which is a nice bonus.
Why Your Home Resort Choice is Important
The booking window should factor into your decision making process when choosing your home resort. If your priority is to be able to stay at Beach Club Villas during Food and Wine Festival, then Beach Club should be your home resort.
There will be scant room availability when the 7 month booking window opens up for non-home resort members at Beach Club in the fall.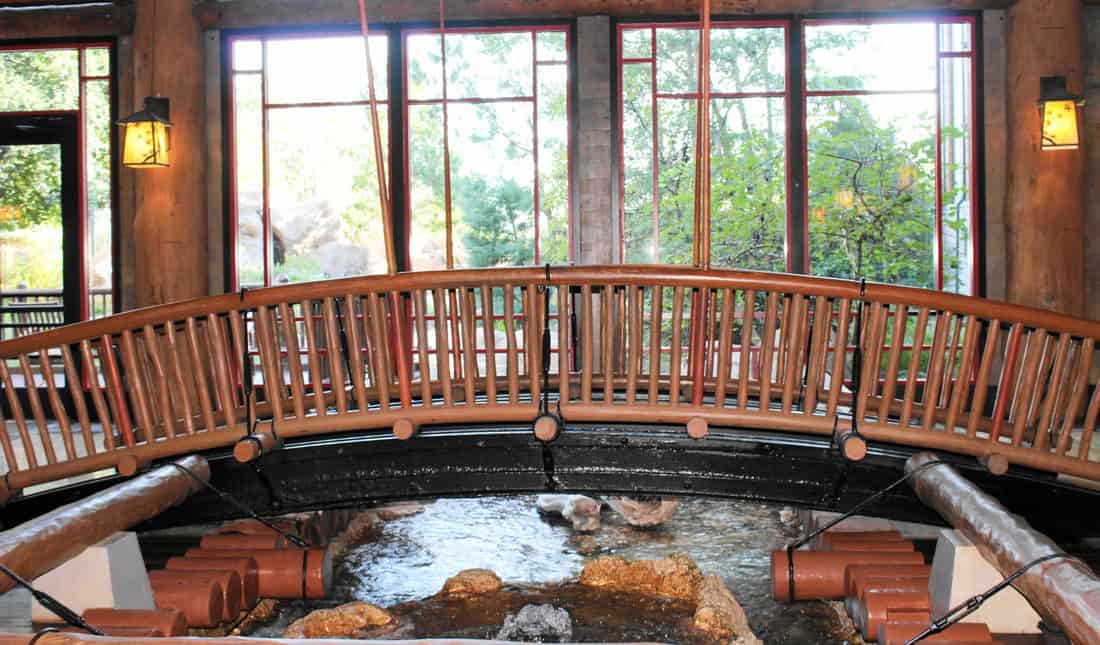 The same holds true for Boulder Ridge or Copper Creek at Wilderness Lodge during the Christmas season: the rooms book up extremely fast as it's considered to be one of the best resorts to stay at during Christmas.
If you really don't care what your home resort is and you will be happy with whatever rooms are available during the 7 month booking window, then choose the DVC home resort that is most economical.​
At this time, Saratoga Springs Resort and Bay Lake Towers are considered to be the more economical options.
Disney Vacation Club Rooms
The Disney Vacation Club rooms are not your standard hotel rooms. Each DVC resort has similar room categories and layouts, but are themed and decorated in line with the resort. Some of the DVC resorts have special types of rooms for an even more special experience.
Disney Vacation Club Deluxe Studio
This is the smallest type of room available through Disney Vacation Club. Closer to a standard resort room, this is the most economical choice of room when deciding how many points you need (more on that below).
Typically, the studios can hold between 4-5 people, depending on the resort. The studios which hold 5 people have a twin size murphy bed that folds out from the table. The big disadvantage to this is that once it's turned into a bed, you now no longer have a table to sit at.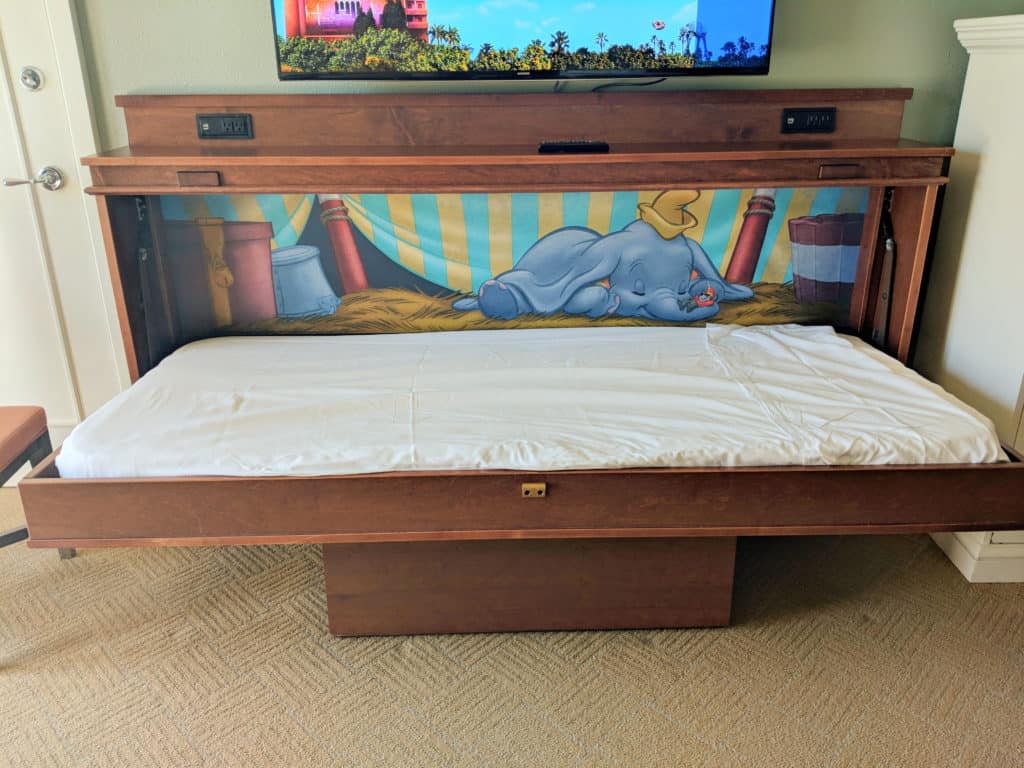 The studios all have a kitchenette area with a small refrigerator, a toaster, a coffee maker, a microwave, and a sink for washing dishes.
Cutlery, plates, and bowls are supplied, but be prepared for them to be disposable. This really threw me for a loop during my first stay. I feel that I am deserving of real plates, however, it is nice to have less dishes to wash.
Tip: The studios are the first rooms to fill up at the DVC resorts due to requiring the least amount of points. If this is the category of room you want, make sure you book your stay as far in advance as you can.
Disney Vacation Club 1 Bedroom Villa
The 1 Bedroom Villa is the next category up in terms of points, but is a pretty big upgrade from the studios in terms of everything else. Once you move up to a one bedroom villa, you have much more space, plus some bells and whistles.
Clearly, the 1 bedroom villa boasts a separate bedroom for some privacy. They also boast a much larger bathroom, one that is segmented for access from both the bedroom and the living room.
A major coup is the addition of a washer/dryer for all room categories from 1 bedroom villas on up. They also sport full kitchens which are completely stocked with everything you need (except food).
An ironic downside to the 1 bedroom villas is that some of them can only fit 4 people, while others can fit 5 with the addition of a chair that converts to a bed.
Disney Vacation Club 2 and 3 Bedroom Villas
Things start to get a little self explanatory at this point. You get more and more bedrooms and more and more space. These villas sport everything you get in the 1 bedrooms, with more beds and more bathrooms. Accordingly, the point requirements for these villas is pretty high.
DVC Cabins, Bungalows, and Treehouses
Two of the DVC resorts (Copper Creek and Polynesian) offer free standing dwellings right along lakes. The Cabins and Bungalows really are stunning and look amazing. They also require a massive amount of points for just one night.
Saratoga Springs offers up Treehouse Villas as a unique alternative for larger groups of people (it holds up to 9 people). If you want the unique experience of a standalone structure for significantly fewer points, this is the way to go. Just be prepared to have a car if you stay at the Treehouse Villas. It's quite far away from pretty much everything.
Disney Vacation Club Contracts
By purchasing into Disney Vacation Club, you are essentially buying a small piece of your home resort. The purchase is treated as a real estate transaction and requires all the paperwork and contracts involved with that. The contract identifies your home resort, use year, and the number of points you are purchasing.
DVC Contract End Dates
Each of the DVC resorts also has a different contract end date, depending on how long the property has been part of the Disney Vacation Club. Typically, the contract expires 50 years after the date of development of that resort. The DVC resorts that have been around the longest will expire sooner than the newer resorts.
For example, Hilton Head contracts expire in 2042, while Polynesian contracts expire in 2066. In essence, you own a piece of that property until the contract expiration date, so you do not own the property forever.
At this point, it is anyone's guess what Disney will do about these expiration dates, but in all technicality, just like a car lease, once your contract is over, you "return the keys" and walk away.
In 2007, they offered a contract extension on Old Key West contracts at a per point price. However, they have not done this with any of the other resorts.
The contract end date is another factor to consider when choosing your home property. If you have a strong desire to have your DVC membership for as long as possible and also potentially leave the membership to your kids, then you want one of the newer properties. If you are mainly concerned with a more modest time frame, say 10-15 years, then the end date of your contract isn't as significant.​
DVC Use Year
I can hear what you are thinking: What on Earth is a Use Year? Well hold on to your mouse ears, because things are about to get confusing.
The term "Use Year" is a bit of a misnomer as the key information is actually a month, not a year. The Use Year refers to the date each year when your DVC points renew. For example, if you have an August Use Year, every year on August 1, your full collection of points for that year "arrives".
In other words, your points for 2019 with an August Use Year are good from August 1, 2019 through July 31, 2020.
This is a key takeaway: your points don't go from Jan 1-Dec 31, they are based on your Use Year.
Disney Vacation Club Points
When you buy into the DVC program, you buy a certain number of Disney Vacation Club points that are decided by you to be the amount you need. This number can vary drastically from household to household and is determined by a number of factors.
Your DVC point requirement is based on the point requirements for the resort and room type you prefer, time of year you think you will typically go to Disney, how often you plan to go, etc.
What Does "DVC Point Season" Mean?
For most of the Disney Vacation Club resorts the year is broken up into 5 different "point seasons". Each of the seasons has its own point requirements.
Adventure Season
Choice Season
Dream Season
Magic Season
Premier Season (Christmas Week, Easter Week)
The more popular the time of year, the more points will be required for each night of your stay. The Adventure and Choice Seasons are the cheapest time of year to go while Premier Season is the most expensive.
For example, one night in a standard view studio at Boardwalk Resort during the Adventure Season requires 10 points. That same room during Premier season will cost 20 points.
We have 145 DVC points which allows us to book a studio room at Boulder Ridge Villas at Wilderness Lodge (our home resort) for a week-long stay during all but the Premier Season (Christmas break and Spring Break).
If you are a larger family, or know that you would prefer to have larger accommodations, then know that you will need a larger point package. If you know you will always be traveling to Disney during the busiest times of the year (aka summer, Christmas week, etc.), then you will need a larger point package.
But this number you arrive at will simply be very personal to your family and how you plan to use your points.​
Basic Formula for Calculating How Many DVC Points to Buy
Resort + Room Type + Point Season + # of Times Travel/Year + Length of Trip = Total Points Needed
I warned you it was a basic. But all of these factors are what you want to look at to begin the decision making process.
Here's how the breakdown works for how we determined 145 points would work for us:
Boulder Ridge + Studio + Dream Season + Once a year + 8 nights = 136 points minimum
We knew that the Adventure, Choice, and Dream seasons are the most frequent dates we would travel to Disney. And we want the cheapest room option possible so the decision to go with Studio point requirements was easy.
But of course, there's more to it than just that…
Banking and Borrowing DVC Points
The point package you purchase is the number of points that are available for your use each year. As we discussed above, the Use Year of your contract determines the date that your annual points expire. That's right, these points are of the use them or lose them variety!
However, you have the option of either banking or borrowing your points, giving you a lot more flexibility in the use of your points.
Banking DVC Points = Moving unused points from the current Use Year into the next Use Year
Borrowing DVC Points = Moving the next Use Year's points into the current Use Year
Using a 200 point contract example, you know you will have 100 points left over in 2019. You choose to bank those points into 2020, giving you 300 points to then use in 2020.
The caveat to this is that you then need to use up those banked points in 2020 or they will vaporize. When you book your 2020 trip, the banked points will be the ones used first automatically.
On the flip-side, you can also borrow points from the upcoming use year. For example, you realize that your 2019 points won't be enough for the extra special trip you plan to take that year. You decide to borrow 100 points from 2020, giving you 300 points to use in 2019 and 100 points left in 2020.
With this combination of banking and borrowing, you end up with a decent amount of flexibility with your points.
If in 2019 you decide you want to take an awesome trip, you can use a combination of banking and borrowing to get the points you need. If you bank all 200 of your 2018 points into 2019 and then borrow all of 2020 into 2019, you now have 600 points to use in 2019. That will get you a pretty sweet trip.
How Much Does Disney Vacation Club Cost?
And finally we come to the big question. How much is all of this going to cost? Your overall purchase price will be determined by the number of points you want to purchase, the home resort you have chosen, and whether you are buying direct vs. resale (more on that later). All of these factors will determine your price per point.
DVC Direct Prices
It is important to note that these numbers are always subject to change, and Disney doesn't exactly broadcast the DVC price per point. For the intents and purposes of this post I will focus on the price per point if you purchase direct from Disney. The price per point on the DVC resale market will always be lower (Updated 6/16/2019).
| | |
| --- | --- |
| Disney Vacation Club Resort | Price Per Point |
| Aulani | $188 |
| Bay Lake Towers at the Contemporary Resort | $225 |
| Boulder Ridge Villas | $176 |
| Copper Creek Villas & Cabins | $188 |
| Animal Kingdom Villas | $176 |
| Beach Club Villas | $225 |
| BoardWalk Villas | $190 |
| Hilton Head Island Resort | $121 |
| Old Key West Resort | $156 |
| Polynesian Villas & Bungalows | $235 |
| Riviera Resort | $188 |
| Saratoga Springs Resort & Spas | $160 |
| Vero Beach Resort | $100 |
| Villas at Disney's Grand Californian | $260 |
| Villas at Disney's Grand Floridian | $245 |
Let's look at some sample numbers to demonstrate how this will work. You have decided that you would like to purchase 200 DVC points direct from Disney with your home resort set as Disney's Boardwalk Villas. Disney is currently charging $190 per point for Boardwalk Villas.
So the quick math for your purchase total, not including any taxes and fees is 200 X $190 = $38,000. Clearly, this is not a cheap proposition, though at this rate, nothing related to Disney is cheap.
Disney Vacation Club Annual Dues
The purchase cost is a one-time payment that you make up front (or finance). However, there are annual dues that you must also pay for the length of your contract. Once again, your dues will depend upon the number of points that you have as well as your home resort.
Using the example above, those 200 Boardwalk points that you purchased will cost you $7.17 per point in dues 2019, or 200 X $7.17 = $1434.
The cost per point of dues can vary from year to year depending on various circumstances. I've heard rumors that they don't always increase, and sometimes they might even decrease. However, so far we've only seen them increase.
The annual dues are owed in January of each year. You have the option of paying all of it up front in one lump sum or setting up a monthly automatic payment option. There is no interest if you do the monthly payments, so that is really a personal preference.
You are able to pay your dues with Disney gift cards if you choose to pay the total all up front. I would highly recommend using strategies to get discounted Disney gift cards to pay your dues. By doing that you are able to at least shave a little bit off of the total expense.
DVC Resale vs. Direct
You saw me mention resale above and are probably wondering what that is about. The question of whether to buy your DVC points direct or through the resale market is a pretty big piece to this puzzle.
Buying DVC Resale
The DVC resale market essentially consists of people who have decided to sell their DVC contract for whatever reason. It is not possible to sell a contract back to Disney, but there are many different companies who specialize in DVC resale.
Buying a DVC contract through the resale market is a way to save thousands of dollars and potentially make the purchase more reasonable. Well, as reasonable as it can be when spending this much money on anything.
The DVC resale process takes significantly longer than buying direct from Disney, but the end result ALMOST the same…
DVC Resale Restrictions
Of course, Disney wants you to buy your DVC points through them so they can make more money. However, they can't stop anyone from buying a resale contract. What they have done is to apply some DVC resale restrictions to "encourage" people to buy direct from Disney.
Over the past few years, Disney has tightened the belt on resale owners, otherwise known as the red-headed stepchildren. I'm kidding! Kind of…
Resale DVC owners are not eligible for all of the same benefits that direct owners can enjoy. For example, resale owners are not eligible for the discounted Gold Annual Pass. They also cannot use their resale points for cruises, Adventures by Disney, etc.
Previously, a common way around this was to buy most of your points through the resale market and then buy a small point package direct from Disney. In this way you could have your cake and eat it too.
This is still a popular technique but Disney has made it harder by upping the point minimum necessary for DVC benefits 75 points instead of 25.
New DVC Resale Restrictions 2019
In January 2019, Disney released further restrictions on resale owners who buy after January 18, 2019. All previous DVC resale owners are grandfathered in an retain their already existing benefits.
In short, anyone who buys a resale contract from the ORIGINAL 14 DVC resorts will only be able to use their points at those 14 resorts. This means those points are ineligible at Riviera Resort, Reflections, and any other future DVC resort.
But it gets even worse. For anyone who purchases a Riviera (or Reflections) contract on the resale market, their points can only be used at their home resort. Riviera resale owners are not able to use their points at any other DVC resort.
This is a pretty harsh penalty for anyone who buys resale at Riviera. Time will tell how this plays out, but speculation is this will drastically hurt the resale market for Riviera contracts, but not really contracts at other resort.
Is Disney Vacation Club Worth It or Not?
This is an entirely subjective question with no definitive answer. However, there are definitely some factors to think abut which can lead you in one direction or another.
First, DVC is not for everyone. Not even close. No matter what the enthusiastic DVC salesperson tells you. This is a very large purchase that should not be taken lightly.
Here are some things to consider.
Do you plan to visit Disney World at least once every other year?
If you are someone who knows your family will go to Disney World regularly, then Disney Vacation Club may be right for your. A visit every other year is probably the minimum frequency I would recommend for DVC.
The bonus of planning on an every other year visit is you can plan to buy a smaller size points package and use banking or borrowing. In this way you can get enough points for a week.
In my example from earlier in the post:
Boulder Ridge + Studio + Dream Season + Every other year + 8 nights = 68 Points
With banking or borrowing you have the 136 point necessary to spend 8 nights at Disney World every other year.
Don't forget to factor in travel costs
How far are you from Disney? Do you need to fly or drive? Remember, flying your family to Orlando often isn't exactly a cheap prospect.
If you can't imagine paying that much on a regular basis Disney Vacation Club might not be for you.
Do you prefer to stay at Deluxe Resorts or Value Resorts?
Disney Vacation Club tends to be worth it for people who prefer to stay in Deluxe Resorts, or possibly moderate. If you love the Value resorts, and the significantly cheaper price that comes with them, then DVC is definitely NOT for you.
For people who fell in love with the Deluxe Resorts and are looking for a potentially more cost effective way to stay there, then DVC might be for you.
Do the DVC member benefits tempt you?
There are quite a few different DVC member benefits. Some of the benefits are better than others. Here are some of the best.
Annual Passholder Discounts – because an AP is great for those multiple trips a year
Free laundry – Even the studios that don't have ensuite facilities have access to a free laundromat
20% Merchandise Discount
10% discount on some dining locations
Discounts on tours and parties
Pool Hopping – my family loves this one! DVC members around allowed to use several of the pools around Disney World, but not all of them!
Top of the World Lounge
Imagination Lounge at Epcot – a DVC member lounge providing a cool place to relax, charge your phone, and get some refreshmente
It is important to note, these benefits are only available to DVC members who buy direct from Disney. If any of these benefits are must haves, then you will need at least 75 points direct from Disney.
Final Thoughts on Disney Vacation Club
So there you have it, a tutorial on what Disney Vacation Club is and how it works. The Disney Vacation Club system is about as clear as mud at first, but once you have familiarized yourself with the process it's pretty user friendly.
If you are interested in DVC my top recommendation is to do as much research as possible before you decide as there is a lot to understand.
Are you planning a Disney World vacation? To get started, read up on the beginner's guide to Disney vacation planning. Learn more about Advanced Dining Reservations, as well as, the Disney Dining Plan. Also, start learning all about the Disney World FastPass system, as this can become your best friend during your trip. And once you're ready, read up about what to pack for your Disney vacation.
Make sure to Pin this post for later!
Your Thoughts
Are you a DVC owner already or in the beginning of your research process? Sound off in the comments with any questions that you have. Don't forget to follow The Disney Journey on Facebook and Pinterest.