We may earn money or products from the companies mentioned in this post. Please click my disclosure policy to learn more.
Congratulations! You've decided to plan a Disney trip! Then you start looking into things and quickly realize that there's more to Disney vacation planning than meets the eye (updated May 25, 2023).
You begin seeing acronyms for God only knows what. You see people's posts about how stressed and overwhelmed they are, and you just don't know where to start. This ultimate guide to planning a Disney trip is designed to make the vacation planning process easier by breaking it down, step by step.
Even though this seems like a lot of information, and it is, you can do it! Take your time and sift through everything piece by piece. In no time you'll realize that planning a Disney trip is possible.
If all of this is still too overwhelming, consider working with an authorized Disney vacation planner (fancy speak for a Disney travel agent). They can help you through all of these steps, and even do a lot of them for you. And it doesn't cost you anything extra!
Siera Duiser is the Disney vacation planner I recommend. She's amazing at her job. Fill out this form for a free quote from Siera.
7 Steps to Planning a Disney Trip
While there are a lot of nuances to each one of these steps, the structure of your planning process can be boiled down to 7 main steps. By tackling them one at a time, you are giving yourself a step by step process to focus on. This makes everything way more manageable and less intimidating.
A lot of things changed when Disney reopened after the pandemic. Slowly but surely, things have mostly returned to normal. But we're not quite there yet.
But for now and the foreseeable future, these are the necessary steps for planning a Disney trip.
​Pick your dates and length of trip
Create a Budget
Choose your resort
Buy your park tickets
Choose your park days and book your Park Pass reservations
Research restaurants and book Advanced Dining Reservations at 60 days
Finalize details and pack your bags!
1. Choose Your Trip Dates and Length
This one is pretty obvious on the surface, but when it comes to planning a Disney trip, even this step appears to take on gigantic proportions. If you've looked into Disney planning forums at all, you will see many people asking, "When is the best time of year to go to Disney?"
This is a question without a universal answer as everyone's definition of that will vary. So think about what factors are most important for you.
Some questions to ask yourself:
Do you care about crowds?
Is your yearly availability fluid or rigid?
How long should your Disney vacation be?
Is the weather important to you?
Are there Disney events that are important for you to experience?
Schedule Availability and Crowds at Disney World
If your family has a rigid schedule, picking the dates becomes a whole lot easier. The downside to this is you will likely be going at a time when everyone else with rigid schedules will also be going, i.e. the major holidays, especially Thanksgiving and Christmas, spring break, and summer break.
These are some of the busiest times of year to go to the Disney Parks. This is not necessarily a bad thing, but you will need to plan accordingly.
If your family has a more flexible schedule, I suggest you identify which factors are most important for you and determine the time of year that best fits your requirements. For us, good weather and events are a big factor. For a lot of families, finding a less crowded time of year is important.
However, if anyone in your party struggles with anxiety, choosing a less busy time of year may be important. If this is the case, please read my thoughts on how to manage anxiety at Disney World. This will help you to plan for a successful trip.
There are numerous crowd calendars out there designed to predict the best times of year to go to Disney World. I have looked at many of them myself, and I would advise you to do the same. They are good for giving you an idea of general historical crowd trends to help guide your choice.
However, Disney has done a brilliant job of spreading attendance out throughout the whole year, so "super low crowds" no longer exist. DO NOT look at these predictions as guarantees. That will only set you up to be disappointed if they are not accurate.
Since the reopening, crowd levels have varied greatly. However, DO NOT EXPECT EMPTY PARKS. Hollywood Studios reaches capacity on most days, while the other parks are often booked up on the weekends.
There are definitely still crowds at Disney, even during a pandemic. If you go there expecting no crowds, you'll be disappointed.
How Long Should I Stay at Disney World?
Again, there are many factors to take into consideration when answering this question. At it's most basic level, my general recommendation is that a minimum of 7 days is the ideal time to spend at Disney World for a family's first Disney vacation.
Because of this, I put together an example of my ideal 7 day Disney itinerary to give a solid example of what a 7 day trip looks like.
A week long Disney vacation allows you to spend at least one full day at each of the parks, as well as have rest days to explore the many offerings outside of the Disney parks.
If you suspect this will be the only time your family is able to go to Disney World, this time frame becomes even more important. Even in a week you won't be able to fit everything you might want to, but it gives you a good amount of time to have an awesome Disney vacation.
Planning a Shorter Disney Vacation
Sometimes, you just can't spend a full week at Disney World. This might be due to schedule limitations or budget, but you can still have an awesome trip.
With a shorter time frame you obviously have to sacrifice some things on the Disney wish list, but you can still have an amazing vacation. With a shorter trip, I would recommend having at least 3 park days.
Ideally, with this plan you would purchase Park Hopper Tickets which allow you to go to multiple parks in one day. With Park Hoppers, you can still fit all 4 parks into your trip.
Weather at Disney World
The weather of central Florida can vary much more than most people think. In general, the summers are bone meltingly hot and humid, the fall and spring are more mild temperature wise, and anything goes in the winter.
And let's not forget that hurricane season lasts all summer and into the fall.
Educate yourself about Florida weather patterns to guide your choice when picking the dates for your Disney trip. However, keep in mind that the weather does not need to cooperate with your plans.
As an example, when we went to Disney World at the end of November into the beginning of December, the weather ranged from 40 to 85 degrees over the span of 10 days. One day we were bundled up in winter coats, hats, and gloves, and two days later we had on shorts and t-shirts.
These pictures show two different days during the same Disney vacation! And we were roasting in the sun during that show with Sigrid and Barn Santa at Epcot.
The moral of this story: take the weather into consideration when planning a Disney trip, but don't bank on it cooperating. You can still have a great time no matter what Mother Nature throws at you.
Use my post all about the best times of year to visit Disney to help you with this part of the process. I break down the pros and cons of each month of year, including weather, events, and anything else you need to know.
And if you decide to go to Disney World over the summer, check out my post all about my Disney summer survival tips.
Disney World Parties and Events
The other main factor to consider is the parties and events that Disney puts on throughout the year. There rarely seems to be a time when there isn't SOMETHING extra going on.
From late August through early November Magic Kingdom has Mickey's Not So Scary Halloween Party. At that same time, Epcot has the Food and Wine Festival. So if you love all things autumn and eating truly delicious food offerings, perhaps the fall is for you.
If you are a Christmas nut like I am, you can't beat going during the Christmas season (which in the world of Disney actually starts November 1!). During this time frame you can attend Mickey's Very Merry Christmas Party at Magic Kingdom and the International Festival of the Holidays at Epcot.
Truly, this is just the tip of the iceberg in terms of seasonal offerings, parties, and events that Disney World puts on during the course of a year.
Examples of Parties and Events to Look Into:
Epcot's International Festival of the Holidays
So, take your time, identify your priorities and create a date range that you think will work for you.​
2. Create Your Disney Trip Budget
Perhaps I should have made this the first step, as it is extremely important to the ultimate question of how to plan a trip to Disney World. This factor will determine which resorts you pick, what style of dining you choose, and even your park days.
So essentially, do this part throughout the initial phase of the your Disney vacation planning. Fortunately, I also have a great budgeting tool that can help you out with this.
How Much Does a Disney World Vacation Cost?
This is an excellent question which does not have an easy answer. There are many factors which go into how much your Disney trip will cost.
The bottom line is, decide how much you are comfortably able to spend and then determine how to make that happen with the decisions you make from there.
The most expensive aspects of your Disney vacation are:
Park Tickets
Resort Accommodations
Dining
Airfare (If you are flying)
The good news is that all of these factors can be manipulated in various ways to make a Disney vacation fit within your budget. But the bottom line is, on the cheaper end of things, plan to spend $3000-$4000 for a family of 4 for a 5 day trip.
Then, if you can get it lower than that, it's a bonus!
But if you want to get more specific, go to my entire post on how to create your Disney trip budget. In that post you'll also find my Disney cost calculator which gives you your very own tool to accurately calculate your budget.
Other Posts to Read About Budget and Saving Money at Disney
There are ways to make your trip a little bit cheaper, from resort choices to grocery deliveries to the types of meals you decide to eat. Here are some links to get you started, because everyone wants to save a little money, right?
3. Deciding Where to Stay
Once you've decided on dates that you are interested in, the next step is to book the resort. Nothing is official until you've booked your lodging! Here is another step that is perhaps easily overwhelming once you realize the sheer amount of options available to you.
I will admit, so far we are fans of staying on Disney property. My only experience with staying off resort in Orlando is when I took a quick trip with my sister to Universal Studios.
So my advice in this respect might be a little biased, but I recognize that staying at Disney is not the right choice for every family so let's explore the options, shall we?
This post provides a brief overview of resorts. For way more information head on over to my post dedicated entirely to the Disney World on-site vs off-site question.
Over the years, it's become less and less of an advantage to stay on Disney property. And it's costs a ton more. So, even I'm ready to admit that staying off-site might be the better choice for many people.
Staying Off Property
Staying off property is clearly the more economical choice in most respects. If you are looking to do a Disney trip on a very tight budget, this is the clear winner. The nightly room rates can be much cheaper, depending on the type of accommodations you are looking for.
Many families will also rent condos for a week, giving their families much more space for a fraction of the price. Disney now has benefits for guests of identified "good neighbor" hotels, making them a more affordable alternative to Disney resorts.
A Few Things to Consider About Staying Off-Site
How far away is the hotel from the parks? Do not underestimate drive time to and from the hotel to the parks. If you plan on taking mid-day breaks back at the hotel to let the kids rest, this suddenly becomes a big factor.
Does the hotel offer free shuttle service? And if it does, how often does it run? Sometimes these shuttle services look good on paper, but in practice are pretty inefficient, leading to a lot of wasted time.
If you are renting a car or using your own, factor in parking costs at the parks, which is currently $25 a day. This can add up over the course of a trip.
Double check "resort fees" at the hotels you are looking at. If your hotel has these, make sure you add this into your final cost. I find this fee is not always factored into the total you see online.
Be very careful to do your math to add up any hidden charges you might come across with staying offsite. Sometimes, all of these charges bring you closer to the cost of staying at one of the Disney value resorts and the convenience and benefits that offers.
Staying on Disney Property
There are clearly many benefits to staying on Disney property. Two of the biggest benefits are the immersion into the Disney bubble and the convenience being on property allows.
The level of detail that Disney applies to every last aspect of your experience is astounding and lets you fully sink into the world of Disney. There is just something so fulfilling about looking around your Disney resort and realizing you are there. It's what I would call an intangible quality, but it is very real nonetheless.
Staying on Disney property will ALWAYS be my preferred recommendation whenever possible. I've put together a complete guide for choosing a Disney resort that's the best for your family. It's designed to help you narrow down your focus and have an easier time choosing your resort.
Disney Resort Benefits
The benefits of staying at a Disney resort go beyond an immersive atmosphere. There are certain benefits which are only available to guests staying on Disney property.
There are various forms of free transportation to and from all of the Disney properties via buses, monorail, boats, and the Disney Skyline gondolas. While none of these systems are perfect, they are free and will get you anywhere you need to go on property.​
Disney resort guests used to have FastPass advantages, Extra Magic Hours, and complimentary transportation to and from Orlando International Airport. However, these have already gone away.
Fortunately, Disney has slowly returned some benefits to staying at a Disney resort. You can now access Disney's early theme park entry, an option that allows Disney resort guests to get into the parks 30 minutes before they officially open.
Plus, Disney recently announced the return of the Disney Dining Plan, which is a benefit which is only open to Disney resort guests. This benefit starts in January 2024.
Disney also recently eliminated the parking fee for overnight guests at Disney resorts. You can once again park for free at your Disney resort.
Drawbacks to Staying at Disney Resorts
The biggest drawback to staying on Disney property is clearly the cost. Depending on the level of accommodation you are looking at, the rooms can get very expensive.
There are three different categories: Value, Moderate, and Deluxe, which will determine the price.
Disney does offer room discounts, so it is possible to get some money off the cost of the room. Even if you booked the room before the promotion was released, simply call Disney and they will apply the discount to your already existing reservation.
4. Buy Your Disney Park Tickets
You used to be able to save this step until much closer to your actual trip, but this is no longer true (see step 5 to understand why!).
The urgent need to buy tickets sooner rather than later will start to disappear over the next several months. However, I would still buy the tickets before you get to the 60 days point prior to your trip.
You should do some basic research into the cost of tickets while you are completing steps 1 and 2 in this Disney planning guide. This is because the overall cost of your park tickets can vary dramatically depending on what time of year you plan to go.
At this step you don't necessarily need to know exactly which park you plan to be at when, but you do need to know which park day will be your first. That is because the entire daily price of your tickets are dependent on that date.
Before you buy your tickets, you really need to read step 5 as they go hand in hand. You need to know ahead of time if any of the parks are already booked to capacity before you commit your tickets to those dates.
How Many Park Days are Enough?
This is another question without a straightforward answer. As always, it depends on a lot of different factors. As I mentioned above, and ideal trip would have at least 4 full park days. This makes for a nice easy breakdown and no gut wrenching decisions on what park to skip.
If you can manage it, I would even consider having 5 park days. In reality, Magic Kingdom is worthy of a couple of days in and of itself. That fifth day gives you flexibility to cover anything that you might have missed during the first four park days.
However, if you can only spend 1-2 days in the parks due to time and budget, Magic Kingdom should be your priority. It is the quintessential Disney experience. The second park you choose will be based on what other experiences are a priority for your family.
An essential step before you buy your park tickets is to take a look at my Disney park tickets post. That will explain how the tickets work, types of tickets, and ways to get them at a discount.
5. Choose Your Park Days and Book Park Pass Reservations (Required through 2023)
Now that you've chosen your trip dates, booked your resort, and bought your park tickets, it's time to figure out your basic itinerary. This step is now more important than it used to be.
The first thing you need to do is figure out what park you want to visit on which day of your trip. I've put together a little guide on how to choose your Disney park days to help with this step.
That post gives helpful hints on what factors to consider when making this decision.
As soon as you've picked your park day itinerary, it's time to book your Disney Park Passes. Every member of your party needs one since it's linked to capacity calculations.
Luckily, the process to book the Park Pass is pretty simple. Take a look at my guide to making Disney Park Pass reservations to learn the step by step process.
As I've said before, and I'll say again, book your Disney Park Pass as soon as your park tickets are linked to My Disney Experience. You'll feel better knowing that you've guaranteed yourself a slot for the park of your choosing that day.
Don't worry about changing your mind later. It's very easy to cancel your existing park pass and schedule one at a different park. Of course, before you cancel your Park Passes you want to check to see if the park you want to switch to has openings.
You can do that by going to Disney's Park Pass availability calendar.
This used to be much more important that it is now. The parks rarely reach capacity, and then only during very busy holidays. I would still lean towards booking them sooner rather than later, but that's because I'm a neurotic planner.
Starting on January 9, 2024, park passes will no longer be necessary for most park guests. All date based tickets are included in this. Mostly, it's only annual passholders who still need to book park passes.
6. Book Your Disney Dining Reservations
I seriously love this step. For Doug and I, the food is a big part of the Disney vacation experience. We love to eat good food and explore foods we don't typically get to eat.
This is especially true for me since I have a gluten sensitivity and can't eat gluten at all. Disney is the one place where I can eat foods that are typically off limits for me.
If you are making any reservations, you can do so at 60 days prior to either your Disney resort check-in or the day you want the reservation on.
Let's take a quick look at the different types of dining options at Disney. Not all restaurants require reservations.
Quick Service Restaurants
Disney has both Quick Service (QS) and Table Service (TS) restaurants throughout all the resorts, parks, and Disney Springs. This is essentially the difference between fast food and a sit down restaurant.
Quick Service restaurants do not require any reservations.
I would definitely suggest researching the various quick service offerings in each park and areas you will be in just so you have an idea of which places you want to try.
All quick service restaurants are not created equal. There are some that are absolutely fabulous and others which are just meh.
No sense wasting time on your park day staring at your phone reading menus of quick service restaurants to pick which one to eat at.​
Table Service Restaurants
Table Service restaurants are where the real fun is at. While having Advanced Dining Reservations (ADR) for table service restaurants is not a requirement, it is highly recommended.
The most popular restaurants will book up very quickly right at the 60 day mark, while others will have same day openings.
If you have a large group or know that you want to eat at a very popular restaurant, booking Disney dining reservations should be a priority for you.
This is not to say that you can't move things around after you make the initial reservations, because you can. People are frequently canceling and shifting things around so it makes openings pop up, but you can't necessarily rely on that.
Read Reviews of Disney Restaurants
During this time you should decide which types of restaurants you want to eat at: quick service, table service, or both. Most people do a combination of both. Clearly, more quick service restaurants makes your dining expenses cheaper, while more table service meals drives the cost right on up.
We like the change of pace of sitting down to a meal, usually once a day, and with my dietary restrictions, table service meals just have more options for me. But everyone is different so you need to decide on the ratio that works for your family.
Like I referenced above, I have a whole lot of fun researching the restaurants, especially the table service restaurants. Check on menus for the various restaurants, read reviews on blogs like this one to narrow down your list of restaurants you want to try.
We get really excited about food in this family, so this is tons of fun for us.​
It is also important to learn about the Disney Dining Plan if you are staying at a Disney resort. The dining plan can be complicated (shocking) and it isn't for everyone. But for others, it's a necessity.
Note: Dining plans return starting with booking from January 9, 2024 and on!
Making Your Disney Dining Reservation
Disney dining reservations can be made 60 days in advance. If you're staying at a Disney resort that's 60 days prior to check-in. For everyone else, that's 60 days prior to the date you want the reservation.
The window to make the dining reservations opens up at 6:00am EST. Yes, you read that right.
At that time you can book your reservations through Disney's website or the My Disney Experience app.
The process is fairly straightforward, but not without it's glitches and complications. Some reservations are highly competitive so you need to be in top form when you go to book.
Make sure you go through all my tips on how to book your Disney dining reservations to give yourself a leg up on this step.
7. Finalize Details and Pack Your Bags!
The anticipation is probably killing you by the time you get to this step! Now is the time to make sure you have all your ducks in a row.
Make sure you have your airport transportation to and from Disney all set up if you are flying. I have a handy guide that explains all of your Disney airport transportation options.
Also, if you plan to order MagicBands, make sure you do that with enough time to allow for shipping to your home.
Do you plan to rent a stroller for your trip? Make sure you get that set up as well. Kingdom Strollers is the recommended stroller rental company of The Disney Journey.
And finally, it's time to start packing. But don't wait until the last minute to do this step. Packing for Disney is unlike packing for any other trip. There are items I highly recommend you pack, which you might not already own.
Go through my recommended Disney packing list with a fine tooth comb to figure out what you need to bring.
Final Thoughts on Planning a Disney Trip
This basic timeline should help you to get started along the road to planning a Disney trip Again, each one of these steps has further details, but if you follow this general outline it will help give you some direction and hopefully keep you from getting too overwhelmed.
Even though this is a lot of information, don't get stressed out! Start with step 1 and then go from there. Break this big, overwhelming task into smaller, more actionable pieces. Once you get into the groove, you will find the process gets easier and easier.
Use this post as a jumping off point in your Disney vacation planning and you will have such a wonderful Disney trip!
Don't Forget to Pin this Article for Later!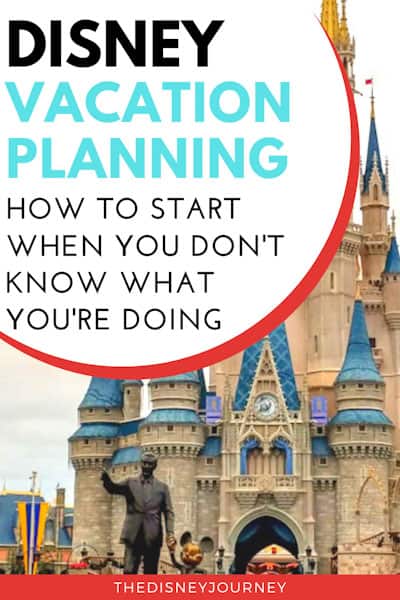 Your Thoughts
Have I forgotten a step that you deem essential? Does planning a Disney vacation seem more manageable or are you still overwhelmed? Comment below and let me know how you start planning your Disney vacation.
Don't forget to follow The Disney Journey on Pinterest and Facebook to stay up to date with all the latest news and updates.