We may earn money or products from the companies mentioned in this post. Please click my disclosure policy to learn more.
Hollywood Studios is one of the most popular, and crowded, parks at Disney World. A solid strategy for Hollywood Studios rope drop has become essential to get on rides with low waits and without paying extra money (updated July 26, 2022).
Yes, the advent of Disney Genie+ and Lightning Lanes has given guests the ability to skip the lines, but at a cost. And I mean a literal cost, not a figurative one.
My mission is to give you a head start on some of the top rides at Hollywood Studios by utilizing a good Hollywood Studios rope drop strategy.
I also have a guide to Hollywood Studios to give more detailed information about the park and attractions. This also includes a more detailed strategy for the entire day.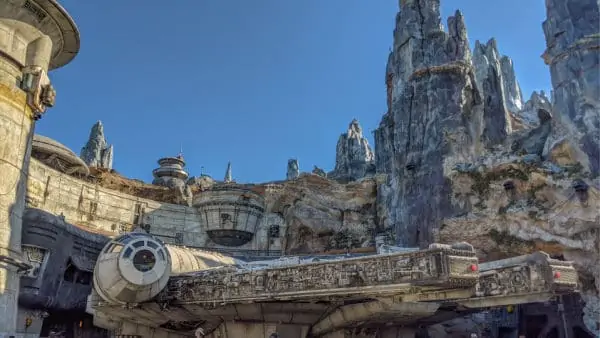 What is Hollywood Studios Rope Drop?
Whenever you see a Disney blogger (or park fanatic) use the phrase "rope drop", they are referring to being at the park first thing in the morning, prior to park opening.
The last part of that sentence is key: prior to park opening. If the park opens at 9a and you show up at 9a, you already missed rope drop.
The landscape of this has changed even more with the start of Disney's early entry option. Early theme park entry allows Disney resort guests, and guests of other select hotels, enter any of the 4 parks 30 minutes prior to park opening.
So if the park opens at 9a, these guests can enter and get on rides at 8:30a.
Because of this, guests with early theme park entry are the ones who can maximize rope drop at Hollywood Studios. Other day guests can still do rope drop right at park opening, but your easy ride window is much smaller and more selective.
To learn more about it, read my article about the ins and outs of early theme park entry.
What is the Point of Rope Drop at Disney World?
The one and only priority of going to a park at rope drop is to get on the rides with minimal lines. This could mean getting on Expedition Everest over and over again by walking on, or getting a head start on the line for Rise of the Resistance.
Typically, people head straight for the rides that have the longest lines throughout the day. Often, rope drop produces the shortest wait you'll have.
But this only works if you have the right rope drop strategy. Showing up even 20 minutes late can drastically change your results.
Essentially, you're still waiting to get on a ride, you're just doing it outside the queue. For some reason, it just feels better this way. The wait doesn't feel as long, there's more freedom of movement (walking around, bathroom breaks, etc.).
And the biggest factor: you aren't wasting valuable park time while you wait because the park isn't even open yet.
Hollywood Studios Rope Drop and Rise of the Resistance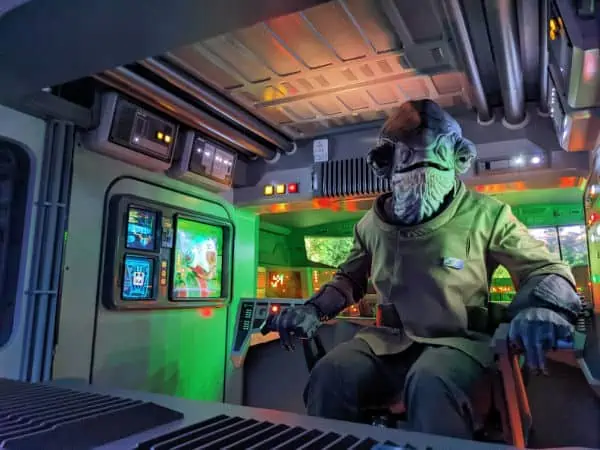 Let's face it, Rise of the Resistance is pretty much the hottest ride in all of Disney World. Because of this, it takes some serious strategizing to get on it without needing to pay extra money.
I have a whole post dedicated to all of the ways you can get on Rise of the Resistance with a lower wait. If this ride is a priority to you, make sure you check that out.
But the moral of the story: it is very possible to rope drop Rise of the Resistance with minimal waiting during rope drop. This post will tell you how.
Factors for a Hollywood Studios Rope Drop Strategy
Now that we know what rope drop at Hollywood Studios entails, let's start talking turkey. Because simply showing up just won't cut it.
Best Ways to Get to Hollywood Studios for Rope Drop
The very first thing to consider is the transportation you plan to take to Hollywood Studios. This might seem straightforward, but of course it's not.
The main reason for this is that many transportation options simply aren't running early enough. Buses and the Skyliner gondolas don't start dropping off guests until about an hour before park opening (give or take).
The only group of people who can fully control getting to Hollywood Studios truly early are those staying at BoardWalk Resort, Beach & Yacht Club Resorts, and Swan & Dolphin.
There's a hand dandy little walking path that takes you right to the park. Plan on it taking you 15-20 minutes, depending on resort and walking pace.
If you have access to a vehicle, either your own or a rental car, driving to Hollywood Studios is another option. Again, this puts you in control a little more.
If you don't have a vehicle at your disposal, I highly recommend using a ride share service such as Uber or Lyft. They don't cost very much and drop you off right in front of the park.
I recently took a bus from Port Orleans Riverside to Hollywood Studios for early theme park entry that started at 8:00a. I caught the first bus of the day at 6:39am.
This just gives you an idea of what time the buses start running for early entry. I was dropped off at Hollywood Studios and in line for the park before the first Skyliner guests arrived on site.
What time is rope drop at Hollywood Studios?
There can be some fluctuation with park opening hours depending on time of the year and expected crowd levels. On top of that, Disney is known to adjust park hours a couple of weeks prior to the date.
Always check the park opening times directly from Disney just before and during your trip! It would be very unfortunate if the park opened an hour earlier than you thought.
Right now, Hollywood Studios has posted park hours of 8:30a-9:00p, though the standard hours run from 9:00a-9:00p.
However, the general rule of thumb and pattern of rope drop should be the same no matter what the opening time is. And remember, early theme park entry starts 30 minutes prior to official park opening time.
You want to time your arrival for about an hour prior to THAT time, not the official park opening time.
For example, if the park opens at 8:30a, then early entry begins at 8:00a. Hence, you should time your arrival at Hollywood Studios for no later than 7:00a.
The Line Process at Hollywood Studios Rope Drop
Keep in mind, this won't look identical every single day, but the general idea should remain close to the same. There are a lot of factors that go into what times everything happens so that can vary slightly.
However, overall, this pattern I'm about to describe should be what you experience.
An Hour Before Early Theme Park Entry Start Time
By an hour before the early entry start time, they should allow guests through security. This is around the time that buses arrive, the Skyliner guests arrive, and the parking lot is opened.
Prior to this time, all guests are held at an arbitrary point shortly after the Skyliner exit, but before the security courtyard. That's not what it's really called, I just made that up, but you get the idea.
This is why walkers have the upper hand. They can already be in place near security before everyone else even sets foot on Hollywood Studios property.
If you get there super early, plan to hang out outside the security stations. If the crowds there start to swell, there is the possibility that the initial wave of people will be let through security and up to the closed tapstiles.
This is purely to minimize the crowd standing outside security. This would only happen on high crowd days and didn't the last time I was there.
But again, this demonstrates the importance of being towards the front of the line. It just puts you one step ahead of everyone else, just in case.
Once you clear security you have to go through another check point right around the ticket booths. Cast Members are there to scan one MagicBand or ticket for your whole group to verify you are a resort guest.
If you are, you proceed forward to form a line at the tapstiles. However, if you aren't, you are held at a separate area to wait for the official park opening time.
Now it's time to sit tight and wait some more.
Thirty Minutes Before Early Theme Park Entry Start Time
At approximately 30 minutes before early theme park entry starts, the masses are released through the tapstiles! You are now in the park and clear to head towards whatever ride you plan to rope drop.
The specific ride you plan to rope drop determines which direction you should head towards.
For example, if you plan to rope drop Rock n Roller Coaster or Tower of Terror, you'll want to turn right onto Sunset Boulevard.
Star Wars: Galaxy's Edge rides (Rise of the Resistance and Millennium Falcon) should head to the left of the Chinese Theater. Meanwhile guests going to Toy Story Land go to the right of the theater.
And clearly, anyone going to Mickey and Minnie's Runaway Railroad should stay straight ahead on Hollywood Boulevard.
Depending on the ride you choose, you'll then be held right at that ride, waiting for the early theme park entry window to start.
The exception is Rise of the Resistance. That ride starts running as soon as guests arrive to the queue.
A Note About the Pattern…
I've been there other times where the pattern is slightly different. In these instances, guests were let into the park a little earlier, but were held at stop points throughout the park.
The stop points were located in the direction of each ride. This allows guests to get further into the park and into position, but more importantly, it keeps the park entrance from getting too crowded.
I don't know if they'll do this again, but be aware it's a possibility. Overall though, your strategy should be the same.
Best Rides for Rope Drop at Hollywood Studios
All rides are not created equal when it comes to rope drop at any Disney park. This is especially true when it comes to Hollywood Studios.
Hollywood Studios went through quite the transformation over the past few years. It went from being only half a park with hardly anything to do, to the park with some of the most sought after rides in all of Disney World.
The bad news is that the lines get so long on ALL the rides by late morning it leaves you with nothing left to do. Because I refuse to wait in line for longer than 30 minutes.
Of course, you can buy Genie+ and have paid access to the front of the lines of applicable rides. And for Hollywood Studios, that's not a bad idea. But let's try to save you some money!
That's why rope drop is so important at Hollywood Studios. In this window of time you can knock out some hard to get on rides.
Rides to Rope Drop
Clearly, you won't be able to do each and every one of these rides at rope drop. It's up to you to prioritize which of these rides is the priority for your family.
Rise of the Resistance
Mickey and Minnie's Runaway Railway
Millennium Falcon: Smuggler's Run
Slinky Dog Dash
Rock 'n' Roller Coaster
Tower of Terror
In terms of rope drop, Rise of the Resistance, Slinky Dog Dash, and Mickey and Minnie's Runaway Railway are the most popular options.
But really, Rise of the Resistance is the winner by a long shot. The vast majority of people at rope drop will head there, and with good reason.
The wait times for Rise of the Resistance are usually around 2 hours throughout the day. That's why a good rope drop strategy is key here.
If you are in the front of the pack, you are golden and will wait a minimal amount of time. If not, you could be waiting a VERY long time.
All of the other rides are a little more forgiving and have a bigger window to play with. Millennium Falcon is deeper into the park and seems to be more popular later in the rope drop window.
DON'T Rope Drop These Rides (Unless you get there late)
This isn't because these particular rides aren't worthy. It's solely due to the fact that the lines for these attractions just don't get as long as quickly.
Star Tours
Toy Story Mania
Alien Swirling Saucers
However, if you're running late that day, these are definitely a better choice than an already 60 minute wait.
How to Create YOUR Perfect Hollywood Studios Rope Drop Strategy
Here's the part where you need to think about your own priorities and determine your own course of action. Here are some questions I'd like you to ask yourself:
How many days will you spend at Hollywood Studios?
Are there any rides you absolutely MUST get on?
How do you plan to travel to Hollywood Studios?
How old, and tall, are the kids in your group?
The answers to these questions will help you refine your strategy and help you understand what to expect.
Let's go through this exercise. I'll explain some of my thought process for how I developed our Hollywood Studios rope drop strategy.
Multiple Days at Hollywood Studios
This gives you the ultimate flexibility to focus on primarily rope dropping different rides. If this is the case for you, you're sitting pretty in terms of your rope drop strategy.
I recommend picking different rides to focus on each morning you'll be in Hollywood Studios, unless you have a family favorite you want to prioritize each time.
Whichever is your #1 ride, make sure that's the first ride you head to on your first day there. That way, if something goes wrong, you have your second day to play with if necessary.
Prioritizing the Rides
Turn dinner time one night into Disney strategy night and talk about what rides everyone in the family really wants to get on. This can be your starting point.
For my family, every single one of the rides is a priority. However, Rise of the Resistance or Slinky Dog Dash are top contenders for our our family. We are likely to always head to one of those two rides at rope drop.
By factoring in the family priority rides with the difficulty of getting on those rides later in the day, make your ride choice accordingly.
Transportation to the Park
As I mentioned above, this is a huge consideration in terms of timing. If you have no options other than either a bus or the Skyliner, you might not be at the front of the line.
Though, I took a bus the other day and arrived maybe 20 people deep into the line. So, if you catch the first bus of the day at your resort, you have a chance.
However, all is not lost. You'll still be there before most other park goers that day. So while you might not walk onto certain rides, you should only have to wait a relatively short amount of time.
If you arrive to the park too late, you might be too far behind the crowd. The paradox of rope drop is that if you don't arrive in a specific pocket of time, the lines suddenly become some of the longest of the day.
If you get to a ride and the line has built up to a posted time of 45+ minutes, abandon ship. You'll wait too long and then you won't have a chance to get on other rides.
Slinky Dog Dash and Rise of the Resistance are the most likely culprits for this to happen. The lines can very rapidly climb to a posted time of over 60 minutes.
However, Millennium Falcon, Tower of Terror, and Rock 'n' Roller Coaster are probably pretty doable still with shorter lines. Or there's always Star Tours, Alien Swirling Saucers, and Toy Story Mania at this point if all else fails.
A Tale of Two Rope Drops
Ok, now I want to look at two different rope drop scenarios at Hollywood Studios. Of course, there are way more options than just two, but it gives you a good perspective on a couple of VERY different strategies.
The first is the most obvious, and probably the highest recommended, ride option: Rise of the Resistance.
Second, we'll take a look at just how different things can look if you rope drop Rock n Roller Coaster instead.
Rise of the Resistance Rope Drop Strategy
As I mentioned just above, trying to ride Rise of the Resistance at rope drop is probably your best bet. You simply get the most bang for your buck.
If you play your cards right, you get on and off the ride before the early entry officially starts. This then gives you the full 30 minutes of early entry in order to get on other rides.
Here's what my recent morning looked like. The park officially opened at 8:30am with early entry beginning at 8:00am.
6:39am – Bus arrives at Port Orleans Riverside to take me to Hollywood Studios
6:54am – Bus drops me off at Hollywood Studios. I can tell that the Skyliner hasn't dropped off the first passengers yet. I'm able to join the very small line before the potential influx from the gondolas.
7:00am – We are released to security screening. After getting through security they direct us towards the ticket booths where Cast Members await to scan MagicBands and tickets to confirm eligibility for early theme park entry.
From this point the lines start to form in front of the tapstiles. Because I arrived so early I am first in line at my tapstile.
7:30am – They open the tapstiles and everyone starts scanning through to enter the park. Because I'm at the front of the line I'm treated to a mostly empty walk down Hollywood Boulevard.
At least until people pass me becuase I have short legs…
I veer to the left to head towards Star Wars: Galaxy's Edge. Here's a hot tip: instead of doing a hard left, go diagonally left towards ABC Commissary. It's a slightly faster walk. Most people don't go this way.
7:36am – I enter the queue for Rise of the Resistance and start walking my way through it. The walk itself is fairly long as you wind your way in and out. I literally never stop walking.
7:43am – I enter the first show room and prepare to enjoy my ride.
7:58am – The ride is over! I'm off of the ride before early theme park entry even starts! I head straight for Millennium Falcon because it's the closest option
8:00am – Enter the queue for Millennium Falcon just as the early entry hours begin. Posted wait time is 5 minutes.
8:15am – Off of Millennium Falcon and hot footing it towards Rock n Roller Coaster. I walk right past Slink Dog Dash, which has a posted wait time of 35 minutes. However, the lines looks much shorter than that.
I could have easily gotten on Slinky Dog Dash with a short line at this point. Mickey and Minnie's Runaway Railway was also a short wait at this time. This is because everyone and their mother just went to Rise of the Resistance.
But I persevered towards Rock n Roller Coaster! Either of these 3 rides is my top pick for the next step.
8:28am – I enter the queue at Rock n Roller Coaster, just before the park officially opens to all guests. This Hollywood Studios rope drop strategy gave me access to 3 big ticket rides before the park opened up.
Posted wait time at Rock n Roller Coaster is 15 minutes.
8:44am – Off of Rock n Roller Coaster and head directly towards Tower of Terror.
8:46am – I enter the queue for Tower of Terror. The posted wait time is 25 minutes but I literally walked right on the ride!
8:55am – I get off Tower of Terror and inspect the posted wait times for the other rides in the park. It's not even 9:00am and the wait time for Rise of the Resistance is up to 115 minutes.
The waits for the other rides are also creeping up. Mickey and Minnie's Runaway Railway is posted as a 25 minute wait.
This is the ride I should have gone on at this point, I think. The line was outside the building, but only by a little bit. The wait probably would have been 25 minutes or less.
Instead, I went to Toy Story Mania because I LOVE it. I was also leaving right after that ride so I chose to go with my favorite.
9:02am – Entered the line for Toy Story Mania. In the time it took me to walk there the posted wait went from 25 minutes to 40 minutes.
I took the gamble hoping that since it just switched to a higher time it would be less than that. I was oh so wrong.
9:50am – I finally get onto Toy Story Mania. It was a bit of a long wait.
By this time, the wait times on all of the rides has swelled. If you see something with a wait of less than 30 minutes, head there next. If not, start to head to the shows or take the time to now wander around and begin to appreciate Hollywood Studios.
In the end, I waited approximately 40 minutes to get onto Rise of the Resistance if we count from the time I got into the first line outside of Hollywood Studios.
But because of the way the wait is broken up by different steps, it feels much less than this. It's by far the shortest wait you'll get without buying Lightning Lane access.
And on top of that, because Rise of the Resistance starts letting riders before 8:00a, it increases what you can get done.
As you can see, before 9:00a, I rode 4 of the top rides in the whole park. Not too shabby.
Rock n Roller Coaster Rope Drop Strategy
This is an example that has you bobbing while everyone else is weaving. Across the board, everyone is heading to either Rise of the Resistance, Mickey and Minnie's Runaway Railway, and Slinky Dog Dash.
But mostly Rise of the Resistance.
Because of this, Rock n Roller Coaster and Tower of Terror are two major rides you can knock off with next to no wait during early theme park entry.
In this example, the park opened at 9:00a with early theme park access at 8:30a. I wasn't as neurotic at noting the times I did everything, but I think you'll get the point.
8:22am – Arrived at Hollywood Studios and walked right through security. I've missed the big line of people by arriving so close to the start time. Everyone else is already in the park.
Cast Members scan my MagicBand to confirm that I'm eligible for early entry and I go right through the tapstiles.
This was one of the days that they let people into the park and held them at various locations. I turned into Sunset Boulevard to head towards Rock n Roller Coaster.
8:30am – Cast members lead the small group waiting towards Rock n Roller Coaster and Tower of Terror. Early entry has now officially started.
8:39am – I am in the very first super stretch limo of the day! Once I get off the ride I head right towards Tower of Terror. The fact that these two rides are so close to one another is a huge advantage.
8:51am – I am now on and off of Tower of Terror and the park hasn't even opened yet. The only delays I've experienced at this point is simply the time is takes me to walk from one point to another.
9:00am – I enter the queue for Toy Story Mania. Can you sense a theme here? I wasn't kidding when I said I love this ride.
Frankly, I didn't track anything beyond that, but I remember the wait for Toy Story Mania was pretty darn short. Probably 15 minutes at the most.
I'm pretty sure I went to Star Tours after this and also waited 15 minutes or less.
As you can see, this was also a very successful Hollywood Studios rope drop morning. I still gained access to 3 rides before the park officially opened.
I should also say that the weekend I did this particular run was the official 50th Anniversary weekend. Crowds were bonkers the whole weekend.
An important aspect to notice in this particular strategy is the fact that I didn't need to leave my resort at dawn. I literally rolled up to Hollywood Studios right before early entry started and walked onto the ride of my choice.
If you want to do this as well, you can try the following rides right at rope drop:
Star Tours
Toy Story Mania
Rock n Roller Coaster
Tower of Terror
Alien Swirling Saucers
All of those should be walk ons, or really darn close to it. Mickey and Minnie's Runaway Railway probably won't be too long either. It won't be a walk on, but shouldn't be a long wait.
Millennium Falcon is also a possibility as it doesn't get busy right away.
Another strategy I would try is Toy Story Mania to Alien Swirling Saucers to Millennium Falcon.
A Final Tip for Rope Drop at Hollywood Studios…
I hope this post lets you see that rope drop is still alive and well at Hollywood Studios. Once you've figured out your rope drop plan for Hollywood Studios, I have one final tip:
Be prepared to think on your feet on the big day.
You really never know what might happen.
If something goes wrong with your first desired ride, don't wait too long to bail and head to the second. If you get there later than you hoped, switch your plan to easier to get on rides.
Rope drop only works on the e-ticket rides if you are towards the front of the pack. If you aren't, you'll wait a very long time still. But if you change plans and head to Tower of Terror instead, you'll still get on that real quick.
Remember, flexibility is key!
Your Thoughts
Do you plan to try to rope drop Hollywood Studios? Have you had a different rope drop experience? Let us know in the comments below.
Don't forget to follow The Disney Journey on Pinterest and Facebook to stay up to date with all the latest news and updates.