We may earn money or products from the companies mentioned in this post. Please click my disclosure policy to learn more.
Before your Disney vacation, you may laugh at the phrase, Post Disney Depression. But you won't be laughing about it after.
That's because Post Disney Depression is REAL. After an amazing Disney vacation, the crash back to reality can hit pretty hard. But I'm here to help you get through your Disney blues.
Really, it's all about how to bring some Disney into your own home! Let's take a look at the different ways to soothe your post Disney depression (Updated April 30, 2022).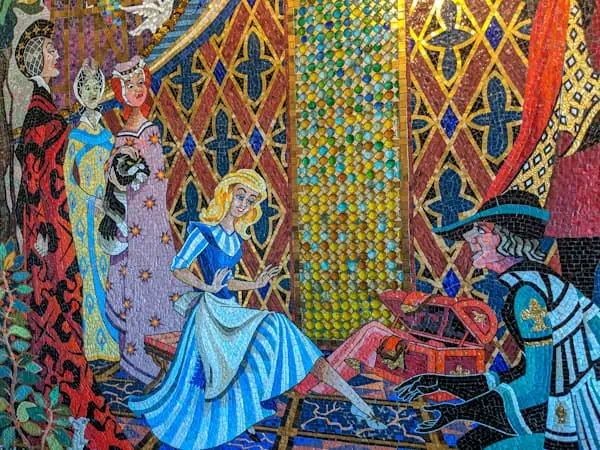 What is Post Disney Depression?
Just as the name implies, Post Disney Depression is that period of sadness you experience following your magical Disney vacation.
After living in the Disney bubble for several days, the crash back to reality can be hard. What do you mean my day isn't filled with magic and adventure? I have to cook my own dinner? Mickey won't come visit my table while we eat it?
But the Disney blues don't just occur after a Disney trip. It can happen before you ever set foot in Disney.
If you've always wanted to go but haven't been able to, or if you've had to cancel a trip before you can go, Disney depression is real.
Some of this may be a little tongue in cheek, but I take mental health very seriously. Providing mental health therapy is my real job, after all.
It's completely natural to feel the Disney blues after a wonderful trip. But if that sadness ever transforms into something more serious, please seek help.
Why Does the Crash Into Post Disney Blues Happen?
Of course, a post vacation bit of sadness is likely to happen after any great trip. But why does this seem to happen so strongly after leaving Disney World?
This happens for the exact same reason why a Disney vacation is so awesome: immersion. Complete and utter immersion.
This isn't Disney's first rodeo. They are absolute masters at creating not just a vacation, but an experience.
They engage all of your senses at pretty much every single moment of the day. Their whole mission is to give you a magical experience.
On top of that, add in all of the wonderful memories you are making with your family, and the positive emotions attached to the experiences.
And when you are no longer having that magical experience? Well, a crash is coming.
I hope you find this article before you even go on your first trip. Hopefully, it helps you to plan ahead so the crash isn't quite so large.
Tips to Break Free of Post Disney Depression
Now that we've established what post Disney depression is, how do we soothe our feelings?
We're going to go through a few different strategies to use to help you feel better and bring a little Disney into your daily life.
1. Binge Watch Movies on Disney+
Nothing says Disney World like hanging out with the characters. Fortunately for all of us, Disney recently released Disney+ gives us access to all the movies in the Disney vault!
Odds are pretty good that if you have a favorite Disney movie, you can find it on Disney+.
Looking for some wish list ideas? How about some of these:
Get to know all the Disney princesses through their movies in chronological order
Watch the Marvel/Avengers movies in story order, not movie release order
Make a list of all the Disney movies that are about animals
Disney feel good sports movies (Miracle, Invincible, Remember the Titans, and more)
Let's face it, Disney movies are what originally drew all of us in to the realm of Disney. Why not return to your roots and enjoy some Disney movies?
Watch The Imagineering Story
If you haven't watched this documentary yet, then you really should. It is an amazing look at the history of the creation of the Disney parks.
It's the perfect way to get a major Disney parks fix without actually being in the parks. And it's really just a fascinating show.
2. Bring Some Disney Into Your Home
There are countless ways you can do this, like redecorating your kitchen with Disney themed items.
But I'm going to focus on things you can either do, or make, that bring a little Disney flare into your home.
P.S. – Did you know that you can buy Mickey Bars from the freezer section of most grocery stores? Score!
Make Dole Whip at Home
If you've been to Disney, or just done some basic research into what to eat at Disney, then you know that eating a Dole Whip is considered a must do at Disney.
But did you know you can make a Dole Whip in your own home?
All you need is some Dole Pineapple Soft Serve Mix and an ice cream maker. This Dole Pineapple Soft Serve Mix is the real deal.
In terms of recipe, it might take a little bit of tweaking to get it just right, but reviewer Christopher Dionne seems to have it down to a science.
For a 1.5 quart ice cream maker, like the Cuisinart ice cream maker pictured here:
7/8 cup of Dole Soft Serve Mix
2 3/4 cup COLD water
Whisk together until completely dissolved
Run through ice cream machine according to product instructions
Play around with the time you run the ice cream maker to get it to the consistency you want.
As an added bonus, serve your Dole Whip in a glass filled halfway with Dole Pineapple juice. It's just like you are in the parks! Almost…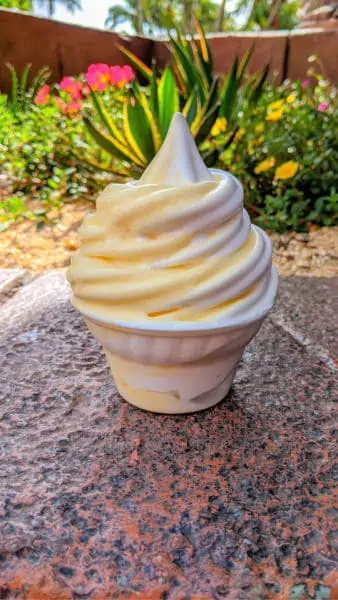 Serve Mickey Waffles for Breakfast, Lunch, or Dinner
Mickey waffles are such an iconic breakfast at the Disney Parks, and the good news is, you can make Mickey waffles in your very own kitchen!
I know that making them yourself takes away from some of the magic, but beggars can't be choosers.
My personal favorite waffle maker is the Double Flip Mickey Waffle Maker. This one makes 3 mini waffles as once and have a more authentic Disney World look.
And to truly double up on that authenticity, you can even use the same waffle mix that Disney uses: Carbon's Golden Malted Pancake and Waffle Mix!
If you are looking for even more Disney recipes to try, I've put together a list of the official Disney World recipes released by Disney. Have fun bringing all the Disney food into your home!
Read Disney Parks Based Books
There are some great books out there all about Disney, the parks, the creators, and more. Depending on where your interests lie, you can find something that interests you.
But here are some options I recommend everyone check out.
A Portrait of Disney World: 50 Years of the Most Magical Place on Earth
In honor of Disney World's 50th Anniversary, A Portrait of Disney World: 50 Years of the Most Magical Place on Earth is a must for big Disney World fans.
This book provides a look back at the development of Disney World, or "The Florida Project" as it was dubbed by Walt Disney himself.
The coffee table book includes concept art and imagery never before released by Disney. This helps to tell the story of how the most magical place on earth became what it is today.
Talk about the perfect addition for anyone who wants to look back fondly on all things Disney World.
Kingdom Keepers by Ridley Pearson
The Kingdom Keepers series by Ridley Pearson has several books all centered around adventures within the Walt Disney World resort. There's also a separate series of books based out of Disneyland.
These books are written for middle school aged kids, but don't let that stop you from enjoying them as well! After all, Harry Potter was written for kids as well…
Not only is this a book that kids and parents can enjoy together, but the intense focus on Disney parks is sure to make everyone a little happier.
Wouldn't it be fun to read the books and remember your own memories of being in that exact location of the parks? Helps to bring it all alive.
Maps of the Disney Parks: Charting 60 Years from California to Shanghai
Maps of Disney Parks: Charting 60 Years from California to Shanghai is a totally unique look at the history of the parks through park maps.
While the title admittedly leads you to believe it's a collection of Disney park maps that were used over the years, it's not quite that.
The book does include some maps but is predominately concept art of the Disney parks through the years demonstrating how ideas evolved.
Either way, it's a truly unique look a the history of the Disney parks.
Disney Based Family Activities
Really, this list could become quite extensive as there are many Disney toys and activities you could do. However, I'm going to focus on two areas of interest: puzzles and games.
Thomas Kinkade Disney Puzzles
If anyone in your family is a puzzle lover, then these are definitely for you! Thomas Kinkade, the Painter of Light, created dozens of Disney themed paintings, and these were turned into puzzles.
There are so many to choose from! If you simply type in "Thomas Kinkade Disney puzzles" into Amazon, you'll see what I mean. Or just click the link to it and see what I mean.
There are four packs that contain 4 different 500 piece puzzles. There are also 750 piece single puzzles, as well as some 1000 piece puzzles. The Beauty and the Beast puzzle shown in the image is 1500 pieces!
That would certainly keep everyone occupied!
Family Game Night, Disney Style!
This is another one that has so many options it's not even funny. There are so many Disney themed board games out there.
Now, the one I really want is Game of Life, Haunted Mansion style, but to find it online means to pay a fortune for it. – Update: I bought it at Disney World! So much fun!
Amazon has a rather long list of options of Disney board games. Pick the one that fits your family best!
What a wonderful way to spend some time with your family, while also reminiscing about all things Disney!
Discover Magic Candle Company
Did you know that our olfactory (scent) memories are really strong? Smelling something you associate with Disney World can instantly bring back all of those warm and fuzzy feelings.
That is where Magic Candle Company comes in.
I've been a huge lover of their candles for the past couple of years now. It all started as a Mother's Day gift from my husband and has ballooned from there.
Magic Candle Company offers products with scents designed to evoke different Disney experiences. Disney Imagineers are extremely smart, and each resort, ride, and experience has it's own scent attached to it.
They are subtle, and you might not notice them, until you smell them in candle form in your home. Suddenly, you are transported to your happy place!
There are so many scents to choose from, the real problem is how do you decide which one to buy. That's how I've ended up with so many…
3. Watch Disney Parks – How to Draw
Years ago, Disney released a bunch of videos onto YouTube based off of the Animation Academy that used to be at Hollywood Studios. You can now do something similar at Animal Kingdom.
The videos in the Disney Parks – How to Draw series teach everyone how to draw a multitude of popular Disney characters. There are 42 different videos.
That will certainly keep everyone entertained for a while!
4. Imagineering in a Box
Continuing on the theme of engaging in Disney based programs, take a look at Imagineering in a Box. This is an educational program done in conjunction with Khan Academy and is completely free.
It explores how the Disney Imagineers create worlds, design attractions, and develop characters. This is like an extension of being in the parks, and can teach you how to make your very own theme park with your imagination!
5. Follow Disney Vacation Planning Blogs and Vlogs
At first, this might seem counter-intuitive. Won't this make me feel worse? The answer is no, it won't. Simply getting a little taste of the Disney parks into your day will certainly help.
There are SOOOO many Disney blogs and vlogs out there. If you haven't done so already, explore some and see who stands out as a favorite.
Clearly, I hope you like me and my blog, but certainly explore your options.
If you like watching videos on YouTube, AllEars.net has a great channel. It's informative and entertaining. The Tim Tracker is another very popular Disney vlogger.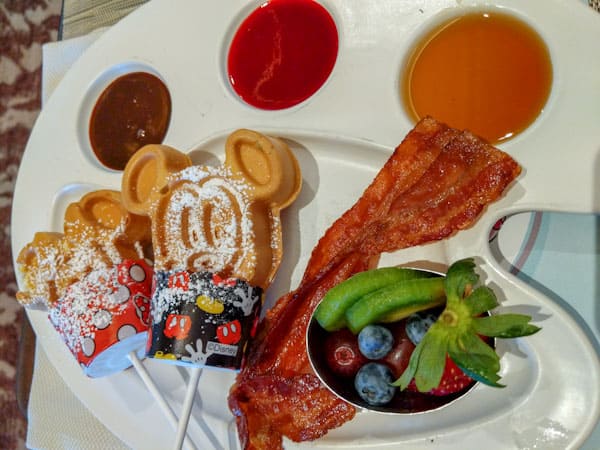 6. Watch Ride Videos on YouTube
I will admit, this is one that I don't personally do. However, there are a ton of people out there who absolutely love watching videos of the rides.
If you go on YouTube you can find many different Disney ride through videos. This is a great options for kids who want to reminisce, or for kids who are anxious about particular rides before a trip.
My main caution for this is about spoilers. There are certain rides (Flight of Passage, Rise of the Resistance, and Mickey and Minnie's Runaway Railway come to mind) which are just so much better if you have the element of surprise.
If you want to avoid spoilers, avoid videos of those rides.
7. Go Through Your Disney Vacation Pictures
Each and every one of those Disney vacation pictures equals a memory to be cherished. It is therapeutic to take the opportunity to look back on those memories and reminisce.
And don't just look at the pictures and smile fondly about them, allow them to be conversation starters with your family.
One of our top Disney vacation memories EVER happened back in 2016 at 1900 Park Fare. I won't put the picture here as my daughter would never forgive me, but every single time we look at the pictures it takes us right back to that moment.
She still gets horribly embarrassed but secretly loves it, we always laugh hysterically, and all of us sigh over what a great trip to Disney World that was.
This is exactly what you want to harness. Happy memories have such a strong power to make us feel better! A great project is to make a photo album on Shutterfly or an equivalent company.
I started doing this a few years ago for every vacation we take. My kids love sitting down with those photo albums and remembering our trips.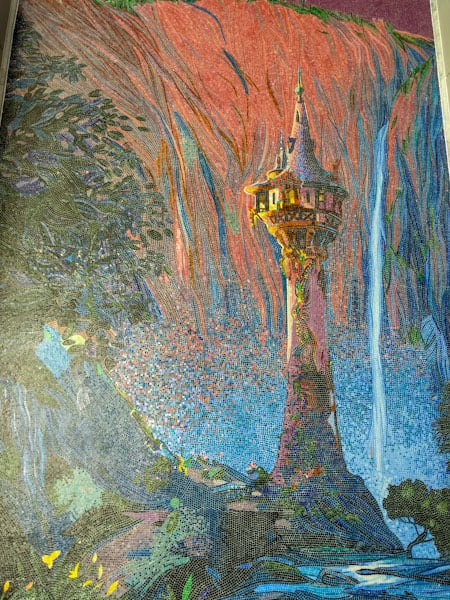 8. Plan Another Disney Trip
The best way to beat Post Disney Depression is to plan your next Disney trip. Even if that trip won't be for a couple of years, this could still help.
Essentially, this reintroduces that joy and anticipation into your life. It's ALWAYS nice to have something to look forward to. Especially when that something is a trip to Disney World.
Even if it's just planning a dream trip at some indeterminate time for the future, do it! Some day, that time will come and you will be so ready!
As you know, I have a bunch of planning resources to help get you started on planning that next trip! Check out either my Disney Trip Planning page or the Disney Dining Information page and have at it.
9. Fill Your Home (or Car) with Disney Parks Music
Did you know that there are play lists on Spotify filled with the songs played throughout the Disney parks? I kid you not.
As I mentioned above, one of the ways to truly spark joy in your brain is to engage sensory memories. This isn't made up either, this is actually science.
By engaging your senses you trigger the release of feel good chemicals in the brain. Talk about a mood booster.
So we've covered taste and smell, next up is the sense of hearing.
Disney even has an official Disney parks music playlist you can listen to.
10. Disney-fi Your House
Did you know there are probably hundreds (if not thousands) of Disney themed home decor items?
Clearly, this can be as subtle or in your face as you want it to be. But what a great way to bring some Disney feelings and memories into your day to day life.
Even better, pick out some home decor items as souvenirs from your trip. Then, when you look at them, it not only makes you happy because it's cute, but it evokes those awesome memories.
This is sure to give a boost to your day.
We're getting ready to move to Florida (squeeee!) and I already have plans to decorate my home office in a Disney World theme.
When I went to the official opening of Disney World's 50th Anniversary, they gave out commemorative posters and a special park map at Magic Kingdom.
I put both in a simple frame to hang in my new office. Not only is it beautiful art, but I have a very distinct memory associated with it. That makes it that much more special and ups the ante in terms of positive emotions.
Final Thoughts on Post Disney Depression
Leaving Disney World is hard. I truly hope that some of these suggestions help take some of the edge off that post Disney depression. Of course, the most surefire remedy is tip #8 which culminates in a trip to Disney World.
That's probably my favorite tip out of all of them…
One thing I definitely want you to remember: post Disney depression actually represents the fact that you had an amazing trip with your family. That is something to be cherished and celebrated.
Sure, Disney was the vehicle that provided those memories, but it's really about you and your family. Relive those memories as much as you can!
But still, I miss Disney World!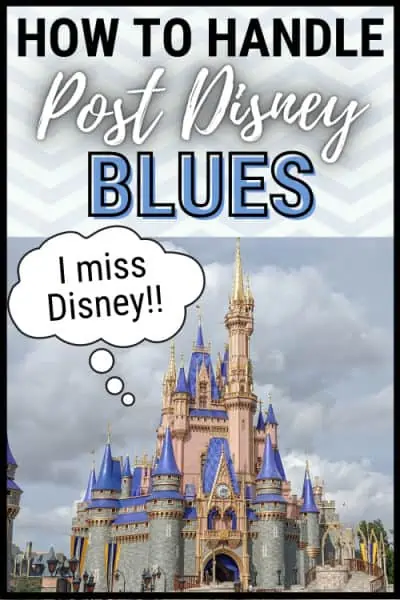 Your Thoughts
What are some of your favorite things to do to bring Disney into your home? Do you have a surefire way to combat that Post Disney Depression? I'd love to hear your ideas in the comments below.
Don't forget to follow The Disney Journey on Pinterest and Facebook to stay up to date with all the latest news and updates.