We may earn money or products from the companies mentioned in this post. Please click my disclosure policy to learn more.
Topolino's Terrace Breakfast a la Art is the newest character meal offered at Walt Disney World. The characters present for the meal are Mickey, Minnie, Donald, and Daisy. The review includes information on prices, menu, hours, and oh so much more.
As usual with all of my dining reviews, the review of Topolino's Terrace breakfast includes information for people with non-restrictive diets as well those who eat gluten free.
Topolino's Terrace Information
First I want to get all of those pesky details out of the way. Then we'll get into the food and actual review of breakfast at Topolino's Terrace.
Topolino's Terrace Location
Topolino's Terrace is located on the very top floor of the brand new Riviera Resort. Riviera has its own stop on the Skyliner gondolas, making this restaurant extremely easy to get to from both Epcot and Hollywood Studios, as well as from other resorts.
Topolino's Terrace Hours
Topolino's Terrace is open for 2 meals a day, breakfast and dinner.
Breakfast Hours: 7:30a-11:00a
Dinner Hours: 5:00p-9:30p
Topolino's Terrace Price and Dining Plan Information
Topolino's Terrace breakfast is set up as a prixe fixe menu. This means that regardless of what you order, you pay a fixed price. Each meal comes with a selection of shared pastries, an entree, and non-specialty drinks.
Adults: $42 per person
Children: $27 per person
Annual Passholders and Disney Vacation Club members are eligible for a 10% discount, while Tables in Wonderland guests can save 20% (including alcohol).
Breakfast a la Art at Topolino's Terrace requires one Table Service credit on the Disney Dining Plan (not to be confused with dinner, which requires 2 credits). Wondering if the Disney Dining Plan is for you? Check out my guide all about the 3 different Disney dining plans.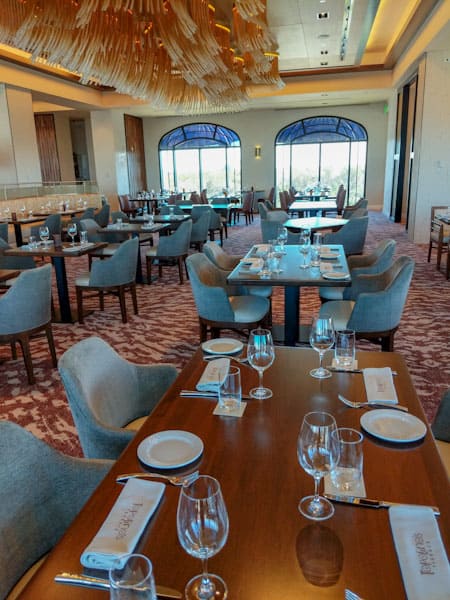 Reservation Difficulty at Topolino's Terrace Breakfast a la Art
Because of the newness and the fact that it's a character meal with the Fab 4, if you know you want to go to Breakfast a la Art, make sure to make your reservation right at the 180 day point. If you don't know how to make reservations, check out my Disney dining reservation guide.
With all that being said, it is possible to score a reservation at the last minute. I was able to get a reservation a few days in advance. And that was the second opening I saw pop up. But what I learned the first time is grab that reservation as soon as you see it. I waited too long and it was snapped out from under me.
My top reservation tip: Schedule breakfast for around 10:30am. Since this is the end of the breakfast sitting and there is no lunch, the place clears out. Then you can go out onto the empty rooftop deck and simply enjoy the views without all the other people doing the same.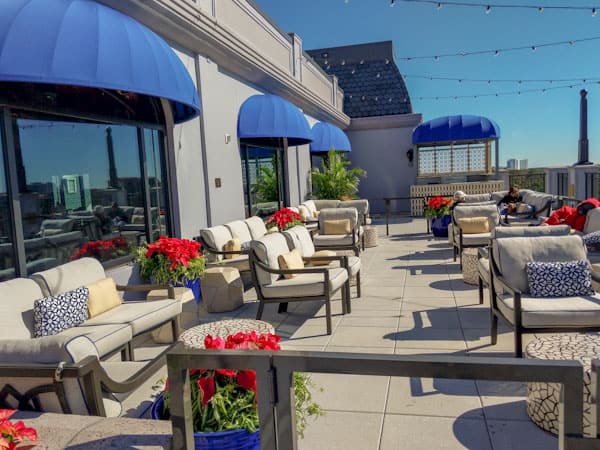 Topolino's Terrace Theme and Atmosphere
I suppose the way I would describe the theme and atmosphere at Topolino's Terrace is understated elegance. The other way I would describe it is bland. Clearly, I was not overly impressed. That said, it was in no way ugly. It was simply fine.
I think Disney had a great opportunity here and missed the mark a bit. By trying to appeal to the common denominator they ended up with something ho-hum. I'm not saying everything needs to be over the top, but good, on theme design can be done subtly. When I compare the decor and atmosphere of Topolino's Terrace to Flying Fish, I much prefer Flying Fish.
However, the true star of the show is the view from the floor to ceiling windows. Because of the top floor placement of the restaurant, in a building that is taller than most others around, the view you end up getting is stunning in all directions.
Part of what we figured out is that you can see the iconic landmarks from each park from somewhere on that top floor. Sure, the only place to see Magic Kingdom is from the hallway leading to the bathrooms, but it's there!
There is a rooftop deck attached to the back of the restaurant which should not be missed by anyone.
Topolino's Terrace Breakfast Menu
There certainly isn't a shortage of food during Topolino's Terrace breakfast. On top of the food listed, everyone in your party is offered Disney's famous POG juice. This juice goes by many names, but it is ultimately a papaya, orange, and guava juice. It is utterly delicious.
Also, always double check the official menu for breakfast at Topolino's Terrace on Disney's website. You never know when they might make changes.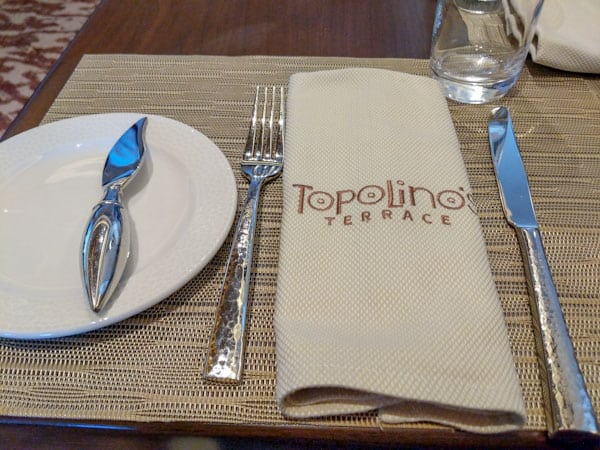 Shared Pastries
Chocolate Chip Muffin
Epi Bread
Croissant
House-made Jam
Honey Butter
Chocolate Hazelnut Spread
Topolino's Terrace Breakfast Entrees
Quiche Gruyere: House-made Pancetta, Roasted Potatoes, Field Greens, Lemon Vinaigrette
Spiced Sausage Hash: Poached Hen Egg, English Muffin, Potatoes, Pearl Onions, Choron Sauce, Fines Herbes
Two Eggs Any Style: Roasted Potatoes served with choice of Smoked Bacon, Ham, Sausage, or Plant-based Sausage
Wild Mushroom Scramble: Spinach, Plant-based Eggs, Plant-based Sausage, Tomatoes
Sour Cream Waffles: Roasted Apple, Chantilly, Orange-Maple Syrup, and served with choice of Smoked Bacon, Ham, Sausage, or Plant-based Sausage
Croissant au Jambon: Ham, Brie, Béchamel, Field Greens, Lemon Vinaigrette
Smoked Salmon: Everything Bagel, Tomato, Red Onion, Cream Cheese, Capers
Wood Fired Butchers Steak: Polenta, Pomodoraccio Tomatoes, Roasted Onions, Wild Mushroom Conserva, Watercress
Fruit Plate: Seasonal Fruits, Honey Yogurt, Seed Granola, Toasted Sunflower Butter
Topolino's Terrace Kids' Menu
Any children in your group share the pastries delivered to the table.
Create Your Own Meal Entrees (choose 1)
Scrambled Egg
Plant-based Scrambled Egg
Fruit and Yogurt
Mickey Waffle Dippers
Create Your Own Meal Selections (choose 2)
Roasted Potatoes
Bacon
Sausage
Fruit Cup
Seed Granola
Topolino's Terrace Gluten Free Menu
Topolino's Terrace has an allergy free menu available upon request. To speed up the process, I recommend that you designated any food allergies directly on your reservation. If you aren't sure how to do this, I go over it in my guide to eating gluten free at Disney World.
The menu items listed below are the ones offered directly from the allergy menu. However, if you want something else, don't hesitate to ask to speak with the chef to see what can be substituted and what cannot.
Two Eggs Any Style
Wild Mushroom Scramble
Wood Fired Butchers Steak
Fruit Plate
I did ask about having the Sour Cream waffles substituted as gluten free. I was told it was possible for the chef to make the standard gluten free waffles with the accompaniments from the Sour Cream Waffle entree.
Topolino's Terrace Breakfast Review
Now that we know all of the details, let's review our experience during breakfast at Topolino's Terrace. You probably already noticed above that I find the decor of the restaurant itself pretty darn underwhelming, boring even. Perhaps my tastes aren't refined enough? Either way, the decor is bland and inoffensive and won't impact your visit one way or another. Though now that I think about it, maybe they made it boring on purpose so the view is the highlight. It's not like I actually know anything about design.
Unfortunately, not everyone can get a seat along the windows, but it probably doesn't hurt to ask if you really want one. Our table was smack in the middle of the room, facing the entrance to the restaurant. The biggest bonus was the fact that we had a direct view of the characters every time one of them was introduced.
Regardless of whether you have a seat by the windows or not, absolutely everyone should visit the outside terrace before you leave.
Character Interactions
Typically, I will tell you that my favorite character meal is dinner at 1900 Park Fare. This is in large part due to the dynamic interactions provided by Cinderella's step-sisters. They are just phenomenal. I always found fur character interactions to pale in comparison. It's just so hard to be dynamic when unable to speak or use facial expressions.
Well, that was true until Topolino's Terrace Breakfast a la Art! These were the most dynamic fur character interactions I've ever experienced. The more outgoing you are with them, the more dynamic they become. My kids are pretty shy and won't really put themselves out there. However, they loved watching the shenanigans going on at the table next to us.
The Cast Members in the costumes do a phenomenal job of using body language and the guests to create stories. It really is amazing.
Every so often the characters are individually introduced to the guests. In addition to that, there is a routine set to music that the characters go through. Each is cute, but the real fun is in the 1:1 interactions at your table.
Food Review
I'm not going to bury the lede here. If you plan to eat breakfast at Topolino's Terrace, just order the Wood Fired Butchers Steak. I don't care that it's breakfast and you might not necessarily want steak for breakfast. Just get it, you'll thank yourself.
Now that I got ahead of myself, let's back up. First off, the waiter came over with some delectable POG juice to fill all our glasses. The POG juice is unlimited throughout your meal, so drink up to your heart's content.
Because I mentioned my gluten allergy on my reservation, the Cast Members were ready and waiting for me with the allergy friendly menu. Our waiter answered any questions I had about the food. I did not see a chef at all during the meal. I did not request to speak with one, but I miss when the chef would automatically come to speak with you. However, if you are ever in doubt, request to speak with the chef and they will do so.
Shared Pastries
Almost immediately after taking our order the waiter brought out our shared pastries. I must say, I'm a huge fan of the presentation! The paint bucket holding the pastries and the artist's palette holding the sauces are such a nice touch.
We were provided with a bucket filled to the brim for the three regular eaters in our family and a separate bucket for me. Mine was a different color and came with the standard allergy stick to signify the allergy friendly pastries.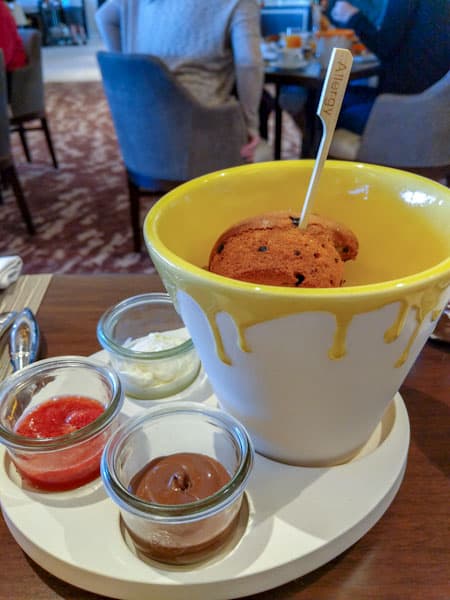 Everyone in my family really enjoyed the pastries. The kids in particular were big fans of not only the pastries themselves but the sauces you could add to them. I enjoyed my gluten free pastries as well. Honestly, just the novelty of having pastries is enough to make me happy. But they were tasty and the sauces added a nice extra touch.
However tempted you are, just make sure you don't completely fill up on the pastries. Sure, they're good, but they don't hold a candle to the main course.
Topolino's Terrace Breakfast Entrees
Now for the really exciting part! Let's talk about the entrees. Of the four of us, 3 people ordered waffles. I ordered the steak. I'm not going to lie, I'm fairly certain I was the winner.
Mickey Waffle Dippers
Both of my kids ordered the Mickey Waffle Dippers. If this isn't the most popular item ordered from the Kids' menu, I'll eat my hat. Between the Mickey waffles and the two sides, it is a good amount of food for children.
My kids LOVED the presentation of the food. Disney definitely gets bonus points for the thought put into this one. Each plate is in the shape of an artist's palette, again offering the kids a choice between syrup, a strawberry sauce, and a chocolate hazelnut sauce.
Each plate has 2 waffles, one in the shape of Mickey and one shaped like Minnie. And did I mention they are on a stick?!?! This is where the "dippers" come in. The kids can simply dip their waffle into the sauce of their choice. No need to cut up all the food beforehand! This is a win in the parenting book.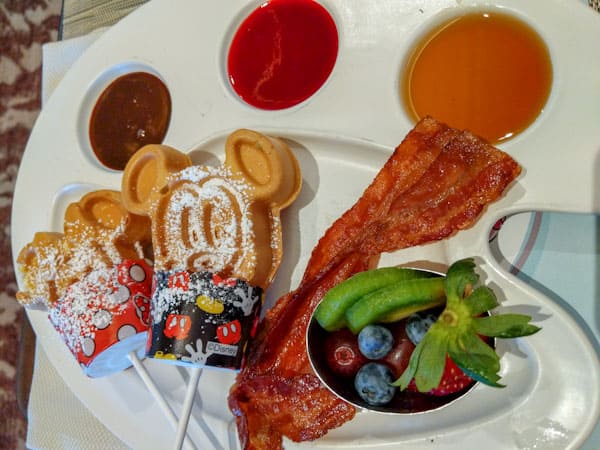 Both kids like the side options they ordered. My daughter was particularly pleased with the fruit cup. She's a kid who loves fruit but hates when "fruit cup" actually just means huge chunks of melon and one grape. This fruit cup was full of a variety of delicious looking fruit.
Sour Cream Waffles
This was Doug's pick for the meal. I contemplated it as the accompaniments sounded delicious, but sanity prevailed when I found out the waffles were the standard gluten free waffle mix. Not that I have anything against those. I just hoped they had a gluten free sour cream waffle, not the regular one.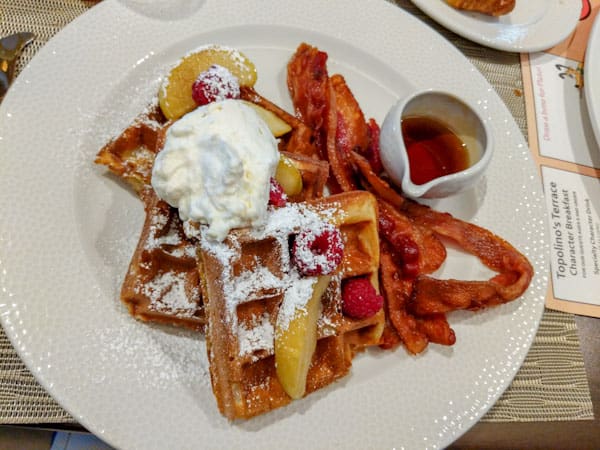 Doug said that his waffles were delicious, very light and fluffy. He really liked the addition of the chantilly cream as well. All in all, I think they are a solid choice at Topolino's.
Wood Fired Butchers Steak
Was it cruel of me to make you wait until the end to learn about the steak? I hope not as I was just trying to save the best for last. First off, simply look at the picture. Doesn't that look delicious?
The meat was so tender and cooked to perfection. I actually kicked myself after we ordered and out of hamburger ordering habit asked for my steak to be cooked medium. I was afraid it would be slightly overcooked. But apparently the chef was smarter than me and it was cooked to perfection.
Everything on the plate was cooked and seasoned to perfection. The polenta was so flavorful and rich, while the vegetables added the perfect amount of freshness to the meal. You can ask Doug, I was in raptures during the entire meal. If I wasn't in a restaurant I would have licked the plate clean. As it is, I scraped it clean with my fork.
The Wood Fired Butchers Steak is now my favorite entree I've ever had at Disney World. It is seriously that good. That's why you need to skip all the other entrees and just get this one.
Overall Experience and Final Thoughts
I think you can probably tell that we really enjoyed this meal. In fact, if your priority is to have a character meal with the Fab 4, this is hands down the best option. Chef Mickey's is known for lackluster food that people deal with in order to meet the characters. Just skip Chef Mickey's and go to Topolino's Terrace.
In terms of price, it is surprisingly reasonable by Disney character meal standards. In fact, it's slightly cheaper than Bon Voyage Breakfast just a quick ride away on the Skyliner. With that being said, clearly there are entrees that give you better value for your money (or Dining plan credit).
Between the experience, my pastries, and my steak, I do feel like I got my money's worth. I'd say the Mickey Waffle Dippers are also reasonable. However, the price for some of those entree options is ludicrous. Take the fruit plate, for example: $42 for some pastries and a fruit plate. That is a wee bit overpriced. So keep that in mind when booking a meal at Breakfast a la Art.
If you liked this post, Pin it for later!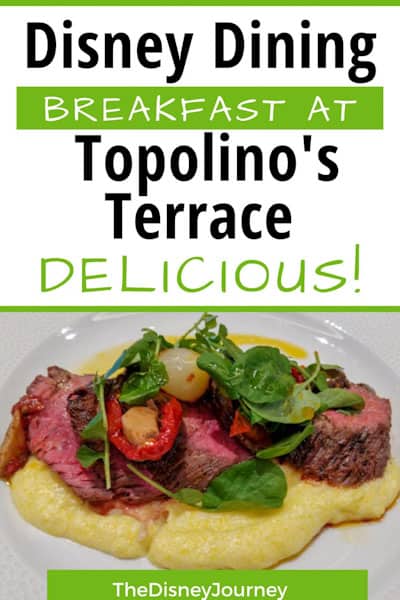 Your Thoughts
Do you plan to go to Topolino's Terrace? What is your favorite character meal? I'd love to hear your thoughts and questions about Topolino's Terrace.
Don't forget to follow The Disney Journey on Pinterest and Facebook to stay up to date with all the latest news and updates.