We may earn money or products from the companies mentioned in this post. Please click my disclosure policy to learn more.
Cancelling your dream Disney vacation is definitely done as a last resort. We put so much love and energy into planning these trips, having to cancel can be crushing.
However, it's good to understand the Disney cancellation policy in the event it becomes necessary. It's better to know when you can get your money back, and when you can't.
This post takes a look at all the various areas of a Disney vacation that could be cancelled: hotels, park tickets, dining reservations, and more.
We'll also take a look at how to go about canceling your Disney vacation (updated June 8, 2023).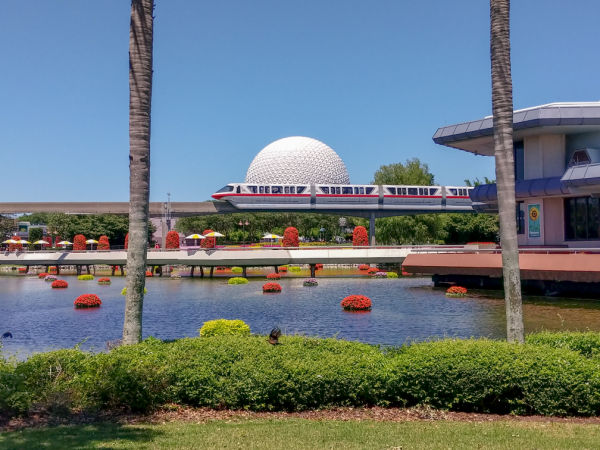 What is the Disney Cancellation Policy?
As per usual, there is no easy answer when it comes to Disney. The answer to this really depends on a few different factors.
We'll take a look at the basic Disney World cancellation policies and then discuss extenuating circumstances.
The main difference in the Disney cancellation policy comes in the form of the type of Disney reservation you have: a room only reservation or a Disney vacation package.
Disney World Room Only Cancellation Policy
A Disney World room only reservation is exactly what it sounds like. It means you've booked a Disney resort room, and nothing else.
Perhaps you bought your tickets separately from Undercover Tourist or another discount ticket seller and aren't interested in the Disney dining plan. Or you have an annual pass so don't need to bundle park tickets.
All of this constitutes a Disney World room only reservation. We could essentially call this section the Disney hotel cancellation policy. It's cancelling a hotel room and nothing else.
The straightforward room only Disney resort cancellation policy states you can cancel your reservation up to 5 days in advance of arrival to get a full refund.
The Disney World room only cancellation policy is the most forgiving in terms of time frame and being able to wait almost until the last minute and still get a refund.
However, this does not address getting a refund on park tickets. But more on that below.
Disney World Vacation Package Cancellation Policy
A Disney World Vacation Package is a bundle that at a minimum includes your resort and park tickets. However, you can add more to your vacation package, such as the Disney Dining Plan and any other Enchanting Extras you choose to add on.
There are more specific parameters with the Disney World vacation package cancellation policy. The biggest takeaway is that you need to cancel much sooner if you want a full refund.
This is because you are required to pay the balance in full sooner with a Disney vacation package than with a resort room only booking.
However, there is a major advantage to having everything bundled into a Disney vacation package in the event you need to cancel. Anything bundled into the vacation package is automatically eligible for a refund. This includes things that normally aren't eligible, such as park tickets and Memory Maker.
This definitely makes it less stressful in terms of being able to get a refund for everything, however, the cancellation timeline for Disney vacation packages does create a complication. So let's dive into that now.
Cancellations 30 Days or More in Advance
You can cancel your Disney vacation package 30 or more days in advance with no repercussions. Any amount you have already paid up to this point is refunded.
If you booked through a third party, and not directly through Disney, you may have to pay cancellation fees. This would be based on the rules of the 3rd party vendor.
Cancellations 2 to 29 Days in Advance of Check-in
If you have to cancel a trip less than a month before your check-in date, the Disney refund policy begins to change.
At this point, you are refunded any money you've paid towards that trip, minus $200. Disney essentially keeps the original $200 deposit you put down on the vacation package.
Again, this does not take into consideration any fees you may have to pay to third party vendors involved in your bookings.
Cancellations 1 Day or Less and No Shows
If you truly wait until the last minute, or just don't show up at all, you end up with the least desirable outcome. At that point in time, the full price of the vacation is non-refundable.
Disney Dining Reservation Cancellation Policy
The Disney dining reservation cancellation policy is much more forgiving than any other Disney World cancellation policy. Essentially, this is to allow people on their vacation to make last minute changes to their plans if necessary.
Remember when you made your Disney dining reservation and they asked for credit card information? This is where that comes into play.
If you don't cancel your reservation within the allotted time frame, your credit card on file is automatically charged a no show fee of $10.
Most dining reservations must be cancelled by 11:59pm the day before the reservation in order to avoid the Disney dining reservation cancellation fee.
Always double check to see if your restaurant has a slightly different time frame for cancellation.
There are a few dining reservations that require payment in full up front. Cinderella's Royal Table and Hoop Dee Doo Revue fall into this category.
For these restaurants, if you do not cancel in time, you lose the full payment. However, if you do cancel within the appropriate time frame, you get a full refund.
Disney World Ticket Refund Policy
In general, Disney park tickets are non-transferrable and non-refundable, except in the case of the Disney hurricane policy (see below).
If you have a Disney vacation package, the tickets are considered a part of the package and will be refunded through that as described above.
However, there is a workaround to this non-refundable ticket situation. While it won't get you a refund, it will help you salvage the ticket for another trip.
If you go into your My Disney Experience account to look at your tickets and see a change ticket link, you are in luck. This allows you to modify that ticket to a different type of ticket, or to change the dates.
Now, some of this is a little unconfirmed. You won't really see this written anywhere as an official Disney ticket refund policy. And it's not a refund, it's moving your tickets to another date.
And if the tickets for your new dates cost more than your original tickets, you will have to pay the difference. If the tickets are cheaper than your original dates, you get no money back.
This strategy works for any park ticket linked to My Disney Experience. It doesn't matter if you bought it through Undercover Tourist or direct from Disney.
When in doubt, call and talk with a Cast Member. They have been known to sprinkle a fair amount of pixie dust whenever possible, especially for extenuating circumstances.
I actually had the opportunity to test this out a few months ago when my son became ill the day before we took a day trip to Magic Kingdom.
I chose to speak directly with a Cast Member since I didn't have a date to change the ticket to. They did something on the back end and basically suspended the ticket pending me deciding when our next trip would be.
Once I had the dates of our next trip, I was able to go into the tickets section of My Disney Experience, find the ticket, and modify it to the new dates. I happened to need to change it from a one day Magic Kingdom ticket to a 4 day Florida resident ticket.
I was able to do this no problem and simply had to pay the difference in cost.
Bottom Line: Don't fret about cancelling the tickets as there is a workaround for it if necessary, as long as you plan to return to Disney on a different date in the future.
Reassigning Disney Park Tickets
There is another possible way to handle park tickets in the event that a member of your group can no longer go. This really only works if you have someone to take their place, but it's a possibility.
If you go into the tickets section of My Disney Experience, you will see under the bar code for each ticket the option to reassign the ticket.
It is possible to reassign an unused Disney park ticket to someone else on your Friends & Family list.
Clicking the reassign ticket link in My Disney Experience directs you right through this process. Just note the very important part: the ticket needs to be completely unused.
Special Event Tickets
There is a whole other class of tickets at Disney World, and these are special event tickets. Think along the lines of Mickey's Very Merry Christmas Party, Mickey's Not So Scary Halloween Party, or Disney After Hours events.
These tickets are also considered non-refundable, non-transferrable, and so on. You cannot get a refund for these tickets if something comes up and you can't attend on your ticket date.
You also cannot convert these into a credit towards standard Disney park tickets. This response is the party line for how to handle issues with special event tickets.
All of that being said, if you do have an issue and can no longer attend, please, call and speak directly with a Cast Member. They really do want to try to make it right and they might be able to sprinkle a little Pixie Dust to salvage the situation.
Cancellation Policy for Disney Enchanting Extras
First off, Disney Enchanting Extras are add-on upgrades that you can add to your Disney trip to make it extra magical. I have a post outlining some favorite Disney add-ons you can take a look at to get an idea of what I'm talking about.
But in general, this includes tours, dessert parties, boat rentals, and so on. Really, the list of options is pretty long, so I recommend checking out Disney's Enchanting Extras page to learn more.
Now, some of this answer is going to vary depending on which Enchanting Extra you've booked. For example, some of them, like Drawn to Life, are not actually run by Disney. So you'll need to look specifically at what Cirque de Soleil's cancellation policy is.
Even within the Disney run add-ons the policy varies. For example, the Fireworks Dessert parties have a cancellation policy that allows you to cancel up to 7 days prior to your reservation for a full refund.
However, tours such as Behind the Seeds are a little more forgiving, allowing you to cancel up to 2 days prior for a full refund.
There is one thing that ALL of the Enchanting Extras have in common when it comes to cancellation: if you don't cancel within the allotted time frame or "no show", you forfeit the entire cost of the experience.
Exceptions to These Disney Cancellation Rules
Disney has a history of amazing customer service, and this is no different when it comes to canceling a Disney vacation. They understand just how gutted people are when they have to cancel.
I have heard many stories from people who had to cancel at the last minute due to extenuating circumstances, like sudden illness, tragedy, etc.
Pretty much across the board, Disney Cast Members work with these people to make the process of canceling as painless as possible. Sometimes this might mean waiving fees.
The moral of the story, talk with a Cast Member and tell them what is going on. They might be able to make the process better.
Disney Hurricane Policy
It is well known that Disney is located in the heart of hurricane territory, as are many prospective Disney guests. Because of this, there is a separate Disney hurricane policy which applies to cancellations due directly to a hurricane.
Here is the Disney hurricane policy, in their own words:
If a hurricane warning is issued by the National Hurricane Center for the Orlando area—or for your place of residence—within 7 days of your scheduled arrival date, you may call in advance to reschedule or cancel your Walt Disney Travel Company Disney Resort Hotel Package and most room only reservations (booked directly with Disney) without any cancellation or change fees imposed by Disney.

Disney World Hurricane Policy
The language is very specific here, a hurricane warning in place "within 7 days of your scheduled arrival date" is the key information there. If a hurricane does impact your trip, make sure you wait until the warning is in place before you call to cancel.
For rescheduling, any money that you have paid towards your trip would be applied to the new trip. This doesn't guarantee that the same discounts will be in place. That really depends on the dates of the trip.
However, Cast Members will work to help find any other discounts that might apply to your new dates.
If this does apply to your trip, call Disney at (407) 939-7675 in order to cancel/reschedule your trip.
What Staying in Disney During a Hurricane Looks Like
Disney World happens to a be a great place to ride out a hurricane: the buildings are built to very high standards in terms of surviving hurricanes, they provide food whenever possible (at a fee, of course), and they try to make the process as tolerable and safe as possible.
However, if a hurricane hits category 3, or even category 2 depending on conditions, the parks will close down. Guests are required to stay inside their resort rooms during the strongest parts of the storm.
Unless you are in one of the Deluxe Resorts with a centralized lobby you can access from your rooms via indoor hallways, that means being in your resort room for hours and hours while the hurricane moves through.
So as a storm develops, think carefully over whether or not you want to spend part of your very expensive trip potentially trapped in your room and not at the parks.
The bonus is, once the parks reopen, you'll have some of the lowest crowds possible. But I'm not sure that's a fair trade off.
How to Cancel a Disney Vacation
Once you realize you have to cancel your Disney vacation, how do you do it? There are a few different ways to approach this.
Call Disney Directly
The easiest way is to call Disney and speak with a Cast Member directly. This way you have a real live person to talk to and clarify any questions you have.
Disney has a ton of different phone numbers, but the number for resort reservations is: 407-939-1936.
If you have a bit of a more complicated situation and the cancellation is not straight forward, this is the way to go.
Use My Disney Experience
If your cancellation is pretty basic and straightforward, you can simply log into your My Disney Experience account. Next to your resort reservation information there is a link to cancel the reservation.
The link only appears if you are the lead person on the reservation. If you booked through a travel agent or someone else in your party booked it, they are the ones who have to cancel the reservation.
Through Your Travel Agent
As I mentioned above, if you booked your Disney vacation through a Disney travel agent, you are unable to cancel your trip yourself. Because the travel agent made the booking, they are the only ones authorized to make the cancellation.
You can absolutely call Disney and speak with a Cast Member to ask questions and get clarification, but the travel agent must do the actual canceling.
Canceling Disney Dining Reservations
The easiest way to do this is through My Disney Experience. Each dining reservation listed under your plans has a link next to it to cancel the reservation. Simply follow the prompts and the dining reservation is cancelled.
While Disney discourages calling them directly regarding dining reservations, you can still cancel that way.
Especially if you plan to call to cancel your trip anyway, the Cast Member can take care of cancelling all of your dining reservations.
Final Thoughts on the Disney Cancellation Policy
I hope you never find yourself in a situation to cancel your Disney vacation. However, if you do, know that Disney tries to make it as painless as possible.
When booking your reservation, pay attention to cancellation deadlines. This is especially true if you know up front you might have to make changes.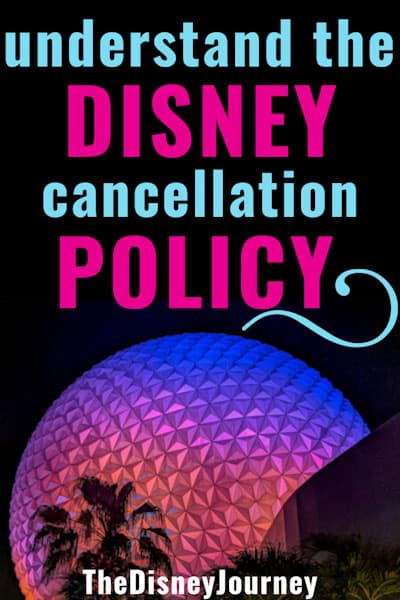 Your Thoughts
Have you ever cancelled a Disney vacation? How did you find the experience? Were you happy with help provided by Disney Cast Members? I would love to hear about your experiences in the comments below.
Don't forget to follow The Disney Journey on Pinterest and Facebook to stay up to date with all the latest news and updates.