We may earn money or products from the companies mentioned in this post. Please click my disclosure policy to learn more.
Many people seem to think Animal Kingdom is nothing more than a glorified zoo, but it really is so much more than that. This 1-day Animal Kingdom itinerary will give you the perfect full day of fun at Animal Kingdom (updated February 3, 2022).
Whenever families are planning for their trip and have less than 4 park days, Animal Kingdom often seems to be on the chopping block, which is a real shame.
While I do think that Animal Kingdom is worthy of a full day, we'll also explore a half day Animal Kingdom touring plan.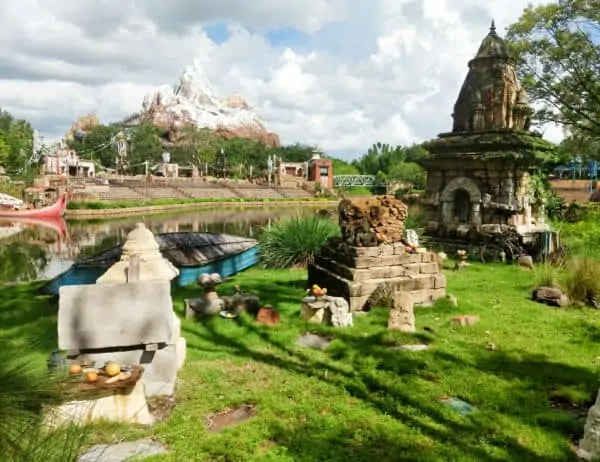 Animal Kingdom Itinerary 2022 Overview
I think by now we all know that things have not been normal for quite a while. This continues to be true at Animal Kingdom. However, we've slowly seen things return to at least a little bit more "normal".
Keep in mind, some of these changes will impact what's available at Animal Kingdom.
This section will highlight some of the issues you should be aware of before you go to Animal Kingdom and some tips on how to handle them. I look forward to the day that I can delete it all and simply give the standard information!
Animal Kingdom Hours
One of the major issues at Animal Kingdom since the reopening has now been resolved. Animal Kingdom had been functioning at reduced hours, but now the hours are back to normal.
Currently, Animal Kingdom tends to be open from 9:00a-7:00p. However, on the weekends, or on busier days, Animal Kingdom is open from 8:00a-8:00p.
Always keep an eye on the hours posted by Disney, because they can, and will, change. Disney uses the park hours as a way to help spread crowds out during the day.
If Disney knows that the parks are going to be a bit more crowded, they'll open the park earlier and/or keep it open later. Sometimes these changes happen at the last minute, so always double check.
Closed Animal Kingdom Rides 2022
With the reopening of Disney World, not all of the attractions opened back up.
The attractions currently closed at Animal Kingdom are:
Finding Nemo: The Musical – a replacement Nemo show has been announced, but details are scarce
Primeval Whirl – permanently closed and demolished
Rivers of Light – permanently closed
Having Finding Nemo closed is a major bummer. The shows are great options for when everyone wants a bit of a break. Aside from that, Finding Nemo: The Musical was just a fun and enjoyable addition to the day.
Hopefully the new show will open soon and fill some of that void.
Animal Kingdom FastPasses 2022
In case you haven't heard, FastPasses are no longer a thing at Disney World. A whole new "ride cutting" system started up in October 2021.
Disney Genie+ and Lightning Lane access are the new paid replacements to FastPass. But more on that below.
Park Hopping and Your Animal Kingdom Itinerary
More and more right now, people are treating Animal Kingdom as a half day park. Because of this, park hopping becomes much more important to understand.
I still maintain that you should plan to spend a full day at Animal Kingdom if at all possible. But if you can't and plan to park hop, I suggest that you plan to go to Animal Kingdom in the morning and hop to another park at 2:00p.
As of right now, 2:00p is the time that park hopping is allowed to begin for all of the parks. Of course, when you factor in travel time, I'd probably plan to leave Animal Kingdom by 1:30p at the latest, possibly a little earlier.
The main reason that I suggest to spend the first half of the day at Animal Kingdom is because it allows you to maximize your day.
Often, Animal Kingdom opens up earlier than some of the other parts. For example, Epcot doesn't open until 10a. This gives you a bit of a jump on the day.
Conversely, Animal Kingdom closes earlier than any of the other parks. Usually, the other parks are open until at least 9:00p, sometimes even later.
Unfortunately, this means you miss experiencing Animal Kingdom after dark, which is an amazing time to be there.
Animal Kingdom Touring Plan Basics
This Animal Kingdom touring plan makes a few assumptions. The first is that you want to make the most of your day, and therefore, will be there at park opening.
The other assumption is that you want to do and see as much as possible. This makes for a very full and long day, so your mileage may vary depending on the ages in your party.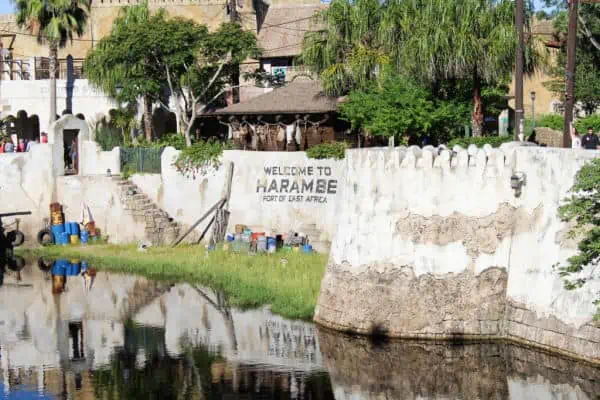 The order that you do the rides and attractions in can have some flexibility, but the general recommended pattern of events should follow a similar formula.
Also, I'm turning this into a free Animal Kingdom itinerary. You can chose to still purchase Disney Genie+ or Lightning Lane access, but I wanted to give an idea of how you can do everything you want to do without spending extra money.
Animal Kingdom Rope Drop
I have an entire post that goes into extensive detail on how best to tackle Animal Kingdom at rope drop. Make sure you check that out if rope drop is something you plan to do.
Rope drop at any of the Disney parks is now very different thanks to the addition of Disney Early Theme Park Entry. If you haven't done so yet, it is crucial that you understand Disney Early Entry and how it could impact your trip.
But the short version is that Disney resort guests are allowed to get on rides 30 minutes before park opening. So, if the park opens at 9:00a, Disney resort guests get on the rides at 8:30a.
What this means is that only Disney resort guests are ever able to take advantage of rope drop.
If you are staying off site, you can skip any sections about rope drop.
For Disney resort guests who plan to take advantage of Disney early entry, don't show up right when Disney early entry begins. You want to be there at least 30 minutes before hand to get your place in line. The closer you are to the front of the line, the more you can accomplish in one morning.
This is especially important if you plan to do only a half day itinerary at Animal Kingdom.
Your basic decision at rope drop is this: do you rope drop Flight of Passage, Na'vi River Journey, or Expedition Everest? The answer to that will shape the rest of your Animal Kingdom itinerary.
Disney Genie+ and Lightning Lane at Animal Kingdom
As I mentioned above, Disney Genie+ and Lightning Lane access is the paid replacement for FastPass. Having these allows you to essentially cut the line with a reservation.
Disney Genie+ costs $15 per person per day, while Lightning Lane access cost varies depending on the ride and day.
With one big exception, I don't think you need to pay extra for Disney Genie+ at Animal Kingdom. There simply aren't enough rides to justify it. And if you use a good Animal Kingdom strategy, there's truly no need for it.
The big exception that I mentioned is Flight of Passage. If you aren't able to rope drop Flight of Passage and the line is really long, buy Lightning Lane access for it.
Flight of Passage is one of the best attractions in all of Disney World. You don't want to miss it.
Just so you know what rides apply, here are the lists of Disney Genie+ and Lightning Lane rides.
Individual Lightning Lane Access
Avatar Flight of Passage
Expedition Everest
Disney Genie+ Lightning Lane Access
Celebration of the Festival of the Lion King
DINOSAUR
Feathered Friends in Flight!
It's Tough to Be a Bug!
Kali River Rapids
Kilimanjaro Safaris
Na'vi River Journey
The Animation Experience at Conservation Station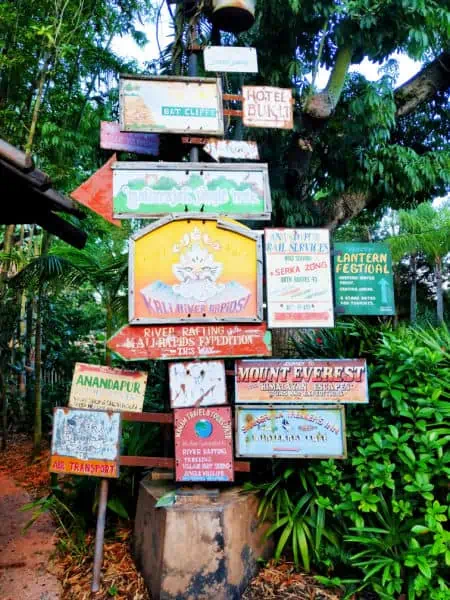 Animal Kingdom Rides and Attractions
When planning your day at Animal Kingdom, I recommend looking at a map and familiarizing yourself with the general layout of the attractions. In size, Animal Kingdom is much smaller than Epcot, making it easier to get from one end to another.
While considering what order you want to do the Animal Kingdom rides in, consider whether your priority is an efficient plan in terms of walking, i.e. doing everything in one land before moving onto the next, or an efficient plan in terms of low wait times.
My family prioritizes the low wait times, but this also sends us crisscrossing the park many, many times throughout the course of the day. You know your family best, so go with the strategy that will work best for you.
Also, try to build some time into the day to simply take in the atmosphere of Animal Kingdom. The Imagineers truly did an amazing job of creating cohesive theming that makes you feel as if you are really standing in an African market.
Don't miss out on these details because you are rushing through the day at warp speed trying to get "everything" done.
Now, let's take a look at some of the specific attractions and strategies and make some important points (and a whole lot of opinions) to consider in your planning.
The best attractions at Animal Kingdom will vary by family, but there are a few which are considered the absolute best.
One of which is considered one of the best rides in all of Disney World (I'm looking at you, Flight of Passage).
​Kilimanjaro Safaris
This is an absolute must do attraction. The best times to go on it are in the morning and at dusk when the temps are a bit cooler and the animals are more active.
I have heard mixed opinions about the Safari after dark but have yet to experience it myself. It is on my list of things to try in the future. So far, almost all of my favorite Safari experiences have been at dusk, so definitely give that a try.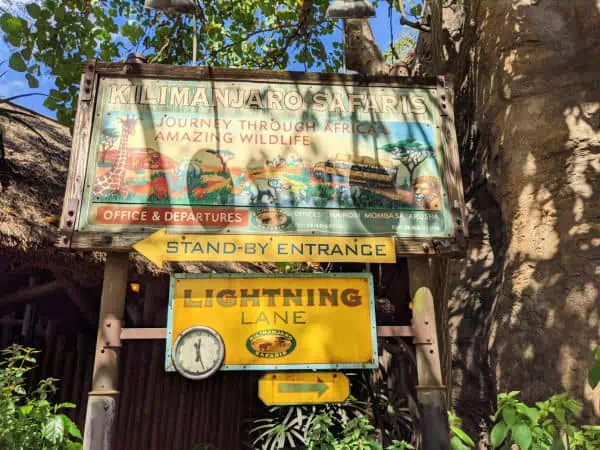 ​Expedition Everest (44″ Height Requirement)
Another of the best attractions at Animal Kingdom, this is a must for any thrill seekers. I just love Expedition Everest and will try to ride it as many times as I can manage in the course of a day.
Ideally, this is a ride you should prioritize going on at least twice: once during the day and once at night. The feel of the ride changes completely once the sun goes down and is definitely not to be missed.
The queue for the ride is also very interesting and highly detailed, making your wait time a bit more bearable.
Tip: Wait until it is full dark if at all possible so the lights on the mountain are more prominent.
​Flight of Passage (44″ Height Requirement)
Arguably one of the best rides in all of Disney World, Flight of Passage is a huge priority for most guests. The line for FOP can get extremely long during normal operation, so a good strategy is important if you want to ride it.
For people who are prone to motion sickness, this ride may not be for you. However, if you want to give it a try and it becomes too overwhelming, taking off your 3D glasses will help.
2 Ways to Ride Flight of Passage With Little Wait
There are two different ways you can attempt to get on Flight of Passage without waiting 2 hours.
Rope Drop
Get in line just before the park closes
Flight of Passage is the first ride most people head to during rope drop. If you are in the first wave of rope droppers, you are set to pretty much walk on the ride. If you aren't, you're better off heading to a different ride at rope drop.
Because everyone heads that way, the line for Flight of Passage swells rapidly. Ironically, people who show up to rope drop late will end up waiting in the longest line of the day.
So, if you're not in the first wave, wait until later in the day to get in line for Flight of Passage. You'll likely wait less that way.
The other best time of the day to ride Flight of Passage is in the last couple of hours. People have typically run out of things to do by this point and leave.
This allows the die-hards to get on Flight of Passage with a much shorter wait.
If the lines are still long in the last couple of hours, wait until right before closing and then hop in line. Disney artificially inflates the posted wait times in an attempt to deter people. But normally, the wait is significantly lower than posted.
I have personally used both of these methods with great success, in the same day. It was amazing!
Tip: If you decide to get in line for Flight of Passage right before the park closes, you will not be able to fully explore Pandora at night once you exit the ride, so do it before you get in line.
Na'vi River Journey
Na'vi River Journey is essentially It's a Small World set to the theme of Avatar. It is a visually stunning ride and I think everyone should try to do it once. However, after that one time, you probably never need to go on it again.
​Celebration of Festival of the Lion King
If you are able to do only one show during your day at AK, this is the one I would pick. It is highly entertaining and very dynamic. The crowd is given the opportunity to participate a bit, but watching the performers is the true highlight of the show.
Definitely try to time this for the afternoon when you can all use a break in some air conditioning.
Celebration of Festival of the Lion King is a different show than the original Festival of the Lion King. Disney altered the performances to implement safety protocol for both guests and performers.
This means the show is less dynamic than it used to be, but is still entertaining. Overall, it is still worth your time.
There have been rumors flying recently, via a job posting, that the acrobats are making a return to the show. I really hope this is true because they are my favorite.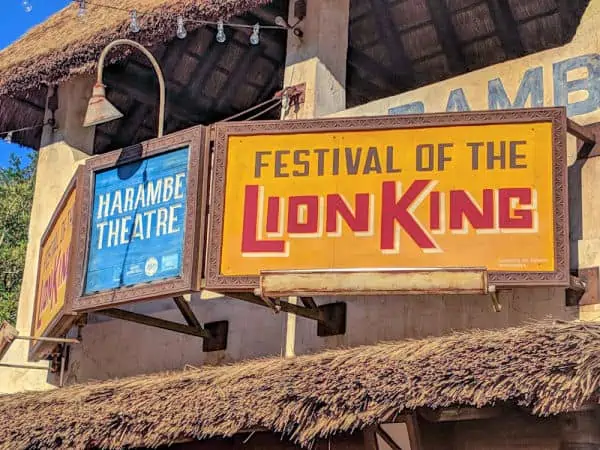 ​Gorilla Falls Expedition Trail/Maharajah Jungle Trek
I love a good zoo, and these two attractions definitely give the feel of an awesome zoo. I know I'm a broken record, but again, the level of detail put into the trails and the exhibits is great.
This is why we all flock to Disney World to begin with, because the Imagineers are known for taking the already awesome to the next level.
If you don't have time to do all the animal trails, at least pick one of these to do during your day.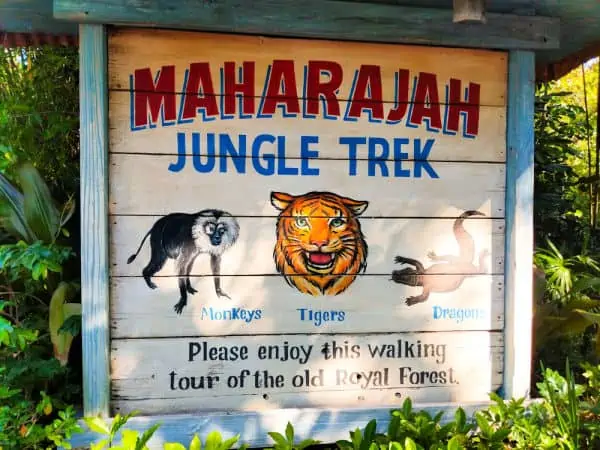 ​It's Tough to be a Bug
This is a cute show which I tend to enjoy, however, it can be a bit scary for kids. It is a 4D experience, so there are surprises that jump out and scare you.
When we went with our friends a few years ago, 3 out of the 4 kids (aged 4-7) were crying through most of the show.
Definitely something to keep in mind if you have kids who might not appreciate this. My youngest finally outgrew his distaste for 4D attractions and we were finally able to enjoy this show again.
​Finding Nemo: The Big Blue…and Beyond (opening 2022)
Finding Nemo: The Musical has been closed since the shut down. Disney announced the replacement show, still themed after the Finding Nemo movie series.
And while we know it's supposed to reopen in 2022, Disney hasn't told us when.
What we do know is the show contains a combination of live performers, animated backdrops, and innovative theater lighting to enhance the experience.
The puppets which were such a huge part of the original show are also present in the new show.
Dinosaur (40″ Height Requirement)
Dinosaur is the best ride in all of Dinoland. It's an entertaining ride but can be scary for young ones. It is very dark through the whole ride and is VERY herky jerky.
If you have any back/neck/body issues that don't react well to being tossed around, you might not want to ride Dinosaur.
TriceraTop Spin
TriceraTop Spin is essentially Dumbo with dinosaurs, only less iconic. The little kids who are too short for some of the other rides will definitely enjoy it. It did spin faster than I would anticipate, squeaking out some cool points.
​Feathered Friends in Flight!
Feathered Friends in Flight! is a cute and entertaining show and worth the time to see it. The birds are of course the true stars of the show.
This replaces Up! A Great Bird Adventure, and frankly, I'm happy for it. The birds are again allowed to be the stars. Russel and Dug were more of a distraction than anything else.
This is a cute and entertaining show for all ages. The theater does fill up, so get in line a little on the early side.
Tip: Check the showtimes in the schedule. It doesn't run as often as Lion King, making it more challenging to fit into the day. The theater is also outdoors, so if it's hot, just be prepared.
​Kali River Rapids (38″ Height Requirement)
This is a ride I haven't been on, mainly due to my distaste for walking around soaking wet. I do actually enjoy rides like this as they are always fun but as an adult my practical side kind of gets in the way.
There is the potential here to become absolutely soaked from head to toe. Or not. You just never know.
Tip: If you do want to ride it, consider bringing flip flops for the family to wear on the ride and then change back into your regular shoes. The worst part about being soaked is when your sneakers are wet for the rest of the day.
A lot of people wear ponchos, but then it seems like you are missing the point of the ride entirely.​
Rafiki's Planet Watch
Rafiki's Planet Watch was closed for about 6 months for a little sprucing up. It reopened in summer 2019 with some added touches from The Lion King.
There is still a train ride to get out there. Once there you can interact with some animal in the Affection Station (a petting zoo) and learn more about Disney's effort towards conservation.
There is also a viewing station to see into the veterinary facilities at Animal Kingdom. If you are lucky, you might get to see one of the animals getting treated.
New to Rafiki's Planet Watch is The Animation Experience. This experience allows you to learn step-by-step instructions on how to illustrate your own version of a Disney character. This is a 25 minute class.
Tip: A trip out to Rafiki's Planet Watch is a huge time suck. Between waiting for the train, riding the train, exploring, waiting for the train again, and riding it again, it eats up a ton of time.
If you know you have limited time at Animal Kingdom, do not go to Rafiki's Planet Watch.
Disney KiteTails
Disney KiteTails is the newest show at Animal Kingdom. In a way I guess it replaced Rivers of Light, except it's not at night. Nor as neat. But anyway.
KiteTails takes place at the Discovery River Amphitheater in Asia during Disney World's 50th Anniversary.
Cast members use kites, both on land and tethered to jet skis, for 2 different shows. One is based on the Lion King while another is inspired by Jungle Book.
It remains to be seen whether this show will continue following the end of the anniversary celebration.
KiteTails is a cute, but rather short, show. If you happen to be in the area when it's about to start, grab a seat and enjoy. But I wouldn't necessarily go out of my way to see it.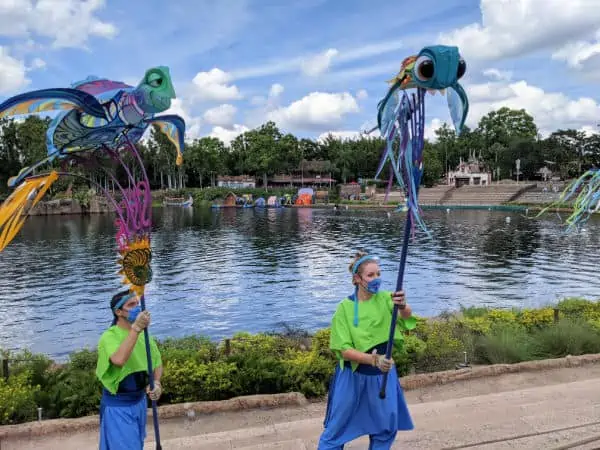 Animal Kingdom at Night
When dusk arrives and the sun begins to set, there are some more opportunities that begin to arise. Nighttime is probably my favorite time at Animal Kingdom.
Depending on the time of year you are visiting, this could look a little different. From late spring through summer the sun takes its sweet time in setting, so clearly it won't be dark until much later.
In the fall and winter, the sun sets much earlier. This allows you to get in some attractions which are truly awesome to do after the sun sets.
Pandora at Night
Wandering through Pandora at night is just flat out stunning. Pandora at night is a must do for anyone at Animal Kingdom. The land comes alive with "bio-luminescence" and looks completely different in the dark than during the day.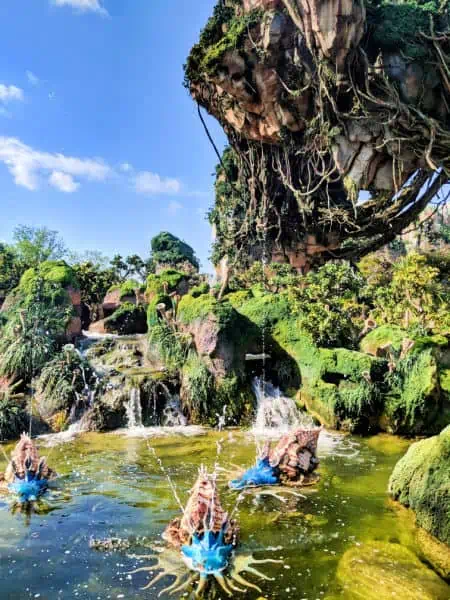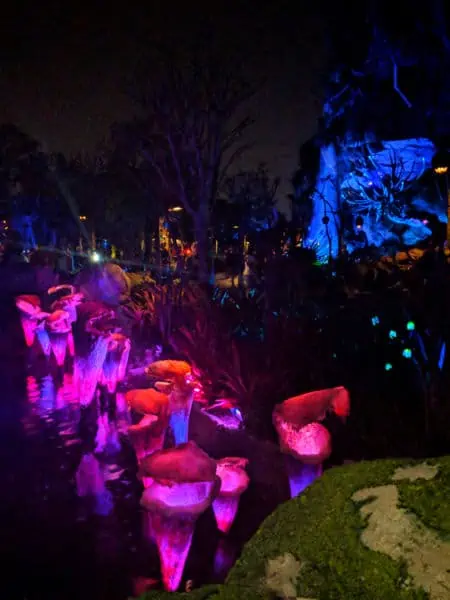 Make sure you allow time at the end of your day to walk through this beautiful land and soak in the magic!
Expedition Everest at Night
As I mentioned above, your goal should be to ride Expedition Everest at least twice: once in daylight and once at night. The ride experience is completely different in these two scenarios.
As usual, Disney uses lighting effects against the mountain to make it stand out at night. In addition to this, as you go up the hill at the start of the ride you are treated to stunning views across Animal Kingdom.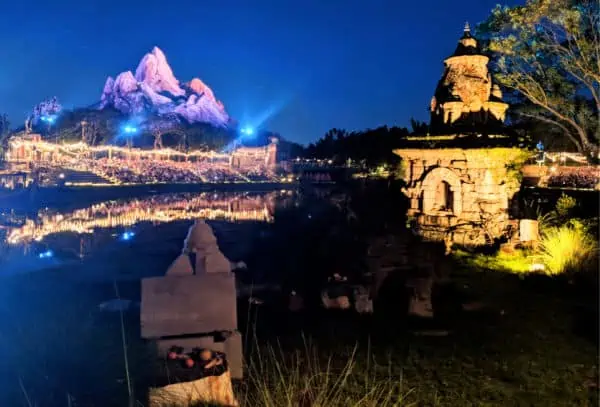 Tree of Life Nighttime Awakenings
The Tree of Life Awakenings combines projections, lights, music and special effects in a brief show. Again, it is colorful and visually stunning.
The show runs several times a night, approximately every 15 minutes. This gives you many opportunities to catch the show.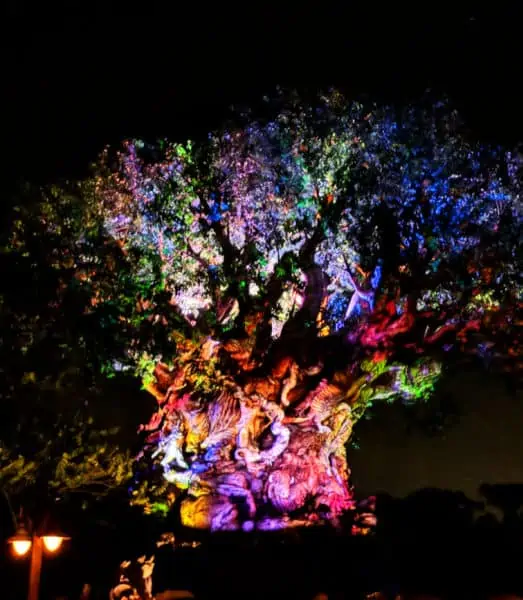 1-Day Animal Kingdom Itinerary
Now that you've survived all the other information you needed to learn about, it's time to get down to the main event.
The following full day Animal Kingdom itinerary is the basic plan that my family has used several times with great success. The order that you do some of the attractions really doesn't matter.
Tailor that to meet the needs of your family. But if you follow these basic guidelines you should have a great day.
Park Opening-10:30a
Again, read all about rope drop at Animal Kingdom to determine whether you will go to Flight of Passage or Everest first. That will determine what time you need to arrive at the park.
Remember, only guests staying at Disney resorts or Disney Good Neighbor Hotels are allowed into the parks 30 minutes early. This is the only group who can take advantage of rope drop.
I will assume your plan is to rope drop Flight of Passage as that is by far the most common strategy. Based on that, go on rides in the following order:
Flight of Passage
Na'vi River Journey (unless line is over 30 minutes long, if it is, skip until later)
Expedition Everest
Kilimanjaro Safari
Dinosaur
Depending on the crowds, you should be able to get on most of these rides before the crowds begin to swell mid-morning. But again, play it by ear and see how much you can get done.
Mid-Morning through Early Afternoon
This might look a little different for everyone depending on the dining decisions you make.
If you ate a quick breakfast in your room, you will probably be ready for an early lunch. Satu'li Canteen and Flame Tree BBQ are some of the best Quick Service dining options in all of Disney World. You can't go wrong with either.
Through this chunk of the day you're really just paying close attention to the ride lines and being opportunistic. If lines are long, you'll visit animals and roam the park.
Afternoon
The afternoons are the perfect opportunity to hit up the available shows. The theaters have larger capacity, so the wait isn't typically as long for the shows as it is for the rides.
Also, the indoor shows give you a nice break in the air conditioning.
And if you haven't done so already, here are some ride options for the afternoon:
It's Tough to Be a Bug
TriceraTop Spin
Kali River Rapids
The lines for these rides are typically more manageable during this portion of the day, making them easier to get on.
The late morning/afternoon is also the time to wander your way through Maharajah Jungle Trek and Gorilla Expedition Falls.
There are so many "hidden" walking paths throughout Animal Kingdom to see different animals. Some of these are down right quiet and peaceful. The busy afternoon is a great time to find these.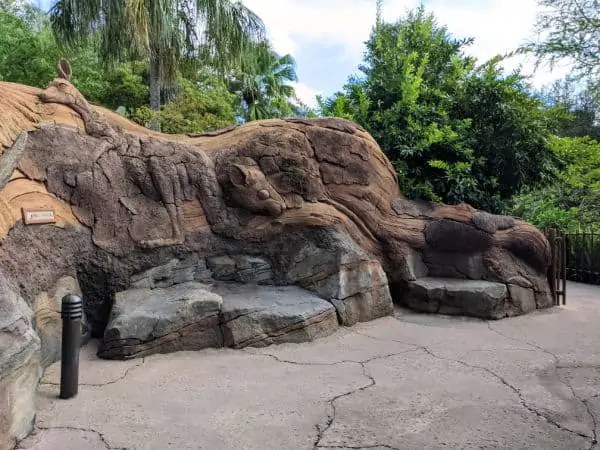 If you come across a lull in the late afternoon, consider this a great time for a break at Nomad Lounge. Nomad Lounge is a great place to sit down and relax while grabbing some drinks and snacks.
Nomad Lounge also has an outdoor deck with seating making it a perfect place to enjoy some food outside.
Late Afternoon/Evening
As the day draws to an end, it's time to start focusing on those wait times again. You should start seeing a pretty noticeable drop in wait times for the more popular rides.
There are so many people who will start leaving the park by this point, either park hopping is simply feel like they've done everything. This is prime time for big rides.
At the very least, part of your plan should be to hop in line for Flight of Passage shortly before the park closes. Disney deliberately inflates the posted wait time to deter people from getting in line.
In reality, this will be one of the shortest wait times all day.
If you are lucky enough to be at Animal Kingdom after dark, here's what you should do:
Ride Kilimanjaro Safaris at dusk
Ride Expedition Everest in full dark
Wander around Pandora
Catch Tree of Life show
Flight of Passage (right before closing)
Clearly, this is a long list and you may not have enough hours of darkness to do them all. Prioritize which will work best for your family.
My top three after dark priorities are Expedition Everest, wandering Pandora, and getting in line for Flight of Passage. If you can do more than that, bonus.
A Note About Animal Kingdom Dining…
Animal Kingdom has some truly great dining options. Unfortunately, there's not enough room in your stomach to fit them all!
For the purposes of this post I'm going to focus more on logistics of planning the meals as opposed to recommending specific restaurants.
Strategically, you want to try to time your meals at the most advantageous times of the day. For example, DO NOT schedule a sit down breakfast right at park opening. This is prime time for shorter rides and you don't want to miss it.
If you do want to eat breakfast, wait until closer to 10-10:30a.
Likewise, for lunch you want to make sure you are eating during a time when the ride lines are starting to get long. This means you've already taken advantage of the shorter lines and now you're ready to refuel!
Dinner should also be at a slightly off time. If ride lines are starting to get shorter around 6p, you don't want to waste some of that time eating. I'd recommend eating an early dinner and then grab a snack if you have the munchies later.
Here's an example of how I usually approach meals in my personal Animal Kingdom itinerary:
BREAKFAST: Eat in room
LUNCH: Between 11:00a-11:30a (quick service) or 12:30p-1:00p (table service)
DINNER: Around 4:30p
SNACK: At will
Notice the time different for lunch depending on restaurant. I often use a table service meal in the early afternoon as a way to sit down and relax in air conditioning for an hour and a half.
Early afternoon tends to be a very busy time in terms of lines, so you might as well eat!
An alternative Disney hack is to schedule a table service reservation for park closing time. The table service restaurants are still serving dinner into the evening.
What this gets you is a full day at Animal Kingdom, a relaxing sit down dinner, and then a stroll through an empty park on your way out. Talk about a nice evening!
If you plan to eat at Quick Service locations, make sure you use Disney's mobile ordering service. This is a real time saver. Don't wait in line if you don't have to!
Animal Kingdom Half Day Itinerary
Can you do Animal Kingdom in a half day? Yes, you certainly can, you just have to go into it with the right expectations and strategy.
Clearly, an Animal Kingdom half day requires a bit of a different strategy, though some of it echos the plan for a full day. Really, we want to take the full 1-day Animal Kingdom touring plan and condense it into a few hours.
In order to do this, you absolutely must have a list of your priorities for your time there. You will not be able to do everything, but if done well, you can experience all of the highlights of Animal Kingdom.
Attractions to consider missing:
TriCeraTop Spin
It's Tough to be a Bug
Rafiki's Planet Watch – Unless you have a dying need to learn how to draw, simply getting to Rafiki's Planet Watch is a major time suck
Your very first decision will be: Animal Kingdom half day in the morning or afternoon?
Animal Kingdom Half Day Itinerary – Morning
If you plan to only spend your morning at Animal Kingdom, you must plan to take advantage of rope drop. Honestly, this will make or break your whole plan. This is the difference between hitting all your priorities or not.
Take the same advice I give in the 1 day Animal Kingdom itinerary and apply that to your morning in this order:
Flight of Passage
Na'vi River Journey
Expedition Everest
Kilimanjaro Safari
Dinosaur
If you hit these rides in order, you should get on all of them within the first 2-2.5 hours of your morning. That leaves the remainder of the morning for any additional experiences you want. Again, definitely do at least one of the animal trails and one of the shows.
When lunch time rolls around, I recommend eating at one of the Quick Service restaurants as a time saver. Then get ready to head on out to park #2!
I would leave Animal Kingdom between 1:00p-1:30p to head to your second park. Animal Kingdom is relatively far away from the other parks. If you're driving your own car, this won't be a huge deal.
However, if you are taking Disney's bus, you want to allow around 45 minutes to get from Animal Kingdom to the next park. You just never know how long you'll have to wait for the next bus to arrive.
I have successfully done very full morning half days at Animal Kingdom using this exact strategy so I know it will work for you.
Animal Kingdom Half Day – Afternoon
I think the people who have the most to gain from doing an afternoon Animal Kingdom half day itinerary are guests staying off-site.
Because off-site guests are unable to fully take advantage of rope drop due to early theme park entry, the morning becomes a much more crowded proposition.
For those guests, the best bet for getting on the most popular rides with less wait to be there in the evening.
Now that the park is open until 7:00p or 8:00p on most nights, it makes spending an afternoon at Animal Kingdom more reasonable.
Because of the new park hopping limitations, you aren't eligible to park hop to Animal Kingdom until 2:00p. Honestly, I expect this time will get adjusted a little earlier eventually, but for now, that's it.
If you aren't park hopping and simply have a park pass for a full day at Animal Kingdom, you can show up whenever you like!
I'd probably recommend showing up around lunch time to enjoy some great food. After that, plan to do some of the animal exhibits, shops, and that sort of thing until the wait times start dropping again.
The bonus of making your Animal Kingdom half day in the afternoon is the ability take advantage of the shorter lines near closing.
In this scenario, you'll actually prioritize in reverse, with the more popular rides closer to closing time. Expedition Everest, Flight of Passage, and Na'vi River Journey will have the longest wait times at this point, so you'll do them as the park starts to empty out.
When you have only limited time, you won't get to see and do everything you want. However, I do recommend that you walk through at least one of the animal trails. They are so beautifully themed and should be missed.
Do an animal trail and a show or two during the busier times of the afternoon, along with lower demand rides like It's Tough to Be a Bug! and Triceratop Spin.
Pay attention to what time Kilimanjaro Safari is closing. The safari does not stay open as long as the park does. Remember, these are real animal who need to be cared for a kept on a schedule.
But the Safari is one of the #1 not to be missed Animal Kingdom attractions, so don't miss out on it by mistake. If possible, try to time your ride on the safari for dusk. You won't be sorry.
Start paying attention to ride times from 5:00p on. People will either start to head home or have already park hopped somewhere else.
As soon as you see the wait times improving, start being as opportunistic as possible.
Again, your priorities are Expedition Everest, Na'vi River Journey, Flight of Passage, Kilimanjaro Safari, and DINOSAUR.
Animal Kingdom Tips
There are some Animal Kingdom tips and secrets which will help to make your Animal Kingdom touring plan even more successful.
Don't plan to eat breakfast at Animal Kingdom – the morning hours are best used trying to get on all the rides

If you want breakfast at Tusker House get a 10:30a reservation
As an added bonus: a 10:30a reservation straddles breakfast and lunch. You get to have both!

If you need to get away from the crowds for a little while, the back pathway between Pandora and Africa is often quiet
The seating area at Flame Tree BBQ is one of the prettiest spots in the whole park and a great spot for relaxing
You can get a Dole Whip in Africa! 'Nough said
Kali River Rapids does not always open as soon as the park does. Sometimes it opens later in the morning once it's a little warmer
Maharajah Jungle Trek and Gorilla Falls Expedition tend to close earlier than the rest of the park. Make sure you fit these in earlier in the day
The animals are most active in the cooler morning hours and at dusk. If an improved animal experience is your priority, make sure you visit animal based attractions then
Animal Kingdom has some absolutely amazing upcharge experiences you can add to your day. Check out Disney's Enchanting Extras page to learn more (tours are currently unavailable)

We've done Caring for Giants and it was amazing!

The Wilderness Explorers program is a free activity for children to enhance their day at Animal Kingdom
Animal Kingdom Itinerary Final Thoughts
So there you have it, a full one day Animal Kingdom itinerary, plus some thoughts on an Animal Kingdom half day plan. It is reasonable to expect to fit just about everything on this list into the day if you go in with a plan ahead of time.
There can be a lull in the afternoon where you've already ridden all the rides, some multiple times, and are just waiting for lines to get shorter again.
This is the best time to do some of the other stuff that Animal Kingdom has to offer. If you are willing to explore all that the park has to offer, you definitely won't be disappointed.
If you do find yourself "killing time" in the middle of the day, look at places to eat, browse the shops, catch the street shows, explore all the nooks and crannies that can be found when you slow down and simply enjoy the atmosphere.​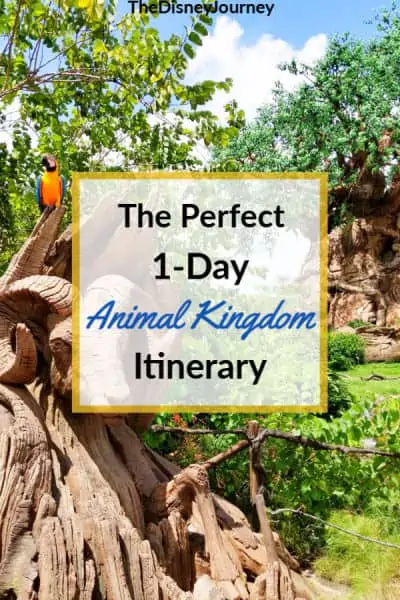 Your Thoughts
What do you think? Is Animal Kingdom a must see park or is it one that you and your family tend to skip? Comment below and let us know what you think.
Don't forget to follow The Disney Journey on Pinterest and Facebook to stay up to date with all the latest news and updates.