We may earn money or products from the companies mentioned in this post. Please click my disclosure policy to learn more.
Everyone who goes to Disney World has a list of things they absolutely want to accomplish. That list is a good guide to help you plan your trip. This post is not about that list. This post is the dream list of Disney experiences to work towards, the ultimate Disney bucket List.
Disney Bucket List Requirements
When I started putting this list together, I put some thought into what qualifications an experience should have to make it onto this bucket list. I didn't want this to just be a list of what would be considered to be standard Disney experiences.
For me, a bucket list item is something that is outside of the norm for one reason or another. This could be because it has an expensive price tag, is challenging to accomplish, or is just unique to the location.
While doing research for this post, I noticed that many other bucket list posts included experiences that are pretty "normal" Disney things. For example, things like eat a Dole Whip, ride Seven Dwarfs Mine Train, etc.
Now, don't get me wrong, these items should absolutely be on your list of goals for your Disney vacation. But are they bucket list material? I guess it depends on how much you like a Dole Whip!
Additionally, I didn't want to add things that would be pretty impossible to achieve. I'm sure any of us would love to spend a night (or 30) in the Cinderella Castle suite, but that's not really likely to happen unless you win the lottery.
The Ultimate Disney Bucket List
I've narrowed my list down to these truly awesome experiences. They really run the gamut from relatively easy to accomplish to being extremely challenging. Of course, everyone's Disney bucket list will be a little different. There really are so many add on experiences for a Disney vacation.
Without further ado, I present to you my ultimate Disney bucket list.
1. Wild Africa Trek
When I decided to write this list, the Wild Africa Trek was the very first thing I put on it. Ever since I came across this on Disney's website I've wanted to do it. The whole thing just seems like an absolutely amazing experience which would be so special.
What is Animal Kingdom's Wild Africa Trek?
Wild Africa Trek is one of the many special tours that Disney offers to it's visitors. The trek takes place within the acreage of Kilimanjaro Safari. The whole experience lasts for 3 hours, during the park day. In a way, it's the Safari on steroids.
The number of people permitted on each tour is limited. This provides the guests on the trek a much more personalized and intimate experience. The tour has their own special safari trucks and move freely through the Safi River Valley of the safari.
All of the guests are provided with a vest and a harness for the duration of the tour. Harness? Why would I need a harness? That harness is necessary for safety as you cross the rope suspension bridge over the crocodiles!
Overall, there's hiking, there's a ride in a safari truck, and there's eating. Part of the tour includes a complimentary African inspired snack. All throughout the tour, the guides provide the guests with information about the animals.
I am dying to do this tour with my husband and kids. Right now the little guy is just too small and I want them both to be old enough to really appreciate the experience. But this is one part of this list that I'm committing to putting a check mark by.
The Fine Print for Wild Africa Trek
Because of the nature of this trek, there are some pretty stringent guidelines. Guest have to be a minimum of 8 years old, 48″ tall, and 45lbs. There is also a weight maximum of 300lbs. And they do take these size restrictions seriously.
Wild Africa Trek is quite the expensive endeavor, as well. The price ranges from $189-$249 per guest. That will certainly add up if you have more than 2 members in your family. Annual Passholders and Disney Vacation Club members are eligible for a discount. The price tag is part of what bumps this experience up to bucket list status.
However, it is important to note that a portion of your ticket price goes towards Disney's Wildlife Conservation Fund to help animals all over the world.
Tip: In addition to the fee for the tour itself, all guests must also have a park ticket for Animal Kingdom.
2. Disney After Hours
This one might not be the most challenging addition to the ultimate Disney bucket list, but it sure is an event I am dying to attend. So far, the dates this event are offered have not lined up with any of our trips, so it has remained elusive. I have high hopes it will work out during our next family trip.
Disney has begun expanding offerings of Disney After Hours so odds are pretty good there might be one during your Disney trip. I decided to keep it on my Disney bucket list simply because I'm such a huge fun of any event Disney hosts after regular park hours (like Mickey's Very Merry Christmas Party and Mickey's Not So Scary Halloween Party).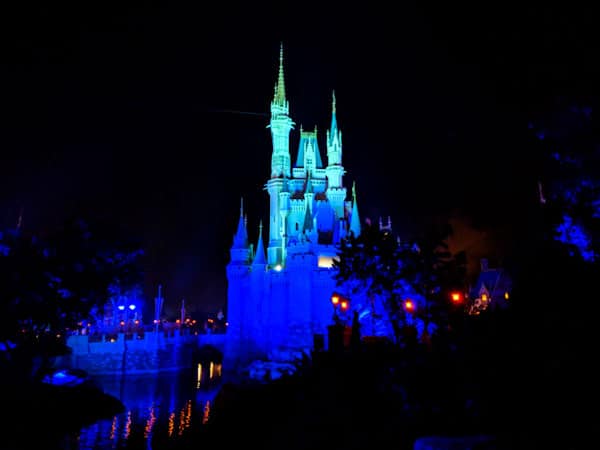 What is Disney After Hours?
Disney After Hours is an official ticketed event that Disney offers on certain dates throughout the year. Disney After Hours give you access to the park for 3 hours after the official park closing time. There is a limited number of tickets sold, with the big draw being the significantly smaller crowds than during a normal park day.
Right now, Disney After Hours is offered at Magic Kingdom, Hollywood Studios, and Animal Kingdom. It is a relatively new event so there isn't a lot of historical information about what parts of the year it will be offered.
But early reviews for it have been very positive. People have reported being able to ride typically hard to get on attractions (I'm looking at you, Flight of Passage and Slinky Dog Dash) multiple times with minimal waits.
Disney Villains After Hours
In the summer of 2019, Disney added a twist to the Disney After Hours event by adding in some popular Disney villains! It ended up being a wildly popular event. So much so that Disney brought it back for 2020 and expanded the dates it is offered. You can read all about Disney Villains After Hours in my event guide.
What is included in the Ticket Cost?
Tickets for Disney After Hours will cost you $125 per person, so it's not exactly inexpensive. For your $125, you get admission to the park starting at 7:00p, snacks in the form of ice cream and popcorn with select beverages, and the big draw: access to rides and character meet and greets with little to no wait.
If you are an Annual Passholder or a Disney Vacation Club member you actually get a pretty deep discount on the ticket price. Your tickets will cost $95 per person.
Tip: Pay attention to the operating hours of the park on the day of your Disney After Hours event. The later the park closes, the more bang for your buck you get. For example, you are allowed entrance into the park at 7:00p no matter what. If the park closes at 9:00p, your event will run until midnight, giving you 5 hours of park time. But, if the park closes at 10:00p, your event will run until 1:00a. You now have 6 hours of park time.
3. Complete the 4 Parks Challenge
The 4 parks challenge is an unofficial challenge that many Disney World fans like to do. Unlike the Parkeology Challenge, there are no official rules. The Parkeology challenge has very specific parameters that must be met. Teams even officially register to do it and try to join the Hall of Fame! If you want a fun read about the Parkeology challenge, I highly suggest you read Kenny the Pirate's adventures with his daughter.
What is the 4 Park Challenge?
At its most basic definition, the 4 Park Challenge is simply visiting all 4 parks in one day. However, just showing up at each of the parks for a few minutes won't cut it. This is where families can work together to define what they want their challenge to look like.
The beauty of this is you can get creative and make the challenge look like whatever you want. A good 4 park challenge will typically involve some combination of the following: must ride X number of rides in each park, eat X number of snacks/meals in each park, and take pictures at an iconic landmark in each park.
Think of the potential of this as a fun family event with middle or high school age kids! They can help define the challenge, then they can help create the plan of attack to get it done. It is guaranteed to be a long and exhausting day, but the memories from it will be priceless.
Tip: Once you create the parameters for your 4 park challenge, make sure you have a solid plan of attack. Some things to consider – how to use extra magic hours to your advantage, order of parks, how to use your FastPasses best, where to quickly eat your meals, do you want a mid-day break, etc.
5. Do a runDisney Event
If you like to run, or jog, or even just walk, a runDisney event just might be the thing to do. It is a great addition to the ultimate Disney World bucket list. The runDisney event weekends have become very popular event weekends, with the expected increase in crowd levels to go with it.
What is runDisney?
Four times a year, Disney World hosts running event weekends, each with a different theme and experience. January brings perhaps the most popular runDisney event of the year, Marathon Weekend. The other events include The Princess Half Marathon weekend, The Rival Run Star Wars Half Marathon weekend, and the Wine & Dine Half Marathon weekend.
The half marathon weekends include a 5k, a 10k, and a half marathon, while the marathon weekend does all of that, plus a marathon. Each race also has multi-race challenges you can register for to earn an additional challenger medal.
The Dopey Challenge is the hardest, and most coveted challenge to accomplish. In order to earn that medal, you must run all 4 races on marathon weekend. That's a lot of miles!
For information about any upcoming runDisney events, go check out the official runDisney website.
What Makes runDisney So Special?
Let's face it, we could go run a race much closer to home. So why is a runDisney event so special? Really, the answer is simple: because it's Disney. True to form, Disney does nothing halfway and they have worked to create a great race experience.
These are not necessarily races you are doing to get your fastest time, they are more about the experience. Picture this: racing through the empty parks while the sun comes up, crowds cheering, stopping to take pictures with characters along the way…sounds great, doesn't it?
runDisney Virtual Races
Are you interested in a little teaser into the world of runDisney without having to travel to Florida? You are in luck, because runDisney also has 3 virtual 5k races this summer to commemorate the 80th anniversary of Marvel comics.
Sure, you don't exactly get the killer atmosphere, or the characters, but you do get a sweet medal and improved fitness. This is a great way to start training for that ultimate goal of doing a runDisney event weekend in the future.
6. See the "Kiss Goodnight"
I can already see the furrowed brows of many people wondering what on earth the Kiss Goodnight is. The fact of the matter is, most people who go to Disney World have never even heard of it, let alone seen it.
What is The Kiss Goodnight?
The Kiss Goodnight takes place in Magic Kingdom, beginning about 30 minutes after the park closes. It is a brief "show", for lack of a better word, that takes place at Cinderella's castle. You have to be on Main Street to see and hear it.
Why is this on the Disney Bucket List? Because it is such a quintessentially Disney experience. It's a final little touch that Disney World added to the day as a way to say thank you. This little touch is part of what sets the Disney World experience apart from any other place in the world.
I don't want to give all the details as I think some of it should be a surprise. But it involves music, a light show, and words describing Walt Disney's vision for the Magic Kingdom. There are videos of the Kiss Goodnight on YouTube if you want to see it for yourself. However, if you do plan to try to see it during your trip, don't spoil it beforehand.
Tip: Magic Kingdom is the only Disney park in the world with the Kiss Goodnight. I recommend you grab a sundae from The Plaza Ice Cream Parlour, find a spot to eat it, and enjoy the Kiss Goodnight.
7. Attend all the Epcot Festivals at Least Once
Oh, the Epcot Festivals! At this point, the summer is the only time of year that does not contain an Epcot Festival. They have become an insanely popular offering at a park that often gets neglected by visitors with young children.
What are the Epcot Festivals?
Epcot has 4 different festivals throughout the course of the year. Without question the International Food & Wine Festival is the biggest and most popular out of them all. However, the International Flower & Garden Festival is expanded every year with more and more offerings.
The International Festival of the Arts is another festival that is gaining in popularity, and is often touted as many people's favorite festival of the year. And finally, the International Festival of the Holidays rounds out the festival offerings.
While all four of the festivals have a different overall theme, they all have a common basic structure: food and drinks. Festival kitchens are set up all throughout the park offering unique food and drink items for your enjoyment.
Beyond food and drinks, each of the festivals also has bonus tours and experiences that help to enhance the festival experience. The park will also be decked out in decorations that help to set the tone of the festival.
So far, I have been to 3 out of the 4 festivals and loved each one. However, my favorite so far is the Flower & Garden festival. Epcot just looks so beautiful decked out in all it's floral finery! But I have heard so many amazing things about the Festival of the Arts, I can't wait to check that one out some day.
8. See Happily Ever After Front and Center
If you have read many of my other blog posts, you know that I am always looking for a good place to watch parades and fireworks away from the crowds. I just don't like having to stake out my location an hour in advance and then get smushed in the crowd.
However, I make one exception to that rule: everyone should see Happily Ever After directly from Main Street at least once.
What Makes a Front View of Happily Ever After So Special?
With the change from Wishes to Happily Ever After, Disney added a significant projection element to the fireworks show. These aren't just some lights and little pictures, this is a full fledged "let's change how the castle looks entirely" kind of projection.
Don't get me wrong, watching Happily Ever After from Fantasyland is still a great idea. Being surrounded by the fireworks is pretty cool. And the lack of crowds certainly makes the experience more pleasant.
However, watching the show from Main Street gives you the full punch of the show. And Disney sure knows how to hit all of us in the feels. Frankly, we stumbled across this experience on accident when it poured buckets for 45 minutes shortly before the show. We literally walked out of a store on Main Street, saw there was hardly any crowd and claimed a spot. Fifteen minutes later the show started.
I don't expect to ever get that lucky again, but if it should rain shortly before the fireworks show, keep this in mind!
9. Watch Happily Ever After while riding Thunder Mountain
This right here was the Disney bucket list item that was supposed to get checked off on the night we ended up seeing Happily Ever After from Main Street. The aforementioned monsoon ended up shutting down all the outside running rides.
Why Should I Watch Happily Ever After from a Ride?
Well now, that's a very good question. In large part the answer centers around always looking for new and different experiences. And it helps to avoid the massive crowds, which is a bonus. But really, it's about mixing the exhilaration of the ride with the beauty of the fireworks.
I stumbled across this concept with all my Disney research one day, and now I'm obsessed with the idea of doing it. Most people prefer to do this on Seven Dwarfs Mine Train, but after looking into this a little more, I chose Thunder Mountain as the ideal bucket list option.
Thunder Mountain is actually a fairly long ride in the world of roller coasters. And most importantly, with the exception of the very beginning, the whole ride is outside. Seven Dwarfs Mine Train is both a very short ride, and half of it takes place inside. This immediately reduces the amount of fireworks you can see.
Also, Thunder Mountain's location within the park gives you a great view of the castle. Of course you can't see the projections, but while on the ride you actually have a breathtaking view across the park. Even without the fireworks, this is a stunning view at night.
Other Rides to Consider Watching the Fireworks From:
Seven Dwarfs Mine Train
AstroOrbiter
People Mover
Sure, there are other outside rides that will give you some glimpse of the fireworks, but these 3 are the best alternates to Thunder Mountain.
Tip: The only way to guarantee timing your ride for the fireworks is to have a FastPass. However, Thunder Mountain is often a walk-on by this time of night, making it an easier option than Seven Dwarfs Mine Train.
10. Visit all the Disney Parks Around the World
Let's face it: this one is going to be a long shot for most of us. International travel isn't exactly cheap, and it takes a really long plane ride to get to Asia. However, it's really high on my own personal Disney bucket list and I have high hopes of accomplishing it someday.
Where in the World are all the Disney Parks?
While Walt's personal Disney Journey began in California, his vision has expanded around the world in a way that he could probably never imagine. There are now 6 Disney Resorts scattered around the globe, with a total of 12 theme parks.
Walt Disney World Resort – Florida

Magic Kingdom
Epcot
Hollywood Studios
Animal Kingdom

Disneyland Resort – California

Disneyland
California Adventure

Disneyland Paris Resort – France

Disneyland Paris
Walt Disney Studios Park

Tokyo Disney Resort – Japan

Tokyo Disneyland
Tokyo DisneySea

Hong Kong Disneyland Resort – Hong Kong
Shanghai Disneyland – China
This is clearly a tall order. Quite frankly, it's one that I might never accomplish, but I will certainly give it the old college try.
If this goal is just too much to tackle, I recommend scaling it down to something that is more manageable. For example, another worthy goal is to visit all Disney resorts in the United States and one international Disney resort. This is probably where my own goal will start.
11. Have a Pixie Dust Experience
This item on the Disney bucket list is one which you simply have no control over, therefore making it perhaps the hardest item on the list to accomplish. This is solely reliant on the Disney fates and the Cast Members.
The essence of getting a wee bit of Pixie Dust is part of what makes a Disney vacation such an amazing experience. Most guests will experience at least a little bit of Pixie Dust on their trip, but this bucket list item refers to a bit of a grander Pixie Dust experience.
What Does it Mean to get Some Pixie Dust?
Getting some Pixie Dust is a commonly used phrase which means getting gifted with an extra special experience by someone at Disney World. This really can run the gamut to cover a wide variety of experiences, and everyone will have a slightly different idea of what Pixie Dust is to them.
Some examples that I have heard from other people have included getting amazing room upgrades, coming back from a day in the parks to find a treat basket waiting for them, a Cast Member going above and beyond to create a special moment, and so much more.
12. Go on a Disney Cruise
Why on earth wouldn't I want to bring much of what I love about Disney onto a boat that takes me to great locations? Sure there are no rides, but the Disney magic and customer service that makes a Disney experience so awesome will still be there.
I love to travel and hope to see as much of this world as I can. Cruises are a great way to see multiple locations with the convenience of a floating hotel that also provides all your food. My love of all things Disney combines into my love of travel to create this Disney bucket list item.
Of course, the Disney name automatically increases the price on the cruise, but with that name comes the magic, and that's a trade-off I'm willing to make someday.
Honorable Mention: Ride Both Star Wars: Galaxy's Edge Rides without Waiting All Day
Honestly, this one might end up being the most impossible item on this whole list! With the opening of Galaxy's Edge, and more specifically Rise of the Resistance, the crowds are showing up in droves.
At the time of this update (December 16, 2019) Disney is using a virtual queue to manage the wait on Rise of the Resistance. However, the queue is often completely filled up before 9:00a. If you aren't in the park by then you are out of luck. And just to be perverse, you can't use a FastPass on this or Millenium Falcon.
Riding both rides has become a worthy challenge. That's why I've added it as an honorable mention to my Disney bucket list.
Related Posts:
Final Thoughts on the Ultimate Disney Bucket List
So, how many of these items have I crossed off my own Disney bucket list? Two so far (watching Happily Ever After from Main Street and seeing the Kiss Goodnight).
Wild Africa Trek
Disney After Hours
Complete the 4 Park Challenge
Do a runDisney event
See the Kiss Goodnight
Attend all Epcot Festivals once

Food and Wine Festival
Festival of the Holidays
Flower and Garden Festival
Festival of the Arts

Watch Happily Ever After from Main Street
Watch Happily Ever After from Thunder Mountain
Visit all the Disney parks around the world
Have a Pixie Dust experience
Go on a Disney Cruise
I will continue to try to accomplish these experiences and cross them off the list. I will also update this as I discover even more awesome experiences to try out. I would love to hear what you think should be added to this list, as well as your tales of experiencing any of these Disney bucket list items.
If you liked this post, please Pin it for later!
Your Thoughts
Do you have some other items on your ultimate Disney Bucket List? How many of my bucket list items have you already accomplished. Please let me know in the comments! I'm always looking for more ways to make my Disney journey even better.
Don't forget to follow The Disney Journey on Pinterest and Facebook to stay up to date with all the latest news and updates.