We may earn money or products from the companies mentioned in this post. Please click my disclosure policy to learn more.
A Disney vacation is a truly magical experience. However, there are some key Disney World mistakes that everyone should avoid. Some of these Disney mistakes only create a mild annoyance, while others are huge and can greatly impact your Disney vacation (updated May 25, 2021).
This post will take a look at some of the most common Disney World mistakes. And trust me, these mistakes aren't just for first timers!
Top 17 Disney World Mistakes to Avoid
Trust me, I have made some of these Disney World mistakes. It's partly how I became so interested in everything that goes into planning a Disney World vacation. Really, my Disney World mistakes are part of what led me to creating this blog.
I really want to help other people avoid the Disney mistakes I made. So, here is a list of what not to do at Disney World.
1. Sleeping Late
Sleeping late is probably one of the biggest Disney World mistakes to avoid. The first few hours of any park day is valuable real estate. While most vacations might be great for sleeping in, a Disney vacation is not.
You will find the early morning crowds significantly lower than any other time of the day (except perhaps closing time). This is because everyone else is sleeping in!
A very common phrase you come across in Disney vacation planning is "rope drop". This phrase is used to define the idea of being at the park as soon as it opens. It is a little bit of a misnomer in the fact that you actually need to get there BEFORE the park opens.
For a really great example of how you can use rope drop to get on some seriously popular rides with minimal wait, check out my post about rope drop at Animal Kingdom.
2. Misusing the FastPass System
Update: As of right now, Disney still hasn't reinstated the FastPass system. Frankly, I don't think they ever will. But just in case, I'll leave this here for now.
Aside from sleeping late, misusing the FastPass system is probably the single largest Disney World mistake you can make in terms of impacting your guest experience.
If I stress nothing else regarding Disney planning, please, please make good use of FastPasses. They truly do make a huge difference in how much time you spend on line.
Let's take a closer look at the two most common ways people misuse the FastPass system.
Ignoring FastPasses Altogether
This one is really high up there in the world of what not to do at Disney World. Trust me, I've made this mistake so I know from personal experience.
I often see people ask whether they really need to book FastPasses. The answer is a resounding yes. Even if you don't plan to ride any of the most popular rides, a FastPass is still a time saver. Most of the rides are capable of developing long waits.
On our very first trip to Disney, a 1 day stop at Magic Kingdom, I ignored FastPasses because I didn't understand how to use them. The result was spending hours in line to meet princesses. And I mean hours.
Now we never wait longer than 30 minutes for any ride. Understand how to use FastPasses and make sure you have 3 booked for every park day.
Wasting FastPasses on the Wrong Attractions
A second facet of misusing FastPasses happens when you book FastPasses for rides or attractions that simply need no FastPass. Sure, if you are already through your initial 3 FastPasses and now you are just looking for fillers, it's ok to do this.
But in general, don't make any of your initial 3 for shows or high capacity rides. The theaters for many of the shows are massive. They are capable of holding a very large number of people. Scheduling a FastPass for the Finding Nemo show at Animal Kingdom just doesn't make sense.
Sometimes you just don't have a choice and you are forced to pick a show. But if you have a choice, don't pick a show.
Remember: FastPasses are your ticket to get on rides with little to no wait. Treat them like gold.
3. Not Packing for Florida Weather
Trust me, Florida may be called the Sunshine State, but it is not all sunshine and roses. Florida is known for hot and humid weather. But did you know it can also be in the 40s?
In all seriousness, this is a common Disney World mistake which could lead to some serious discomfort. Have you ever ridden a roller coaster when it's 45 degrees out, while wearing a tank top? Trust me, it's really cold.
Usually, this leads to dropping piles of money on cold weather clothing at Disney shops. This is not a cheap prospect.
Disney in the Winter
Seriously, it can be downright cold at Disney during the winter. And then the next day you are in shorts and a tank top. This is a very specific example from my own trip at the end of November through the beginning of December.
See these two pictures below? They are from the same trip. In fact they were taken a couple of days apart. Never underestimate Florida… (P.S. We took off our winter hats before the picture was taken).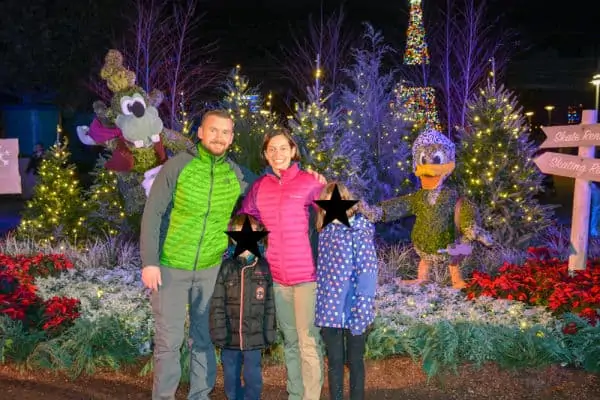 Disney the Rest of the Year
As a rule of thumb, just assume that it will rain at least once every day. Usually this rain happens in the afternoon. And when I say rain, I mean a nice drenching.
And did I mention how hot and humid it is for half of the year? I think you begin to see what I mean about needing to pack well for your trip. For ideas on what to pack, check out my Disney packing recommendations.
Remember, if you need to buy a sweatshirt at Disney World because you didn't bring anything warm enough it will cost you an arm and a leg.
4. Underestimating the Amount of Walking
I will be the first to admit that my family is definitely on the higher end of the spectrum when it comes to miles logged at Disney World. We are fast paced and base our strategy on wait times, not what's close to us geographically.
However, even a family with a much slower pace will average 10 miles of walking during a park day. It's pretty unavoidable. There are two main pitfalls you can encounter when you don't plan ahead: very sore feet and very tired (and cranky) young ones.
Wear Comfortable Shoes
For the love of all that is holy, wear comfortable shoes at Disney World. I get it, you want to look cute for the pictures, but don't sacrifice your feet in pursuit of good pictures. A blister at the beginning of the trip could spell disaster.
Even if you prefer sandals, be smart about your choice. A good, supportive, and comfortable shoe is essential. Check out my post all about the best shoes for Disney to learn what features to look for and some proven examples.
Consider a Stroller for Young Ones
Strollers at Disney World are a bit of a hot button topic. I will be the first to admit that Disney has become quite overrun with strollers. And yes, I'm one of the offenders.
But for me, knowing that my kids will be more comfortable trumps anyone else's opinion about strollers. I will repeat: 10 miles of walking. Now imagine the little legs of your toddler trying to manage that.
For a more in depth look at whether a stroller is the right choice for you, read my post all about the pros and cons of strollers at Disney.
If you know for sure you plan to use a stroller, take a look at the best strollers for Disney.
Or, consider renting a stroller from Kingdom Strollers. You get the ease of a great stroller without having to lug your own onto a plane. Kingdom Strollers is the recommended stroller rental agency of The Disney Journey.
I've personally used them in the past so know they are great.
5. Not Exploring the Dining Options
Let's face it, amusement parks have a reputation for serving basic hamburgers and hot dog. Because of this, many people simply gravitate towards those options at Disney World.
Doing this is a HUGE mistake. Disney does a lot of things really well, and dining options are one of the things they excel at.
Whether you want to stick primarily with Quick Service (think fast food) or Table Service (sit down meal), there are many fantastic restaurants to try. Before you go on your trip, do some quick research and you can see all the options you can try.
If you want any sit down meals, make sure you know everything you need to know about making Disney dining reservations.
6. Wasting Disney Dining Plan Credits
This is a classic Disney World mistake. You often hear stories of people buying a bajillion bags of candy with all their leftover snack credits. Trust me, I've done it myself.
But if you break it down, those snack credits are expensive. It's important to try to get the best bang for your buck.
There are two major ways you can waste your Disney Dining plan credits. The first is by simply not using them all throughout the course of the trip. This is simply a big waste of money.
This is the scenario that leads to all those bags of candy from Goofy's Candy Company packed in your luggage.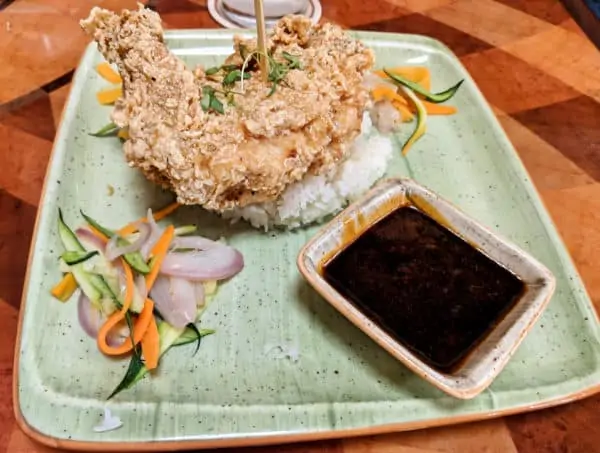 The other way is to use your snack credits to buy relatively inexpensive things, like a bottle of water. Trust me, staying hydrated is important, but a $3 bottle of water is not a wise use of a snack credit.
Compare that to the $8 blue milk you can use it on at Star Wars: Galaxy's Edge. It's a big difference.
If you have the Disney Dining Plan it's a good idea to have a basic strategy of how you use all of your credits. Make sure you have enough restaurants to cover all of the Quick Service and Table Service credits.
Not using all of your meal credits is an absolute no-no. You might as well just thrown your money into the drain!
Learn everything you need to know about the Disney Dining Plan before your trip to avoid this Disney World mistake.
7. Going to Disney on a Major Holiday
If you are a seasoned veteran of Disney trips, this isn't really a big deal. Presumably you know what to do to handle massive crowds. You've also experienced the fun of Disney before, and likely will again, so there's not as much pressure to do EVERYTHING.
However, for a first time Disney traveler, I heavily caution against going during the busiest holidays of the year unless you have no other option. Seriously, this might be one of the biggest Disney World mistakes to avoid.
The busiest times at Disney World are:
The week between Christmas and New Years
Weeks around Easter

Spring break in general also has higher crowds

July Fourth
The lead up to Thanksgiving and the weekend after it
I'm sure you've noticed that every single one of these options involves when kids are on school breaks. That is why some families have no other options. But if you do, just don't do it.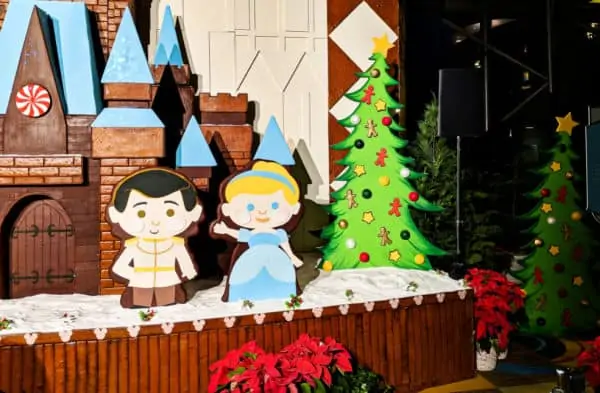 Alternate Times to Visit
If you don't mind pulling your kids from school or don't have to contend with school year schedules at all, look at alternate times to visit.
Want to experience a Christmas vibe at Disney World? Book your trip for the beginning of December. May is a great alternative to the madness of March and April. You still get that spring vibe and good weather without the crowds.
And really, any other date in summer gives you a better option than going at July fourth.
8. Underestimating Transportation Time
Whether you plan to use Disney transportation or drive your own car, it's very easy to underestimate how much time you lose simply traveling back and forth around Disney World.
In reality, Disney World Resort as a whole is massive and heavily traveled. Construction, traffic, and just normal scenarios can slow down your drive.
If you need to be someplace by a specific time, make sure you plan ahead to allow plenty of time to get there. As a rule of thumb, Disney says to allow an hour and a half to get from one Disney resort to another.
While I've never come close to waiting this long, it gives you an idea of the situation.
And that leads us to…
9. Leaving the Park for Afternoon Breaks
Ok, ok, I know this is a sensitive topic. Afternoon breaks for some families are absolutely necessary. I get it, I really do. But if you can avoid this Disney World mistake, please don't leave the park for an afternoon break.
As we just discussed above, transportation can take a long time. If you plan to go back to your room for naps/pool time/relaxation you will lose quite a bit of your day simply going back and forth.
Let's say you are staying at one of the All Stars Resorts and want to take an afternoon break from Magic Kingdom. Between exiting the park, waiting for the bus, the bus ride itself, and walking back to your room figure on an hour.
Now reverse that to get back to the park in the evening. That's 2 hours of your afternoon spent on a bus.
This length of time is potentially worse if you are staying off site. If you drove your own car to Magic Kingdom to "save time" you now added either waiting for the monorail or ferry to your list of things to wait for and ride. And the tram in the parking lot. It all adds up.
Alternatives to Taking a Break at Your Room
By all means, plan to take a break in the afternoon, but try to do it within the parks if possible. Each of the parks have nooks and crannies you can escape to with less noise and less crowds.
For example, Tom Sawyer Island at Magic Kingdom is a great place to go if you want to relax for a little while. This is complete with picnic tables and rocking chairs by the water, surrounded by nature.
Another alternative is to book Table Service dining reservations during the time of day you would take a break. This allows you to get inside with the air conditioning and escape the crowds.
If Table Service meals aren't on your agenda, you could also consider using the afternoon to see shows and ride certain attractions. Some of the shows have air conditioning and are quite long.
Good Attractions for Taking Breaks at Disney World
Finding Nemo (Animal Kingdom)
Lion King (Animal Kingdom)
Carousel of Progress (Magic Kingdom)
Mickey's PhilharMagic (Magic Kingdom)
Country Bears Jamboree (Magic Kingdom)
Tom Sawyer Island (Magic Kingdom)
Indiana Jones Epic Stunt Spectacular (Hollywood Studios)
Frozen Sing-Along (Hollywood Studios)
MuppetVision 3D (Hollywood Studios)
Living with the Land (Epcot)
Spaceship Earth (Epcot)
Any of the movies in World Showcase (Epcot)
If You Absolutely Must Take an Afternoon Break…
If you know your family must leave the park to take a break pay very close attention to where you choose to stay.
Picking a resort which provides easy access to one or more parks will help cut down on travel time significantly. Unfortunately, all of the resorts with the easiest park access are Deluxe Resorts with the price tag to match.
However, the opening of the new Skyliner Gondolas opens up easy access options to both Epcot and Hollywood Studios from Caribbean Beach Resort, Art of Animation Resort, and Pop Century Resort.
10. Waiting Too Long to Book Park Pass Reservations
In terms of the overall function of your Disney vacation, this is probably the most detrimental Disney World mistake.
The Disney Park Pass Reservation system is an advent of the COVID era. This is how Disney controls capacity in the parks. Who knows how long it will stick around, but assume you'll need one for your trip.
Disney continues to expand capacity as the pandemic starts to wind down to a conclusion. However, more and more people are also heading out on Disney vacations. This means Disney Park Passes are usually booked up, sometimes well in advance of the date.
Typically, Hollywood Studios is the first park to reach capacity, followed by Magic Kingdom. Epcot usually brings up the rear because it is so much larger than the other parks.
General rule of thumb right now is that parks start to hit capacity about 2 months prior to the date. This makes sense considering 60 days is the dining reservation window.
I can't tell you how many people I've seen on Facebook lamenting that they didn't get their passes in time and now all the parks are booked for their trip.
Please, don't let this be you. Calling Disney won't help. They simply can't make exceptions. It's possible that some openings could show up if you diligently stalk your dates, but there's no guarantee.
Check out Disney's park pass availability calendar to get an idea of what I mean, and to check the dates of your trip.
11. Not Planning a Rest Day
Wait a second, didn't she just say not to take a break? Well yes, but a rest day is something else entirely. If you have more than 4 full days planned at Disney World, a rest day is an absolute must.
Do not underestimate just how exhausting it is to get up early each day and walk over 10 miles. And that's not even factoring in how draining days full of excitement can be.
I like to strategically plan our rest days/non-park days to break up the trip and give us some slower paced days. These rest days are reserved for pools, Disney Springs, and resort hopping.
People underestimate just how much there is to do at Disney World that doesn't involve going to one of the parks. You could even fill an entire trip to Disney and never set foot in a park.
12. Buying the Wrong Type of Park Ticket
This one isn't necessarily a mistake that will effect the outcome of your trip, but it can impact your bank account. There are a few different Disney park ticket options to choose from and it's important to know which is best for you.
If you don't think you will park hop, stick with a single park per day ticket. Your wallet will thank you. Look into whether having one person in your group get an Annual Pass saves you money overall (APs come with dining and merchandise discounts as well as free Memory Maker and parking).
Simply make sure you are not overpaying for tickets when you don't have to. Check out my post all about Disney park tickets to make sure you get the right ones.
13. Underplanning/Overplanning
This seems like a funny Disney World mistake to put on a list written by a Disney vacation planning blogger, but there it is. Yes, it is possible to overplan your trip, just as you can underplan for it.
Honestly, I think underplanning is the bigger mistake here but there are perils to either option. Underplanning leaves you unable to even do a fraction of the things that make Disney a great place to visit. Overplanning makes you miss the spontaneity that makes Disney great.
What you want is to find a balance between the two. Absolutely educate yourself on what a Disney vacation entails and plan accordingly. But make sure you have time to smell the roses. Or in this case, see the pixie dust.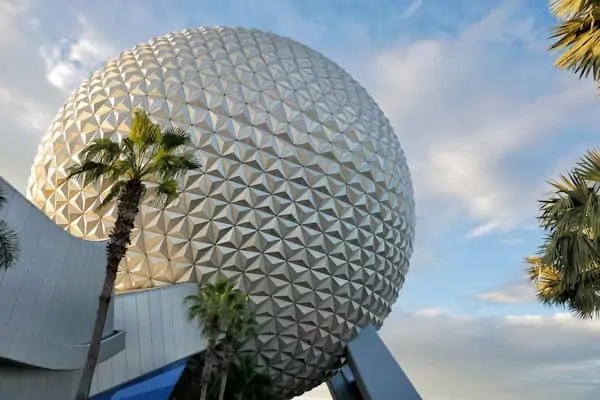 14. Not Paying Attention to Park Hours and Special Events
This one is tricky because Disney doesn't release park hours until after many people have already booked their Park Passes. And even then they can go ahead and change the posted hours whenever they want.
However, it is possible to base your plans around the historical hours from previous years. Disney tends to repeat times and patterns from year to year.
Also, events such as Mickey's Not So Scary Halloween Party and Mickey's Very Merry Christmas Party cause altered schedules at Magic Kingdom.
These little things can impact how your day goes so simply make sure you pay attention to them.
15. Not Visiting (Insert Park Here)
In reality, all 4 of the Disney parks have their own charms and their own reasons to warrant a visit. If you have at least 4 days available to go to the parks you should visit all four parks.
Often, Epcot and Animal Kingdom are the parks given the shaft which is a shame. Even if you only plan for a half day at each of those parks, they should not be missed.
If you have less than 4 full park days available it is more understandable if you have to miss one. But even then I would purchase park hopper tickets and still try to hit all the parks, even if it's only for a little while.
16. Having Unrealistic Expectations
This is a pretty big one which is completely psychological in nature. There seems to be a natural tendency to put a lot of pressure on a Disney vacation to be perfect. You see the commercials, you hear everyone's wonderful stories and you want that magic for yourself.
You also want to do and see EVERYTHING. But let me tell you this: you will not be able to do and see everything. I've now gone to Disney many times and I still haven't experienced everything.
It is completely impossible to do everything in one trip unless you plan to stay for at least a month. Prioritize the things your family absolutely must see and make sure those happen. Anything beyond that is just gravy.
17. Not Adapting – Being Too Rigid
But what happens when things don't go according to plan? Don't allow something like this to ruin your entire trip. Because your trip can't be perfect. But it absolutely can be a trip to create wonderful memories for your family.
Remember that first trip I mentioned above? We spend hours standing in lines. We hardly saw any of Magic Kingdom. The weather was not great and we weren't prepared. My husband and I were jaded after that trip.
But do you know what I remember most? The sheer joy on my daughter's face as she met each and every princess. The time we had together as a family. I can't regret that day for those two reasons alone. I simply wish I had done a better job of appreciating it in the moment.
You can't plan for pixie dust, it just happens. You can't control the weather. And you certainly can't control the crowds. But you can absolutely make lemonade out of lemons and have an awesome time.
It is very important to adapt to whatever gets thrown your way. Rides can break down, FastPasses get canceled, kids meltdown. Or someone can end up getting really sick. All of these things are unfortunate but don't necessarily have to ruin the trip.
The more you can adapt to what's going on around you, the more you can guarantee yourself a wonderful vacation.
Final Thoughts on Frequent Disney World Mistakes
All in all, if you can avoid most of these Disney World mistakes you set yourself up for a pretty good trip. And really, even if you do make some of these errors, the trip will be just fine.
While in some respects I think misusing FastPasses and sleeping late will have the biggest negative impact on your trip, in reality the biggest Disney World mistake you could make have to do with your attitude.
It all goes back to being too rigid and not being mentally prepared to roll with the punches. Because I promise, you need to roll with the punches at Disney World.
So keep all of these Disney World mistakes in mind, but in the end, as long as you have a positive attitude and a willingness to adapt, you guarantee yourself a wonder trip.
Your Thoughts
Have you ever made any of these Disney World mistakes? Are there others you think should be added to this list? Comment below and I just might add your ideas to this post!
Don't forget to follow The Disney Journey on Pinterest and Facebook to stay up to date with all the latest news and updates.